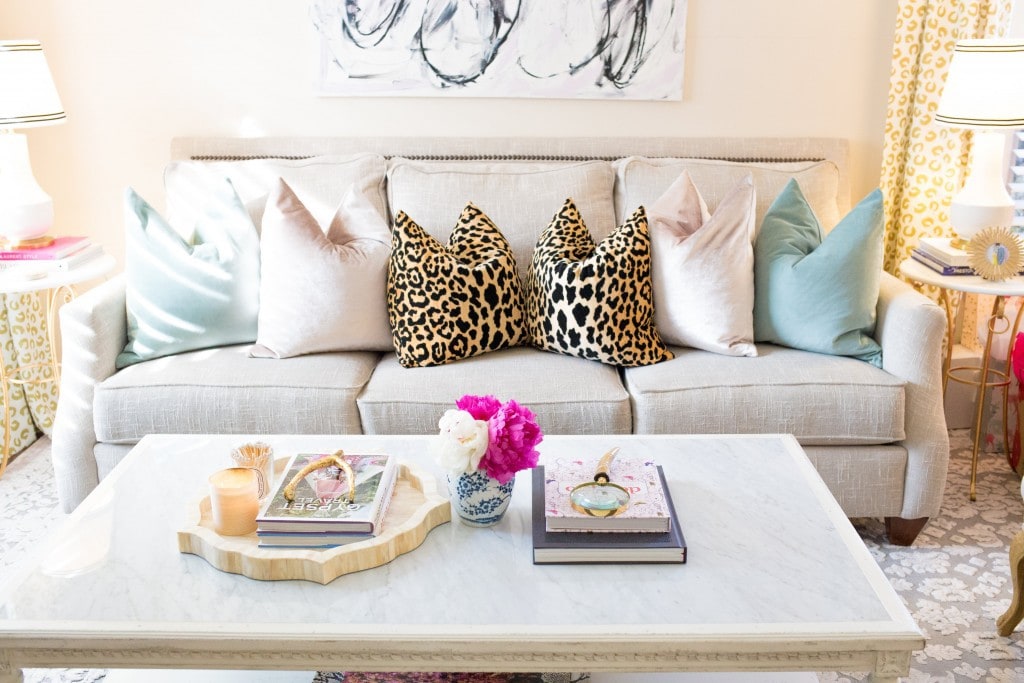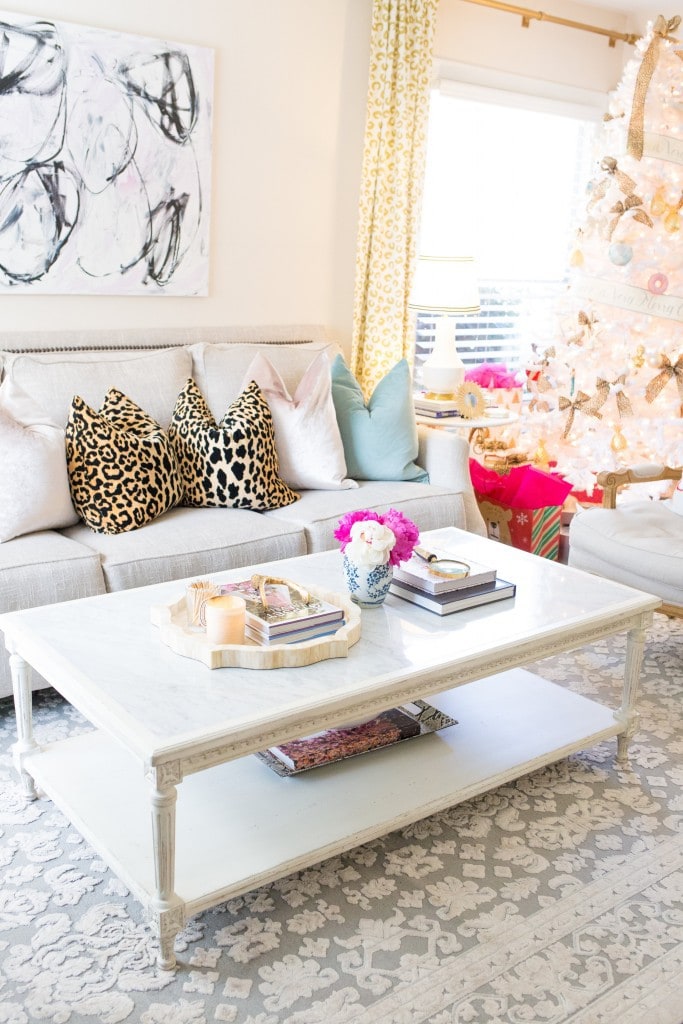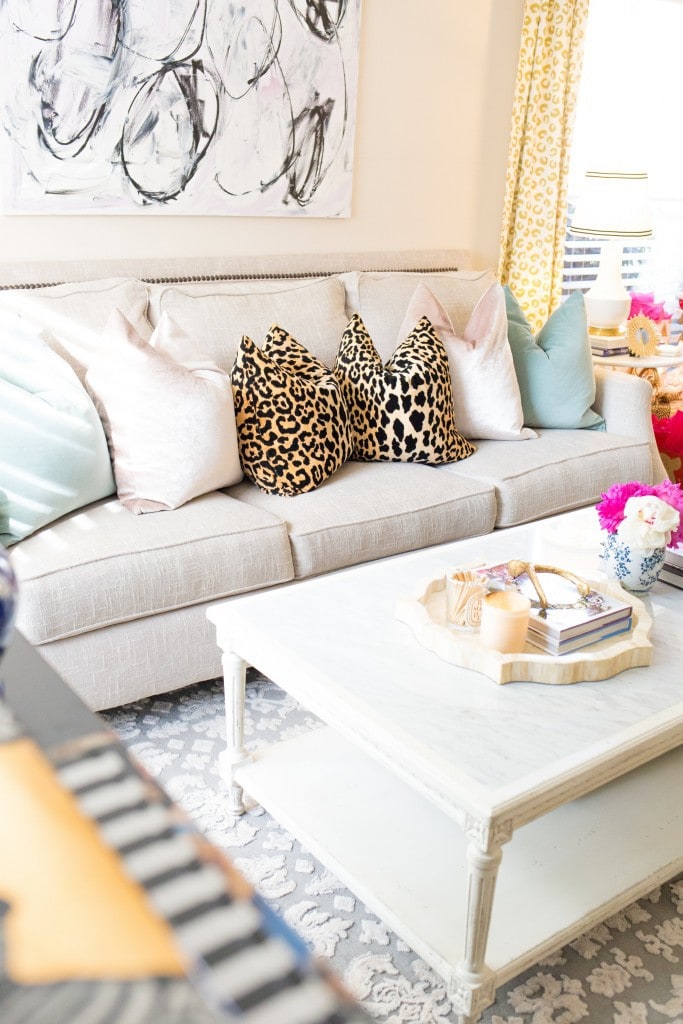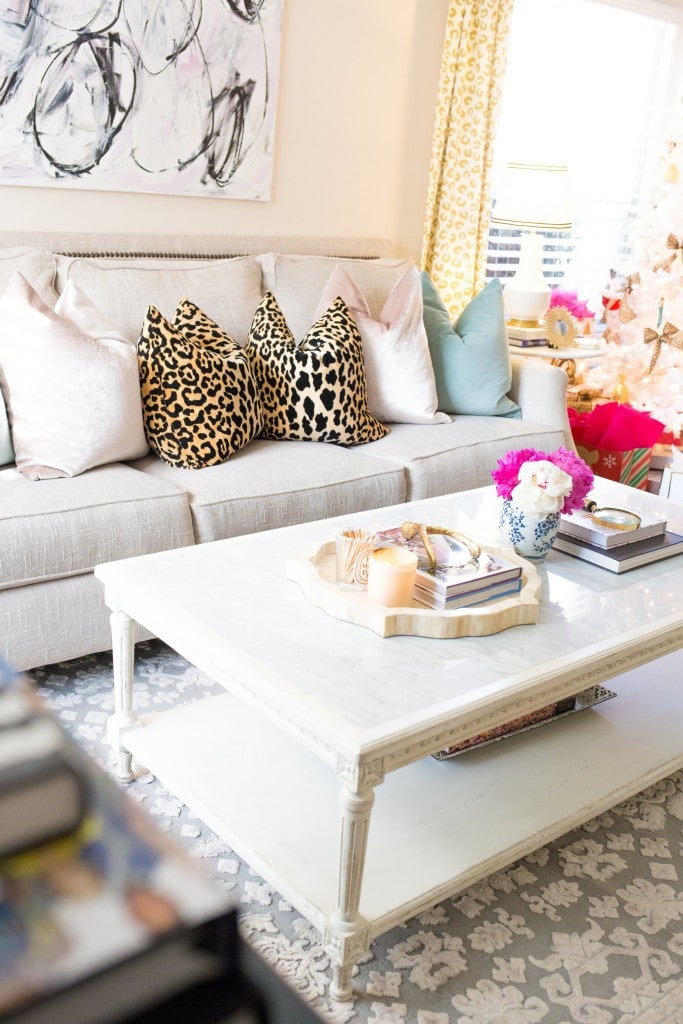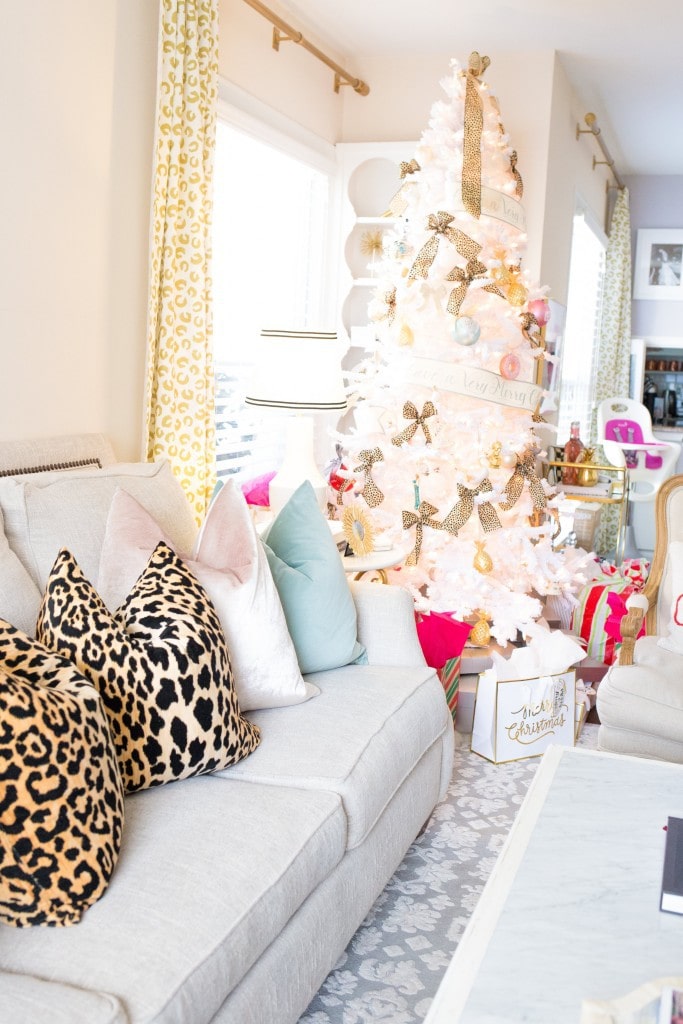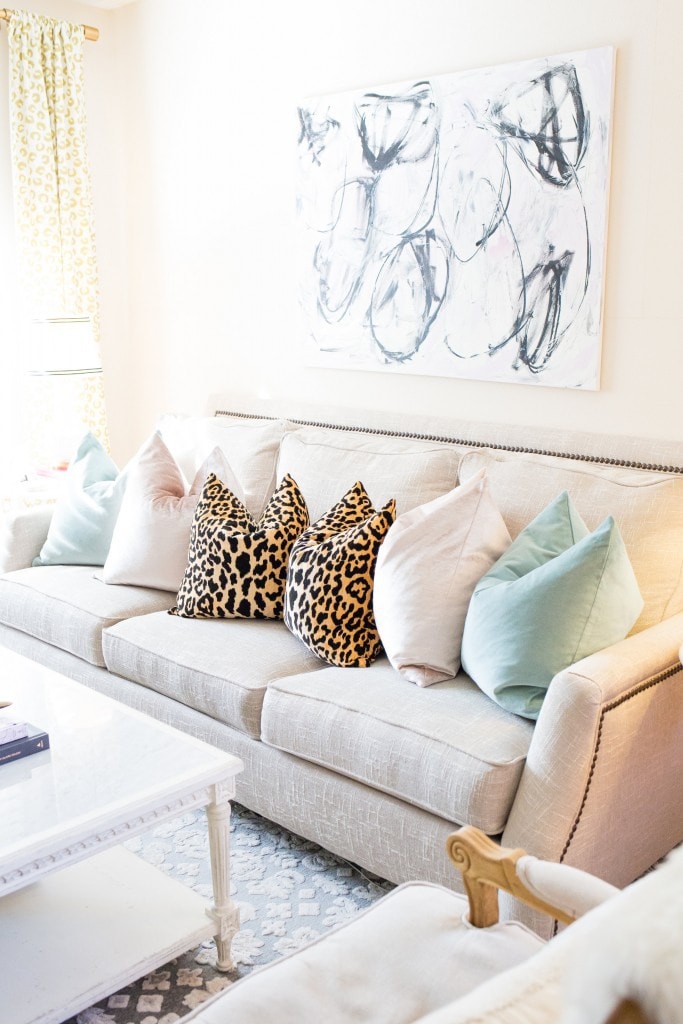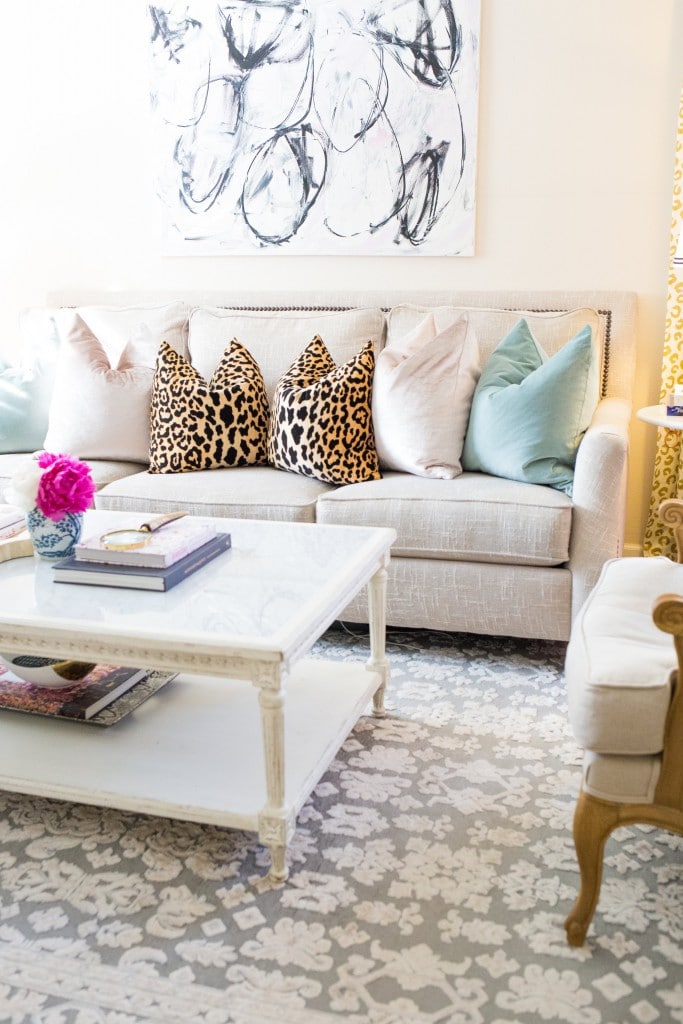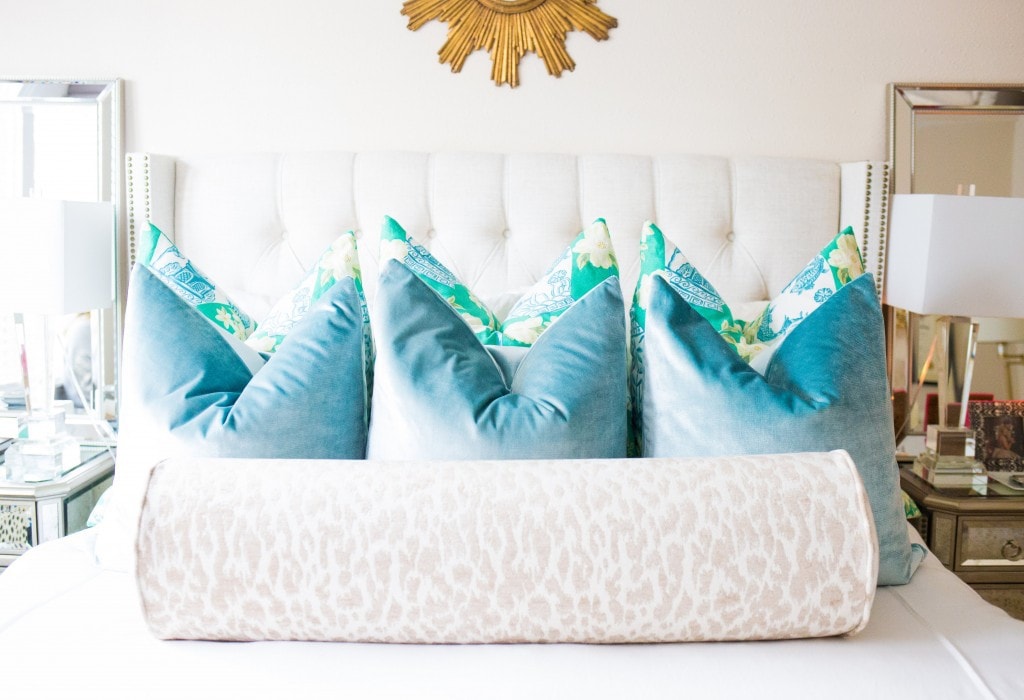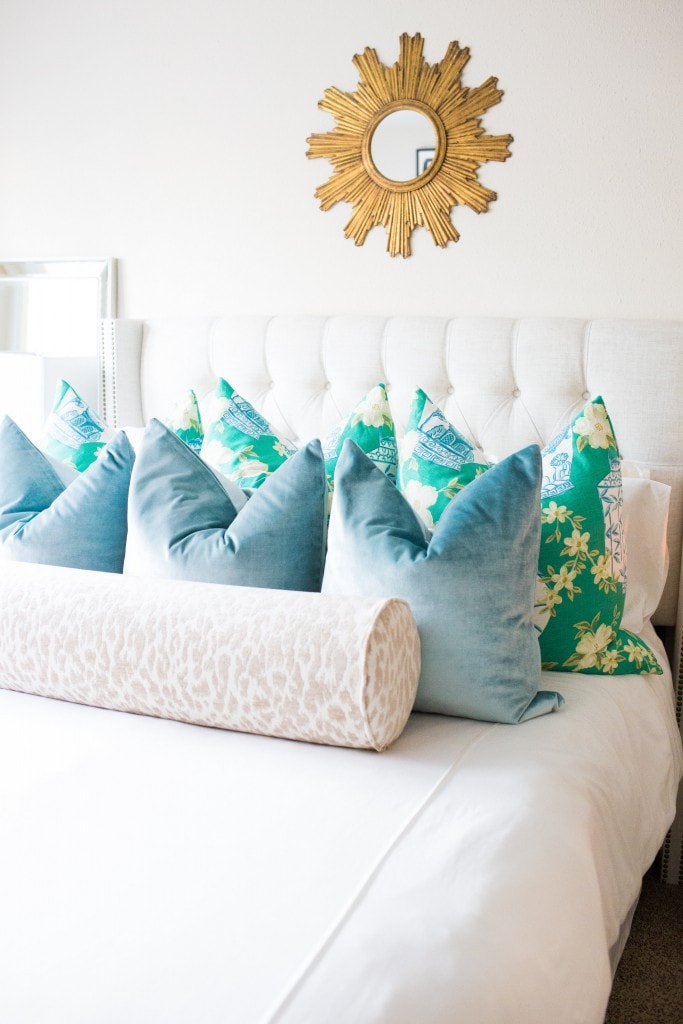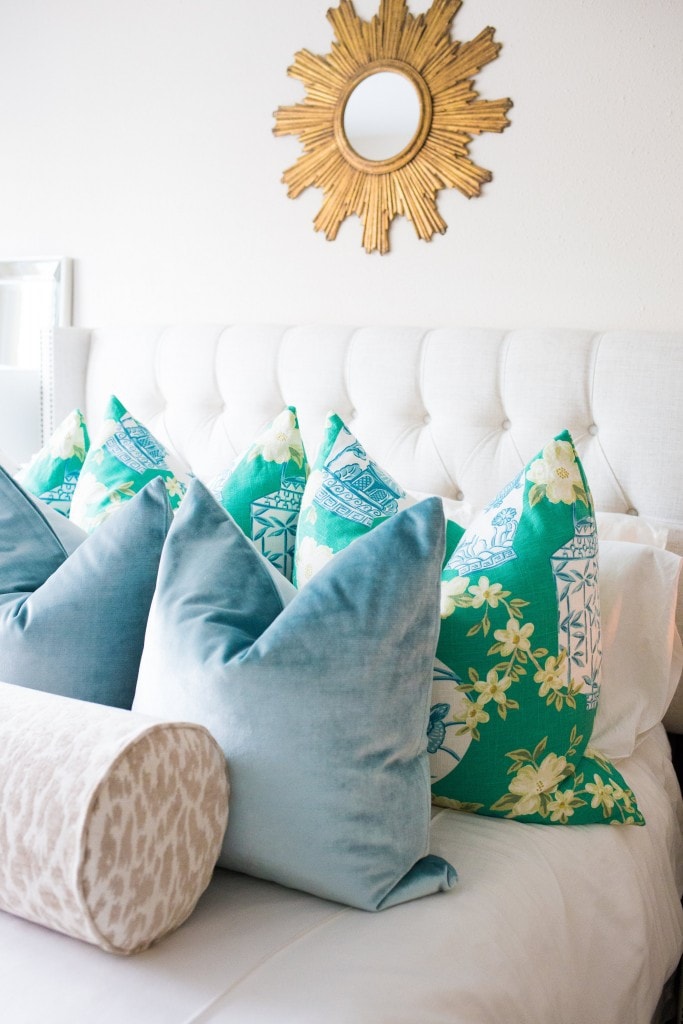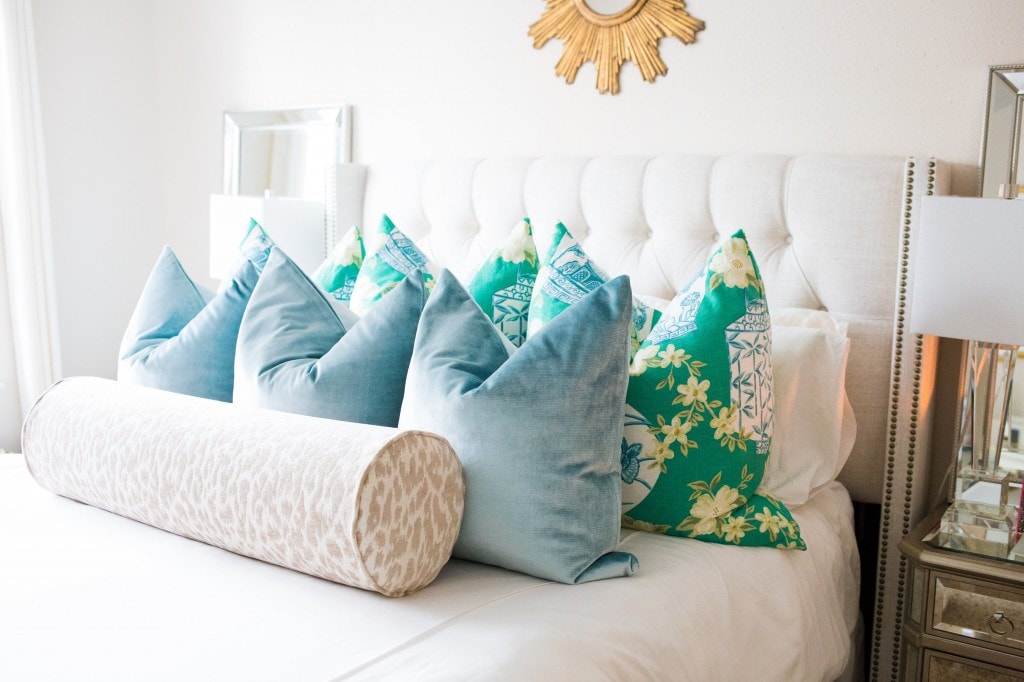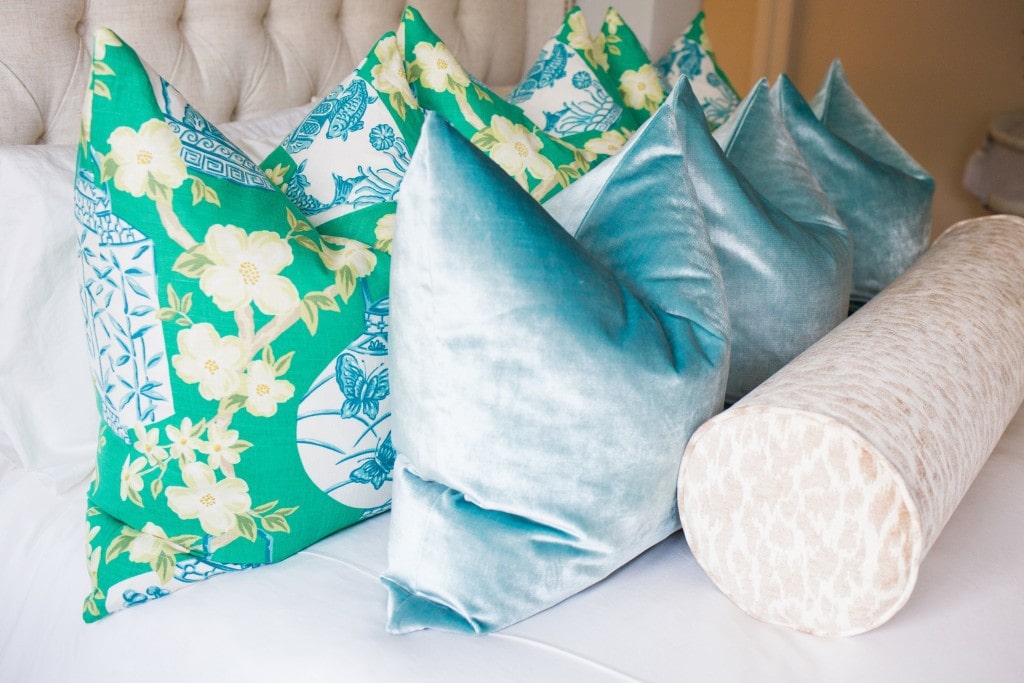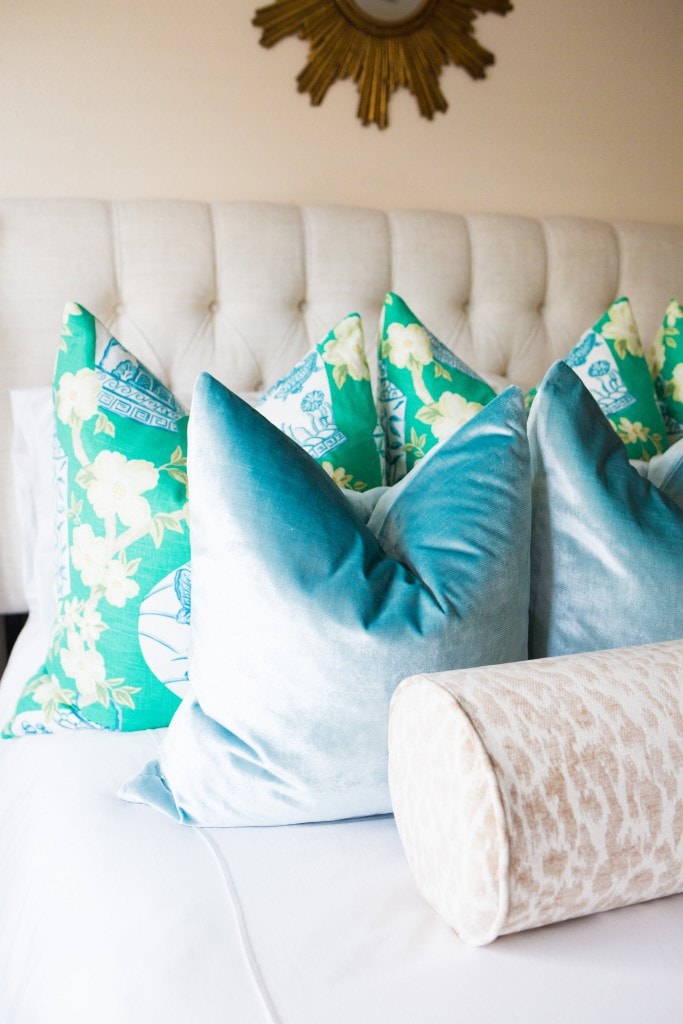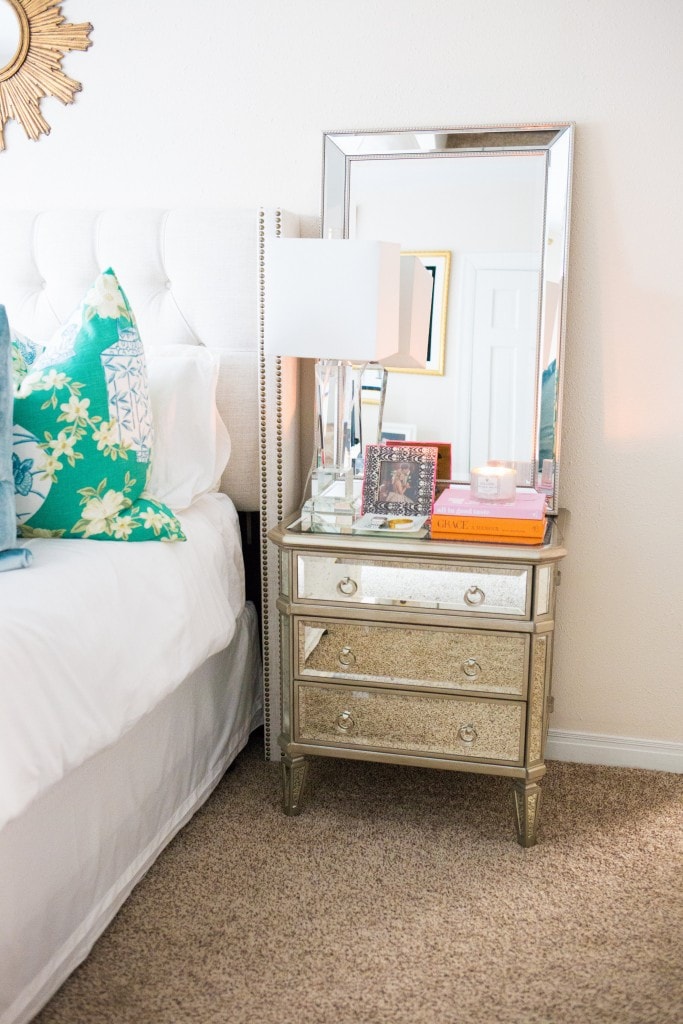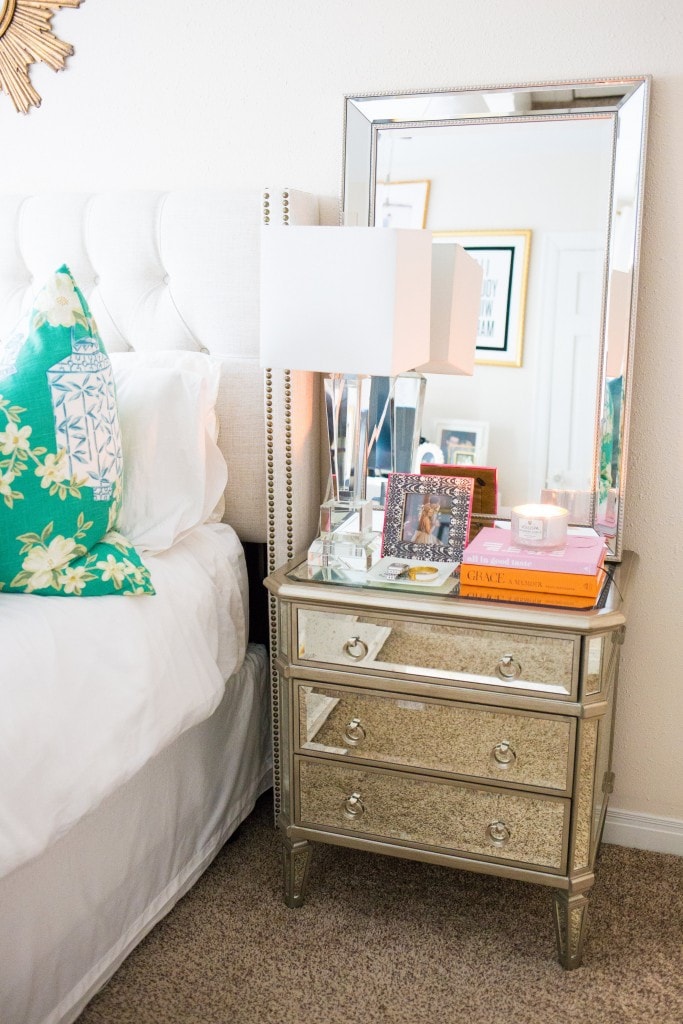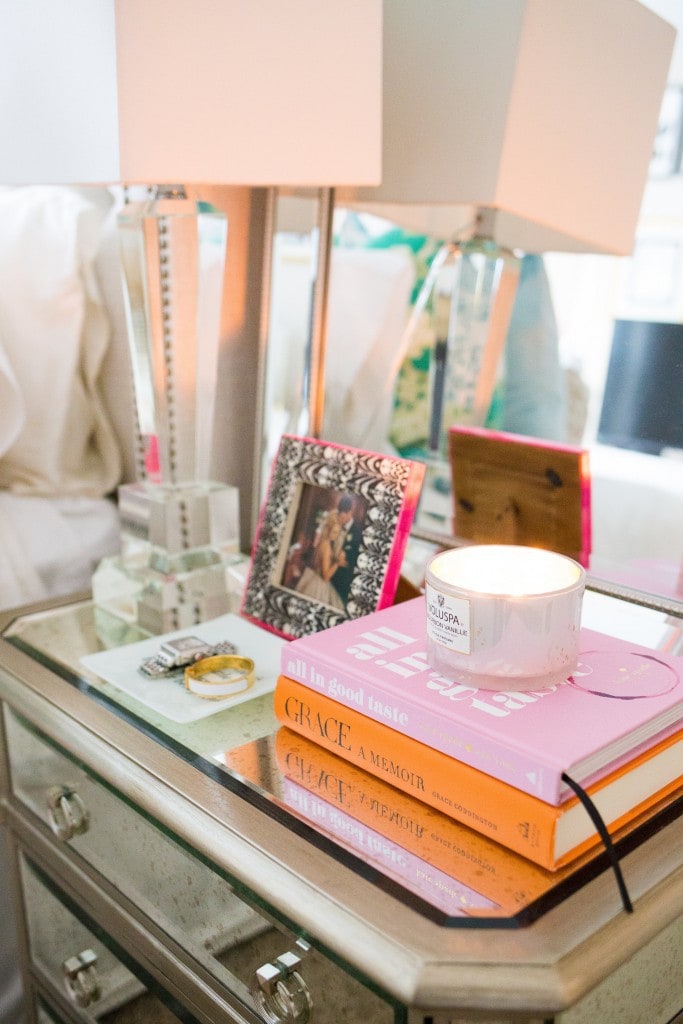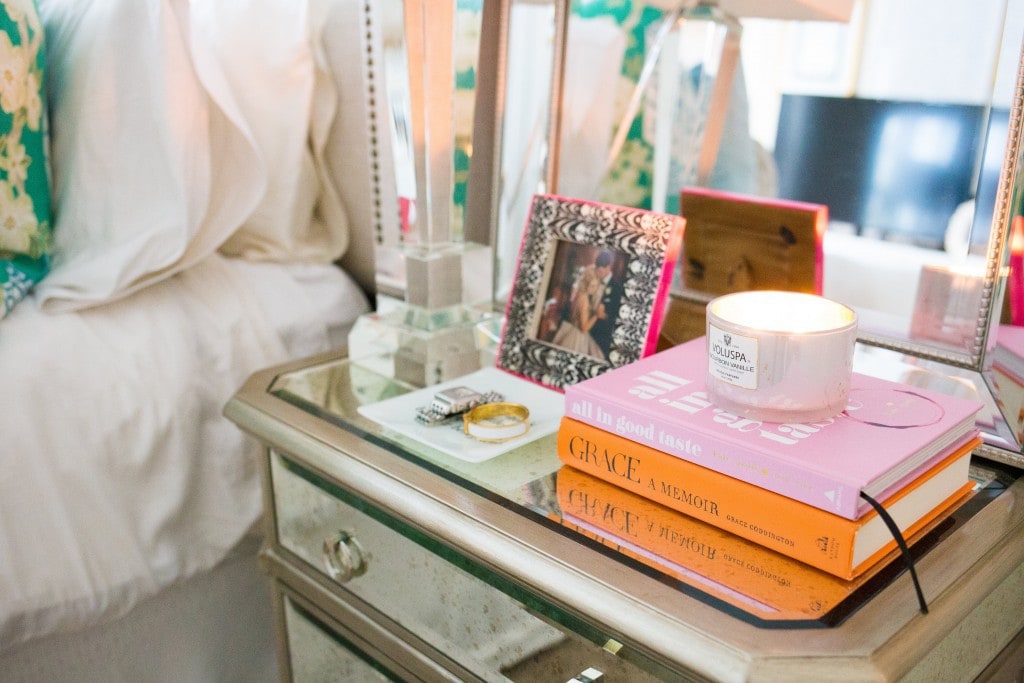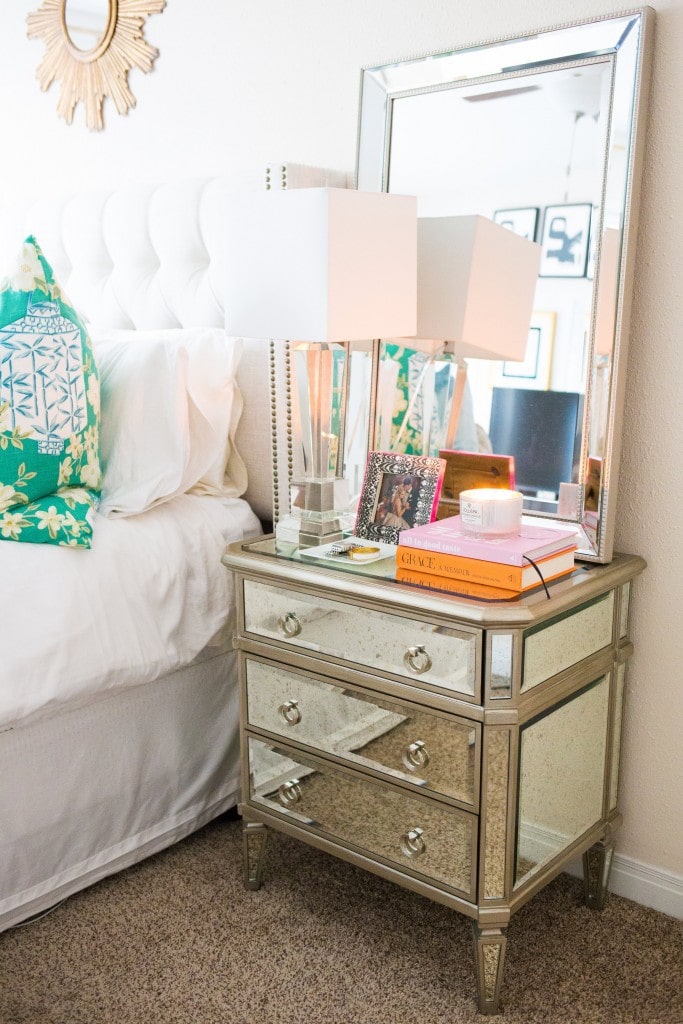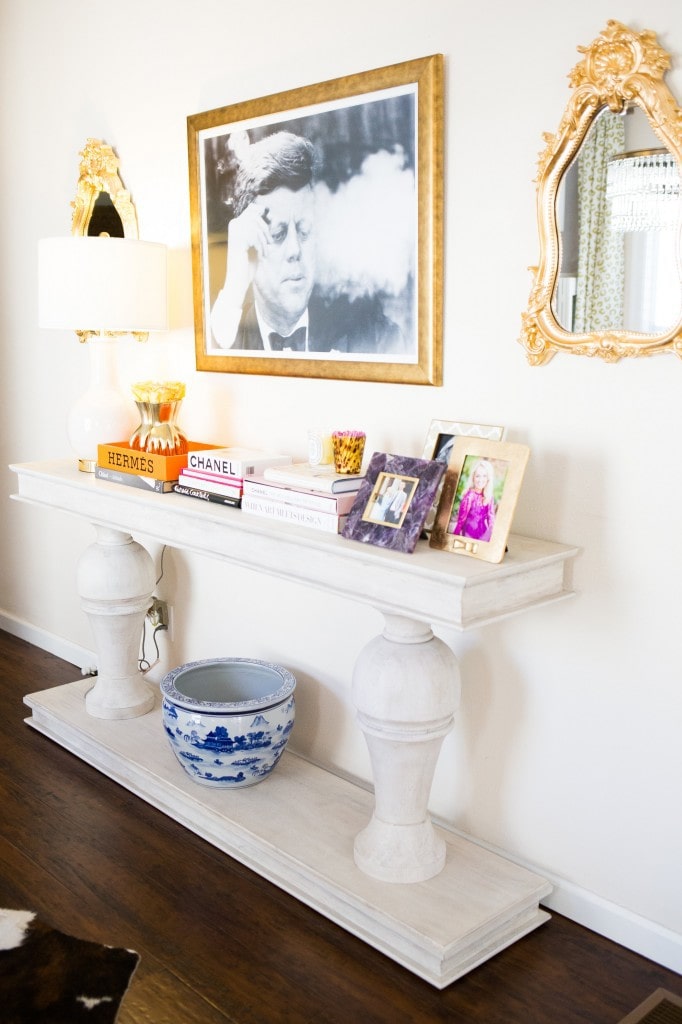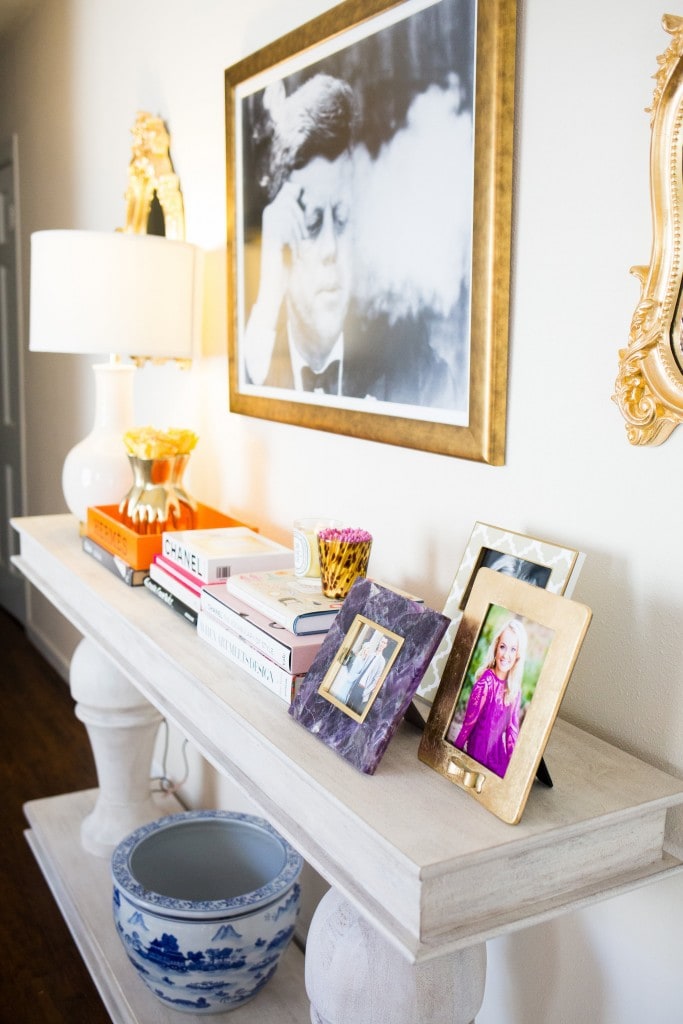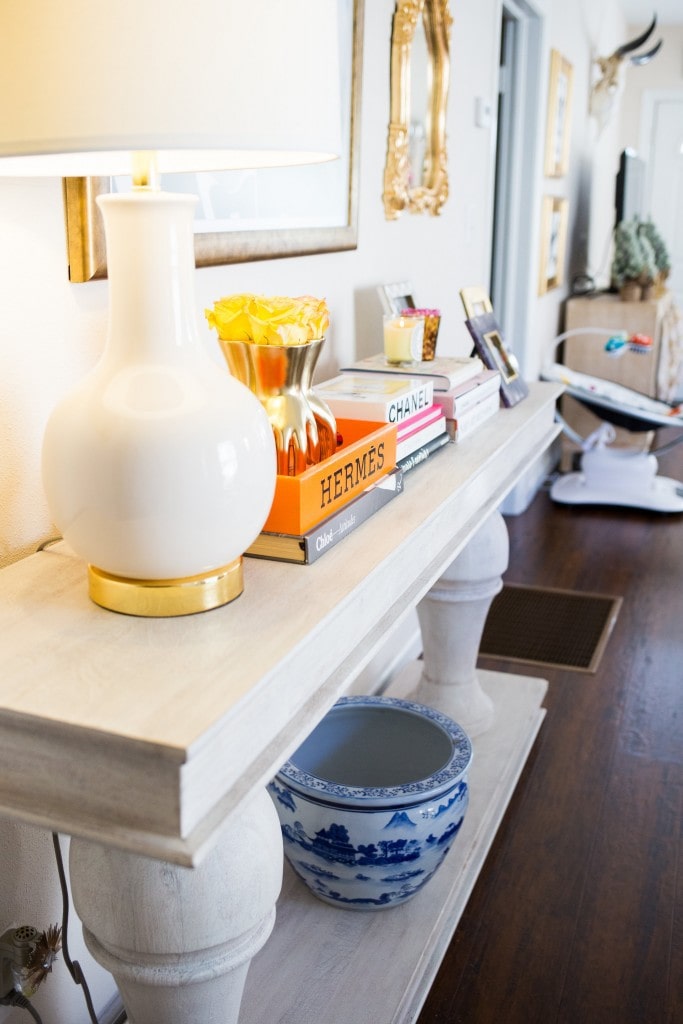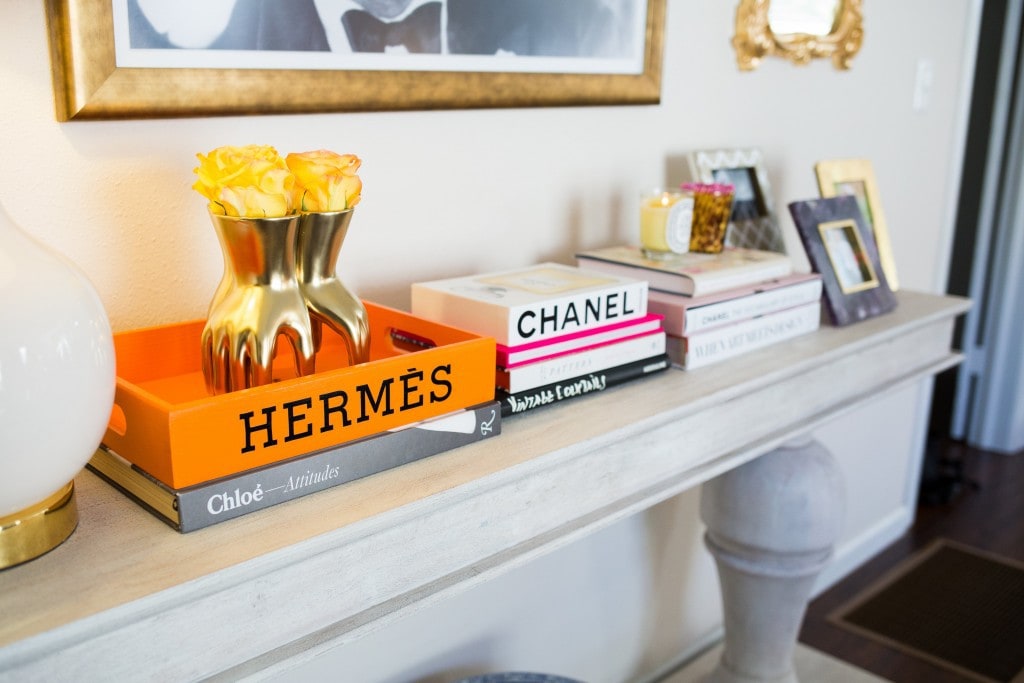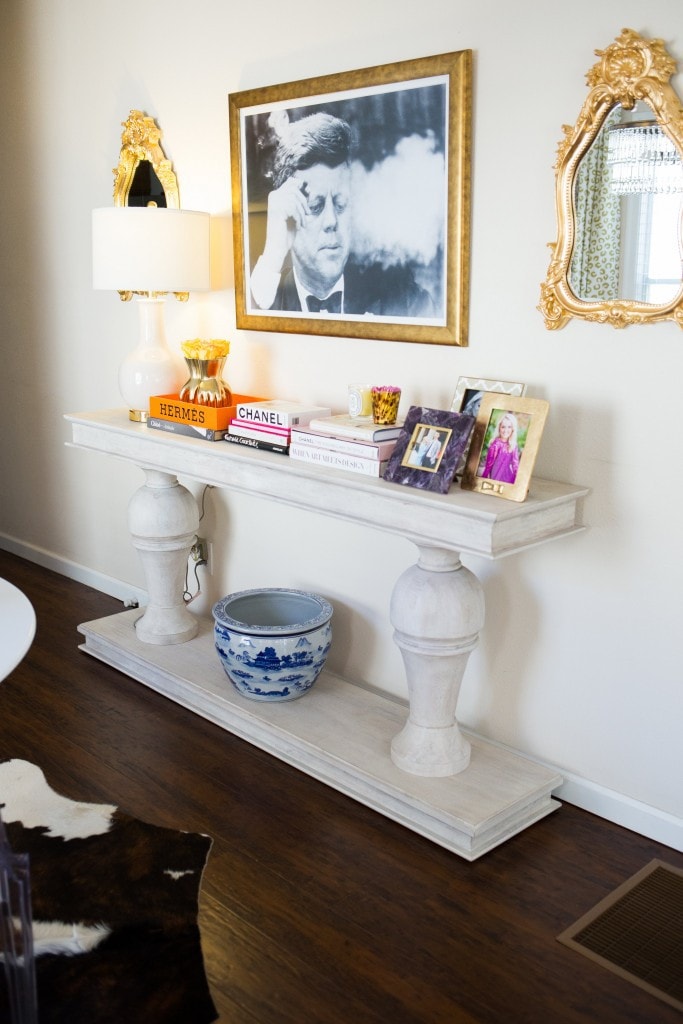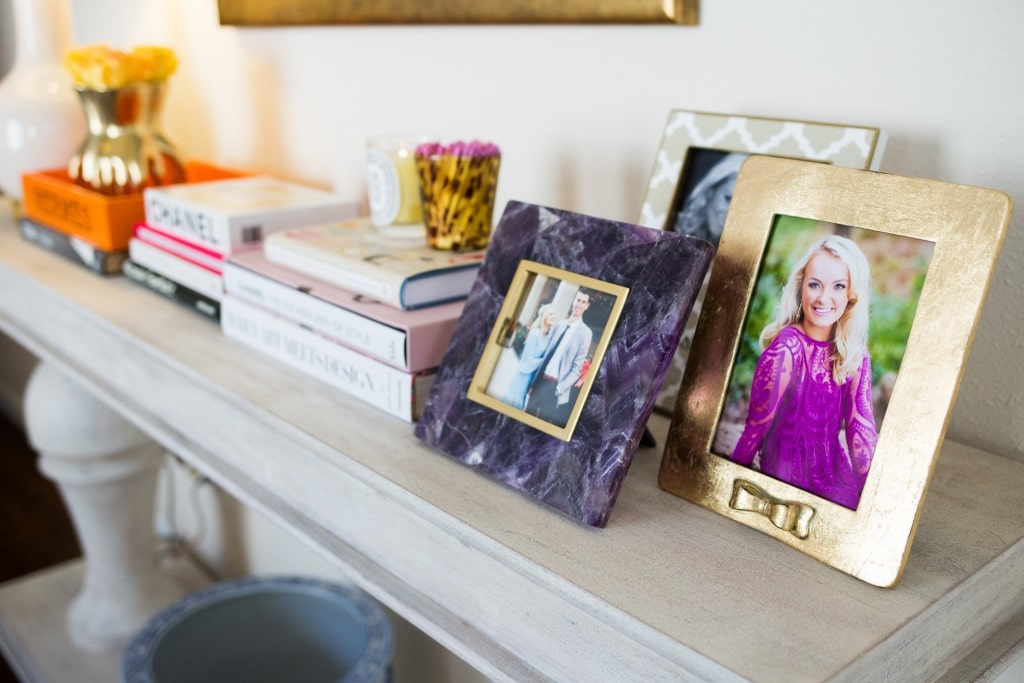 Couch Pillows: Little Design Co. | Couch: Custom, Similar | Coffee Table: Custom, Similar, Similar | Bone Tray: Similar, Similar | Art: Jenn Thatcher Art [c/o] | JFK Print: Art.Com | Headboard: Wayfair [shade: Talc] | Bed Pillows: Little Design Co. [c/o] | Nightstand: Ballard Designs, Similar | Candle: Voluspa | Serving Table: Ballard Designs | Lamp: Zola | Hermes Tray: Etsy | Hand Vase: Arteriors | Orange Candle: Diptyque | Purple Frame: Kendra Scott | Gold Frame: Nordstrom | Living Room Rug: Lulu & Georgia [c/o] | High Chair: Boon Flair | Curtains: Minted [c/o]
Photography by: Madison Katlin
---
I thought I was a productive person. I am really scheduled and I like to get ahead of work, my inbox and anything tangible. Then nesting started to kick in and I realized that nesting Katey thinks non-pregnant Katey is the laziest human on the planet. Maybe it's the pregnancy insomnia that causes me to get up extra early or maybe it's the constant thought of, "Oh if I move that over there that's more functional for when baby is here." Whatever the driving factor, nesting does not mess around and today I thought we could humor how it's caused me to rearrange a bit here and there!
My girlfriend Stia was telling me at a Christmas Party that during her nesting phase she thought she needed new wood floors in her home and crown molding. She said it would drive her crazy and she thought that it had to be done. She and her husband didn't do that and she was laughing so much at herself. She was like, "Why on earth did I think we needed that to bring baby home?!"
I'm not sure, but let me tell you when a girl nesting gets something in her mind, it happens. And my nesting also happened during Black Friday/Cyber Monday sales so combine the power of sales and the power of a pregnant woman's mindset and you get the idea.
It first started with me being convinced I needed some green in our living room. As if our baby is going to care about green in the living room, I mean it's as if I completely neglected the fact babies start out color blind. But I had shades of green in my mind AND there was a sale, so neglect is what I did. I stared at the Little Design Co. site for hours with her Black Friday sale and decided these jade pillows had to be added to our couch. I've used her pillows as my throw pillows for years [back when I lived in Dallas!] and I get so many e-mails about our couch pillows. Yes, I do the karate chop maneuver to get them in that shape! 😉 But it also has to do with her specific inserts she uses as they keep their shape even when you lay on them!
I ended up moving this gold table into my office as a way to store jewelry, accessories and more paperwork. I'm always needing ways to make the space in my office more functional and there is this little hallway nook going into our bedroom that it fit perfectly in. I also picked up this serving table during a Cyber Monday sale which I thought tied in well with my love of Southern Eclectic style. Southern furniture or even French Country can still be styled in a glamorous way with gold accents and trendy accessories. I love combining the two because it softens the accents I love and makes the home feel cozy and livable! A little bit of rearranging and our living room/kitchen area feels 100% new.
Lastly, we updated our bed pillows! I'm all for white bedding [see my tips for keeping it white here] and love our duvet. The biggest reason I love a white duvet is because you can do things like this where you switch up throw pillows and it feels as if you have a completely new bedding set. Mix and match the pillows from your couch, guest bedroom or master and you won't ever get the urge to go out and buy a new comforter, duvet AND quilt set. I went with a fun print and sky blue for our bedding from Little Design Co. Our master bedroom is pretty neutral so I decided to go outside the norm and I love it! The Chinoiserie theme with spa blue pillows and soft leopard bolster makes a statement without going overboard
Another question I get about my Little Design Co. pillows is how I know what sizes to get, etc.! Betsy, that owns the shop, has always helped me with sizing! I've e-mailed her and her team and I will send pictures and then she gives me different examples and I give her dimensions of my couch/bed. She is so talented at creating something custom because I'll normally go in with one thing on the brain [leopard print 😉 ] and she gets me outside of my box while giving me options that I love more!
I hope you loved seeing all of my little nesting changes. As much as I poke fun at myself, home decor is something I love and when I find something on sale, I just have to run with it! Whether it's sourcing Homegoods every time you are in that part of town running errands or finding a new throw pillow shade, little changes in your home always make it feel even more personalized. Today we are going to finish taking down Christmas. As sad as I am to see our tree go, we've got lots of baby gear to put in its place. Our home will never be the same and I love it! 😉
What are ways you refresh your home decor on a budget?!