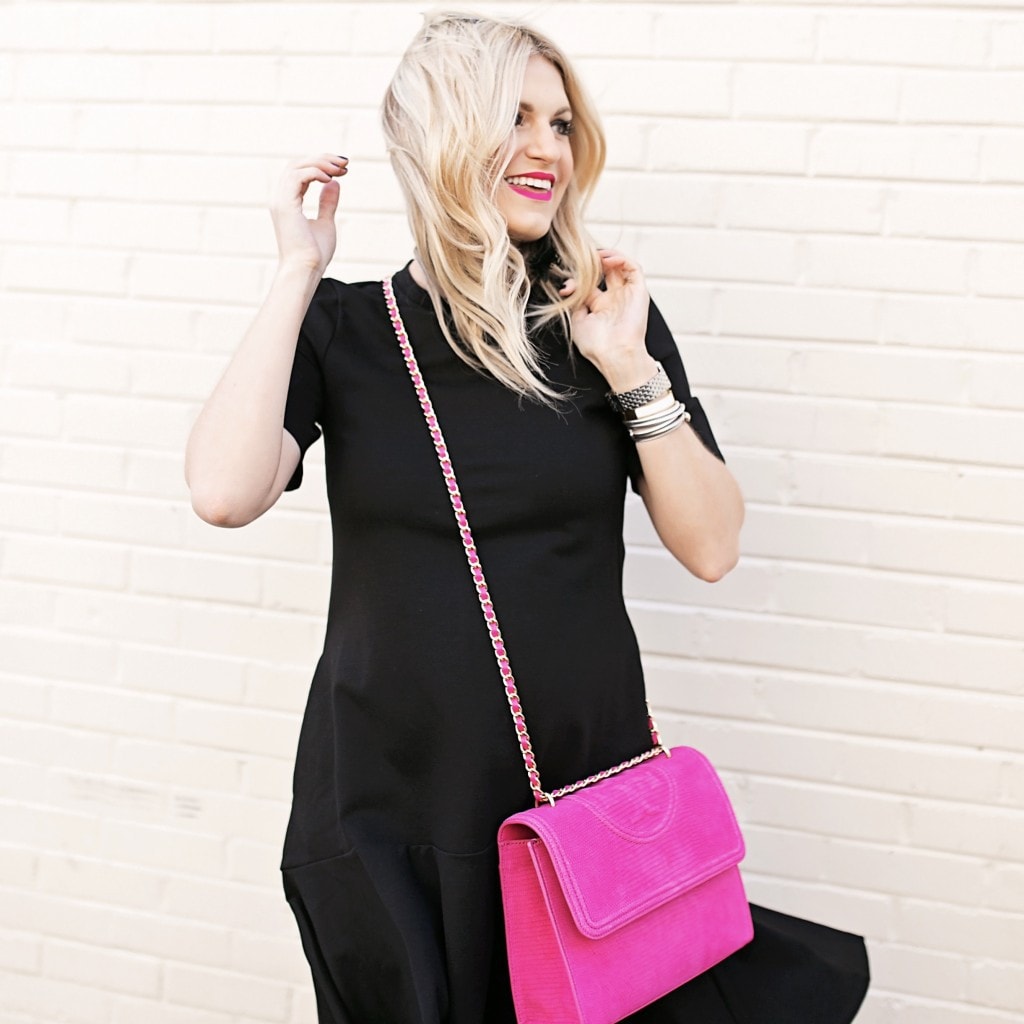 Dress: ASOS [go down a size as this runs oversized and is long, so it's perfect for you tall girlfriends!] | Sunglasses: Fendi | Bag: Tory Burch | Lipstick: Bella | Shoes: Booties
Photography by: Angie Garcia
---
Maybe you woke up on the wrong side of the bed or maybe you're going through a breakup and you haven't been feeling like yourself. Regardless of where you are at in life, we all have days where we just don't feel happy. I'm a firm believer that emotions are based on circumstances and joy is a state of the heart. If you are filled with joy, you can always be happy, but that isn't to say circumstances won't affect you emotionally in any capacity. We are human and we'll always unintentionally hurt others and vice versa. One thing we can do? We can control our reactions.
This might be a little different than what I normally post, but today I thought I'd share 10 ways to be happier and little tricks I follow for days that I simply want to curl up, watch Netflix and eat one too many Oreos!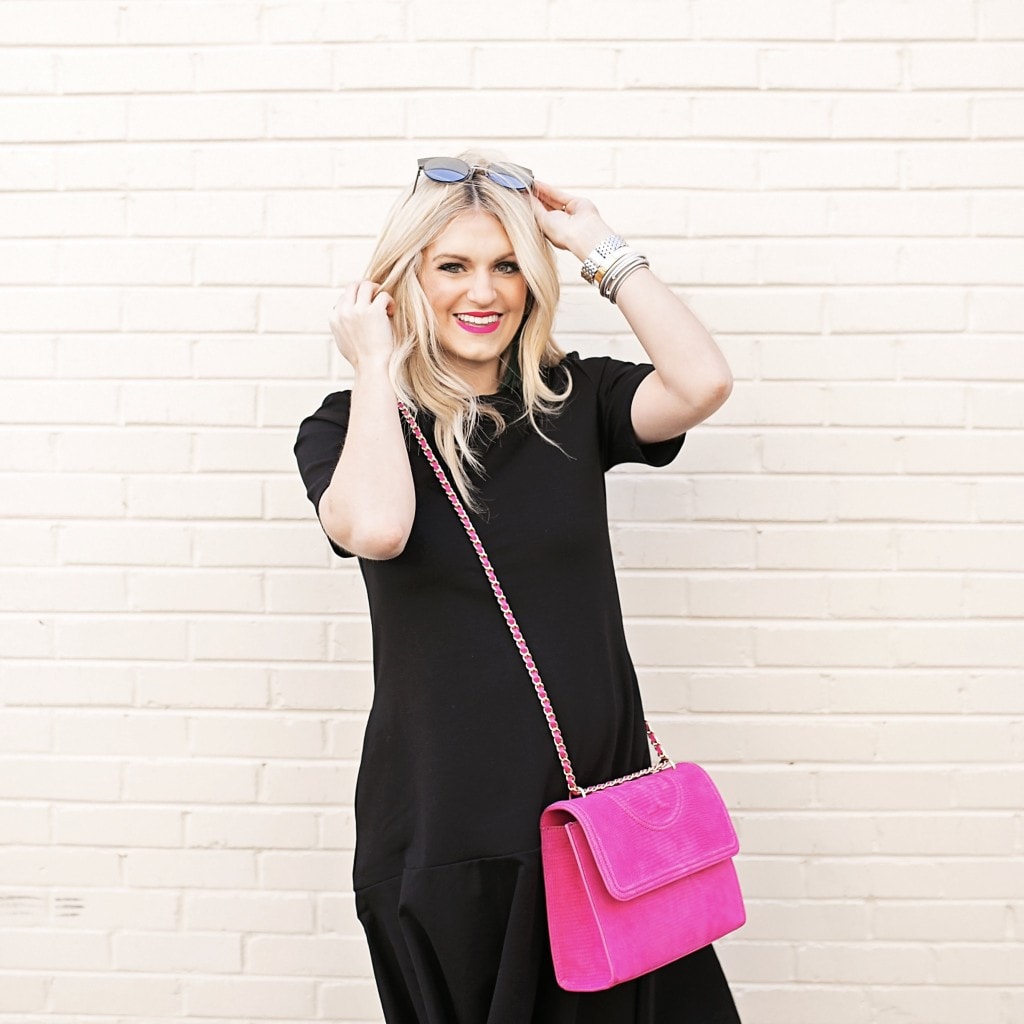 1. Say No to Something
Typically, when I'm unhappy it's because I'm overwhelmed or maybe even feel taken advantage of by someone or some commitment. Whenever that happens my husband is so helpful and always just says, "Let's say no to something." As a Christian I truly believe my word should be taken seriously and my "no should be no" and "yes should be yes." How can people trust God if they can't trust someone that loves God? However, there are times you have to just stop the people pleasing and say no. I'll go through my planner and maybe postpone a lunch or even cancel some weekend plans. It's not to be flaky, it's to gain a sense of control and stop spreading myself so thin. Be sure when you do it to explain to the person why you're having to take a step back, ask if you can reschedule and always apologize. When you're honest with a person, they'll respect that and chances are they will 100% understand where you are coming from! Once your schedule feels lighter you can feel lighter and have a bit more clarity to think.
2. Turn Your Phone on Airplane Mode
Do I sound like a hermit or what? My first two suggestions: back out of plans and run away from the cell phone! Haha. It's not that, it's just that our phones always go off at inconvenient times. I know for me, I'll be upset over something and if my mom calls and I answer I don't want to take it out on her because that's not her fault! Another reason I say to turn your phone on airplane mode is because it's so easy to just grab your phone, scroll through Instagram and start comparing yourself to others. Comparison is the thief of joy and when you're feeling down you don't need to be looking at someone's highlight reel because that is truly all social media is! I don't post to Snapchat every time I get a nasty e-mail and I don't tweet when I know I hurt someone and need to apologize. There's enough negativity out there, who needs to add to it? But because of that, social media can sometimes seem "overly positive" and not realistic. So just turn that phone on silent and know that we all have bad days whether we post about them or not, and I promise you will get through yours!
3. Give to Someone Else
If I'm in a funk for a few days, the best medicine is for me to stop thinking about myself! Self-centeredness is a one-way ticket to unhappiness and it helps to always stop thinking of my problems and how they make me feel. Volunteer, send someone a letter, donate special items to a women's shelter or send flowers to a girlfriend. Whenever I think of someone else and what they are going through I immediately stop thinking of what is causing me and my selfish heart to be unhappy.
4. Declutter Your Space
When I'm feeling unhappy I like to focus on things I can control and a space that makes me feel at ease. Maybe that's your bedroom or your living room or even your kitchen. Take an hour, clean, declutter and remove unwanted items or things that don't make you feel joy. It's a quick task that will automatically have you feeling less stressed, more accomplished will take your mind off of your problems at hand.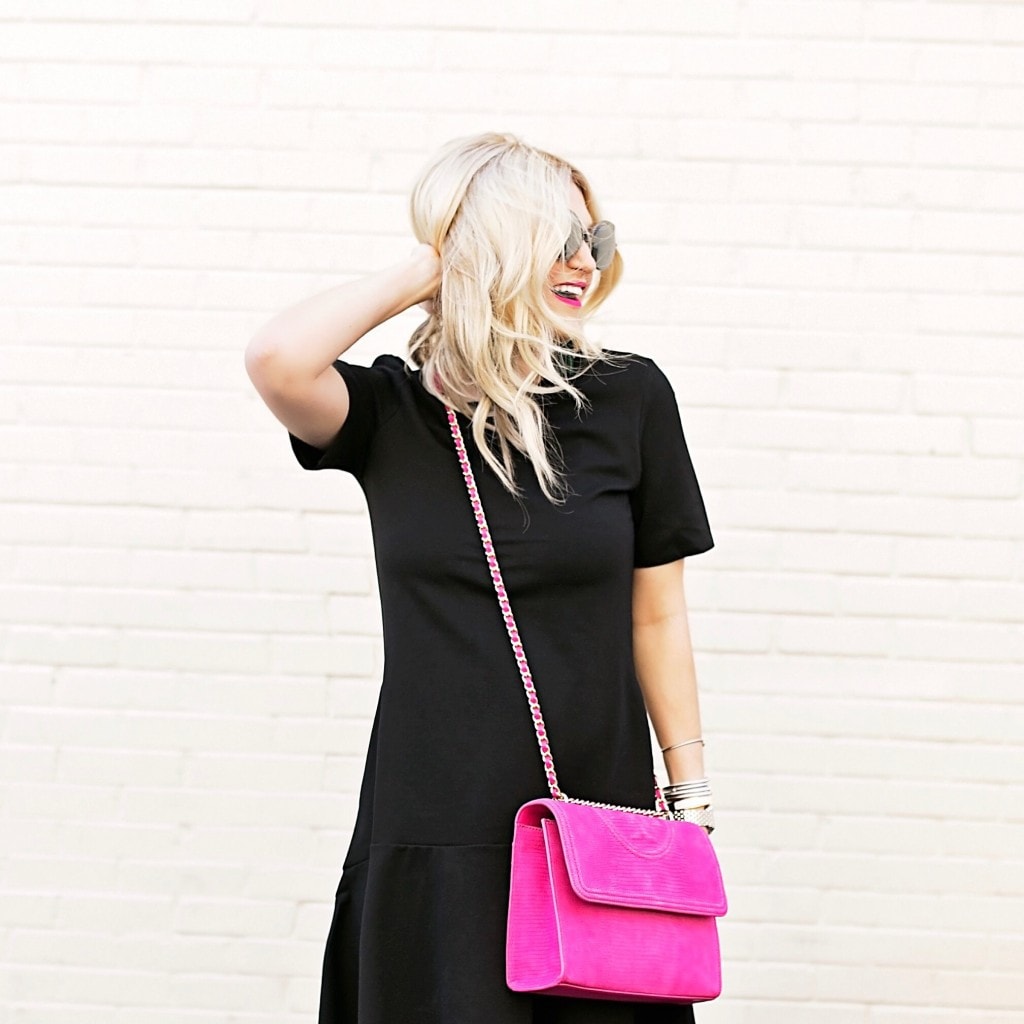 5. Make Plans with Like-Minded People
This one might sound odd but we all have friends that we are different than and we all have friends that can finish our sentences. Whenever you're down, just go grab lunch with someone that is similar to you. Sometimes you need to vent and you need someone to have that similarity and view the situation in your perspective. Don't get me wrong, you need the other perspective just as much! But I think there are two steps to healing: the acknowledgement and the growth. First, you need someone to acknowledge you are hurting as opposed to playing devil's advocate and helping you suck it up. If you're going on 6 months of a breakup, you may need the tough love friend [but it's all relative to the relationship of course!]. However, if something is fresh to you in your mind and your heart, you just need some TLC and maybe even someone to baby your heart. I have those friends that think differently than me and trust me, there are so many times I need them. I need someone to say, "But why didn't you view it this way?" or "I don't think they were being rude, Katey. I think you're being overly sensitive." All I'm getting at is that if someone or something made you cry an hour ago, go grab lunch with your most supportive, similar girlfriend and vent. We all need that girlfriend to hug us and say, "I don't know why that happened, but it sucks that that happened and I feel for you." Sometimes having someone validate your emotions right after they feel bruised is just what you need. But be careful with this and don't stick to only having them validated. We all have times when that isn't appropriate, but you get the idea!
6. Buy Some Flowers, Grab a Coffee and Pick Up a New Book
You know those "me time" errands we love to do? Grabbing an indulgent latte, picking up peonies, getting an overpriced car wash and losing yourself in a book store? If you're having a bad day, do that! Sometimes staying in the house and sulking can be the worst thing and fresh sunshine always does a girl good. Get away from your responsibilities for a few hours and just enjoy the things you love! I'm convinced that is why I go to Homegoods at least 2 times a week! Pregnancy hormones are real, y'all. Pregnancy hormones are real. 😉
7. Call Your Grandmother
Call your Nana. Call your Meme. Call your Gigi. Call your Honey. Call your Grandma. Whatever her name might be, just call her! Maybe you have a special relationship with an aunt or maybe it's your grandmother, but look to someone older, wiser and that loves you unconditionally. I always get the best advice from my grandmothers because they've been through everything I have 10x over and they are far enough removed from a situation [whether it be work or friends] that they can give unbiased advice. Sometimes my mom might be a bit biased because she hears more about things that upset me or is closer to the people or situations in my life.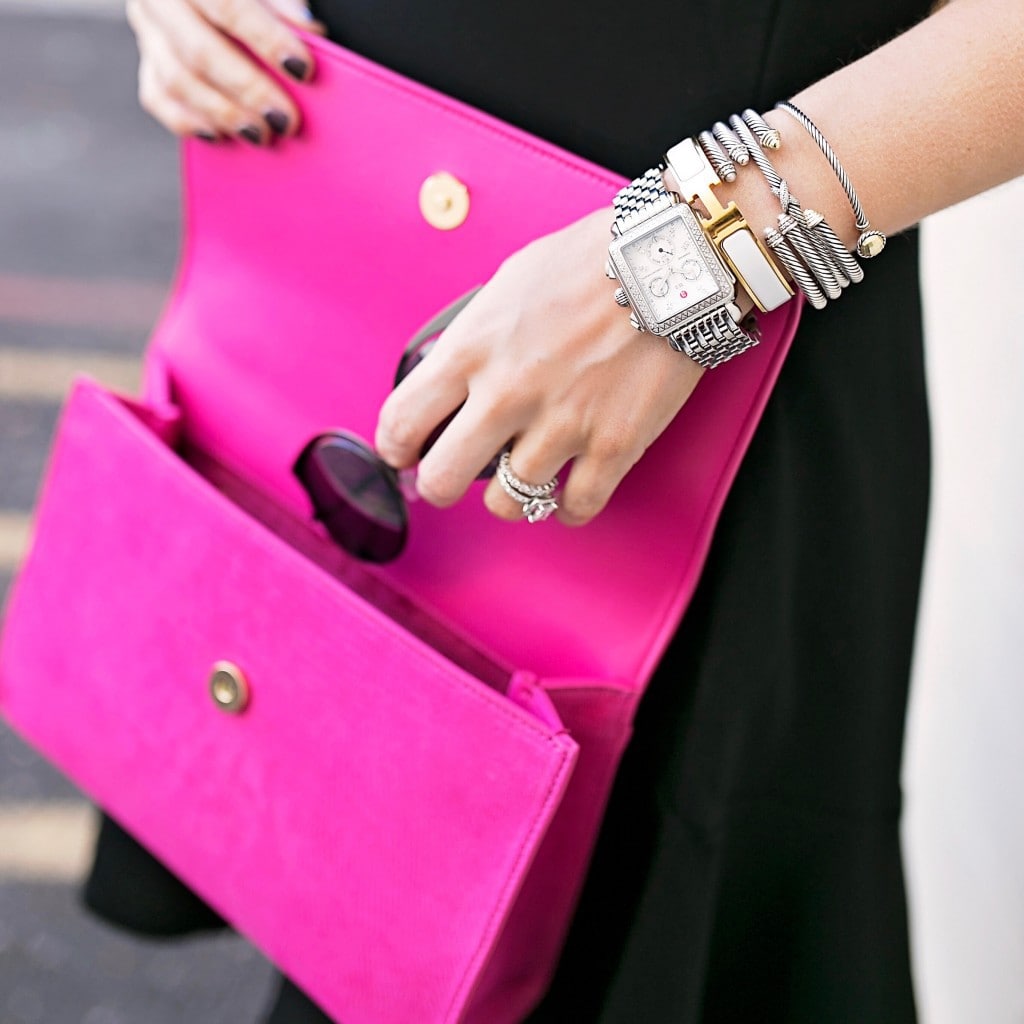 8. Ask Yourself One Question
I don't follow Dr. Laura, but she does say, "Ask yourself, was it a bad day? Or was it a bad five minutes that you milked all day?" I'm not saying those five minutes weren't rough. Five minutes is all it takes to break up, mess up at work or have a huge session of word vomit. But sometimes we have to look at things in time because it helps us to see how quickly we can get over it. If I had one bad work e-mail that took me five minutes to read, it can affect me. Words hurt, trust me. But at the end of the day, it was five minutes. It was just one e-mail. It was one person's opinion. That's not what God thinks of me. It's not what my husband thinks of me. It's not what my parents think of me. It's not what my friends think of me. And 99.9% of my readers don't think those things of me. Remember if someone goes out of their way to hurt you for 5 minutes, it's because they have a lot more than 5 minutes of pain going on in their life! Hurting people hurt people. So whenever something that hurts happens in under 5 minutes it can be a good reminder that in 5 more minutes something just as powerful, but in a positive direction can happen.
9. Plan Something
Most of the time when we are upset it's because something affected us that was out of our control. It wasn't fair and there isn't much we can do about it, we can only control how we react. I say take that control back and put it towards something fun like a plan you wouldn't normally do. Plan a fancy dinner with girlfriends. Plan your next vacation. Or even just plan your schedule next week and throw in a manicure so you feel more calm. By taking the initiative to show yourself that you are in control of some aspects in life [not everything!] you can remind yourself that you're also in control of how you respond to that person or situation.
10. List The Things You Are Proud Of
I shared in my 2017 resolutions that I don't make numerical goals for my blog. It's because if I do hit them, I'm still never proud of myself. Those types of goals don't satisfy me. I think, "Great, I SHOULD have accomplished that. Now I need to do this!" That kind of self talk where you expect yourself to accomplish things leaves little to be celebrated. Make a list of 10 things you are proud of yourself for and it certainly doesn't have to be work related! We always write down things we need to do, but seldom do we write down the wonderful things we have done. Acknowledge your worth. Acknowledge that you are smart. You are kind. And you are important. [#favoritemovieever]
Lastly, remember that like I said before emotions are circumstantial. Something good will happen tomorrow that will cause you to be happy. And something will upset you next month as well. We have to focus on joy and what gives us that [for me that is my relationship with Christ] because that can never be taken from us! I'd love to know any ways you focus on being happier!