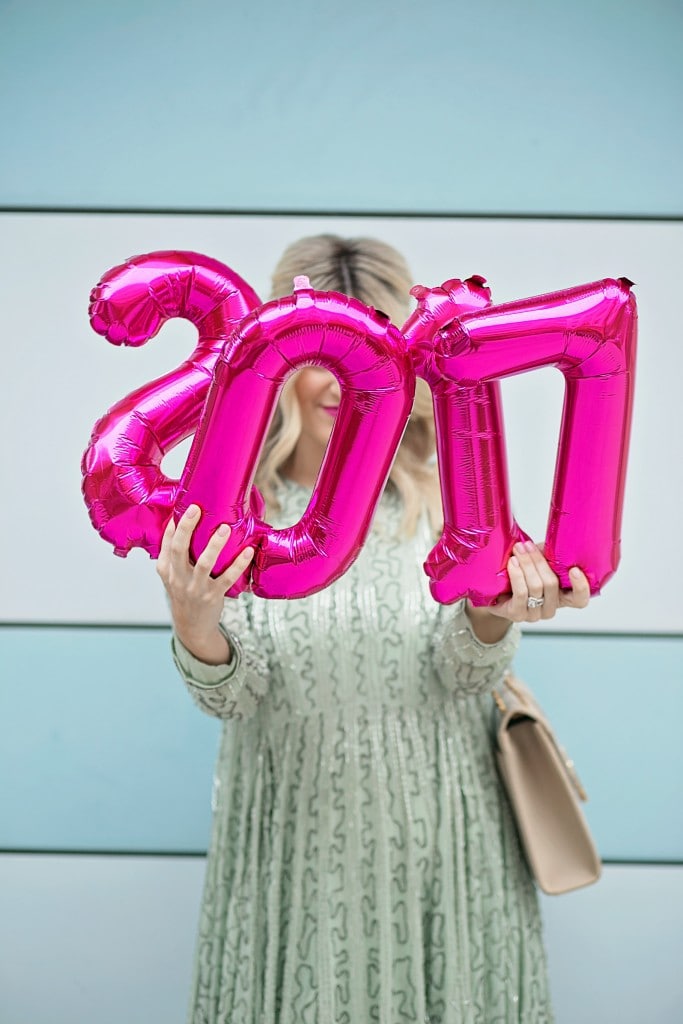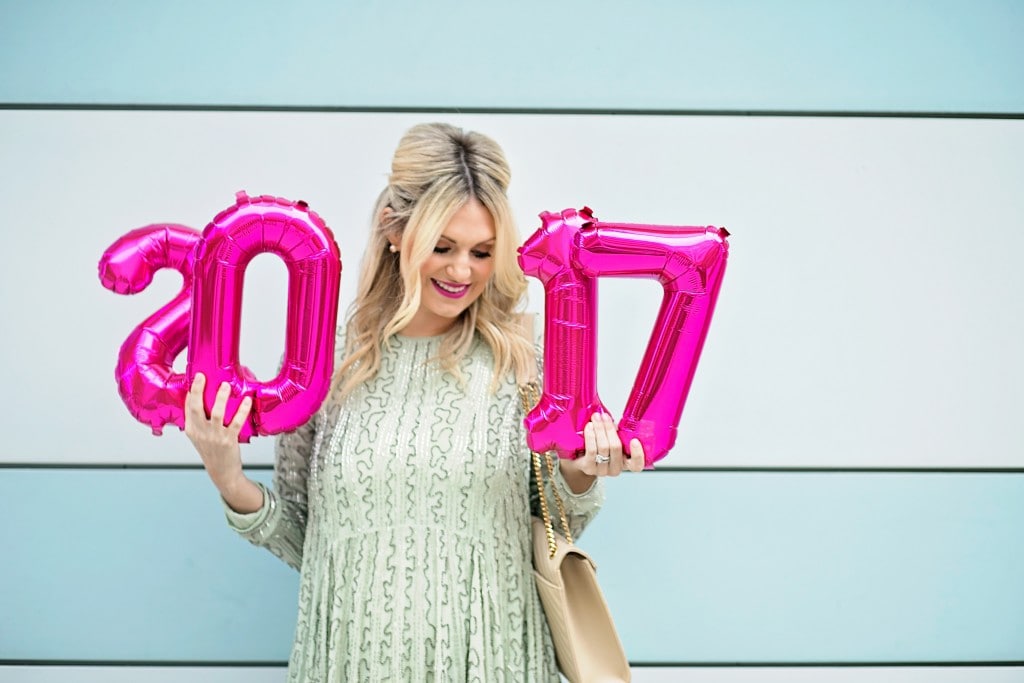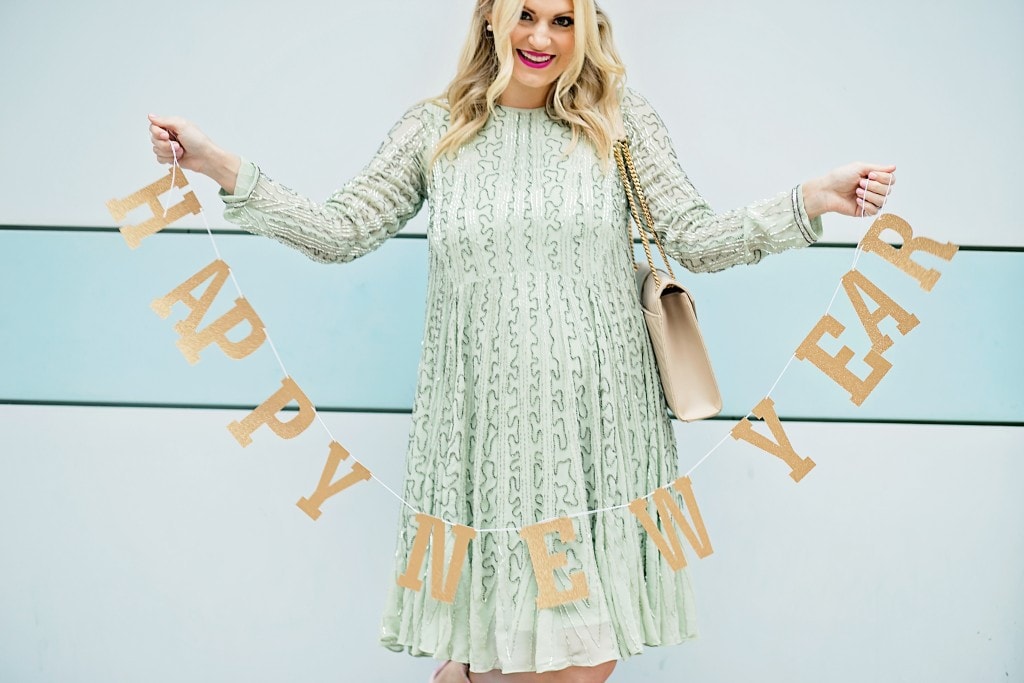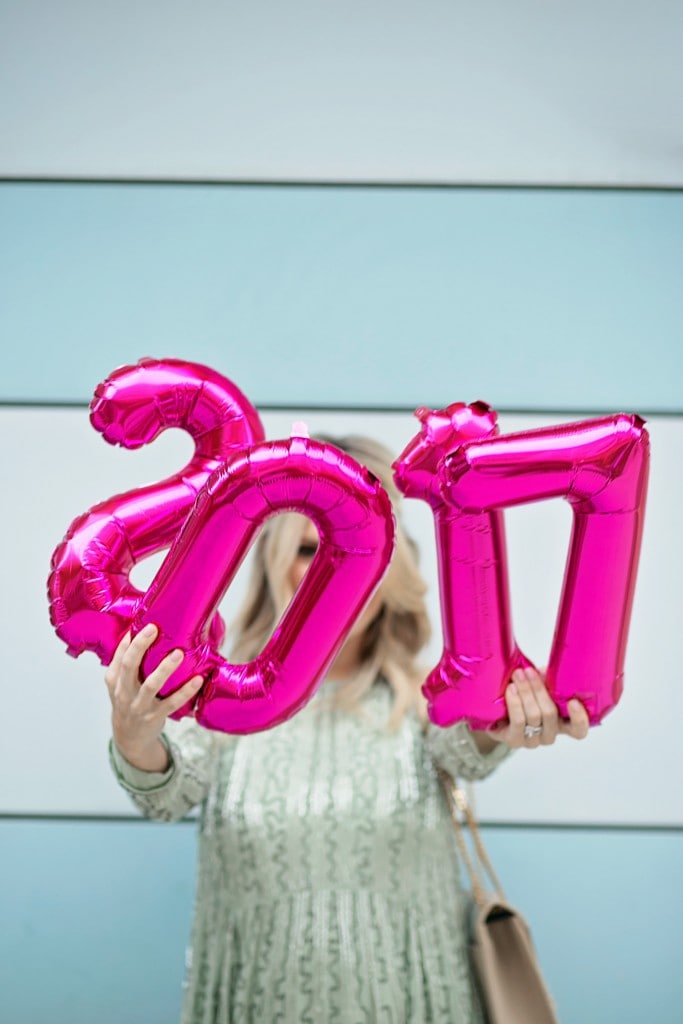 Dress: ASOS | Bag: YSL, Similar | Lipstick: Bella | Shoes: ASOS 
Photography by: Angie Garcia
---
If I say I hate the term resolution does that make me a negative person? I have to share that before I share what I hope for in 2017. Resolution reminds me of an overly crowded 24 Hour Fitness on January 3rd. Something about the word just connotes failure or quitting. So let's call resolutions what they are: goals. I retweeted a quote last week that said, "The distance between goals and reality is simply discipline." And while I'm also not one for motivational quotes [those also remind me of an overzealous workout routine that I'll quit in 4 weeks! 😉 ], I loved that one because I believe it to be 100% true. Goals can be obtained, you just have to have discipline. One of the first ways I like to discipline myself to accomplish something is through writing it down. My office is filled to the brim with notepads, to-do lists, check lists, goal lists and planners. I thought I'd take it one step further to share my top goals for 2017 with you all, in hopes of being even more disciplined to fulfill them!
First and foremost, my main goal of 2017 is to be the best wife and mom I can be. The writer in me cringes typing that because that should be a given. However, with this new role of "mommy" I just want to reiterate to others and myself that each of my other goals will fall second to that. If a blog post doesn't get up, if a run doesn't get finished or if dinner is from the crock pot three nights in a row, that's fine by me, as long as the reason is my husband or my daughter. They need me the most this next year [and every year after that] so whatever goals I accomplish, I want to make sure they support this priority.
I'll break up the rest in sections below so you can feel free to pick and choose what you want to read!
Faith
For 2017, my most important goal with my faith is to be still.
Psalm 46:10 says, "Be still and know that I am God." 
Being Type A, I'm always ticking away at a to-do list. And I'll be honest, I can even let it affect my relationship with God. I'll have a bible study I have to do or an area I want to serve in and sometimes life can just become a process of, "Do this, finish that, move on to this." Because I don't have a commute to work half the time I'm just still and listening to God when I'm in the shower or right before bed, and yet that is the time I feel his presence most! He answers my questions, my worries, my concerns and it's that time I feel closest to him. Studying the word, serving and being in a body of believers is so incredibly important, but those are supplemental actions to an actual relationship. Adding "mom" to my roles next year means life is going to get a lot busier and for the first time in a few years I'm not giving myself set goals on what I want to study next year, instead I'm giving myself a set goal of how I want to be still next year.
 I want to be more intentional on my time just listening to God, being still in his presence and waiting for him to respond to prayers. 
Family
In 2017 my little sister will graduate high school and go to college. She is the EXACT opposite of me. She is such an extrovert. While I love people, I also am shy and a huge homebody that needs her recharge time. Hence, why I write on my laptop from home for a living. 😉 For Christmas my mom got me a pillow that says, "I Just Want to Stay Home" and everyone laughed because they said, "That's what Katey always says!" A few days after Christmas we were at lunch with our family and best family friends and my sister was going on and on about how she just has to be around people. She loves having people over even if they aren't hanging out because she just likes to sit and do stuff with people around. I just about fell out of my chair because that's so different to me. If I'm working or doing laundry or cleaning I can't think if people are around because I want to talk to them and make sure I'm hosting them. All of that aside to say, she'll go to college and join every organization and be a busy bee. Whereas, I did join a sorority and got really involved but I still made sure to see my family [only 30 minutes away] as often as possible! haha. So for 2017 my mom and I really want to have a family dinner once a week. We know my sister won't be able to come that often [she'll be in Dallas for school about an hour away from my parents] but we want that time to really be able to catch up and see one another. I also really want to just soak up the fact my mom will be around my daughter. I didn't grow up around grandparents so I also want to make sure I keep my weekly dates with my mom and just enjoy that time with the 3 of us. It's really easy for me to get tied down with a work schedule and be a workaholic which is what I know I'll do when my little one naps. But for 2017 I want to be less hard on myself and say, "Yes" to running an errand with my mom and daughter, even when I know I have work to do. I'll always get my work finished, but I can't always be able to spend time with my mom, so I just want to make sure I'm really present with my family.
I want to do weekly family dinners with my family and make sure I take advantage of all the time my mom and daughter can spend together. 
Personal 
I want to find a workout routine I can easily commit to after having baby and feel healthy for her, for my husband and for myself. I think I'm going to try BBG because it's so easy to do from home!
Instead of Netflix binging, I want to make sure I read before bed. I think a great way to do this is reserve Netflix or shows for just 3 nights a week [because you know I have to watch The Bachelor before bed! 😉 ] and read the other evenings. I want to read this next.
I want to be better about getting sleep. I don't require a ton of sleep [or I tell myself I don't] and I'll stay up answering e-mails until 2 a.m. and get up at 5:30. That's not healthy and it won't be doable as a mom. I want to be more strict with a bedtime because I know I'll feel better.
I drink a ton of water being pregnant [100 ounces a day or more] and I want to make sure I continue to do that since I know it will help with breastfeeding and being healthy in general! [Here is a post on how I started to drink more water.]
As birthdays come throughout the year, I want to write them down in my planner. I'm so bad about this and get anxiety every day checking Facbeook making sure I don't finish a birthday. It's honestly a hilarious task each morning. I'm like, "Oh my gosh, who am I forgetting today?!" That's ridiculous and I just need to write birthdays down since I think I only remember 10 or so off the top of my head. 
I want to send more cards. I'm a stickler for traditional thank you notes, but one of my girlfriends Laura is amazing at this. She will send the sweetest cards in the mail for no reason at all and they are one of the best gifts she could ever give as a friend. I always buy cards on sale at Homegoods so I want to make sure I'm sending out a few a month to people I love. 
I want to cut complaining. It's not that I would say I'm a big complainer by any means, we all complain and are able to recognize annoyances in life. But this past year I've given myself a few rules of things I'm not allowed to complain about and it was incredible seeing how much my perspective changed. If you just don't say it, you really start to not think it. So while I've had a few topics off the table in terms of venting, I want to apply it to more areas of my life. 
Business
I don't set numerical goals with COF. Numerical goals don't satisfy you. Part of my belief as a Christian is that my creator made my heart to be unsatisfied on this earth. It can only be satisfied through him and his love. One way God shows his love to us is through the love of other people. He never says that he shows it through salary, social media following, business ventures or number of contracts you sign. And I'm really proud to say, I've never really set number goals with COF. While, I certainly don't go around patting myself on the back [I have SO much to learn still about running my own business] I'm thankful I never set those goals because I would always be hard on myself. What happens when you accomplish one number goal? You fear you can't obtain another and you just want more. Instead, I like to set relationship goals in my business as well as creative goals.
For 2016, I wanted to incorporate more food posts and Youtube. I tried both. I only liked one. I HATE Youtube videos of myself. I bought all the equipment. A new camera. I hired someone to help me edit videos. It just didn't feel like me. I dreaded filming. I cringed watching the videos. I got extreme anxiety uploading to Youtube each time. And a huge realization I had was, "Why am I doing this?" Sure, I get a lot of requests for hair tutorials and makeup tutorials. But the main reason I did these videos was because I thought I needed to. Lots of people add that vertical to their blog and I thought, "Oh, wait! I mustn't be left behind the trend!" But what good am I doing for my readers or my blog if I'm doing something and hating every moment of it? I will say, I have really enjoyed the few professional videos I've gotten to film for a brand, like this one with GLAMboxes. I enjoyed allowing someone to take their talent and help bring my idea to life. So for 2017, I'd love to add videos in that capacity. Maybe I'll hire someone to film my hair tutorial. Maybe I'll create a video for a campaign. But do I think I'll be "vlogging" anytime soon? No. Owning my own business I have to have the maturity to understand what I'm able to do and what I'm not. If someone can do something 80% as well as you can, just let them do it! And let's be honest, a videographer can do it 800% better than I can! So sure, you may not see a set number of new videos on COF for 2017, but if the opportunity arrises, I can guarantee I will take it!
For 2017, I really want to make sure the content I create is the content you crave. Here's an example. I do focus groups and surveys with readers throughout the year at random so that I can help create my editorial calendar. Recipes were the number one thing requested going into 2016! Anytime I post something I cook on snapchat, I get hundreds of messages asking, "What's the recipe?!" So I thought, "Yay! They want to see Barefoot Contessa, I mean Barefoot Katey, on the blog!" I found a food photographer and I really enjoyed it. However, the analytics didn't align with the requests. I'll be honest here and say, I got maybe 1/8th of the page views I do in a typical day. I have lots of analytical programs that I run through my blog so I can see how many seconds/minutes/hours people spend on each and every post. I can see if the post is shared with friends and I can see how many people spend time on the post the day it goes live vs. months later. And none of the numbers added up. It was as if those requests were false. Now, previously I stated I don't make numerical goals and I don't in terms of growth. But to ignore lack of interest would be selfish on my part. This isn't to say y'all don't want to see recipes. This is to say most didn't want to see recipes in the capacity I was offering them. I still want to share recipes as I love to cook, but I want to find the way in which people want to see them! Maybe that's providing 5 different dinners in one post so people can easily save it. Maybe it's sharing what I get for the week at the grocery store or healthy snacks I make! Or maybe it's providing options that fit a specific diet like Whole 30. Whatever the platform needs to be, I want to make sure that I'm not just answering a question, but making sure my analytics prove I'm answering it in the right way that you want it.
Another goal I have is with photography. I love photography and nothing gets me more excited for a post than when I know we have great content to share with you all. I also want to splurge on a new camera and lens as there is one I've been eyeballing. I haven't done it yet because I want to rent the camera for a day to play around with it first, so I just need to take the time to do that. While I want to increase that creatively for 2017, I also want to share real-life tidbits. For months I've wanted to share a, "What I Did this Weekend" post with imperfect iPhone snapshots. But I have yet to do it and I think that once the baby is here that will be a perfect time to dive in. I love reading those types of posts from blogs, so I thought it would be fun to share more of that throughout the year as well. I want to really highlight what we do throughout the year so that I can always look back and be reminded of things other than just outfits.
Create the content readers want, grow photography, splurge on a new camera but also don't be worried about sharing real life photos and day-to-day life. 
Relationships
I have so many thoughts going into relationships for 2017, so let me just break it down into two parts: romantic and friendship.
In terms of my relationship with Paul, we both want to make sure we make time for each other when baby arrives. My mom and dad always made time for one another and because they were such good spouses to one another, I really think they were better parents to my sister and I. My parents would always say, "We love God, each other and then you." To some that may have not heard that, I promise it wasn't harsh! In fact, I felt so loved and safe knowing my parents adored one another. They always went on date nights and my sister and I never would try to complain to one about the other because we knew they wouldn't turn on each other. It was a really great environment for my sister and I and one I want to give our kids as well. And if anything I can attest that I feel spoiled in the love department from my parents and almost feel guilty because I know how much they both adore my sister and I. Because I certainly don't deserve that much love from my parents and I'm so thankful to God for it.
While celebrating our anniversary this year, I was so sick! I was in the midst of my morning sickness [I think I was 21 weeks pregnant or something!] and threw up the entire time in the hotel. It was so bad we actually left the hotel to go home at midnight and I was sick the entire next day. Paul felt so bad and I felt so guilty, so he surprised me a few weeks ago and booked us a trip for next year's anniversary. It's a resort I've always dreamed of staying at and the fact he booked it as a surprise meant the world to me. Of course I've already started to be nervous about leaving her with my parents when she will be almost 9 months old even though it's only for 3 days. I know I'll cry getting on the plane and miss her so much, but my mom gave me some tough love and I felt so good about it!
She was very blunt and said, "I left you at 8 months for a trip with your dad and guess what? You don't even remember. You can bring your breast bump if you're still breast feeding. She'll be more than fine she'll be with your dad and I. The best gift you can give her is a happy and relaxed mother and father."
Don't you just love it when your mom is tough and tells you what you need to hear?! haha. I just stared at her and said, "Yes ma'am." because I knew she was so right. So even though I'm a homebody and date nights on the couch will seem so tempting once she is a few months old, I want to make sure Paul and I continue to date one another because not only is it best for us, I know it's best for our daughter.
Date my husband and not feel guilty about it. 
Another way we want to date is to make sure we find a workout together we love. I was actually training for a few runs when I found out I was pregnant. I continued through my first trimester but that went all downhill once I hit my second trimester. I still have worked out up until this point but naturally I have to update my workout carrying an extra human so no races for me! haha. We've talked about a few runs we want to do next year and a few different workouts we want to try.
Find a workout Paul and I both love to do together. 
Now of course, you all aren't married and everyone has different relationship goals so I wanted to share an article I read online last week. I was in tears. Paul was like, "Um what on earth are you reading? Why are you crying?" It's a love letter to her ex fiancé and all about moving on in the new year. You might not have called off a wedding or maybe you ended a marriage in 2016. Whatever the relationship story, I wanted to share it because I thought so many girls could relate to it. I feel like a lot of break up columns just say things like, "Go out to dinner! Go shopping! Do what you want!" Sure, those things are fun. But how do they help heal your heart? This post talks about accepting the emotions and feelings and how that is healthy. I hope you enjoy! Read it here.
Lastly, my goals with my friends! If you've read this wannabe novel of a blog post, I apologize! haha. I really didn't think it would be so long, but I got a little chatty. But we are almost finished!
Having a newborn I know I won't be able to just run and get a last-minute manicure or run to dinner at the drop of a hat.
I really want to make sure I serve my girlfriends in ways they love! If they love gifts, I want to consistently think of that throughout the year. Maybe it's a text or a card in the mail. It will take a bit more planning, but I want to make sure I intentionally plan that girl time with my friends because I know it will be so important for me to have that time with them! 
Now, I'd love to hear from you! I'm writing my goals down in a planner, so I'd love to hear yours and maybe add a few to the list! Goals are important to always go back to, update, add and adjust and I think that's part of discipline. If something isn't working, it's important that I go back and adjust to see how I can make something different work. What do you have on your to-do list for 2017?!