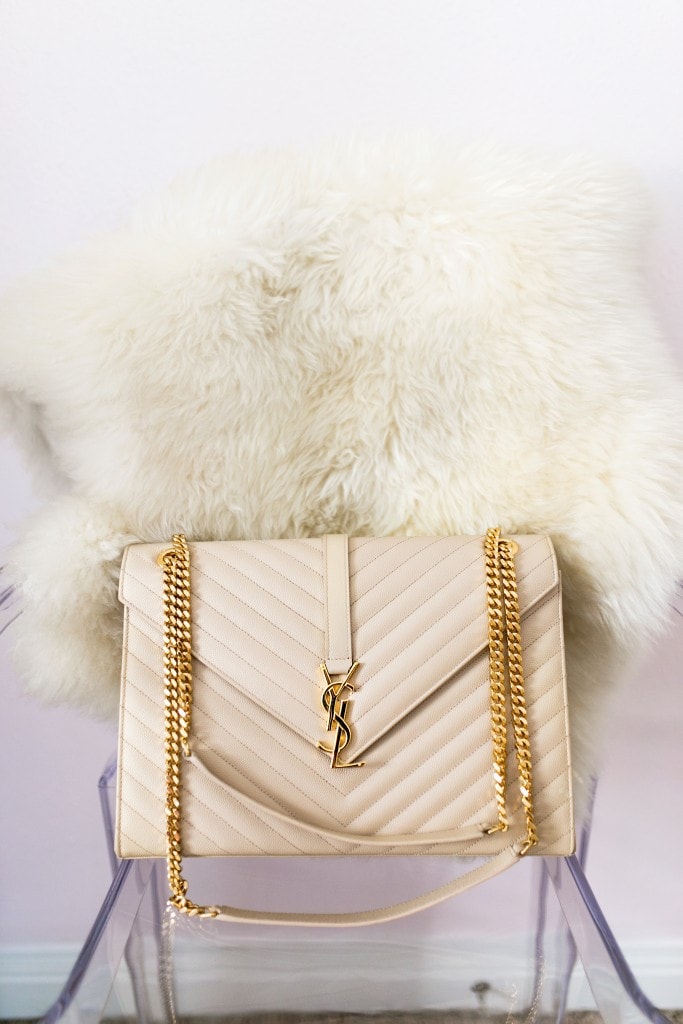 I don't want to offend other areas of my closet, but if I had a favorite child it would definitely be my accessories. While I would like to imagine I'm Rachel Zane on Suits or even Olivia Pope on Scandal- if I'm dreaming real big, the truth of the matter is that I work from home, I'm about to be a mom AND I live a pretty laid back life. I don't have $500 gowns gracing my wardrobe regularly [although I wouldn't mind! 😉 ] and I like to keep things on a budget if they are trendy or something I won't wear 24/7 like a faux fur vest. So accessories are the area I get to have a lot of fun with and my biggest trick is to mix them in terms of affordability with high and low options!
Today I thought it would be fun to share how to mix high and low accessories and the areas I like to splurge and save as well as my favorite brands for doing so!
When mixing high and low, I first think in terms of what I'm wearing. If I'm wearing a $40 dress I may dress it up with a designer handbag and minimal jewelry to keep it as classic as possible. But typically, I keep my blouses inexpensive and my denim investment pieces as those are worn for years on end. If both aspects of my wardrobe are balanced [in the sense my top is low and my jeans are high], I'll ask myself a few questions next:
1.Is this look trendy or classic?
If my look is trendy, I'll keep accessories more minimal and aim for the high end. If my wardrobe is classic I have fun mixing in inexpensive accessories to brighten it up. But depending on your personality this one might be opposite for you! If you're a classic girl headed to class in your Burberry coat you'll probably pile on your staple bracelets and pearls. I just like to mix it up as I love to do things like mix prints and not stay married to one particular theme in my look.
2.What am I doing for the day?
For an everyday look, I wear my same standard set of bracelets and necklaces. These are pieces that are a bit pricier as they were gifts that I've collected over the years. However, if Im going on a date or have a fun day planned I like to play around with earrings that were a steal and make a statement!
3.What matters most? Style of functionality?
Typically, if I'm going for functional I'll reach for a high piece. If I'm going for a unique style I am not afraid to mix in a lot of affordable pieces. Something to keep in mind with affordable accessories is that there can be a learning curve to get to know what works vs. what doesn't. For example, maybe your statement necklace is a little heavier and can't be worn for more than 8 hours. That's a perfect date-night piece! Or if you're needing to be functional tassel earrings may not do the trick for the day.
Granted, these aren't always "do or die" rules and I adjust my answers accordingly, but I like to go through these steps while picking out my accessories to make sure I'm not throwing off my bangles 2 hours into my day or wishing I'd worn a different scarf by lunch!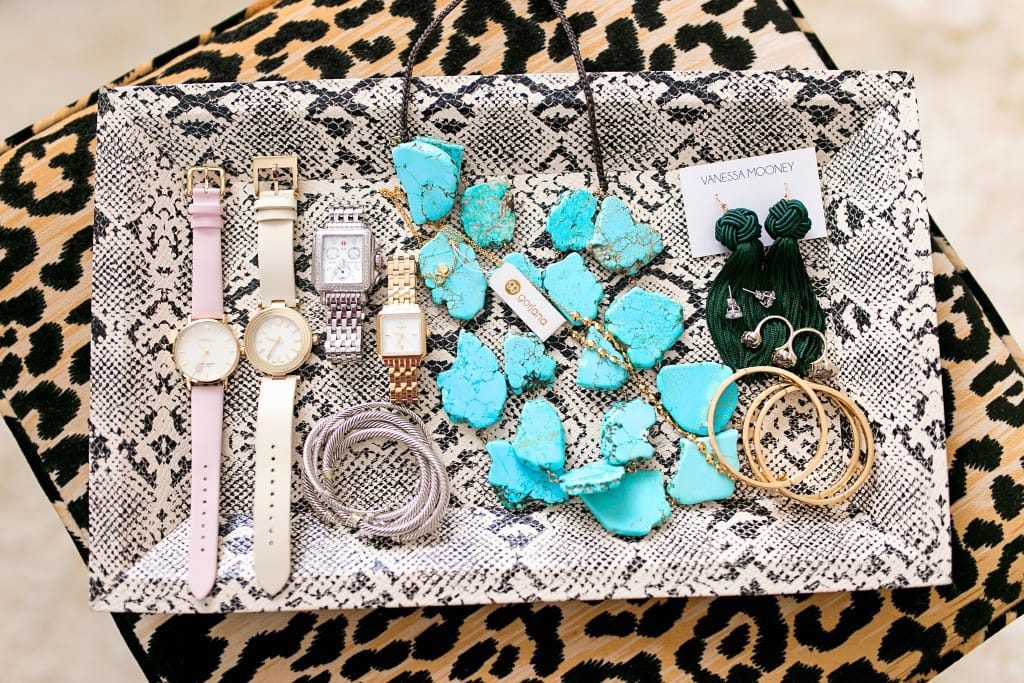 JEWELRY
---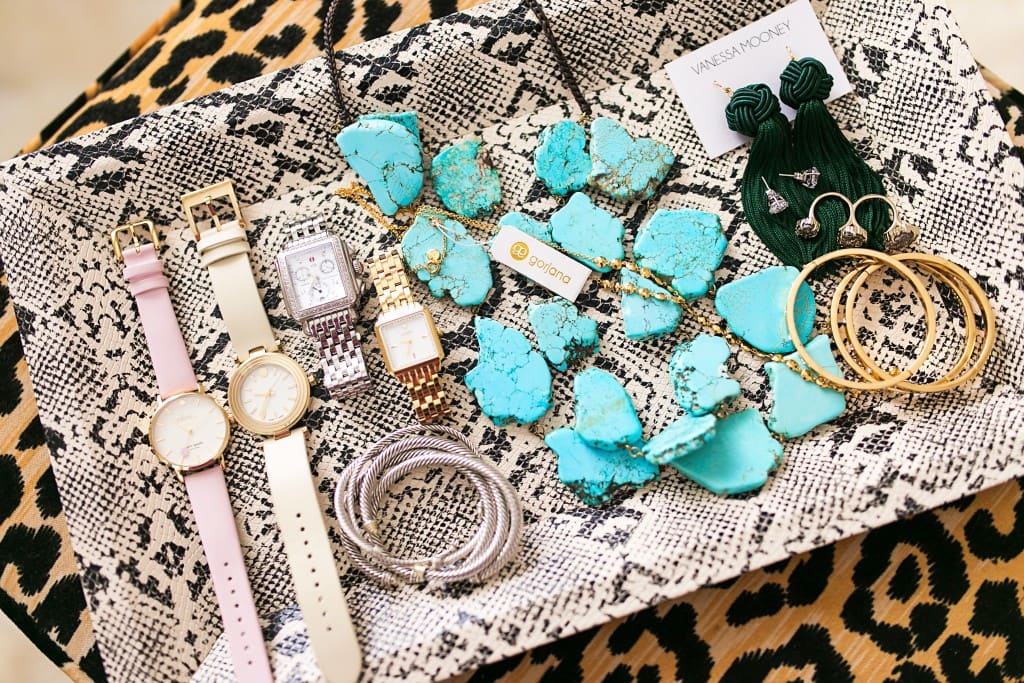 Now high and low is going to be relative to everyone not only in terms of what you're comfortable paying for something but also in terms of what you use most! For example, I have a certain price point in mind when it comes to shoes that I won't pay more than unless I know it's a high-end designer pair that will be in style for decades. And I know my girlfriends have a different price point in their minds depending on what they do for a living and the places they go! If you live in a walkable city you'll probably spend more on shoes than I do because your soles need to live up to the miles you walk. But for the purpose of this post, I'll refer to high as brands you would find listed under "fine jewelry" and low as brands not listed in that category. Something might be listed for $100 and be categorized as costume jewelry by a vendor and $100 is still a lot, but for categorization purposes I'm going to go with how most department stores categorize items!
When it comes to jewelry, I typically like to stock up on lower priced items, except for watches and and classic pieces I know I will pass down in my family. I'll cover my favorite watch brands next, but in terms of fine jewelry, I love my David Yurman bangles. Each was given to me by my parents or grandparents for a special occasion like when I graduated high school or when I was initiated into my sorority to kind of symbolize that day! I love that I'll be able to give them to my daughter one day and share what each one means and how I think of that moment when I put them on. For me, high end jewelry has to be symbolic because there are so many great other options out there!
High: David Yurman

Low: BP Dupe

If you love the look of the DY cuffs, BP from Nordstrom has an amazing dupe. I found them while shopping in The Woodlands a few months back at Nordstrom with my girlfriends Taylor and Casey and tried them on for a few minutes knowing that I thought readers would love them!
In order to cover a wide-range of prices, here are a few of my favorite jewelry brands from Nordstrom that aren't considered "fine jewelry" and can be styled in a really fun way without breaking the bank!
Vanessa Mooney makes these amazing tassel drop earrings and y'all they are not heavy at all! However, do be sure to keep on a plastic earring back so that they don't fall off and you don't lose your tassel. They come in an array of colors and I have the hunter green shade. I want to stock up on more because they make such a statement [especially with a messy ponytail!] and are incredibly comfortable.

Gorjana is a favorite brand of mine sold at Nordstrom that has layering and delicate gold jewelry down! From a Y-necklace to stacking rings, this brand is perfect for building a jewelry box or if you don't like huge statement pieces. I got these earrings from Nordstrom by Gorjana in April and they are my most worn pair besides pearl or diamond studs. Another great option with Gorjana is that most of their jewelry comes in gold, silver or rose gold so you can pick and choose the shade you prefer based on what you wear most!

I love stone jewelry like turqoise and this is the brand I get a lot of my pieces from. My mom and I both have this necklace and wear it constantly just because it transforms any look without much thought!

I'm a Texas girl and love how the KS brand through and through, especially seeing how it has evolved! One pieces of hers I always get questions about is this statement ring.

While in The Woodlands, I also picked these 3 Kate Spade bangles up. I layer the three on top of one another for a stacked effect and love that the whole look is under $150 and looks collected.

Nordstrom brand makes incredible earrings! My little secret is that I get most of my diamond studs from their line and they have lasted me since college which says a lot! I currently have this pair Paul got me for Christmas.

WATCHES
---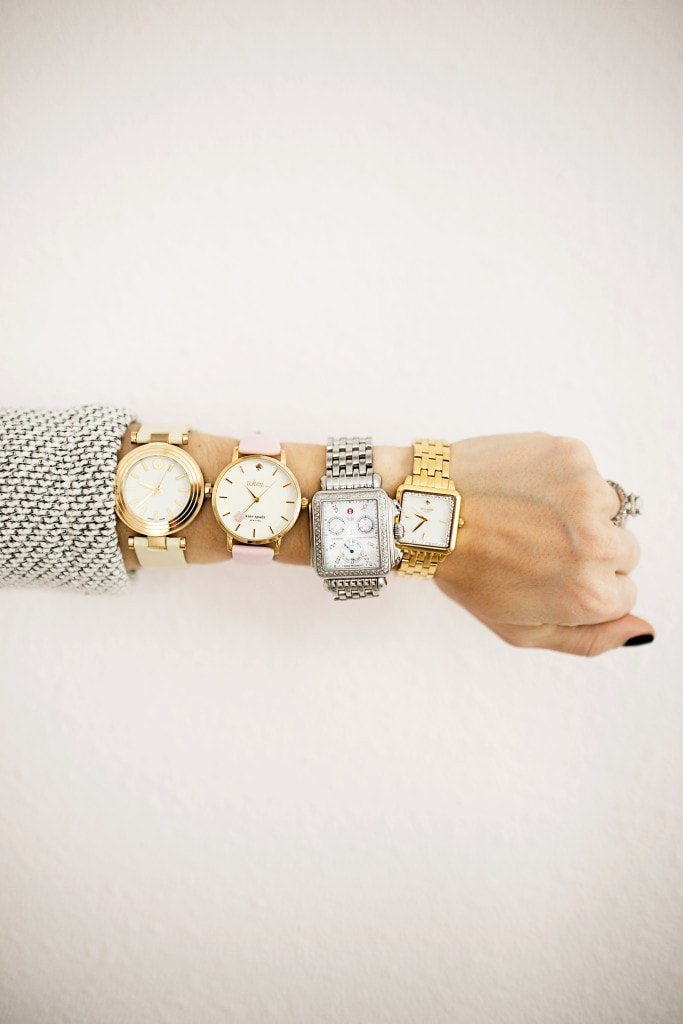 When it comes to watches, I typically spend a little more in this area because I like my watch to get fitted to my wrist and I of course need it to be functional and last for years! In terms of fine jewelry, I love my Michele Deco Diamond Watch. It was given to me when I turned 18 and it still looks brand new to this day. If you don't want to spend that much the other brands I love are Michael Kors, Tory Burch and Kate Spade. Here are the current ones I have below!

EARRINGS
---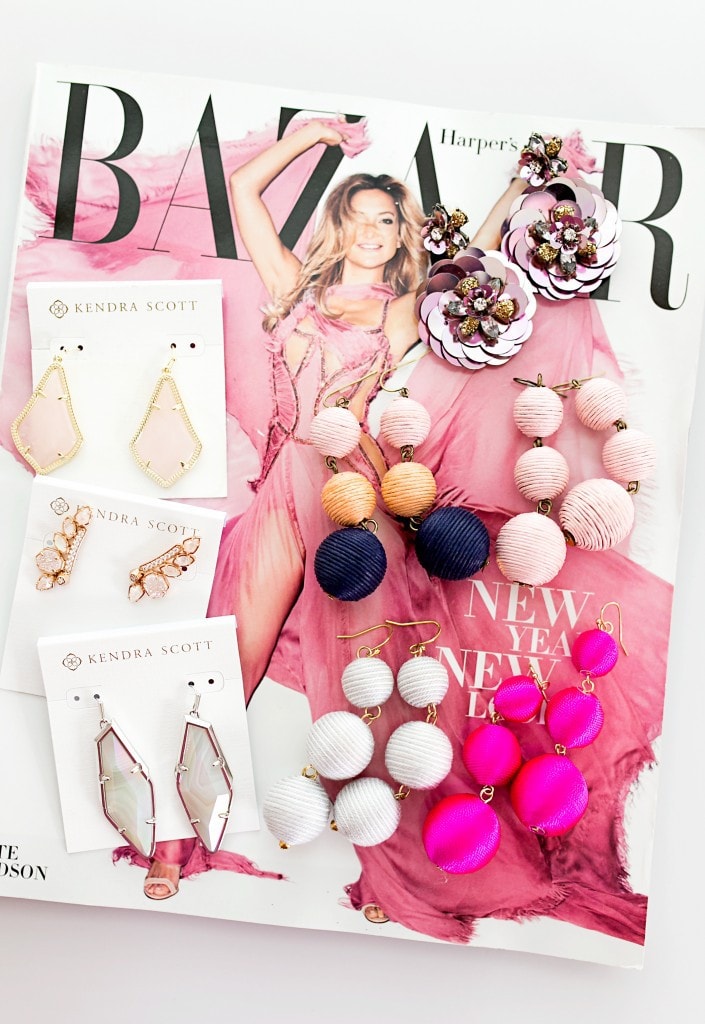 For statement earrings, I really don't like to spend a lot because I think this is the perfect place in a wardrobe to test a trend. Two go-to brands from Nordstrom for this look are Baublebar and Kendra Scott. These Baublebar Crispin Drops were probably my favorite earring trend of 2016 and I know I'll be wearing them all of 2017 as well!
Baublebar

Kendra Scott

SUNGLASSES
---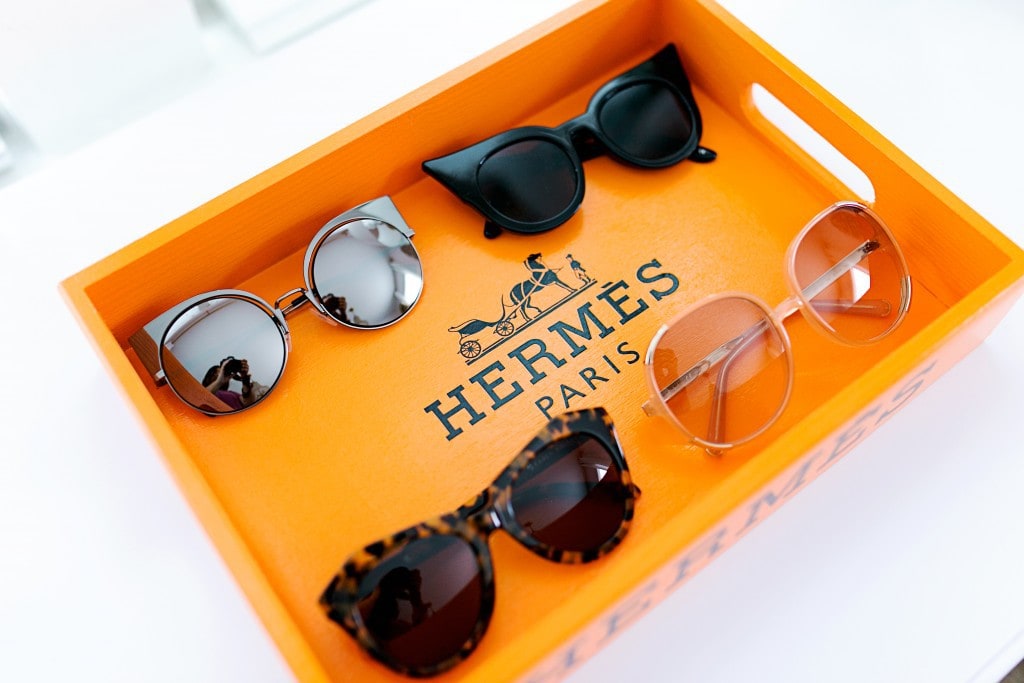 Sunglasses I'm really not picky about and I honestly just go for what I like best! If I like a pair and they are $5, great! $500? I may cringe, but if it's worth it I'll save. I think the most important thing with sunglasses is you just find what fits your face shape best and also lifestyle! I never really take pricier sunglasses on trips because I have lost a pair of Ray Bans in the Gulf of Mexico and I will always miss them! 🙁 Here are a few of my favorite brands!
High: Fendi, Chloe, Karen Walker, Ray Ban

Low: Le Specs

Le Specs makes amazing sunglasses for typically under $100! These are my favorite pair I own and they hold up just as well as high-end designer!
SCARVES & WINTER WEAR
---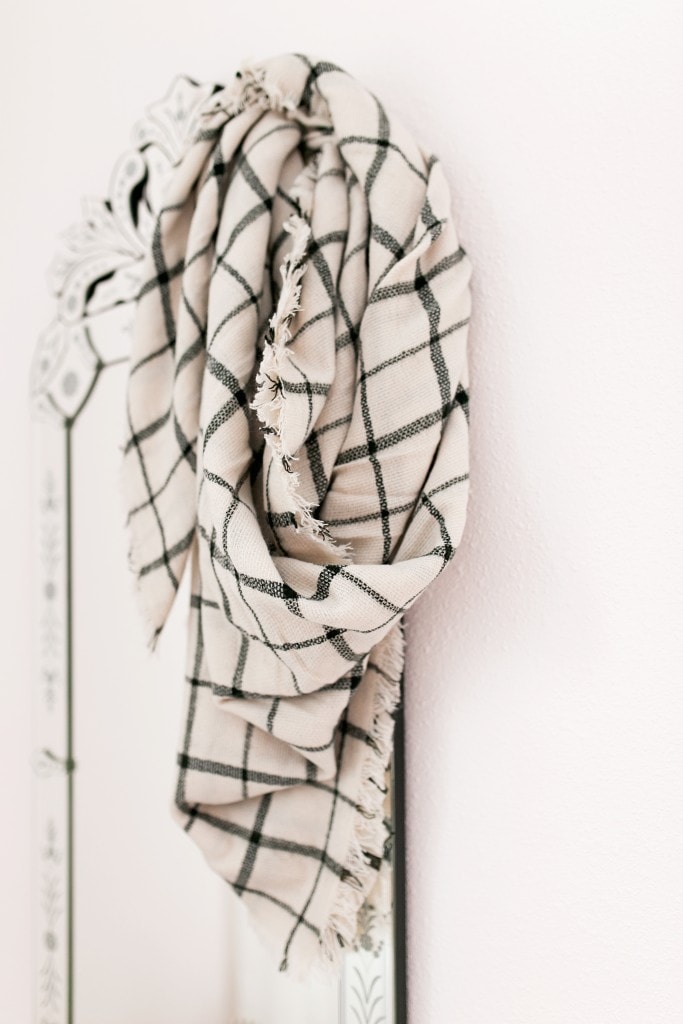 I really don't like to spend a lot on scarves and go the low route just because we live in Texas and I rarely wear scarves. I also haven't worn a lot of scarves while being pregnant because having a bump and then a scarf in your face can just be a lot for me personally [I feel like I can't breath when I do it! haha] so I like to go for a trendier route. BP at Nordstrom has so many well-priced scarves and I've gotten some for $9! Here are a few of my favorites below.

BAGS & TECH CASES
---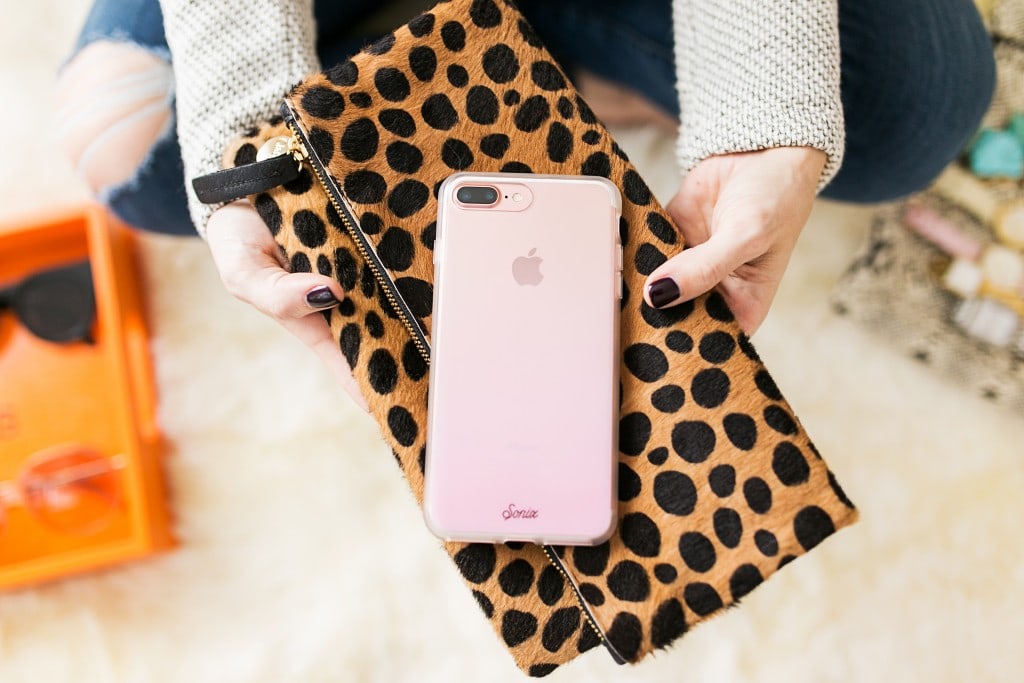 Can't forget phone cases can we?! I get a lot of questions about my phone cases and I typically get the Sonix brand because they hold up well and aren't too pricey!

When it comes to bags, I do splurge a bit more in this area. The three brands from Nordstrom I get that hold up incredibly well are: YSL, Tory Burch and Clare V. Those are three different price points in a high-range category, so you can browse whatever you prefer! But I get a lot of e-mails asking about bags that will hold up, not scratch, etc. and these are what I recommend!

If you aren't a big bag lady and spending that much isn't enticing to you, Sole Society bags are sold at Nordstrom and they always have great options and dupe as well! Here are a few I've seen recently that are beautiful!

FINISHING TOUCHES
---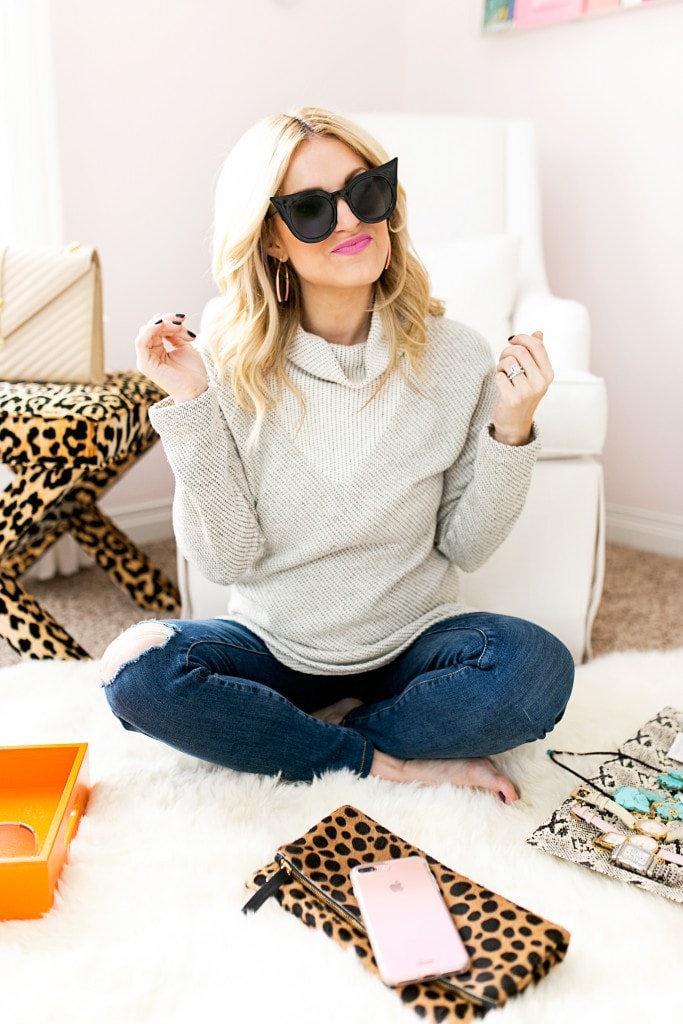 I think the best part of mixing high and low accessories is that you get to personalize it just like your own style to what matters most to you. If you don't like to wear as much jewelry as I do, you may just have a capsule accessory wardrobe where you wear the same pieces every day. Or maybe you don't carry the same bags as frequently as I do so you like to buy a lot more options and spend a little less. I think this is an option to always make your wardrobe specialized to you and your lifestyle, so definitely have fun with it. There is no ratio of "I must wear 2 low pieces to 1 high piece!" A few things to keep in mind when picking your highs and lows are that lows change and highs stay. Trendy items will come and go, but traditionally higher pieces cost more because they are made with real sterling silver or gold and have been in style for decades so you can know you'll safely wear these items in 20+ years. Another rule-of-thumb is that if everyone is wearing a specific item this season, it's safe to purchase it as a "low." If everyone is wearing a new loafer, chances are that it's a fad and unless it really speaks to you, I wouldn't splurge! Lastly, always keep in mind that as long as you care for your items like storing them in pouches and using a tarnishing cloth will allow your high AND low pieces to last longer than they would if you didn't.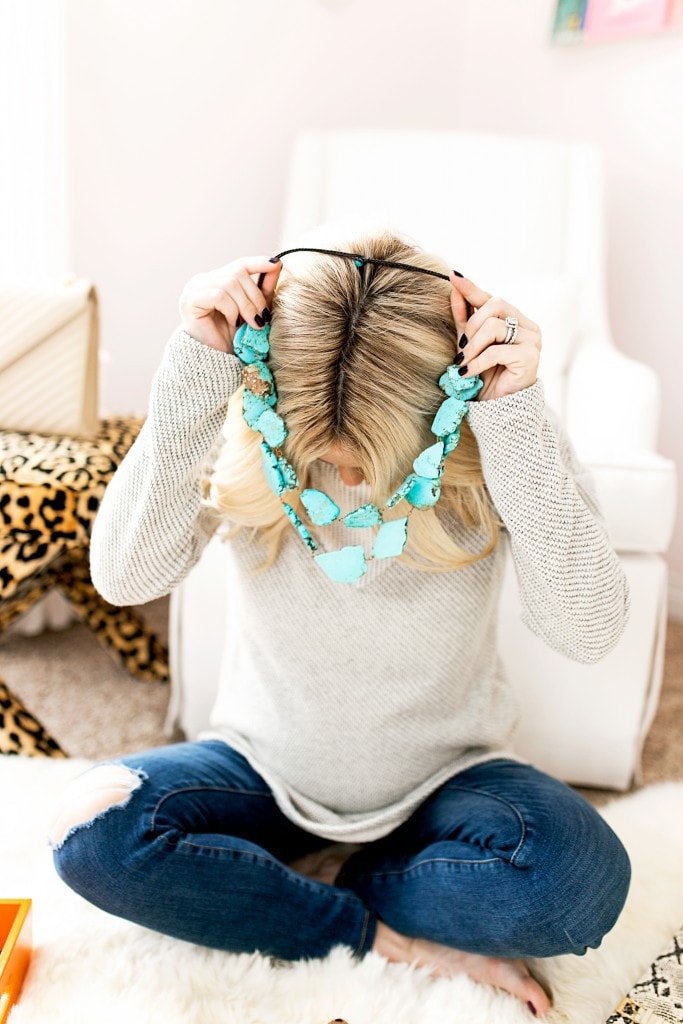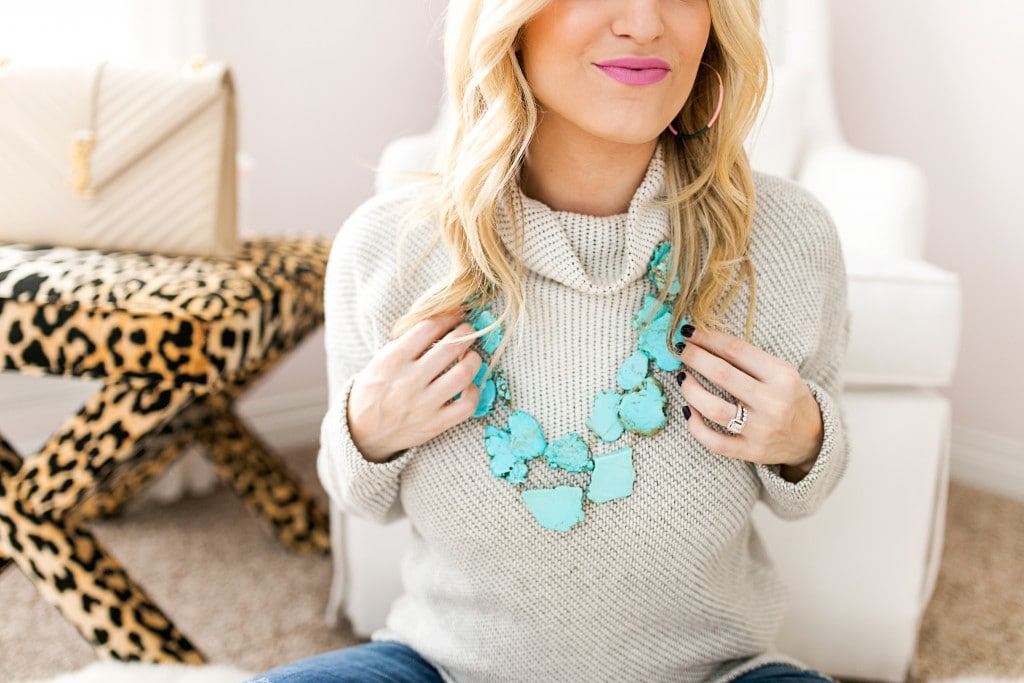 So I'd love to know what you like to mix in your wardrobe! Do you like to wear high clothing and low accessories or do you mix both options like I do?! I'd love to know your favorite brands to do it with!

In partnership with Nordstrom. All opinions, purchases and selections were my own!