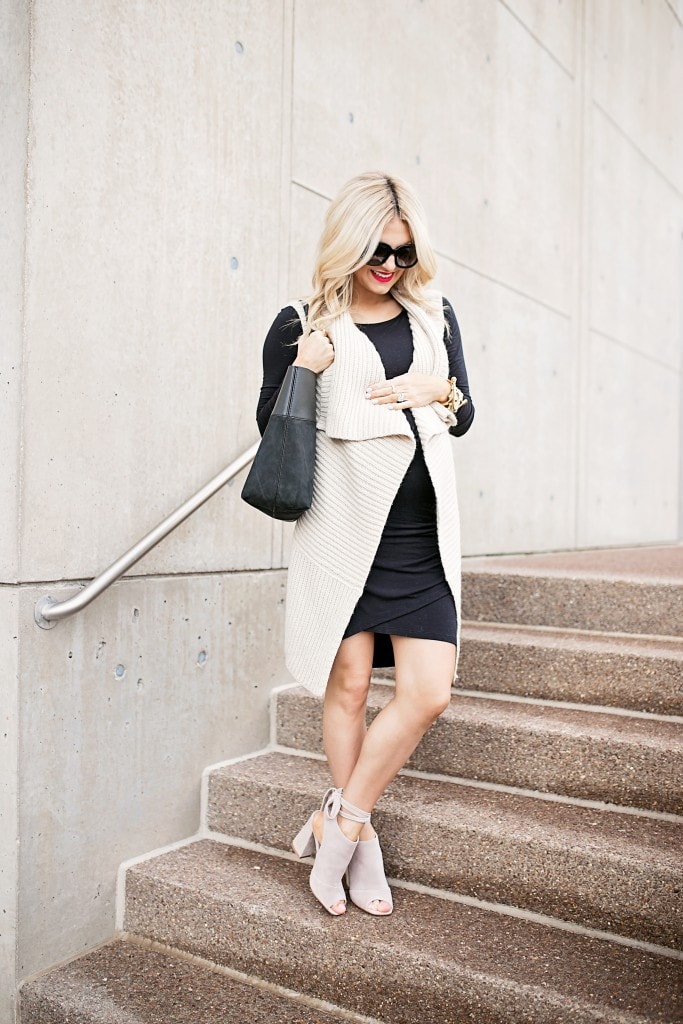 We've had some beautiful weather the past few days so I haven't had to bundle up in a ton of layers, but I still get a little chilly. This is where the sleeveless jacket comes into play! Let's just call it what it is. The trend word "sleeveless jackets" is just a fancier word for vest. 😉 About two years ago sleeveless jacket was a huge buzzword and while I loved them, I just wasn't too sure about how I would style them. Silky sleeveless jackets paired so well over a soft tank and boyfriend jeans, but sometimes I felt swallowed in the fabric due to my height. I decided to play around with shape and height this season and I love how I have started to wear them! I just incorporate them with more fitted dresses and a chunky-heel and I feel like the proportions are just right for my height. It's an added textural element that can dress up your look or make it more casual just depending upon what you're pairing it with. The other thing I love about a sleeveless jacket is how well it can fit in the right work environment. If you have a relaxed office culture a sleeveless jacket like this would pair perfectly with these work pants and a blouse that has sleeves.
I'll pull a few of my favorite sleeveless jackets below so you can see what would work best with what you already have in your wardrobe!
Also, I wanted to share a little Peaches update! So many of you e-mailed about her surgery and were so kind to be thinking of her and hoping she would heal quickly. It worked! We were told she wouldn't want to walk for 12 weeks and she would be miserable. I'd say she didn't want to walk for 2 weeks, acted a little miserable for 4 weeks and by 6 weeks I was having to hold her down so she wouldn't run to the door. If anything it's just been hard limiting her activity because she think she feels fine! So thank you so much for all the well wishes and thoughts and prayers. The vet said a lot of this is because she is still a puppy [she is only 1] so she heals quickly and thinks she is fine, but she could still do damage. The vet also explained she also thinks the other part is that God knew I needed a healthy dog before I brought home a baby! haha. Last week we were told we could take her for her first walk, but to expect her to walk half a mile. That girl wanted to walk for 4 miles and I kept telling Paul, "We should pick her up! I'm getting nervous!" But she did great and I'm so happy to see her back to her normal self before baby arrives. Paul jokes that the 12 week recovery was more so it would be 12 weeks for her leg hair to grow fully back since it was shaven with the surgery. I think he is right. haha.
Another little funny note about Peaches! After our walk I took a shower and we decided to order Favor [a take out app that will delivery anything for you]. When I got out of the shower I could hear the Favor girl was at our door. Paul was holding Peaches and the girl was asking him questions about her for 15 minutes. When Paul came back in the house I jokingly said, "Was the Favor girl flirting with you?"
Paul's response killed me. I laughed so hard I thought I'd go into labor. He said, "Babe, dogs like Peaches are just wedding rings that bark. What single guy would have a 5-pound dog with a pink bow? I think she just wanted a Peaches. She didn't want to talk to me." haha!
So now I keep telling Peaches she is a wedding ring that barks. It was too funny!
I hope you have a great Thursday, thank you so much for reading!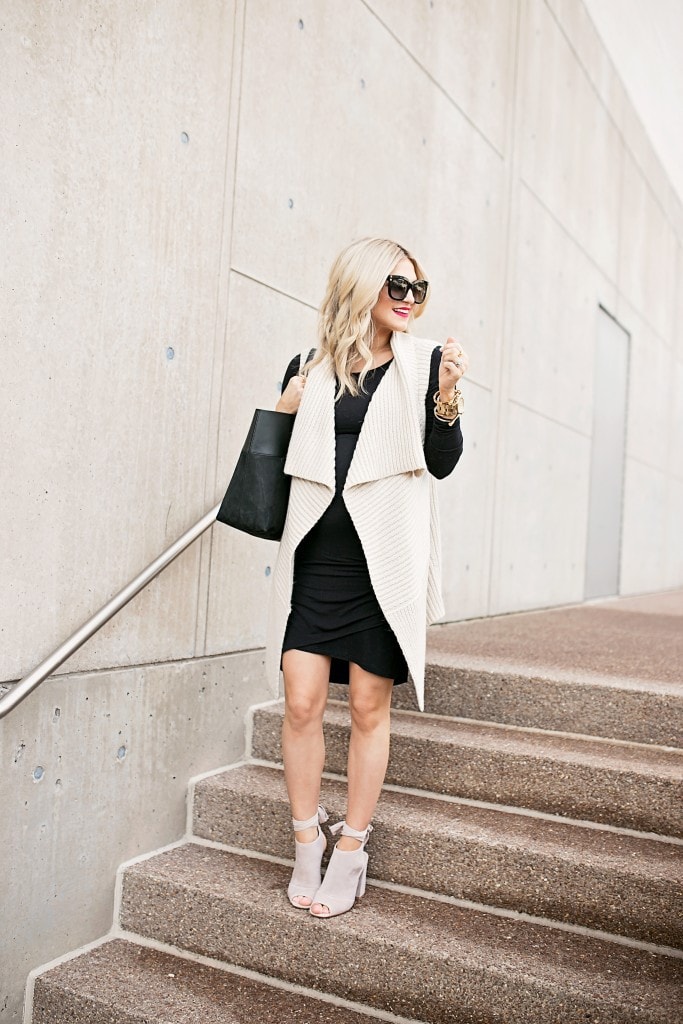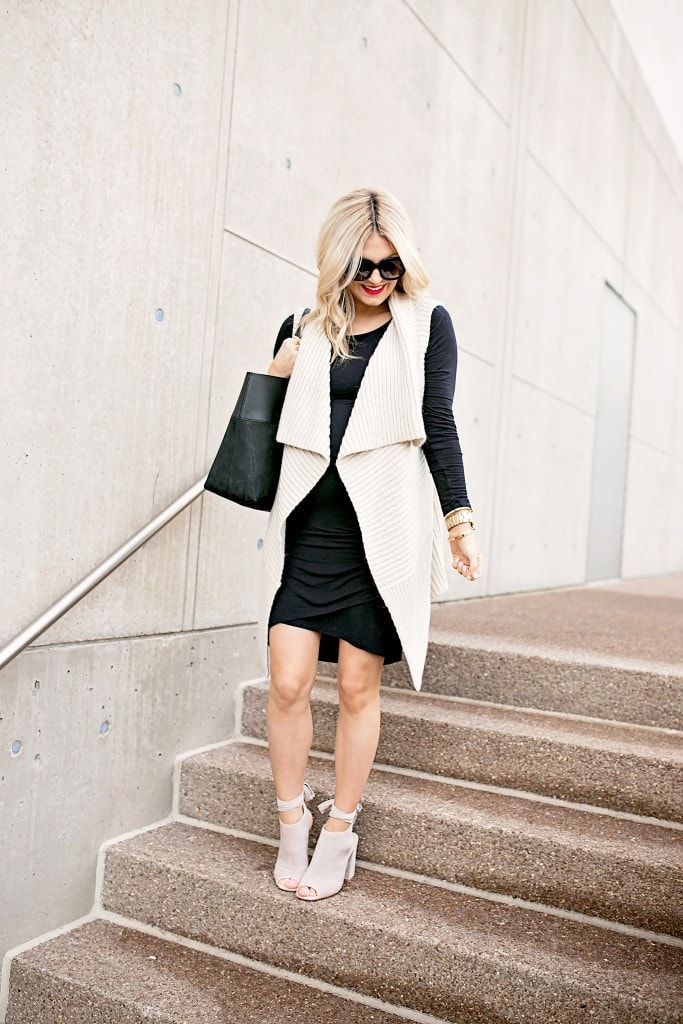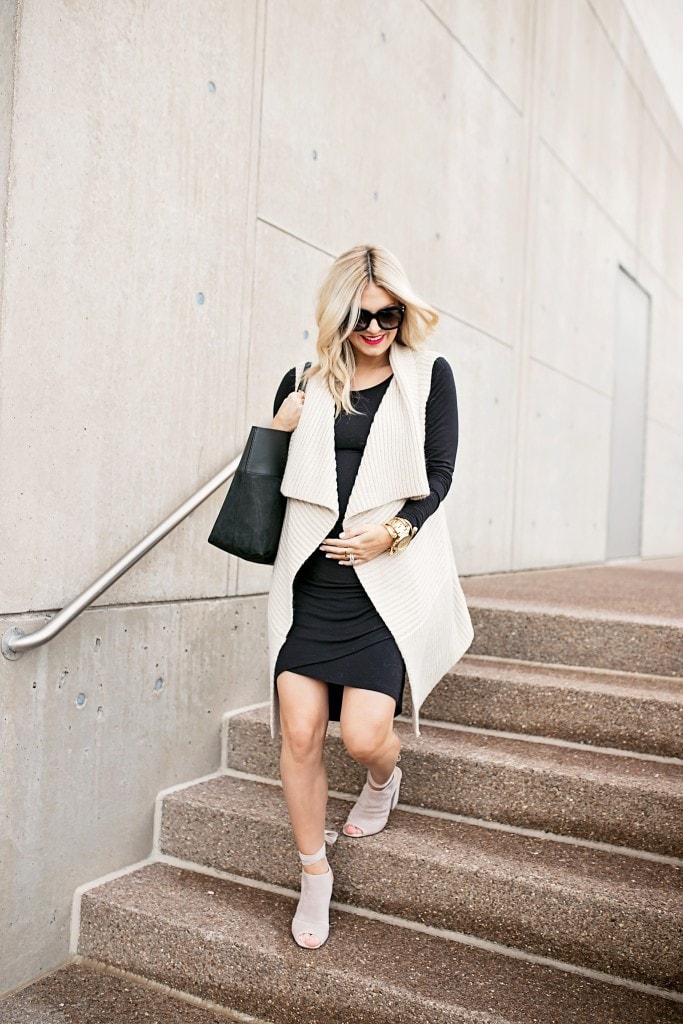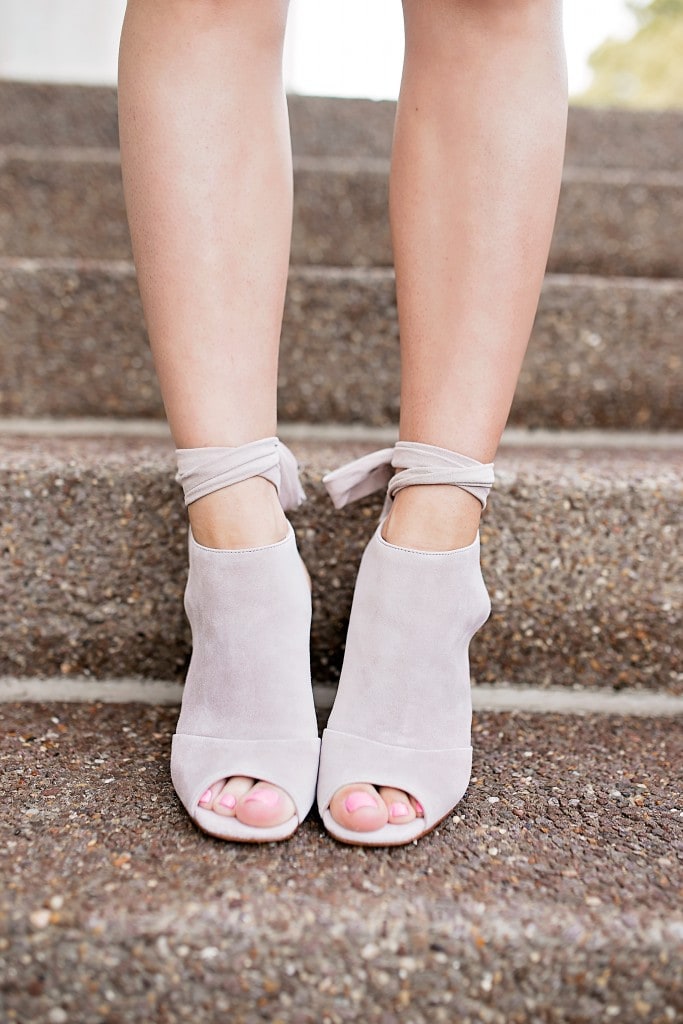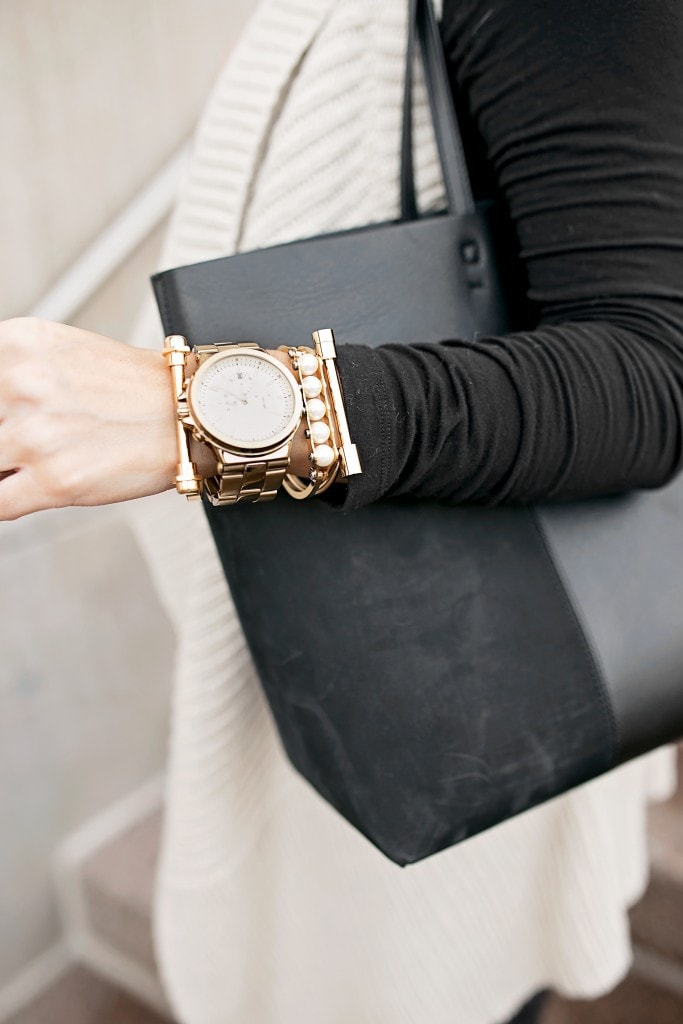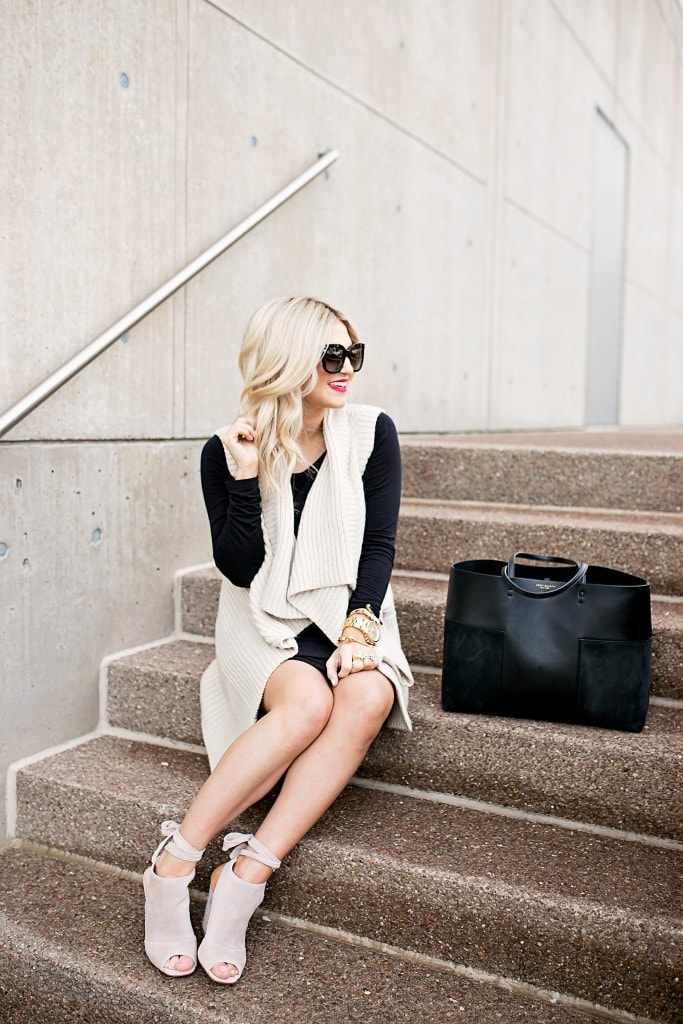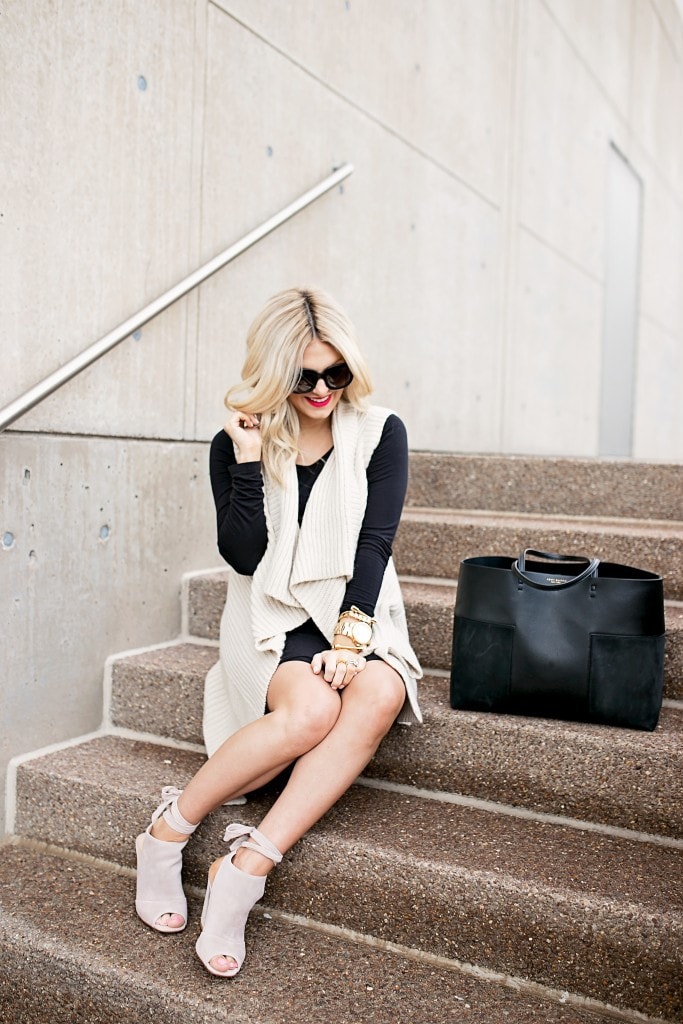 Dress: Similar | Vest: Revolve | Booties: Nordstrom | Bag: Tory Burch, Similar | Sunglasses: Henri Bendel | Bracelets: The Styled Collection [c/o], The Styled Collection [c/o], The Styled Collection [c/o] | Watch: Michael Kors | Lipstick: Cherry Liner
Photography by: Angie Garcia