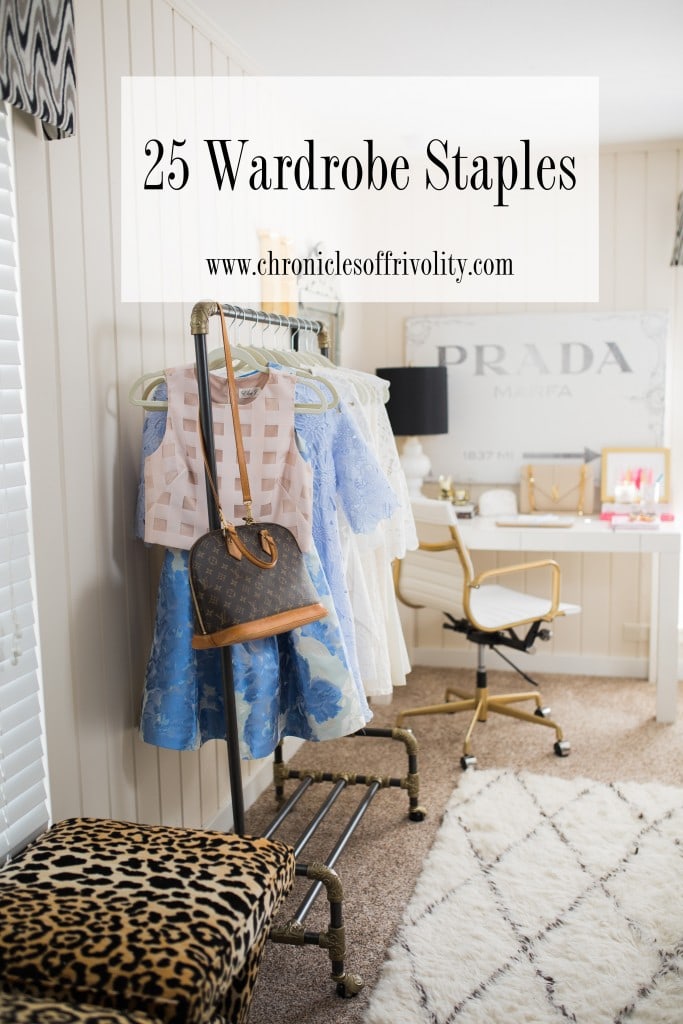 Photography by: Carmen Evans
As spring cleaning approaches, many of us are probably faced with the same dilemma while getting ready each morning. We stare at a closet filled to the brim with clothes and automatically think, "I have nothing to wear."
Now think to each time you move. You probably spend days or weeks packing and at the very end you say, "I never need to buy another item again!" I know when I was nesting and cleaning out clutter I kept telling Paul, "Don't let me go to Homegoods ever again! I mean it!" However, he is wise enough to never do such a terrible sin. 😉 BUT I was fully convinced that I needed another picture frame like I needed a hole in my head.
Whenever I stare at my clothes and think I have nothing to wear, I of course don't go put a for sale sign in our front yard and pack up so I can appreciate what I have. But I do take the time to do a major closet clean out. Next week on the blog I'll be sharing my top tips for cleaning out your closet, but first I thought I'd let you do an inventory and access what you have vs. what you need. This way you don't toss important items! Take this week or weekend and see if you have the wardrobe staples most girls say are "must haves." Now each list varies person-to-person and it is also dependent upon your lifestyle, but I narrowed down what I think every girl from college to corporate traditionally needs in her closet.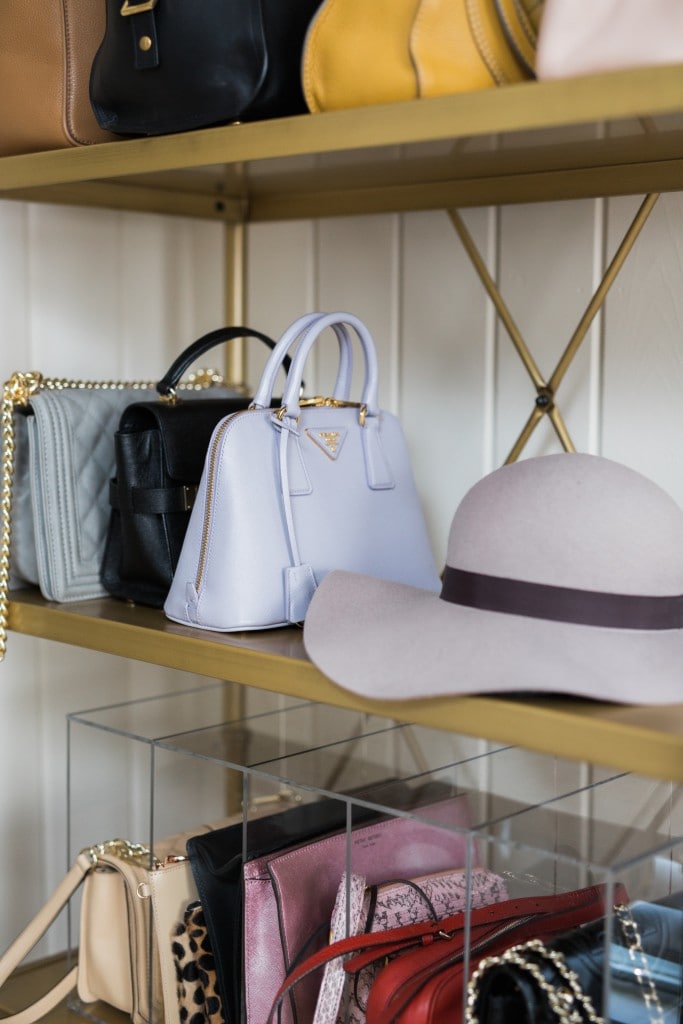 Skinny Jeans
We all need a good pair of denim, and my favorite type of denim to suggest to women is a good pair of skinny jeans. I personally think they are easier to dress up, so you're getting more looks for your money. My favorite pair of skinny jeans is either the J.Crew Toothpick Jeans or the AG 'The Legging' Ankle Jean.
Black Jeans
To branch off your pair of skinnies, I always suggest a pair of white and black denim as well. My pick is always the Frame 'Le Color Rip' Skinny Jeans in black.
White Jeans
When it comes to white jeans I like to keep them cropped as well as skinny! This way I can wear them with flat sandals to the beach or heels to a birthday dinner. I love this option.
Chambray Top
My favorite uniform to wear when I have "nothing to wear" is a Canadian Tuxedo. I pair a chambray top with skinny jeans and I'm good to go! This works just as well for date night as it does when I run to Target in sneakers and no makeup.
LBD
For date nights, engagement parties and work events, we all need an LBD. I always say to invest in your denim and your black dresses because these are items you don't want to continuously repurchase and a little extra investment goes a long way.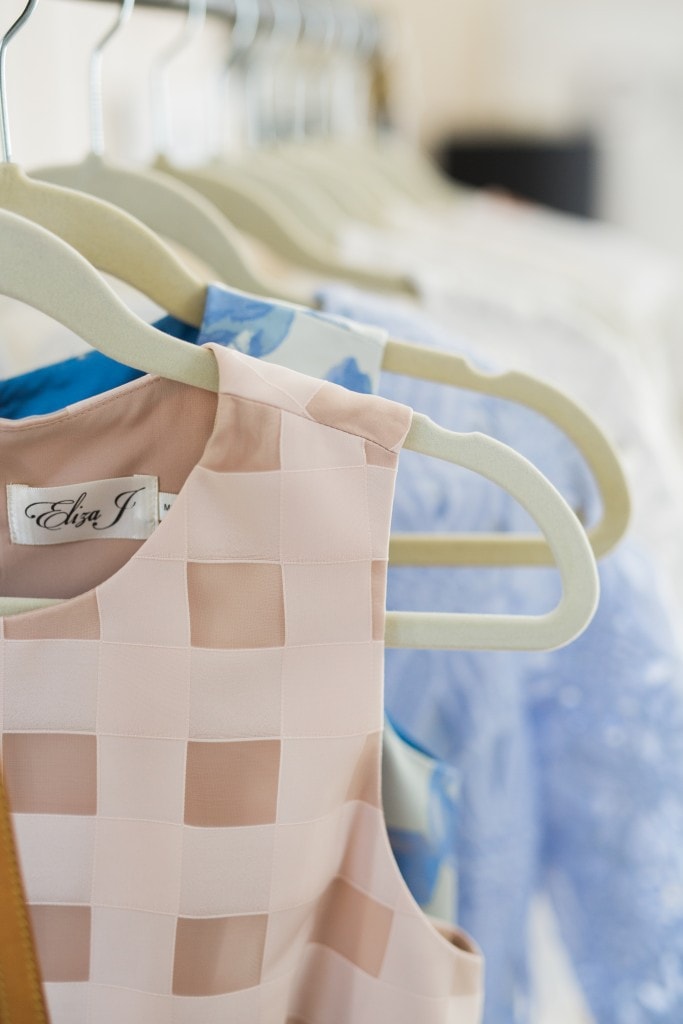 LWD
A little white dress can be really casual as this is typically worn on summer nights and weekends. I styled one here that I loved last year! Here is one I have my eye on for this summer.
Casual Dress
A casual dress is another budget purchase that is just as much of a necessity as a LBD or LWD. Lush and Leith are some of my favorite brands to purchase these from and they normally run less than $50! However, do be careful with sizing. These are junior brands and because they are less expensive they can run a bit smaller, it's usually a product I size up with. I always try to get a few each season so I can wear them to bridal/baby showers and church.
White Blouse
If you work out of your home, I say splurge on an Equipment blouse! You'll never find a better white blouse and these have been celebrity staples for years because of the fit. If you don't want to make the commitment just yet, I say reach for one from Banana Republic! When shopping for one, the test of quality is to make sure it can pair just as easily with jeans as it can with a pencil skirt.
Casual Tee
Halogen tees are my favorite v-necks and they come in a ton of different shades! I always keep white, grey and black on hand.
Tailored Blazer
The J.Crew Regent Blazer is a fan favorite and for good reason. You get the look of a professionally tailored blazer for a reasonable price. I have mine in a camel color!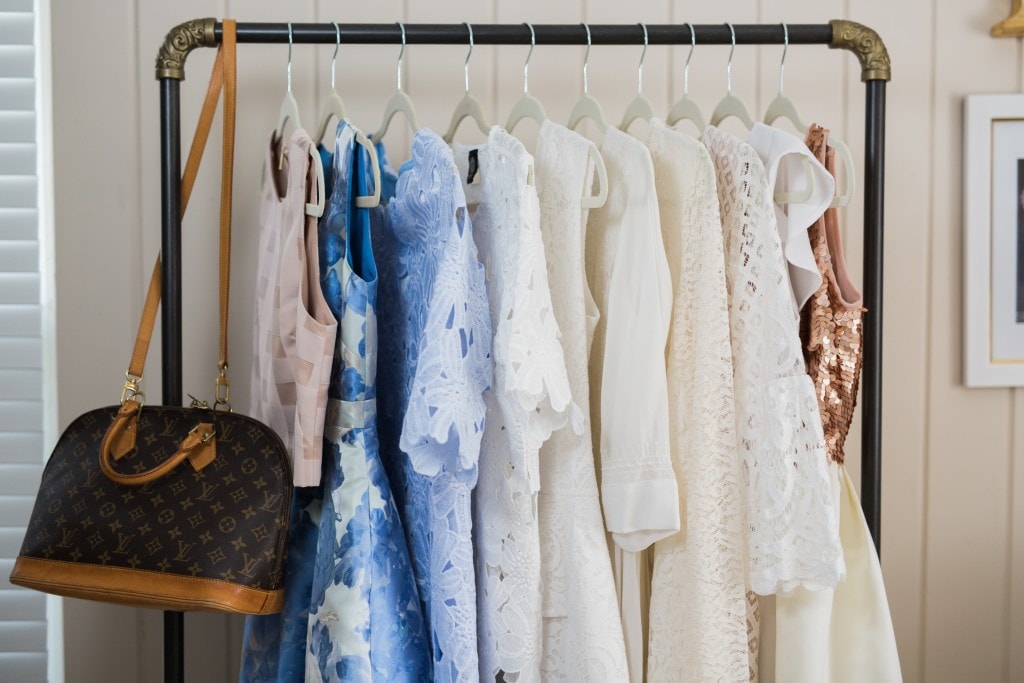 Flats
I'm so picky about flats! If you live in flats for your job and don't mind treating yourself my favorites in terms of style and comfort are Tory Burch Minnie Flat, Chloe and Chanel. For my Chanel flats, I sized up half a size. If you want something less pricey, I love the Sam Edelman Felicia Flat! I had a pair for 3 years that I wore to the point Paul made me get rid of them. They feel like pillows on your feet!
Sneakers
Thanks to the athleisure trend and weekend wear, sneakers have been given a pretty nice little platform of praise the past 3 years. I love the Nike Air Max Thea Sneakers. I've bought them in two different shades over the past year and a half. I also love these Converse Sneakers as well as my Adidas. If you want something that doesn't "scream" sneaker, opt for these by Aldo or these by Vince.
Heeled-Sandals
I don't really gravitate towards pumps. They are a necessity, but I much prefer to slip on a heeled-sandal. I love these by Steve Madden and Sam Edelman. I find with the right shade, I can wear it year round!
Everyday Watch
I wear my Michele Watch daily and I love this one as well! Michael Kors is another great brand for a daily watch and I also love these by Tory Burch.
Tote
A tote is a wardrobe staple as you probably carry one daily to and from work as well as for errands on the weekend. I love my LV Neverfull and I also love this one!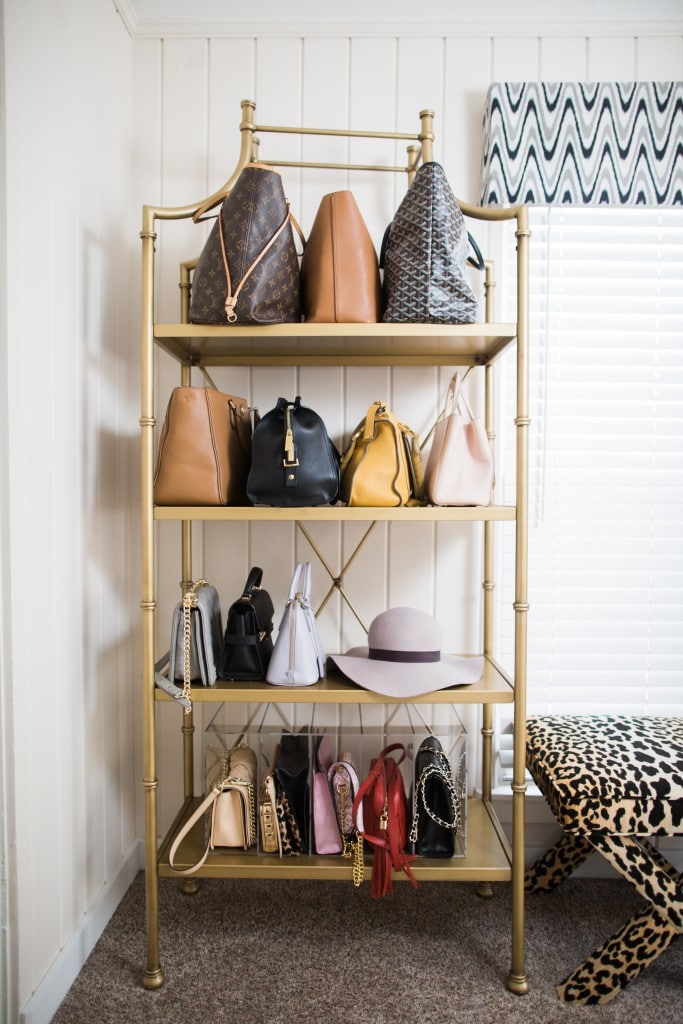 Crossbody Bag
Tory Burch always makes my favorite crossbody bags and I'm constantly "wondering" if I need a new one! Her cognac colors can't be beat and always look classic.
Grey Sweater
I don't splurge much on sweaters just because they don't get worn as often in Texas and because each season I find different ones I love. However, I will recommend spending more on a classic grey sweater. Vince is a wonderful brand and I wear my Vince sweaters time and time again.
Winter Boots
Winter boots also differ depending on where you live! I love my Stuart Weitzman Lowland Boots and Tory Burch Riding Boots.
Fitted Jacket
This BLANKNYC Moto Jacket was my favorite purchase of 2017 in terms of outerwear. They come in a ton of different suede colors and I found the fit to be better than any of my other jackets.
Coat
For me, I love J.Crew Stadium Coats and Parkas each season! I also love my Burberry Jacket for less chilly days.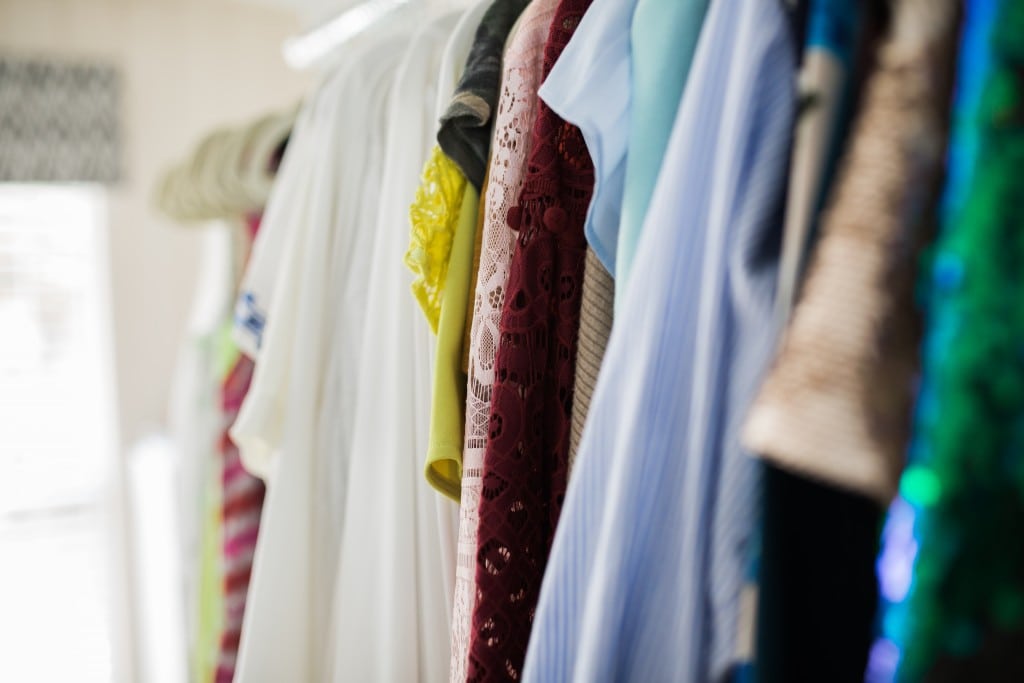 Black Sunglasses
I live in my black Ray Bans. They were a flash sale purchase years ago and are 62 mm so they can be a bit difficult to find. Quay makes the same size and I also love these sunglasses by Henri Bendel that look like Celines!
Second-Skin Necklace
I refer to a daily necklace as a second-skin necklace. It's something you wear on a consistent basis and layer around. I love my XL monogram from Baublebar as well as this necklace.
Dressy Pants
J.Crew makes my favorite pencil work pants.
Statement Skirt
Wardrobe staples typically aren't trendy or loud, but I really recommend adding a sassy skirt as one of your wardrobe staples. You'll always want to pull it out for dinner with the girls or a special occasion. ASOS is a great spot to shop for these!
Silky Tank
My favorite silky tank is the Barcelona Tank by Express. They are double lined and can easily front-tuck into jeans if you want to style them a bit edgier.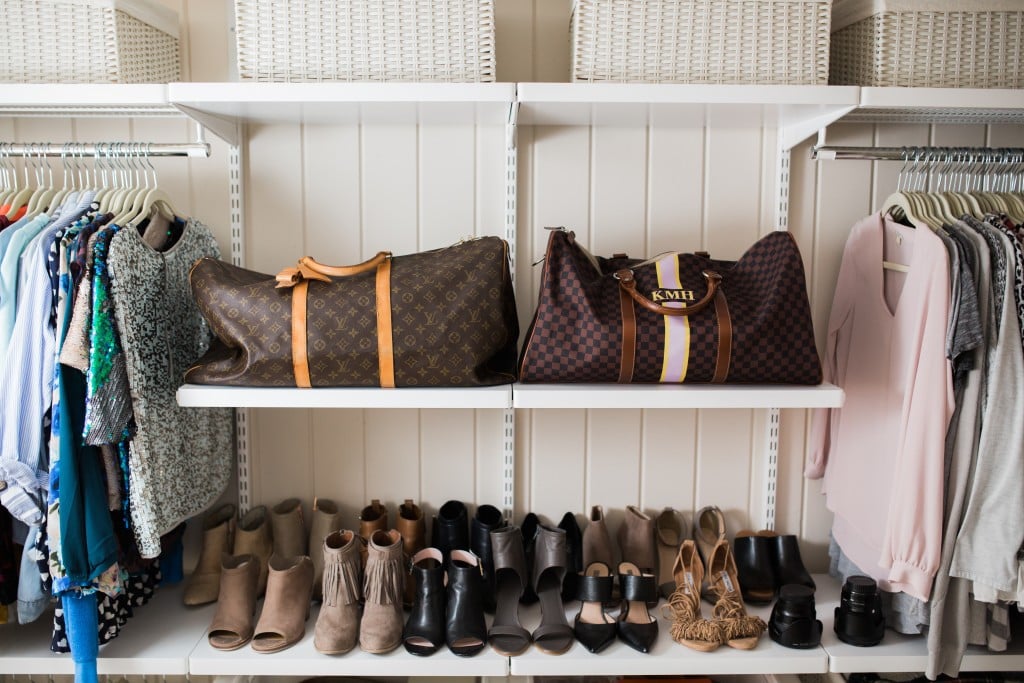 Extras: 
Steamer
Not all clothing is meant to be ironed and we don't always have a chance to run to the dry cleaners. I use this Conair Steamer and keep it in my closet so I can quickly grab it while I get ready in the morning.
Bag Inserts
In order to keep my handbags from showing too much wear and tear, I keep inserts from the Container Store in them while they are not in use.
 Non-Alcohol Baby Wipes
I use these baby wipes to wipe down my shoes each time I wear them! We are so hard on our flats and everyday shoes, and I find this little 5-second task adds longevity to my shoes.
Clothing Rack
Now this won't be a necessity for most people, but because we were short on storage we converted my office into a closet as well. Therefore, a clothing rack was a must have! I also use it a lot to hang pieces while I am shooting. If you don't have a large closet in your room, consider adding a clothing rack to a wall as opposed to another piece of furniture. You can store things on the bottom shelf which will increase your closet space. You can easily lay out your wardrobe for the week ahead so you aren't fussing with choosing each morning.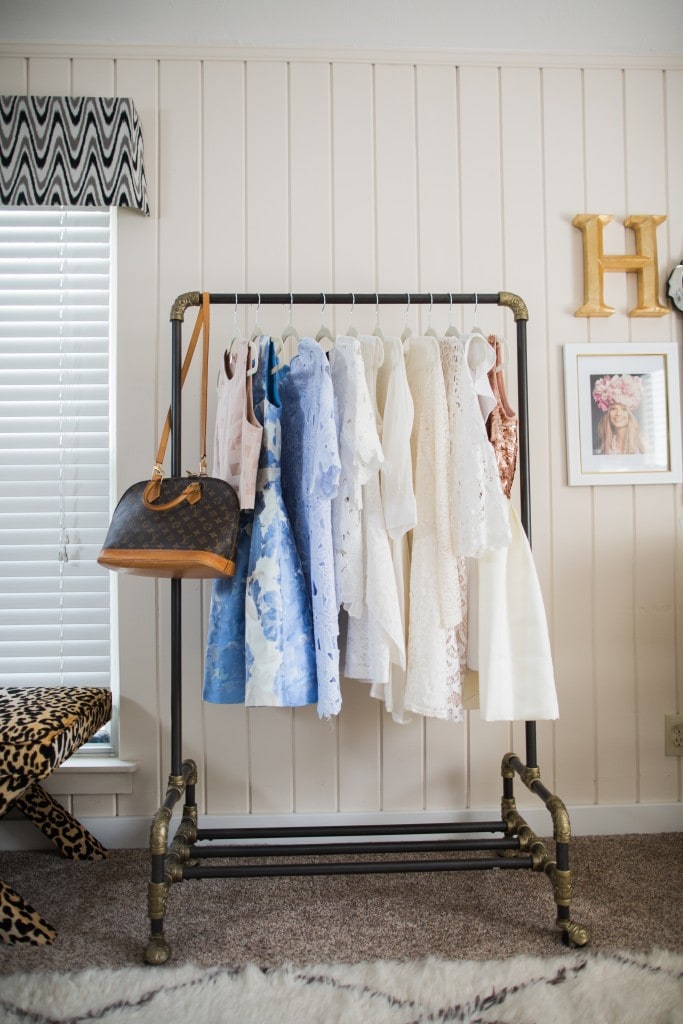 Grab your staples, order what you need and throw everything on your clothing rack or in a specific section of your closet. Next week I'll be back to share how to purge everything else in your closet so you can make room for items you love! This way you'll have everything already assessed and you won't get on such a 'decluttering' kick that you toss the staples you need to build your look.