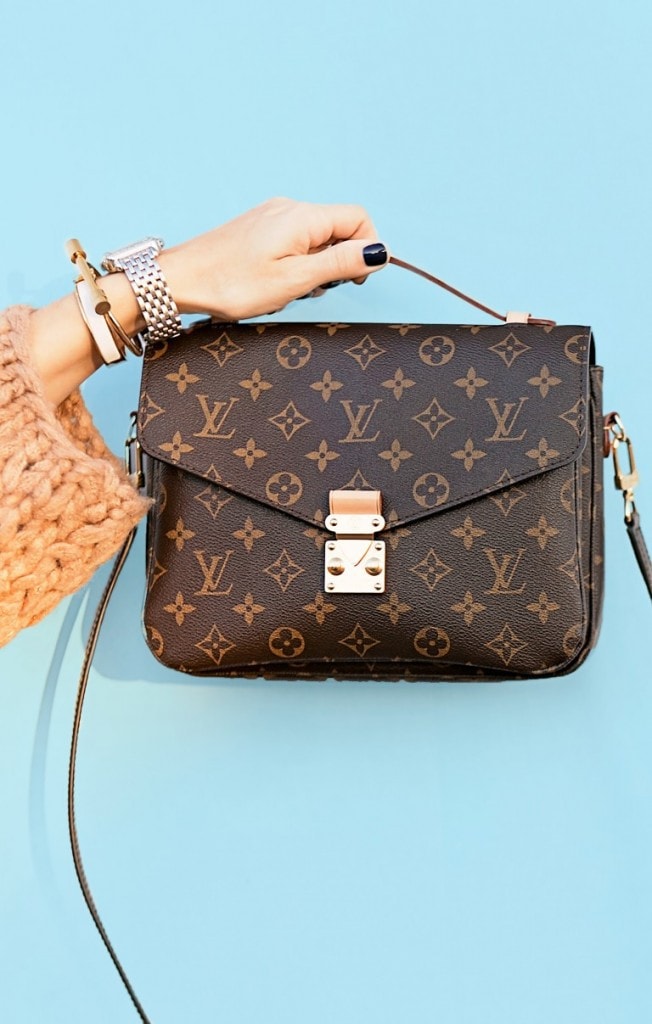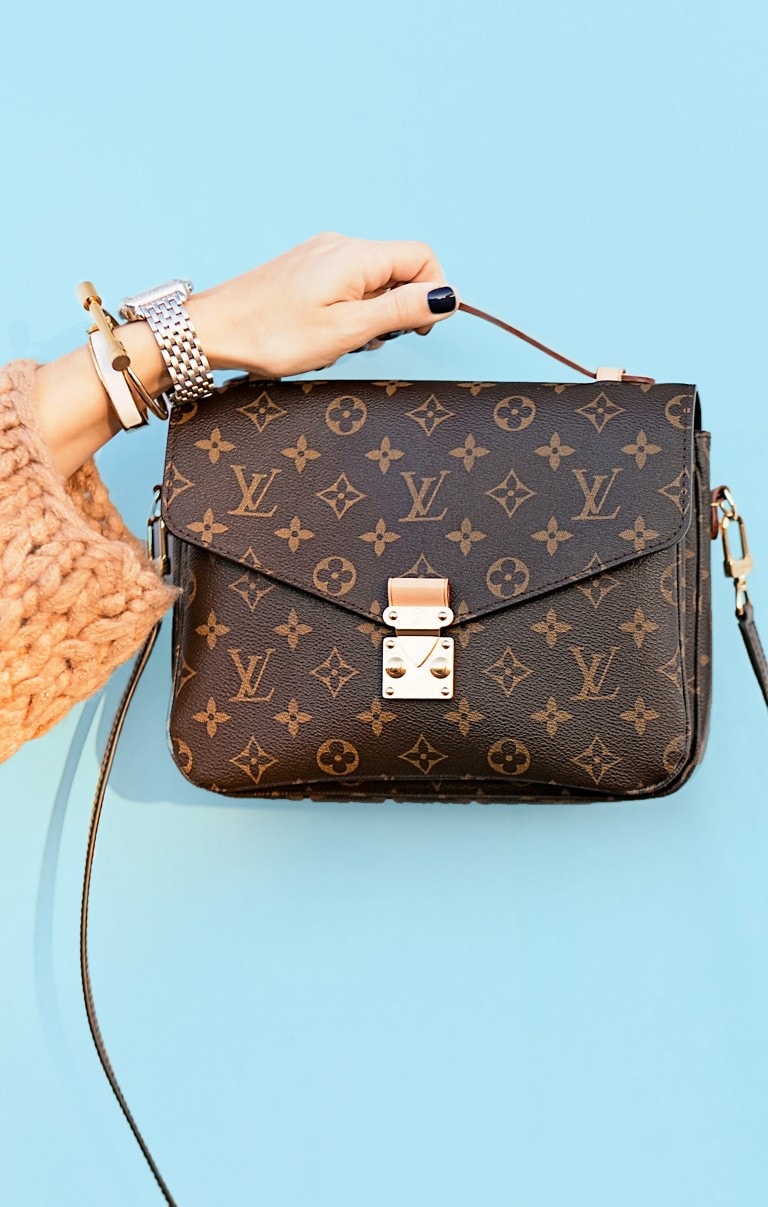 I'm a handbag girl! I can walk the mall for hours and not get tempted by shoes, jewelry, lipstick or even an overpriced coffee. When I see a bag it's a completely different story. I just feel like it is staring at me and begging me to become its rightful owner. However, I definitely have to do a lot of research before purchasing and wait a long time because handbags are a huge investment. It's nice to know you'll have them forever as opposed to said lipstick, but with that longevity comes a huge commitment of making sure you truly love it and are spending your money wisely.
For the most part, I love what I purchase. But I've had a few misses over the years. In case you are on the fence about a bag or two, I thought I'd share 4 of my most asked about bags, my reviews and which one I really think you shouldn't spend the money on!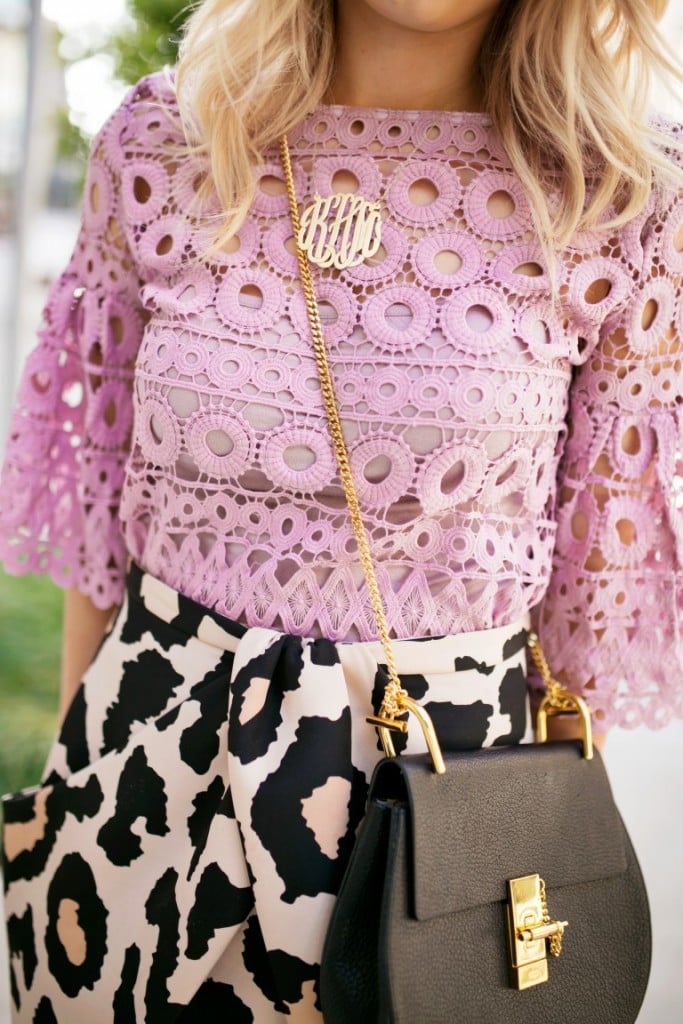 Outfit: This Post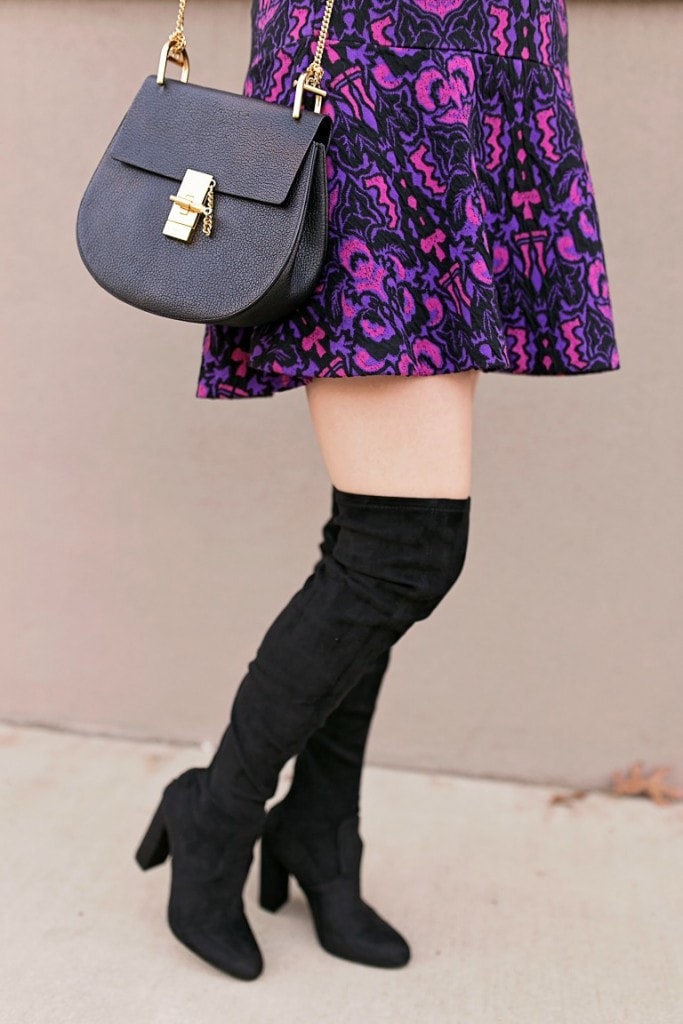 Outfit: This Post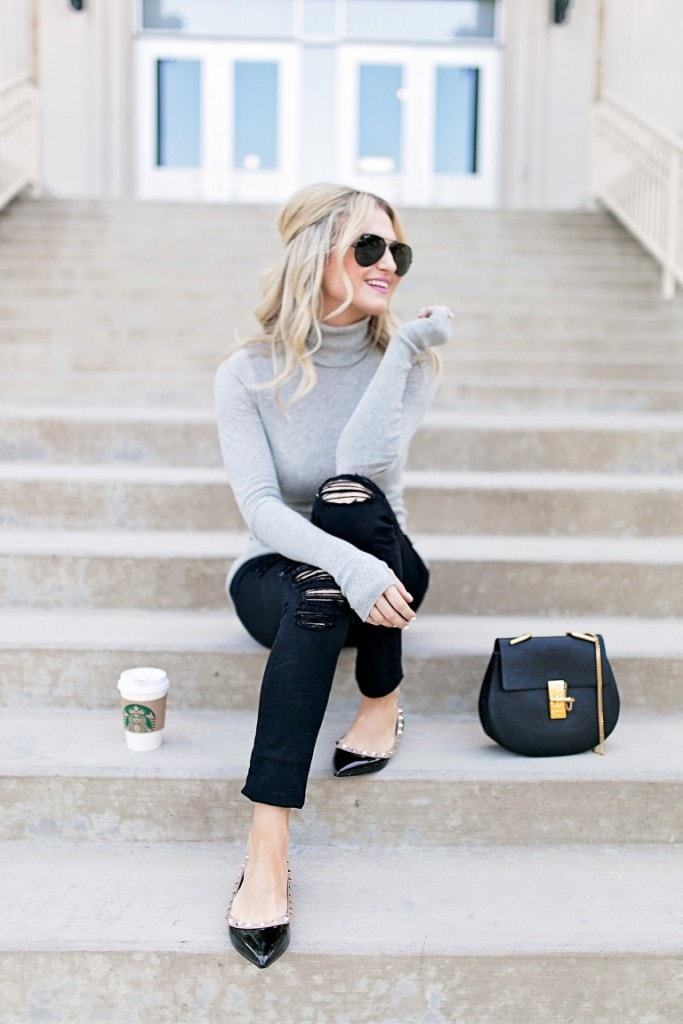 Outfit: This Post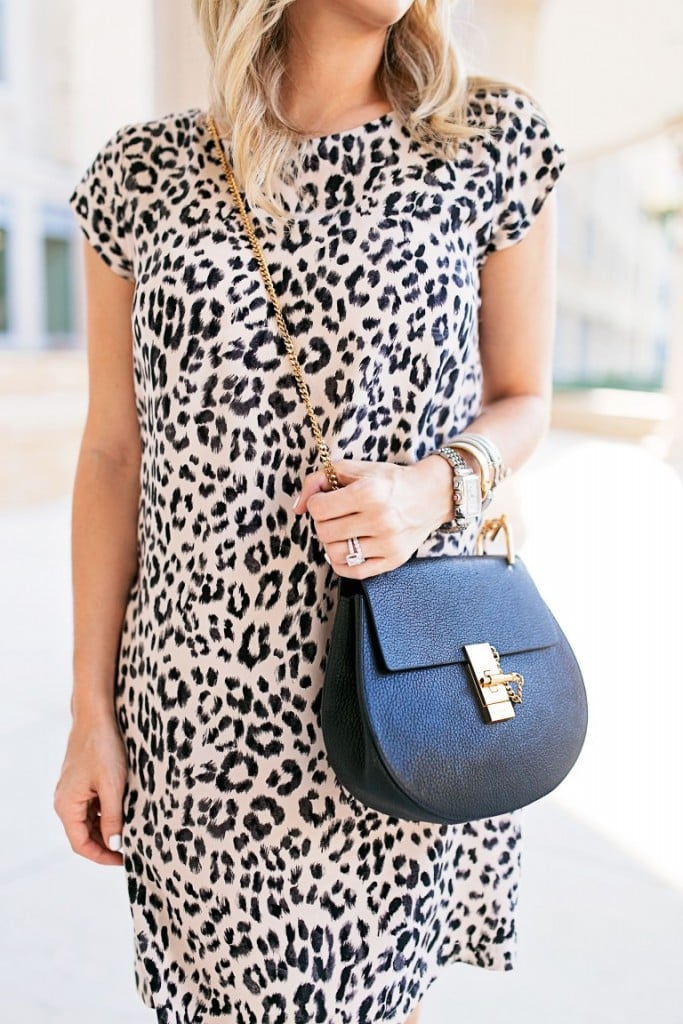 Outfit: This Post
Pros:
This is a bag that easily fits with whatever you are wearing. I've taken it tailgating. I've taken it on date night. I've taken it to fashion week. It's not bulky, but it can still fit just what you need! The great thing about Chloe bags is that they end up being pretty timeless so it isn't sitting in the back of your closet in a year or so.
Cons:
I don't love the chain strap. This seems to be the biggest con with the bag. People either 100% love it and swear that's the "it factor" of the bag or people complain about the craftsmanship. I haven't had an issue with anything breaking, however, this isn't a bag I would feel comfortable with overstuffing.
Sizing:
9 ¼"W x 8 ¼"H x 3″D
20 ½" strap drop
1.4 Pounds
Overall Thoughts:
I'm going to start this post off by saving you money. I don't recommend splurging on this! While I love it and I truly do wear it all the time, it's not functional in the slightest! I'm thankful I didn't pay full price because I actually purchased it from a girlfriend after she bought it. She wasn't getting a ton of use out of it and I thought, "I'm up for the challenge! I'll take it out everywhere!" haha. However, the chain strap digs in your arm. It feels awkward depending upon what you are wearing, especially if you have on a tank in the summer. The compartment to open it can be a pain at times, as well. If this bag were a boy it would be the good looking one you take to weddings but you can't actually manage to date because he comes with too many problems! [Sorry for my awkward dating analogies, I always like to use them!] The other reason I say to not splurge on this bag is because you can find great dupes at H&M or Zara. I do think I'll use this bag more when baby comes just because I need to be hands free, but I still don't think I'll get over my loathing of the chain strap. In terms of what this bag fits, I can easily fit my phone, keys and a card case along with a lipstick. I have the small size, not the mini or large. However, I can't fit a full wallet or makeup bag which takes away a functionality point in my book.  If you're looking for a designer crossbody, I say go for this one as I've gotten much more use out of it! It is a lot sturdier and has much more room for your items.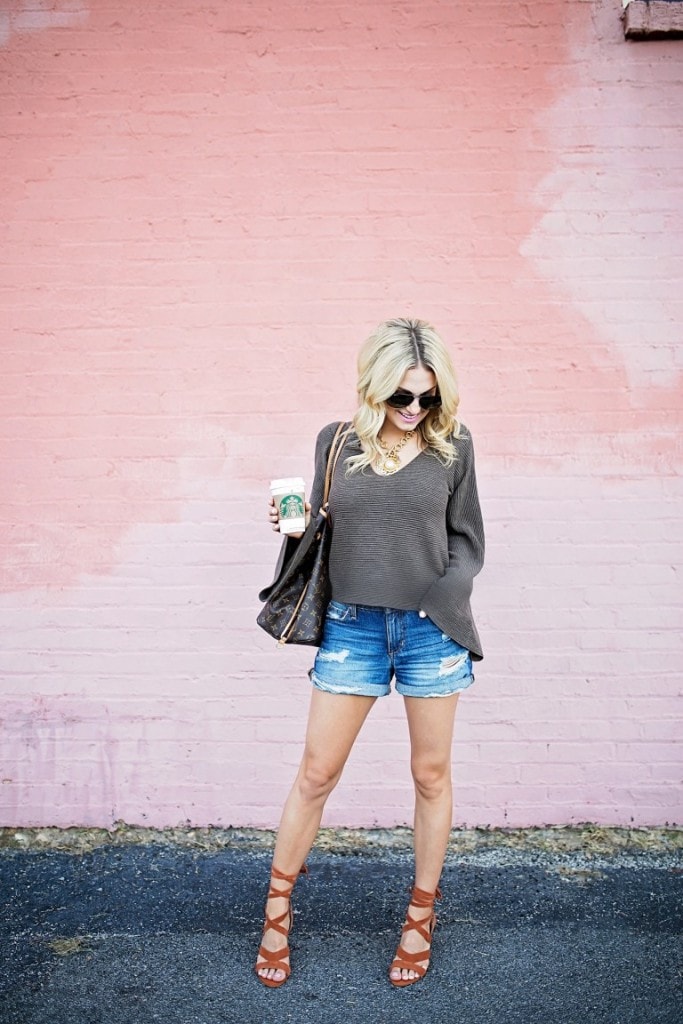 Outfit: This Post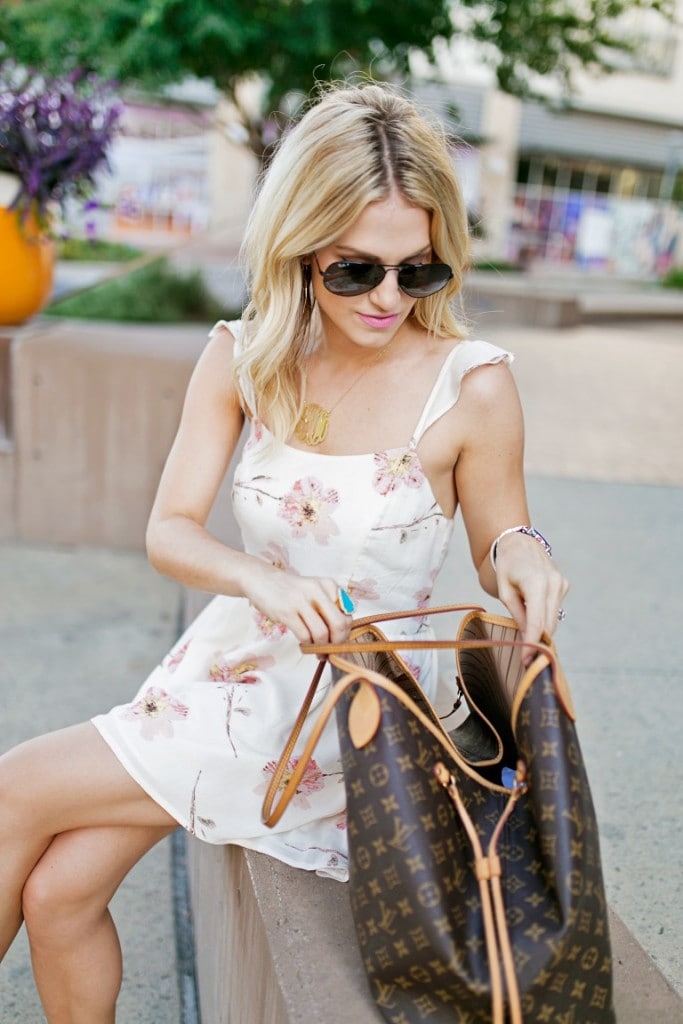 Outfit: This Post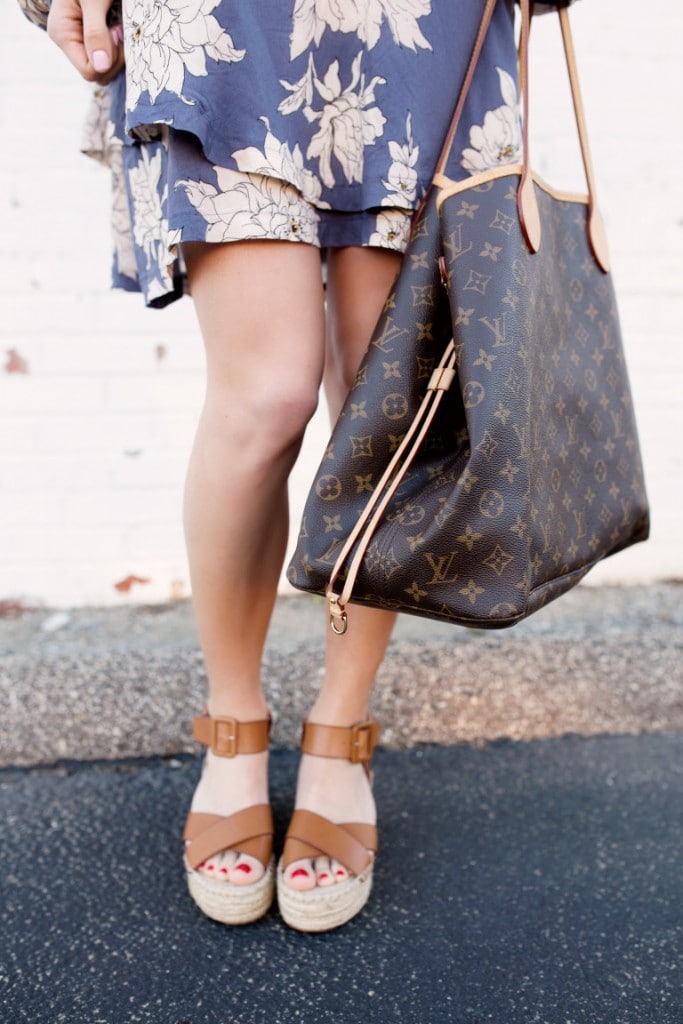 Outfit: This Post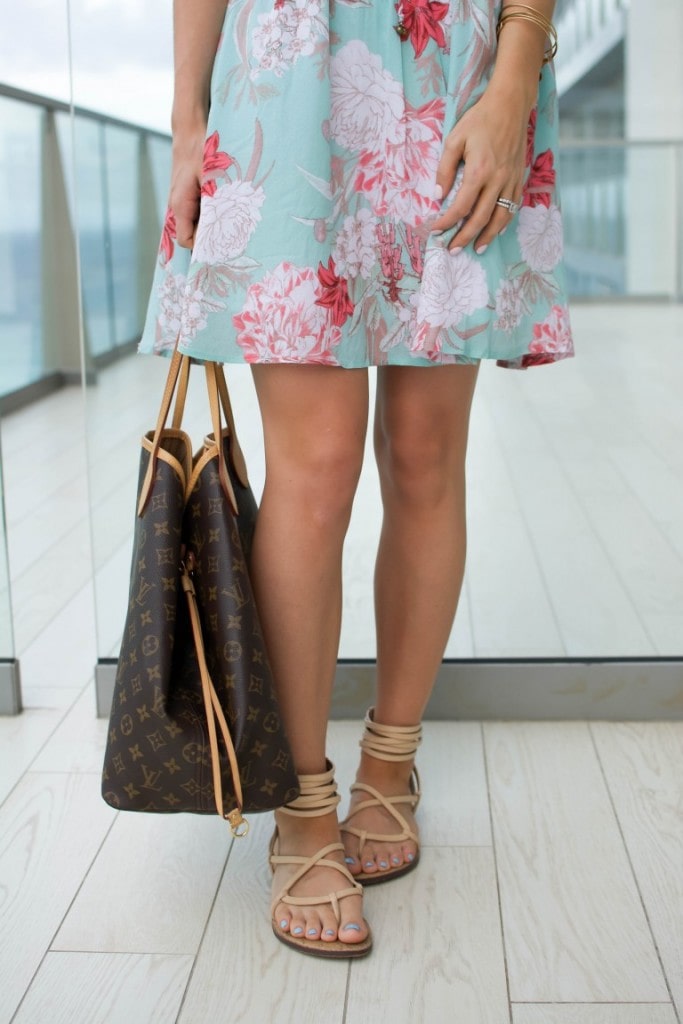 Outfit: This Post
Pros:
This is a classic bag that will always be in style and can always be carried. Even though I purchased this in college while working for a PR agency, I always thought I'd carry it as a diaper bag. However, I ended up not doing that simply because I use this bag so much and was worried I'd need it for other occasions. The thought of switching out a bag daily for a diaper bag seemed silly! I love to take this bag while I travel because I never worry if it matches what I'm wearing as it just works with whatever I've packed!
Cons:
Louis Vuitton leather is known to age, which is actually something people love about the brand. However, I wish the arm straps were a bit thicker because mine have aged quite a bit. I get a little nervous that I may have to replace this bag in 5+ years because of that factor. However, that would mean that I've had the bag for nearly 10 years and worn it into the ground so I can't complain too much.
Sizing:
15.7″L x 13.0″H x 7.9″W
Overall Thoughts:
This is the bag I probably get the most questions about! I have it in the GM size which is the largest because I originally purchased this bag for work to carry my laptop when I worked at an office. I'm definitely tempted by the MM size as well and lean towards that one in the Damier Azur! The MM is what most LV stores recommend for you to carry every day and the GM is recommended for travel and work and then the PM is the smallest. However, I say if you're taller you will gravitate towards the GM as I have heard the strap and drop length of the MM can be uncomfortable under your arm. And if you're petite don't worry about the GM swallowing you. I'm 5'3″ and feel that I can confidently carry this bag because of the side toggles that provide it with more structure. I can fit my laptop, makeup bag, a sweater, flats, a wallet and a smaller purse in it! When I don't use this bag I make sure to stuff it with this insert from Container Store so it won't lose its shape. I also use this clear insert at the bottom during use to make sure the bottom would never sag. Now I normally recommend to girls to buy their designer bags preloved from a reputable site or store, however, this one I wouldn't. LV bags are known to show wear on their leather [it's one of their staples], but some girls don't take as good care of the leather. Because of that it could look a lot more worn than it actually is. I've also found that buying these pre-loved only save you about $100-$200 less [whereas sometimes you can save up to $1000 with other bags] so I would generally try to avoid that with this bag unless you get lucky!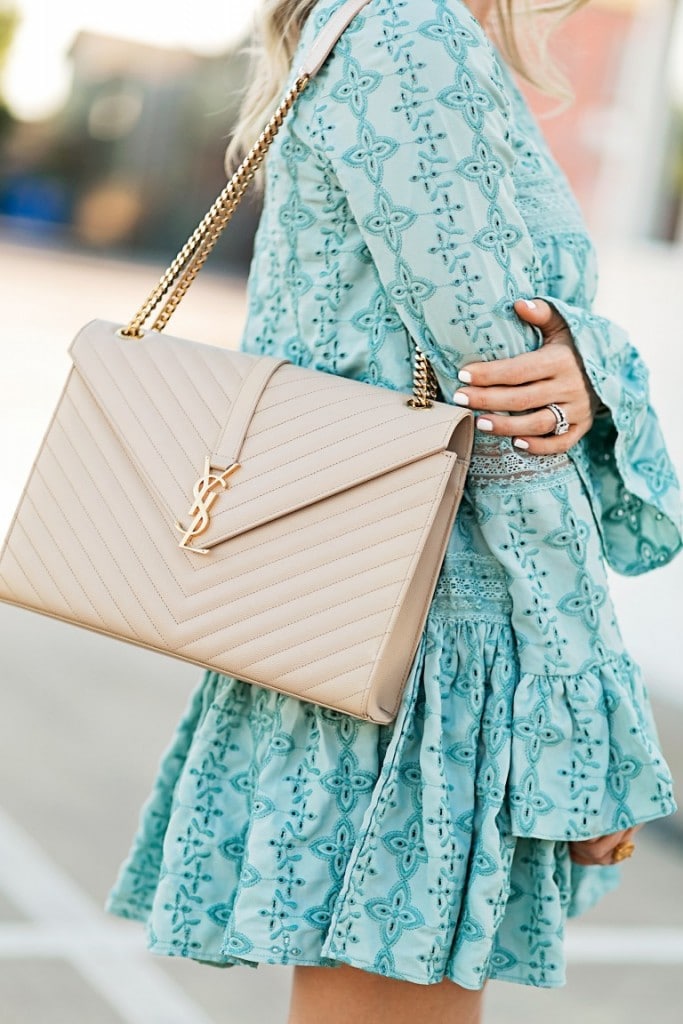 Outfit: This Post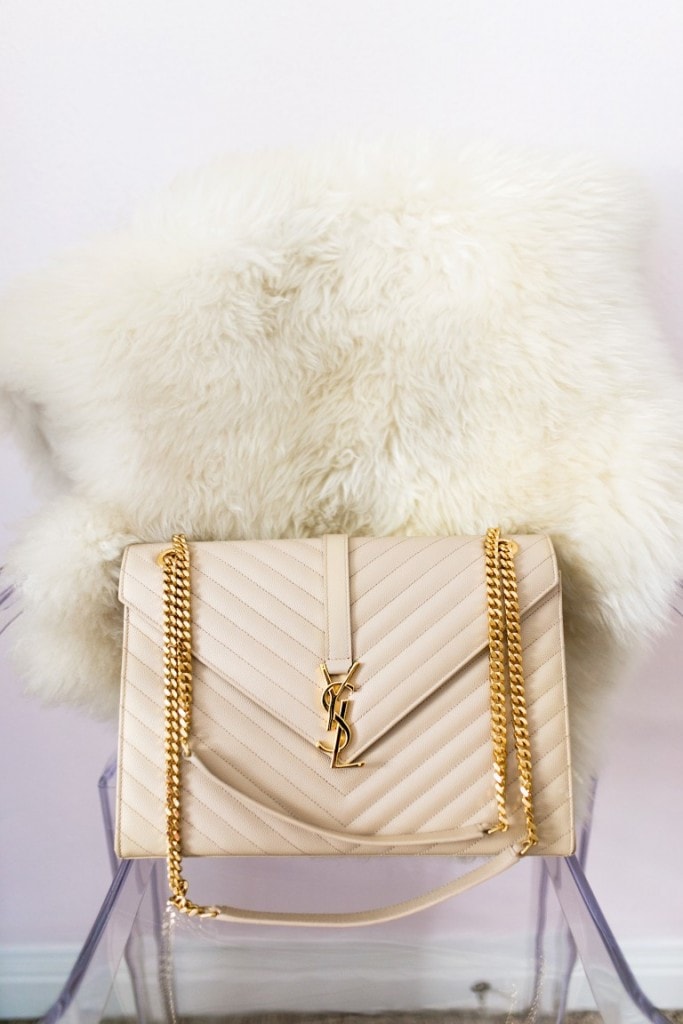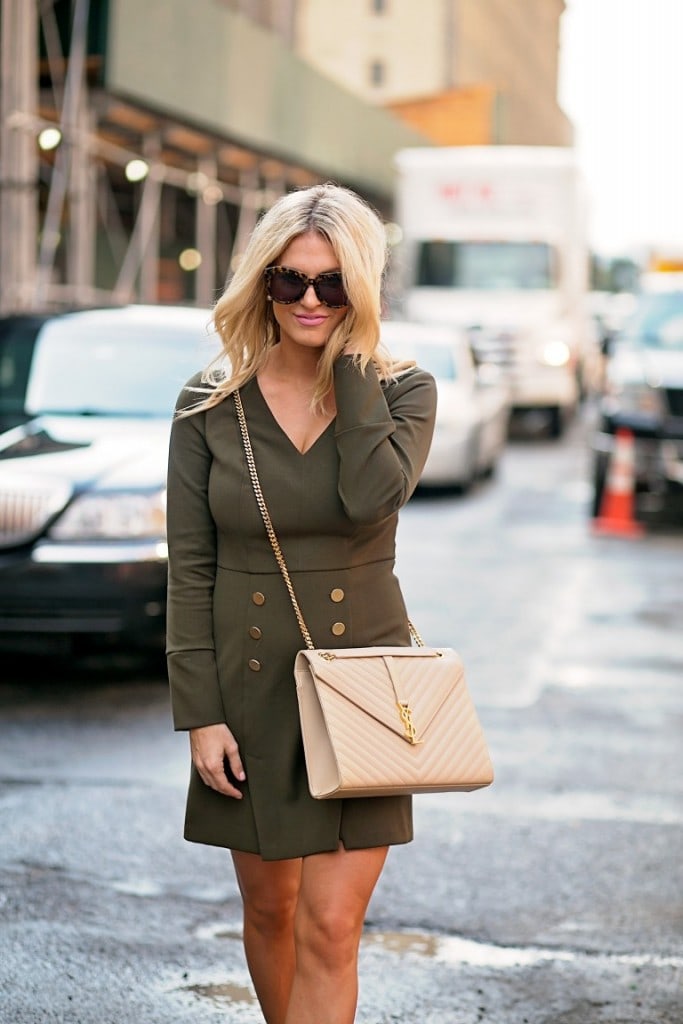 Outfit: This Post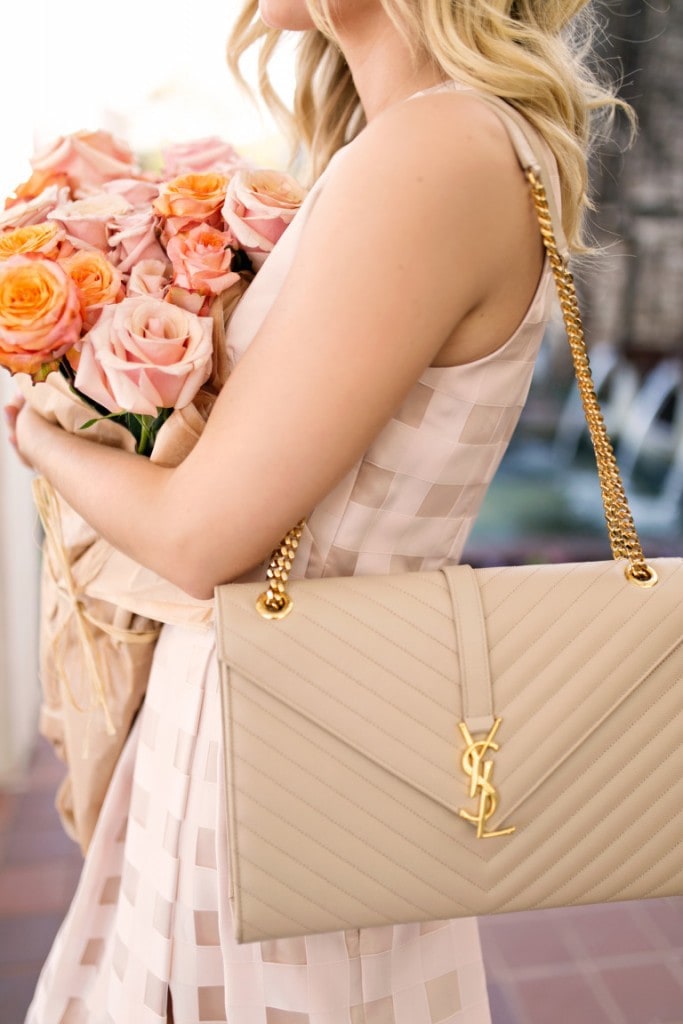 Outfit: This Post
Saint Laurent Large Monogram Grained Leather Shoulder Bag, shade: Poudre
Pros:
In terms of style, this is probably my favorite handbag I own. It feels ladylike when worn with both shoulder straps, but when I convert it to a crossbody bag it just feels more relaxed. I think the shape is quite classic and the color goes with everything! It also has grained leather so I never worry about scratches.
Cons:
The only con I have with this bag is that it did have to be sent back to Saint Laurent right when I got it, but that was my fault. Paul and I took a trip to NYC and snow ended up coming in that weekend when it was supposed to just be 60 degrees. I hadn't packed accordingly, so I ran into J.Crew and picked up a parka. However, the parka had a deep dye to it that stained everything from my sweaters to my jeans. This type of coat honestly needed to be dry cleaned before worn. I wore my bag on the outside of my parka [huge mistake on my part] and so it got a bit of dye on it. I normally can clean my bags with an alcohol-free baby wipe, but that didn't work. Saint Laurent took the bag back and was able to clean it and return within 4 weeks. This is completely my fault, but I did want to mention this occurred.
Sizing:
12″W x 8 ½"H x 2 ½"D
12″ strap drop; 20 ½"
2.2 Pounds
Overall Thoughts:
This bag was a complete and total surprise for my birthday this past year! Paul and I normally would never splurge like this on one another, but he actually had never seen me on my birthday until this year. He used to work in public accounting and this was such a busy time of year he would literally have to work through the night on my birthday. And so this past year he kept saying he had to make up for 4 other birthdays in one. I opened it that morning and I was shaking because I was in shock and thinking, "Is this for real?!" I love how feminine it is and I especially love the grained leather! I always get so nervous with leather that isn't grained because I'm convinced I'll scratch it and ruin it. The other wonderful thing about this bag is that it fits your wallet, your sunglasses, a makeup bag and your phone. It's not a traditional shoulder/crossbody bag that will literally fit two Doritos and a gulp of air before it won't shut! Haha. Another pro about this bag is that the chain strap allows it to be carried as a shoulder bag, or you just drop one strap and carry it as a crossbody bag. As stated in my "pros," it transitions from formal to casual quickly, which is important when spending this much.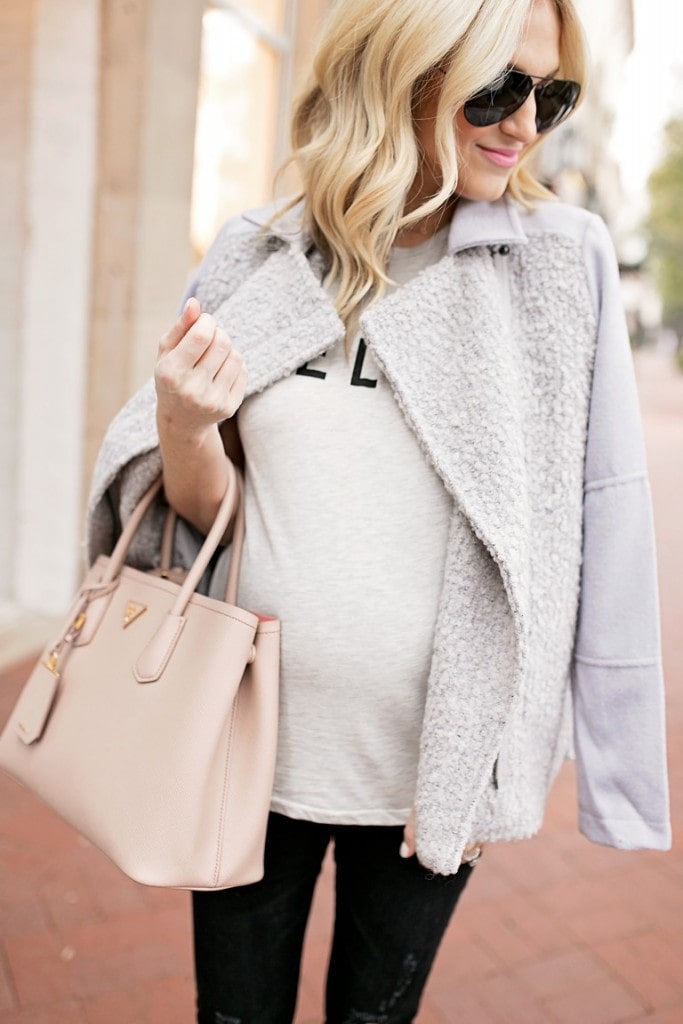 Outfit: This Post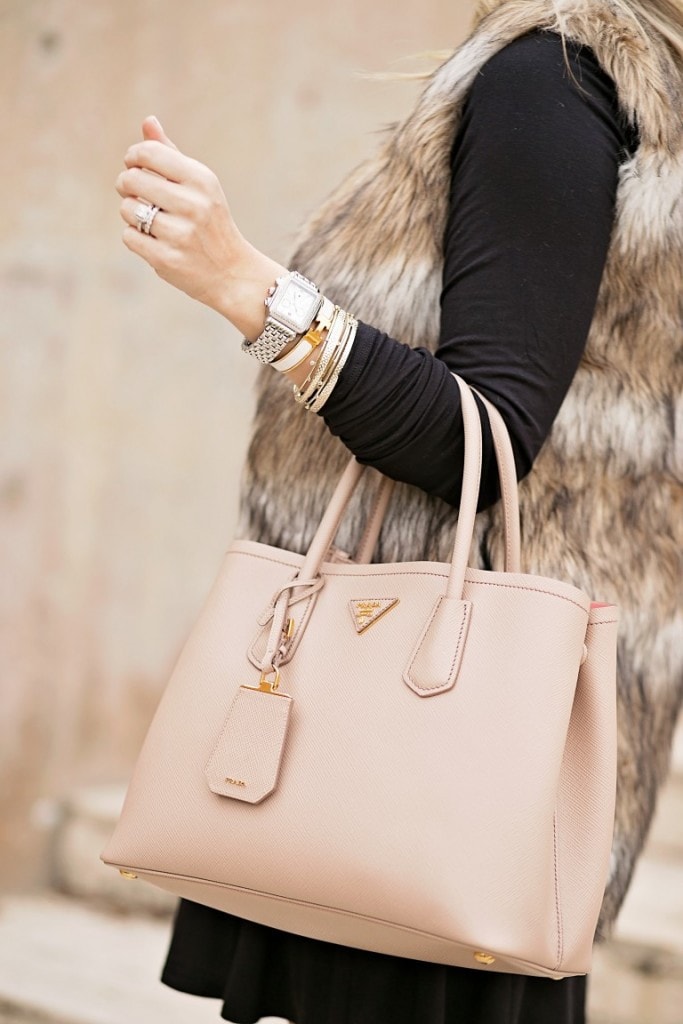 Outfit: This Post
Prada Saffiano Cuir Small Double Bag
Pros:
If I could only have one bag for the rest of my life and I knew I would be working in an office environment, I'd go with this bag! It not only goes with whatever I'm wearing, the leather is incredible quality. Prada is known for their specific leather treatments that allow their handbags to be really durable. I hate spending a lot of money on a bag and then being nervous that my keys scratched it. Life happens, so I certainly can't feel like my bag needs to be in a bubble! I love that I don't worry about this when carrying a Prada bag.
Cons:
I haven't had this bag long enough to really find cons to it! The only thing I will say is that this bag can be a bit tricky to hunt down and I've had a lot of readers e-mail me about that. If you are a blogger, that can definitely be frustrating to your readers.
Sizing:
13″W X 10″H X 6″D
5.5″ drop with handles, 20.5″-22.5″ drop with crossbody strap
Overall Thoughts:
I sadly don't have as many photos of this bag because it is newer! This is the 'cammeo' shade which can be a little tricky to track down and this is also the smaller sized bag. You have to check measurements because certain Prada stores call this size the medium but retailers call it the small. For example, the Prada in Vegas is known to call this the size medium and the larger one the large and online they are just referred to as small and medium. If you're nervous about leather being damaged, this bag was made for you. Prada makes this specific leather for their bags so that they won't become damaged. I watched a lot of Youtube video reviews and one mom even showed her little one chewing on the strap for 5 minutes and there were no indents after. Granted, I don't recommend that, but this new mom felt really comfortable purchasing this after watching that! It also has a strap that allows this bag to be worn on the shoulder and it has little gold-feet on the bottom so your bag won't be damaged when set down. There is a middle divider that can also hold items and I personally use it to store receipts. I couldn't fit my laptop in this bag, but other than that I think it's really chic for work!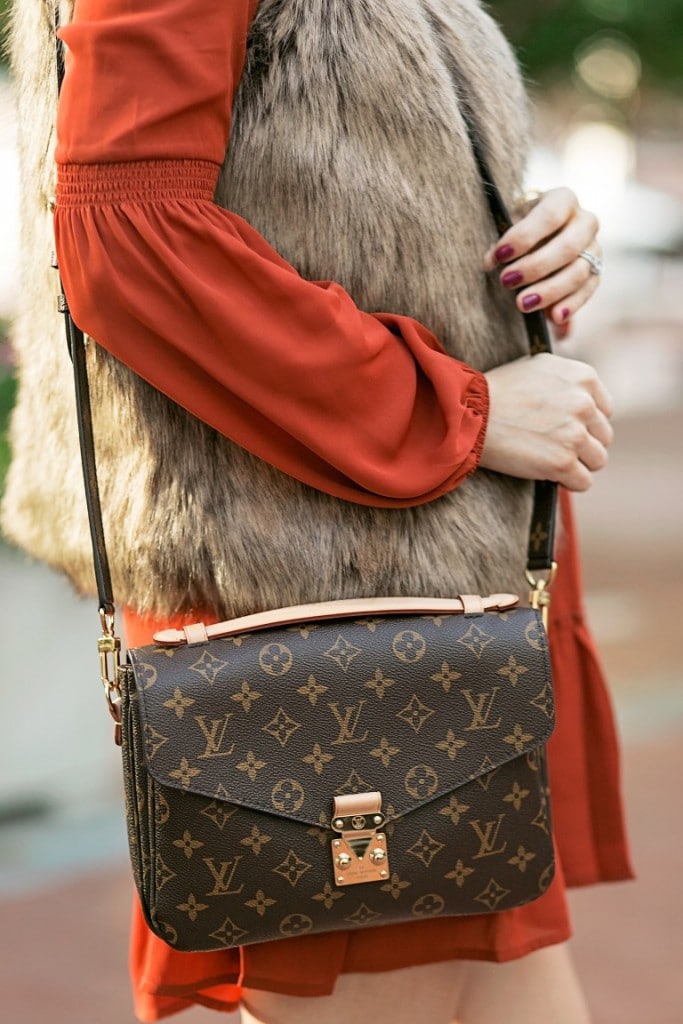 The Look For Less
So what if you love a designer purse and can't justify the price? I 100% understand that! There are so many bags and items I can't justify and don't have to. We all have preferences on how we allocate our money and with the prices of classic handbags going up each year there is a solution! I'm all about resale shops that are credible! I actually purchased the LV bag featured in the above photo from resale. I've purchased a lot of my handbags that way, unless it has been for a special occasion. Here are a few sites that I know are credible and you can get your bag authenticated and if not, they refund you. Most of the time when you purchase from these sites it comes with the dust bag, original price tag [it will say so online] and they always come with the unique authenticity number. Now some girls have luck on Ebay, however, knowing me I would buy one and get ripped off. I stick to these retailers when buying resale:
[Gilt isn't usually resale, but they have flash sales so the bags are for much less and they typically only have one in stock at a time. However, sometimes the bags are used and if so it will say.]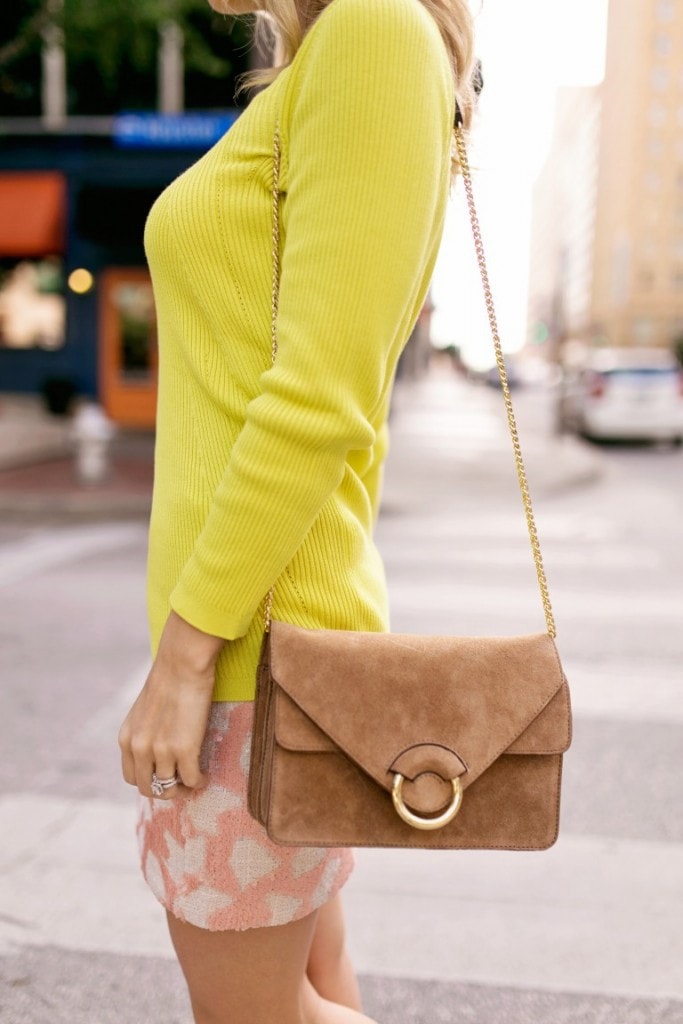 Outfit Post: Here
Non-Luxury Bags
So what about bags that aren't considered "luxury" bags? Here are a few of my favorite bags under $200.
Under $100

Under $200

I hope you found this review to be helpful and please let me know if you want me to review any different bags! Thank you so much for reading!