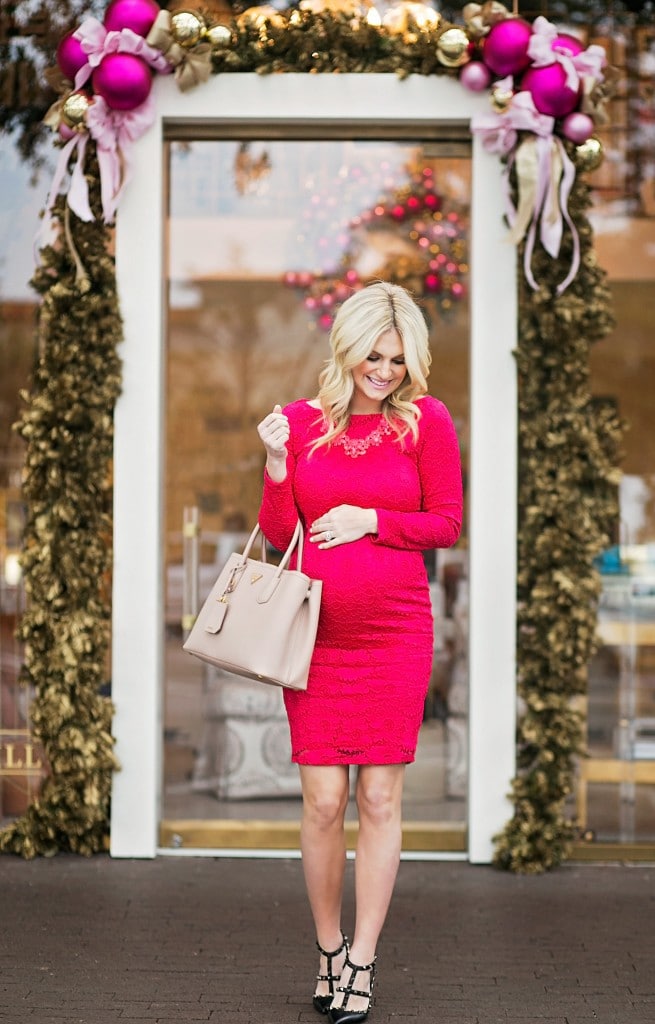 If all goes according to plan, this Valentine's Day I'll be in no makeup, pajamas and soaking in all the newborn snuggles! My doctor promises she doesn't think I'll go over my due date, but watch me be 42 weeks pregnant! 😉 If baby is here there is also a 100% probability I'll be eating a turkey sandwich as well. #TreatYourself. That was probably the only food item I've missed during pregnancy and I NEVER order turkey sandwiches! haha. I can live without sushi. I can live without a margarita. I didn't even miss the queso. But sometimes a girl just needs a sub sandwich-ya know?! So I'll be quite casual this holiday, but I think it is safe to say most of you all will be dressed up and headed out with girlfriends or your guy. Wear your favorite heels that night for me!
I genuinely love to wear pink, but that may not be everyone's cup of tea. I wanted to round up a few of my favorite idea for your date night below in case you prefer a top with jeans or a fitted pink dress.
This dress I'm wearing is maternity and I picked it up for a wedding Paul and I had in December. We shot this look back before Christmas and I LOVED all the pink ornaments in Highland Park Village in Dallas. I joked on Snapchat y'all would be so confused why there were ornaments in my Valentine's Day post, but let's just call it festive right?! 😉
Valentine's Day Dresses

---
Valentine's Day Tops

---
Valentine's Day Shoes

---
A Few More Pink & Red Favorites


P.S. If you're still looking for a gift for your guy or he needs an idea for you, here is my Valentine's Day Gift Guide!

Dress: Nordstrom | Shoes: Valentino, Dupe | Necklace: J.Crew, Similar | Bag: Prada, Dupe, Dupe | Lipstick: Snob
Photography by: Angie Garcia