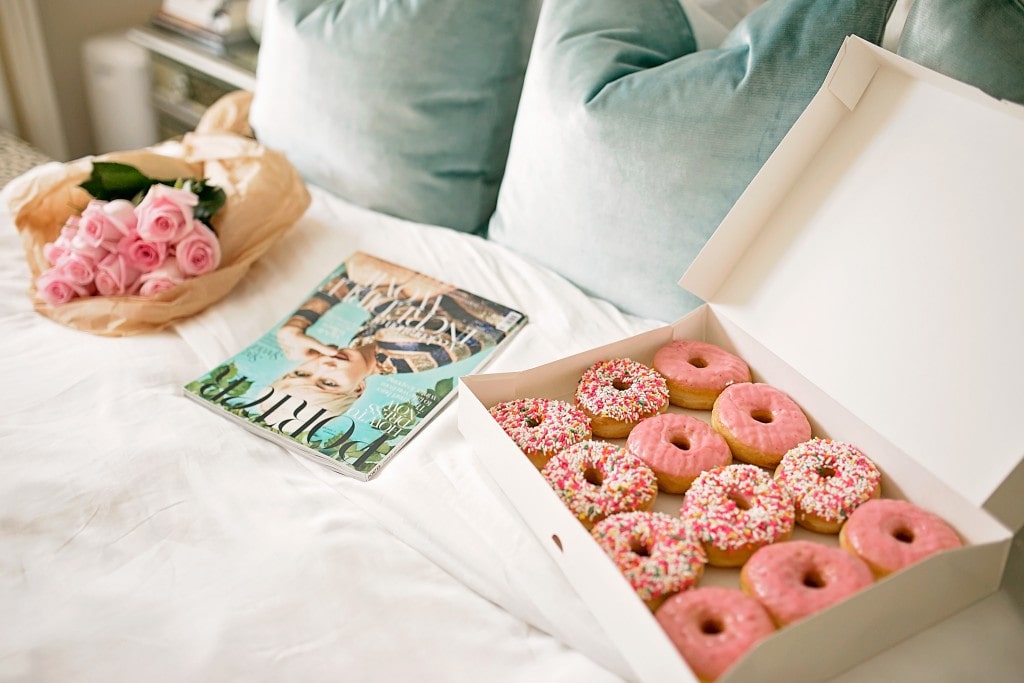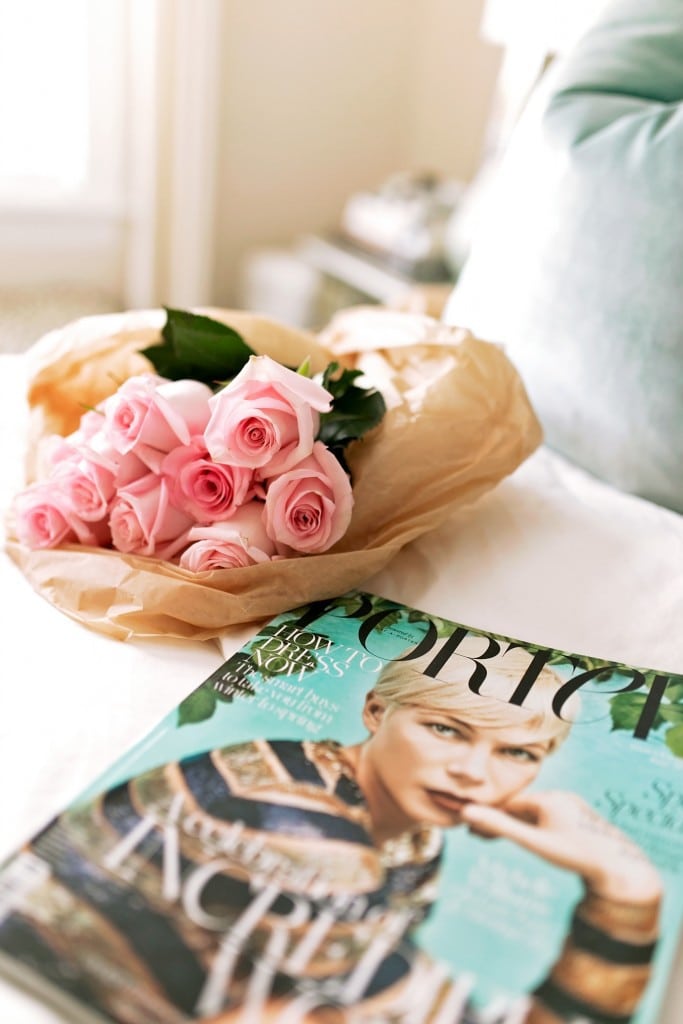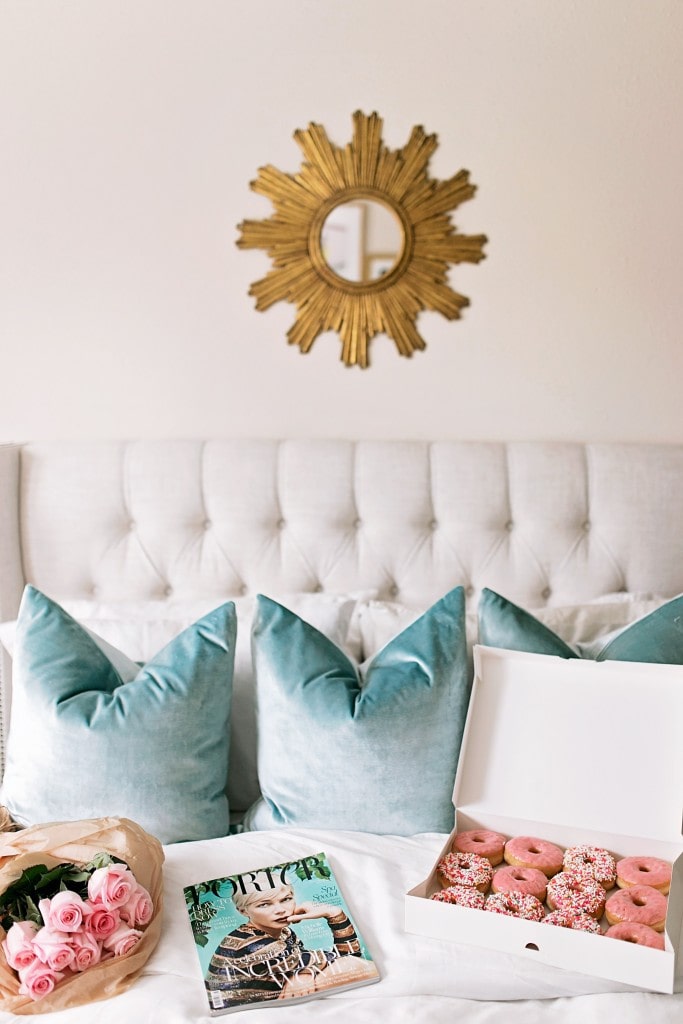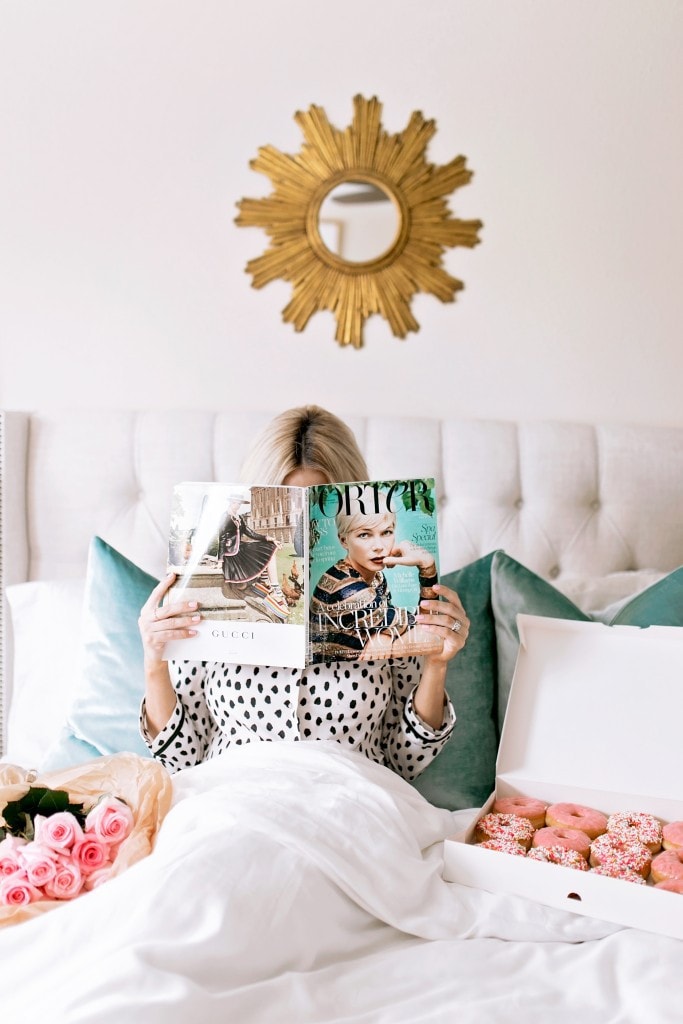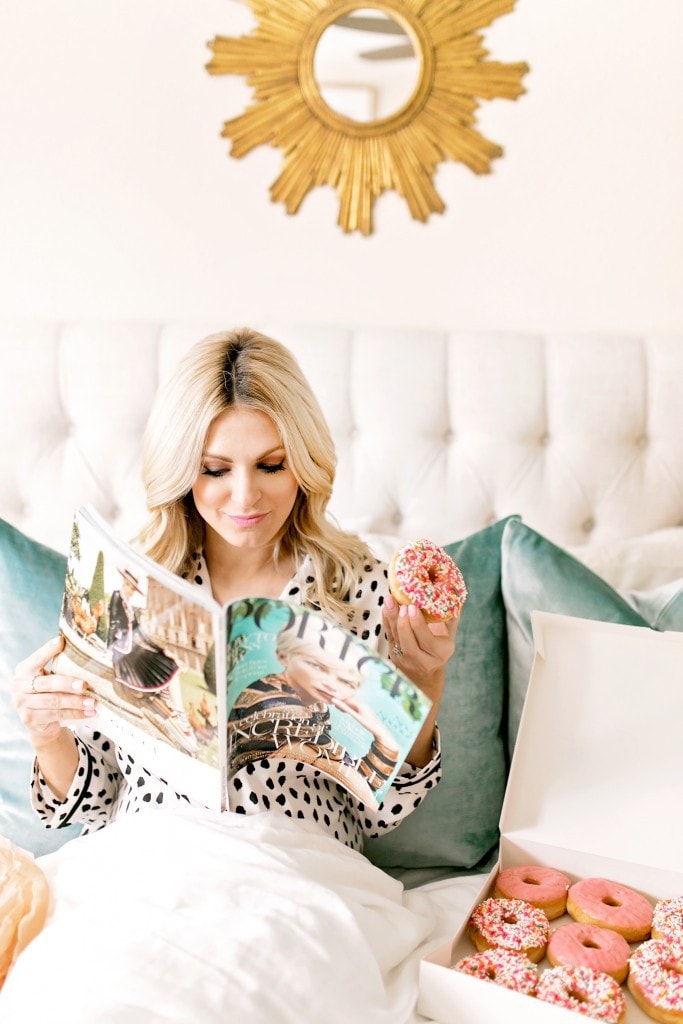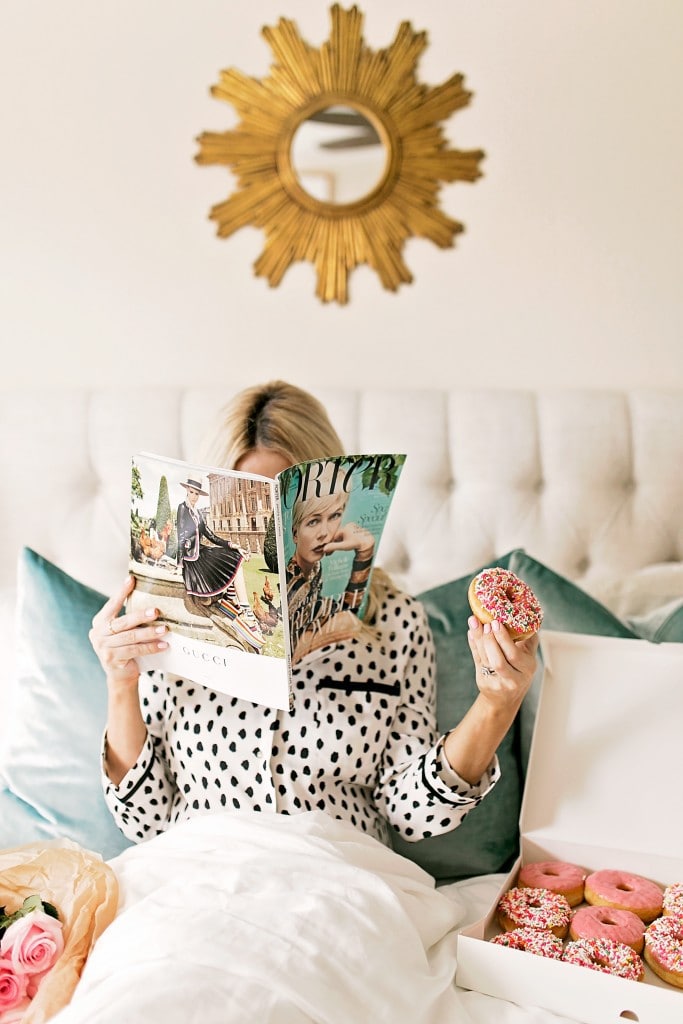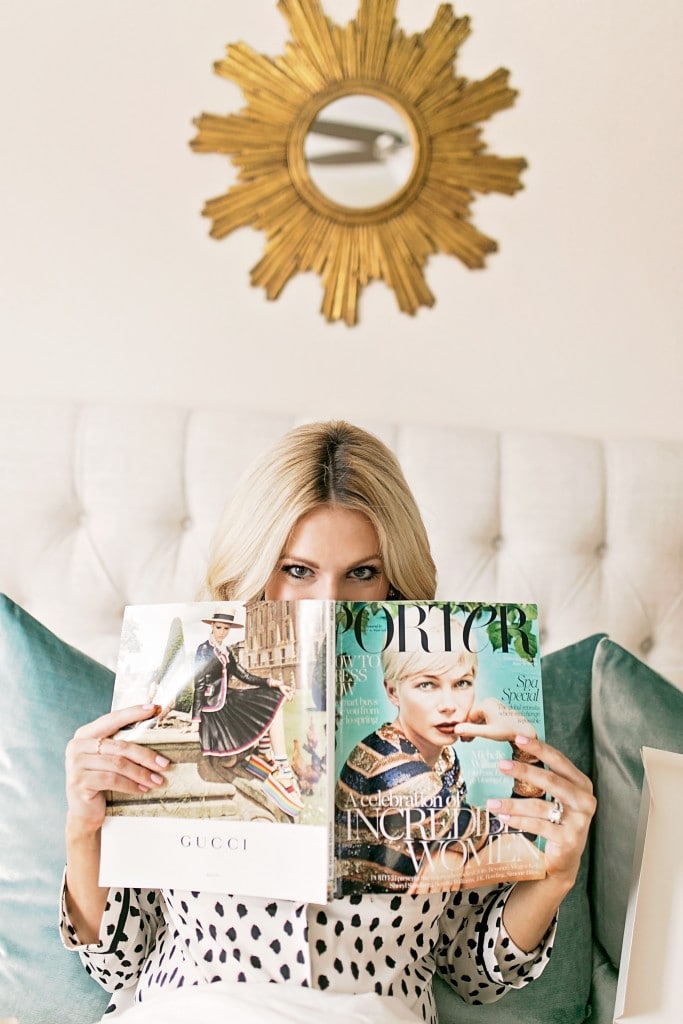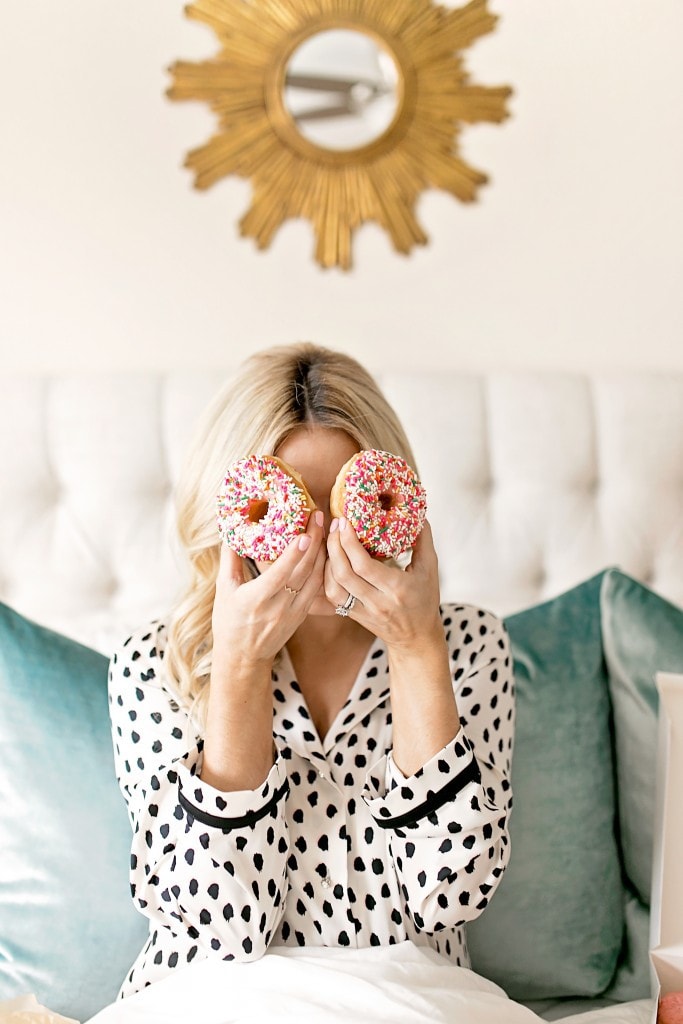 Pajamas: Kate Spade | Bedding: Listed Here
Photography by: Angie Garcia
P.S. Who spots Maxi in the photos?! Love seeing my bump on the blog again!
---
I'm sure it's safe to assume most of us wish we had more free time. Free time to do things like lay in bed, read a magazine, eat a sweet or two and stay in your pajamas! 😉 Each stage of our life requires so many different things from us, but it all centers around time.
Because time is so coveted and escapes us so easily, I thought I'd share a few things I do to manage my time in work, in home and with family. Before I dive into organizing, I wanted to share the step prior: prioritizing.
As women, we wear a lot of different hats. I'm actually going to be sharing a post on Monday talking about women and balance, so I don't want to divulge my thoughts too much just yet. However, I think the beauty in being a woman is that we have so many different compartments in our heart that allow us to be a million different things to people. Whether you're a stay-at-home mama to a few littles or a girl in grad school, your time is so important. You are so valuable and sometimes when your time isn't your own, you can feel like a slave to a certain role. It takes the joy out of your choice in time and can wear you down. So first things first, let's talk prioritizing.
At the beginning of each day I remind myself of my priorities. It seems silly because for days, months or years of your life, your priorities will most likely stay the same. But because we wear so many hats as a woman, guilt tags along. When I remind myself of my priorities each day, I'm giving myself that freedom of guilt.
I remind myself that:
First and foremost, I'm a mom and a wife. My daughter needs me not only emotionally, but physically. There will be a day that she is grown up and I'm dying for her to call me to chat one afternoon. I'll have all the free time in the world and I'll wish I was busy.
Here's a small example to give you an idea of why I have to remove that guilt. It's definitely a trivial one, but an example of how things can pile up! Right now I still have thank you notes to send to people who brought us food. I always write thank you notes at night but at this stage in life, I get her to bed and I'm exhausted. So. Stinkin'. Exhausted. I can't even think to write a thank you note because I know I have to get up again in 3 hours to feed her. I only get to about one a day and that means most are a few weeks late. I feel so guilty about it, but a girl I went to college with posted this on Facebook the other day and I repeat it to myself whenever I feel that guilt.
"Very few dishes have been washed and not enough loads of laundry have been done the past few days, but my baby sure has been loved."
It was such a simple statement and removed all guilt I had! I just thought, "Not a big deal. People get a thank you note a few weeks after they send a meal. They won't remember that, but I'll always remember the days I never put my baby down and I solely focused on her."
Whatever role consumes most of your time, remind yourself that you're doing that job and role so extremely well. You won't do everything perfect and that's the point of priorities. 
Now that you've reminded yourself of your most important role or roles, you can easily organize your time without guilt. I find that when I skip the step of prioritization I am trying to schedule every second of my day and it just sets me up for failure!
Time Management Tips:
Find a planner system that works for you and cling to it. I have to write things down and could never live off my phone's calendar, but that may be best for you. I use four different systems for organizing my job and personal life: planner, Google Drive and two paper notepads. It sounds a bit excessive but I enjoy the process and it helps me not forget my tasks at hand.
I use a planner to schedule my months and write out appointments. I need a physical planner to be able to see what I'm doing weeks from now and write down any commitment or appointment I make.
I use Google Drive to schedule my work. From my editorial calendar to all my contracts, Google Drive is my little command center. Be sure to keep the Google Drive app on your phone so you can quickly pull up anything when you're out and about!
I keep two paper notepads on my desk at all times. One I use for my daily schedule. I look at my planner to see my commitments for that week and then schedule each day around Maxi. This way when she goes down for a nap, I have one spot to look and see what I need to do next in terms of work, home and personal life. I'll write everything down from looks I need to shoot, blog posts I need to write, contracts I need to negotiate, chores I need to finish and people I need to call back. The second is used more for spur of the moment planning and brainstorming if you will. I map out blog posts, draft out social media scheduling and list things I'd like to accomplish in the following weeks. It's the messier of the bunch but this way when an idea or thought comes to mind, I don't forget it.
I hate to say get up earlier, because if anyone knows how precious sleep it is, it is the mama of a newborn. Now that Maxi's sleep habits are a bit more predictable, I gauge when she will get up and try to get up about 3 hours prior. Lately, I have been getting up at 5 and while it's rough after feeding her at 3:30 or 4, it's worth it to get my best work done! This way, by the time she is up for the day I have showered, answered e-mails and maybe cranked out a blog post. I feel much more organized, which helps me to be a better mom. Try getting up 15 minutes earlier for a week, then 30, then an hour if need be. An extra hour in the mornings helps so much and allows you to have more free time in the afternoon or evenings to do something you love! By me getting up earlier, I'm also able to get my work finished so I can maybe sneak in a nap later on in the day or get to bed once Maxi is asleep. I honestly find that if I get up earlier, I'm given more opportunities for sleep which helps me to be rested. Whereas, if I sleep in more I'm frazzled throughout the day, constantly behind and staying up late to finish tasks.
I won't harp too much on apps here, because I'm not a big app person. But because of that, the apps I do use I truly love! I already mentioned keeping Google Drive on your phone, but I'd also add Planoly, Cozi and 30/30. Planoly is the app I use to schedule out my social media for the week. I like to do this on Friday before the following week. Granted, unless you work in social media or as a blogger that app will probably be of no use to you. However, for me it's a life saver! The next app I love is Cozi. Now this is considered a family planner, but anyone could use this app married or not! I love to make lists on my phone for things like items I need to purchase or products I'm interested in, but Cozi keeps my lists, grocery list, planner and appointments all in one hub. It also allows you to share the calendar with family members so Paul knows when we have commitments ahead of time. He can let me know when he has appointments on the weekends so I'm not planning something for us he can't do. Lastly, I love 30/30 for when I'm working. There are definitely times when I'm able to sit for hours and answer e-mails or write a blog post. But to clear my inbox out in a day would require me to sit for 8 hours. There is never a day that would work out! Paul helped me a lot to just give myself time increments here or there to accomplish tasks and it works so much better than I thought. Before Maxi, if I would spend 8 hours answering e-mails I found it took longer than it should have because I'd get tired from the specific task and would dawdle around in my inbox. Now I use 30/30 and set up a list of tasks with a timer. So during Maxi's naps I'll give myself 30 minutes to answer e-mails and 30 minutes to write a blog post. When the timer goes off, I move on. I find I'm so much more efficient when I cycle my work this way.
Schedule Productive Quality Time
Schedule productive quality time for your relationship. Now that Paul and I have less free time together, I want to make sure the time we do have together is productive. I don't mean I want to go take care of our flower beds or meal plan, in fact, I want to take our quality time and get away from chores. But I also want to get away from unproductive conversations. Sometimes we can be so tired and we will watch a movie and talk and I realize we just spent 3 quality hours scrolling our phones and talking about things that don't matter. That "unwind" time is important for anyone, but it's not how I want to consistently spend time with my husband. Last Saturday I made it a point for us to have a few hours together having productive conversations and just enjoying that time. We put our phones away, left the TV off, Maxi was asleep and we sat in our room talking. I think we talked for 3 hours about SO many things [none of which involved things we needed to do] and it felt so good. It was productive for our relationship to have those uninterrupted hours like we did when we were dating. Make it a point to carve out a little slot each week with your spouse and have that time doing whatever would nourish your relationship most. I take that time to not vent, not complain and not nag about things we've got to get done because none of those things would be productive!
Schedule Home Maintenance
Last year I shared my cleaning schedule and here is the post if you are curious! While I love the feeling I have after a deep clean, I don't want to spend 6 hours cleaning my house on the weekends. I break it up into little tasks each day so that it's a lot less work. This also helps so much with a busy schedule because if something doesn't get done one day, you just move it to the next day. My mom always reminds me of this because it's less guilt to not do one chore, than it is to just not clean your house when you were supposed to do it all in one day.
Be Conscientious of Waiting Time
We all have those free minutes waiting. Doctor's offices, standing in lines or waiting for a friend at a restaurant are all moments we can accomplish little things. When you have to wait, it's so easy to want to automatically be annoyed someone else isn't on your schedule. Instead of being irritated, I always remind myself this is a huge blessing. I'm given 15 or so uninterrupted minutes to check e-mails, respond to texts and check off my lists.
When I'm planning my weeks it's so easy to get overzealous and schedule every spare moment. #TypeAForLife Depending on your schedule, allot some free time in case other tasks run late. For me, I always need to keep an hour or two in my day free because things will always come up or take longer than I plan!
Sunday Evening Scheduling
Lastly, take advantage of Sunday evenings. I really like to give Paul and Maxi uninterrupted time together to bond since she is with me while he is at work. I let them do tummy time together and he will give her a bath and read to her. I know that time is so important for them, so I will stay in my office for that hour and plan for the week. I outline my schedule for the week, plan out my shoots for the blog and lay out all my clothes. Ironing or steaming ahead of time is one of the biggest tips my mom taught me to save time in the morning. Because once I get Maxi fed and changed, I always have less than 5 minutes before we have to head out the door to meet a friend or get her to an appointment. If everything is out on my clothing rack, I'm doing fine on time!
Do you have any time management tips you live by?! I'd love to know! Or what is your biggest priority right now in life?