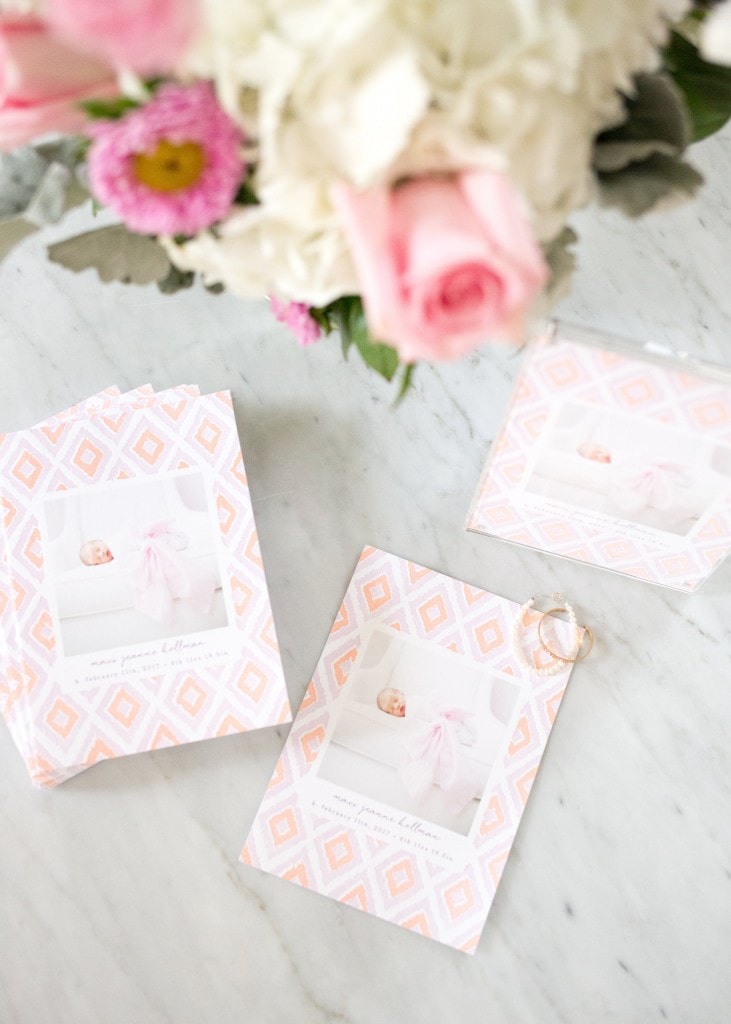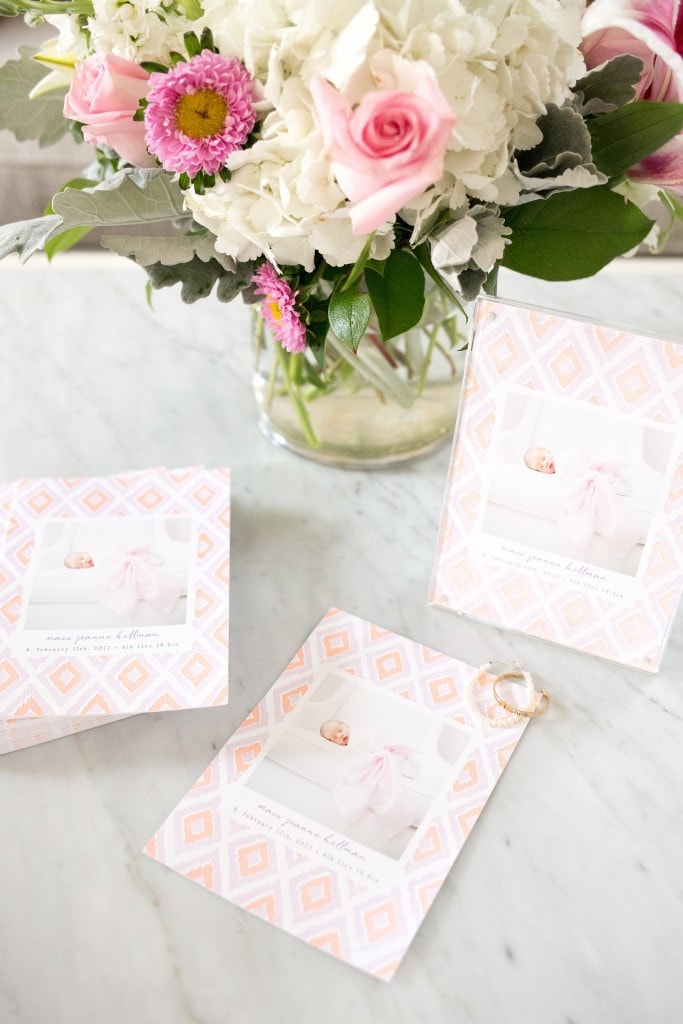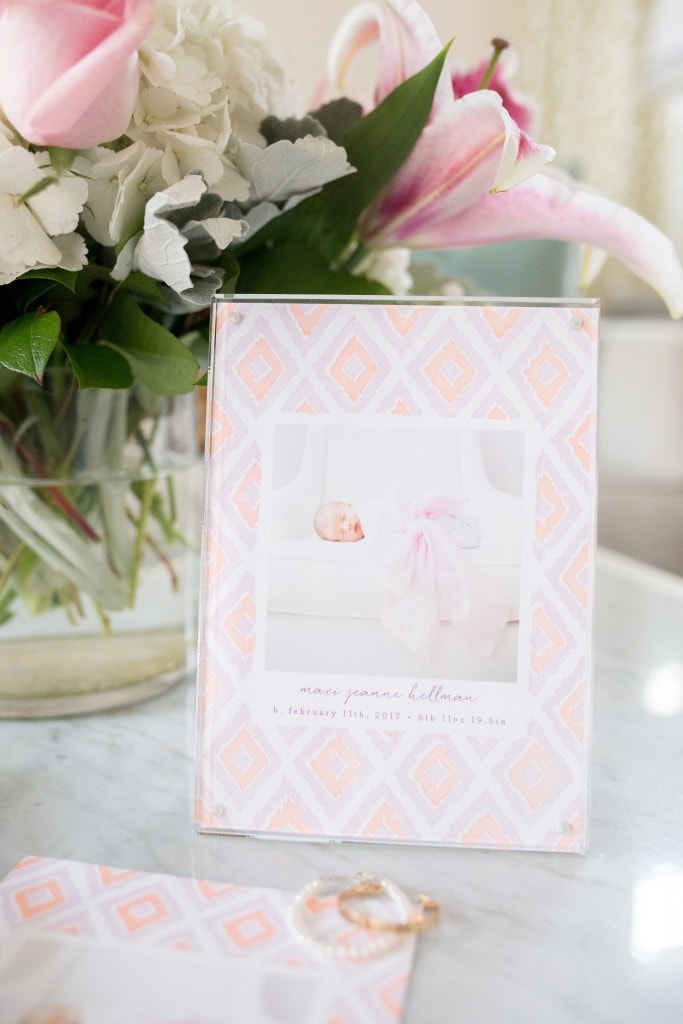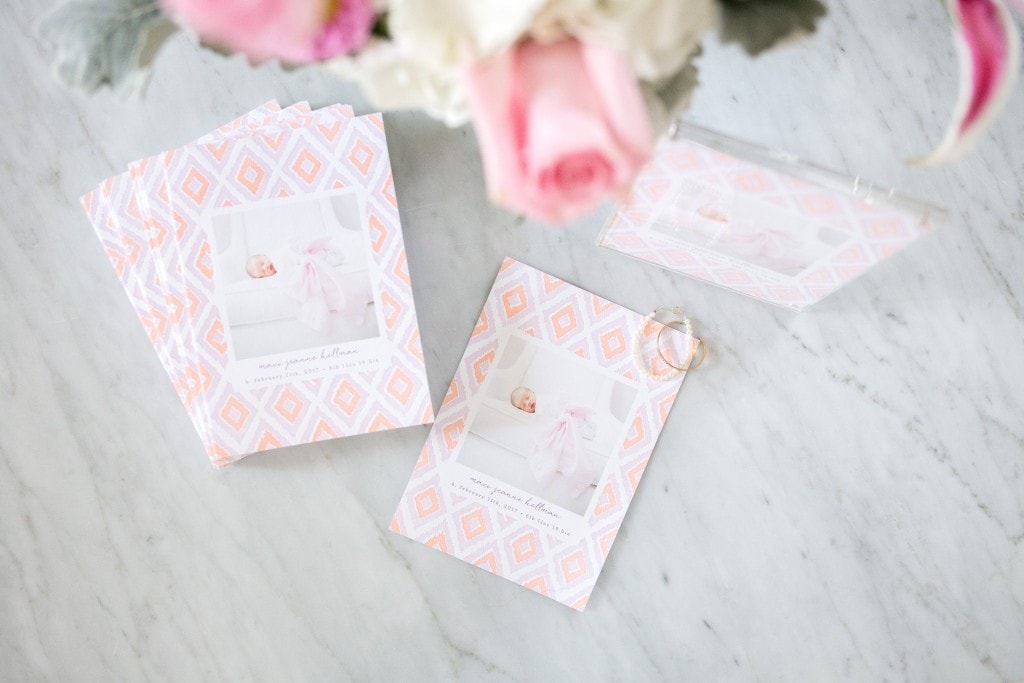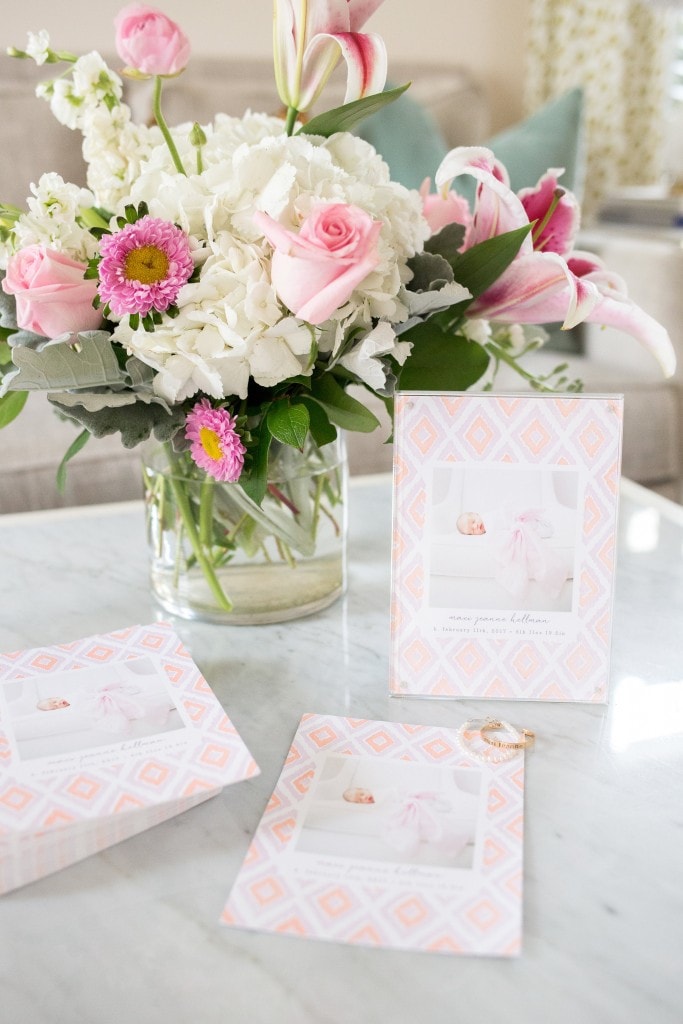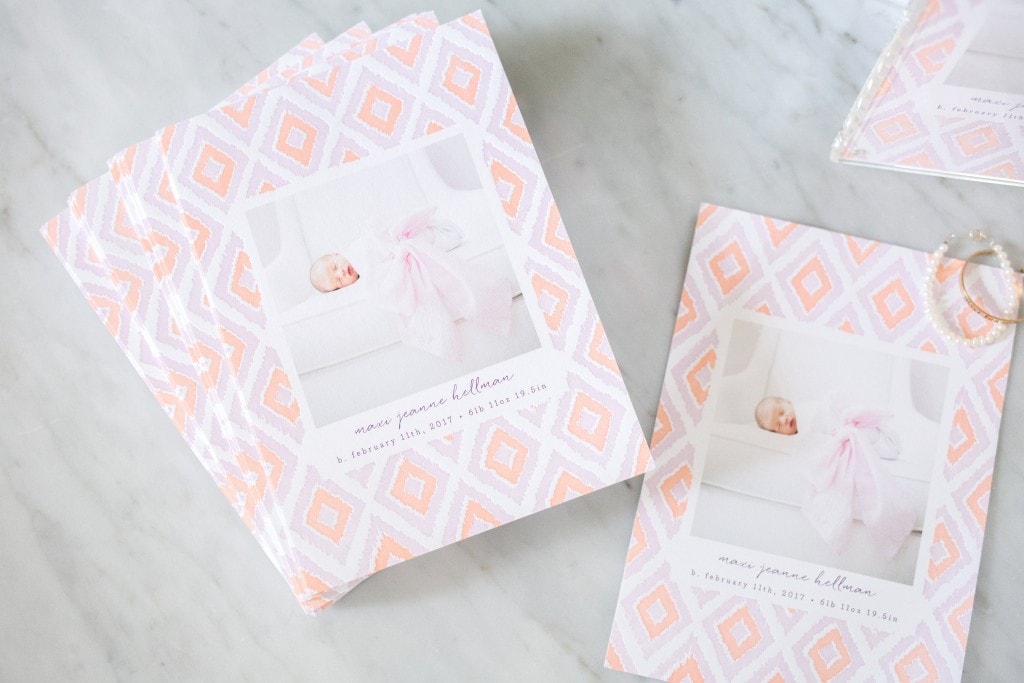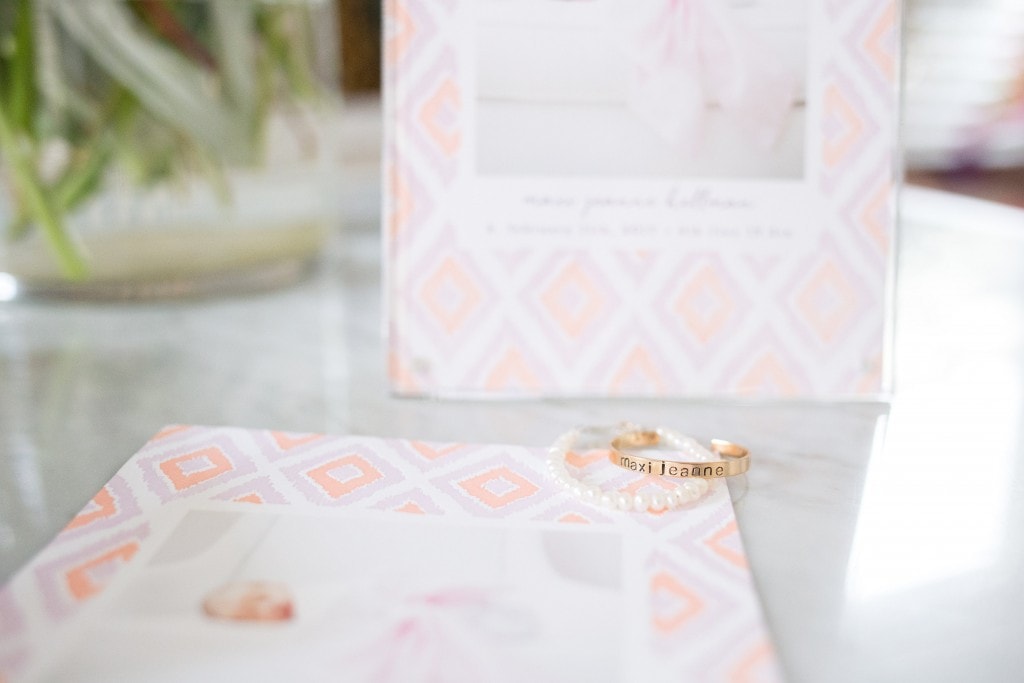 Baby Announcements: Minted [c/o] | Arylic Frame: Homegoods | Maxi Jeanne Bracelet: All The Wire [c/o] | Baby Bracelet: Gift from Baby Shower
Photography by: Madison Katlin
---
I always like to do things a little bit backwards! For example, I know how I want to decorate our next home [whenever that time may be] and I like to look online at homes that fit that "aesthetic." Or another example is I knew the earrings I wanted to wear on my wedding day before I even knew what kind of dress. I looked like the craziest bride carrying in earrings to dress shop and saying, "I want my dress to match these!" It's a little silly, but it works for me! Maxi's baby announcements were the exact same way.
Paul and I went to go see the movie Jackie in Dallas for a date this January and we got there extremely early. We sat in the theater and I scrolled through Minted's website [where I get all of our correspondence] trying to find the right card. I wasn't even sure how I wanted to do her shoot yet, but saw these and then knew I wanted to have her shoot with lots of white with pink to match. I sent the announcement to our photographer and then we were able to brainstorm around it. I fell in love with the lavender and coral ikat pattern and if I'm being honest, really want it to be made into a wallpaper so I can use it for my office. haha! The announcement also comes in blue for boys and I think it's just as sweet.
I'm currently planning her baby dedication and I purchased these from Minted as well for them! Our church doesn't do baby dedications, so my childhood Pastor that dedicated me, baptized me and married us is actually doing her's with a small family brunch after. I'm so excited about it as I feel it's just really sentimental and symbolic. I was actually his first baby dedication as a Pastor in my parents' church, so it's really sweet to see how life comes full circle! I know she won't remember this day later on, but I can't wait to shower her pictures and just explain how it is something we both have in common. I shared the invitations on Snapchat, so I'll be sure to share a few more details of the planning process as well.
Now switching gears completely, The Bachelor. I've been vocal I didn't love this season. Nick seem disinterested and the producers just made it one shade too corny. And I get it. It's "The Bachelor". A quarter of the people just want some fame to quit their jobs, another quarter of the contestants use it as a career stepping stone, another want the free travel and the last bit, I believe, want a boyfriend. But next season can the producers at least go back to letting us pretend for 2 hours on a Monday evening this show is "semi" real? Anyways, last night seemed a bit odd. I'm not sure if I'm just sleep deprived or not a fan, but were they not extremely awkward on After the Final Rose? A lot of people were tweeting it seemed awkward because they were a real relationship, which I will agree with. But I still am confused by going to a different country for a dating show if you never have any intention on living in that country.
Rereading that paragraph, I'm embarrassed to be that girl chatting about Bachelor motives. But I'll give myself a free pass for being up all night with Maxi. A little girl talk is healing, right?! haha! Sidenote, if you are a mama to be, you MUST download The Wonder Weeks app. It's a development tracker app that tells you "leaps" your child will make. Babies have growth spurts of feeding/sleeping a lot and then they have leaps in their mental development. Their world is changing as well as their senses and during these changes they may be more fussy and cling to you. The leaps are all based on their due date [it goes off conception, not when they were actually born] and so it will chart for you their happiest and unhappiest days based on fussiness, leaps, mental development, etc. Maxi had her 4-week growth spurt and was eating like crazy this weekend. Then on Sunday she only wanted me to hold her and she wanted to be held every hour at night. Paul and I were a little nervous she didn't feel well- I'm all for baby cuddles, she just wasn't acting herself! I texted my girlfriend, Jade, who is a mama and a nurse. She told me it was a leap and to download this app. Sure enough, I downloaded it, inserted all of her information and Maxi was making a leap. It was crazy because all of the changes it said she was making she had just started to do the day prior. The app was saying she is starting to mentally learn how to respond to us and therefore, she knows when I'm not holding her vs. someone else. So now I stalk this app like crazy because I'm fascinated with it and love that it gives you an idea of what is going on in their mind. All of that to say she wants lots of mama time, which I'm loving. My under-eye circles are just needing a little lot of TLC. I joked with my mom asking if she could babysit this weekend and we could go on a date. Paul was really excited and asked where I wanted to go. I told him we would be going back to bed to sleep. haha! We were at my aunt's house last night and I walked in and my mom said, "Oh, sweetie. You look so tired!" Then she quickly followed up, "I mean, you look great! Truly! But maybe I should come babysit Friday so you can sleep…" Leave it to your mom to always be honest. 😉
I hope you all are off to a wonderful Tuesday, thank you so much for reading and letting me share these announcements with you!