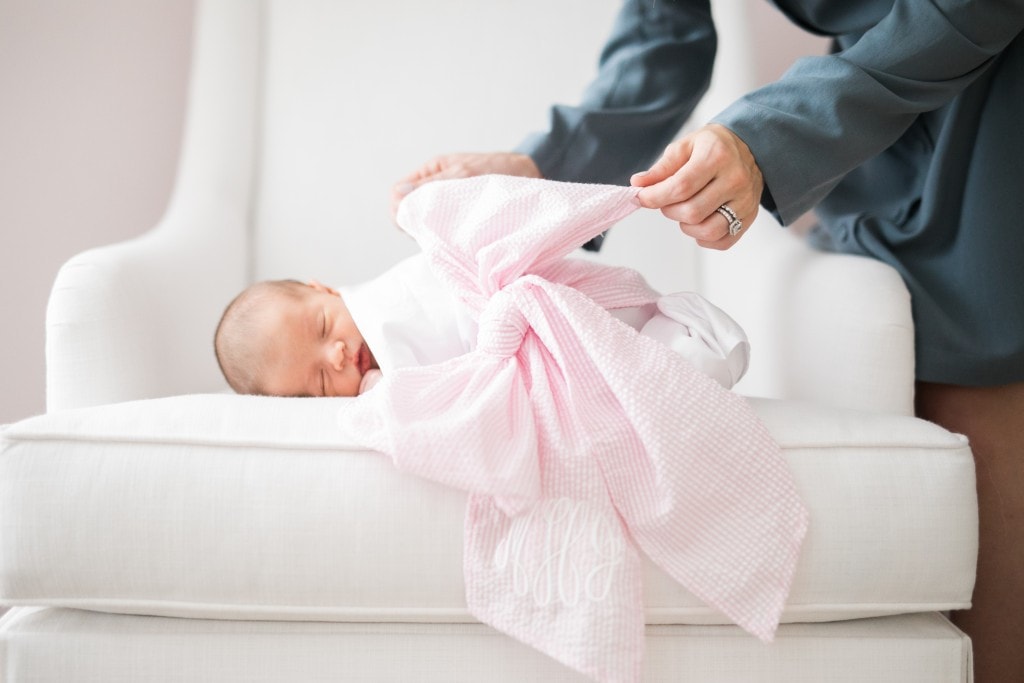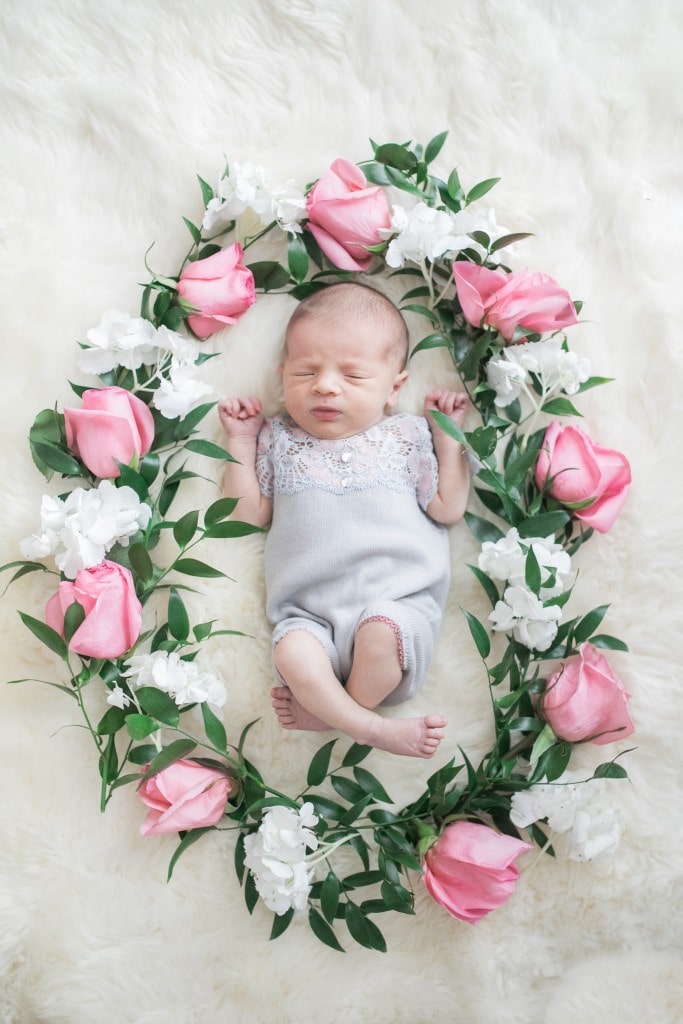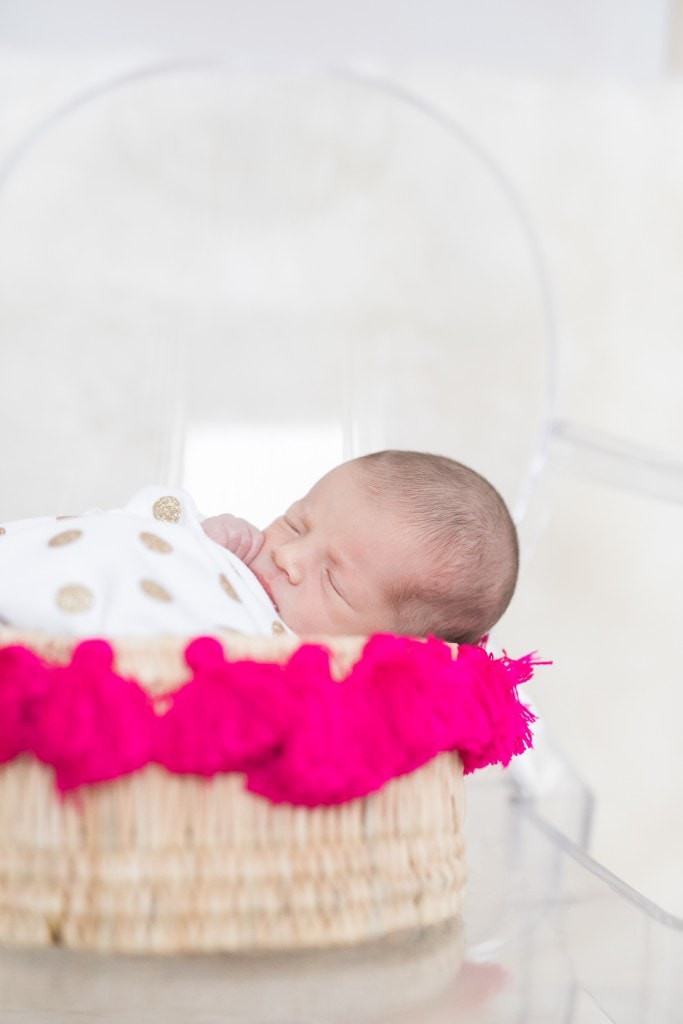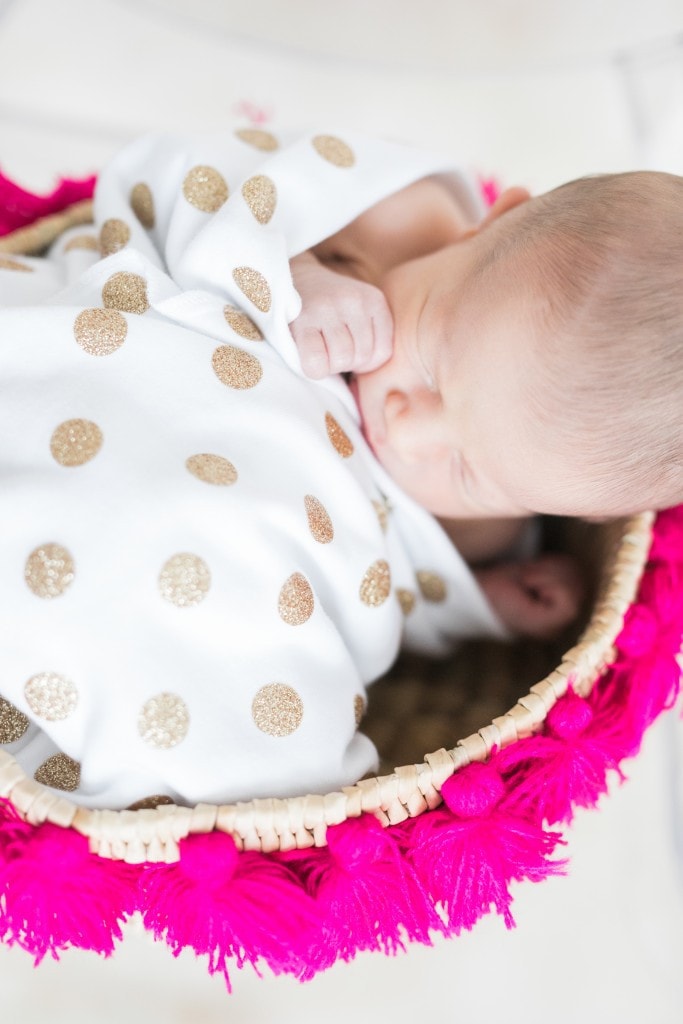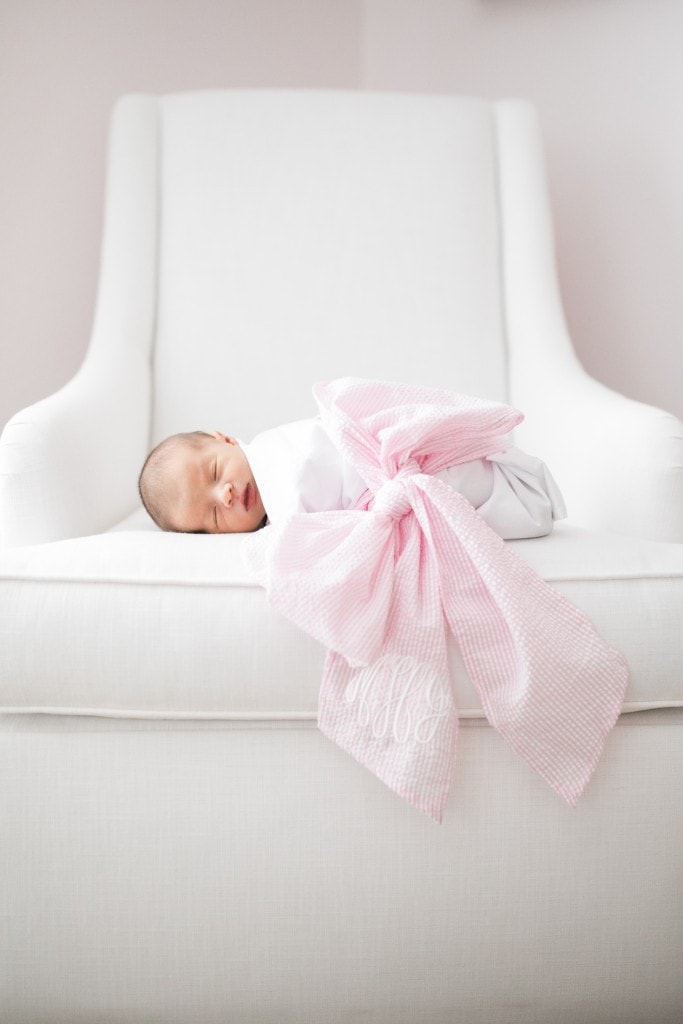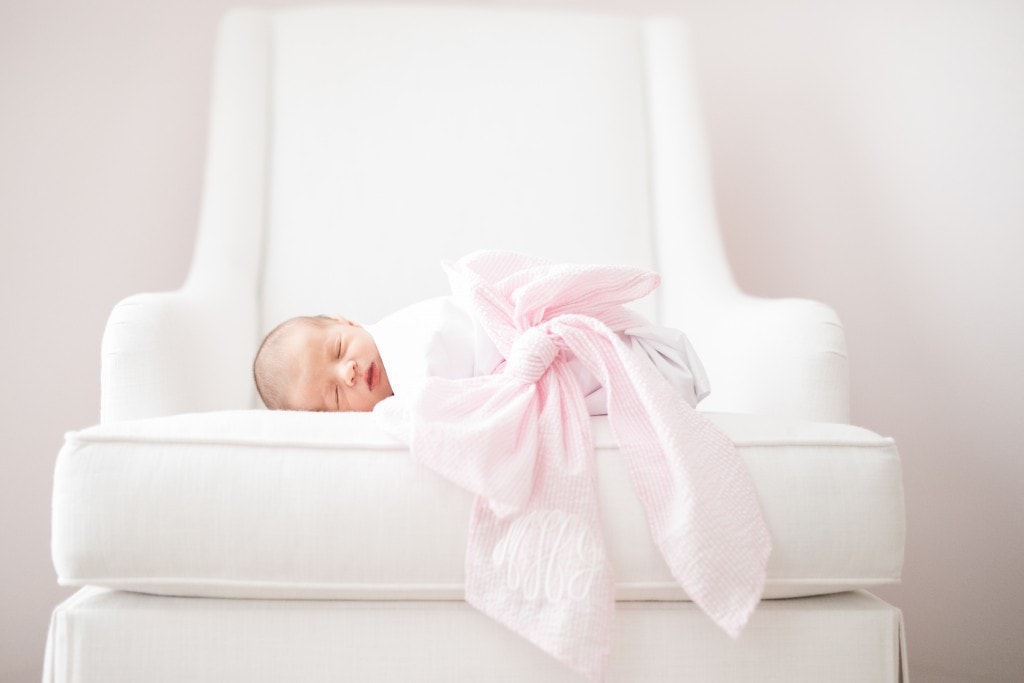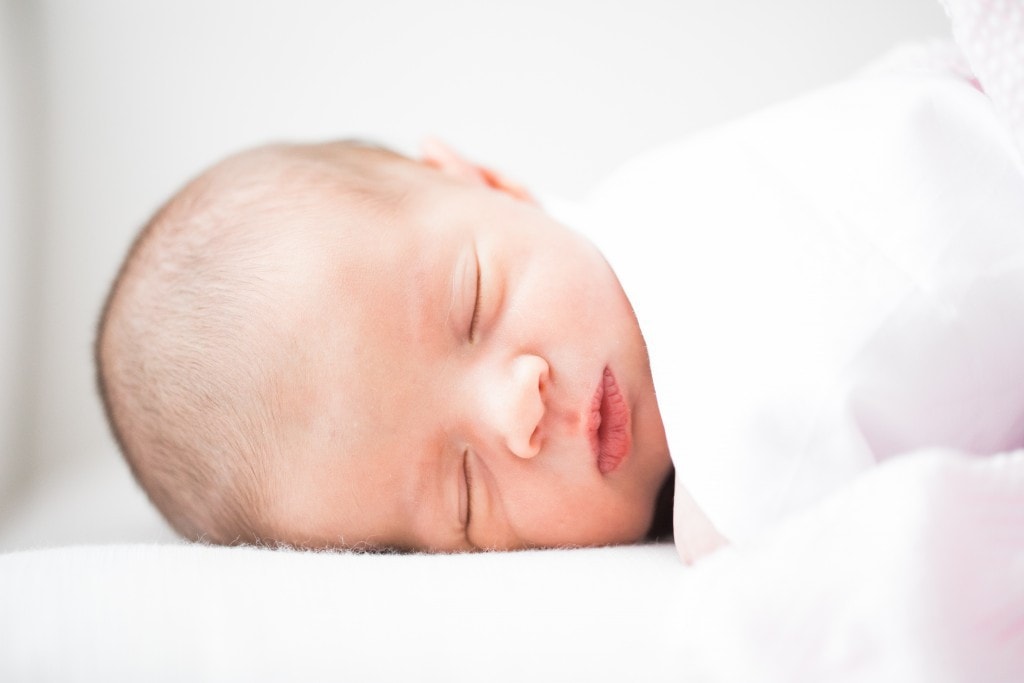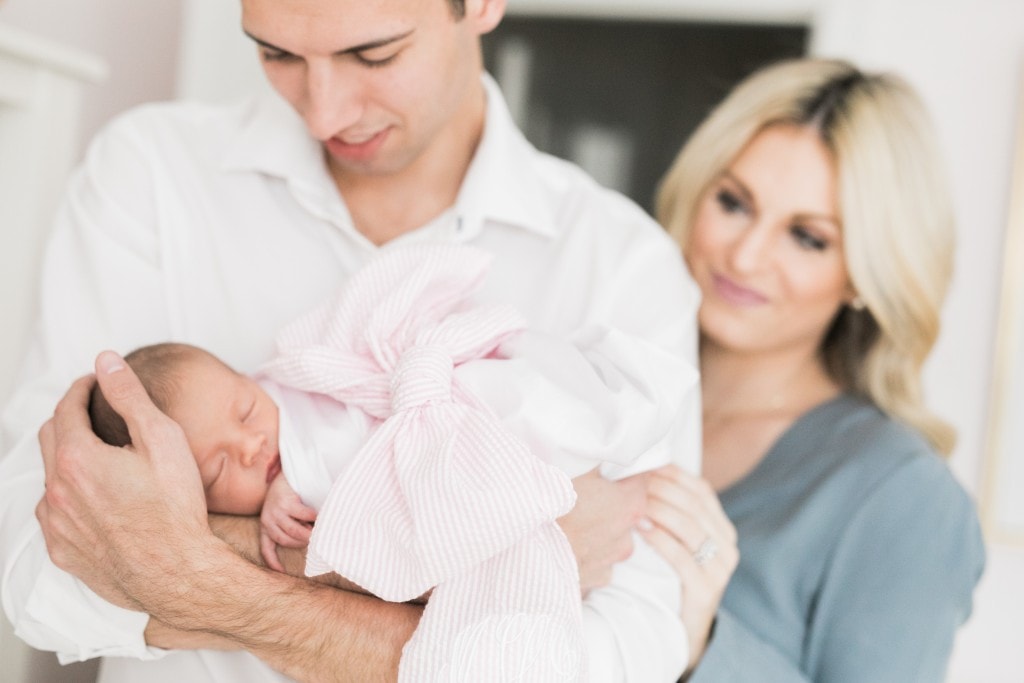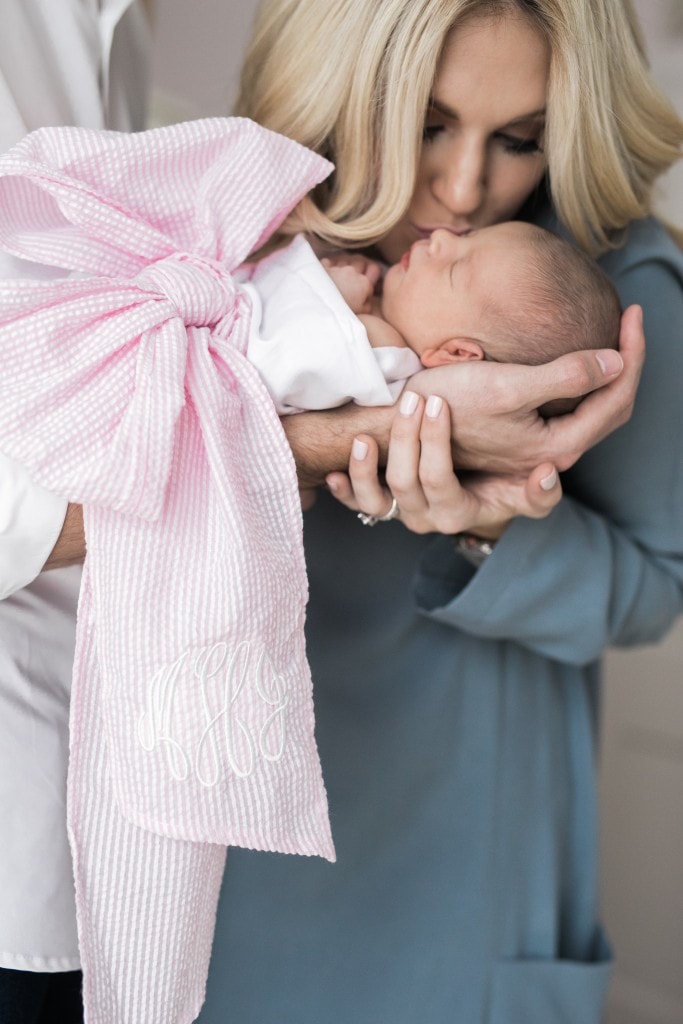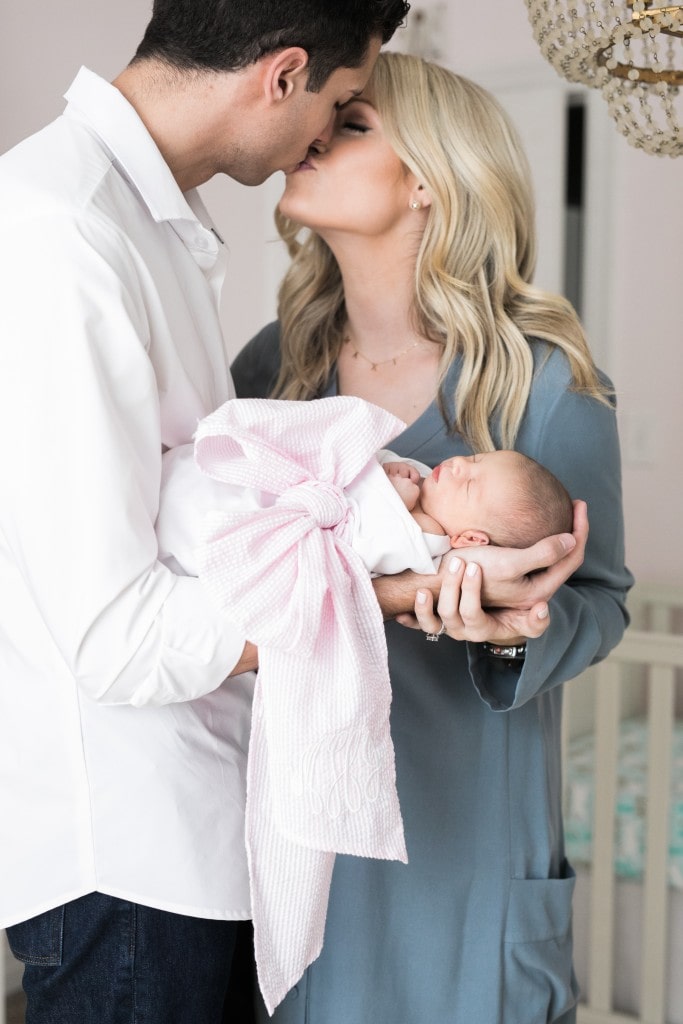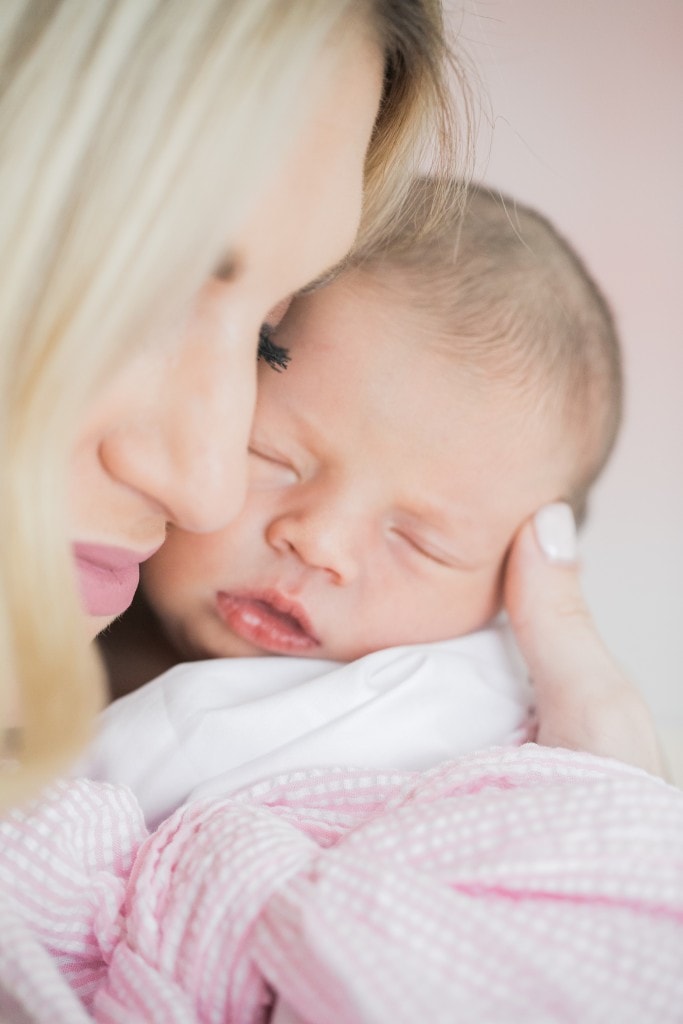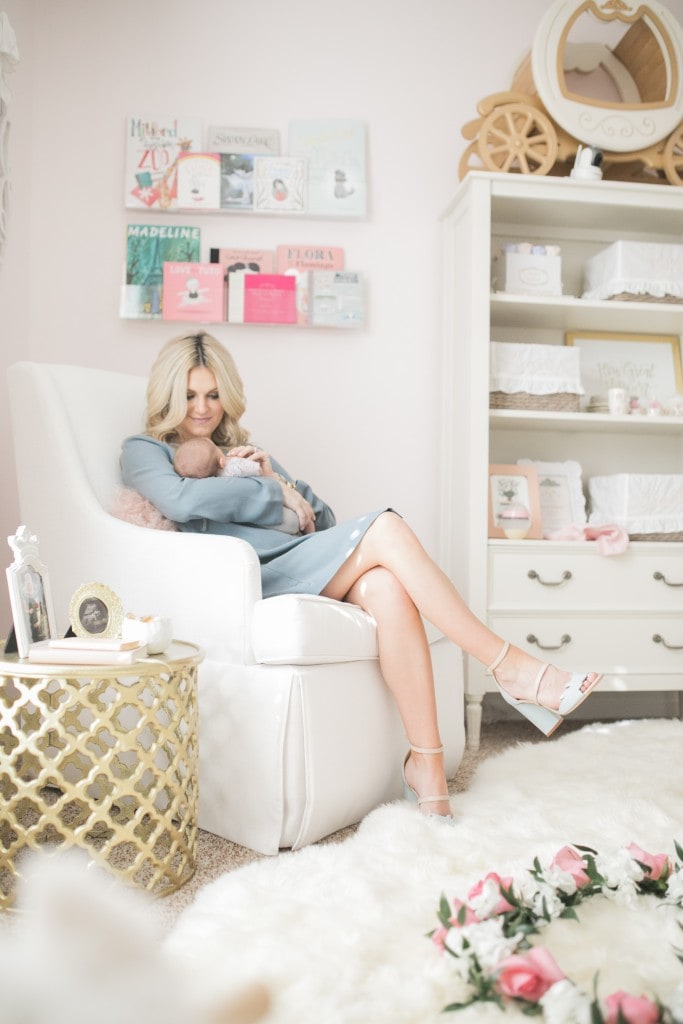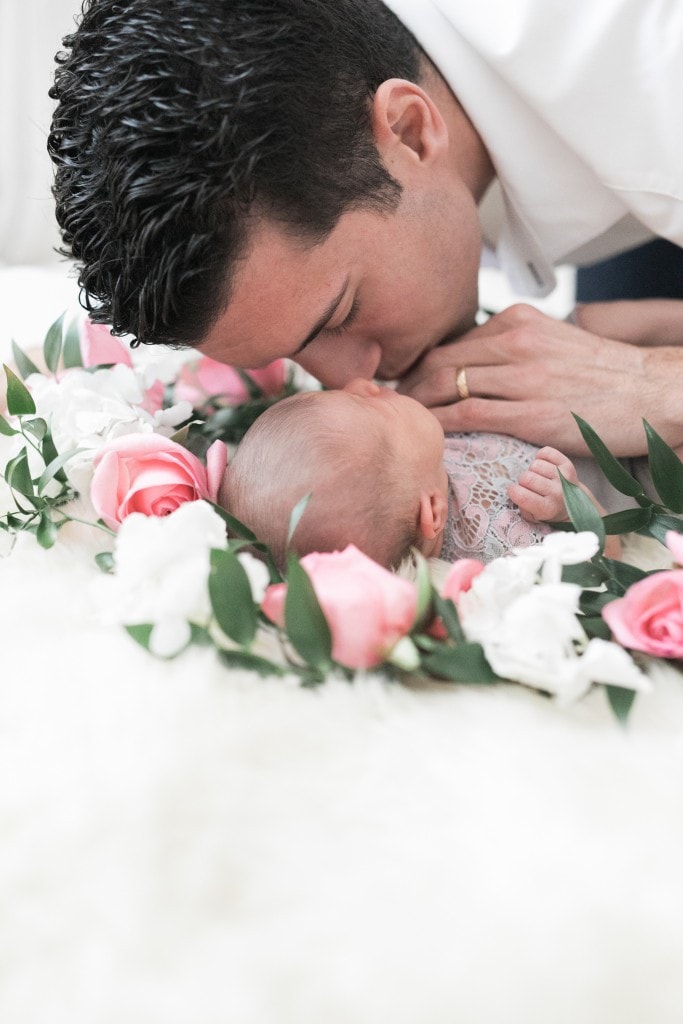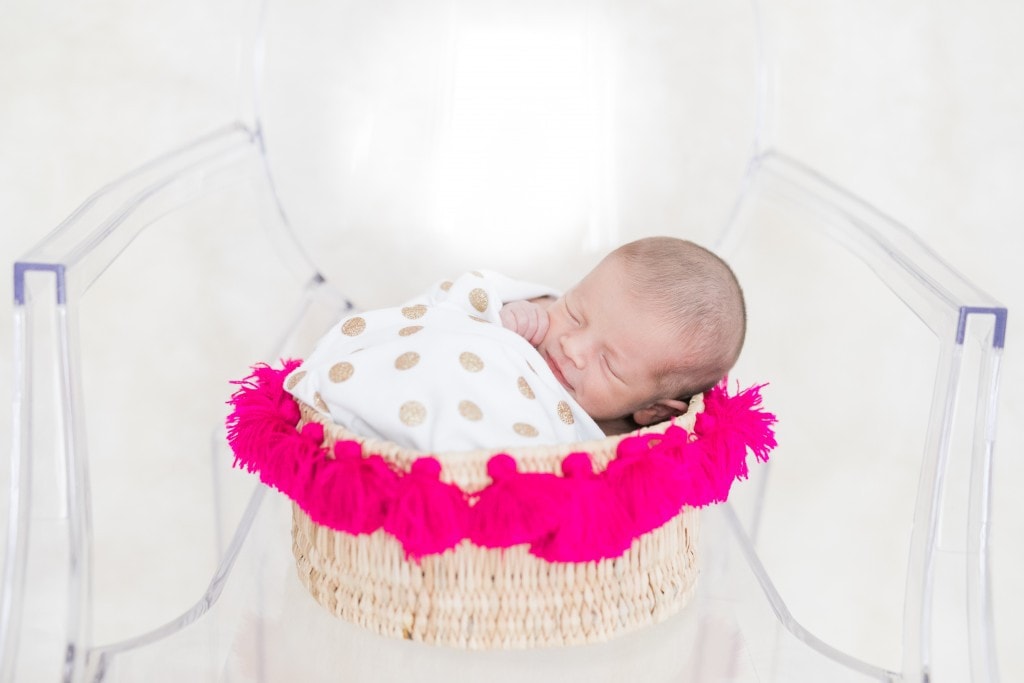 Dress: BCBG | Shoes: Dee Keller [c/o] | Swaddle: Etsy | Romper: Gift from My Mom | Pink Basket: NYC Market
Photography by: Carmen Evans
---
If you want to experience the fastest month of your life, give birth. I'm typing this while she is sleeping in her bassinet next to me and I'm a blubbering mess because she already looks SO different than she did on the night she was born. It's only been a month but I can't really remember life before having her. This month has gone by so quickly and it makes me so emotional. I spend every minute holding her and yet it STILL doesn't seem long enough! I'm constantly asking Paul, "Will she lay with me when she is 12?!" I've always been extremely close to my mom and to this day will crawl in bed with her and watch a movie, so I pray Maxi wants to have the same relationship with me!
I received some requests to do monthly updates on Maxi where readers could ask questions if they were moms [we are all just trying to figure out what works best for our babies!] or if they are pregnant and planning. I'm not 100% sure how I'll set these posts up, so please let me know if you want to see anything else. I figured I'd just share some overall thoughts from this month as we haven't gotten out and about as well as answer questions readers sent me on Snapchat.
Overall Changes
She clearly hasn't had too many changes this month as this is her first month outside the womb! 😉 But, I've changed a lot! I'm a much more laid-back mom than I ever thought I would be, but I'm this way because of Maxi's demeanor. Maxi is an extremely relaxed baby. She's a cuddler and she loves to be close to you but she also doesn't really like a schedule. When we got home from the hospital and were settled I tried to put her on the schedule the hospital suggested and she was not having it. I wanted to do everything by the book and thought something was wrong when she didn't want to eat/sleep/etc. She had her days and nights mixed up and it didn't matter all the "rules" I followed to teach her night vs. day, it just wasn't working. I asked our pediatrician what to do and she told me to just nix a routine and follow her. I went off her cues but provide a morning and nighttime routine and the difference was huge! She started to sleep so much longer at night. She ended up putting herself on a schedule by me just feeding her based on cues and now she generally does everything at the same time each day. So I really don't stress if we go on a walk during nap time or if we have visitors during a feed time. Maxi is very go with the flow when I don't stress about a timeline and so I have followed suit. Every baby is so different and some thrive on a schedule early on, some thrive on a schedule after 4 months and some never want a schedule. Who knows how she will be next month, but for month 1 we just were pretty relaxed around here. 🙂
How hard is it to balance being a wife, mom and business owner?
I've got to say, I admire single parents SO STINKIN' MUCH. Being a mom is an incredibly hard job, but I'm very thankful I have so much support. I started to shoot for the blog this week and my mom was able to come over and watch her for an hour while I did that. I will say, it's been hard balancing work while being a mom. I feel really vulnerable saying that on my blog, because my blog is my job AND my readers are so supportive of this life change. But I want to be honest, because I'm sure some other moms have felt this in some shape or form. So many kind readers have e-mailed me saying I could take months off or I can only do blog posts on Maxi and they would still want to read. It means more to me than you know. And clearly, I want to be blogging- that's why I'm doing it! COF is my passion. But I'll be honest and say I've struggled. I'm giving myself grace until she is much older to even figure out a work routine, but I've just struggled with writing. I have really exciting collaborations and content planned for the upcoming months, but right now it's been an adjustment. Because we are staying in most days until she is a little older, I feel like I have nothing of interest to readers to write about. I was joking with Paul while writing an outfit post that I used to be able to say, "Oh I wore this to dinner with Paul! And then we are planning a weekend trip to go here, so I'll wear it then." But now all my thoughts are, "Hey, I'll wear this outfit in a few weeks when we can go to church. Today I wore workout clothes and Maxi pooped on my leggings, so I had to change into more workout clothes. Oh, and highlight of my day is that my Mastisis cleared up." I love my life SO much more now being at home with her than I ever loved my life without her. In fact, while in labor I cried to my mom about how much I couldn't wait for my days to revolve around another human because I was sick of just revolving my days around myself. However, this isn't a mom blog and I have worried that readers wouldn't be interested in what I have to say in my life right now. Then, I'll try to come up with something else to write about and quite frankly, I can't. She is a month old! My life DOES revolve around when she eats and poops and that's 100% fine. Being Maxi's mom is my biggest role right now, it just can be difficult writing a lifestyle blog about yourself when you have conscientiouscly put "yourself" on pause for a bit.
Maxi's sizing?
Maxi is still in preemie clothes and is starting to get into a few newborn pieces. I shopped for her ALL wrong! You constantly hear to not buy newborn clothing, but she was 6 pounds and that barely fits in a newborn outfit. When we got home from the hospital I felt awful because everything looked massive on her. I sent Paul out and he got preemie clothing which fit perfectly. So now I've got a closet with seasonal pieces that I don't think will fit the correct monthly sizing! haha.
What is your diet while breastfeeding/what foods are you avoiding?
This is something I'm still figuring out! For starters, I'm not dieting right now because I'm breastfeeding. I fully believe it takes 9 months to grow a baby, so I can't expect to do a cleanse and be where I was in 9 days. While breastfeeding, I'm not going to be hard on myself about what I eat simply because it's most important to me to keep my supply up and her get everything she needs. I thought about doing Whole 30 because I have such a sweet tooth after pregnancy [and I wanted to kick that!] but I'd heard from girls it really affected their supply, so I'll wait. A few days in, I noticed she would have really bad diapers and I could tell her tummy hurt if I ate dairy. I asked her pediatrician and she said most babies do have some sensitivity, it's just finding out how extreme that sensitivity is as most of the time they grow out of it. Some babies can't have soy, some can't have dairy, some can't have both and some can have a few things. From what I've found, Maxi can't have raw dairy. I know that sounds SO weird, but that's what bothers her. If I eat cheese on a taco or milk with cereal, she would feel sick and be fussy with gas for hours. However, if I have chicken that was cooked with a little bit of butter at a restaurant, she is completely fine. Overall, I avoid dairy. However, I know dairy is in most things when dining out so I just don't order things that have "known" dairy in it. I also have to snack a LOT while breastfeeding. I'm always starving. Here's an example of what I've been eating throughout the day:
Breakfast:
Avocado Toast with Coffee & Almond Milk
Grapefruit Juice
Snack:
Clementine, Almonds, Honey Graham Crackers
Lunch: 
Sandwich, Salad or Dinner Leftovers
Snack:
Apple with Almond Butter
Dinner:
I've just been cooking random dairy-free meals I find on Pinterest! Lots of protein and normally a starch to keep me full
Snack:
Honey Graham Crackers with Peanut Butter
How is she sleeping at night?
Their first month they get a few growth spurts and nights that are a bit longer than others. But overall, I can't complain! She's been such a relaxed baby and she only gets up twice at night to feed. Paul is so sweet and will change one diaper at night and I'll change the rest because I don't want him to be exhausted at work! I'll share her little schedule she has put herself on below to show what I do!
Anything you wish you'd done prior to delivery?
Other than needing to purchase preemie and more newborn clothes, I felt really prepared for her! In terms of me, I wish I had done a few different things! I wish I had purchased more clothing for me after baby. I've been doing so much online shopping right now because some tops don't work with breastfeeding and your body changes a lot after birth as well. I just felt silly needing to order things online in order to have tops that worked. I also wish the week I gave birth I would have forced Paul and I to go out to dinner more. I was miserable with rib pain so driving in a car longer than 10 minutes nearly had me in tears, but you don't really go to dinner for quite a bit after you have a baby.
How many kids do you want?
This is such a hard question and I think one all new moms struggle with! It's so hard to gauge while you have a newborn. I have 15 different thoughts 15 times a day! I have those moments where I think, "I could never physically love another human being the way I love her. She could be an only child!" [But I KNOW you love the other children the same!] Then 5 minutes later I think, "I love being a mom so much, I would love 4." An hour later I'm saying I'll have my kids 5 years apart [my sister and I are 7 and we LOVED it] and by dinner I'm asking Paul if we should have them 2 years apart. I know those thoughts are normal and all my girlfriends tell me they think those things about their babies constantly. All of that to say, at the end of the day Paul and I continue to view it like we always view children. Children are a gift from God and we can't play God. Motherhood is such a precious gift and I'm very aware it is not promised, so we'll probably just wait until the time feels right as she gets older and pray about what God wants for us! I'll be happy with whatever he calls us to do. If I were to be told I'd only have Maxi, I'd cry with happiness. And if I were to be told that I would have 3 more babies, I'd feel the exact same.
What is her schedule like?
I shared previously, we let her dictate her schedule. However, we supply routine. We have a morning routine and a bedtime routine and I think both of those really get her set for her day! Paul has taken over bedtime routine for bonding and it is so sweet! Maxi has started to love bath time and I go listen by the door and hear Paul talking to her and she is cooing and I melt each time! But although, we don't keep her on a set schedule, at this point she's let us know what she likes to do most every day so here is a sample day!
5 a.m. Early Morning Feeding
Maxi will start stirring in her bassinet around this time so I feed her for about 15 minutes. I'll go back to sleep until about 6, sometimes 7 [depending on how the night was prior]. Paul gets up at 5 to go to work so we get to talk a little bit and he sees her before he leaves.
6:30 a.m. I'm Up
I get up for the day and this is what I call my "sprint" for the day! Peaches gets up with me so I try to be intentional about eating my breakfast with her and giving her as much attention as I can before Maxi is awake. Peaches LOVES Maxi, but I still don't want her to feel left out. I'll eat my breakfast, drink coffee, do my devotional, answer e-mails and get ready.
9:30 a.m. Up for the Day
Maxi sleeps in until about 9:30 and then starts moving and waking up. I'll change her, brush her hair, put on lotion and get her in her new outfit. Then I feed her and we rock in her glider and read a few books. I love doing little devotionals with her in the morning since Paul gets to read books to her before bed. She'll be really alert  this early and I love it! We cuddle, read, chat and walk around the house with Peaches.
11 Nap
She'll go down for a nap around 11. For this nap, I have her nap either in her Solly baby wrap on me or her Mamaroo. I like to use this nap to clean the house [since I'm wearing her] or handle contracts/invoicing/accounting.
12:30 Feed
She'll eat right now and then gets pretty sleepy and will take another nap about 30 minutes after she eats. I'll work on blog posts at this point and put dinner in the crock pot if I'm doing that!
2:30 Feed
At about 2:30 she will eat and then she will be pretty alert for another hour or so! I lay her on her little tummy time mat on her back [but we haven't started tummy time as her pediatrician has us wait for that]. Peaches gets a kick out of licking her toes or fingers and Maxi loves it. It's so funny, because at first I was nervous Maxi would get fussy. And now if I push Peaches away to stop because she has licked her toes too much, Maxi starts to cry. Those two are obsessed with one another! We read some more and listen to music in her room.
4 Nap
Maxi takes a shorter nap around 4 and at this point I'll let her just nap on my chest. I like to have her take one nap a day where all I do is hold her and not do laundry while she is in the wrap or anything else. This is my favorite nap of the day because I just get to soak it all in and listen to her little baby snores!
5:30 Feed
Paul gets home around this time, and she has what I consider a snack. She'll feed for about 10 minutes and then we take her and Peaches on a walk.
6:30 Nap
She naps from about 6:30-8, so Paul and I can have dinner together and have quality time for us.
8 Bedtime Routine
Paul does her bedtime routine so he can bond with her since he is at work all day. This is the time of day I'll finish up last-minute laundry, work e-mails or meal plan/budget, etc. He gives her a bath, puts her in her pajamas and reads about 3 stories to her. Then we all crawl in bed and I will feed her and talk to her. She falls right to sleep on my chest and I leave her there for a little bit. It's so funny, as tired and exhausted as you are as a mom you miss them so much when they go to sleep! I'll stare at her in her bassinet and I'm like, "I can't wait for you to wake up and eat next!" I'll put her in her bassinet at around 9 and then I pump. Because I don't have to go to an office for work and leave her I don't have to pump for a huge stash and I'm thankful. Your milk supply IS lowest this time of day, so I don't necessarily recommend night time pumping. However, I just pump for "snacks." Maxi takes about 3 bottles a week. I'll let Paul give her one on the weekend for a snack [normally her 5:30 feed]. Then I also keep some milk on hand if my mom watches her while I shoot for the blog or I have to run to the grocery store and Paul watches her. I always feed her right before I go, but I get nervous that she could get hungry if I'm gone for an hour so I like to have this on hand.
9 Reading/Show
Paul and I will watch a show or read a book and then we are out! We are still getting adjusted to broken sleep with diaper changes and feeds, so we try to be asleep by 10.
1 Feed
This is the one feed at night that really isn't consistent yet! Some days it's 11, some days it's midnight and some days it's 1 a.m. But she does consistently want 2 feeds at night, so this is generally just the time!
Overall, I'm still just figuring it out! I'm a new mom, so I won't even pretend like I know everything to do with her, yet! As moms we are all just following our baby's cues and trying to find what is best for them while we rock spit up in our hair. 😉 But, if you were curious I hope this helped provide you with a little insight as to what our days consist of and how she is adjusting! I'll be doing a registry post soon for those interested in my favorite products for Maxi. I hope you have a wonderful weekend!

P.S. I just wanted to say THANK YOU from the bottom of my heart for all your sweet comments on my blog this week. You all made me feel so loved as I transitioned back into work and I want to give everyone a huge hug for it! I'm a bit behind in responding to comments [of course! haha] so I thought I'd just say thank you here as you all have no idea how much it means to me! xoxo