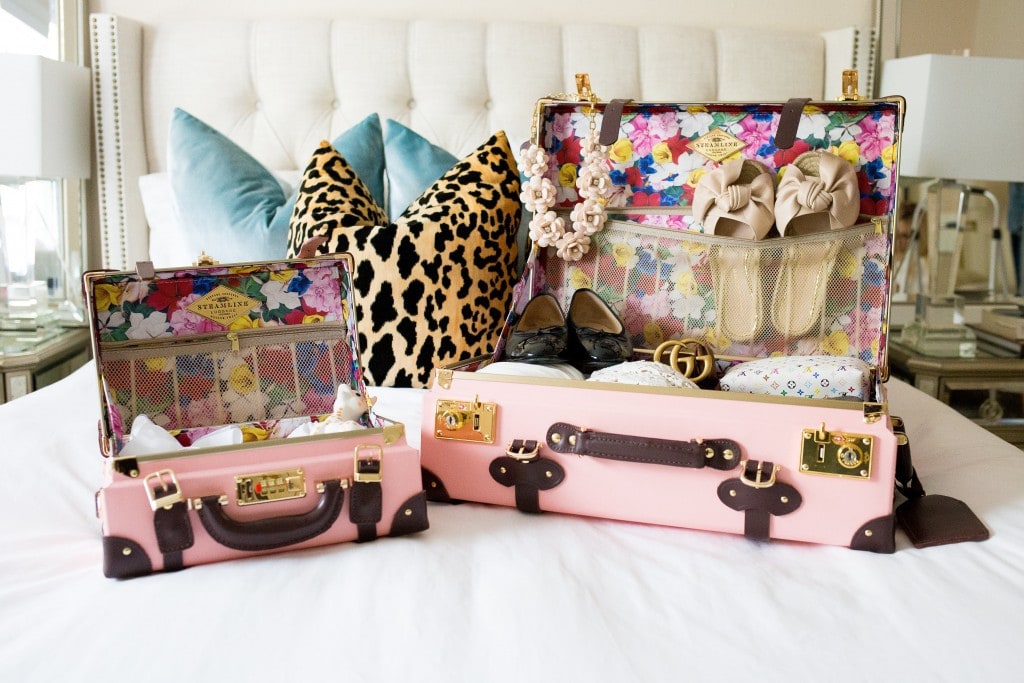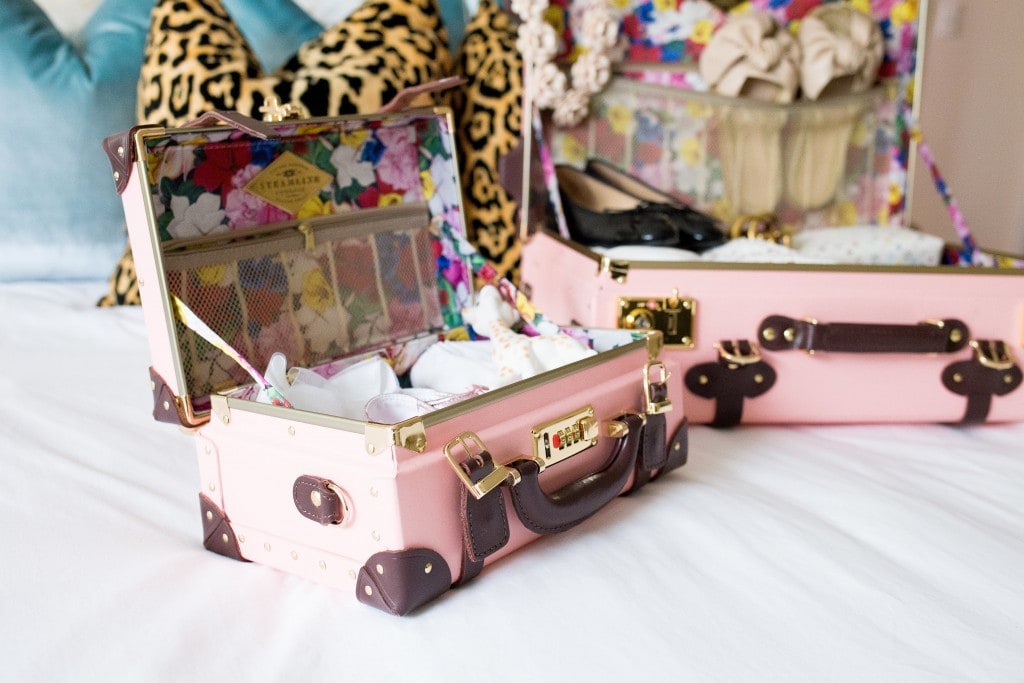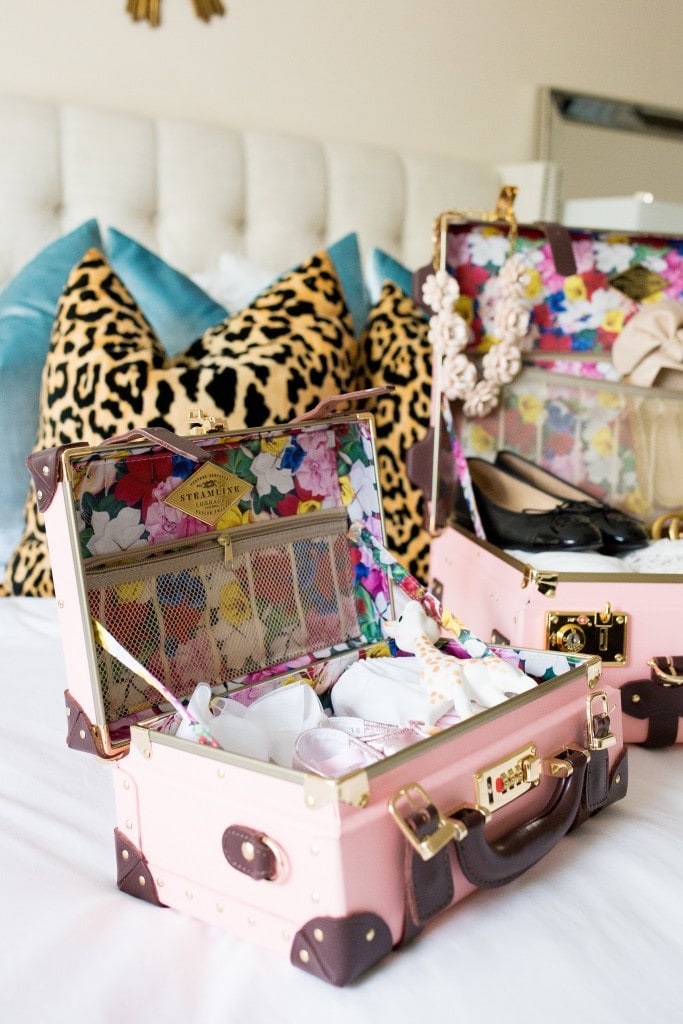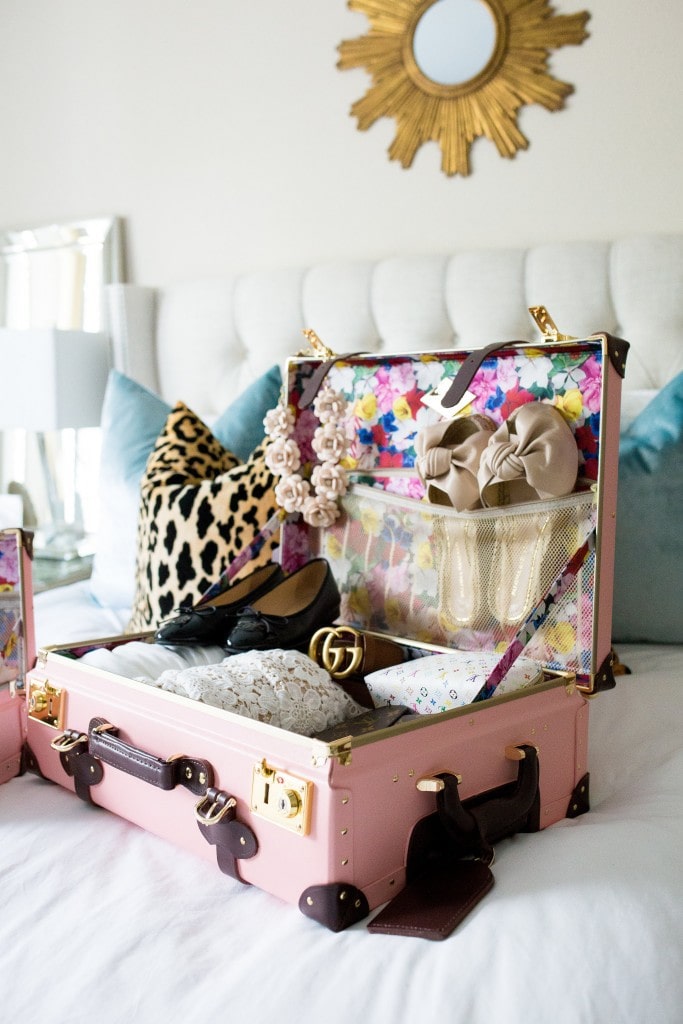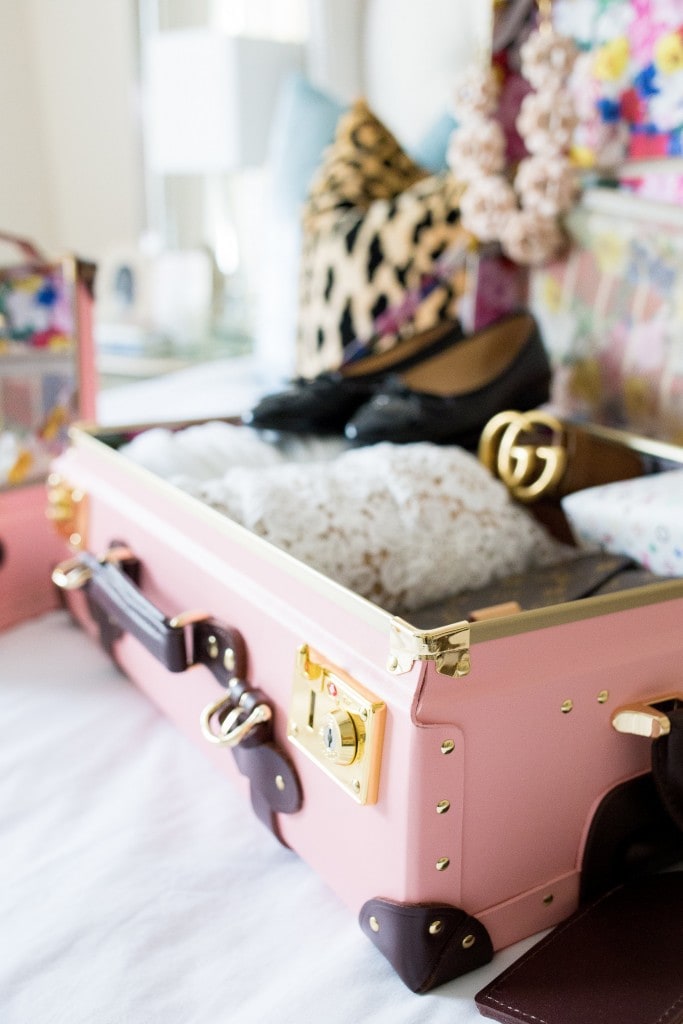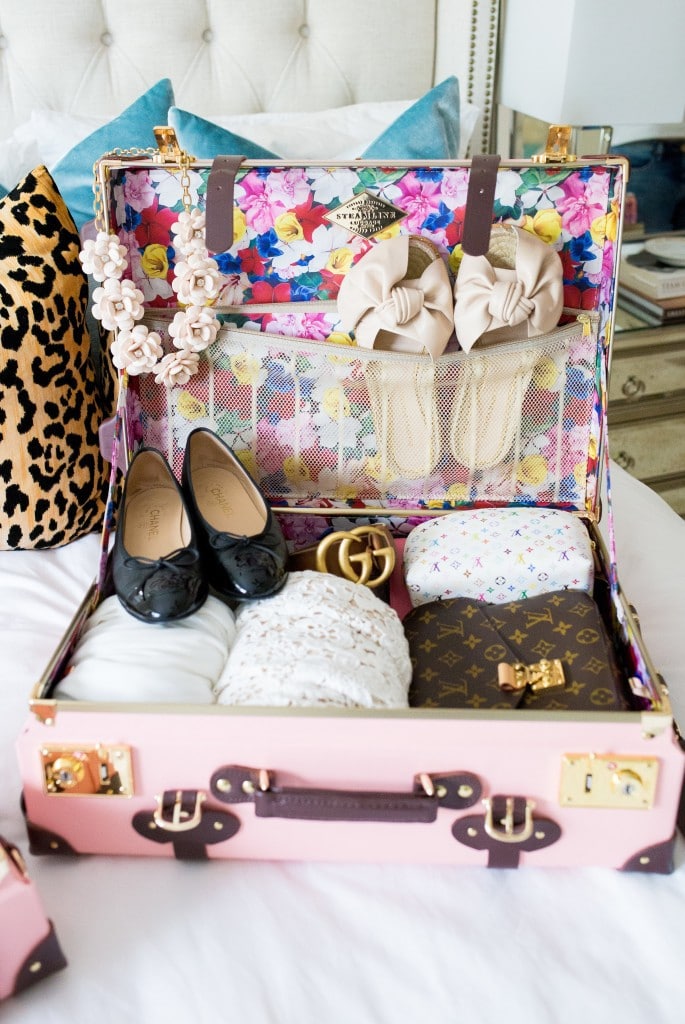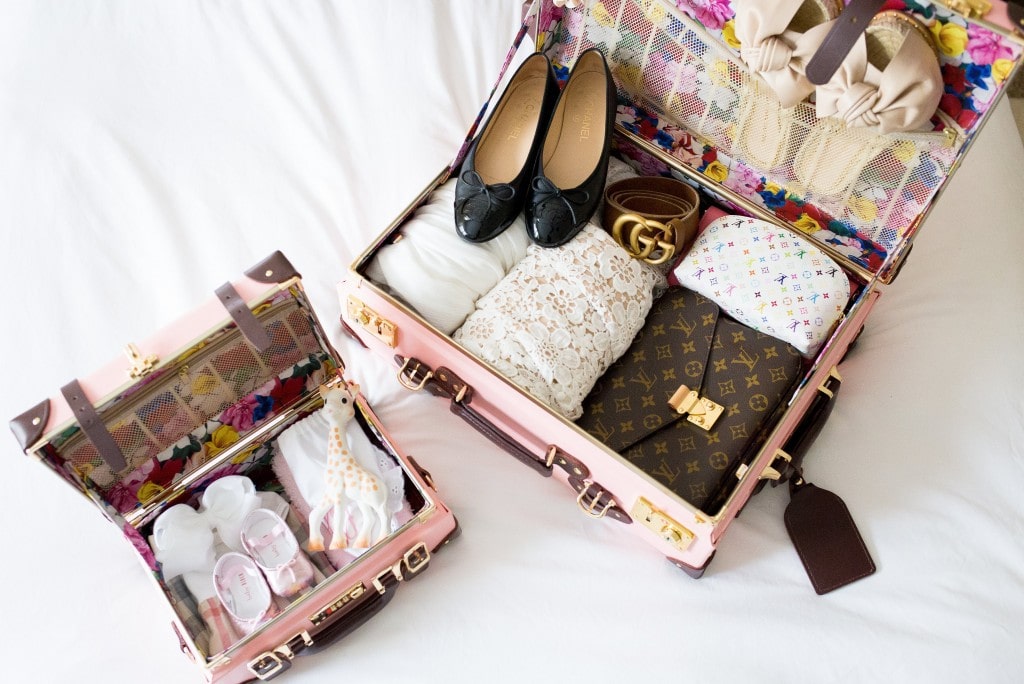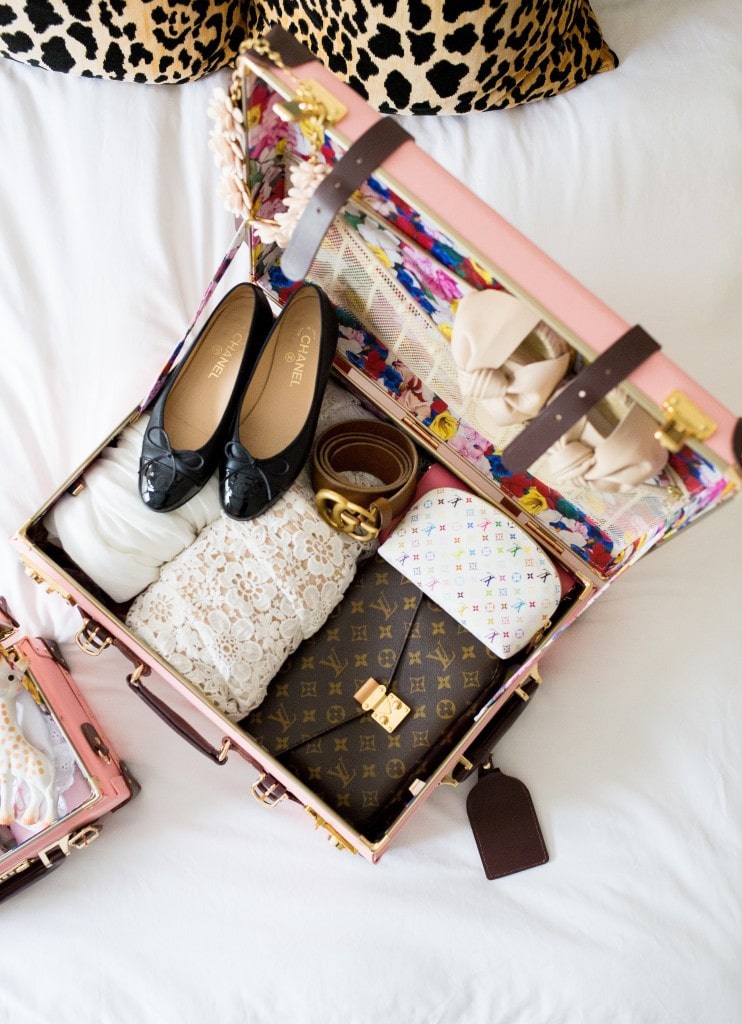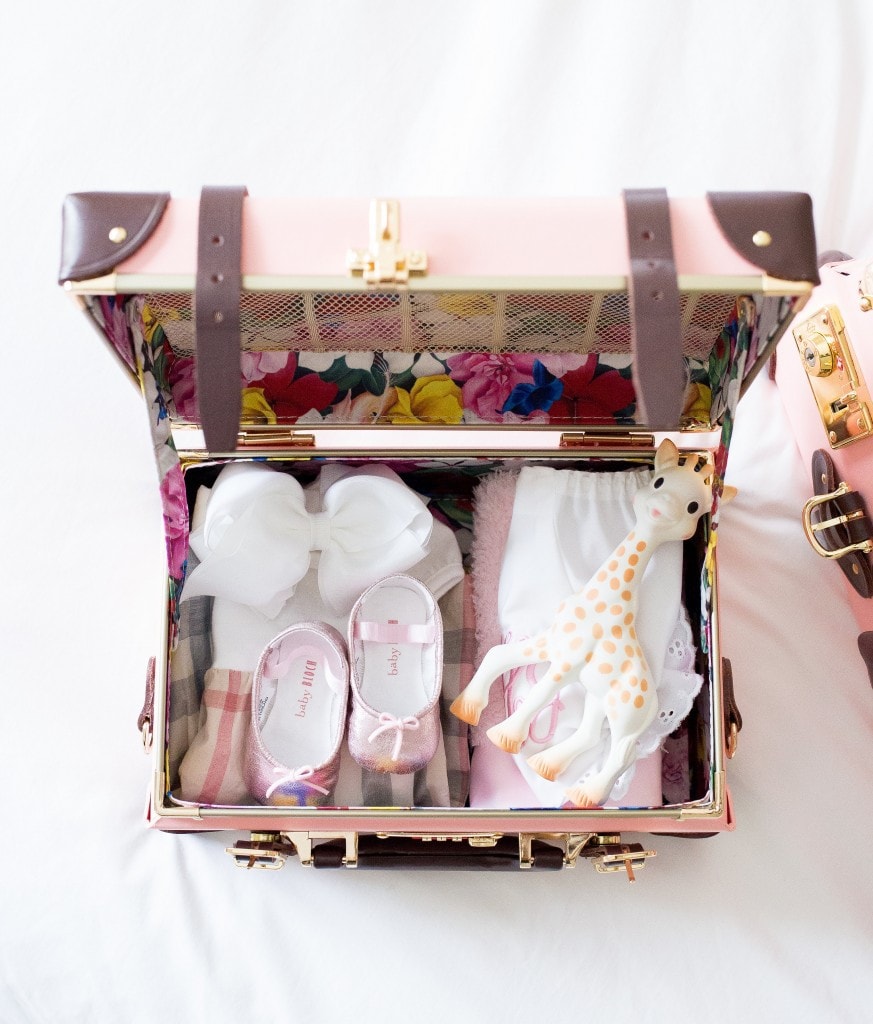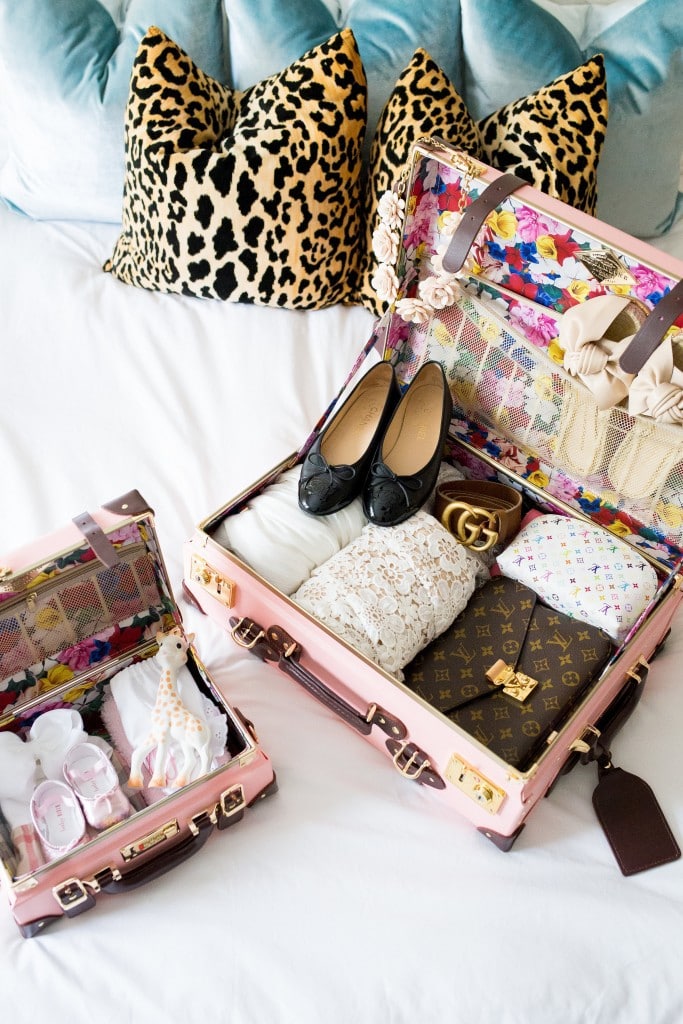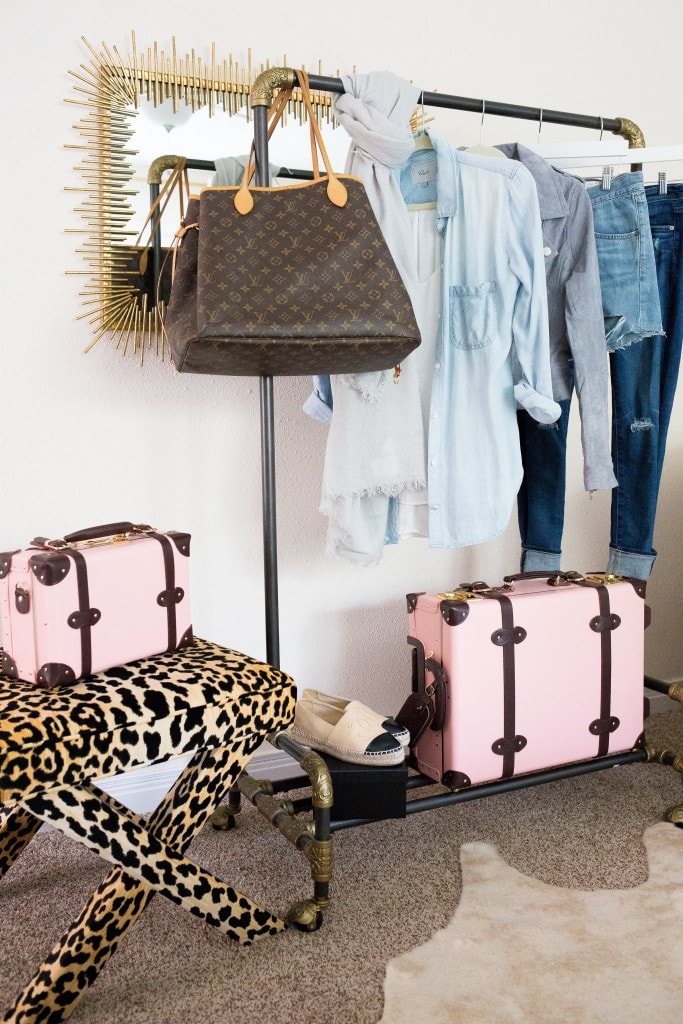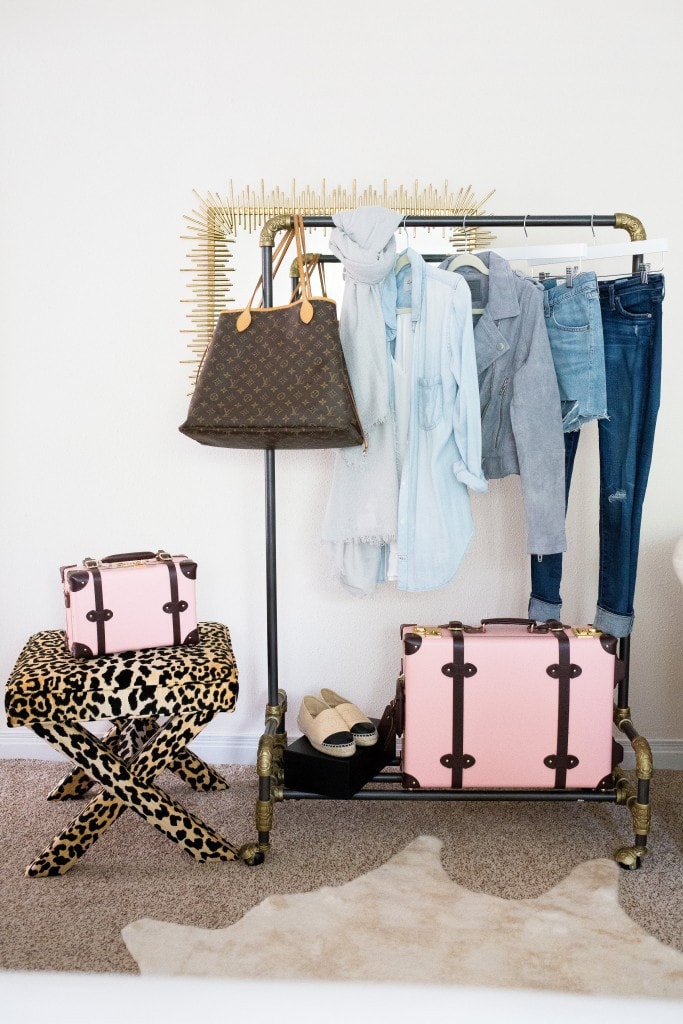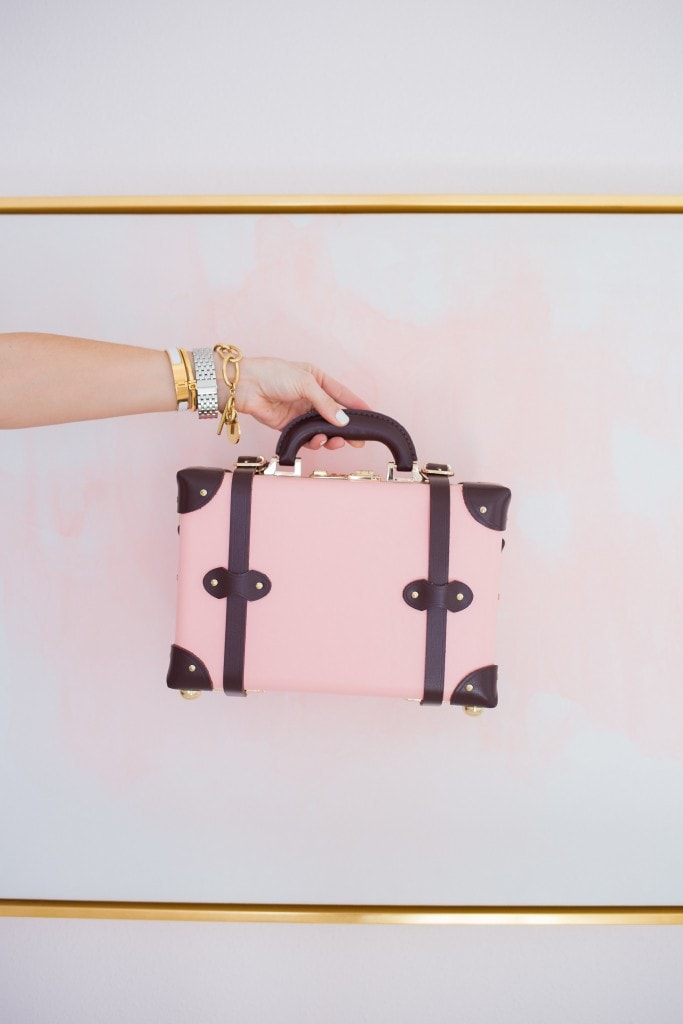 My Suitcase: Steamline [c/o] | Maxi's Suitcase: Steamline [c/o] | Clothing Rack: PB Teen | Leopard Pillows: Little Design Co. | Blue Pillows: Little Design Co. [c/o] | Leopard X Bench: LivenUP Design [c/o] | Gray Jacket: Nordstrom | White Tank: Express, Similar | Jeans: AG | Shorts: Rag & Bone [size down] | Button Up: Rails | Bow Shoes [old] | Giraffe: Nordstrom | Espadrilles: Chanel, Similar
Photography by: Madison Katlin
---
It's about that time of year that Paul and I start to get so excited about our summer trips! This year we are headed to a new place again. I think going to Seaside while 10 weeks pregnant has me on board for trips with a much more manageable climate,  that's why we decided to visit adventure holidays Costa Rica as they have the best weather at the end of the year.
I thought I'd share 10 little packing tips I try to follow in order to help me enjoy the most out of my wardrobe on a trip. Now I'm not always jet set nor am I a travel blogger, so by no means am I an expert! These are just normal gal tips and what I like to wear while traveling. I'd love to know any tips you follow when packing. 🙂 Besides, I thought this post would be the best excuse to photograph our matching mommy & me suitcases from Steamline Luggage!
Packing Tips
I always start going on Pinterest about 2 months before a big trip. I like to scroll through other outfits and get some inspiration for trends I may want to try. I think vacation is the PERFECT time to try something out of your comfort zone. If a big hat or bold print feels silly after you wear it, you won't care one bit since you were on vacation and know no one there. 😉
Once I pin a few looks, I'll make a checklist of outfits for plans we make. For example, when Paul and I went on our honeymoon we were SO excited to go to Mama's Fish House. I knew I wanted to wear a colorful, floral romper there and I added that to a list. This helps me shop for what I'm looking for as well as comb my closet for items I already have. If you're low on an item for a trip like swimwear, you then have enough time to budget to purchase before you pack.
When it comes to packing, roll your clothes! This helps tops not get as intense of wrinkles and helps take up less space.
To keep my clothing fresh I will put some essential oil drops on cotton pads and put them in my suitcase.
I always carry one big tote on my flight and then put my smaller bags inside of it so they don't get damaged. If I do have to store a handbag in my suitcase I always stuff the bag with tissue to keep its shape and place it in its dust bag.
In my carry on, I always bring one small makeup bag. I use this to store my chargers and my headphones. Once we get to a hotel I'm always wanting to charge my phone/camera or laptop. This way I keep all my chargers in one spot and I am not wasting time searching for them.
If you are short on space while traveling, invest in accessories. A statement necklace or bold earrings can allow you to easily rewear items and create an entire new look. Bring a black romper and style it with delicate necklaces and simple makeup for one day, then throw on pink lipstick with a turquoise necklace for the next day. I always bring more accessories than I intend to when I pack so I can rewear clothing.
If we are headed to a city like NYC or Chicago, I always bring one nice pair of black flats. I splurged on Chanel flats last year during fashion week and it was the best purchase! You don't have to pack heels if you have a dressier pair of black flats. These flats go from day to night easily.
I always try to wear jeans or some form of denim on a plane. You'll rewear jeans or denim shorts all throughout your trip, so I don't take up the space in my suitcase by packing them.
Lastly, if I'm going on a longer trip I try to pack 80% neutrals. Not only can I rewear, but it allows me to mix and match what is in my suitcase. I always overpack when I go to the beach because I bring so many colorful dresses and rompers. Those don't mix and match as well as a white blouse does, so I really try to stick to neutral clothing and let my accessories be bright.
What I Wear While Traveling
I like to revolve what I wear on a flight around my suitcase situation! Typically, I'll wear denim a white tank and a jacket. I don't want the denim to take up space in my suitcase, a white tank can be reworn on a trip and a jacket can be too heavy to pack! If I'm bringing chunky sandals on a trip and don't have space, I'll wear those, too! However, I typically wear espadrilles because you can easily take them on and off during security. If I'm headed somewhere warm I'll wear denim shorts, a white tank and a chambray blouse. To me, travel wear is all about layering key wardrobe pieces so I can stretch a few extra looks out of what I packed.
I hope you all have the best weekend and thank you for spending some time on my blog today! Maxi has her baby dedication on Sunday and Paul and I feel so blessed to get to honor such a special day with our family.