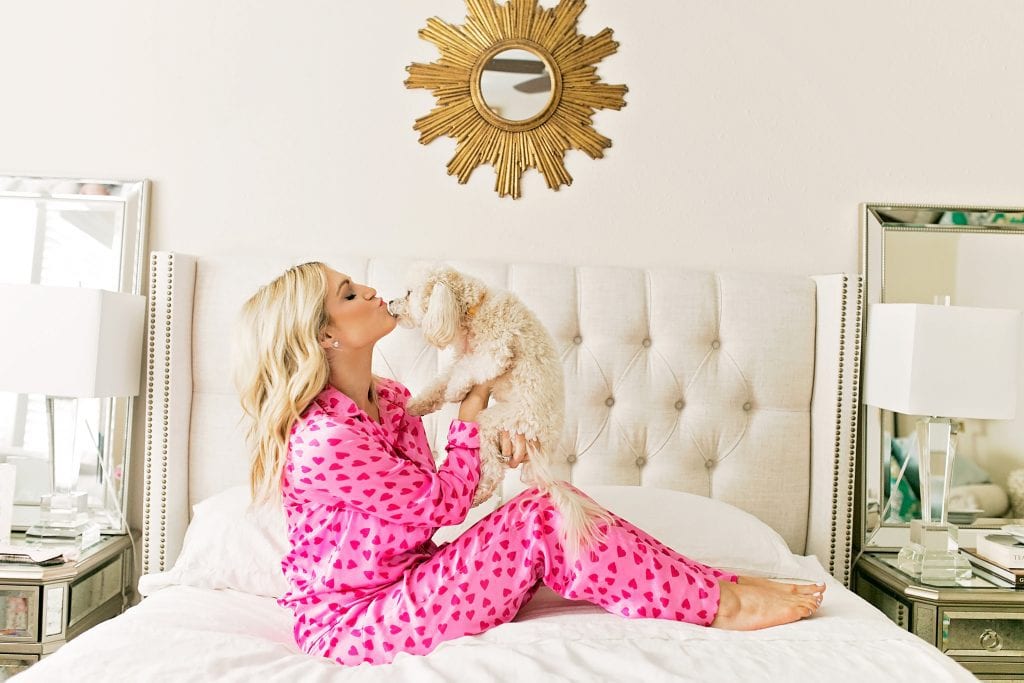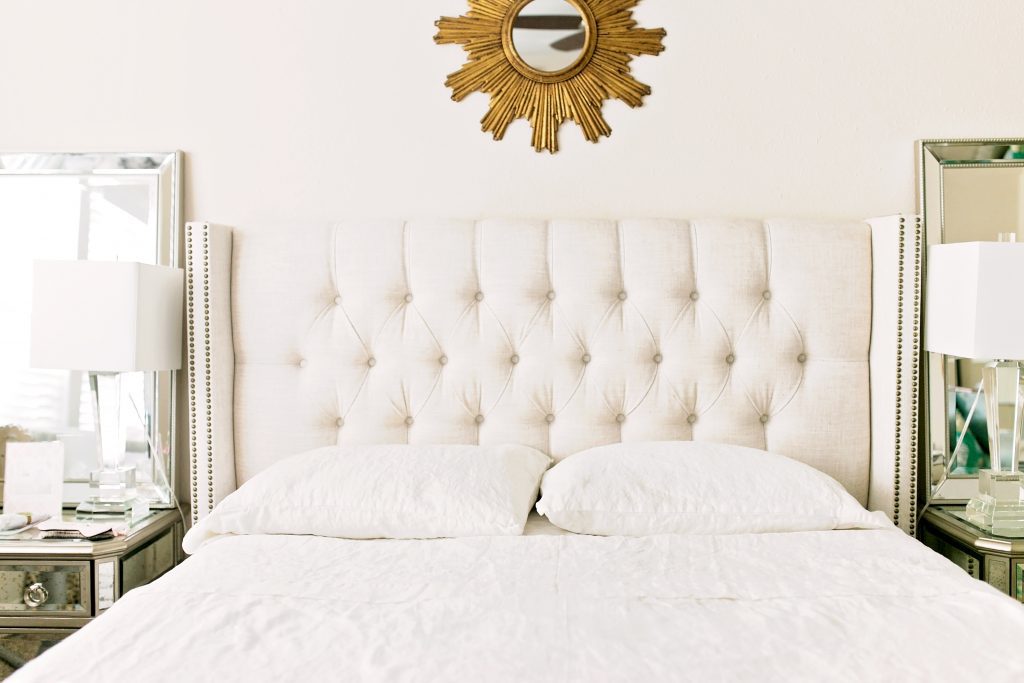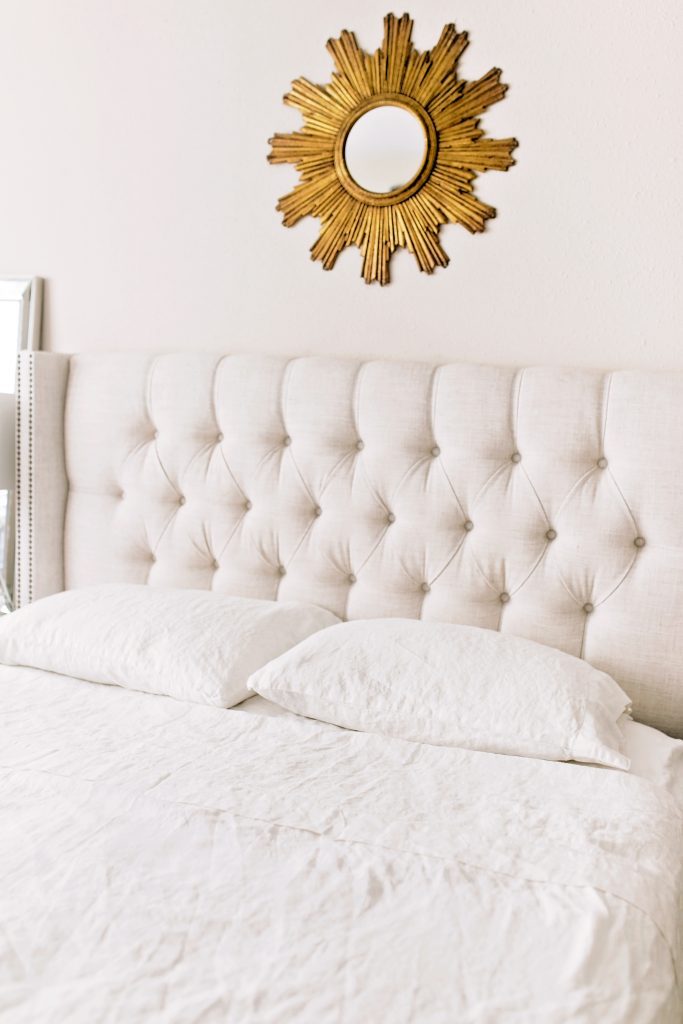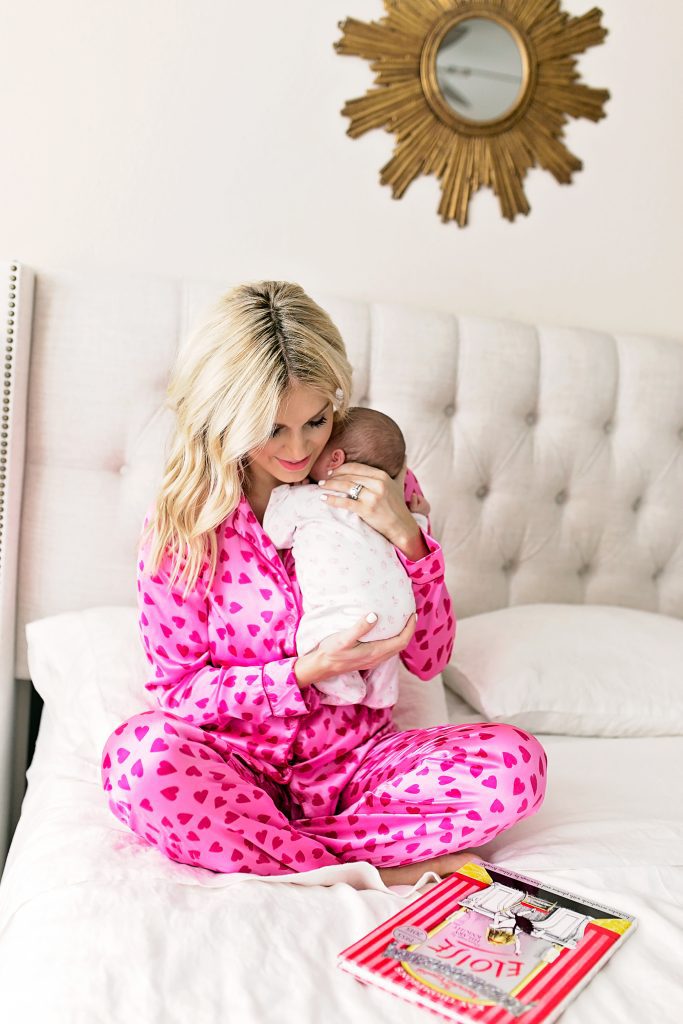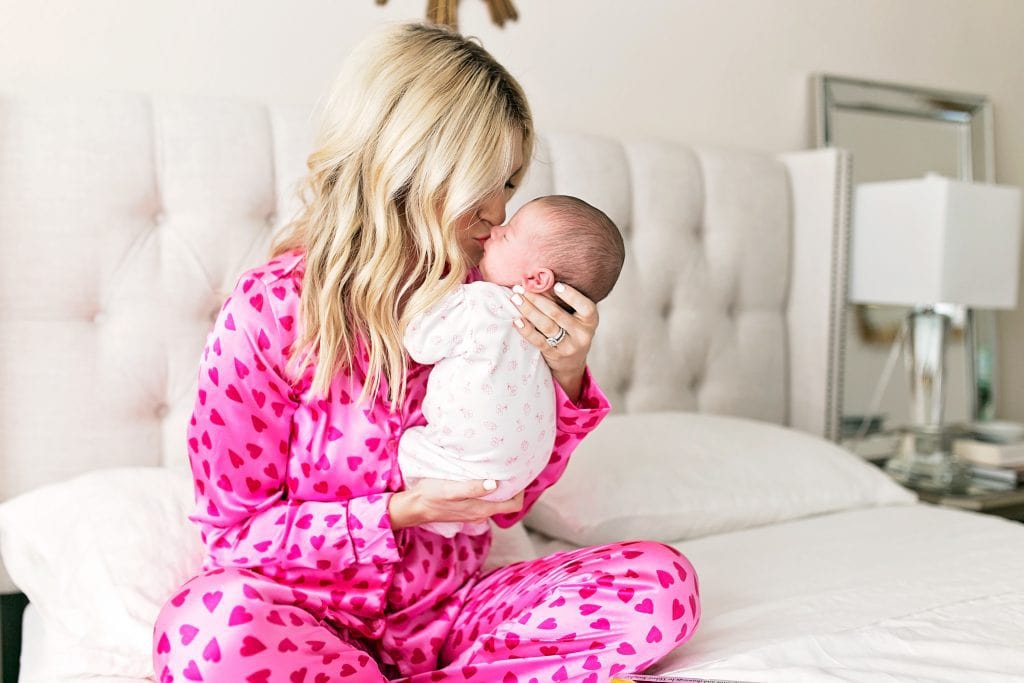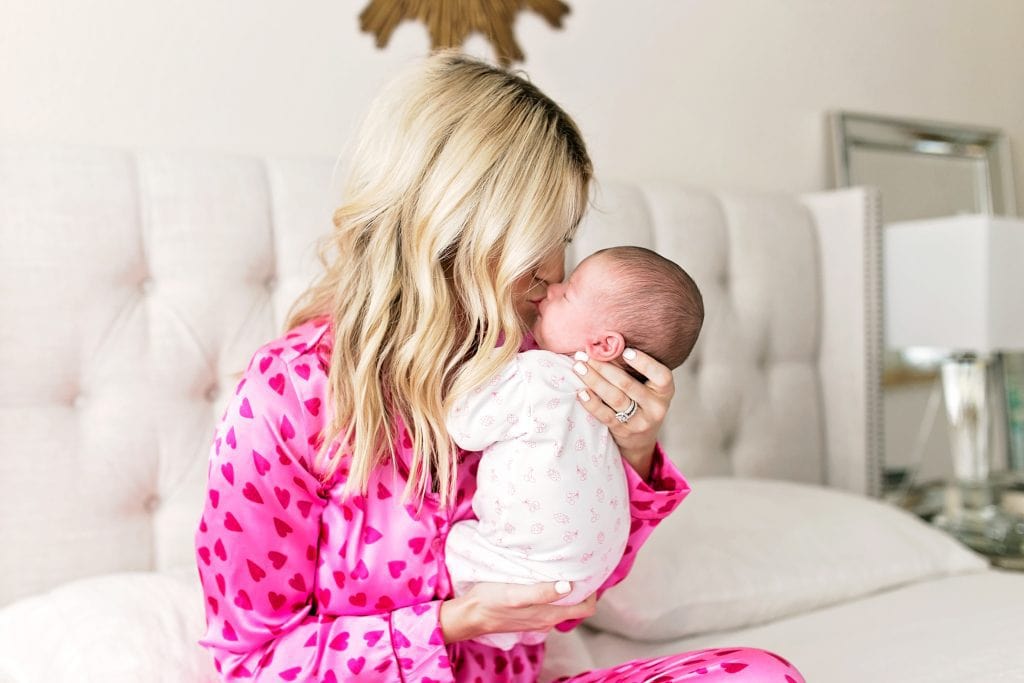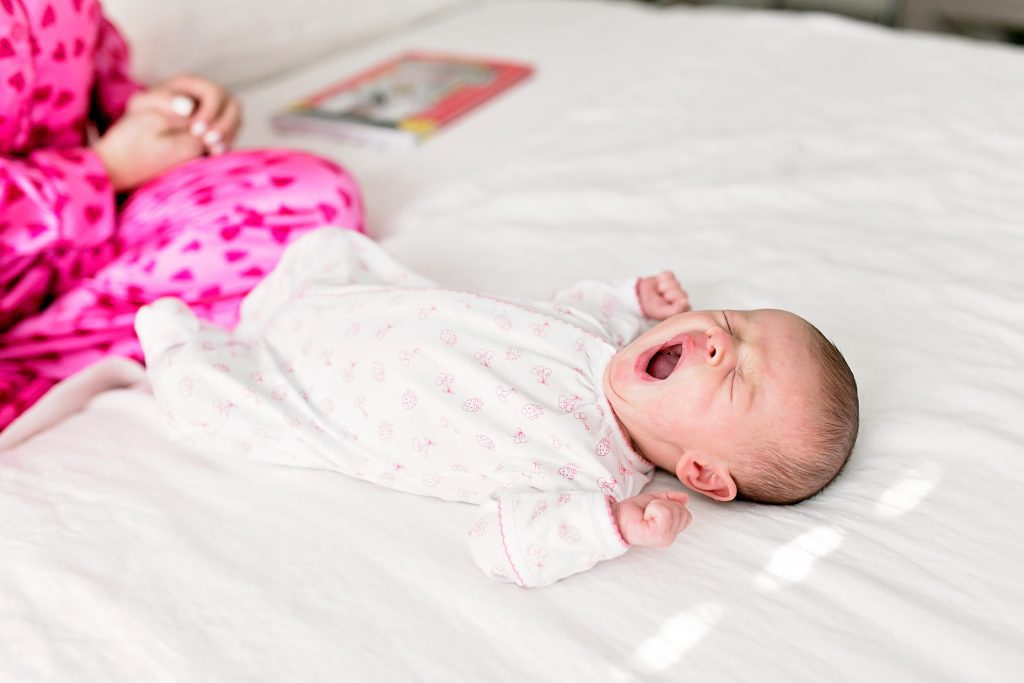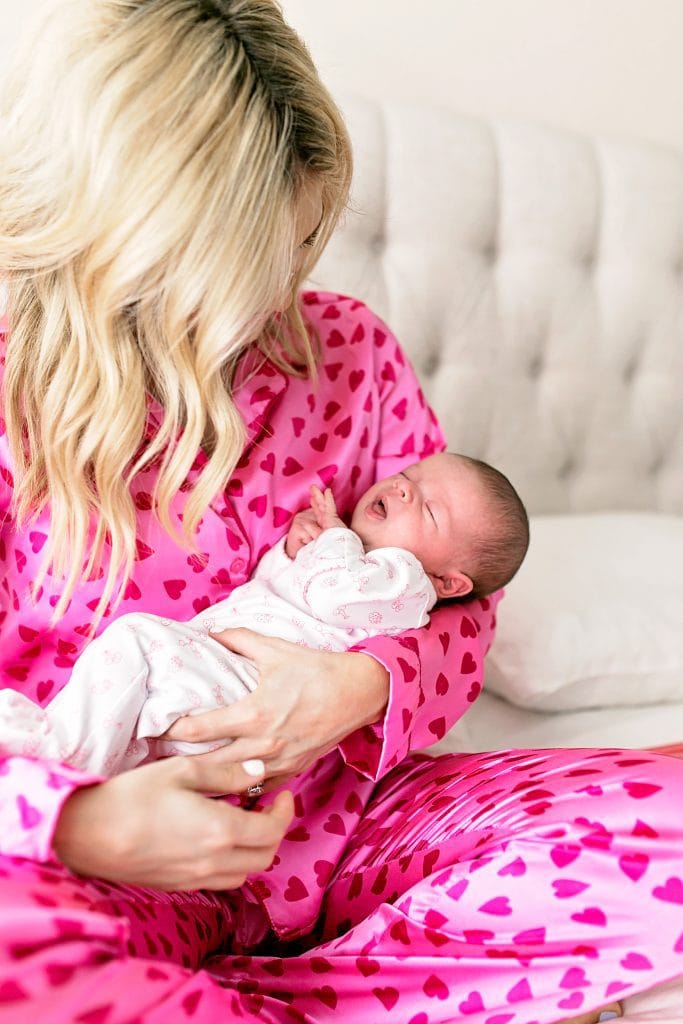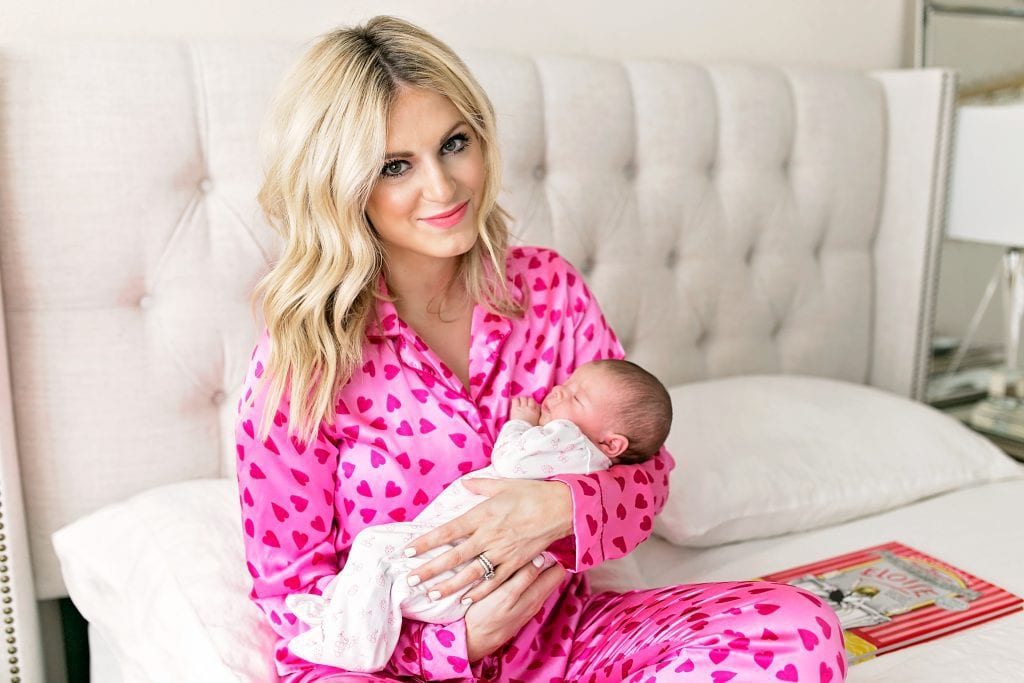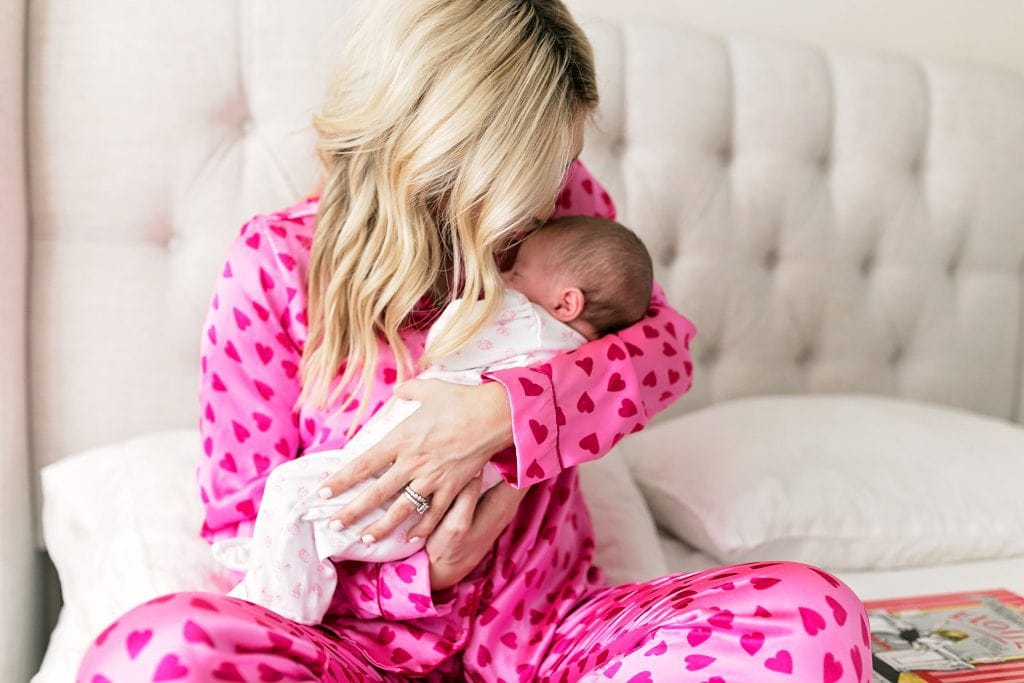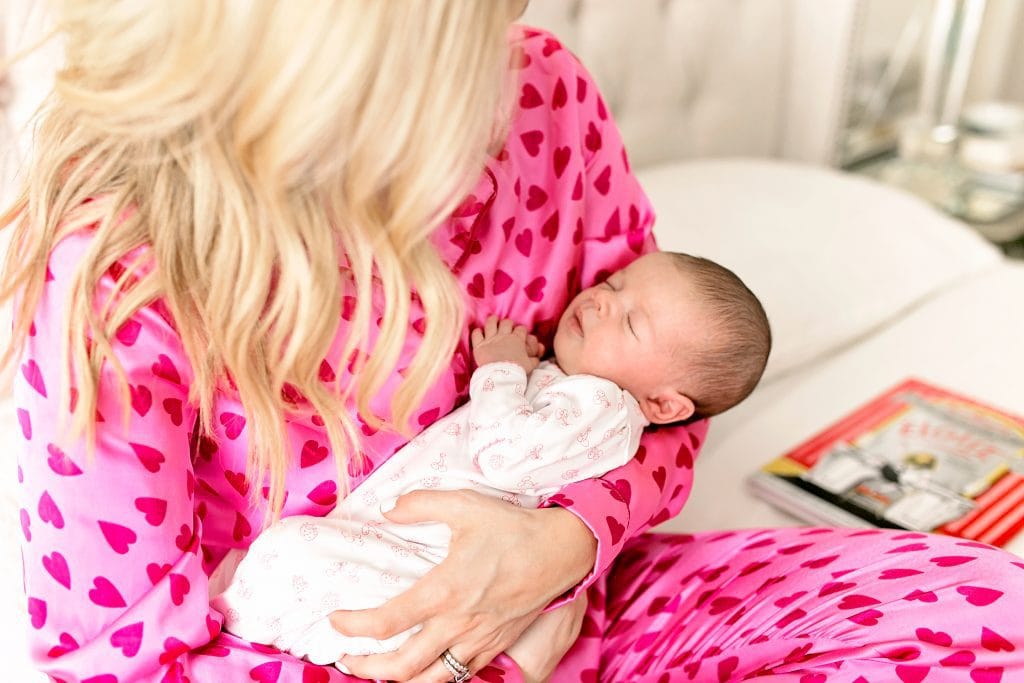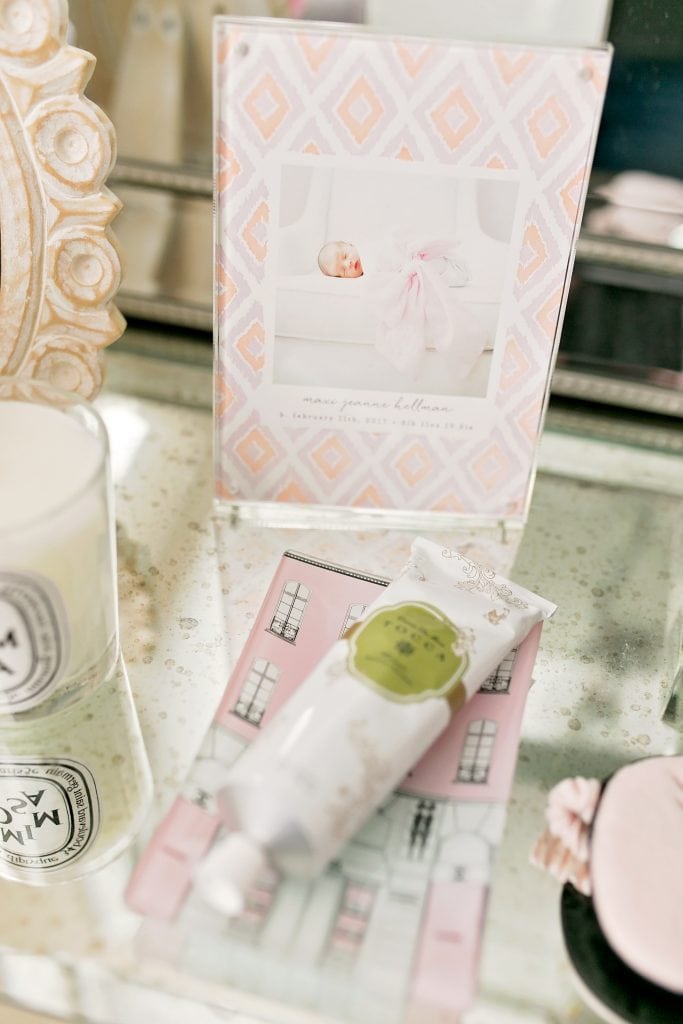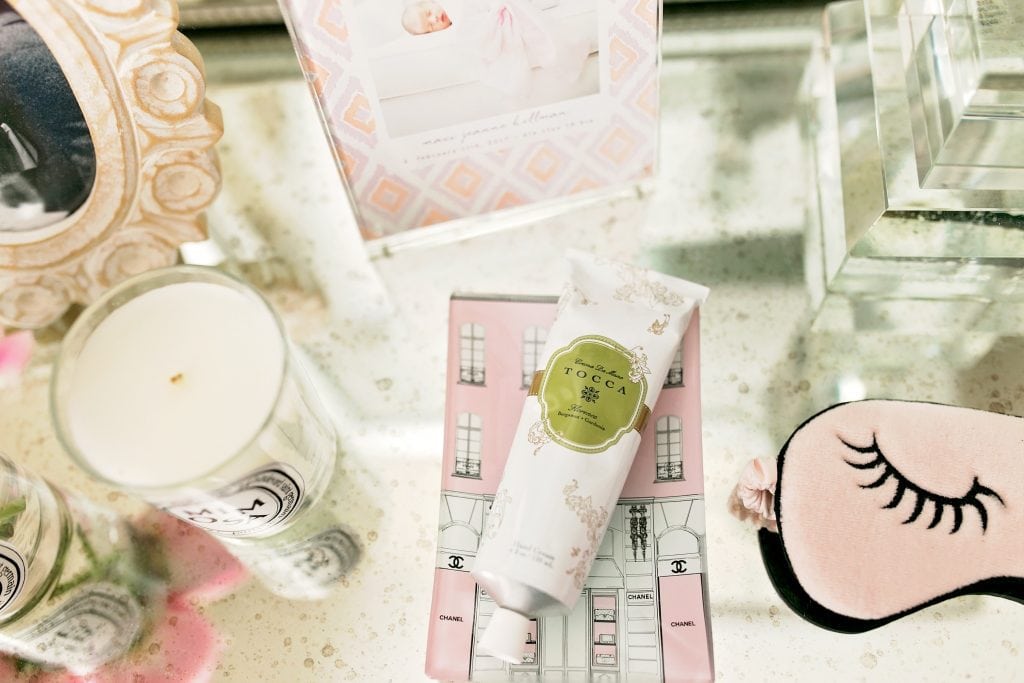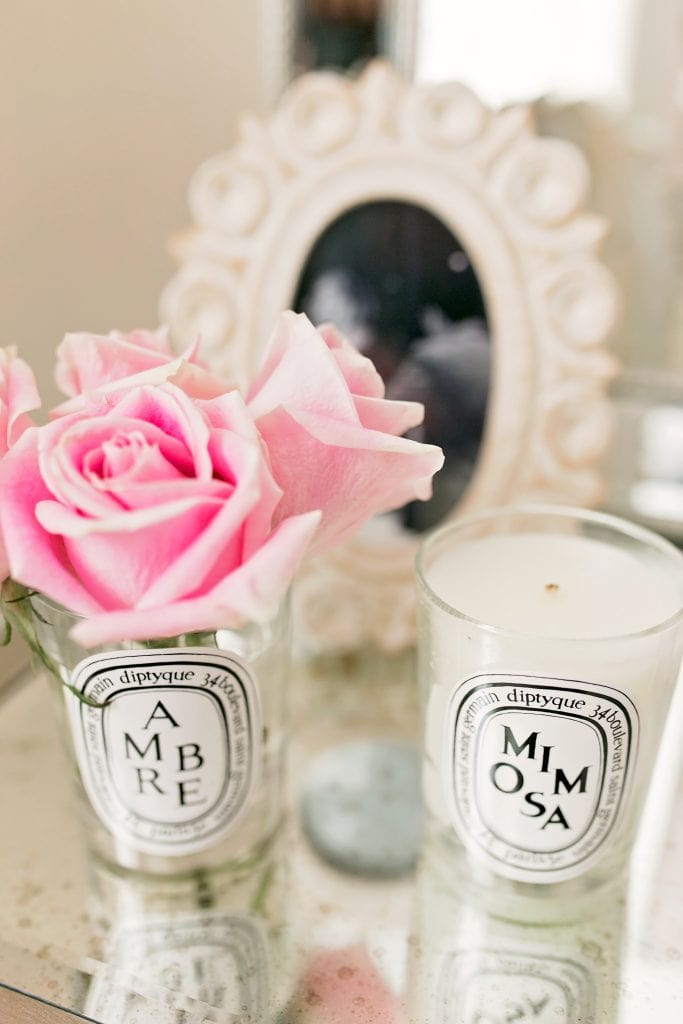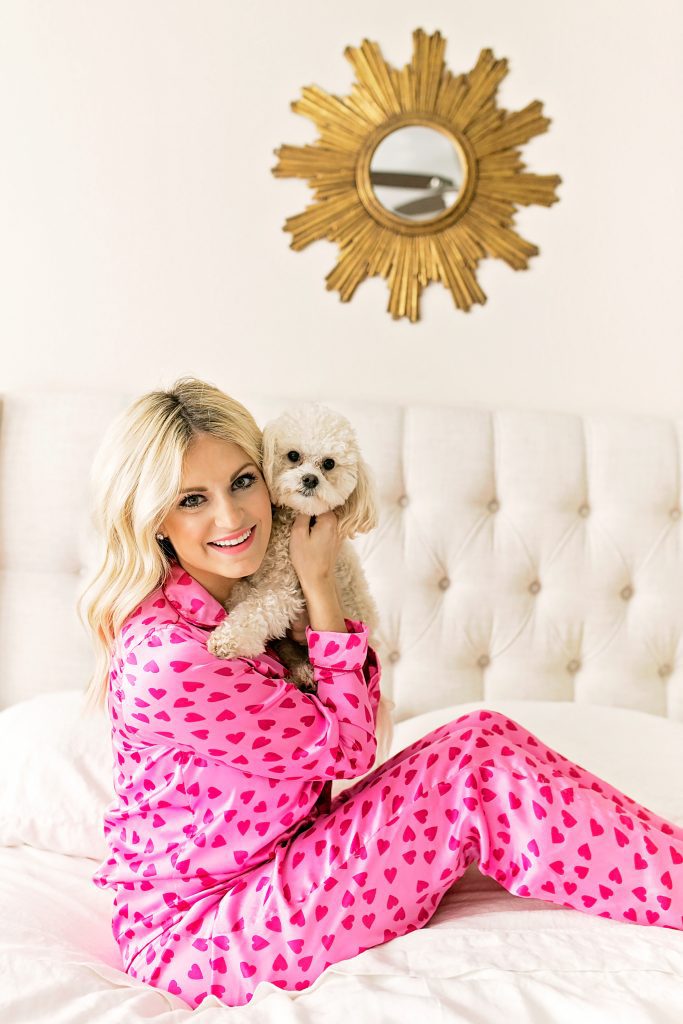 Pajamas: ASOS [sold out], Similar | Lipstick: Infatuation | Sheets: Crane & Canopy | Headboard: Wayfair [shade: TALC] | Mimosa Candle: Nordstrom | Tocca Lotion: Anthropologie | More Bedroom Decor: Here
Photography by: Angie Garcia
---
It's no surprise that until Maxi started sleeping through the night, sleep was the most precious thing in my book! And even though she does sleep from 10-ish to 7-ish now, I STILL crave my sleep because I need my energy to work and be a mom. One thing I did in the midst of our lack of sleep was research ways to get better sleep. I knew that if I was only going to get 4 broken hours, those better be the best 4 broken hours of sleep in my life! haha! I tried every little trick in the book from no eating after 6:30 to no screen time after 9:30. While most tips are helpful, today I thought I'd share the 4 best tricks I found to have better sleep.
1. Invest in Sheets
Beep beep, the TMI train is coming through. Did you know you sweat at night after you give birth? News flash to me! Still bitter my friends never told me. This can last anywhere from 3 weeks to the entire time you breastfeed! Your body sweats after you give birth to rid yourself of the extra fluids and hormones you held while growing your baby. About 2 weeks postpartum I woke up drenched in sweat and I was so confused. I hopped in the shower and thought, "This is so gross! What is going on?!" It lasted until she was about 6 weeks and it was like that every single night. I started researching every mommy blog/mommy Facebook group I could find and they all said you HAD to get linen sheets. I looked to Crane & Canopy one of my favorite linen brands [see my post here] and searched their site. I found linen sheets! This was such a game changer! The linen cools you, so I wasn't waking up in the middle of the night from it and I was able to get whatever broken sleep I could. We washed them every day and what's great about this brand of linen is they get softer and softer each time you wash them without deteriorating. You know how some sheets start to pill or just get really thin? Now the sheets feel so soft and because that symptom has finished I ask Paul if he wants us to put our other sheets on the bed and he always says, "No!" I'm not sure what it is but these are his favorite sheets and he clearly wasn't going through what I was?! I guess it's a guy thing! So while you probably aren't sweating through your jammies from just giving birth, summer is coming and you definitely don't want to wake up in the middle of the night hot. Get these, wash them a few times and I promise you that your room will feel so cool, yet cozy!
2. Wash Your Face
How many times do we say, "I'm too tired to take my makeup off." I wish I had $1 for each night I said that. However, you've probably noticed that if you do skip that step you feel so gross! If I ever sleep in my makeup I'll wake up at 3 a.m. and feel so not like myself, I'll have to go wash my face! Although, I don't wash my hair every day I like to take a quick shower before bed, wash my face, exfoliate and it helps me feel much better before falling asleep. Your skin is your largest organ and it takes your evening sleep to heal and repair itself. If you leave your makeup on, your skin is going to try to break that down and in turn, you're going to get worse sleep. Establish a routine like a warm shower with washing your face and your body will associate that with rest. You'll fall asleep quickly, stay asleep longer and wake up  glowing! Anything you read about infant sleep tells you that babies need a routine. They'll suggest a bath, lotion, books and cuddling so their brains know they need to go to sleep after. We are the exact same way, it's just not as obvious! That's why you might crave a book, wine, tea or Netflix before bed- it's your routine. So incorporate washing your face in your nighttime routine and your sleep and skin will thank you.
3. Look at Your Planner
An organized mind sleeps better. I'm not sure how random thoughts affect your REM cycle, but everything I researched said this was a must! This is a habit I already partake in but of course while I was on "maternity leave" right after I had her, I didn't do it. I noticed I felt a bit more restless before I would fall asleep. Did we have a visitor the next day? Did I need to call anyone back? Was I forgetting something? These thoughts flooded my mind so it took a bit longer to get some sleep. Now I always take 5-10 minutes before bed and look at my planner. I'll jot down a quick schedule on a post-it note so I can allot time for my tasks the next day and align them with Maxi's schedule. I feel much better falling asleep knowing I'm organized for the next day.
4. Limit Bedroom Clutter
To follow up on an organized mind provides organized sleep, you want to limit clutter in the bedroom. Studies show that if you look at clutter before you fall asleep, you'll actually wake up feeling more stressed than if you had a clean space to sleep in. Take a weekend and clean out your nightstands and dresser so that your room can feel a bit more calm. Some stylists always say to get ready in the morning and then remove one accessory before you walk out the door. I'm from Texas so LOL at that rule. I don't follow it. I just pile on one more accessory. 😉 But I like to do that with bedrooms! I'll style a room and then remove one item like a picture frame, a blanket or a candle. It always helps provide a more serene space.
If you love, crave or need your sleep I hope one of these tips helps you! Do you have any tips for better sleep? I'll also round up a few cute pajamas I love below!