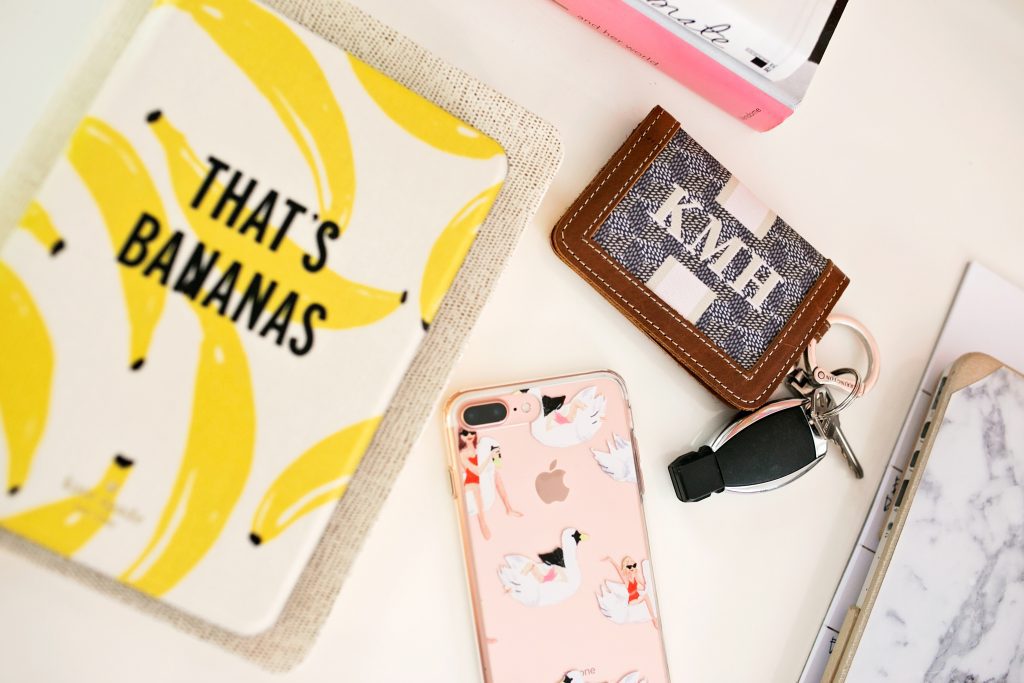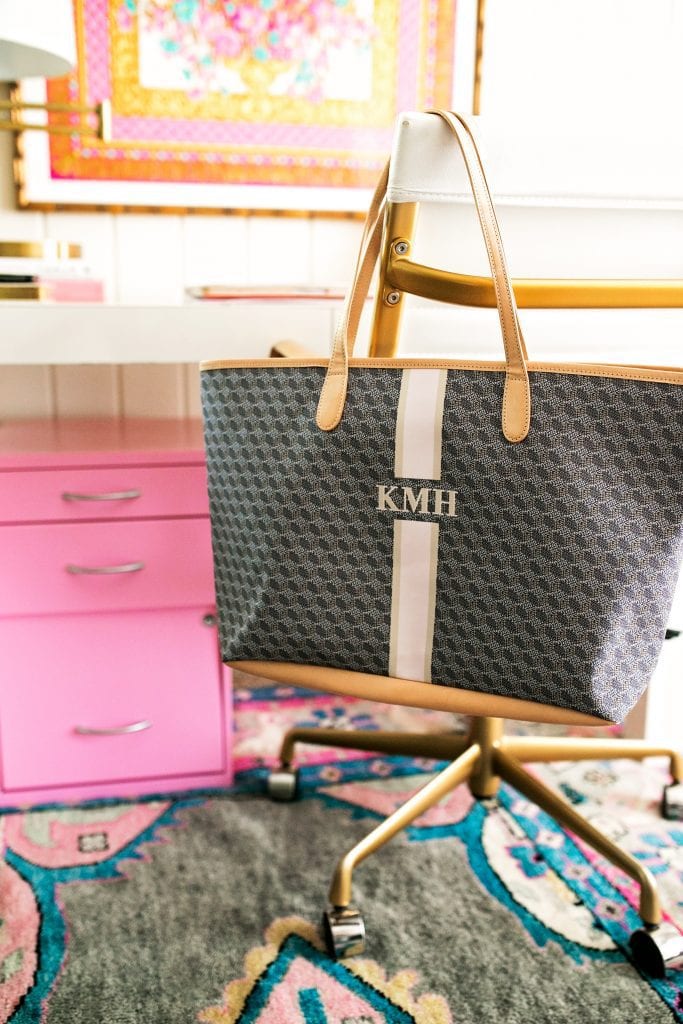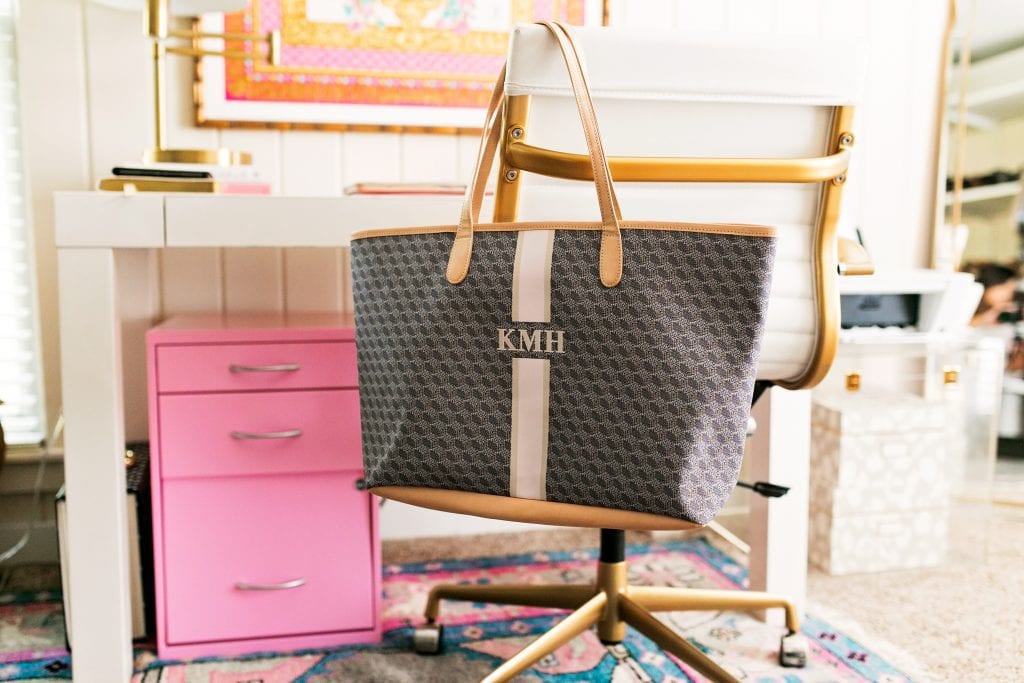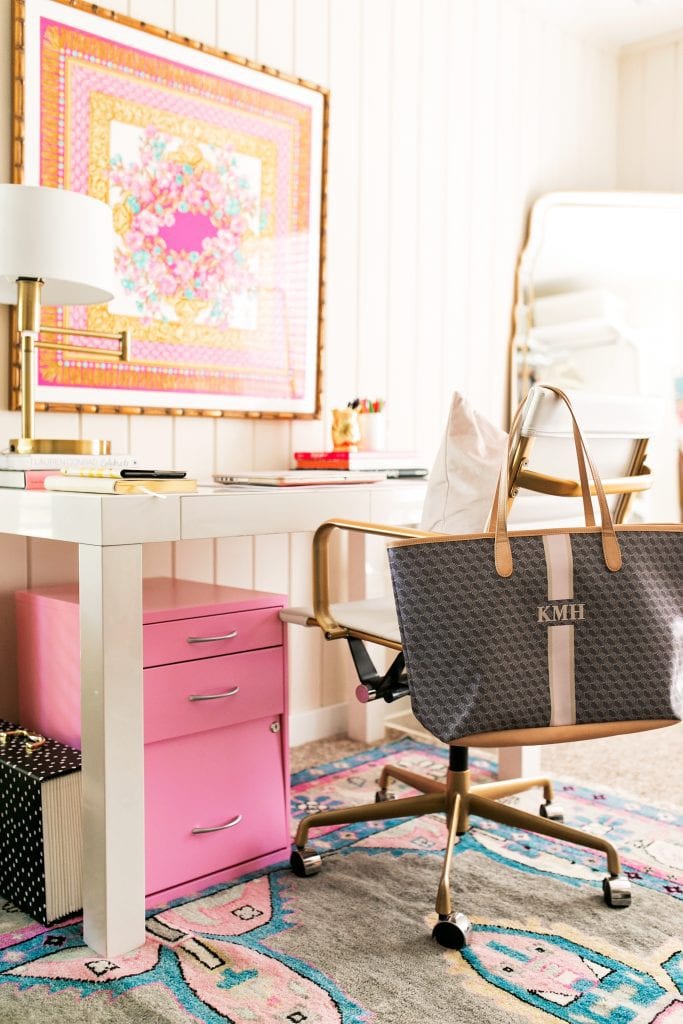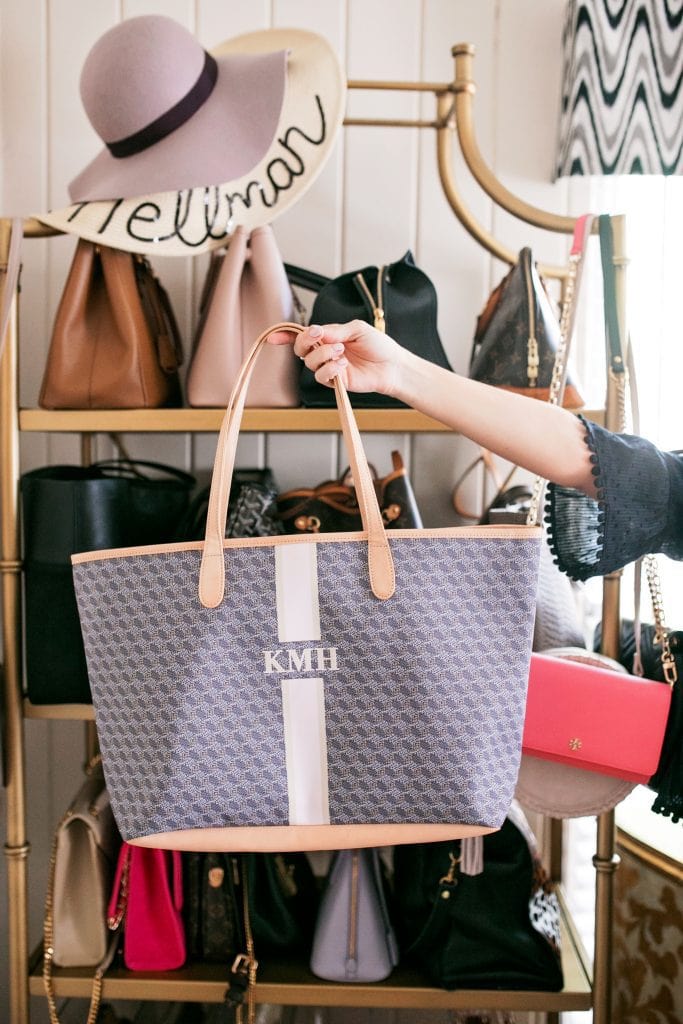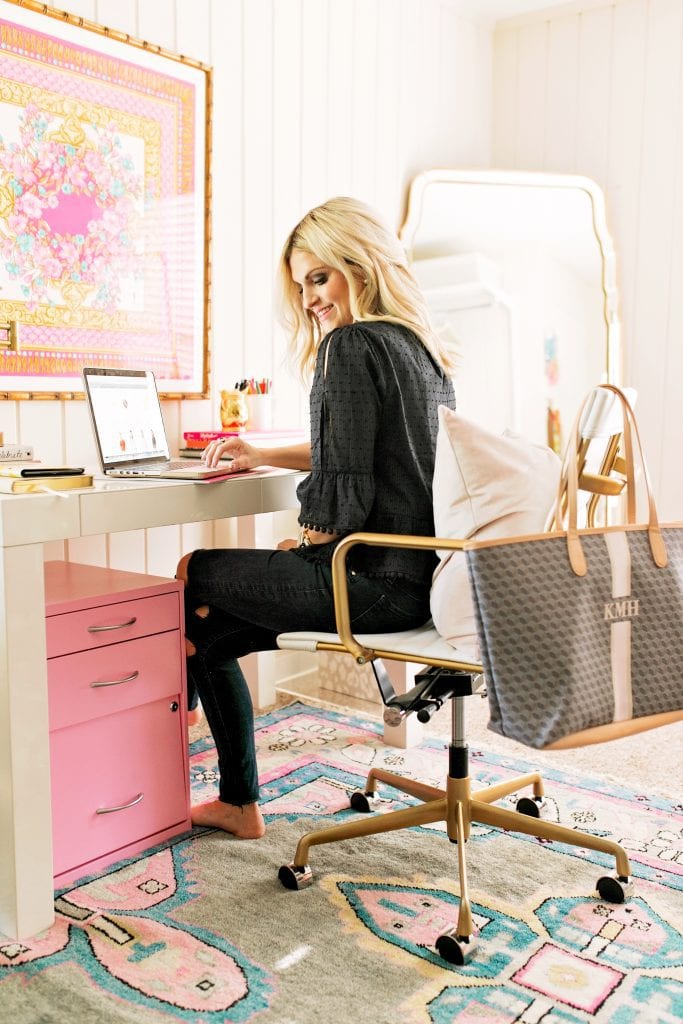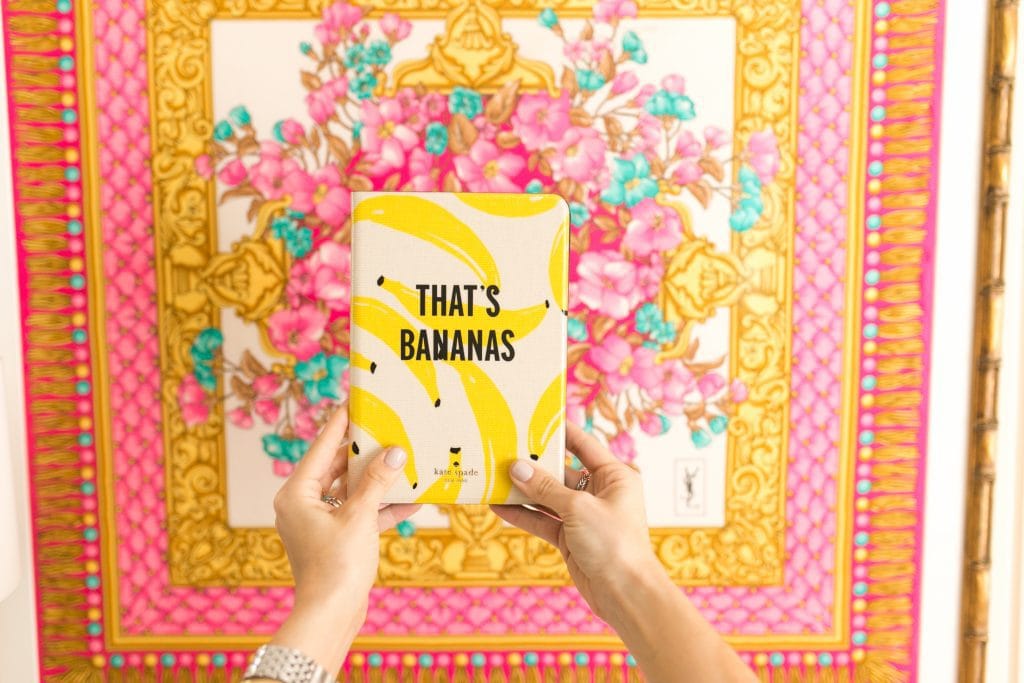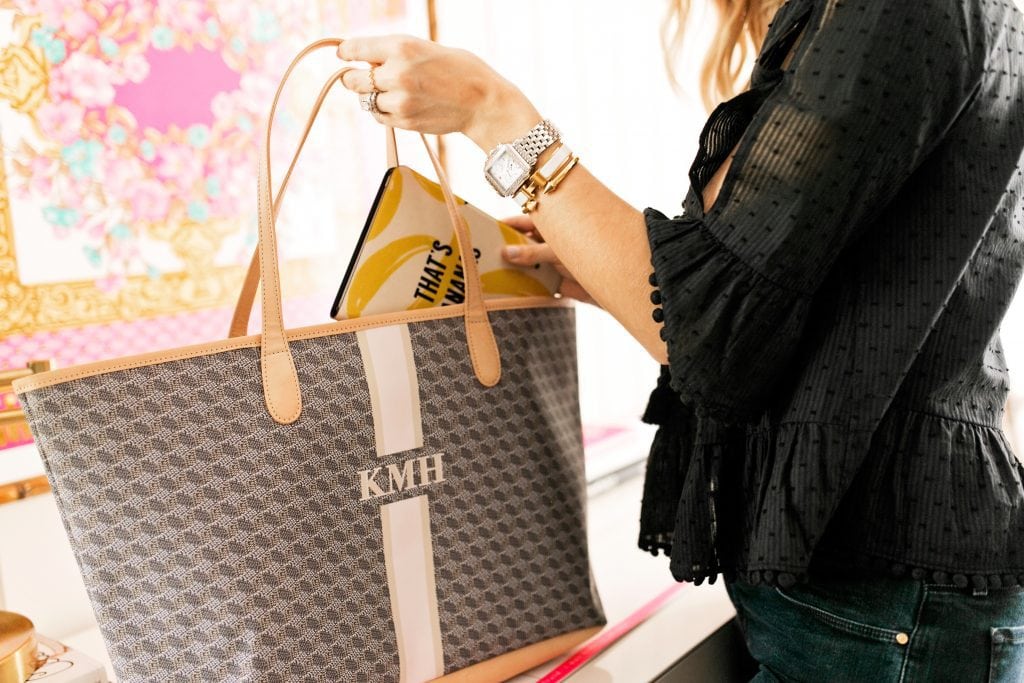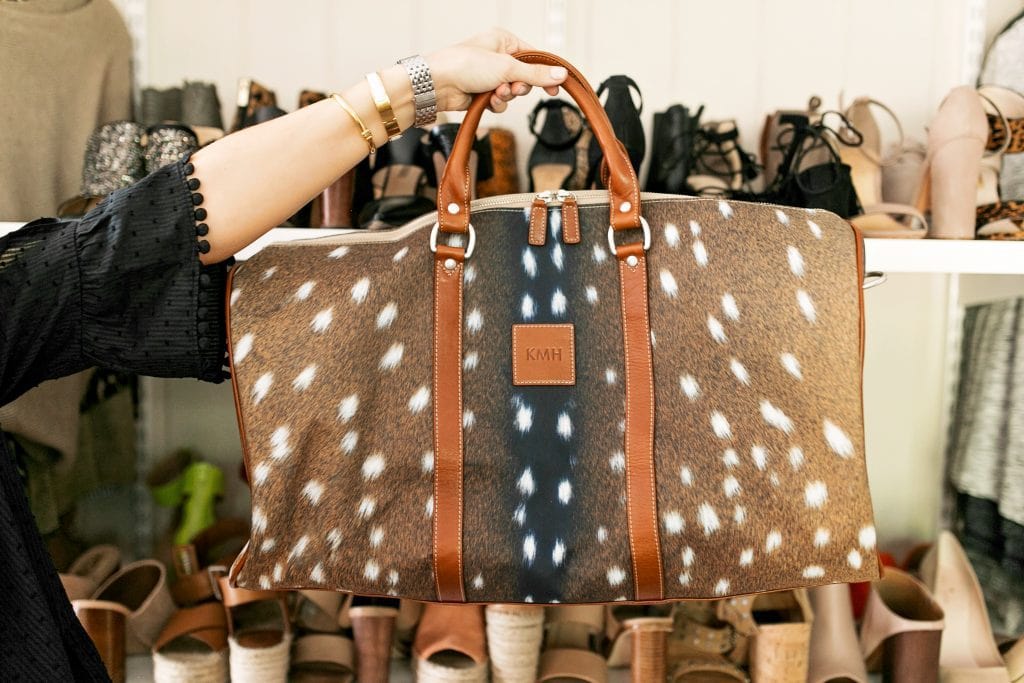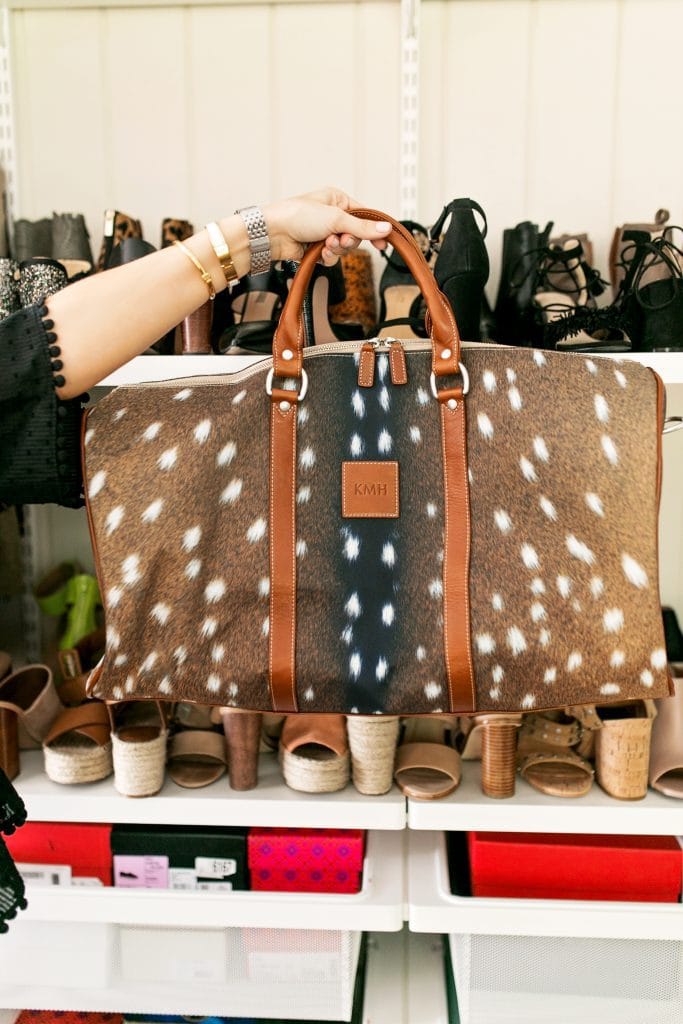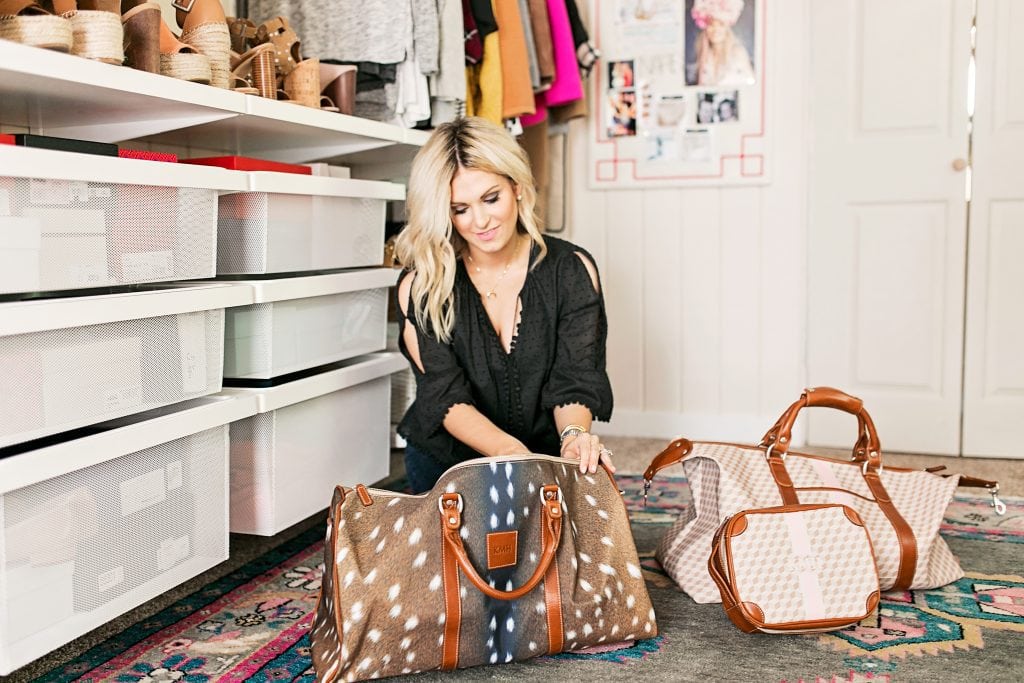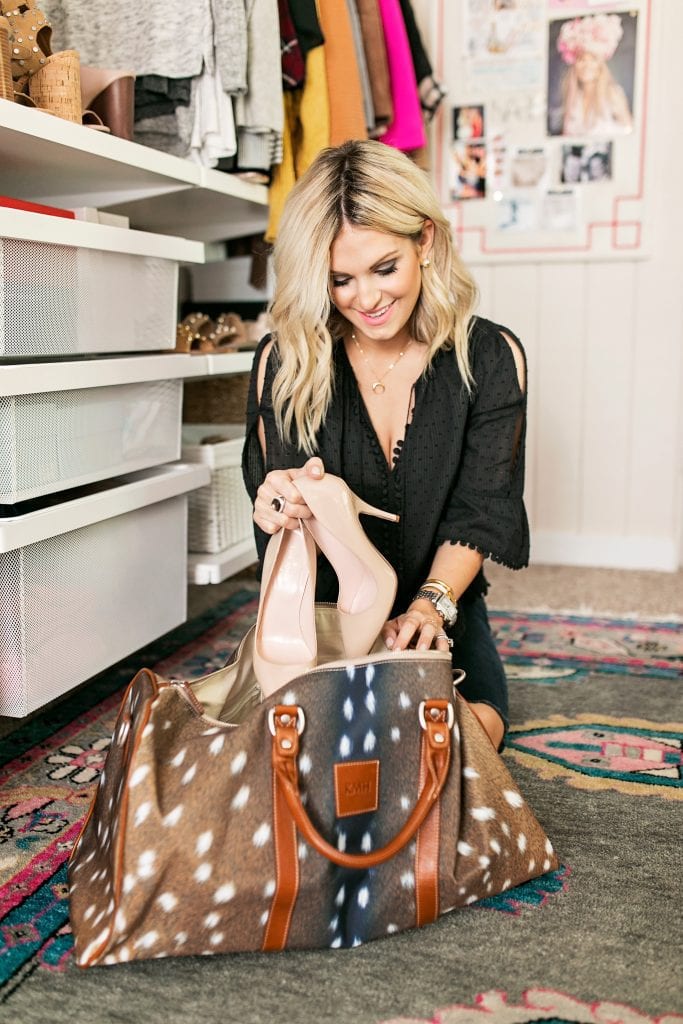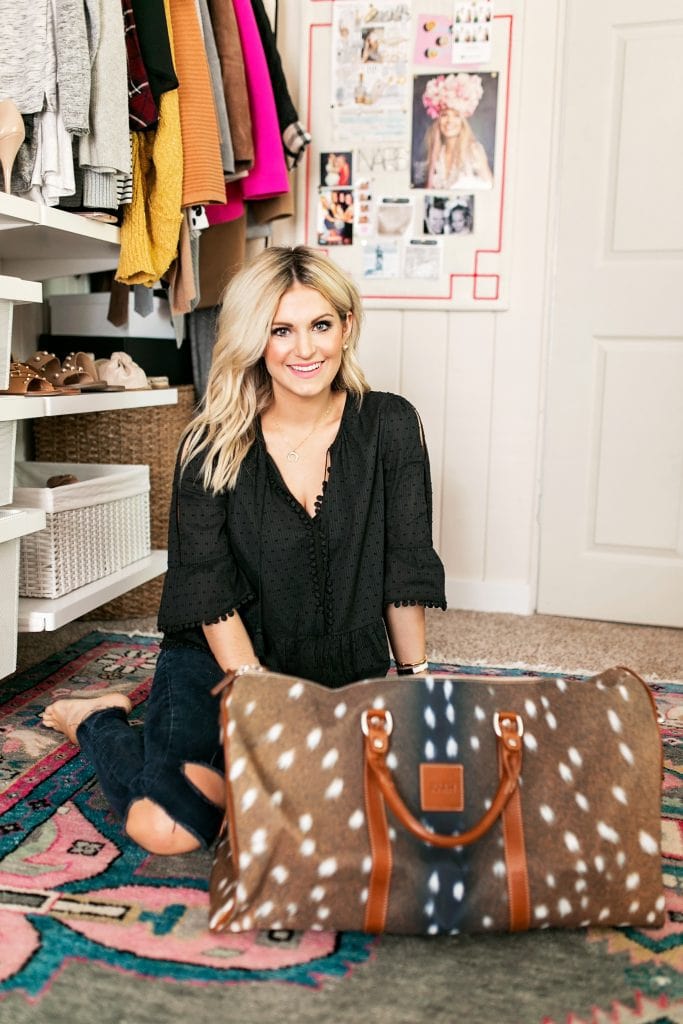 Travel Bag: Barrington Gifts [c/o] | Key Wallet: Barington Gifts [c/o] | Tote Bag: Barrington Gifts [c/o] | Top: Madewell | Jeans: Shopbop | Lipstick: Infatuation | Necklace: Similar | iPad Cover: Kate Spade
Shades of Tote: pattern is grey geometric & stripe is slipper light stone
Photography by: Angie Garcia
---
I wanted to start a Girlboss series and chat about things all working girls can relate to: work wardrobes, flooded inboxes, burnout, interviews, etc. I had every single intention of starting this series talking about e-mails. Part of that is because almost every career is going to deal with an inbox, but also because that's the part of my job that most of my time is allocated towards. I was asking you all questions on Snapchat to see how many hours a day you spend dealing with it, researching e-mail time management tips and getting quotes from some of my favorite people.
But when I started to write the post, I realized I was the last person on earth that should be giving advice on that. While I try extremely hard to respond to every single e-mail I receive, it's something I mentally struggle with- especially now with my most important role as a mom. My intention means well, it truly does- I just usually hurt myself with that intent. Sometimes my response will be 7 days late and I'm embarrassed they waited that long. Sometimes I miss a few e-mails and I feel guilty. Then other times I have a perfectly managed inbox and I look up at my husband and think, "Why didn't I just forget my inbox and watch a movie with him?" At the end of the day, I'm just winging it. I take my intentions and have to understand sometimes I'll succeed and sometimes I'll fail. At the end of the day, my number 1 job is to be a mom. That means, I work when she is sleeping. Sometimes my child naps great, sometimes she doesn't. Sometimes, I just can't function on 4 hours of sleep so I can't get up at 4 a.m. to work. At those points I have to say, "What's more important? Me getting a blog post up or me clearing out my inbox today?" My job is to create content, so that usually wins. We are always evolving and so are our businesses and part of being a girlboss is accepting that!
So, no way are we starting this series with inbox tips. Because guess what? I don't have them and I'm accepting that. In fact last week I seriously had to swallow my pride and recognize that I can't do it all. I think this is something every business owner gets to at some point gets to as growth naturally happens, but that doesn't mean you still aren't disappointed in yourself. I don't have it all together with a perfectly clean home and a perfectly run business while my sweet baby takes her perfect little afternoon nap. That's not reality and I don't want to start this series by portraying some really unobtainable goal. Because whatever your job is, you'll have to prioritize and realize you can't do every single thing. We all do.
Instead, today I want to start this series talking about 3 things that girlbosses do, with tips from my 3 favorite girlbosses! Because I truly think the greatest thing we can do as women is respect other women and learn from them. We all have so many strengths to teach one another, so as I'm learning to navigate this new life I'm all for learning from others!
1.Girlbosses Support Other Girls
I think the greatest sign of a confident woman is that she supports other women. Compete with yourself, not the girl next to you. Some of my closets friends are girls in the same industry that I am in. People will ask, "But are you all really friends?" And while I can't speak to other bloggers and their relationships, I can say I'm genuinely friends with all the ones I'm friends with! Sure, some say we are all doing the same thing fighting for readership. But I don't view them as competition. We each have something incredibly different to offer readers. Even if we own the same items, we are styling them differently, writing different content and giving different advice or encouragement to girls. I read different blogs because I can relate to different girls through all the different aspects of me as a person, and I know other girls do the same. My girlfriends and I all support one another and get excited when another girl gets a collaboration with her favorite brand. The next generation of women is always watching and we need to be teaching them that we spend enough time being hard on ourselves [#seeabove] that at the end of the day why be exhausting and compete with another female? One girl's success isn't your failure because a rising tide lifts all boats. Life is much better spent celebrating those you love!
2. Girlbosses Know Their Limits, Reassess and Prioritize
This is where my 3 favorite girlbosses come in! My girlfriends Kara, Kristen and Lindsey are all incredible business owners [all doing very different things] and I wanted to include their advice for you all. Each of them balances so many different things on their plate [some of them owning more than 1 business] but they always prioritize their family and work hard to not get burnt out. Last week I had to see my limits as one person, reassess and I'm still working on prioritizing. I don't think prioritizing is always a strict "set-in-stone" type of goal. With my business I think there will be years that content is what wins my time and maybe a few years where brand relationships does. There will always be flexibility and changes and these girls had amazing advice that helped me as I hope it helps you!
My friend, Kristen Donnell, owns Keeks. She has opened up SO many shops in the DFW, while running her online store and just gave birth to a daughter. Her advice resonated with me so much as my number 1 priority is being a mom. 
-Kristen Donnell, Owner of Keeks Designer Handbags
"I read an article once that stated we can have it all, just not necessarily all at the same time. Since having my daughter, Emmy, 5 months ago, I've really clung to this sentiment. My priorities have dramatically shifted, and my current priority is being the best mom I can be. Truthfully, I'm still working less than I originally envisioned, but that's ok because before Emmy was born, my goal was to "work myself out of a job." I delegated all of my daily, weekly, and monthly tasks to others so that everything would keep running smoothly in my absence. So far, so good! My advice would be to give yourself grace, prioritize, and delegate!"
My friend, Lindsey, is not only the sweetest person in the world but she might also be the healthiest! 😉 She is a health and fitness blogger, but also co-owns a beautiful bridal store in Arkansas. What I love about Lindsey is that she makes you feel like you are her biggest priority even when she has a million things on her plate. Y'all may remember my first wedding dress ripped during bridal portraits. I called Lindsey at 5 a.m. the next day and begged her to help me find a dress I would love. She spent that entire week sending me dresses that would look best on my body type/and styles I would want. I felt like her top priority when I'm sure I was her top burden. [No seriously, who calls someone at 5 a.m.?!] I admire her ability to do this, but she does it without hurting herself. She has a few tricks she shares to allow herself to prioritize herself as well.
-Lindsey Stavely, Co-Owner of Tesori, Creator of Barbelle + The Beast 
"I had to laugh because the same day Katey asked me to be part of this blog post I text her a picture of me getting ready to go workout without shoes and socks because I had left them at home. Oh the irony! I am very laid back so I have had to learn to be intentional with my time in regards to creating a schedule and sticking to it. Between being a wife, owning a bridal business and in the same month launching my blog and moving into a new home, prioritizing is what has kept me sane. I like to prepare for my day starting the night before by packing my lunch and workout clothes. Packing gym clothes and taking them to work gives me zero excuses to get out of working out. For me it's important to stay active not only physically but for my mental health as well. I encourage everyone to do something active 3-5 days a week even if your schedule only allows for 20-30 minutes. I have also learned that I'm most creative and get lots of work done at night. I'm a night owl so I like to do research for my blog, catch up on emails and even a little online shopping in the late evenings. Figure out when you are most productive and schedule your work during that time. I also only commit myself to things that are a STRONG yes. Learn to say no because your time is important so don't waste it on something you're not going to be 100% committed to. Take advantage of getting work done during that 10 minutes you are waiting in that Starbuck's line or when your hair is processing at the hair salon. Thankfully with cell phones, laptops, and free wi-fi you can work just about anywhere. And finally…take a breather, make time for yourself and sometimes the best things in life aren't planned."
Lastly, many of you know my friend Kara Stout! She is a nutritionist, a food photographer and a contributor to the Glitter Guide. She helps me with my blog, she's helped me with my nutrition in different stages of life and I love to share her articles from GG here! This girl is always working, yet I've never seen her frazzled. EVER! I'm always frazzled, so I wasn't sure how she did it. Sure enough, she prioritizes self care and also helping people. It's always refreshing to know those two aren't mutually exclusive and you can do both, there is just a balance to it. 
Kara Stout, Owner of Nutrition by Kara, food photographer and Glitter Guide Contributor 
"To be honest, prioritizing and time management, when it comes to business and life, can be really difficult. Sometimes you're not sure what to say yes to and what to say no to, which can be stressful and overwhelming. And I think we, as women, tend to say yes to everyone and everything. But, there is a grace-filled balance, I believe, that can be helpful to strive for.
A few tips I have found to be really helpful for me are:
Starting each day praying that God will guide me and help me accomplish what He wants me to get done in the day and let go of the rest.
When my day is structured, I'm more efficient and productive. So, having a to-do list (that I wrote the night before) and sticking with my healthy morning routine sets my day up to be organized and more peaceful.
I try to turn my phone on airplane mode during the workday to avoid all the distractions this little device can create. Especially avoiding social media during work hours, when possible, is extremely helpful in staying on task.
Prioritizing self-care and health is vital. If that's off, I'm typically stressed, unhappy and/or unfocused. Eating well, exercising, fresh air, and rest make such a difference. I also try to put away my work when my husband gets home. There are plenty of days where this is not the case, when maybe I have a writing deadline, and I'm up until midnight. That's life. But, it's all about progress, balance and giving ourselves grace.
I recently heard a talk, and the speaker said, "I pray every morning that I would be the answer to someone's prayer that day". This was so powerful for me. My top priorities each day are to serve God and serve others. To have eyes to see who needs my love and help each day. If I don't get everything on my list done that day, that's completely okay if I have served and loved others well."
3. Girlbosses have the Right Tools
I also receive a lot of questions from girls about how to start a blog and what my tricks are. There aren't really any tricks to growth, there are good habits, but not tricks. I always recommend working hard and having the right tools. For a starting blogger the right tools might be investing in that blog workshop so you can learn how to navigate Wordpress, Photoshop and photography. For a seasoned blogger, you may always be investing in new camera equipment or meeting with new photographers. I go to one blog workshop a year and while it can be hard to take that time away from family, it always allows me to feel refreshed, inspired and ready to create new content! It's a tool that allows me to serve you all in the best way I possibly can.
But not everyone's job is centered around photography and what you need to invest in for your job, I probably don't need to invest in for mine. I started to think, "What do most girlbosses need?" Cue my fashion forward mind! 😉 We need great work bags and bags for travel! Y'all know my love for Barrington Gifts and their customizable work bags/totes that look designer for a fraction of the cost. I created a few new styles on their site for my blog conference trip! This Belmont Cabin Bag  is what I use to pack my shoes, accessories and clothes for Maxi. The St. Anne Tote is perfect for my meetings [they also have a diaper bag!] and I use the Kent Keyring for my badge to get into the events.
So whatever tool you need to be the best version of yourself, don't feel guilty about it! If you've saved for a camera for blogging, don't feel guilty when you go to purchase that. While initially you may just think it is for you and your business, eventually this is going to be to help other people.
If you take away anything from this post, I hope you take away that I am always learning. Girlbosses are always learning and we as women should always be looking to other women to learn. My hope with this series is that I can highlight aspects we all deal with in our careers so that we can all learn from one another, so I'd love to hear from you! What would you like to see in the next Girlboss post?!

In partnership with Barrington Gifts. All opinions are my own!