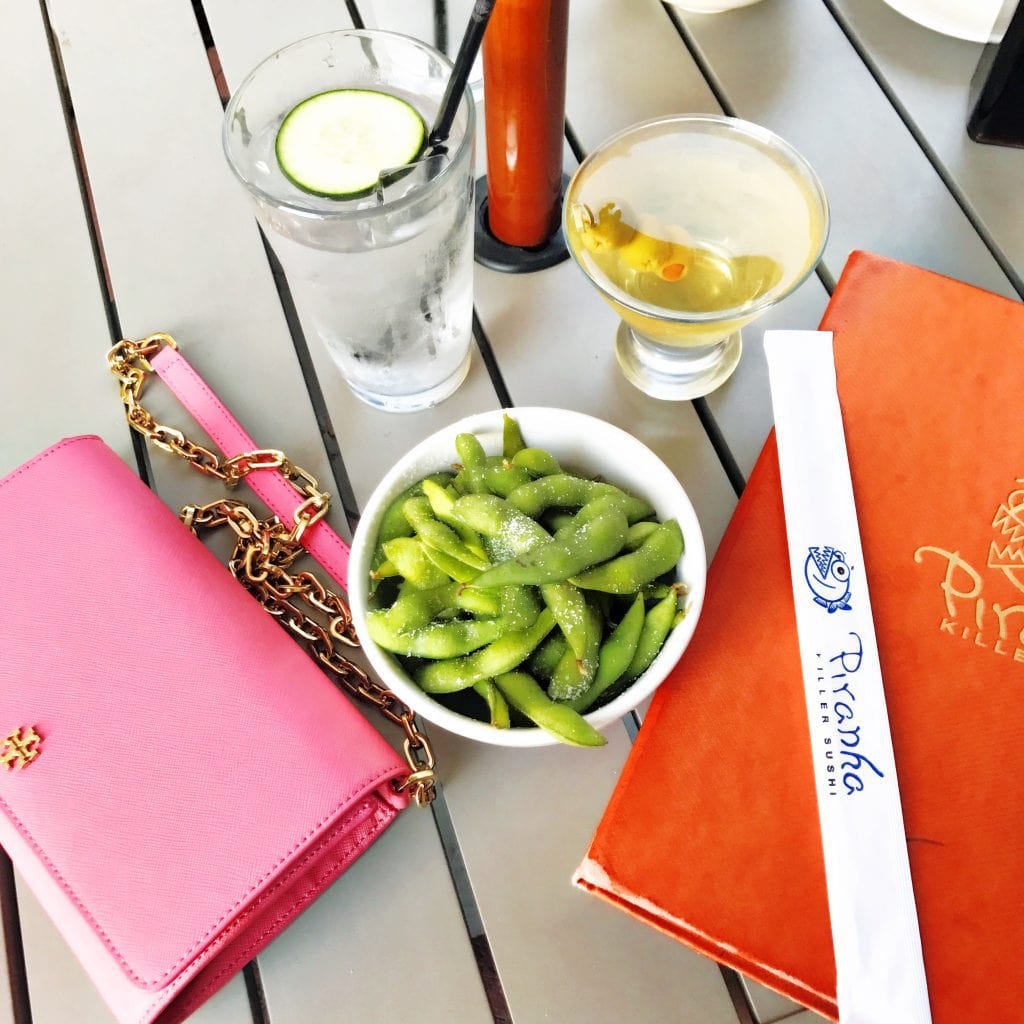 Bag: Tory Burch
---
This weekend we actually went on our first date since baby! We walked around downtown a little bit and then decided on sushi. Spicy tuna rolls for me and dirty martinis for Paul! My parents were a great example to me growing up on how to continually date your spouse with kids. They had their weekly date night and I loved having my babysitters! Shout out to Phoebe and Lindsey. haha! Of course we talked about Maxi the entire date, but it was just so nice to be together the two of us. I feel like I'm always scarfing down food as quickly as I can so that I can feed Maxi when she wakes up or I forget to eat all together. It was so weird to just sit and eat sushi without a timeline. My parents watched Maxi and when we came home my parents, my sister and her friends were all at the house. Maxi got spoiled and mom got sushi. Win win! 🙂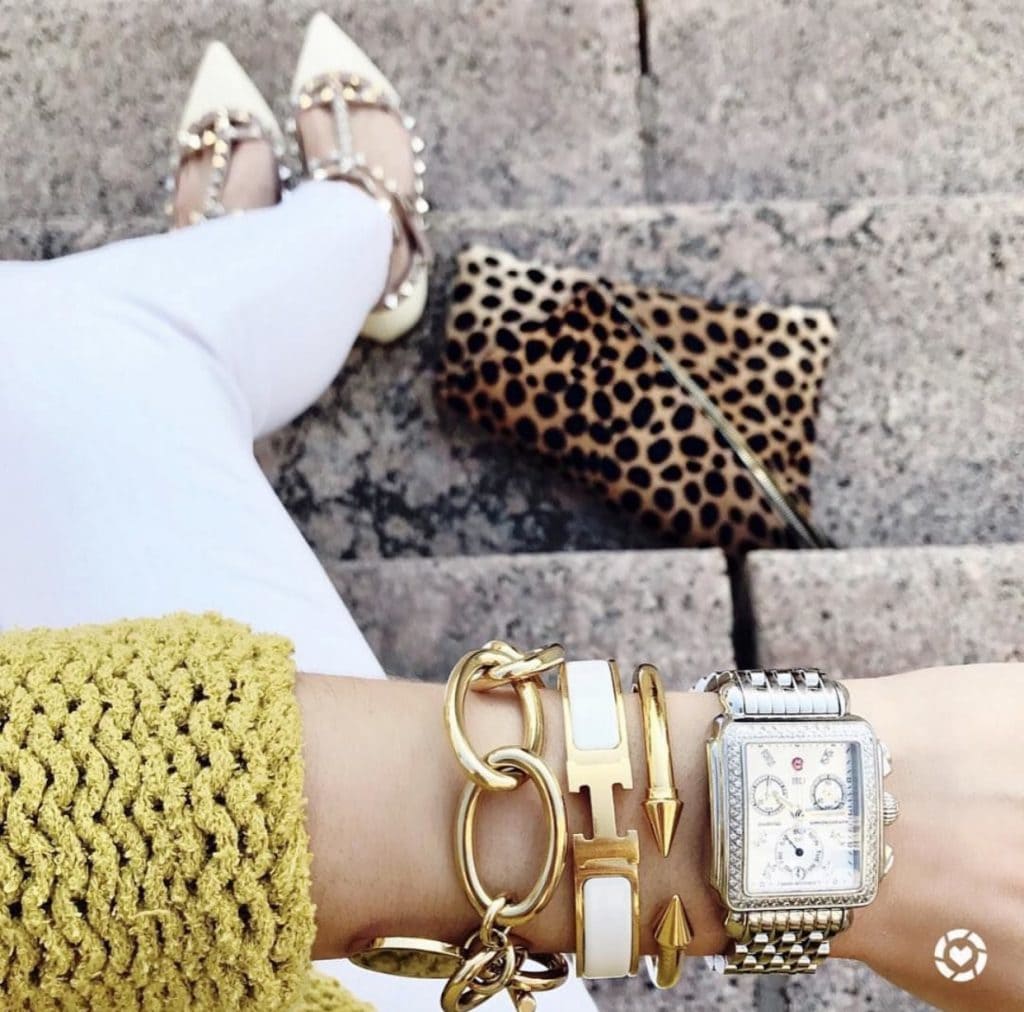 Sweater: Free People [size down] | Jeans: Shopbop | Shoes: Amazon | Watch: Michele | Bracelet: Vita Fede | H Bracelet: Hermes | Link Bracelet: Old, Similar | Bag: Clare V., Dupe
---
And in case you haven't noticed, I wear this sweater and these white jeans an obnoxious amount! Being shorter, I've never found jeans that fit 100% perfectly without needing to get them tailored. Jeans can be upwards of $200, who wants to pay to tailor them after that?! These jeans are the best fit I've ever had, so I need to get them in more shades!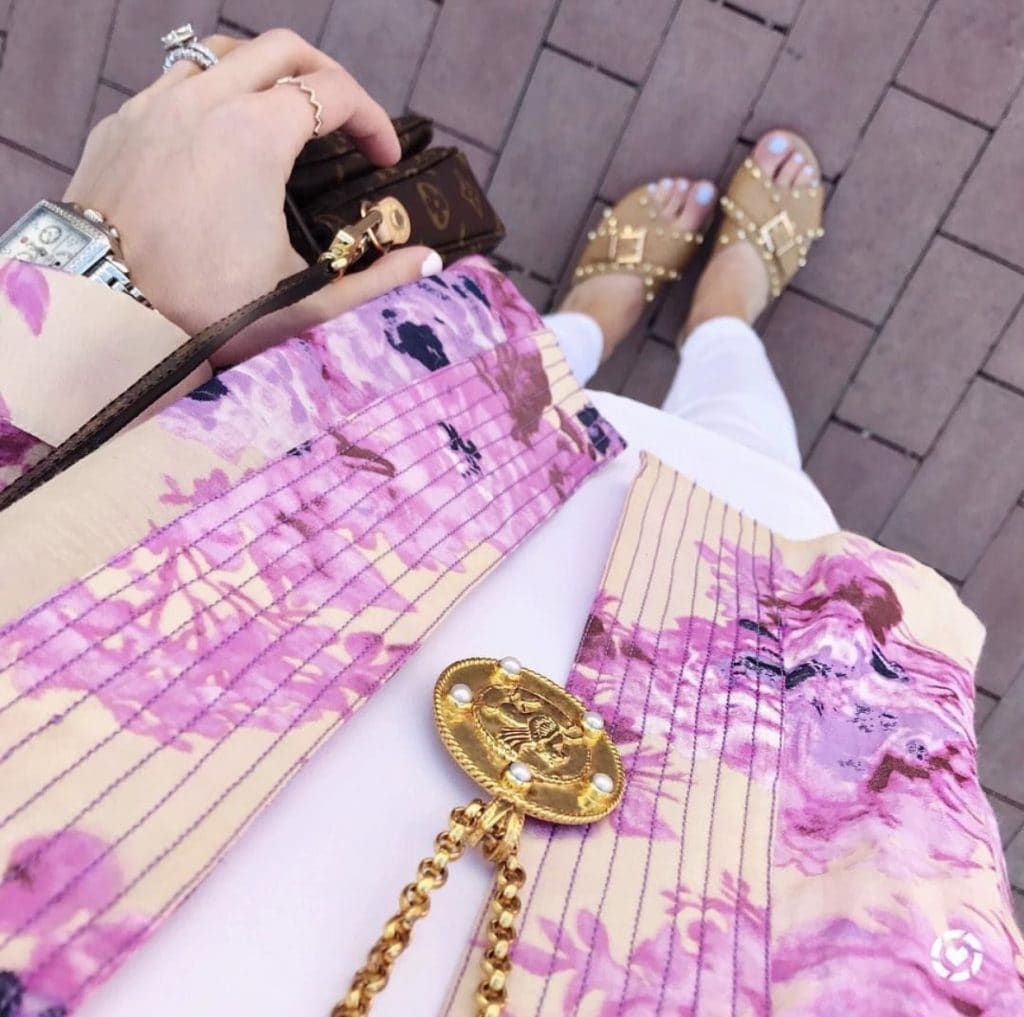 Kimono: Anthropologie | Tank: Old Express, Similar | Necklace: Julie Vos [c/o] | Shoes: Stuart Weitzman | Jeans: Shopbop | Ring: Shopbop
---
See? Jean repeater again! This look was on the blog yesterday and I shared an event I'll be hosting in Dallas on April 29th! I would love for you to come if you can!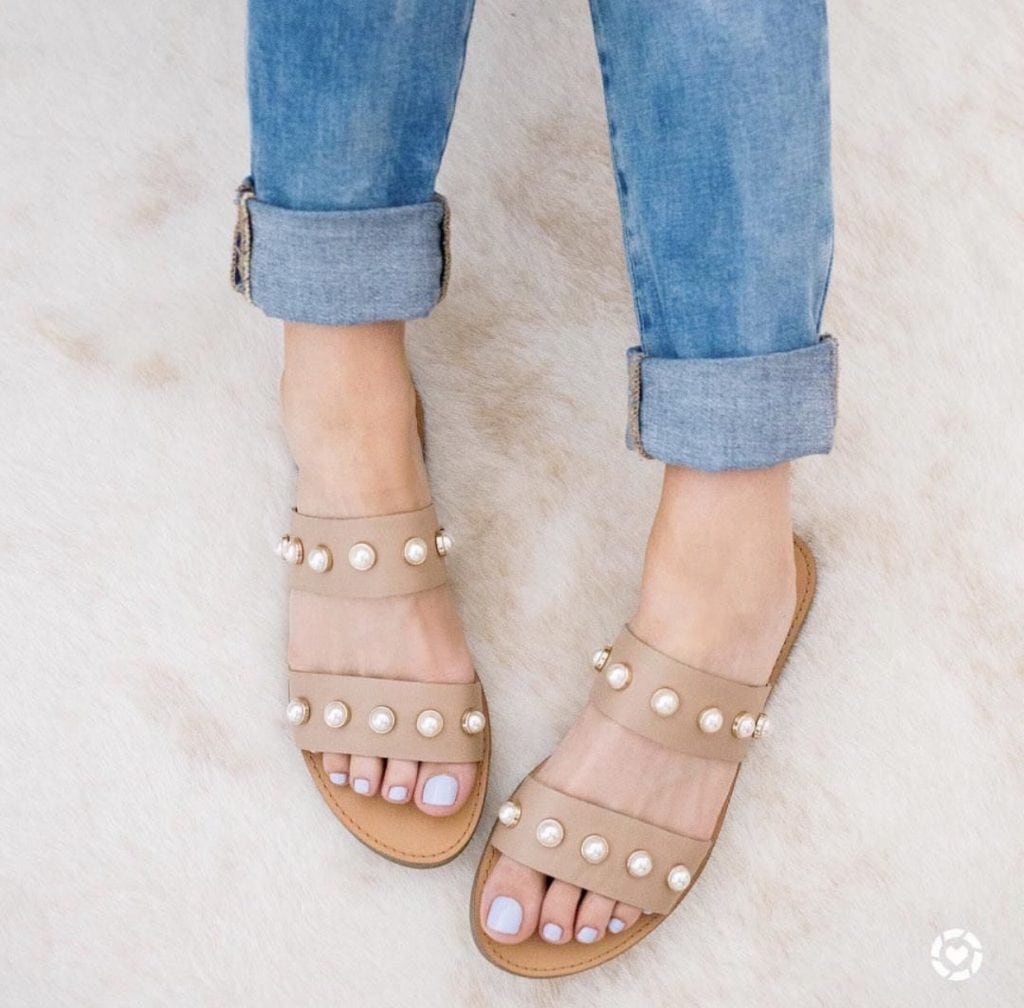 Jeans: Nordstrom [lighter wash] | Sandals: Steve Madden, Black Version, Different Version [LOVE these!!]
---
Embellished sandals are always a huge trend for spring and I love this ladylike option with pearls. If you are someone who likes to have a sandal that wraps around your ankle for more support, I love this option! They also come in a floral fabric with pearl detailing with reminds of a Dolce & Gabbana sandal but for 1/10th of the price!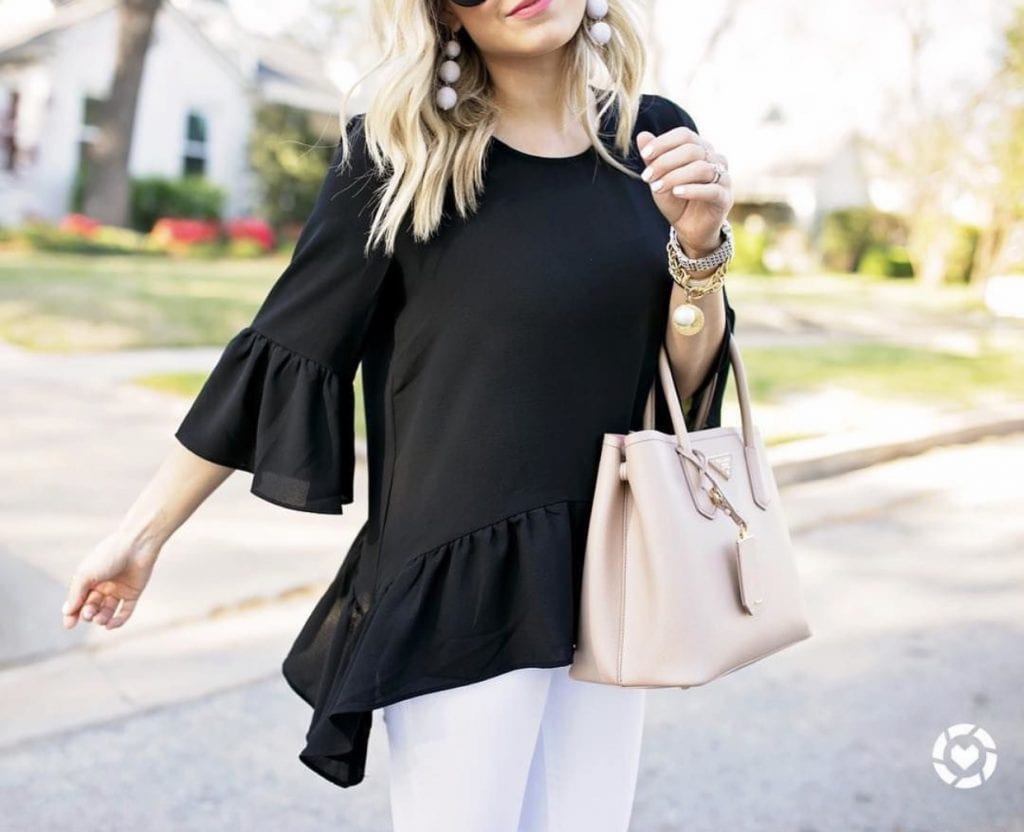 Top: Nordstrom | Jeans: Shopbop | Bag: Prada, Similar | Earrings: Baublebar | Lipstick: Infatuation | Bracelet: Moon & Lola
---
This $42 top from last week is still fully in stock! I can't get enough of it, especially for the price! It's such a flattering fit. I also like to be a bit more budget conscious of tops for spring and summer, because I can't justify a price point for such thin fabric. In the winter, I understand how sweaters cost more. But in Texas, you start wearing tanks in April and I don't want to spend an arm and a leg on something that is breathable!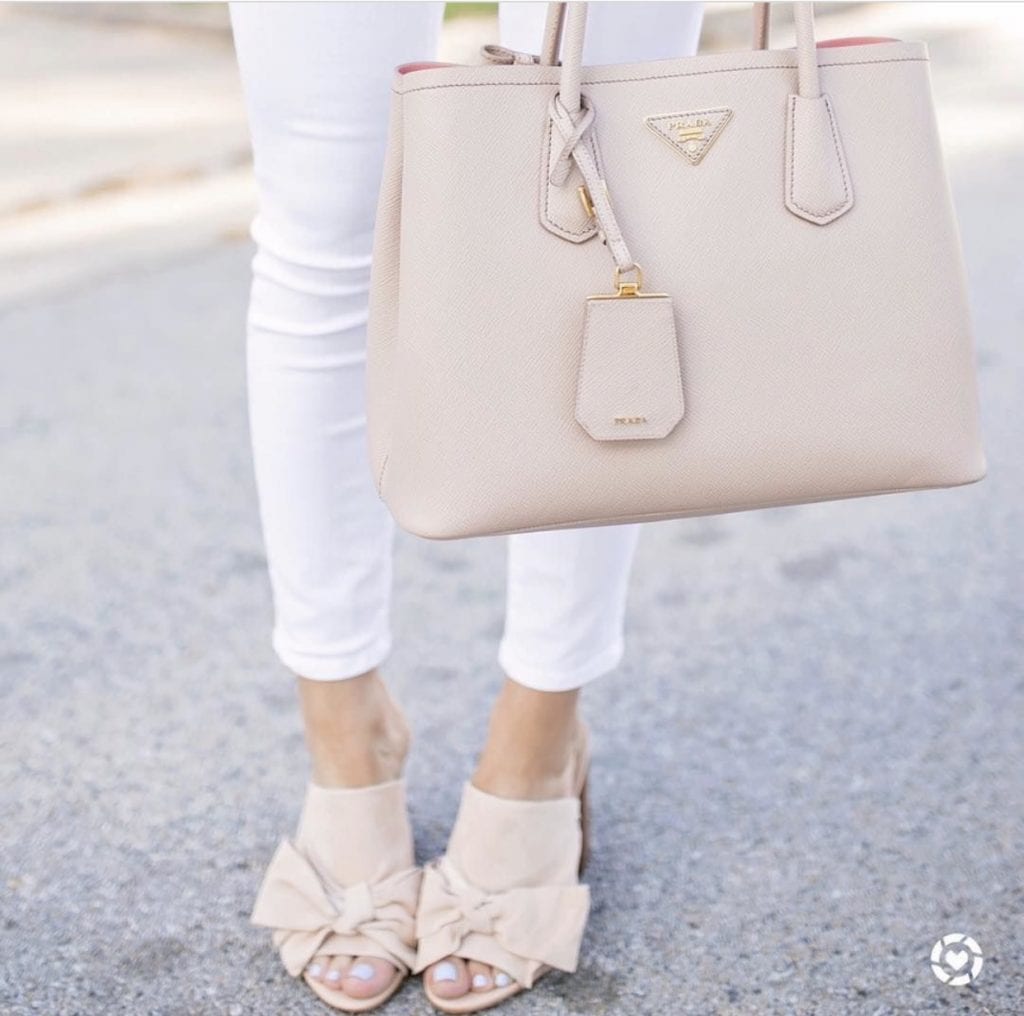 Shoes: Sam Edelman, More Sizes Here, Flat Version
---
Ignore the jeans, again! Let's talk about the bows on my toes! These mules are SO easy to walk in and a designer dupe. They also come in a flat version in the shade pink which I love for summer! I wore the mules on our date last weekend and we walked a good mile downtown and I had no complaints. 🙂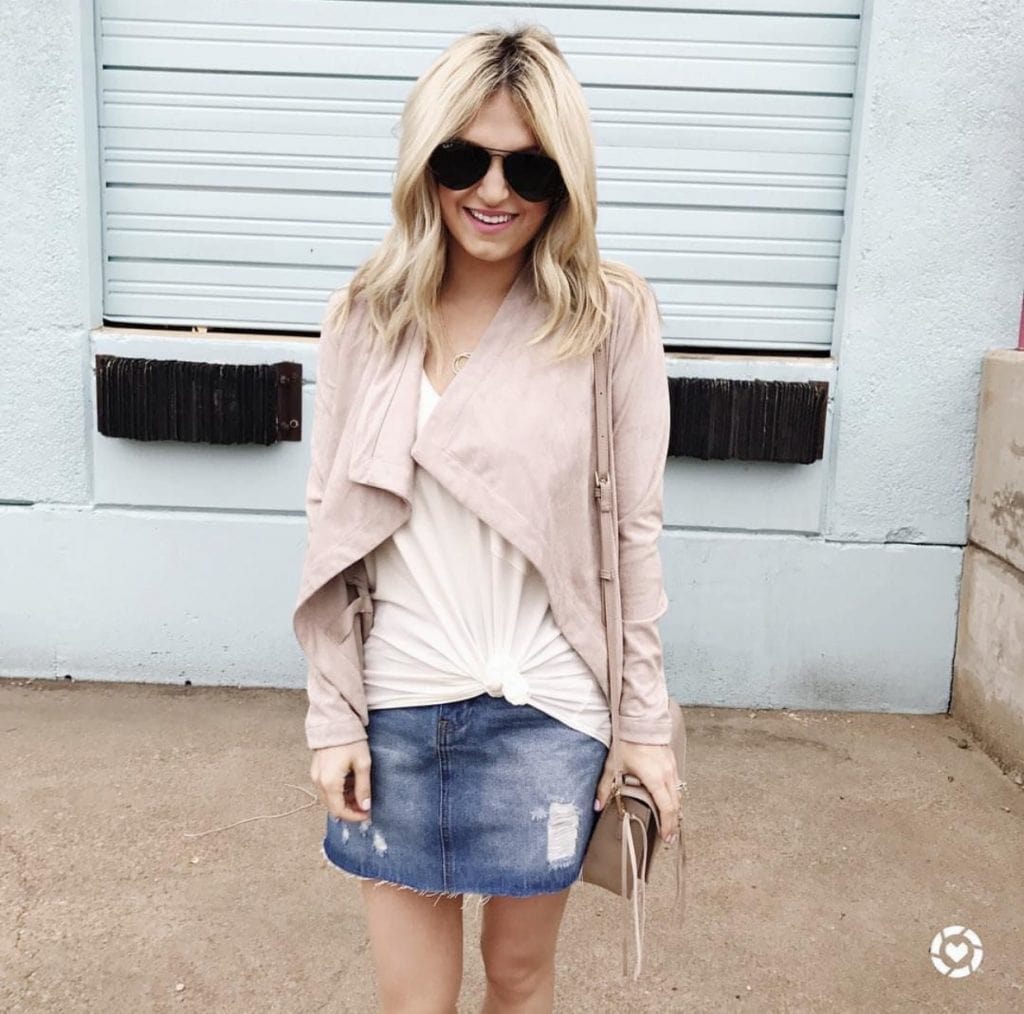 Skirt: Red Dress Boutique [size up!] [c/o] | Tank: Red Dress Boutique [c/o] | Jacket: Red Dress Boutique [c/o] | Bag: Red Dress Boutique [c/o] | Sunglasses: Similar | Necklace: Red Dress Boutique [c/o]
---
My girlfriend Ashley recently introduce me to Red Dress Boutique! I'll have a few blog posts up with items from their shop soon! I wanted to share this look and their site before, because they have items for a steal! I ordered lots of pieces to try out and test quality and I'm really impressed. This bag is giving me major Valentino vibes, and for $38 I definitely think I'll order it next!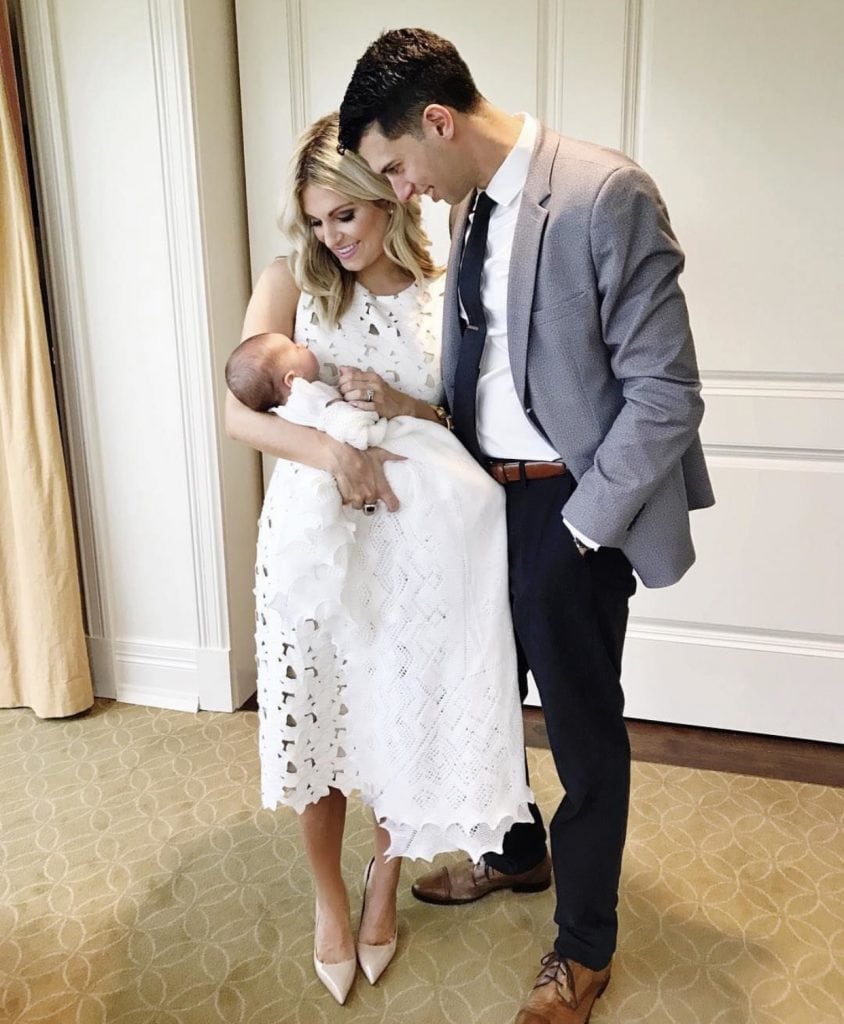 Dress: Alice & Olivia, Similar | Shoes: Kate Spade, Similar  | Bag: Gigi New York [c/o] [not pictured]
---
On Sunday we had Maxi dedicated! My childhood Pastor who dedicated me, baptized me and married us was actually able to dedicate her. I can't even explain how special that was for Paul and I! We had a brunch with our family and her godparents after to celebrate the day.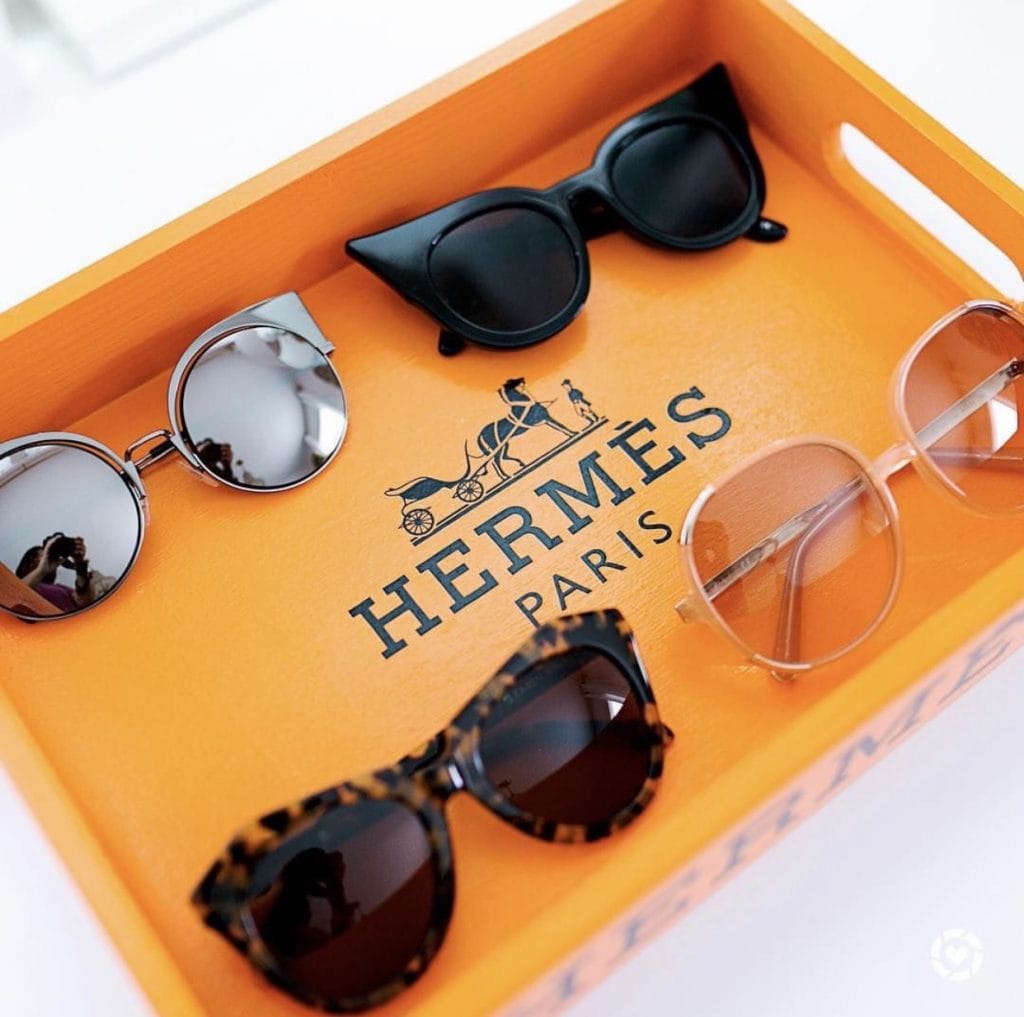 Hermes Tray: Etsy Old | Tortoise Sunglasses: Karen Walker | Pink Sunglasses: Chloe | Black Sunglasses: Le Specs | Silver Sunglasses: Fendi
---
I ordered a few pairs of sunglasses online this weekend to prepare for summer! I'm counting down the days until Maxi and I can spend the afternoons in the water. I've gone a little overboard buying her swimsuits but baby bikinis are just too cute! Here are the sunglasses I ordered this weekend: these, these and these.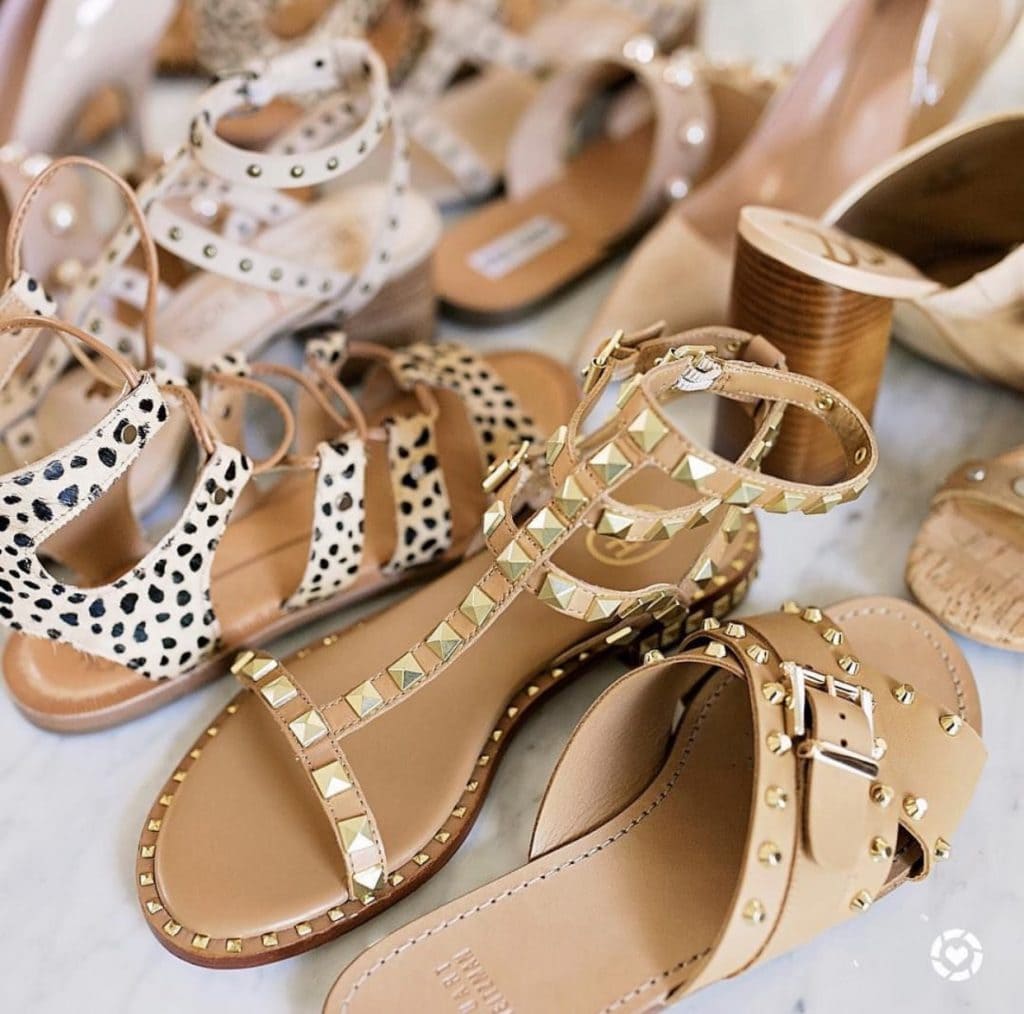 Studded Sandals | Stuart Weitzman | Bow Mules | Pearl Sandals | Platform Sandal | Leopard Sandals | Studded Sandals | Nude Mules | Sole Society Sandals [c/o]
---
For a girl who loves bright colors I'm a little embarrassed at how many neutral sandals I have….At least I can wear them all year in Texas?!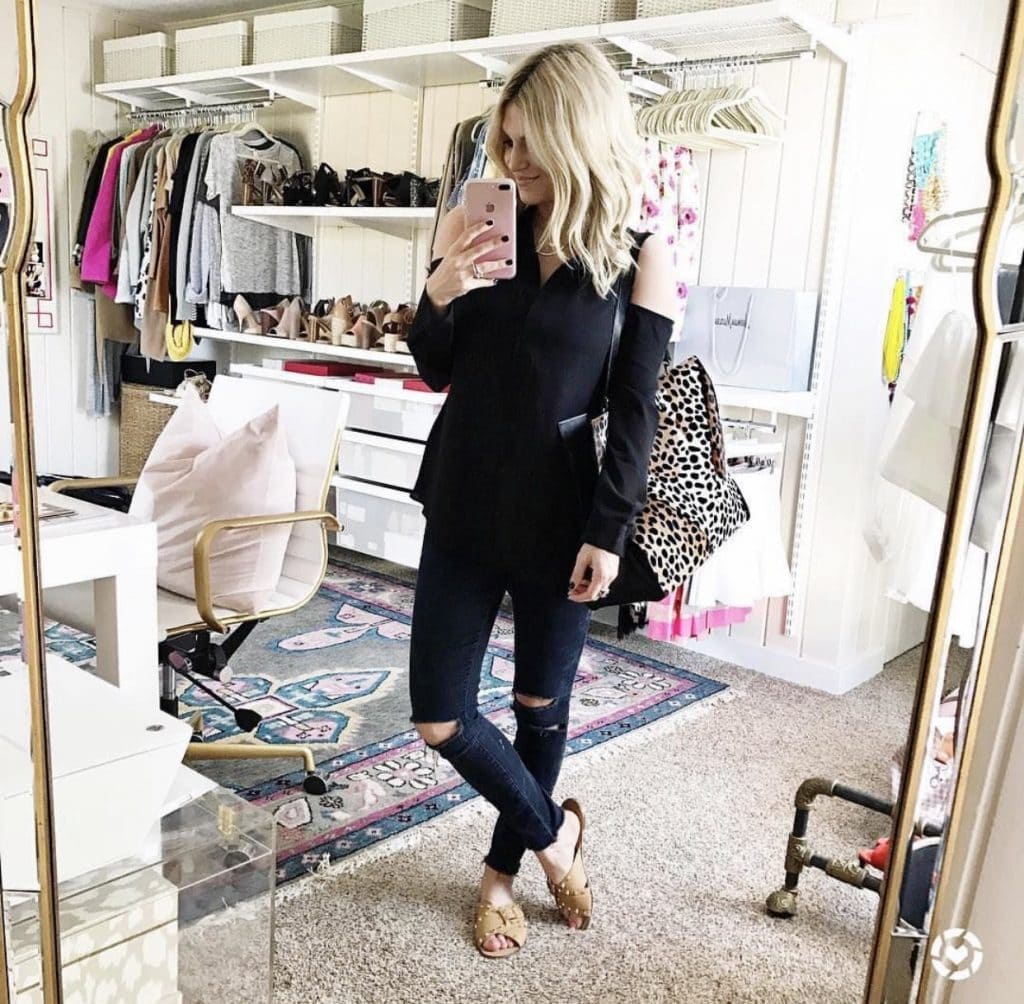 Top: Nordstrom | Jeans: Shopbop | Sandals: Stuart Weitzman | Bag: Clare V. | Necklace: Etsy, Etsy
---
I've been asked to share some nursing friendly tops and I LOVE this one! Nursing or not, I love the shoulder cut outs! Sometimes button-up blouses can seem a bit stiff or plain, so I love this little detailing.
I hope you're having a great start to your week! Thank you for stopping by!