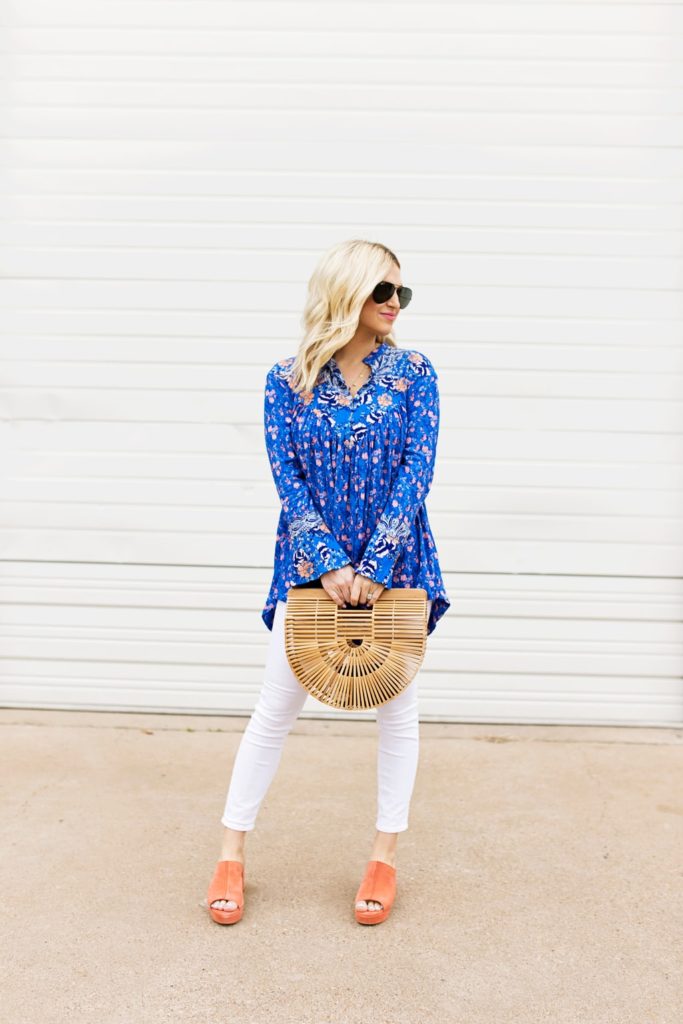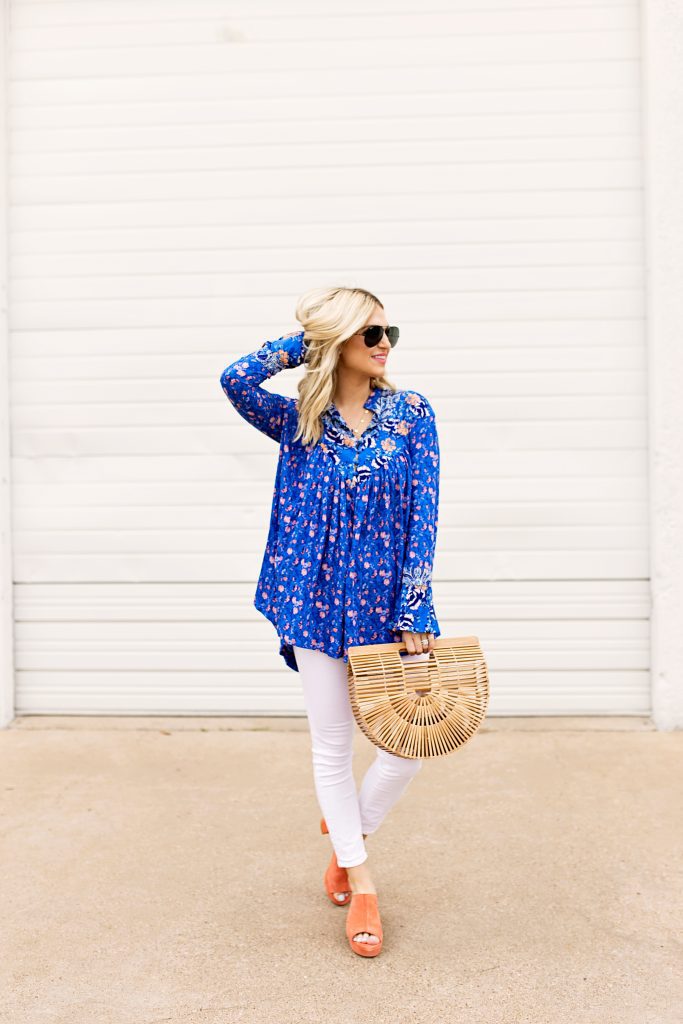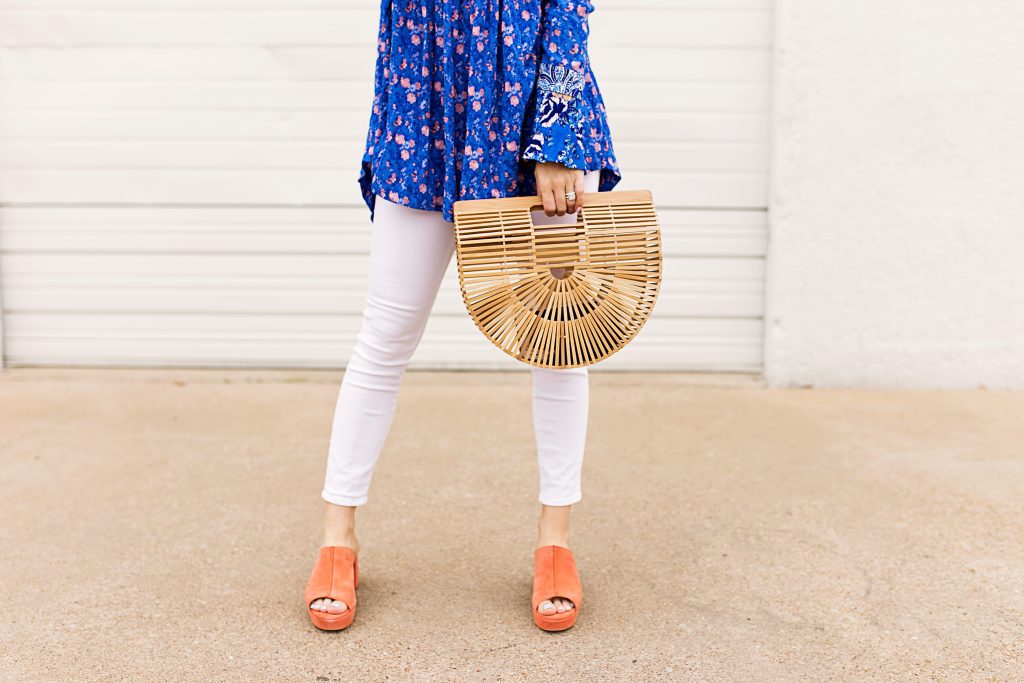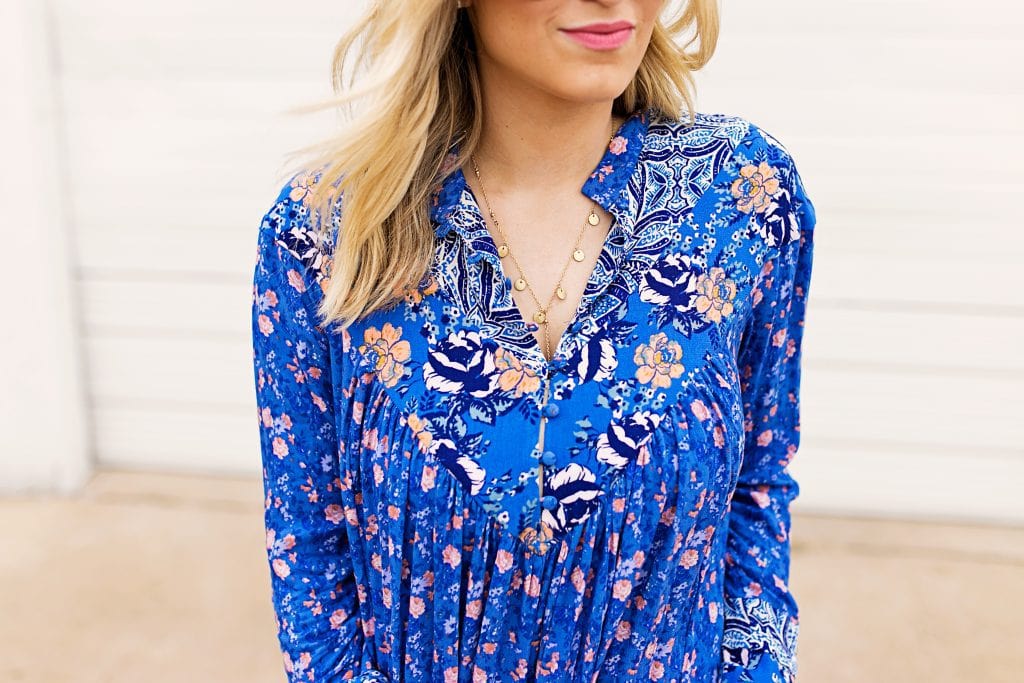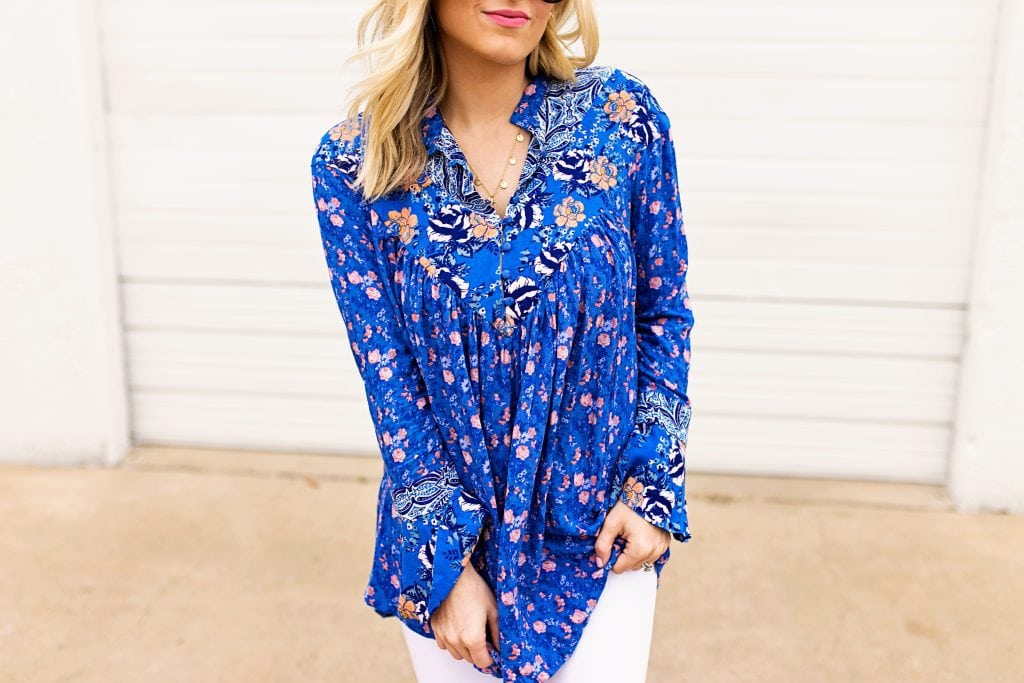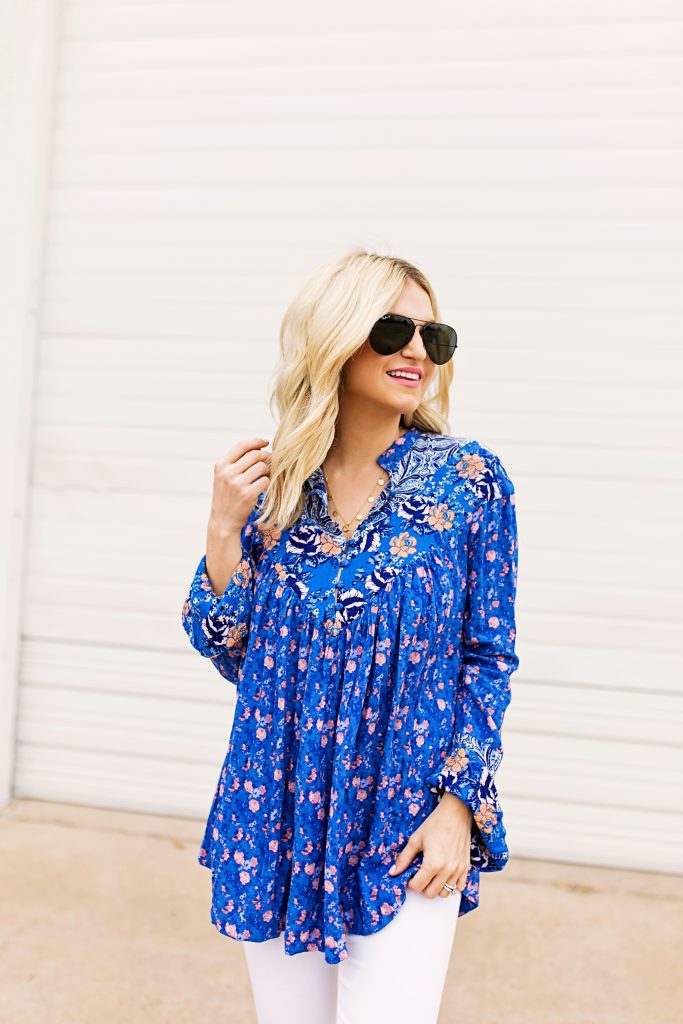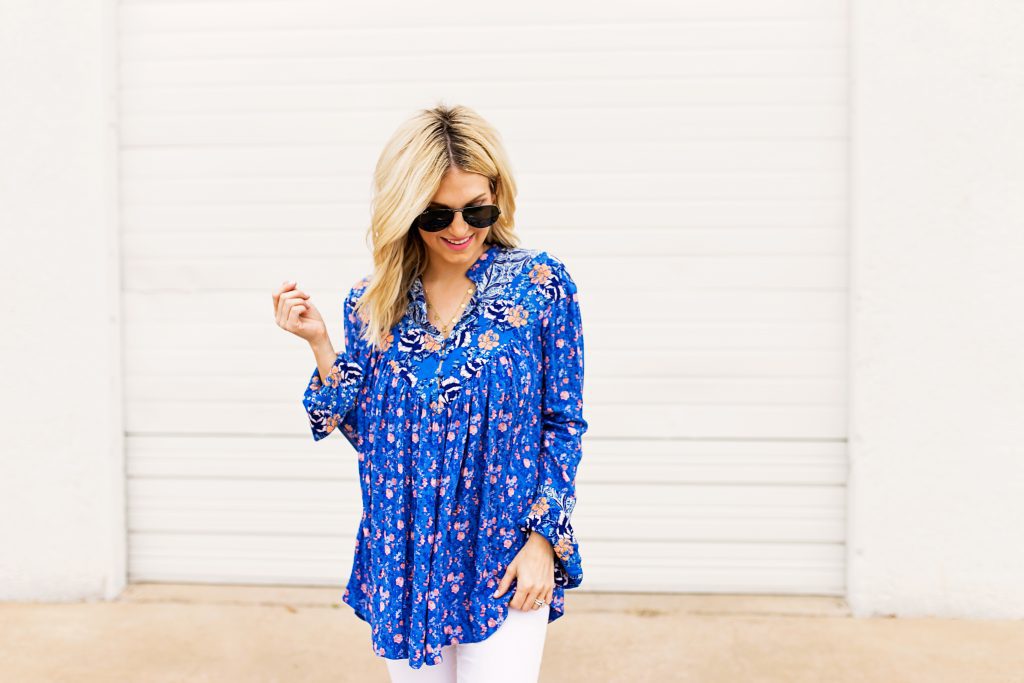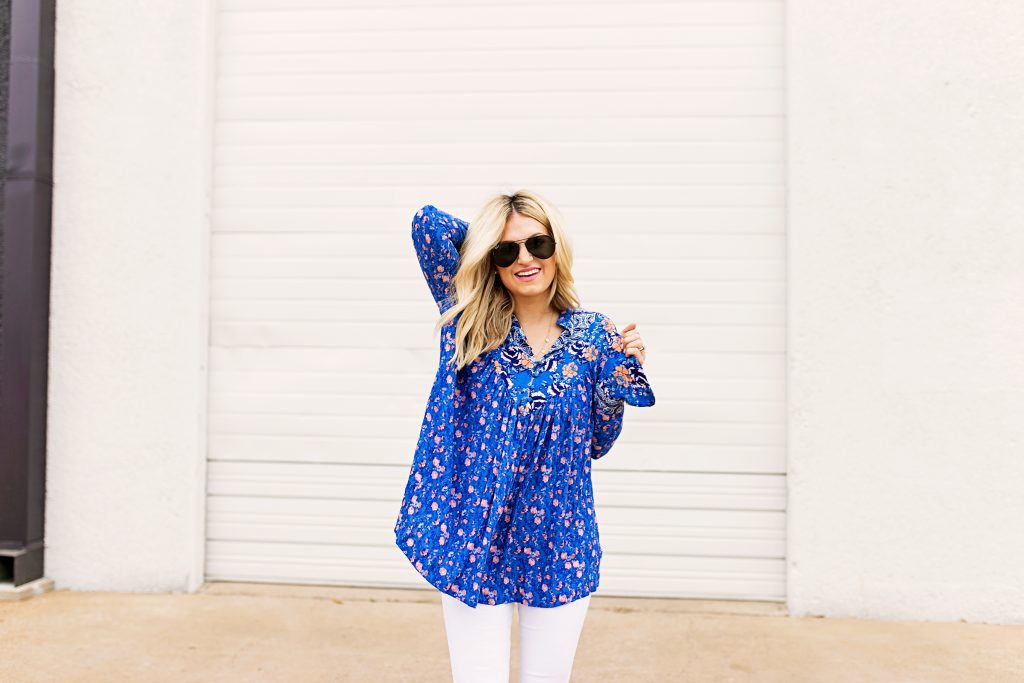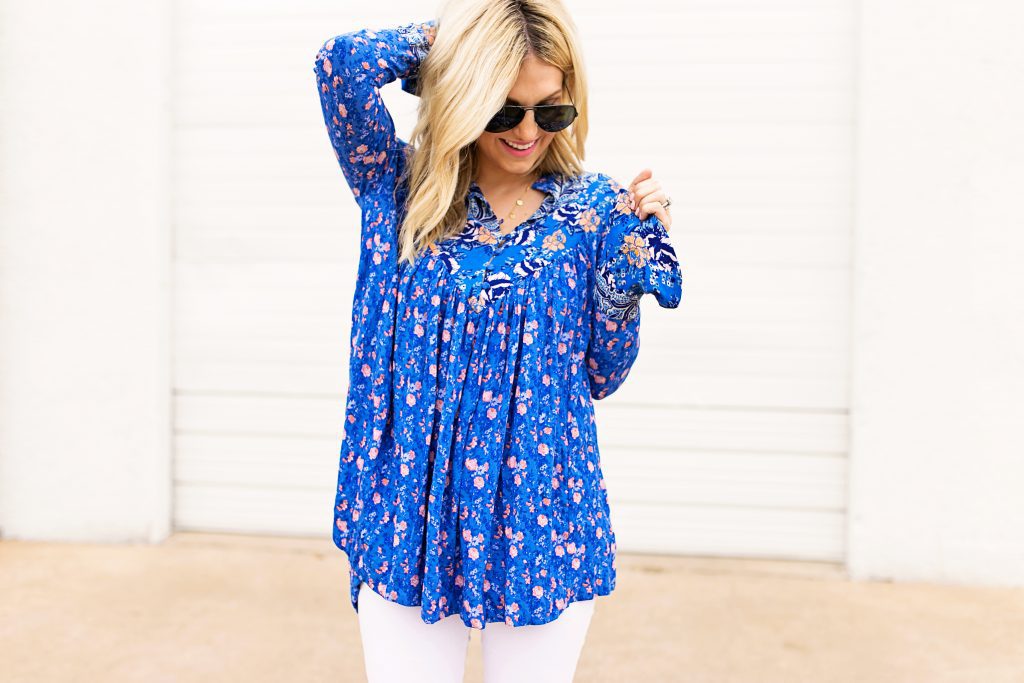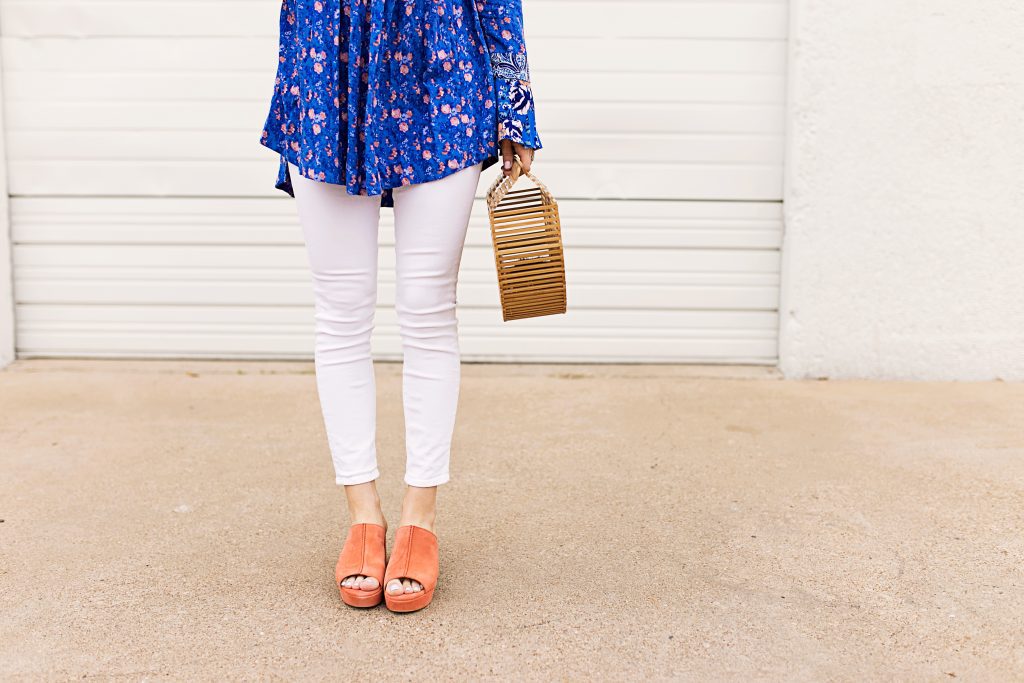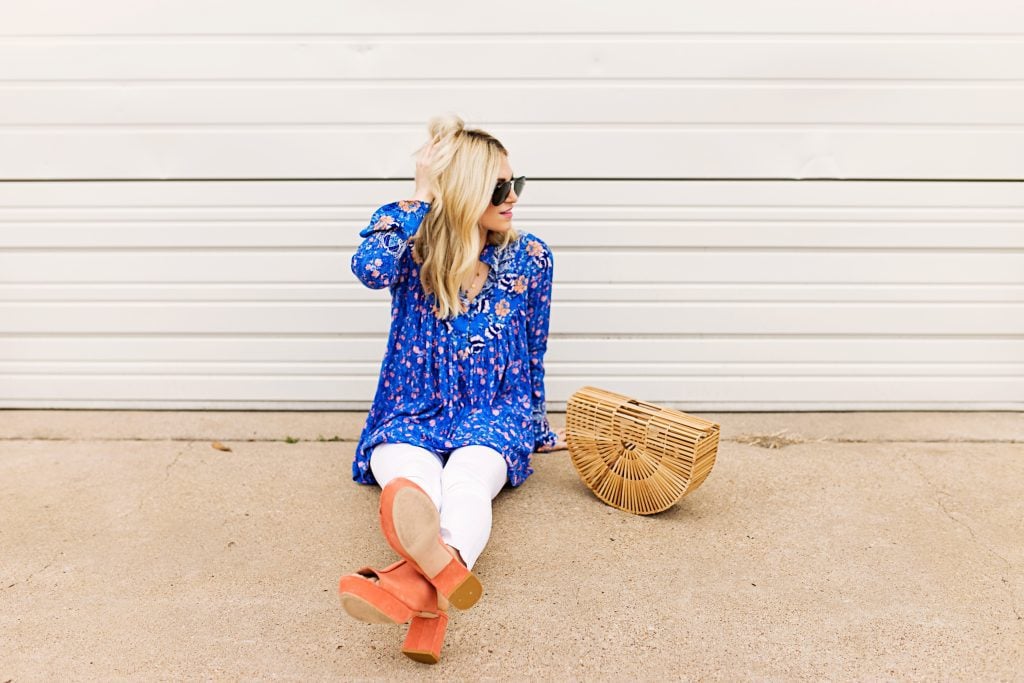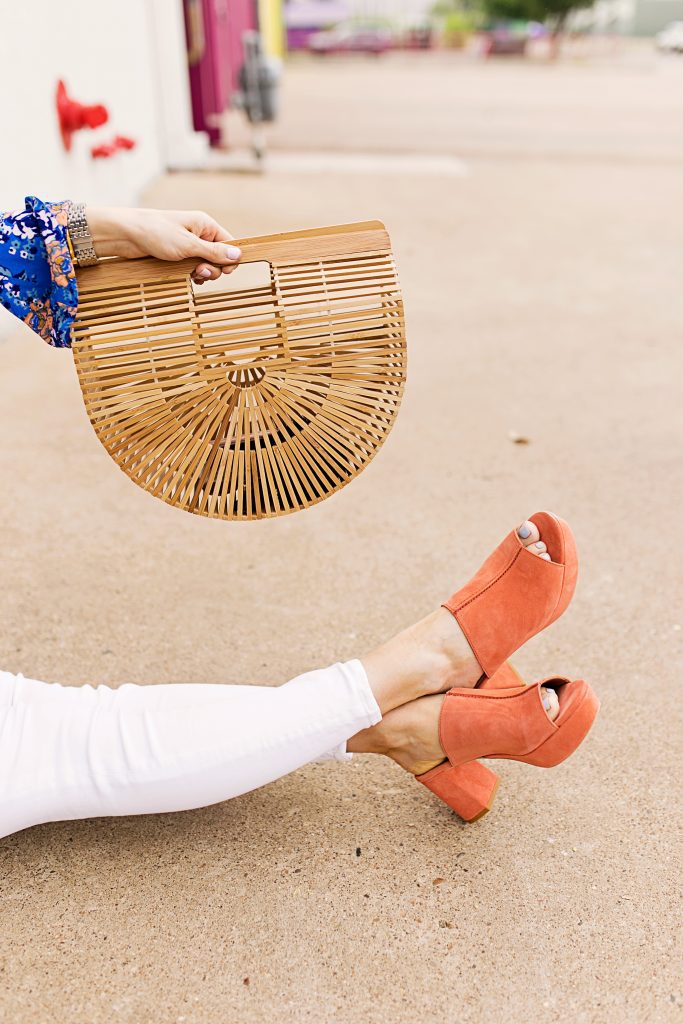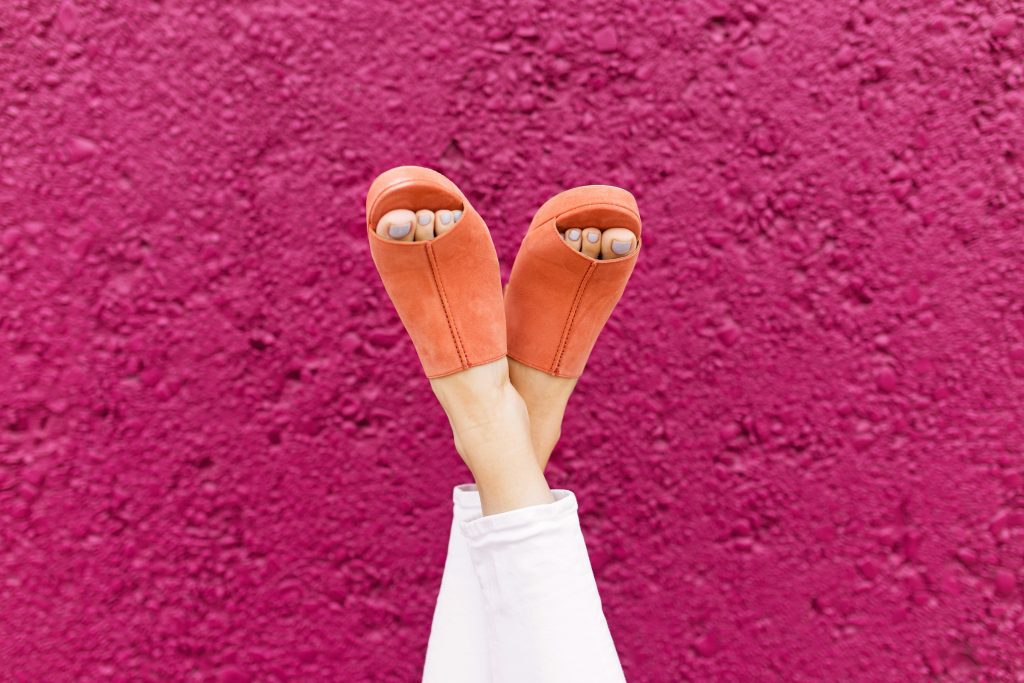 Top: Free People [I went down a size] | Mules: Free People | Jeans: Better Priced Version | Necklace: Nordstrom [sold out], Similar | Sunglasses: Similar | Lipstick: Infatuation
Photography by: Angie Garcia
---
Mondays are easy to dread. You're back to reality with a to-do list a mile long. While my work schedule can be different every day, Monday is always a full-blown inbox day. Before Maxi I remember I would spend 8-10 hours on a Monday just cranking through my inbox. Now that just doesn't happen [and can't] which I'll share more about tomorrow! So while you're in class or sitting at your desk at work, I thought it would be fun to list 5 good things about the previous week. We get so used to "great" things to look forward to like weddings, trips and meetings with friends. However, those things don't happen daily so we also have to list the "good" things that happened as well!
I find this exercise helps me feel a little more grateful for the week ahead, even when I can't see the big picture it reminds me that good things happen daily you just have to look for them!
1. Last week, Maxi went to bed at 9 p.m. I'll talk a lot more about this on Friday during her 2-month update post. I'm extremely thankful that Maxi hasn't had a "witching hour" so far. My child just thinks she is a little teenager and doesn't like to go to sleep before 11. I'll put her in her bassinet and she'll just smile at me like, "Oh no, mama! We are not going to sleep yet!" haha! Anyways, last Thursday I was holding her and she just passed out. I put her in her bassinet thinking she would open her eyes right up in 5 minutes, but she didn't! Now we had other nights last week that were rough, but this bedtime on Thursday was such a good thing as I was able to be asleep by 10. That hasn't happened since before I had her!
2. On Saturday, my girlfriend, Daniela, and I took a class at Zyn22. It felt so good to have a "real" workout again. Because let's be real, workouts at the end of my pregnancy lasted 10 minutes and then I had to sit down! haha!
3. Each year I have a blogging conference in April. This year my mom is my guest so she can watch Maxi while I take meetings. But, I'm so excited Maxi gets to come and attend all the parties at night. I really enjoy these conferences because I'm able to see my girlfriends from all over and this year they get to meet my mini. One thing I dread is ordering clothes for it. I love to play dress up as much as the next girl, but if we are honest this is what I wear half the week! I'm not sure what it is but each year I get nervous about ordering so many different looks for meetings and events with brands. I'm sure it's just a combination of me being an introvert and I realize that I actually have to wear these clothes to talk to strangers. But I finally got all my looks sorted [as well as the things I actually need to attend like paperwork with information on COF]. Crossing that off my to-do list felt amazing!
4. Speaking of work, I finally found some ideas for a new logo! I've been working on redoing my site since last April and I went through a nightmare of a redesign situation. I don't want to completely divulge the details but it was one of the worst experiences I have ever had with blogging. Thankfully, that is all sorted out and now we have a new project under way. Redesigning a site takes quite a bit of time as there is a lot of reader research that goes into it. There's such a fine line between a site that is easy to navigate and a site that is aesthetically pleasing and makes you leave it feeling inspired. I'm always jotting down notes on what my readers like to look at most and what they really don't spend their time messing with. This redesign should be live early next year. I know that seems SO far away, but I'm hoping it's such a good change that it's well worth the wait. 🙂 All of that to say, I was very committed to my logo. I would play around creating a new one on some programs and didn't like anything. However, last week I finally got something I think I love and hope you all do as well!
5. Two words: coral mules. This "good" thing is the entire point of the post! I wore this look to a market with my mom two weeks ago and received lots of questions via Snapchat asking about the top! It's Free People from Nordstrom and I love the flow! The buttons make it nursing friendly but I also like that it's a peasant top without being extremely oversized! The fitted sleeves give it a shape unlike any other peasant top I've owned. I went down a size when I purchased this top, so I would recommend doing that as well! I also wanted to pull out a pop of the coral in the top, so when I found these coral mules by Free People at Nordstrom as well I knew I had to purchase them. If you're pregnant, Free People is a brand I lived in during my pregnancy. If you just go up a size, their bohemian fit and sizing can accommodate your growing bump! I was very adamant about not spending a fortune on maternity clothing because it was always hard to see a price tag and know in my head, "Oh I only have 12 weeks left to wear this." I purchased a lot of FP so that I knew I could wear the items after I gave birth and not feel guilty about my receipt. 🙂
So as we head into this new week I would love to know what "good" can you celebrate about last week?!