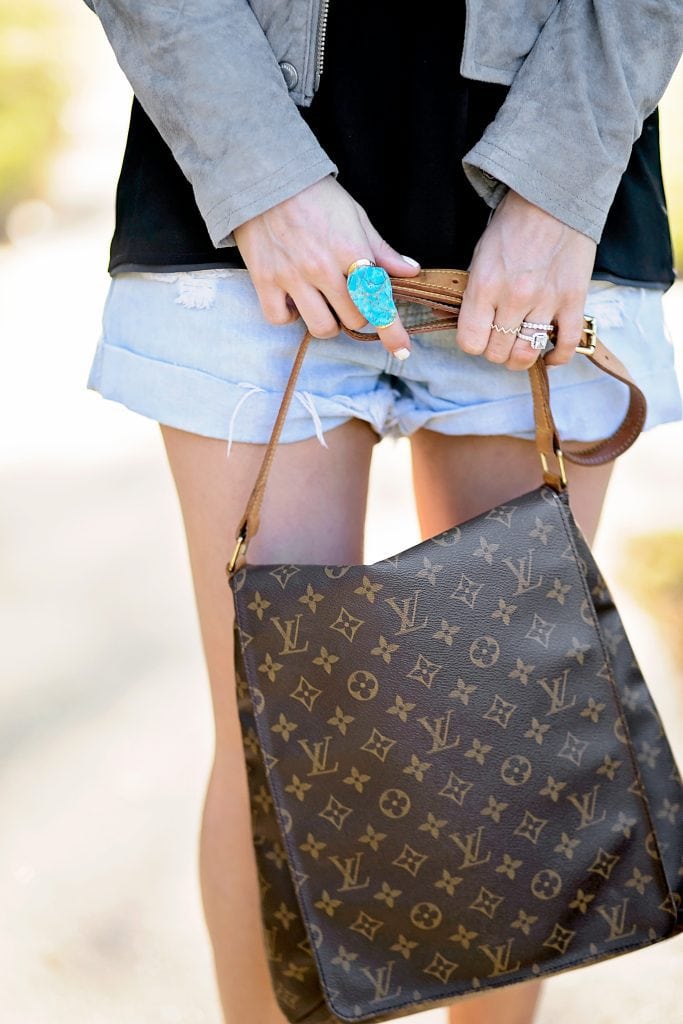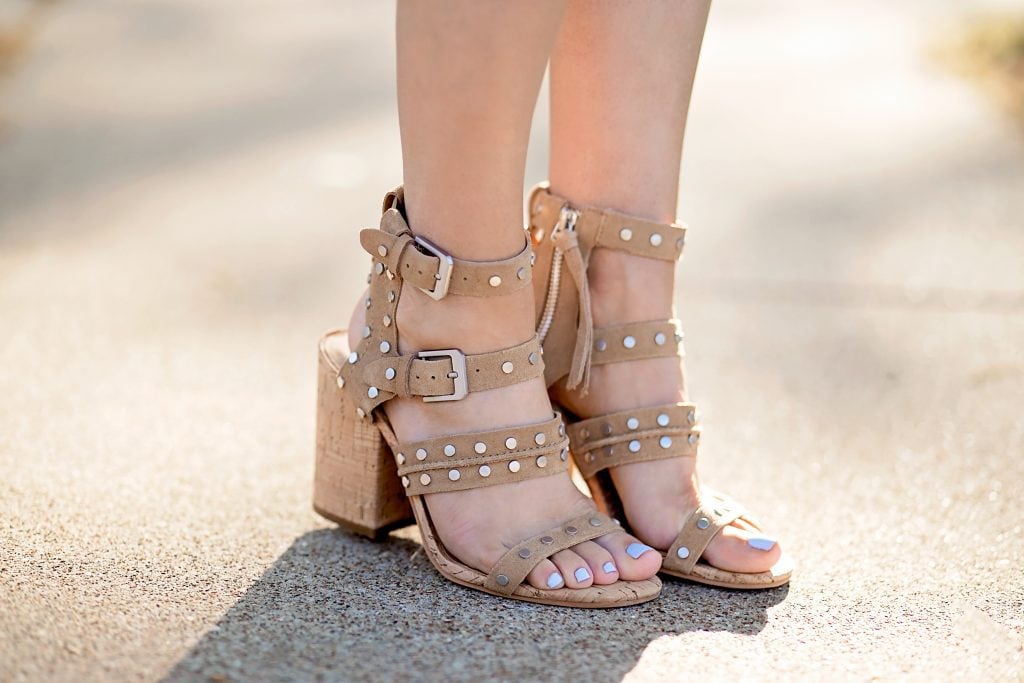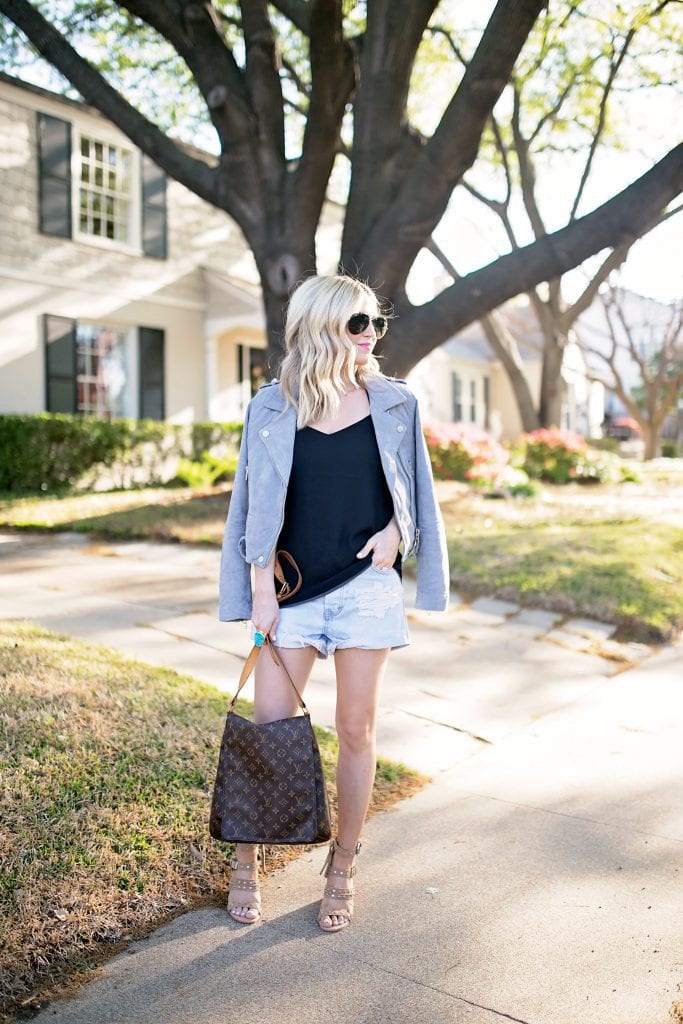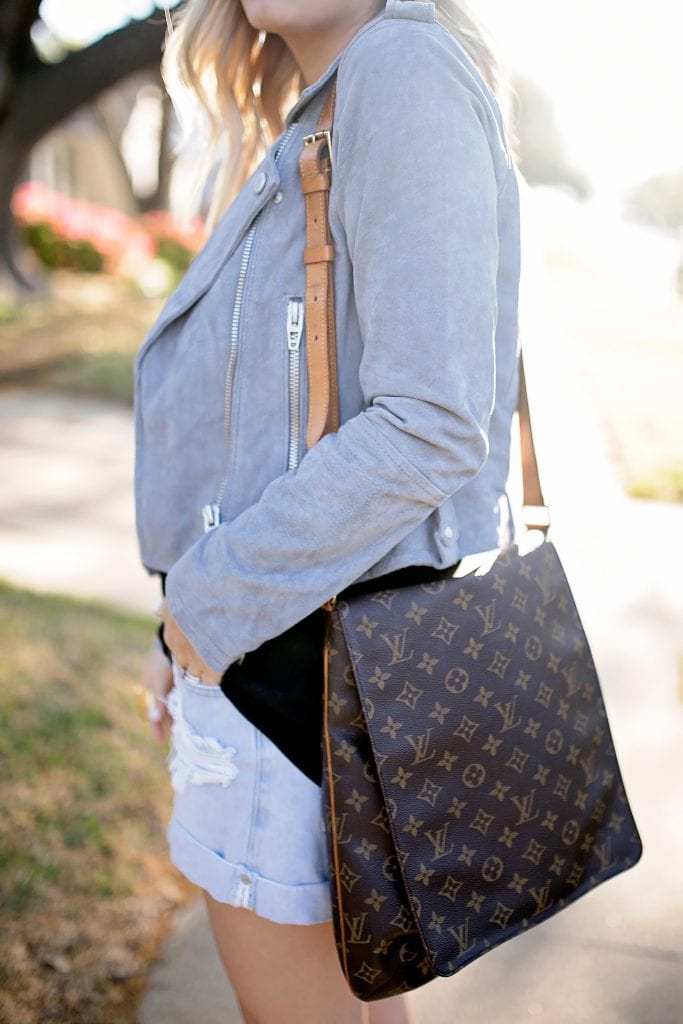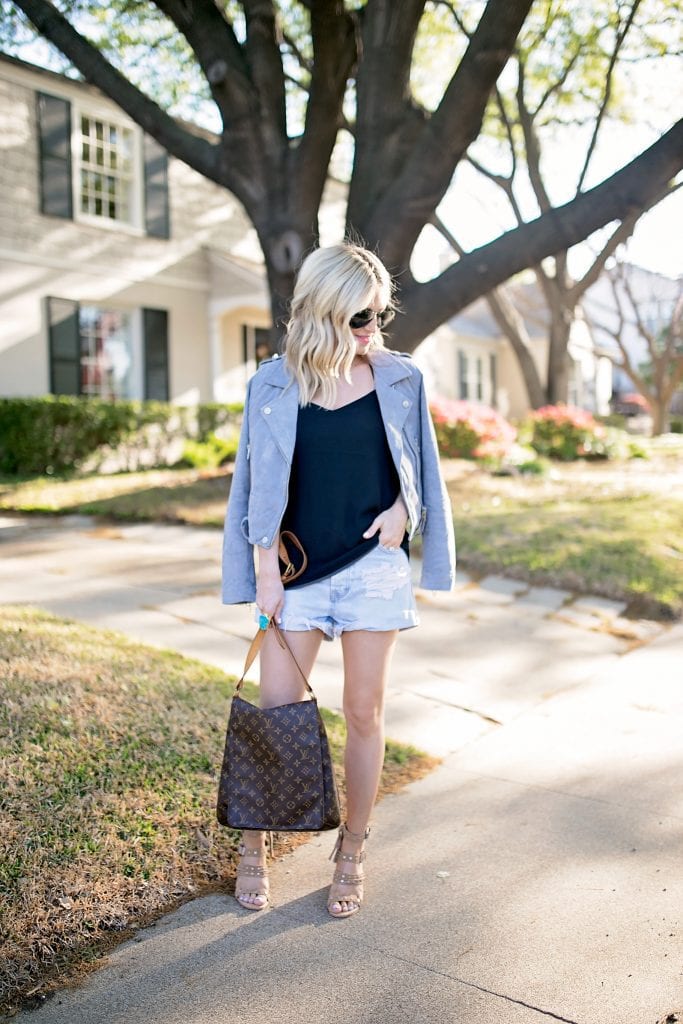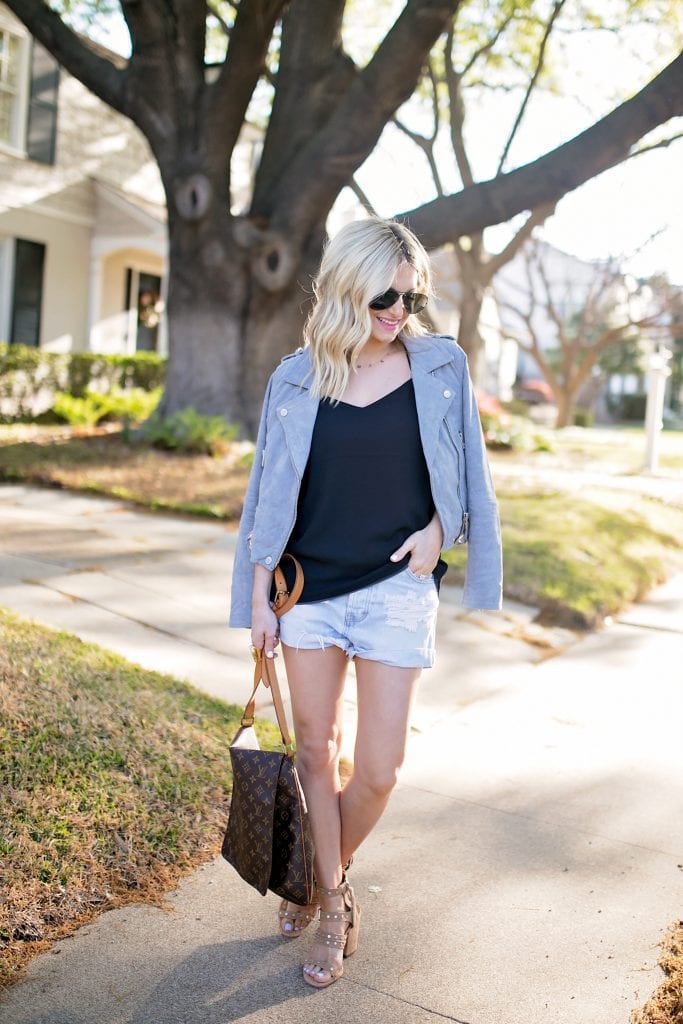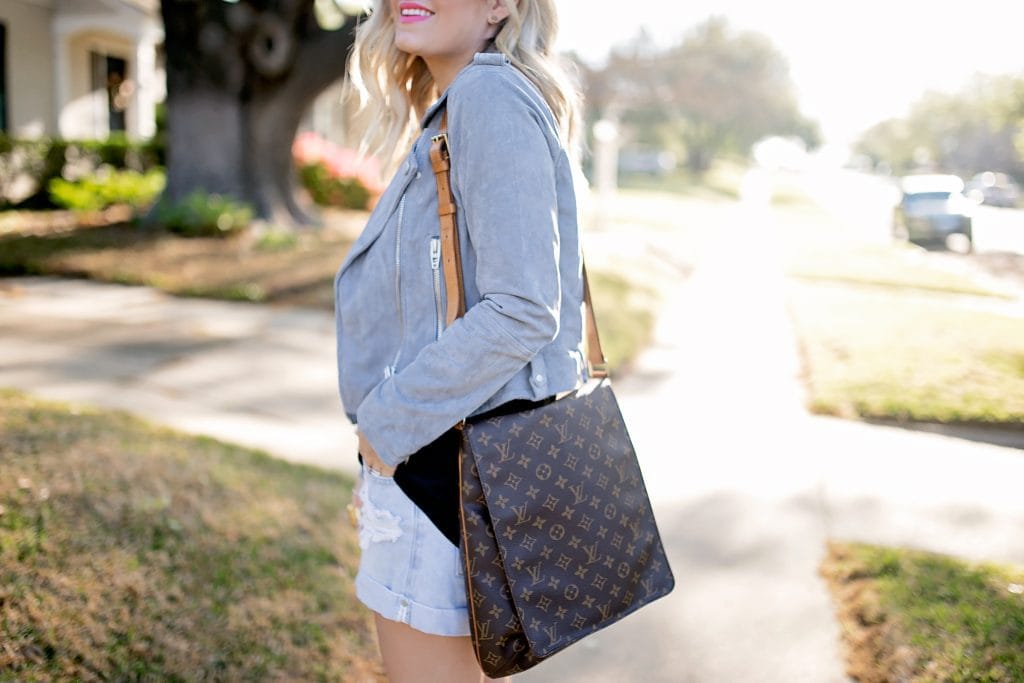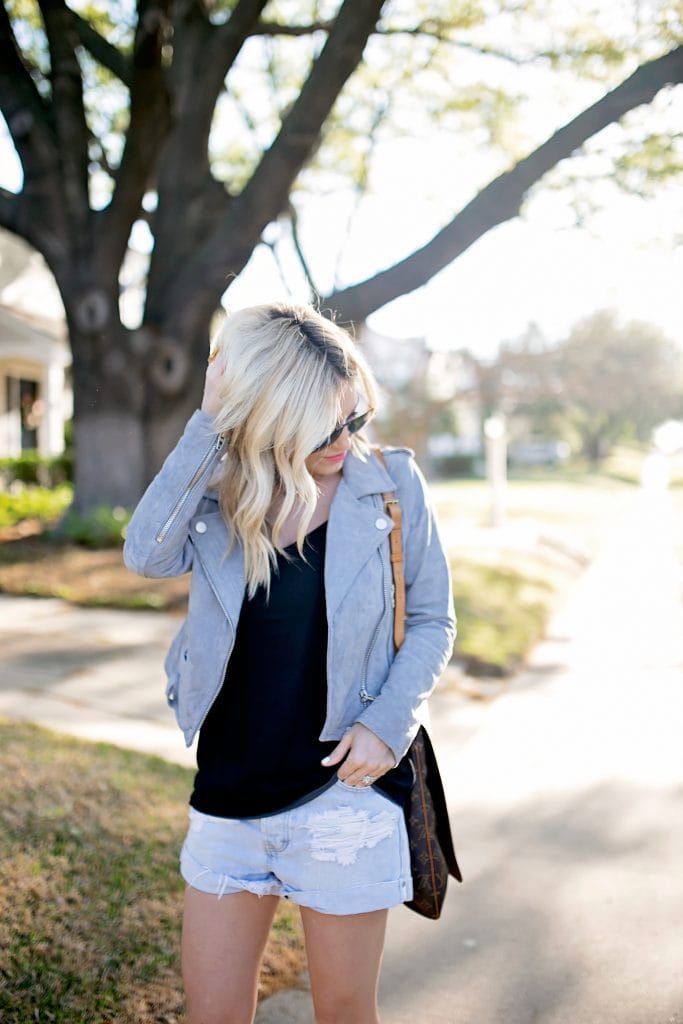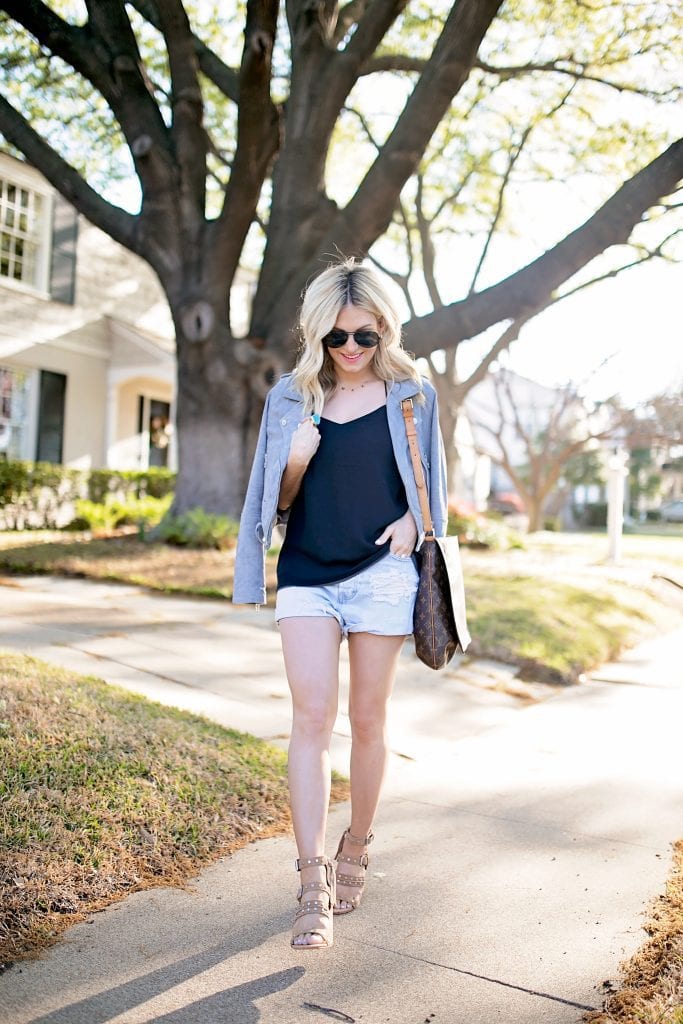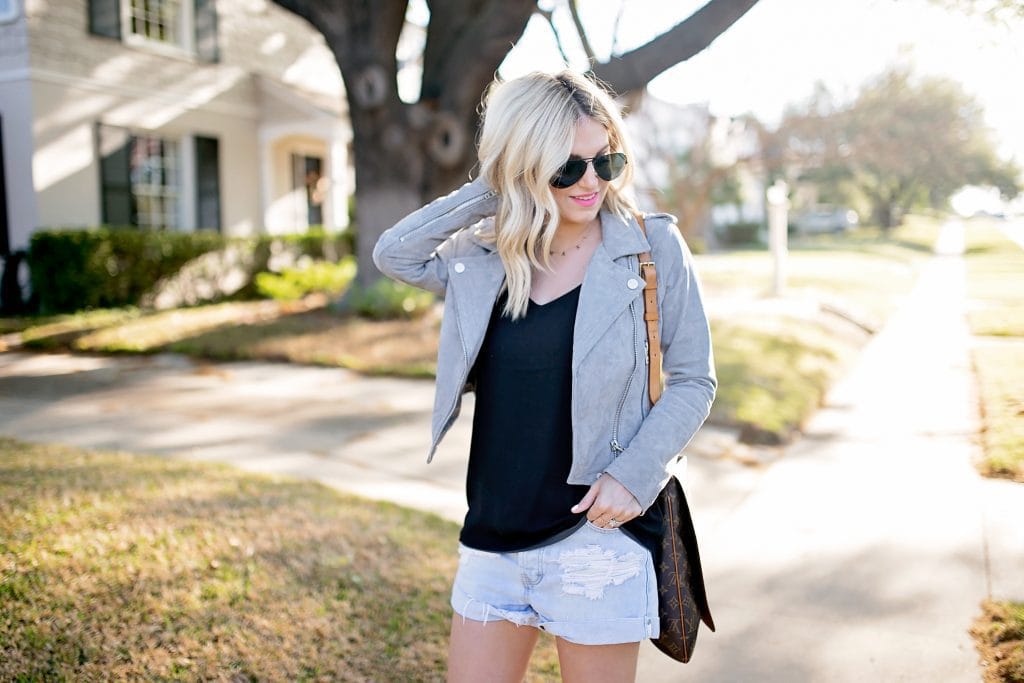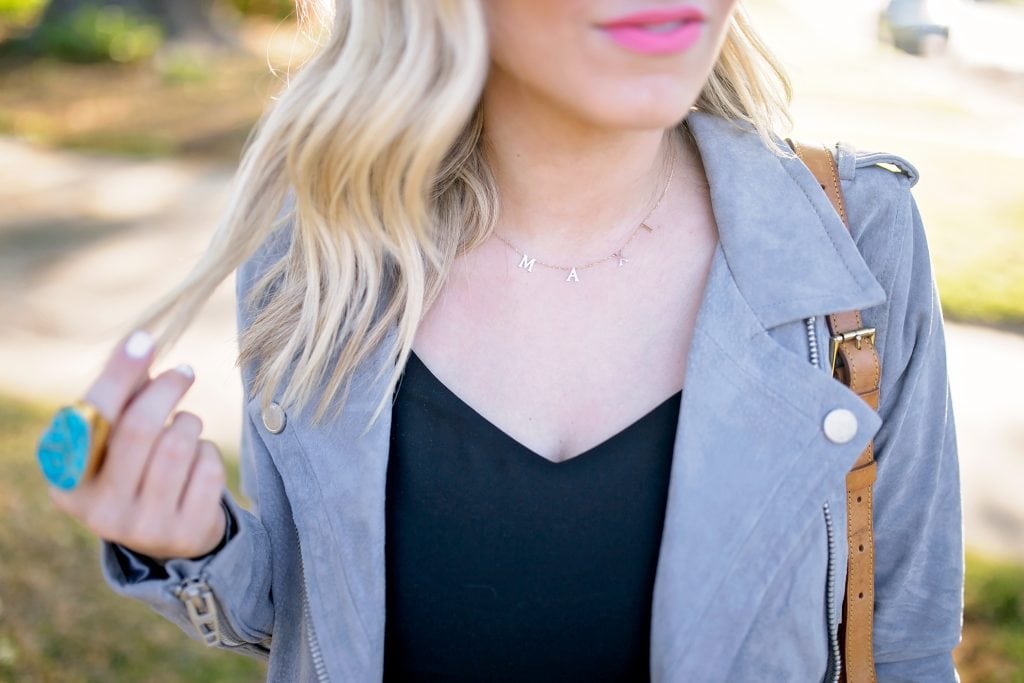 Top: Express [old], Similar | Jacket: Nordstrom | Shorts: One Teaspoon [old], Similar | Shoes: Nordstrom [shade: Taupe] | Lipstick: Infatuation | Ring: Shopbop | Sunglasses: Similar | Necklace: Lola James Jewelry [c/o] | Bag: The Lady Bag
Photography by: Angie Garcia
---
Let's talk bucket list items. I would LOVE to write a book one day. Said book isn't happening [and probably won't ever 😉 ] but Paul and I always bounce ideas around  it. He's convinced it will be a children's book because he thinks that there has to be a children's book called, "The Adventures of Maxi and Peaches."  I'm certain that's one of those things like every parent thinks their child is the "smartest." Every parent probably also thinks their should be a book about their children and their dog.
Sometimes I joke with Paul that I should write a book about all the e-mails I have received as a blogger. It's probably no surprise to you, but bloggers can receive a few hundred e-mails a day. The subjects always vary and half are brand related. However, the other half [or more] are from readers. Some are incredibly sweet and make me cry. I can't really express how humbling it is when someone takes the time out of their day to e-mail kind words to a stranger. Some are incredibly harsh and can affect me for a few days. I'll reread them and think, "Did a human being actually write that? There is no way." Some are hilarious. Seriously. Y'all are a hilarious batch of women. But for the most part, many are general questions that all women think! I always say I want to write a book about e-mails we receive because I wish women knew just how similar we all are! I think if we all understood that the girl sitting next to us is thinking/worrying/pondering the same topics we are we'd have a lot more compassion for each woman we encountered. You can be a mom, you can be a girl boss, you can be interested in politics, you can be concerned about current events AND you can be curious about what lipstick shade will make your teeth appear whiter. None of those are mutually exclusive. Reading these e-mails gives me a sense of comfort knowing that we are all just running the world together [#Beyonce] while asking one another the same questions!
So enough about how similar we all are, let's get to frequent e-mails! One of my top 5 most frequent questions is about authentic luxury and pre-owned handbags. Girls want to know where they can get a vintage handbag that is 100% authentic. I try my best to incorporate sites that I have purchased from throughout my blog, but today I can one up that request! I've got a discount to The Lady Bag, where I've gotten a few of my Louis Vuitton bags. I shared one of the bags last year here and here! This is my most recent one and when I tell you this bad boy can fit my wallet, my makeup bag, wipes AND diapers I am not lying. haha! Use code: KATEY15 at checkout for 15% off The Lady Bag. I also want to commend their customer service. Buying a handbag is a pretty big deal, and you want to make sure you are getting what you pay for. They offer a 100% guarantee that your bag is authentic. They are also a 3rd generation family-run business so there is a lot of pride and attention to customers.
Now just to end this post on a lighthearted note, I thought I'd share 4 other really comment questions I receive! Because I physically can't answer every e-mail, I'll also share my answers below!
1. Self Tanner Questions
These e-mails always make me realize two things:
– We are SMART about sun care. Skin cancer isn't worth it and I'm so glad we are so aware of protecting our skin. I cringe thinking back to high school days when tanning beds and baking in the sun all day were so common. We now lather up the sunscreen like it is candy and add in a little glow with self tanner.
– Girls are realllllly nervous about streaks. This always makes me feel self-conscious because I don't get nervous when I test a new self tanner. I've had some lovely experiences and I've had some horrific experiences. At the end of the day it all washes off! Thankfully, I don't have to go to a corporate office and try to hide said streaks on my hands – so I get the nerves, I do! I just am a little dare-devil with it when it comes to self tanner. 😉 I have to try them all! So next time you see a girl with a glow [maybe even streaks] compliment her! She's probably feeling self-conscious she couldn't get it all off of her hands, so just spread the love.
I'll have a huge self-tanner post up before summer so hopefully that helps you find the perfect one for your skin! 🙂
2. Blogging Questions
Lots of ladies are curious about starting a blog, growing a blog or even just how we make money. I have a blogging tips post here. I actually got an e-mail on this last week and the girl asked for one word to answer how to achieve growth. I am NOT the expert on this and have a lot of room to learn as a blogger. However, to answer her question, my answer is serve. There's a million bloggers in this industry. I can poke fun at it. Half the time we all look-alike. Half the time we all style items alike. Most of the time we all shop alike. It makes sense. Our job is to share style in an attainable and entertaining manner for readers. Nordstrom is attainable, hence why we all love it! But no one cares that Katey McFarlan takes photos of herself frolicking around her neighborhood looking like absurd wearing shorts in 42 degrees because that's the only time she could shoot that day with her baby. People will care if they feel your site serves their needs. You've got to be able to combine personal style, story telling and service. If the entire goal is to start a blog so you can quit your job, don't. You'll never go full-time because you'll be dissatisfied before that goal is met. If you want to meet a reader's need, do it! You'll love every single second of blogging from the *pinch me* moments like Fashion Week to the gut-wrenching e-mails. Because at the end of the day you'll feel fulfilled knowing people left your site with a need being met. So sign up for blogging workshops. Take a class at a local university [most colleges have social media marketing classes that will touch on blogging!]  Watch hours of YouTube videos! Do it with the intent to serve a purpose and you'll be so happy you did!
3. How to Dress Your Man Questions
These are the e-mails that crack me up! Some girls even send me pictures of their husbands' closets and they'll say things like, "HELP ME!" I crack up because I felt the same way. When I met Paul his closet was filled with two types of clothing: work clothing and golf clothing. I wish I could tell you all I was exaggerating for content purposes. Nope. He didn't even own a regular t-shirt to wear with jeans to dinner. In fact, he'd wear dress shirts from work with jeans from college on our date nights. You can imagine his shock when his sweet little girlfriend gave him boxes upon boxes of clothes their first Christmas together. 😉 He needed clothing, y'all! Back to the question, I wish I had a good answer. Truly. But I don't. My answer is we hit up J.Crew every single sale and I stick that boy in the dressing room until we find something he likes. haha!
4. Recipe Questions
I surprisingly get a lot of e-mails related to meals I share on Snapchat and questions about how I find recipes. I have a two-part answer. First, I have to give credit to pedicures. I'm such a busy body, always trying to cram in a to-do list a mile long. I can't tell you how much I appreciate a monthly pedicure because I'm able to actually sit, respond to text messages and organize my Pinterest recipes. My feet are held hostage, so what else can I do?! I'll take that hour and pin recipes on Pinterest so I'm not scrambling to do so before I go to the grocery store. If you are curious about a recipe, be sure to check my Pinterest because it probably came from their! Another way I get my recipes is from my Nana. For a few years I begged my Nana to write down her recipes for me. Each birthday/Christmas that is what I asked her for. She never obliged but she would make Forever 21 runs like nobodies business and send a present filled with clothes. My Nana is SO good at shopping Forever 21. I was always excited about the dresses, but a little bummed because I thought I'd never get her recipes written down. Fast forward to our wedding. The evening of our rehearsal dinner my Nana told me she wanted to give us our wedding gift. I sat down at a table with her and opened a box. She had typed out all of her recipes AND written out how the recipe was in our family. I sobbed for a good 15 minutes and couldn't stop. Other than my engagement ring, it was the best present I ever received. That binder is probably one of my most treasured possessions and I love making dinner from it.
Now that I have talked your ear off about e-mails, you're probably thinking you have to get back to your inbox at work! 😉 Thank you all so much for spending a few minutes with me on COF!