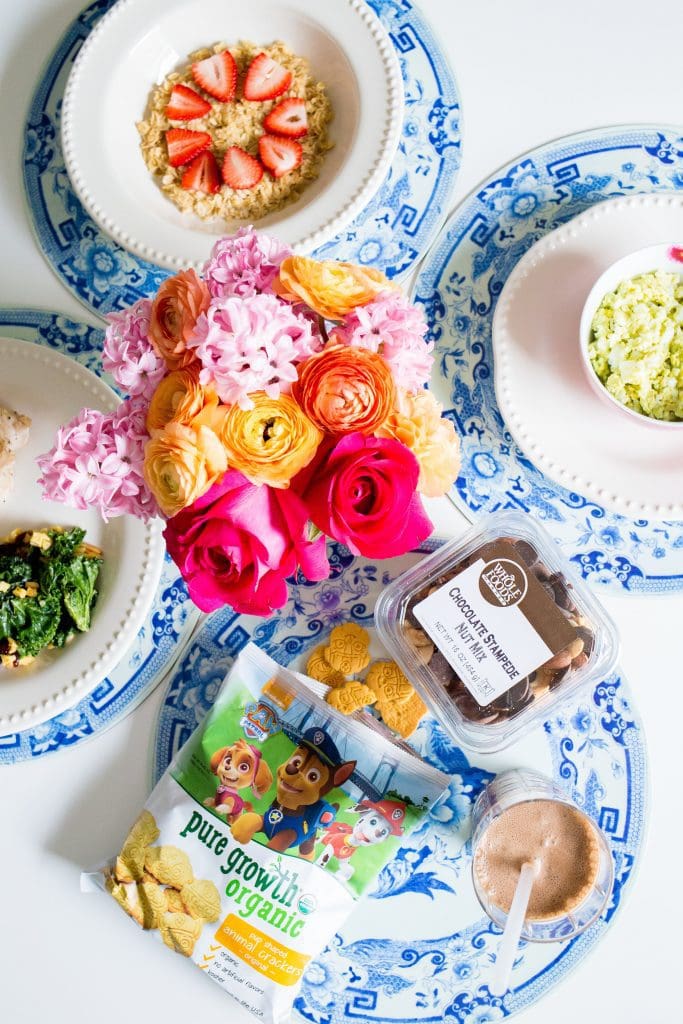 My favorite type of blog post to read as of late has nothing to do with fashion, beauty or home decor. It has to do with my other favorite thing… food. 😉 I've been so interested in food diaries as a way to get inspiration for meals! Since giving birth, I haven't craved specific meals. I'm always hungry of course, but nothing sounds amazing so I've been browsing food diary blog posts to get some inspiration for meals.
I thought it would be fun to share what I eat in a typical day along with some of my favorite recipes for those meals. I also want to say that because I'm breastfeeding these meals aren't always the same. I haven't dieted yet since giving birth, I just try to eat healthy meals and then snack when I need to and I don't deprive myself. If I crave a burger, I eat a burger. If I notice my supply is lower, I eat carbs and drink a glass of milk.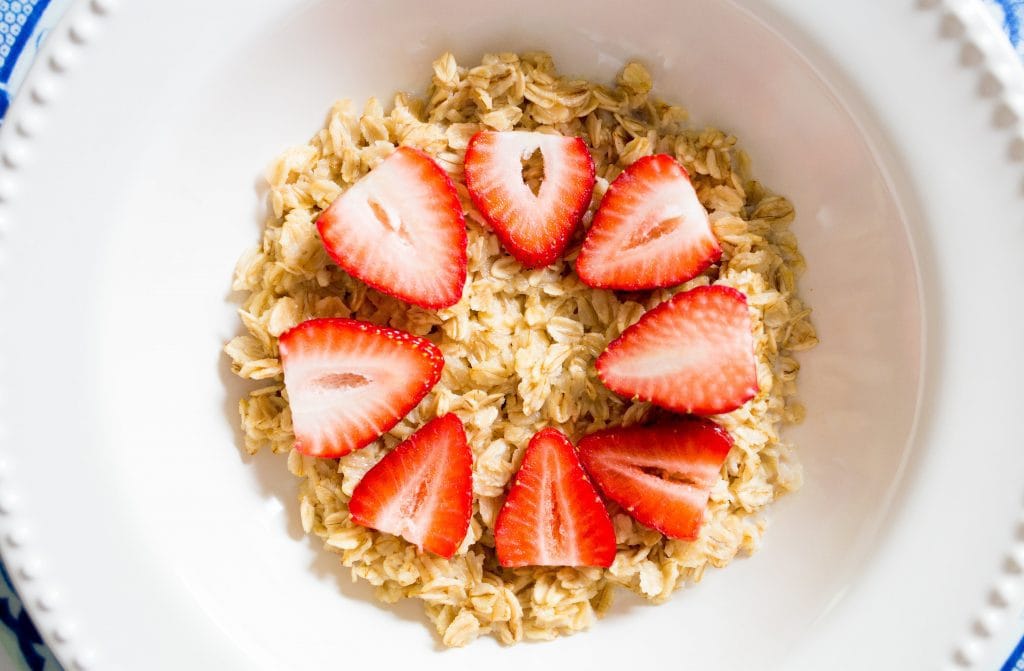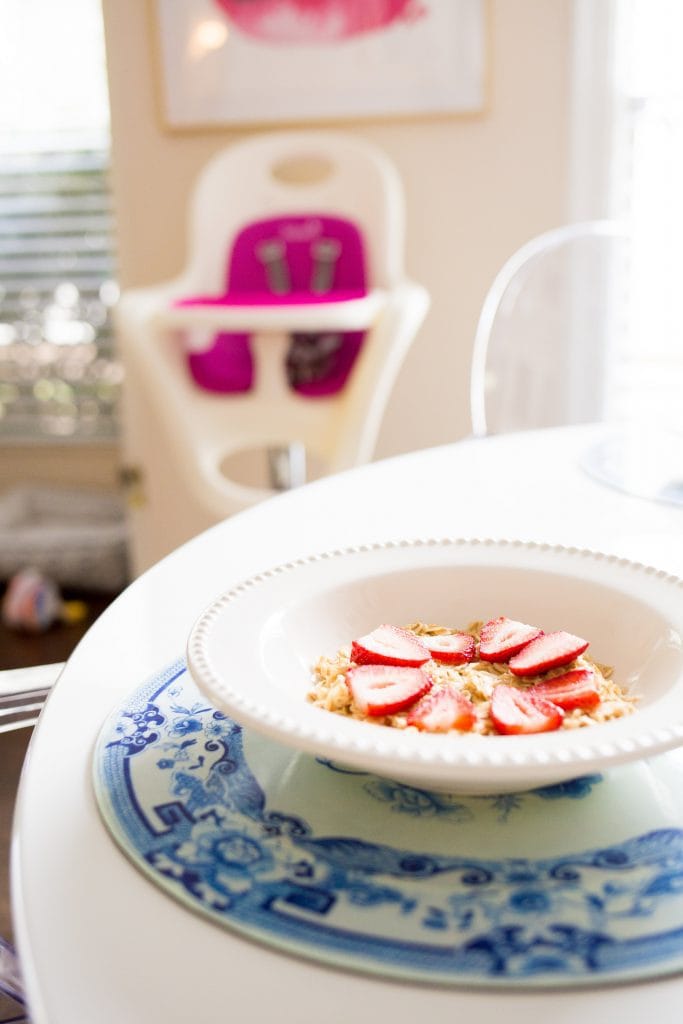 Breakfast
For breakfast, I typically have a cup of black coffee with oatmeal. If I want something extra in my coffee I put cinnamon in it as that's a great little metabolism boost and gives some flavor without a ton of sugar-filled coffee creamers. I use regular oats and almond milk to make my oatmeal. I'll top my oatmeal with berries or go for almond butter with cinnamon. If I'm tired of oatmeal, I love to make avocado toast on Ezekiel Bread. I'll also sauté cherry tomatoes in oil with salt and pepper and put that on top of the avocado. That's more of a Saturday morning meal since it takes a little extra time. If I'm running out the door for breakfast I'll have two Van's Whole Grain Waffles and top with almond butter. I eat breakfast pretty early, around 6 a.m. so I'll have a protein shake around 10 to tide me over until lunch. I haven't found a protein I'm really loyal to just yet, so I'm always switching up brands and trying new ones.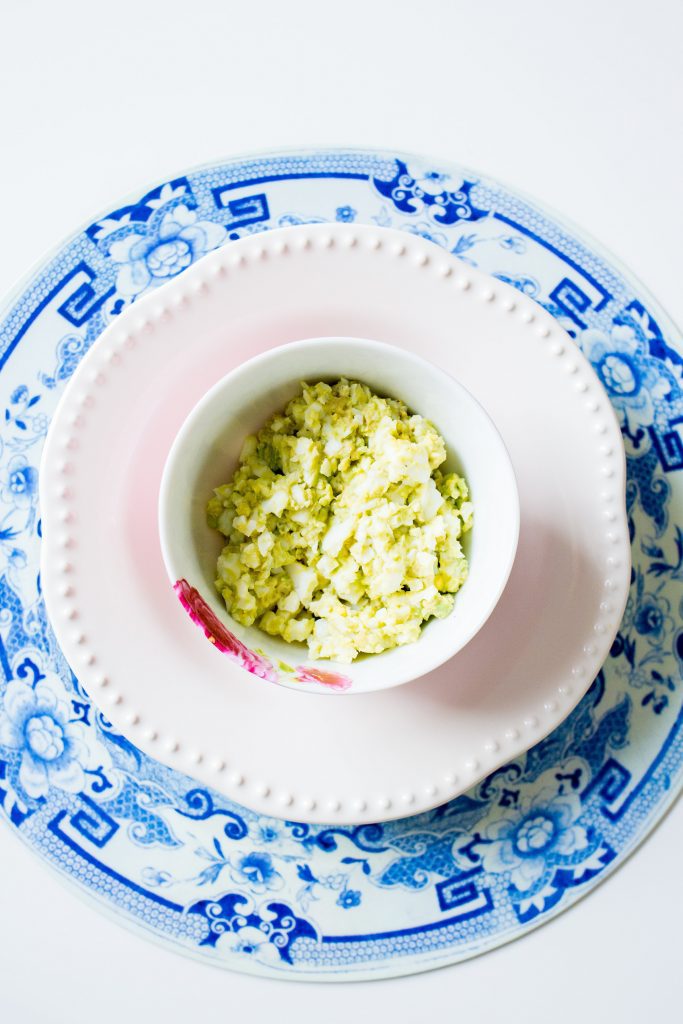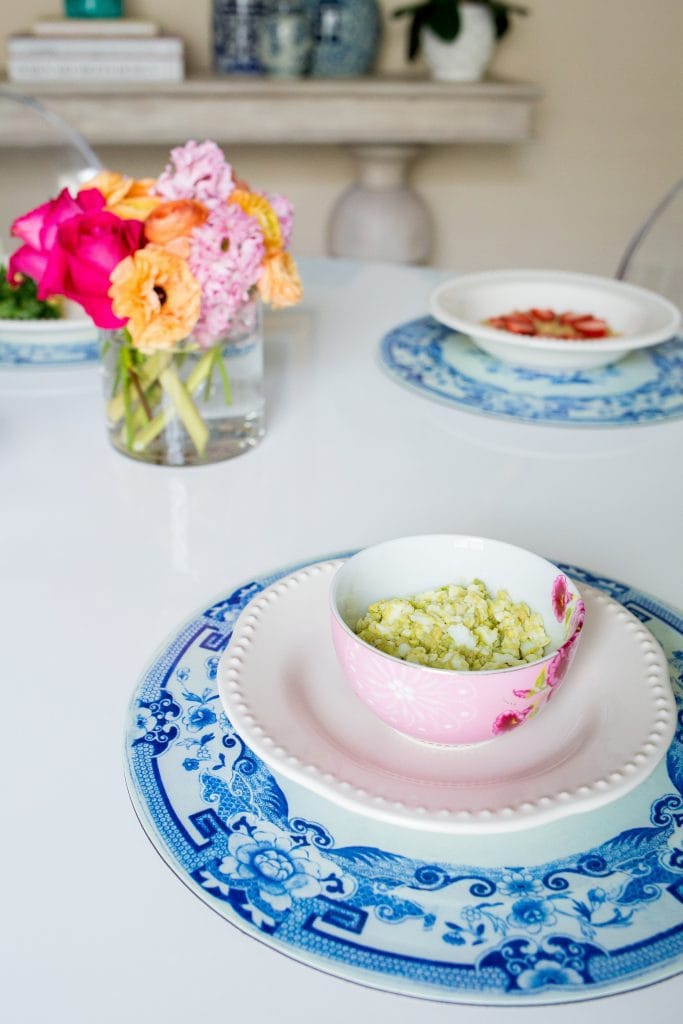 Lunch
For lunch I either eat leftovers from the night before or my favorite Whole 30 meal: avocado egg salad. This is SO easy to make and you can add in a bunch of different things. For the avocado egg salad I take three hard-boiled eggs and half an avocado. I only use one whole egg and use the egg whites from the other two eggs. I mash the egg up using a food chopper and then combine half the avocado. I top with pink himalayan salt and pepper. This is great if you add one strip of bacon or a little green onion as well. I really try to listen to my body with carbs, so if I feel good I just eat it plain but if I need more I'll add a slice of toast with this.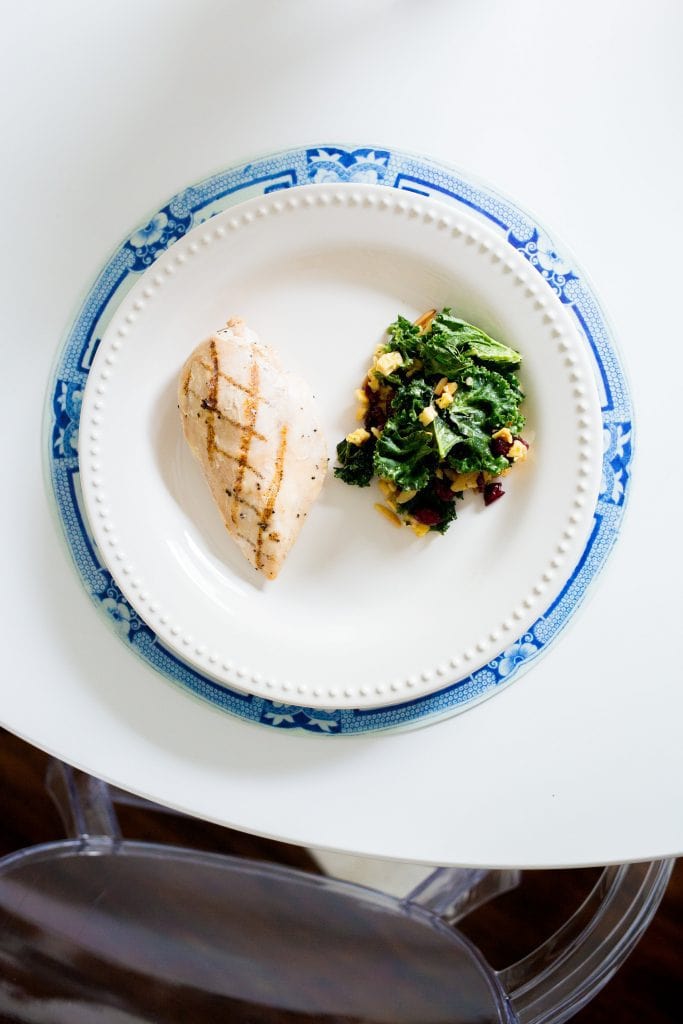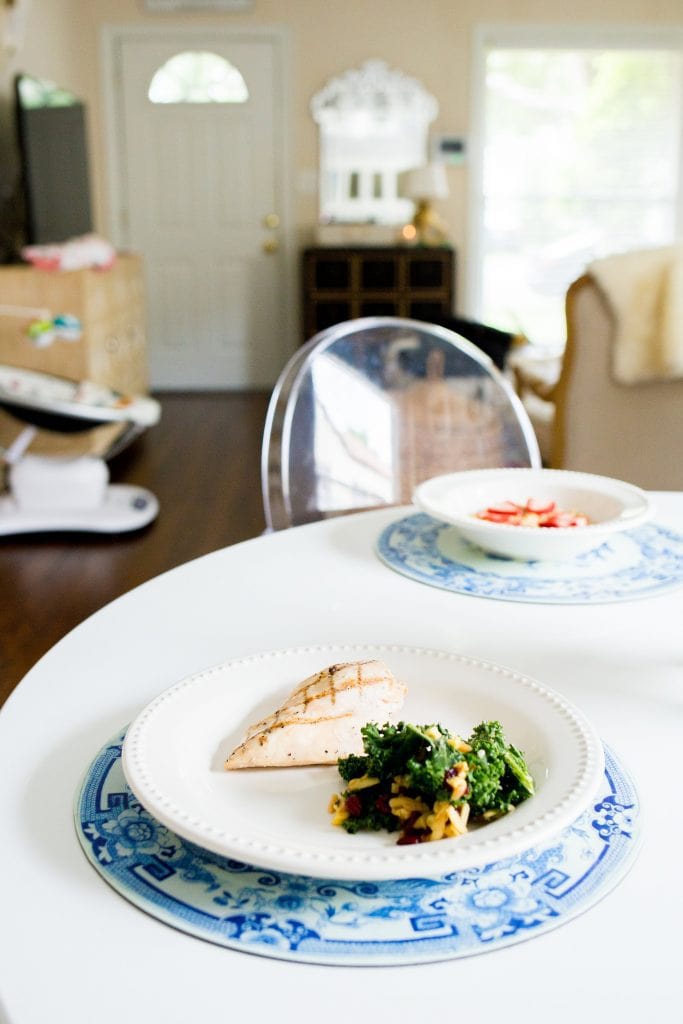 Dinner
Pictured is my favorite meal from Whole Foods! Dinner is always different, but I'll share the most common things we have. When I am running low on time, I'll pick up this grilled chicken from Whole Foods with their Kale Salad. This Kale Salad is my favorite and has cranberries and sliced almonds in it!  In general, I like to make Whole 30 meals for dinner as I can eat off of them days later and feel good about it. One thing I love to do is just put chicken in a crockpot with salsa and top it over sweet potatoes. Another thing we always have for dinner are zoodles. I'll pick up different zoodles from Whole Foods [I know I could make them but #newbornlife] and I'll cook ground turkey, add in pasta sauce and toss with the zoodles. It takes 10 minutes to make dinner and tastes wonderful! I also like to make cauliflower pasta which I got from The Style Scribe. Lastly, if I know we are going to have an insanely busy week I'll order from Freshly. No, this isn't sponsored by them! haha! They do not know I exist on this planet, my mom actually got me hooked on them. She orders from Freshly because she is the only person at my parents' house that eats gluten-free so it's easier for her to just have her separate meals. Check out my Pinterest board where I pin a lot of Whole 30 crockpot meals as well!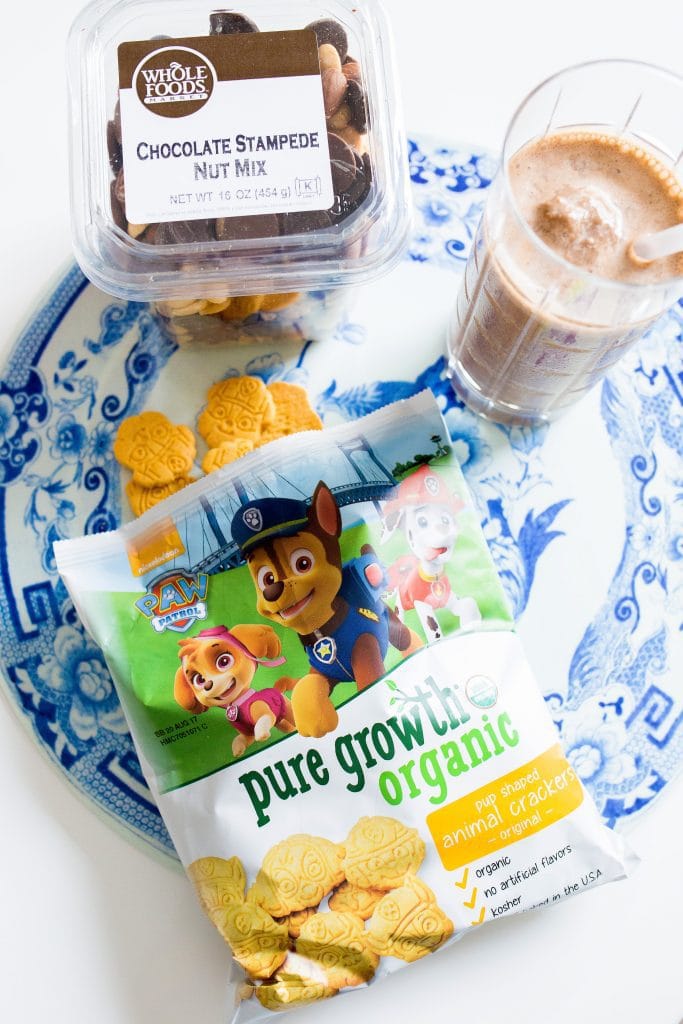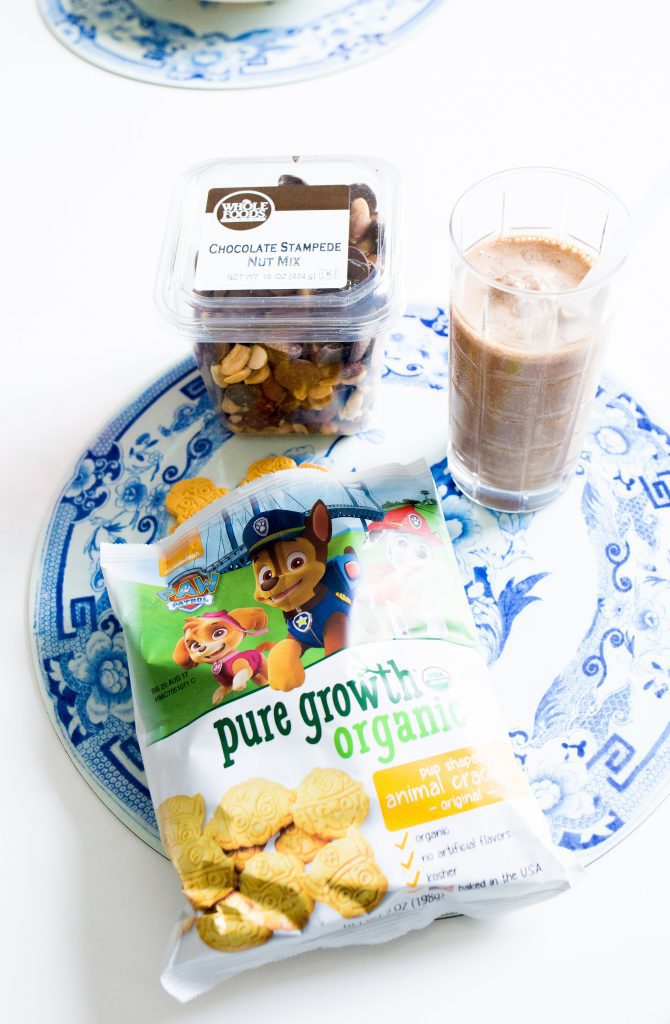 Snacks 
Snacks are the best part of eating right? Here are a few snacks I munch on throughout the day!
Pure Growth Organics: I have to keep some sort of snack on me in my diaper bag otherwise if I get too hungry I'll end up at a drive through. Breastfeeding hormones are so crazy and the hunger is far more intense than pregnancy hunger ever was. I feel better eating these as opposed to just regular old animal crackers, plus they taste SO good! The cinnamon brown sugar breakfast bars are the best!
Chocolate Stampede Mix from Whole Foods: I like to keep this in our pantry in case I have a sweet tooth. A handful of this keeps my sweet tooth at bay. It's a mix of nuts with dark chocolate pieces and white chocolate. You get the perfect balance of sweet vs. salty and just a few bites helps curb any cravings.
Protein Shakes: I'll have one protein shake a day around 10 in between breakfast and lunch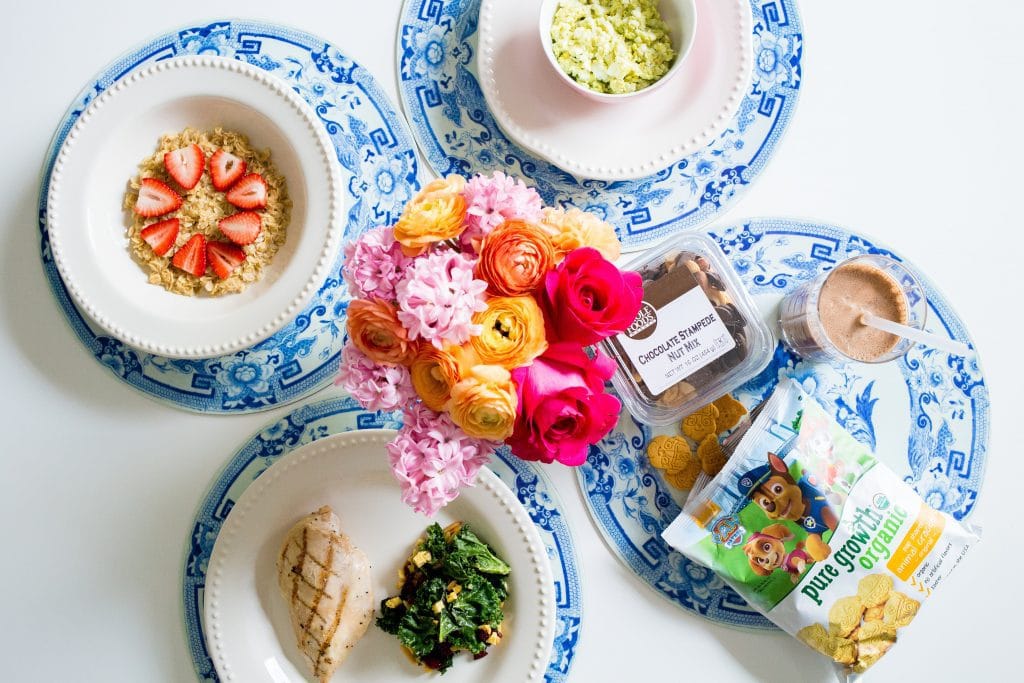 I'm not a dietician by any means, so this definitely isn't perfect and I don't follow this to a tee every single day! If a girl wants a cookie, a girl wants a cookie! And to be honest, the ICEE machine is the ONLY reason I go to the movies. Not even joking. I'm a very black and white person, but when it comes to food I think a gray area is far more attainable and leads to greater success for me. I just try to make up for it with lots of lemon water throughout the day and by avoiding sugar when I can like with coffee creamer!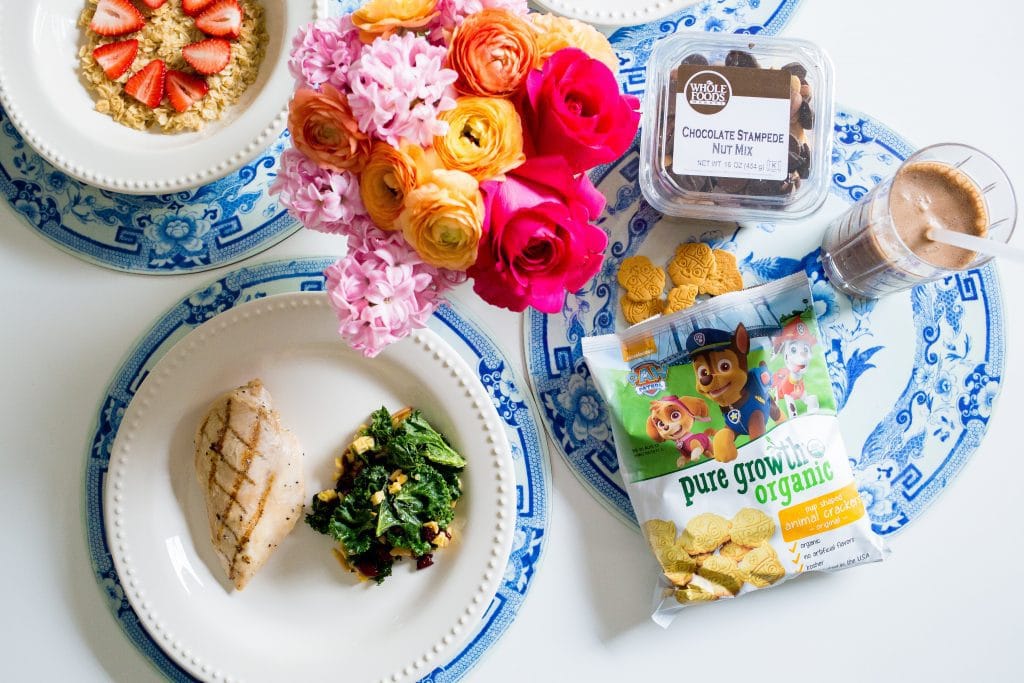 So now I want to hear from you! What are your go-to meals throughout the day?! I'm telling you, I LOVE hearing/reading about this stuff!
I hope you have a great day and thank you so much for reading!

Photography by: Madison Katlin
Place Mats: Ballard Designs