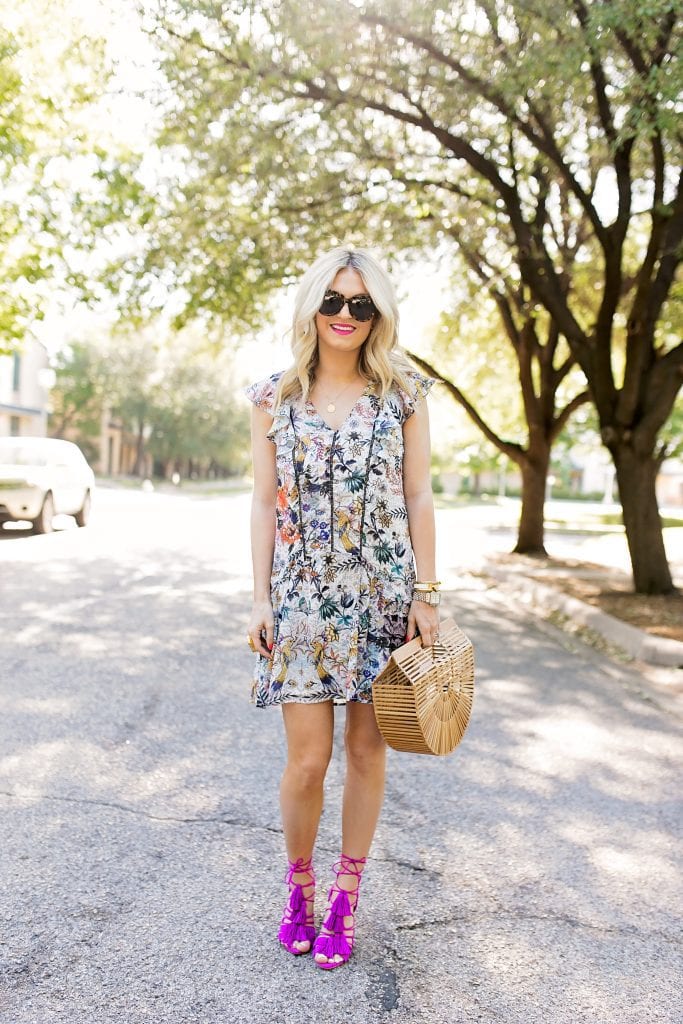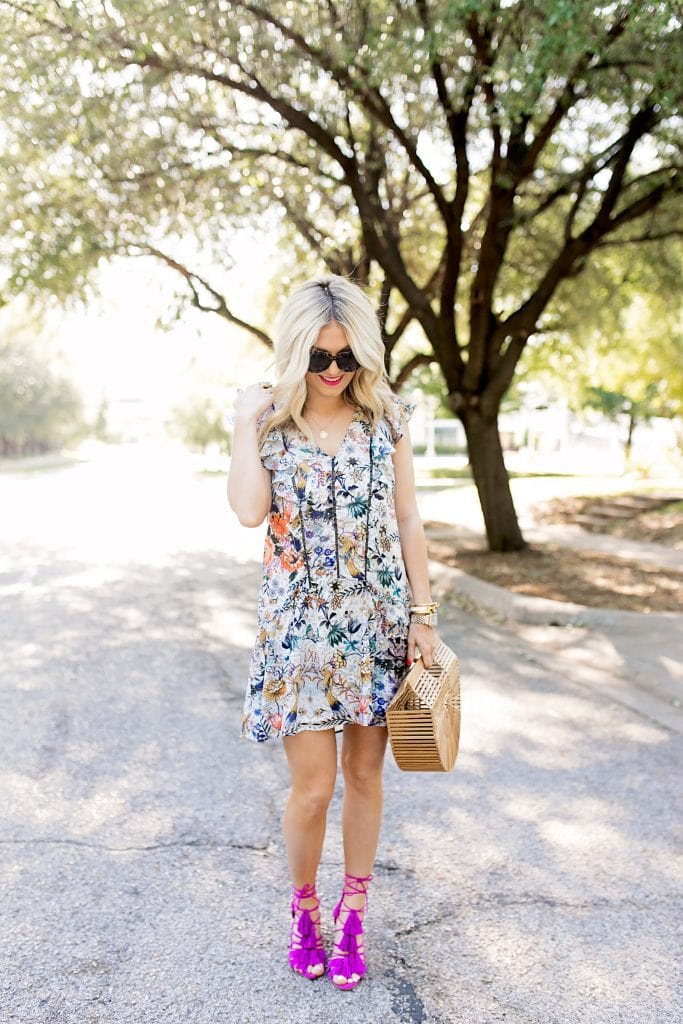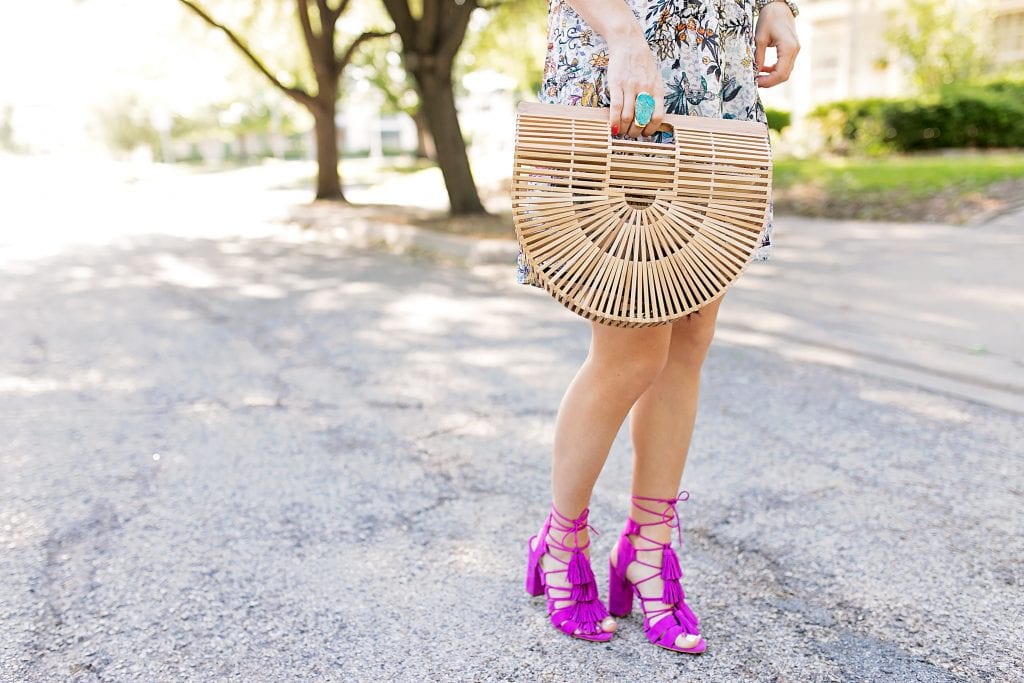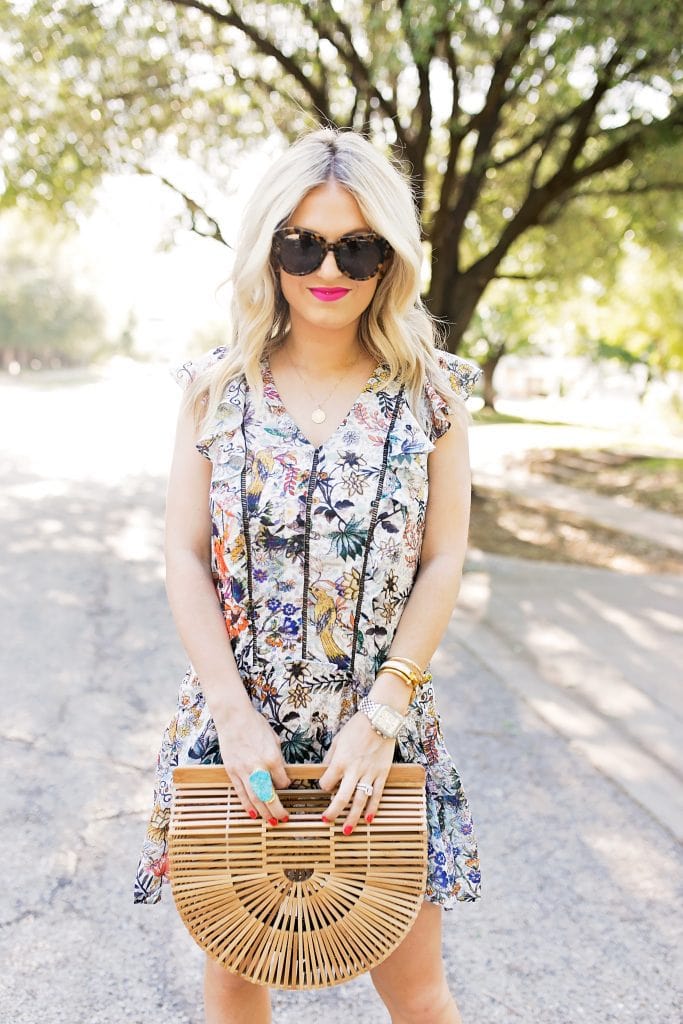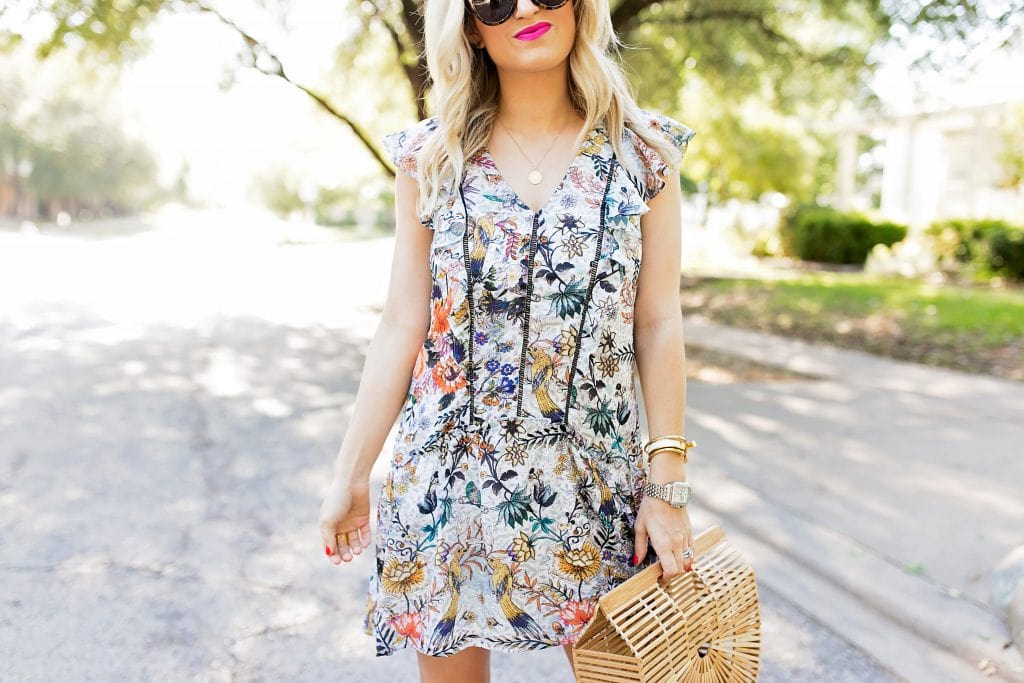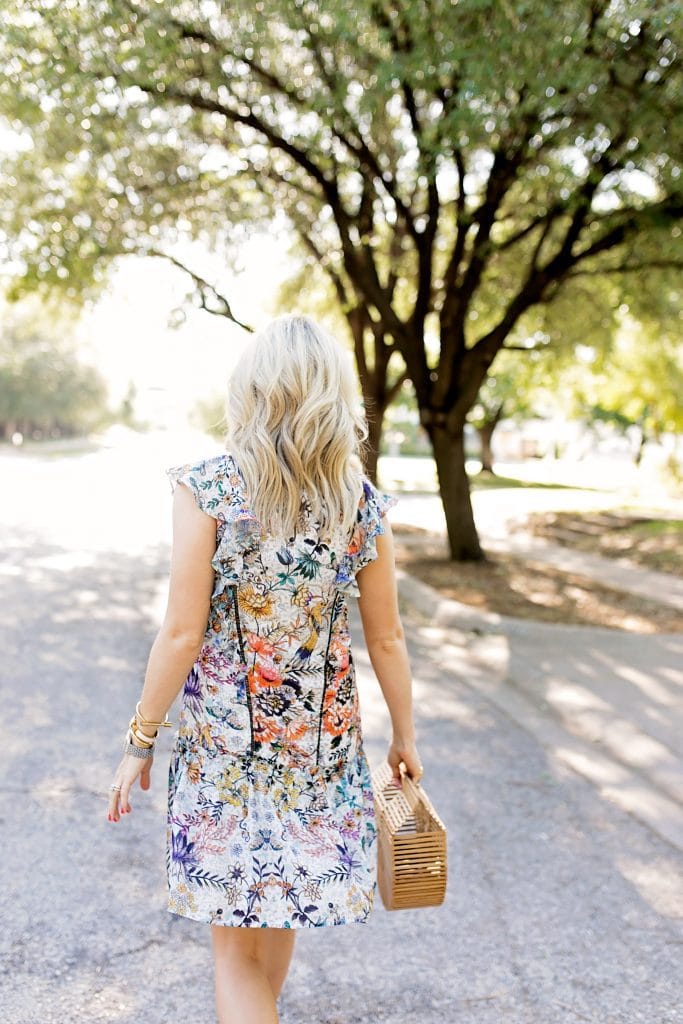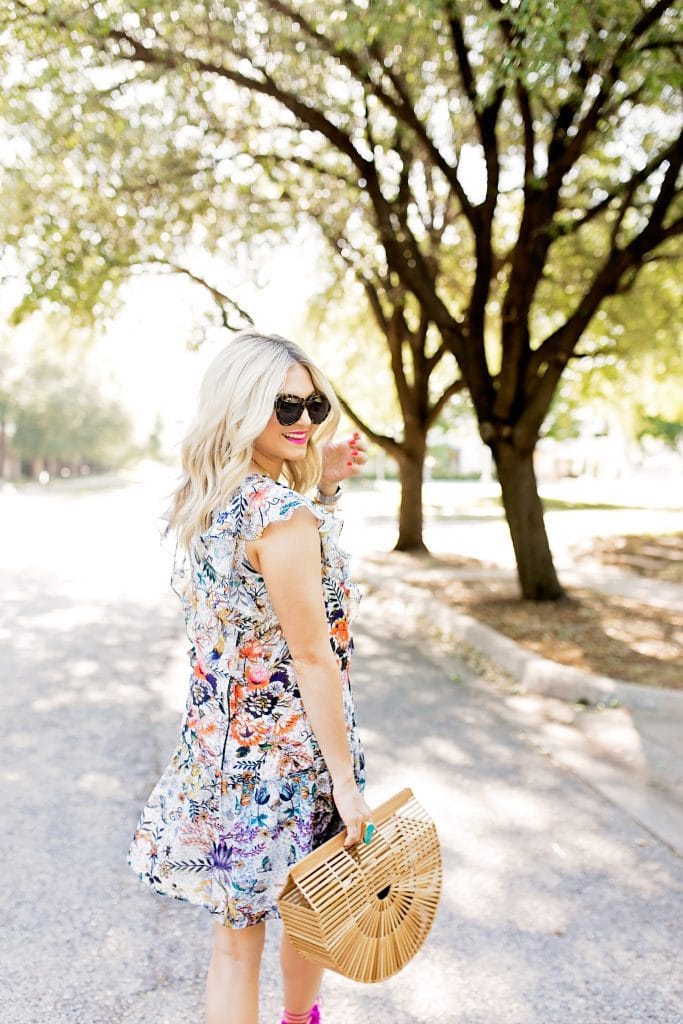 Dress: Nordstrom | Shoes: Shopbop | Bag: Cult Gaia | Ring: Shopbop | Necklace: Moon & Lola [c/o] | Lipstick: Bella | Sunglasses: Karen Walker
Photography by: Angie Garcia
---
I wanted to end the week on a high note by continuing my girlboss series! I've done a few blog posts on blogging tips, but wanted to share a few different tips that have helped me over the past year. I hope you find a trick or two that you can try!
1. Read 3 Publications a Day
The best way to create great content is to be inspired by the right thing. My biggest tip is to read 3 publications a day that aren't blogs. Whether you read The Wall Street Journal or The New Yorker, you are helping your creativity far more than if you read other blogs for inspiration. I say read blogs to wind down. I love to catch up on my favorite girls' pages and see what outfits they are wearing. It does inspire me to get dressed! However, I don't use blogs as inspiration to write. If a blog post inspires you, chances are you may make something similar. If you write a blog post that's already been written, your SEO is going to be low from the get go and people won't find your blog as easily. It truly is difficult to create content that hasn't been seen before, so my best trick is to get inspirited outside of your industry and work with a good SEO company. Subscribe to 3 publications and browse them here and there throughout the day. As suggested by indexsy, if you're not comfortable with sourcing backlinks yourself, you can consider buying backlinks online for a faster and more seamless process. High-quality backlinks also signal to search engines that your content is authoritative.
2. Find What People React To
If you blog, you are probably a creative person and it's easy to get hung up on aesthetics. You want your blog images to be cohesively edited and you want your Instagram to have a "theme." However, as blogging becomes more and more saturated people respond to redundant perfection less and less. I'm not saying to post random photographs and not be professional or artistic, I'm saying to listen to your readers. If your readers love seeing what you cook for dinner, share that! If your readers like mirror shots of your outfits, incorporate that. I love aesthetics so if it were up to me, I'd share only professional photos 24/7 on my Instagram feed. However, my social media is for readers and they like to see real life photos as well! I try to incorporate a balance and cater to what readers want as I've found it will always provide longevity in readership. This sounds like a simple trick, but it's one I think we don't listen to enough [myself included!]. We look at bloggers we admire and think, "I want a feed that's aesthetically beautiful!" But when that doesn't perform well we have to look at the why. Your niche isn't her niche, so cater to yours!
3. Don't Only Have "Me-Centered" Content
When writing any blog post you have to ask yourself, "Why would people care?" It's so easy to see the success of another blogger and think, "Great, I'm going to do the same!" But that person has built their audience and their brand, so you have to recognize how to build yours. In general, people go on social media/blogs for one of two reason: they need inspiration/help or they are bored. No one is going to my Instagram because they HAVE to know what I'm doing at 7 p.m. They are on my page because they are probably waiting on their child's soccer practice to end and they are bored or they may have a question about where an item was from. With the full understanding of why most readers are on my social pages or website, I then have to think what I can do for them. Me-centered content simply doesn't perform as well or help SEO. Sharing tips, tricks, other links and other blogs not only gives people an array of inspirational links but it also circulates your site. Did you know people are more likely to share a Facebook post if it's a link to an external site? For example, someone is more likely to share your Facebook page if you are linking to a third-party post you love. When someone shares that, your content is in turned being shared. Create content that serves readers and shares other individuals, it will help you grow more than you would ever think!
4. Update Old Posts
Install Google Analytics on your site and use it to see what your top posts are and where your traffic comes from! If you have a post from 2 years ago that is your most pinned post, be sure to update it! When someone new comes to your site you have about 10 seconds to keep them there. If they see the post isn't relevant or is linking to broken [expired] links they will leave and not browse around your site. This is definitely time consuming, but worth it to cater to new audiences!
5. Invest in Educating Yourself
The absolute best thing you can do as a blogger is educate yourself. Industry trends change. WordPress updates. New camera lenses are launched. It's important to concentrate on those trends evolving so your site can stay relevant. Blog workshops are great ways to analyze the areas that your business or hobby needs to improve, all while motivating you to create new content for your niche. It's also a great way to step away from your daily to-do list and find the areas you need to focus more on. For instance, cybersecurity is an area that's always forgotten in blogging. Once, my blog was attacked by malware and I didn't know what to do.
Have a wonderful weekend, thank you so much for spending your Friday with me!