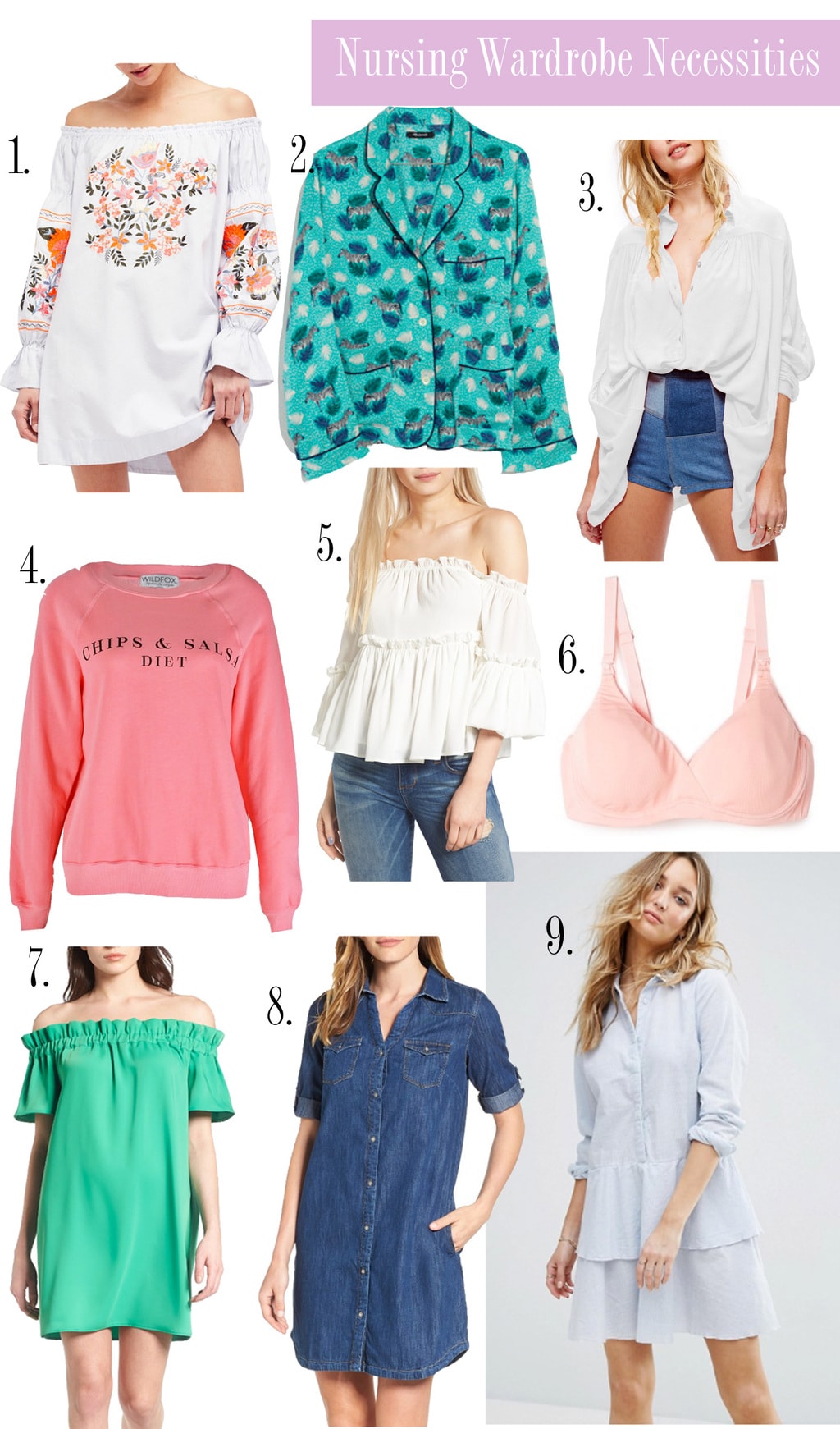 1 | 2 | 3 | 4 | 5 | 6 | 7 [comes in 10 different shades!] | 8 | 9
---
 I've gotten a lot of requests to share some of my favorite pieces that make nursing life a lot easier! I'll be honest, I'm not a huge fan of simple button-up blouses. So many girls look SO chic in them and I can't seem to pull it off. My tops just need a little somethin' somethin' extra! I thought it would be fun to round up my go-to options as well as some dresses. I've honestly found for me that when it comes to dresses, off-the-shoulder looks are easiest for nursing. This dress is perfect and comes in 10 different shades- I bought yellow! This is my favorite nursing bra and I have tried every single one there is. I cringe thinking at my receipts.
Lastly, you might be wondering why on earth there is a Wildfox sweater on here! If you are pregnant, buy one! Buy 5. Ask for 10 as a push present! lol [Kidding, but in all seriousness I would probably die of happiness if I had 10]. Wildfox sweaters are SO incredibly soft and can be easily moved up or down to nurse quickly. I wear these while I'm home with Maxi. I got a Wildfox sweater for Christmas that is red and says "Merry" on it. I wore that thing so much I wore it to the hospital when my water broke. Nothing says excitement like wearing your Christmas sweater to the hospital 3 days before Valentine's Day! haha. I still wear it in May. It's by-far the easiest top I have to nurse in. My sister had this Chips & Salsa one and I tried to steal it from her on Mother's Day. At first I asked nicely if I could borrow it. She said no. I explained I was wearing a Christmas sweater to Target on the reg and it was kinda embarassing. She didn't seem phased. Then I pulled out the sister card, told her it was Mother's Day and I give her all my clothes so the least she could do was let me wear it. That didn't go over too well. 😉 So naturally, I ordered it on the way home from lunch at my parents' house. Happy Mother's Day to me! haha!
So whether you bottle feed, breastfeed or have no child to feed I love these tops as an addition to your wardrobe! Do you have any favorites from the loot?!