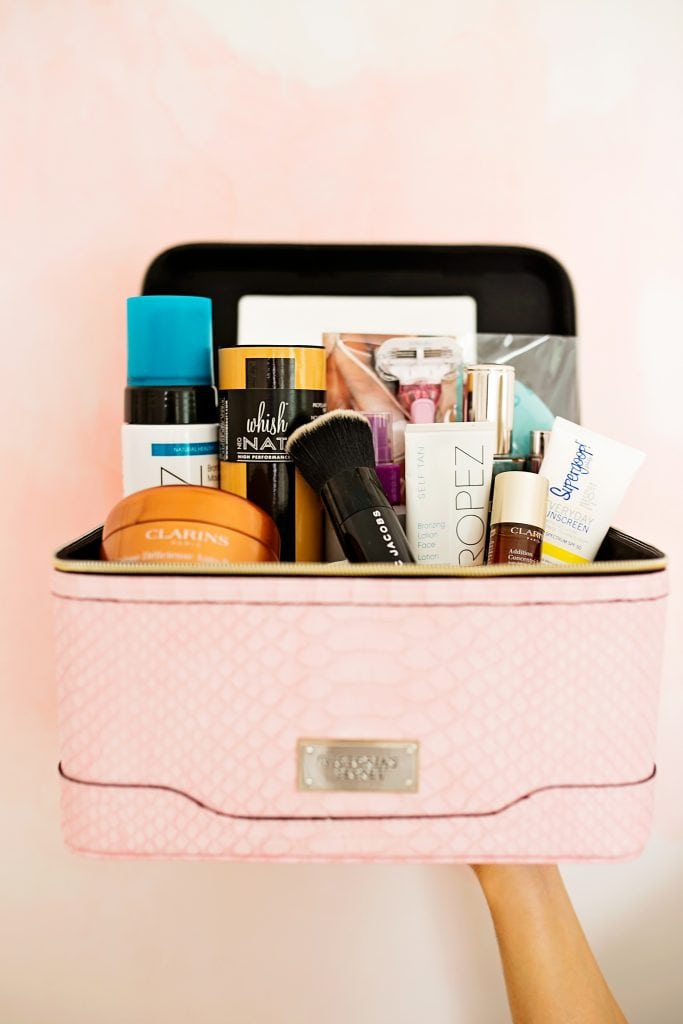 [bag: Victoria Secret]
It's almost time to grab your bikini and head to the pool, but before you do that let's talk about protecting your skin. Your skin is the largest organ on your body and is the catalyst to so many health issues. Did you know that you can spot MOST illnesses through your skin first? We want to keep this organ as healthy as it can be and the first step is with sun protection. I cringe thinking back to being a teenager and just BAKING in the sun all day. Now I lather on sunscreen, wear a hat and relax under an umbrella half the time. But, I personally enjoy having a little color on me and that's where I have fun with self tanners.
If you've followed me for anytime now you know in the summer my mom and my sister do not even look related to me thanks to my mom's olive skin. My mom and sister can step outside for 15 minutes and their skin turns 50 shades darker. But my sweet, tan mother married a Swedish man [cue the blonde hair] and so my skin pulls closer to his tone! Because of this, I actually have neutral undertones which means I can get away with a lot of different self tanners. If you aren't sure what undertones you have, go get your makeup professionally done! Or ask next time you get your makeup done for a wedding! Someone that professionally does makeup for weddings can read undertones quickly because that's their job! They'll tell you so much about your veins, your undertones and what colors you pull. If you're too cool, some self tanners can make you look orange. And dependent upon your undertones, your spray tan pulls green or violet hues.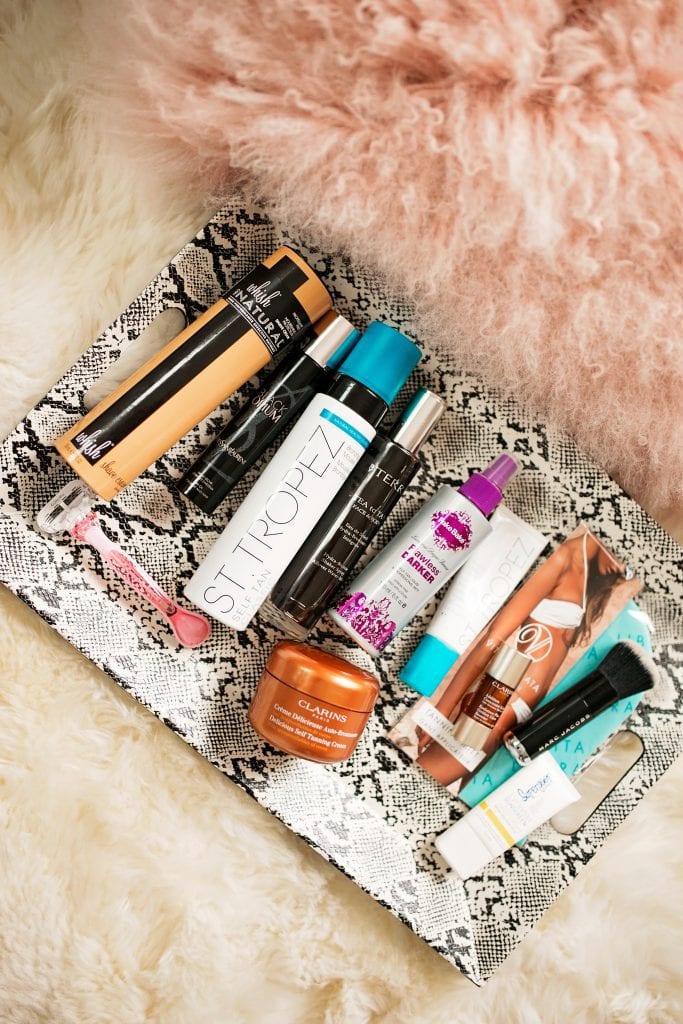 If you're a cool skin tone, you'll have blue veins and more pink in your cheeks! With that, you'll want a self tanner that has more of a green base.
If you're a warm skin tone, you'll have green veins and you turn bronze before you burn. With this skin tone you'll want self tanner to give you a violet base.
If you're neutral like me, you have both colors in your veins, a milky complexion but you tan easily. My mom and sister are warm which explains how dark they get.
The self tanners I've rounded up below are the most neutral in terms of bases. DHA is the active ingredient in self tanner that allows your skin to look darker, and it's actually clear. So if you try to search what the base color is of most self tanners, they will say they don't have one. However, if you spray a self tanning mousse out on your hand you might see an immediate green or violet hue. That will help you know what will blend best with your skin! Also, because DHA is clear there isn't really such a thing as an "orange" self tanner. I know that is everyone's worry, but it's more about the quality of products in the self tanner. DHA in one bottle is the same as DHA in another. So whether you get a $100 bottle of self tanner or a $10 bottle, it all has the same chemical that produces the color. But dependent upon how your skin reacts, you personally may need a nicer bottle of self tanner. For example, if you're really olive you can probably get away with a drugstore product. If you're more fair, you may need to splurge a bit more. More expensive self tanners have a more balanced concentration of DHA. If you're really fair, you need that balance in the chemical makeup so you don't react poorly to it. The other big reason you may look orange is because of skin build up and lack of proper exfoliation which I'll share more about below. The self tanners below should really be able to work with either skin tones, as well as neutral tones like me. Undertones and base colors matter a little bit more when you get a professional spray tan and someone is mixing your exact color to apply.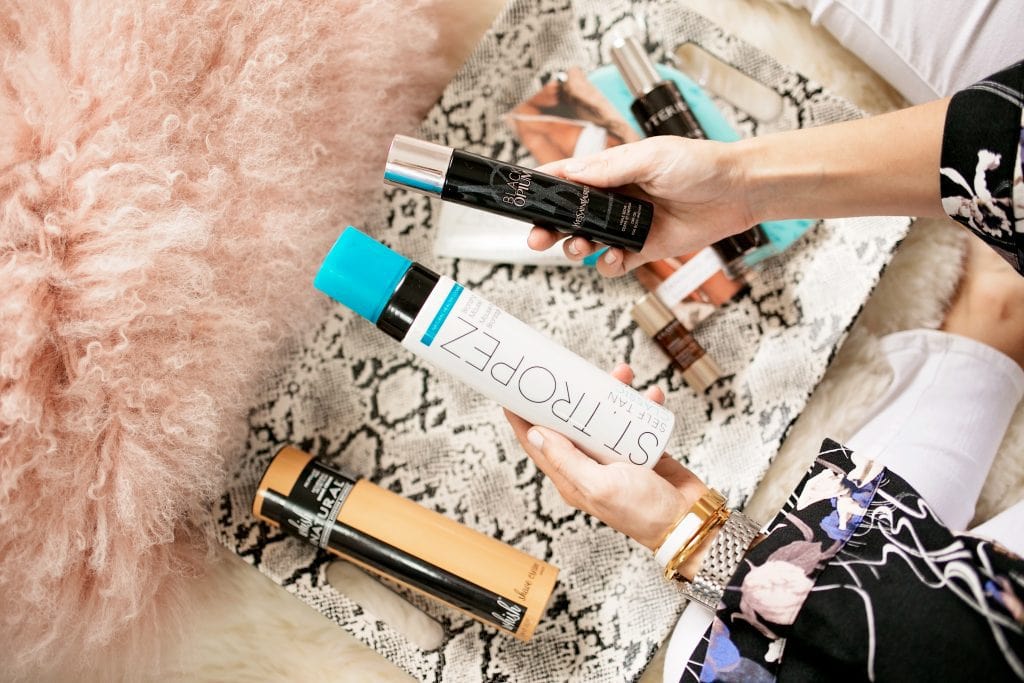 Now before you get to tannin' let's chat about a few tricks:
Brown Sugar
If you don't remove the first layer of excess skin before you tan, that's another quick way to look orange and streaky. The DHA will attach to the dry layers and things will look real patchy, real quick. I've used every expensive exfoliator on the market and I still just use brown sugar! I was told this trick by a girlfriend that does professional spray tans and she always exfoliates with brown sugar before hand. I promise y'all, this makes my tan last SO much longer. Just get half a cup of brown sugar, mix it with a drop or two of water in the shower and scrub scrub scrub. You'll also smell great after which will help you avoid that "self tanner" scent.
A Good Shaving Cream
Before you tan, you want to make sure you use a good shaving cream. First exfoliate with brown sugar, then shave! I use Whish shaving cream before I tan and it's amazing! It's of course pricier for a shaving cream, but it's not going to leave your skin with a ton of build up and you just have to use a tiny drop. I seriously only use it when I tan because otherwise it would get really pricy. This actually has almond oil in it, so your skin is going to be properly moisturized before you tan. You don't want to apply lotion or any other topical moisturizer before you tan all over, otherwise it will interfere with the DHA. But I've found, if I use a high-quality shaving cream it doesn't interfere and helps it blend better.
A Sensitive Razor
Make sure you use a razor designed for "sensitive" skin before you tan. This is going to make sure you don't get any knicks or rashes on your pores when you tan. I use this one by Venus.
Blending Hands & Feet
Once you're out of the shower, you immediately want to apply an oil to your hands, wrists, feet and ankles. These areas are the most difficult to blend and the first signs of a self tan! The oil allows the self tanner to softly blend into these areas and not create harsh lines. Allow the oil to absorb and then tan! Make sure this oil doesn't go anywhere else though, or your tan won't show up as well. I use the YSL Black Opium oil as it is a little bit dryer and doesn't affect my application. I also love the scent as it helps tone down the "self tanner" development scent.
Skin Checks
I know this isn't a self-tanning tip per say, but I can't stress it enough! Make sure you also get yearly skin cancer screenings from your dermatologist. This is another great time to meet with your doctor and say, "Hey! These are the products I'm using, do you approve?" I always do that with everything from sunscreen to self tanner and I'm glad I do!
When To Tan
I tan once a week and honestly revolve it around when I wash my sheets! Haha! You will end up with a little bit of residue on your sheets, so wash them the next day. So many girls get nervous the tan will develop too dark and they wash a few hours after. I can't preach it enough, but sleep in your tan! All showering will do is make the tan splotchy and some areas will continue to develop so it won't look right. I always shower and then tan around 9 p.m. and I can shower at 6 a.m. and it's great! I also suggest self tanning about two days before your "big event." If you have a wedding on Saturday night, I'd self tan on Thursday evening. That way your tan will develop and on Friday you can make sure to moisturize all day so your tan is smooth and seamless in your skin. You'll also have time to wash that developing scent off, too! In that timeframe, only shave once before your event. For example, if you tan Thursday night don't shave your legs Friday, wait until Saturday. You don't want to exfoliate the skin immediately after you tan.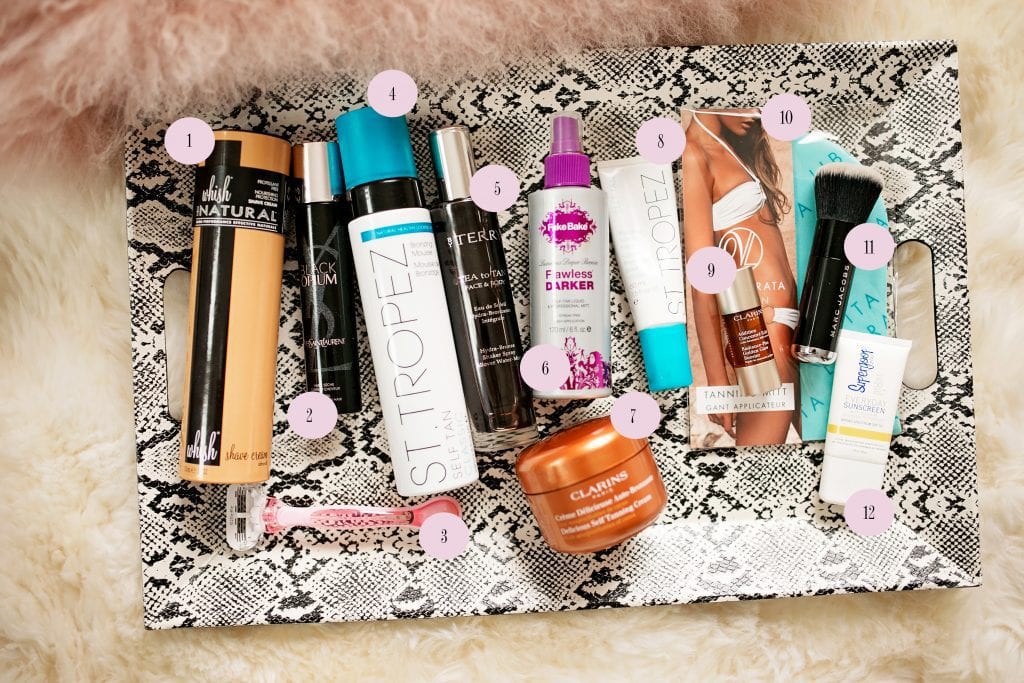 I've tried every self tanner under the sun and these are my personal favorites! Of course, yours may be different just because we all have different skin but I hope this little guide is useful to you!
Best Overall
St. Tropez wins best self tanner from magazines to beauty awards, time and time again. This wins so many awards because it is made with Vitamin E, so your skin will look soft, streak-free and well blended. In general this gives me a great tan for a solid 4-5 days.
Won't Ruin Your Sheets
Now this isn't exactly a self tanner, per say! This is classified as "body makeup" but let's just call it what it is…self tanner. If self tanner is lipstick, St. Tropez would be a liquid lip and this would be a lip stain. It's a bit more natural, but won't get on your sheets. It's the priciest one on the list but with good reason. This stuff doesn't transfer! So say you're going on a trip and you don't want to be laying on a beach towel with self tanner sweating off this is your product. I'd also recommend it if you're a bridesmaid or headed on a date! Because this doesn't budge you can just quickly spray your legs before you wear shorts, blend in and you're good to go! Now when you first apply this, you're going to FREAK out and think you hate me. You'll spray it onto your skin and it comes out in water droplets so you'll think, "What is this splotchy mess?!" This is just because it's a liquid spray and is filled with antioxidants to protect your skin. Once you spray it all over, you blend in with a self-tanning mitt and it will dry in minutes. You're free to throw on an outfit and run out the door, whereas I wouldn't recommend that with other products. Now because this is considered body makeup, I find it only lasts about 2-3 days. But it's such a good product to have on hand in the summer when you want your legs to have some color.
Best for Sensitive Skin/New Tanners
Paul's stepmom has pretty sensitive skin and every single self tanner she has used gives her a rash. I asked around to friend's with extremely sensitive skin and this is what they swore by! I told her to try it and it didn't give her a rash! I also say this product is great for those that are new to self tanning because it is more of a lotion-based product. I think when you're starting to self tan this is far less intimidating than a spray you have to blend. You already know how to blend in lotion! If we are still on the lipstick comparison game, this gives the color payout of a pigmented gloss like MAC. People will compliment you, but they'll just be unsure if you did self tanner, got new makeup or just have a certain glow about you! 🙂 It keeps your skin moisturized but be sure to apply it quickly. Lotion absorbs more quickly than mousse.
Best Goof Proof
This is the self tanner I had on when my water broke! Perfect timing?! And y'all…this stuff stayed on through labor! I say this is the easiest to apply because if I can apply this while overdue and not able to reach half my body, you can too! It dries quickly and has a nice scent to it. You truly can't mess up this application, so don't be nervous when applying.
Best Natural Face
I've been loving these Clarins Drops the past few months! These allow you to have color you can build mixed in with your normal skincare routine. I generally use 2 drops of this with my moisturizer if I'm self tanning that night or just 1 drop if I'm not. If you want a deeper tan, use 3 drops! I also recommend taking these on vacation because I seriously never ever ever tan my face! I give this the most natural face award because you can control your coverage and make it light to dark.
Best Face
In terms of an overall face winner, I love the St. Tropez face self tanner. This product can be tricky to find as it is constantly sold out online as well as in store. Just keep your eyes peeled for it as it's such a great product to have. If you don't want to mess with drops this product is for you. I also find it doesn't clog my pores.
Best Sunscreen
Supergoop! is my favorite sunscreen as of late. I got a few samples from Sephora with my points and this product is so moisturizing! It honestly doesn't even feel like a sunscreen. It's oil-free so if you apply it to your face it won't clog your pores either. Also, be sure to apply sunscreen to your hands daily if you drive a car! You get SO much sun damage while doing that and never leave your sunscreen in the car. If you can shake your sunscreen bottle and hear it sloshing around, toss it! The chemical makeup has been interfered with and it won't protect you as well.
Best Applicator
This is my favorite self tanning mitt to use! I replace mine every 3 months as they do build up residue.
Best Blender
I always keep a kabuki brush on hand when applying self tanner. I always apply with my mitt, but then after I take the brush and blend in my hairline, my neck, elbows, wrists and ankles. This helps prevent those telltale signs of getting a spray tan from showing up!
Best Oil
Earlier I recommended using an oil on your wrists, feet and ankles before applying your self tanner. This is the oil I use because the scent is incredible and that helps the developing scent from not being too harsh.
Best Razor
I always use the Venus sensitive razor before self tanning.
Best Shave Cream
This is my favorite shaving cream before I self tan because it never interferes with the color and keeps my legs moisturized properly since you can't apply lotion all over before or after a self tan.
I hope you found this review to be thorough and helpful as the temperatures heat up! What are your favorite self tanning tips?!