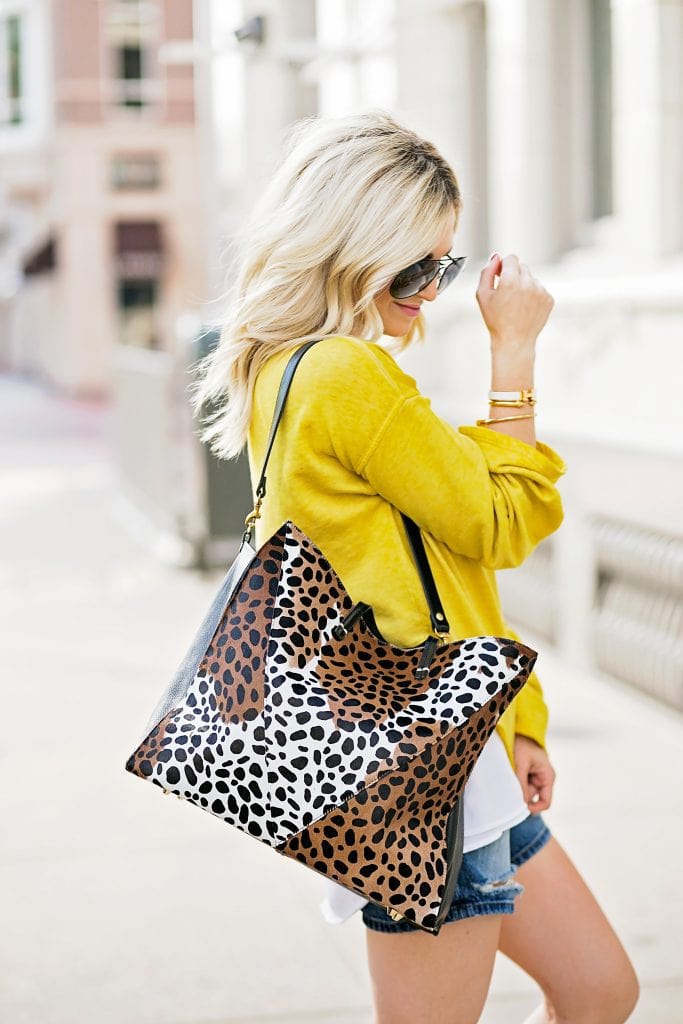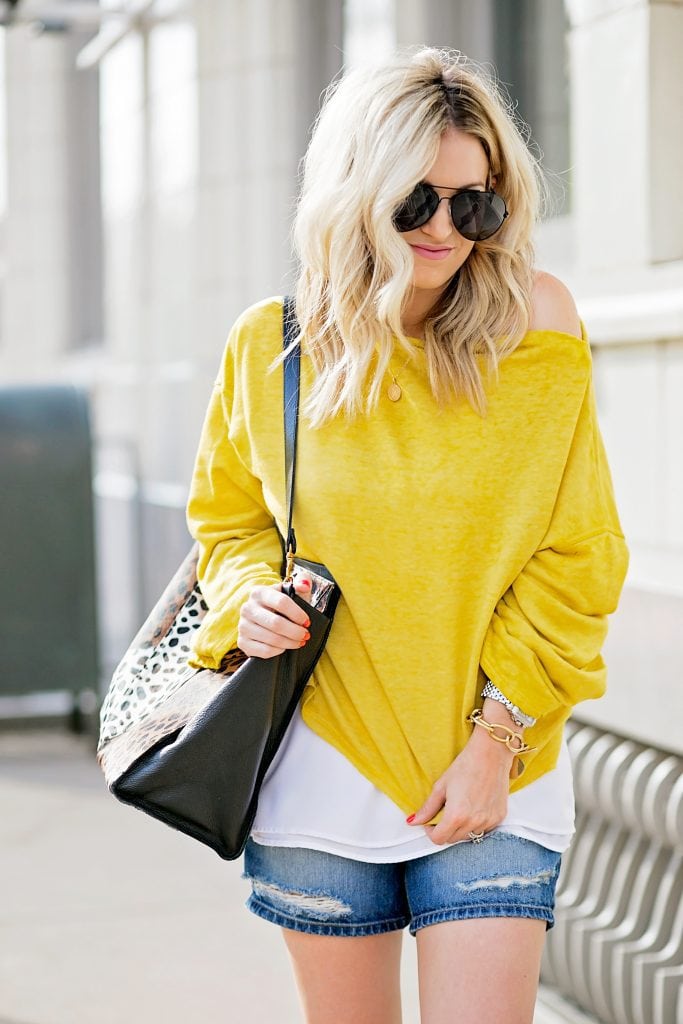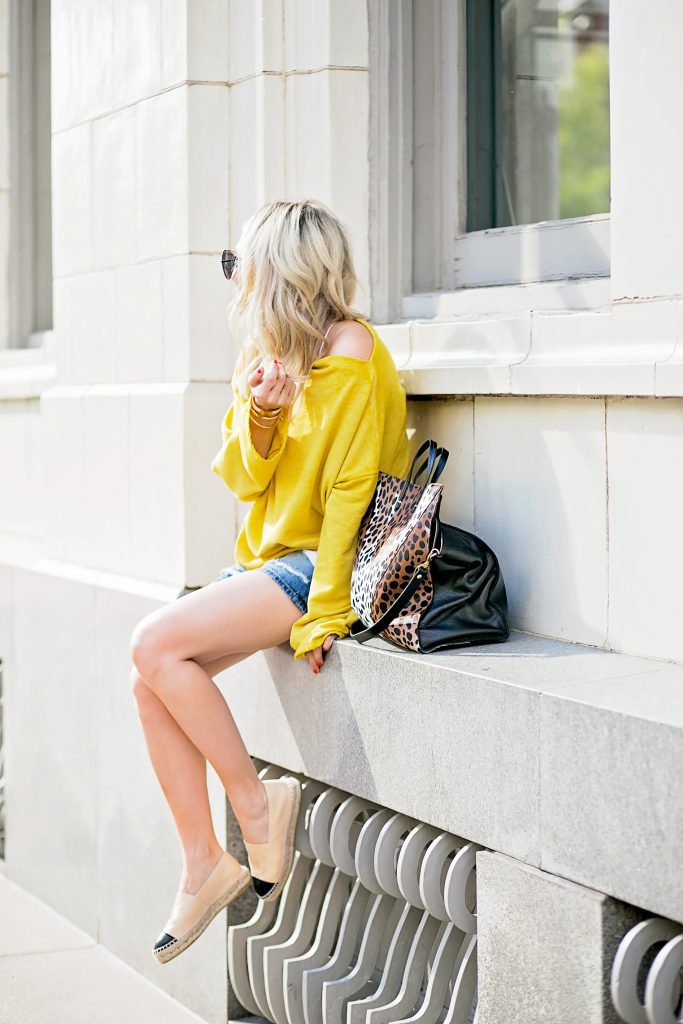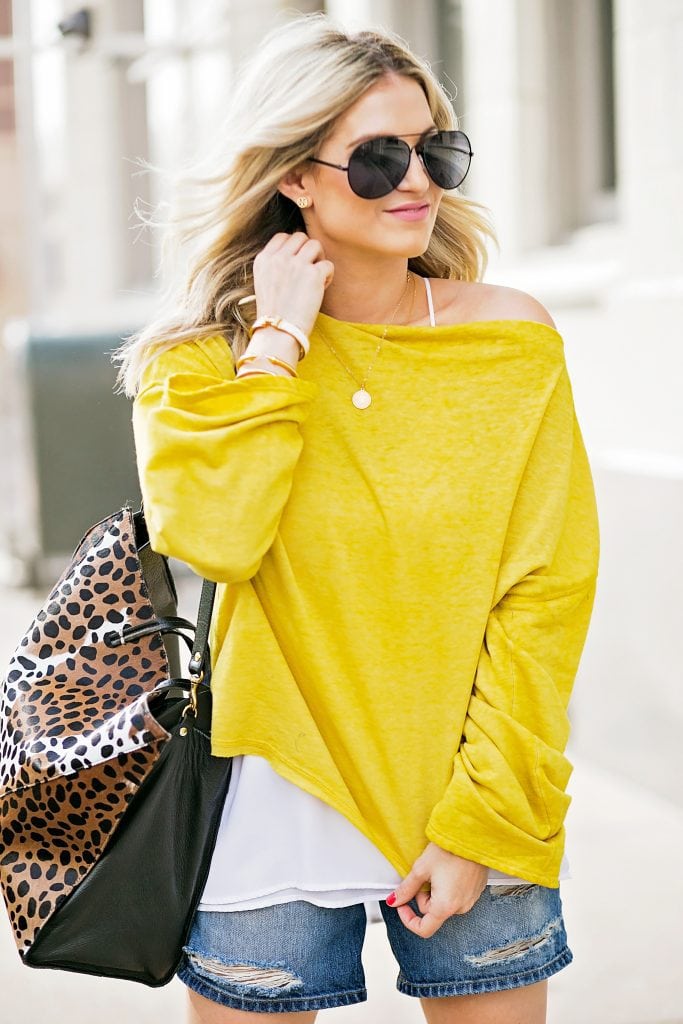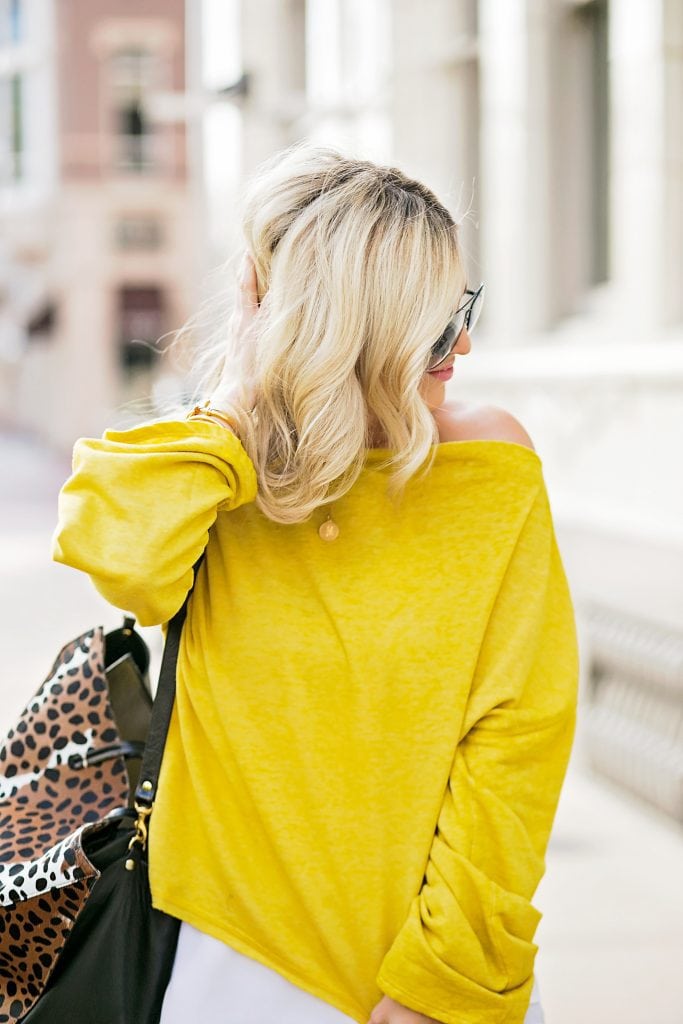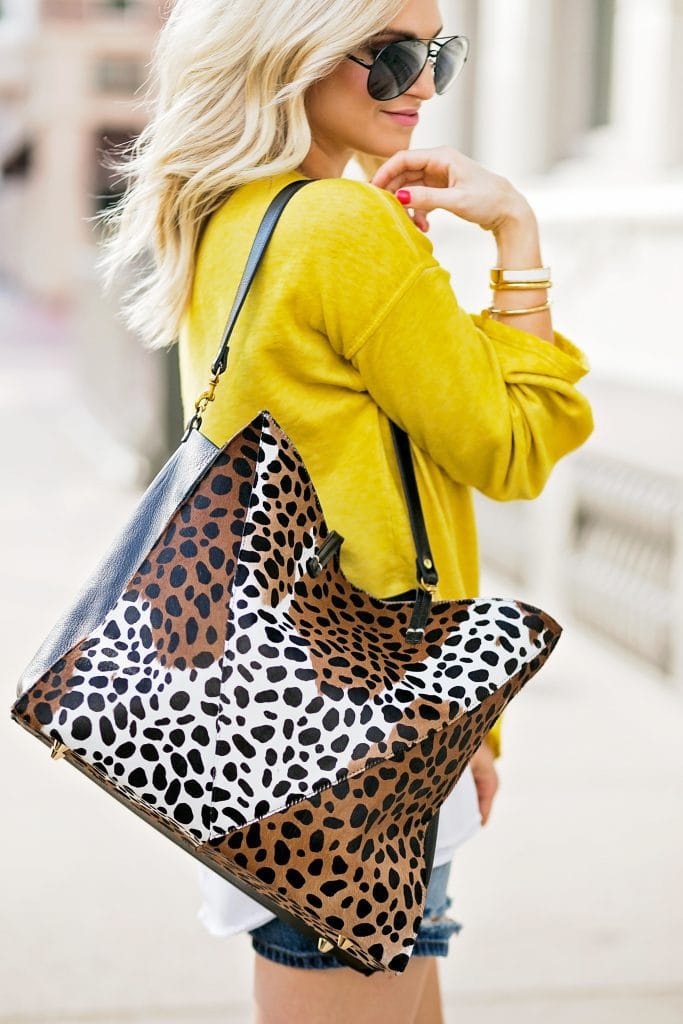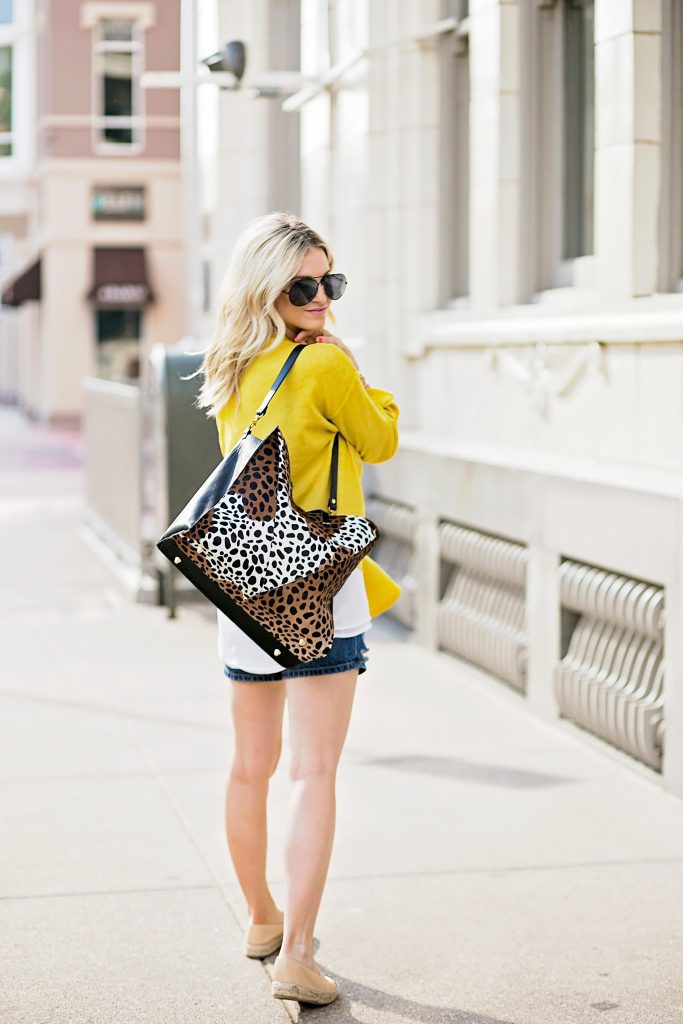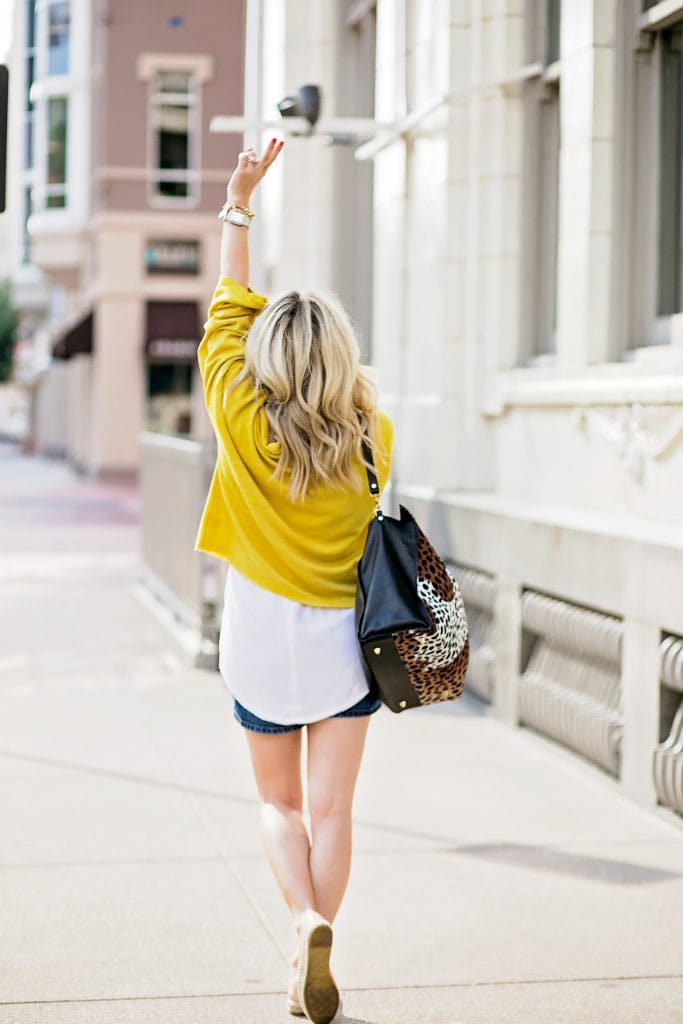 Top: Nordstrom, Love This Yellow Tank for Summer | Shorts: Old, Designer Shorts on Sale | Espadrilles: Chanel, Similar Designer on Sale | Bag: Clare V., Similar Designer on Sale | Sunglasses: Nordstrom, Similar Designer on Sale
Photography by: Angie Garcia
---
Today I wanted to do something a little different and talk my shopping cart through with you! I knew the Nordstrom Designer Clearance Sale was coming, so I saved up all my gift cards from Christmas/my birthday [I told y'all I plan for these sales! lol!]. I'll of course only buy one item, so I thought I'd hear y'all out on your favorite. In yesterday's post on when to buy designer items, I said to go with your gut. But what do you do when your gut is drawn to 4 different items?! You call in reinforcements!
This bag is a little edgier than I normally wear, but remember my designer list I keep on my phone? This bag has been on it for ages and I've watched every Youtube review I could get my hands on. The larger version of the bag can get heavy with the studs, but most reviewers say this size or the smaller has no issues as all. The biggest pro to this bag is that it fits everything while remaining a crossbody. I also love the baby blue hue for summer.
Oscar De La Renta Tassel Earrings
These statement earrings are a staple in fashion editor's closets. I love the vibrancy in this ombré pair and think they'd be gorgeous with a messy ponytail in the summer. I wear so many top knots lately with Maxi and I like to justify them with sassy little earrings. 😉
I actually feel really guilty about wanting these because I have them in tan! I've had them since I was in college and they still look great. I found them in gold in this sale and am so tempted with them being 40% off! I love that I already know the quality lasts.
Jimmy Choo Dillan Block Heel Sandal
I'm ending on quite the impractical note. I've got a baby and yet here I am tempted by suede heels. However, I prefer to wear block heels while holding Maxi because they are so much sturdier. I'm also 5'3″ and the strap detailing on these elongates your legs. #INeedSomeOfThatPlease They also come in black leather which I see all over Pinterest and love as well.
Which one is your favorite from the Nordstrom Designer Clearance Sale?! Did you pick anything up?

In partnership with Nordstrom. All opinions and purchases are my own.