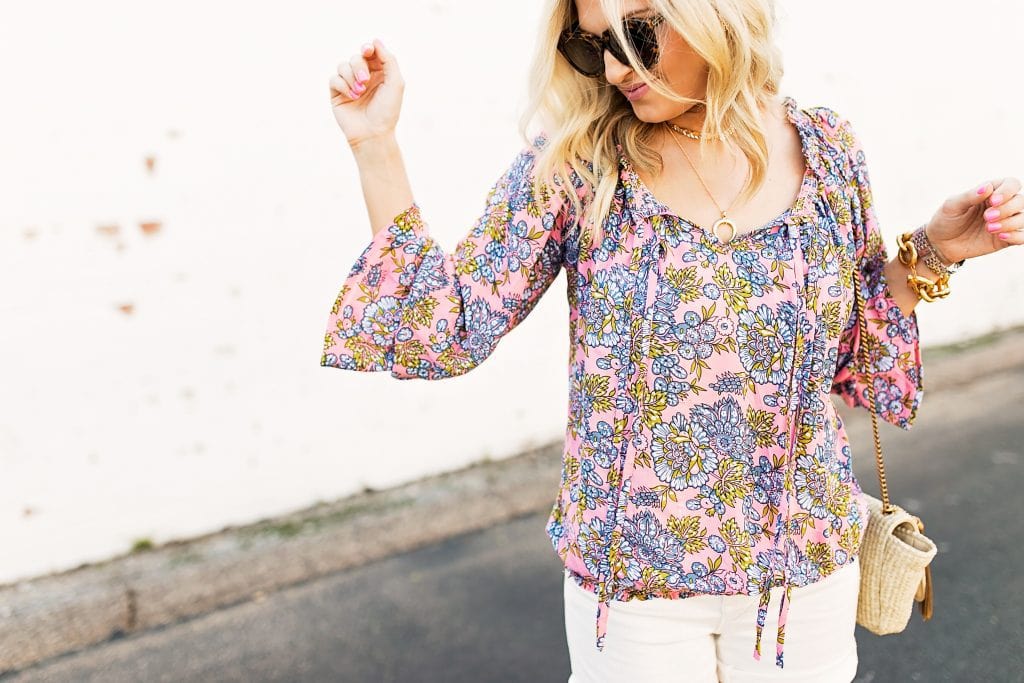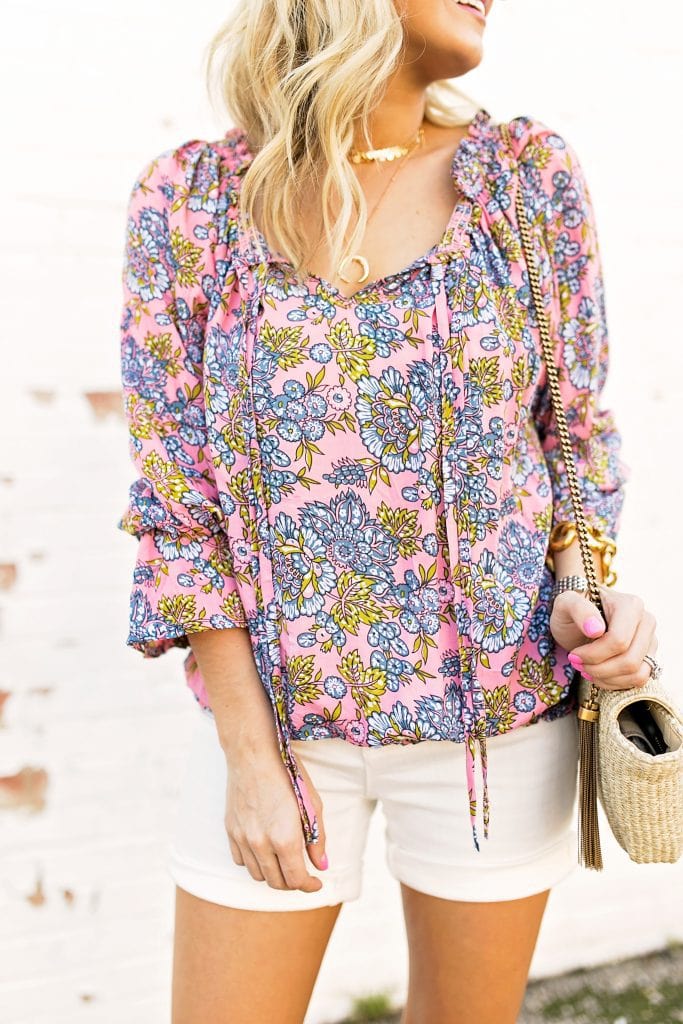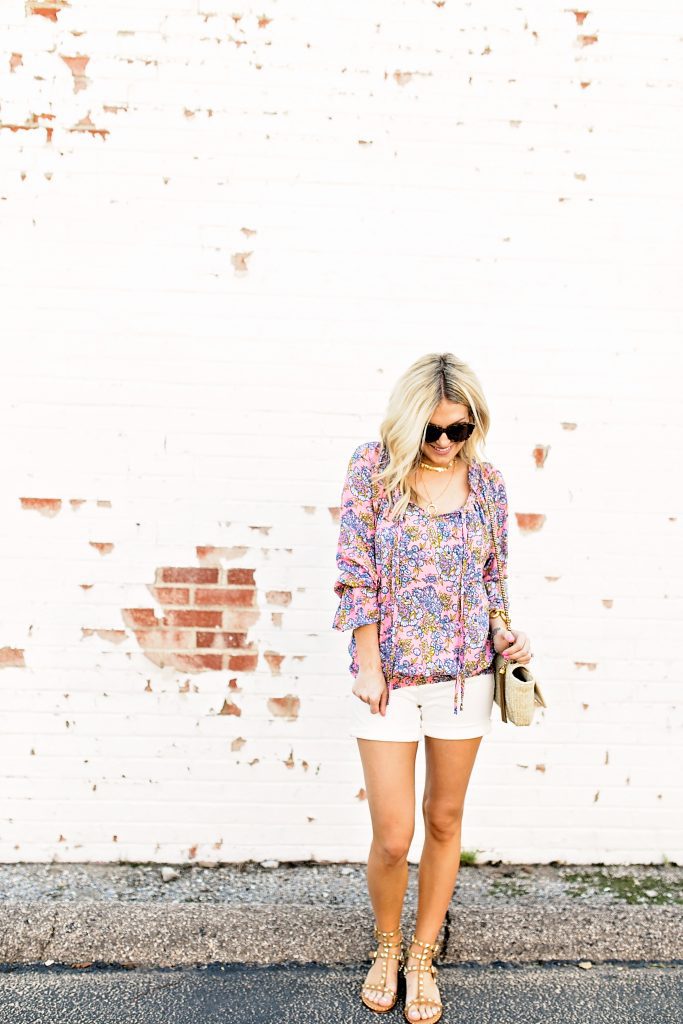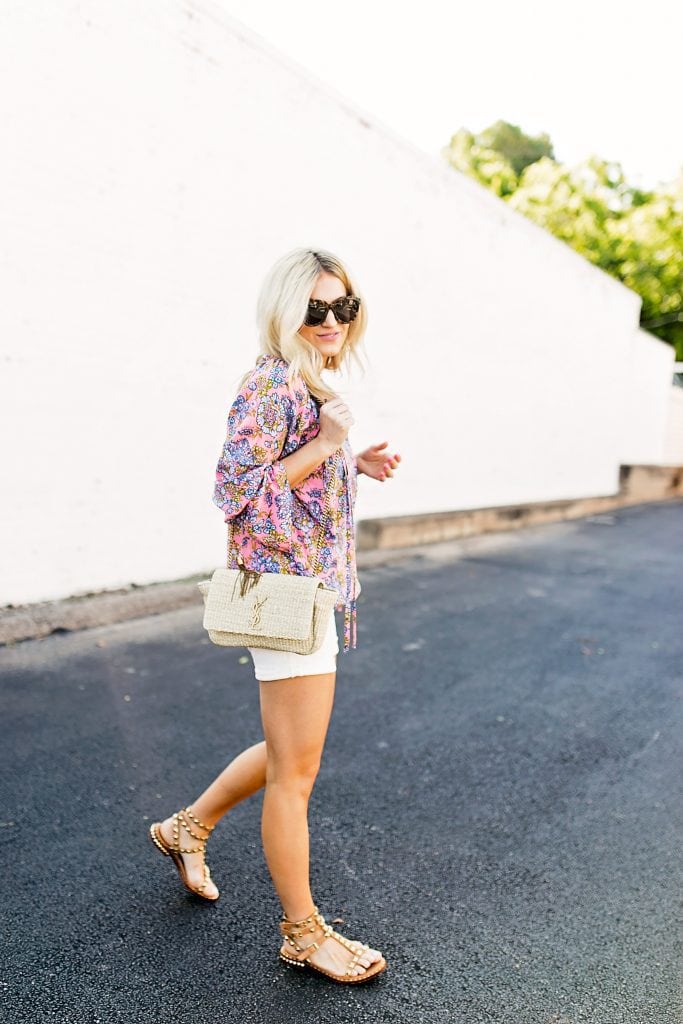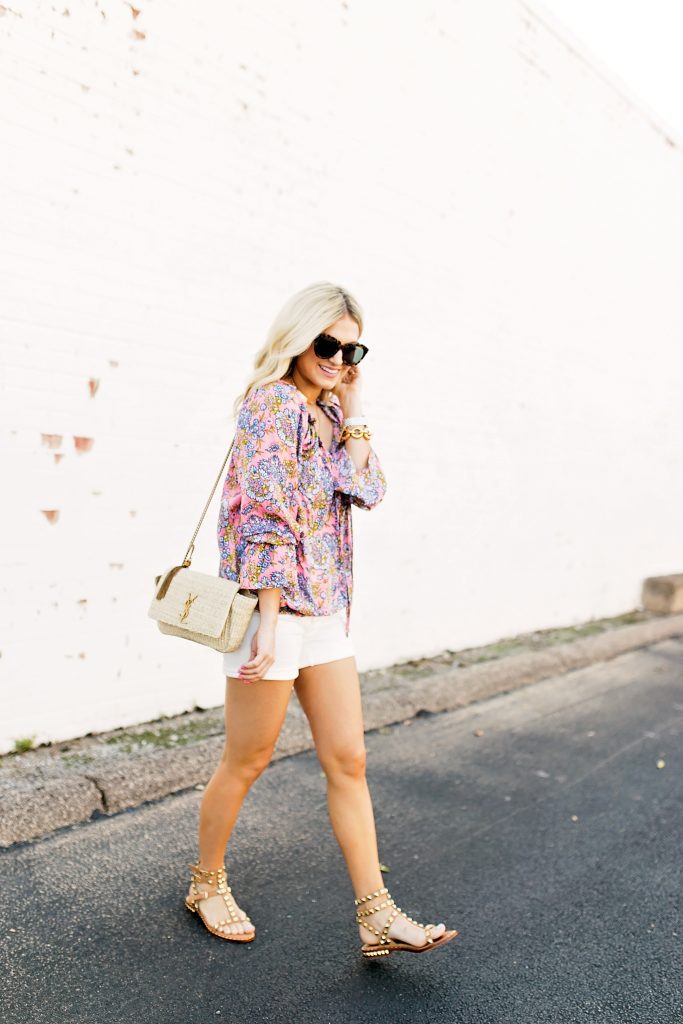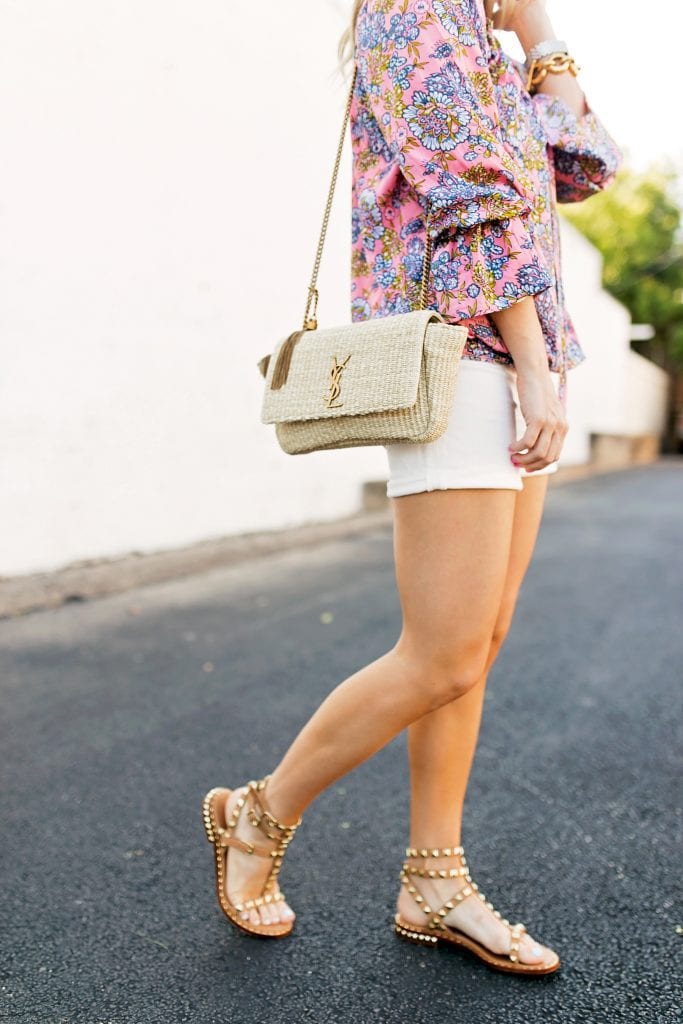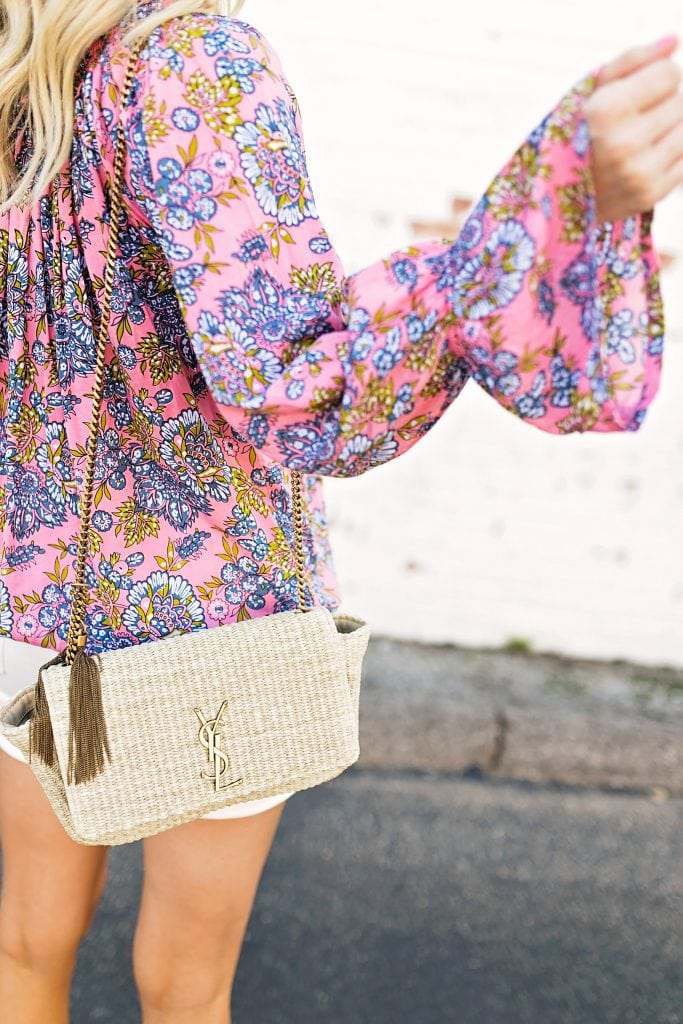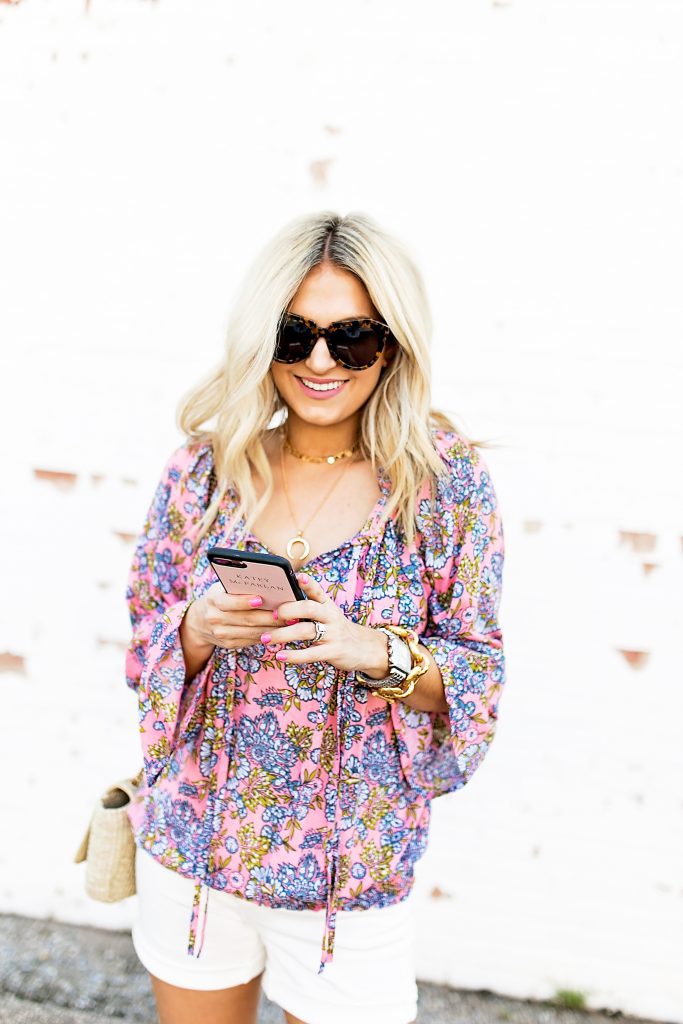 Top: Revolve | Shorts: Anthropologie | Shoes: Sold Out, Similar | Bag: YSL | Sunglasses: Karen Walker | Lipstick: Perla | Chocker: The Styled Collection [c/o] | Necklace: The Styled Collection [c/o]
Photography by: Angie Garcia
---
I'm an extremely nosy person….but I'm nosy over things that don't matter. I want to know what is in someone's purse, I don't want to know if they are getting a divorce. I'd rather read about what's in Emily Maynard's beauty cabinet, I don't necessarily care to know what Jeff was really like on her season. You get the idea. So today I thought it would be fun to share 15 frivolous favorites of mine! Also, ignore how the lighting makes my legs look SO tan. We all know that is not the case! lol.
1. Favorite Lip Gloss: NYX Butter Gloss in éclair, crème brûlée and maple blondie. $4.99 and the BEST glosses you will ever buy.
2. Favorite Restaurant: Piatello or Cannon Chinese Kitchen. Side note, I'm very weird about sharing food and Cannon is family style. I LOVE it on a date night with Paul because I don't mind sharing with him. However, I think if we went with a group of 8 people that would be my worst nightmare. I don't even know why I dislike sharing food so much – some weird hang up of mine!
3. Favorite Sunglasses: I'm not one of those girls with super soft, delicate features. I need BIG sunglasses. The bigger the better. Small sunnies just look odd on me. It's almost like my eyeballs are bigger than the frames. So my favorite sunglasses are these by Gucci. However, my favorite budget-savvy pair are these $14 aviators.
4. Favorite Recent Purchase: These bangles by Tory Burch. I got white and green! They remind me of the Hermes cuff but for less than half the price.
5. Favorite Drugstore Makeup Brand: NYX, L'Oréal or BH Cosmetics
6. Favorite Meal to Make at Home: If I'm cooking for myself, cauliflower pasta. If I'm cooking for Paul, I love to make this tomato soup with an indulgent grilled cheese. I'll pile on caramelized onions, jalapeños and cheese for him!
7. Favorite Thing to do By Myself: Let's be honest, I'm never by myself! haha! But if baby is in bed and Paul is working, my favorite things to do are make schedules [this makes me SO calm] and design rooms through Adobe programs [like this]. I'll be honest, once blogging goes away or dies down I hope to do something in interior design. I know I'm not professionally trained, so maybe I'd open a home decor store or something in that capacity! Home decor and design is probably the one thing I get most excited about in terms of aesthetics.
8. Favorite Find this Week: This Mrs. clutch! For $80 this is truly the perfect gift to snag for a bride-to-be! I'm tempted to purchase one and keep it in my gift closet. You never know when someone will pop the question and you must celebrate.
9. Favorite Instagram Account: This always changes, but lately my favorite is @buynowbloglater and @thehomeedit. Laura with @buynowbloglater, is someone I have followed for ages- since college! She did YouTube, but then opened up a personal consulting business and shut her account down. Since then, she blogged and I love her insta stories. She has the loveliest accent and is very blunt about products which I love! If you're a fan of organization @thehomeedit will be your new love. If you're Type B, just steer clear because you'll roll your eyes and think all of us Type A ladies need to get a grip!
10. Favorite Nail Polishes: For summer I love OPI Cajun Shrimp, for fall I prefer OPI Lincoln Park After Dark and for winter/spring I like OPI Chiffon On My Mind or OPI Don't Bossa Nova Me Around.
11. Favorite App: Planoly! It helps me stay organized with social media posts.
12. Favorite Home Store: Ballard Designs. I joke with all my friends if I never had a budget I'd just decorate my entire home in Ballards! I'm also extremely pleased with their shipping. Each time I've ordered furniture it ships here remarkably fast. It's honestly not THAT pricey [so if you've ever had an interior decorator or had custom furniture you will think it is moderately priced]. We are just in a phase of life where we really don't spend too much on furniture, so I think this is pricier for us. #kids
13. Favorite Blog: The Peak of Tres Chic. I've shared Sam's site before and I have to share it again. Sam is one of my "insta" friends [we've chatted for years through social media] and she is an interior designer in NYC. I love reading her blog because it's extremely educational and she also shares great pieces for travel!
14. Favorite Amazon Purchase: I'm going to do an entire post on what we order from Amazon, but lately I'm loving these cups! This is also where I get my collagen peptides. More on that later!
15. Favorite Treat: I love pink drinks from Starbucks! I drink black coffee so I've honestly never been a Starbucks person. I treat myself to a pink drink [it's coconut milk and a strawberry acai refresher- but you order it as the "pink drink"] about once every two weeks. It's SO good and it's always gone by the time I leave the parking lot! If I have that drink with an episode of Southern Charm I'm in heaven!
What are some of your favorite things?!