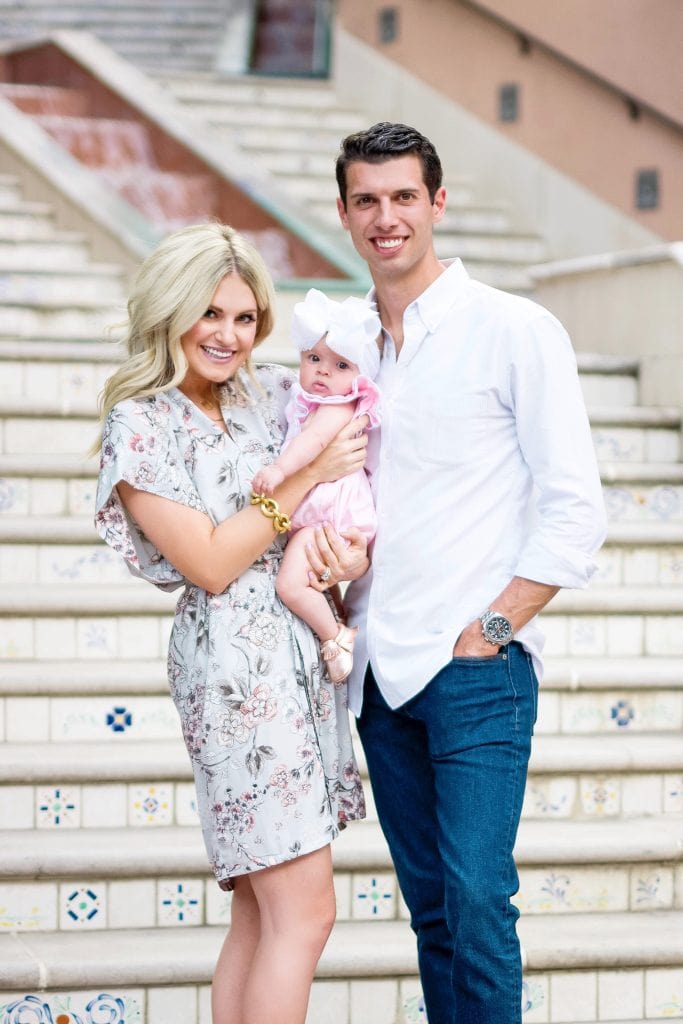 Dress: Beehive | Maxi's Bow: Our Local Hallmark Store, Smocked Auctions Outfit | Bracelet: Julie Vos [c/o]
---
This past month flew by so quickly that when it came time to do this post I thought, "It can't be time to write this! I just wrote the last one!" People say the days are long and the years are short, but I've said before it's all just short! There hasn't been a *ton* of changes this past month so I thought I'd share 10 top things from the past few weeks.
1.This past month we took Maxi swimming quite a bit. It's always difficult until they are 6 months because they can't use sunscreen, so you're putting rashguard on them like it is your job and hiding them under every single umbrella and hat you can find. Thankfully, my parents' pool has an umbrella in the baby pool section so she can easily splash in that. In Colorado the baby pool was completely covered by a patio so she got to swim there as well. She loves the water and smiles when we put her little toes in. We are actually taking her to Palm Beach in August when she can wear sunscreen and I'm excited to see what she thinks of the ocean and sand! I got a few e-mails about what sunscreen we will put on her and my pediatrician told us to use this brand.
2. We started solids yesterday! I made her sweet potatoes in this little contraption. Our pediatrician told us to start her between 4 and 6 months, so I just waited until she seemed really interested in our food. I learned day 1 that this girl is just going to eat all her meals in the nude. SO messy and SO fun!
3. I was so nervous about her first flight, but because she is still so young she was fantastic. Our family wants to go to Maui next year when she will be 13 months. That's an entirely different story and something I'm already nervous about! haha! If we go, we will break that flight up and stop in California for a day or two. I asked for tips on Instagram and so many moms gave me amazing tips! I was so so thankful, and I'll be compiling a blog post with all those tips for other mamas to read as well.
4. Her hair is growing so much! She has some pieces that are really long when I brush it back! I really think she will have curly hair as Paul has curly hair and I have textured, wavy hair. We shall see! 😉
5. Maxi is OBSESSED with her daddy. I joke with him that when he comes home from work I am nonexistent. She just can't get enough of grabbing his face and babbling to him. When he gets home from work I let them have their time together of playing in her room and I'll typically go work out or work on the blog. When I come check on them, she's giggling up a storm. I walk in the room and she doesn't even look at me! haha. I know I sound like every woman to ever have a baby, but Paul is seriously the best dad and I love watching her love her daddy.
6. We finally started to break in the ERGObaby this month. She was just a little too small up until this month to use it [or like it] and she loves it. It's so much more supportive than a Solly wrap, so I love carrying her in this while I clean or grocery shop. It's a little tricky to first use with all the straps, but once you do it it's a breeze!
7. Maxi is still loving her music class and we listen to the CD/App from her class all day long. I decided to throw in some more music for her and just started to play songs from YouTube while we play in her room. What song does she LOVE? Oh, it's the Elmo theme song. I guess it is his voice? I'm not sure but Paul is thrilled as you can imagine. 😉
8. We are still breastfeeding as well as supplementing. I was on an antibiotic early in the summer and had to pump & dump for 3 weeks so we had to supplement with that. If you exclusively pump my hat is off to you. That was extremely hard! I was really nervous about it [like I cried in the Target parking lot for 20 minutes talking to my mom] but she ended up eating like a champ. As if my child ever turns down a meal of anything- the girl is in 9-month jammies! Anyways, I'm over here crying in the parking lot blaming myself for getting sick and worried she wouldn't take a bottle of formula. I had only supplemented once before when I had a stomach virus, so the 3-week mark was really nerve-racking. Meanwhile, a minivan filled with kids is just staring at me as they eat their Chick-Fil-A nuggets dunked in ranch. I was their lunchtime entertainment and I don't blame them. Our pediatrician was extremely kind and really explained that if I didn't take my antibiotic to get better and got worse, how could I care for Maxi? Who takes care of her if I'm sick in bed?! When she worded it like that, I felt confident it would all go well. I do get a lot of e-mails about breastfeeding and I don't want to give any poor advice, because I'm definitely not a good breastfeeding resource. Blush, bronzer and jeans on sale? I can tell you about that all day long. The only tip I feel confident enough to share was that power pumping worked wonders during the pump & dump process and when in doubt, Gatorade it out. I would chug a bottle of water, then some Gatorade, then more water. The combination of the two made a world of difference! Having a support system is also the best thing. Paul always is cleaning my pump parts and setting it up for me when he is home. I'll also have a post up soon with an amazing nursing bra that helps you breastfeed AND pump. More on that later! But I'd hate to give advice for something that works for us and it not work for you. I would feel awful about it! It's weird to say this, but it was kind of a God thing to test out the supplementing for those weeks. I will eventually have to get back on my Discoid Lupus medication, just not sure when. When that time comes I won't be able to nurse so I can at least feel confident knowing that when the time comes Maxi and mama will be ready. [Also, I know some mamas don't believe in pumping & dumping and save the milk for milk baths, etc. Just wanted to note that! Do whatever you are comfortable with if you find yourself in that situation.]
9. She loves, loves, loves when we roll our r's to her. I think we do that all day long and she just giggles 24/7. She tries to imitate it back, but she just blows spit everywhere! haha!
10. Also, the past month was when the ugly postpartum hair loss monster came out from under the bed. I literally stopped running for 2 weeks because I was nervous that washing my hair daily would contribute. My mom told me to try Sugar Bear Hair Vitamins. At first I rolled my eyes. Then I laughed. Had my mom seriously purchased a product all the ex Bachelorette contestants promote? Not that I'm making fun of them promoting items. But let's be real, they ALL had amazing hair prior to Sugar Bear Hair. That's how they got cast to go on the show. She told me it was the only thing that helped her with her hair and RA. Now, I'm a huge skeptic of vitamins for the hair. I have had Discoid Lupus and my hair fell out in CLUMPS when I was first diagnosed. Since then, I have taken every biotin/hair/skin/nails vitamin on the market and not a one does anything for me. I just assumed this would be the same. I asked my doctor if they were fine and she cleared them. I ordered and thought, "Worst case scenario, they taste great." Y'all….a month in and the shedding has dramatically slowed down. Mom was right as always. I'm now eating my words and my gummies. #NotSponsored
Also, I am SEARCHING the internet for the sweetest little image I saw on Facebook last week and I wanted to share it with you. But of course, it has become lost in the sea of Facebook. Basically it was a picture of a mom holding a baby. It showed the mom's thought process.
She was thinking, "Is my baby bored? Do I read enough to her? Am I pumping enough? Is my baby happy? Does she feel loved? Should I take her to this class? Wait, what if I overstimulate her? Is she napping well? Am I doing enough activities for her? Should I be reading more parenting books?"
The baby was thinking, "I love my mom. She is my entire world."
It really reiterated to me that this generation [and especially me] can really over think parenting. We have so much information at our fingertips [and ways to compare ourselves #hellosocialmedia] that it's easy to second-guess every little move as a mom. But at the end of the day, if our baby is happy, healthy and fed…what on earth matters?! I think it's wonderful that we are always evolving and educating, but at the point it interferes with our confidence as moms it must stop. So if you are a mama, remind yourself that you are a great mama. If you're at work and worried that you aren't home with your little one, remind yourself that you are showing your child first-hand how to balance their many different worlds. If you're a SAHM worried that you aren't doing enough for your babies, remind yourself that you are showing your child first-hand how to be so incredibly selfless. And if you are a work from home mom like me and half the time you don't know where you fit in/who to relate to/how to balance it all, just remember your child thinks you hung the moon. Or if you don't even have kids, but you're just a sweet person that read this entire post thank you for listening to me babble!