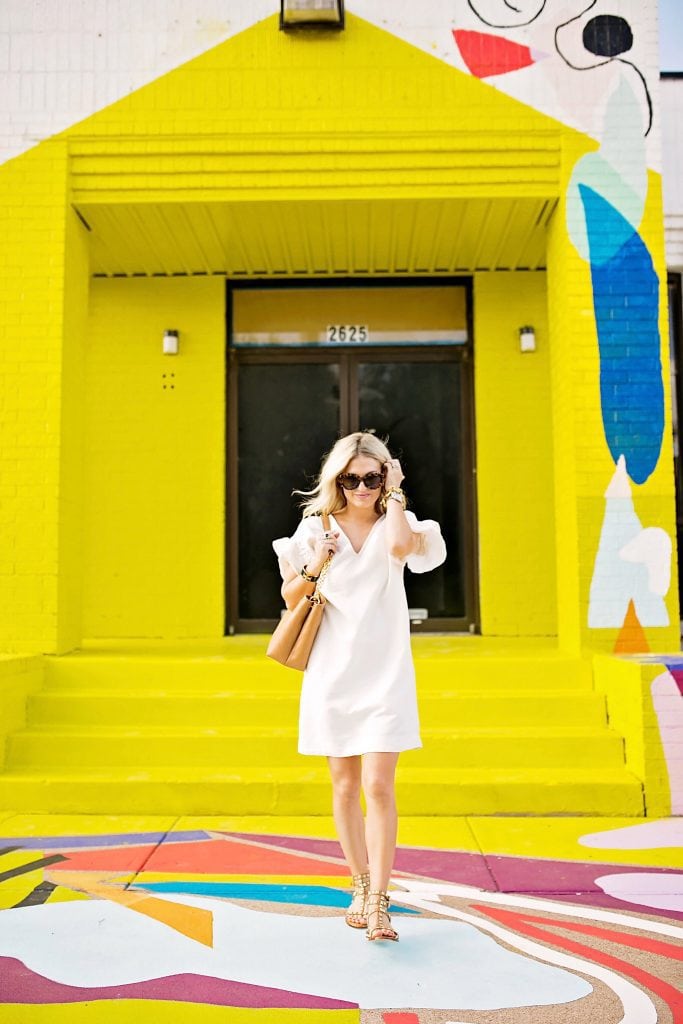 Dress: Anthropologie [size down!] | Shoes: Sold Out, Similar | Sunglasses: Karen Walker | Bag: Tory Burch | Bracelet: Tory Burch, Julie Vos [c/o] | Lipstick: Perla
Photography by: Angie Garcia
---
 1. She Makes Me Want To Go Blonder
Poppy is such a beauty and I loved reading abut some of her favorite beauty products. I want to snag that eyeshadow, if you couldn't tell! I had to round it up in Wednesday's post. But no worries, I'm not going a shade blonder. That's far too much maintenance for moi. But speaking of the eyeshadow palette, I'm such a Charlotte Tilbury fan. Because I'm able to test so many different lines being a blogger, I always ask myself, "If I could only use one brand of this what would it be?" Currently, my answers are as follows:
makeup: Charlotte Tilbury
hair: Kérastase
skin: TULA
nails: OPI
bags: LV
I could go on and on! What about you?!
2. 9 Things You Must Know About Eloise
Eloise was my favorite book as a girl and when I nannied in college, I was always thrilled when the girls wanted to watch the movie! Now I gleefully read Eloise to Maxi each and every night. I thought these facts were so fun to learn about. Anyone been to the Eloise store at The Plaza? We go there each time we are in NYC and I have yet to forgive myself for our last trip! When I was about 12 weeks pregnant or so, we were in New York for some meetings I had. My mom and I ran into the Eloise store and she said we should get Maxi some fun gifts. I was convinced Maxi was a Max [But her name wasn't going to be Max if she was a boy!] so I told my mom we shouldn't get anything. I found out the gender a week later and of course now I'm mad I didn't grab something small!
3. Stumped on Bridesmaid Gifts?
I gave my bridesmaids Lock It Up Bracelets from Lola James Jewelry. I love this article that shares 15 different gift ideas at all different price points. If you're a bride, I hope this helps give you some inspo! I know it's all relative dependent upon how many bridesmaids you have and other budget factors, but I thought this roundup did a great job with variety. Plus, I'd adore all of these items equally! I plan on doing another little bridesmaid gift roundup in the fall.
4. Rachel Green Is Still So Stylish
I couldn't stop laughing at Rachel Green's outfits still being in style. I'm pretty positive I saw half those looks at Fashion Week last year and the other half at Zara last week.
5. Lace Under $100
From bridal showers to outdoor parties, lace is your BFF for every occasion in the summer. I splurged and purchased this for Paul's birthday dinner next week and it got me searching for all the sweet lace dresses and rompers! I pulled my favorites under $100 below.

Thank you so much for reading! We are headed back to Texas next week and I've loved our family vacation and time together! Thanks for being so understanding about my delayed responses to e-mails this week!