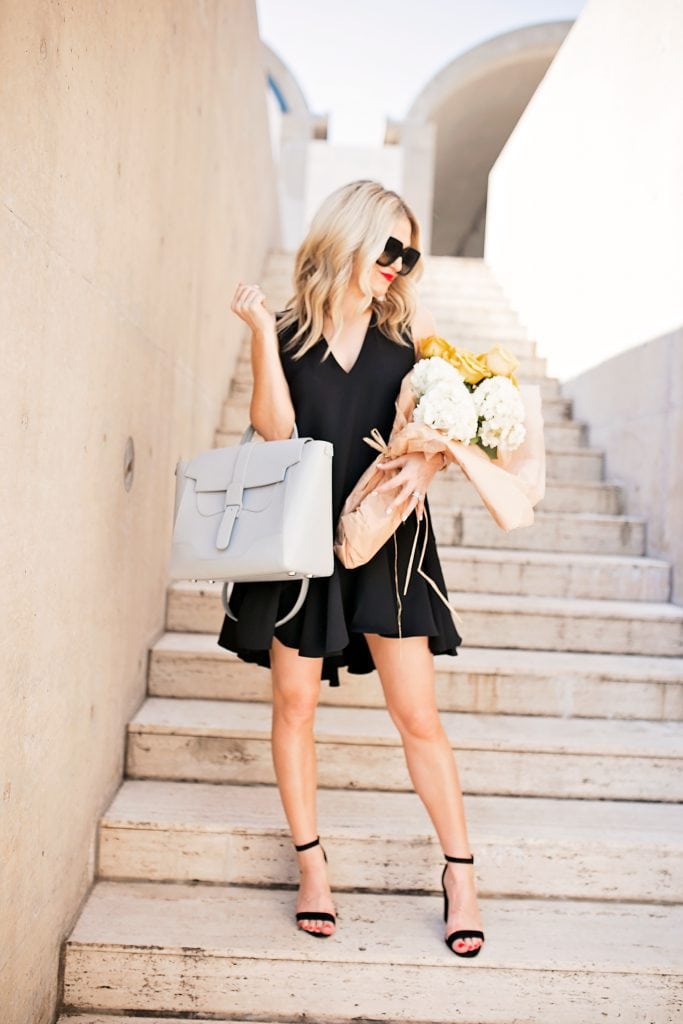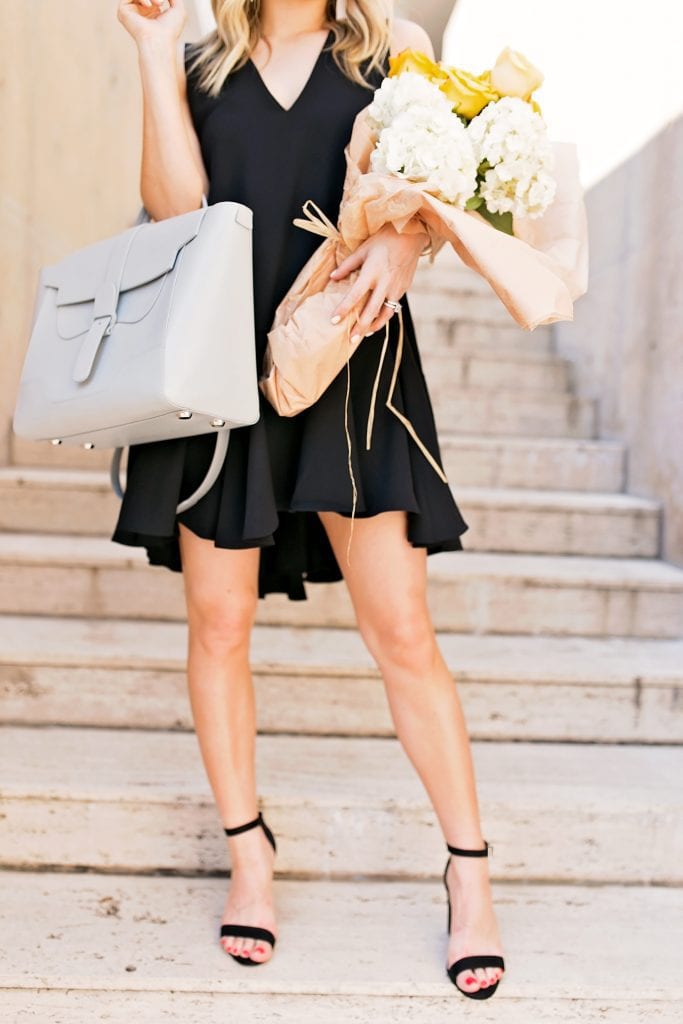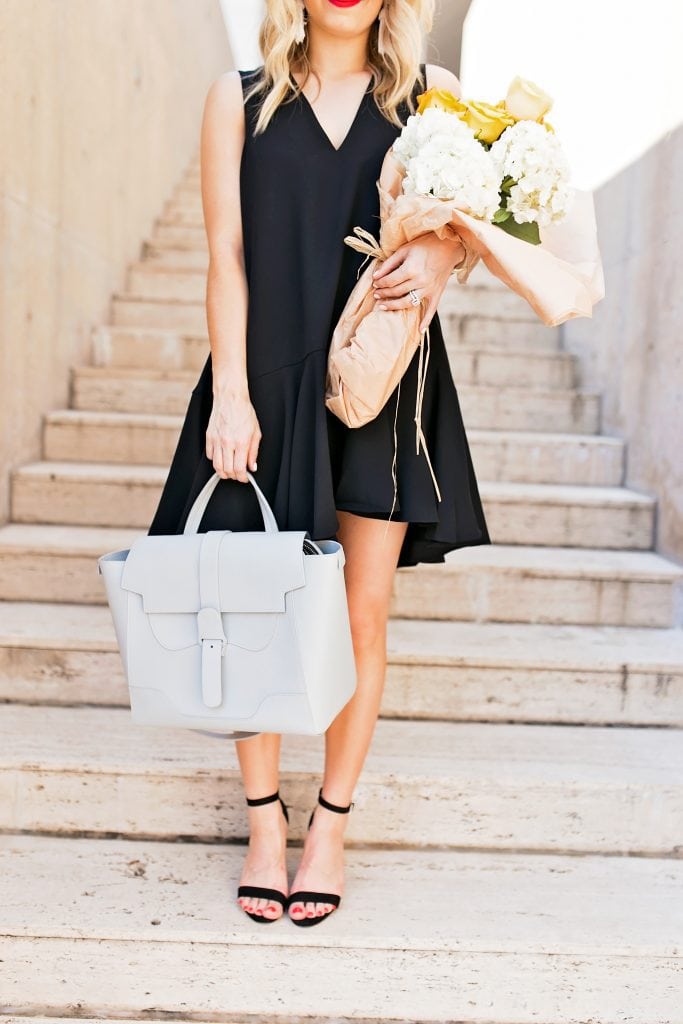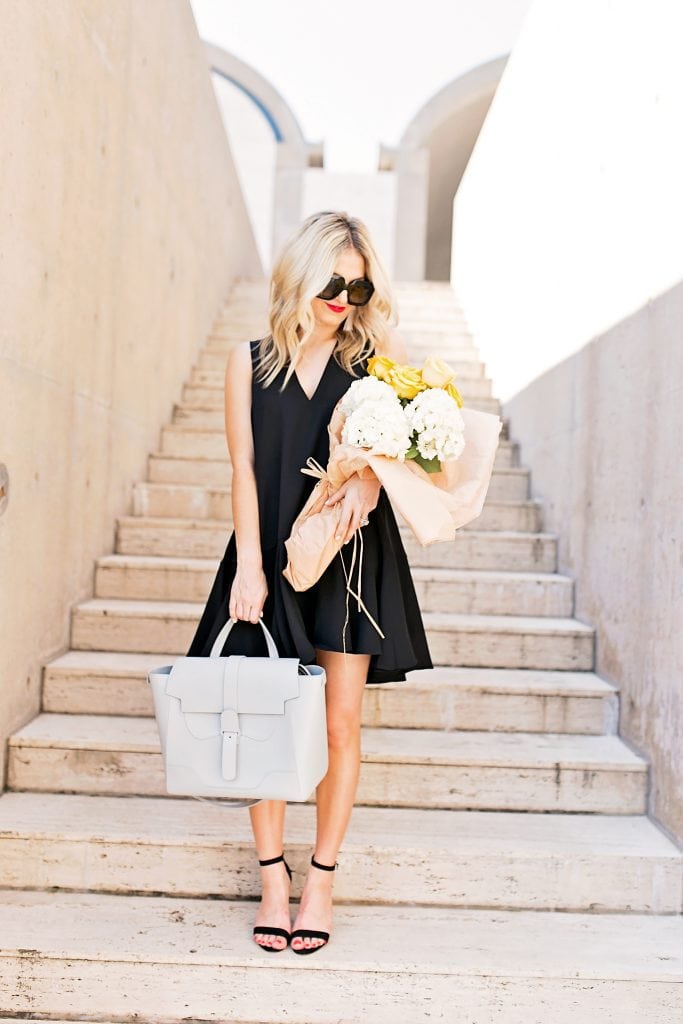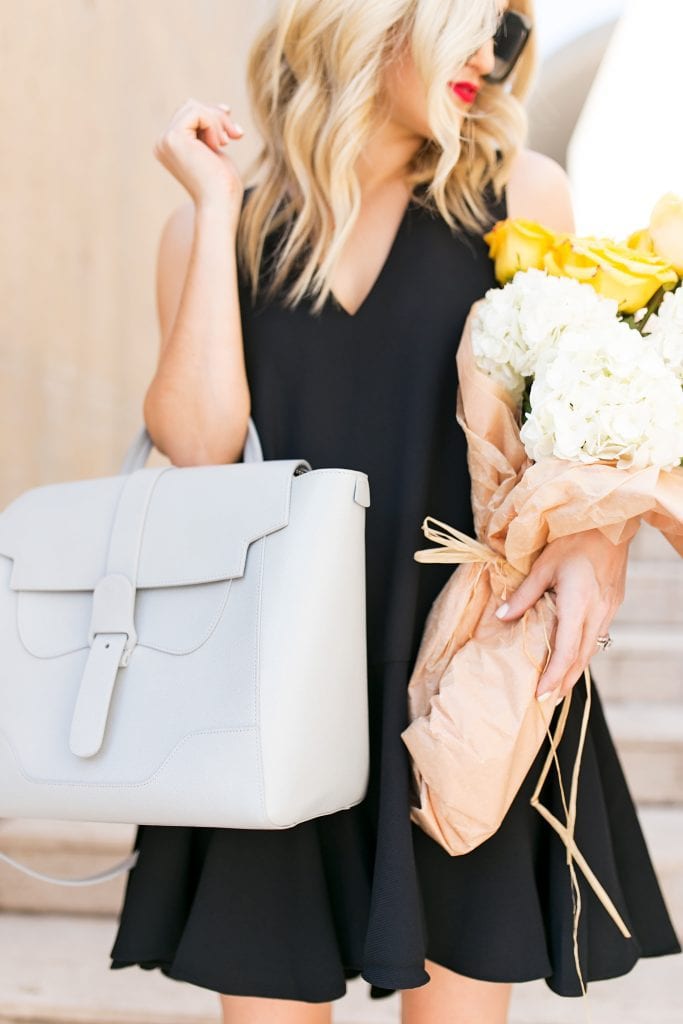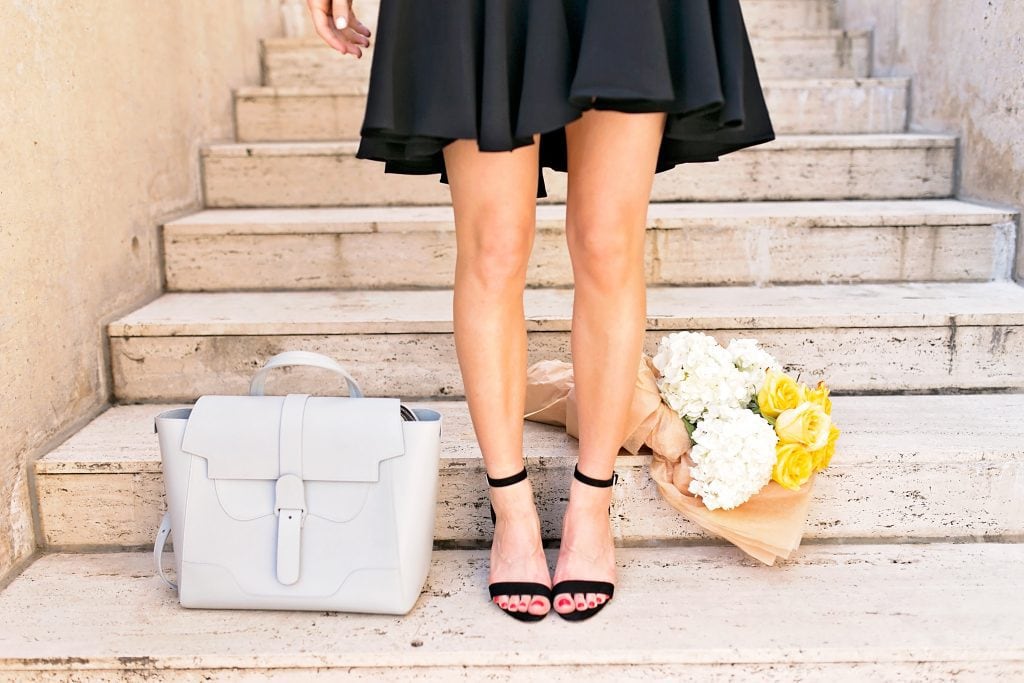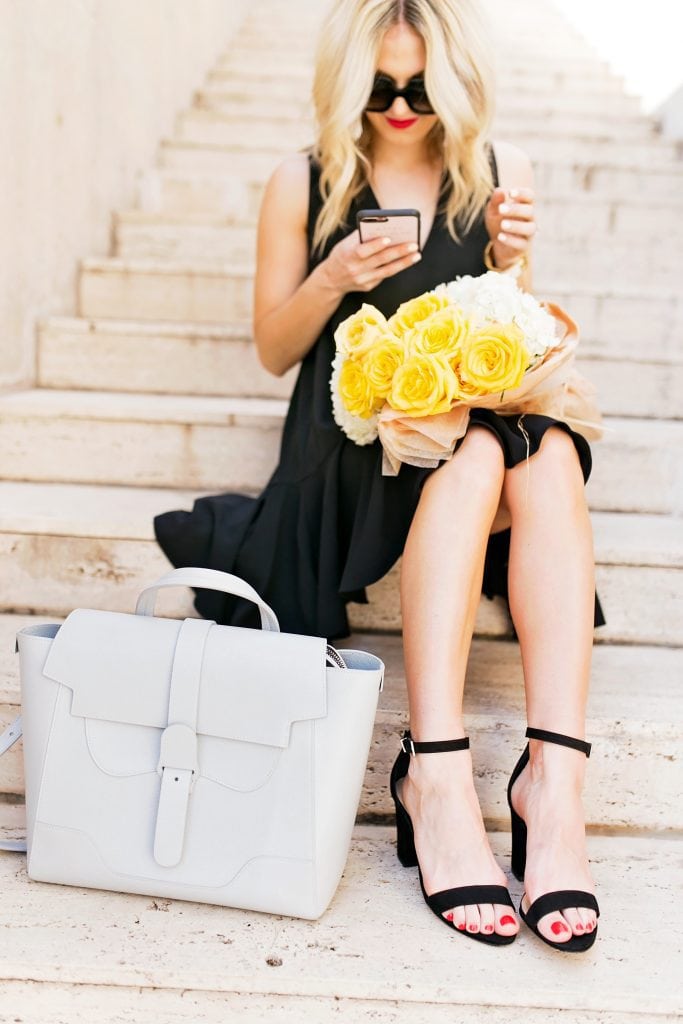 Dress: French Connection, Dupe ON SALE! | Shoes: Schutz, More Affordable Option | Sunglasses: Gucci | Bracelet: Tory Burch | Bag: Senreve [Color in Ice, c/o] | Lipstick: Beso
Photography by: Angie Garcia
---
I'm a bag girl through and through. I babysat every single weekend to save up for my first bag, a Dooney & Bourke with big bulky pins on it spelling out D&B. So chic, I know. 😉  My best friend, Emily, and I had matching ones and we filled those bags with notes we passed in the hall and Dr. Pepper Smackers Lip Balm. I'm sure it is up in my parents' attic somewhere, but it was the beginning of my love for my favorite accessory.
I'm not sure why bags are my favorite aspect of fashion, but I think it's because it has something to do with organization. My bag shapes the way I think about my day. If I'm carrying the diaper bag all day, I know we are either running errands or being relaxed. I may sport a tote if we are going shopping. Other times, I carry a more structured bag for work meetings. The organization of my bag has a direct correlation to the organization of my day. That may sound bizarre to some, but for a girl who loves to feel as if she has everything in a neat fashion at her fingertips it is second nature.
Because of my love for bags, I do get quite a few e-mails in regards to designer, work bags. So many girls want a bag that they can take from work to the weekend. They want unique style, functionality and durability- but they don't want to spend more than $1,000. I'll admit, half the time I have wondered, "Does this magical unicorn exist?" Budget is all relative. For one girl a splurge may be $100 and for another e-mail a splurge is $2,000. But one thing is for sure, girls don't want to constantly switch out a purse if they don't need to. I agree! I switch bags all the time while restocking her diaper bag and if I miss an item or two, it can throw the entire day off. Trust me. I've had to drive home with a cart full at the grocery store because I forgot my wallet while switching bags. A working girl doesn't have time to go home after work to toss her laptop out of her bag in order to head to the gym. So girlfriends, I've found your unicorn.
I first found out about Senreve handbags from Julia Engel's blog. I was reading her blog one morning and thought this bag was brilliant. This bag was created by women that were working professionals and felt the handbag market was lacking a bag that did it all. You can wear it like a backpack at the farmer's market, like a satchel at the office or on your shoulder running errands. I could tell from her photos that this bag would withstand scratches and a baby pulling. But my absolute favorite thing about this bag was the newness and familiarity of the bag all at the same time. I just about sound like I'm writing about a girl meeting a guy for the first time and falling in love. At first glance, I like that this bag style really hasn't been overdone. It's not a repeat or a copy and yet, the style feels familiar. As if it were a bag I've been coveting [Okay, not coveting! Coveting is a sin!] for ages and saving up for.
Enough about me gushing on this bag. This post isn't a campaign and I'm not being paid, but boy do I love it. I was given the opportunity to style this bag and after carrying it for weeks I now will suggest this as a graduation gift year after year. It fits a 15″ laptop, your wallet, your makeup bag, your leggings for the gym. AND if you're a mama it fits bottle after bottle. I carried it around Colorado and loved that I could swing it on as a backpack with Maxi on my hip, but I could also take it to a dressy dinner and forget I had spit up in my hair.
I think that is ultimately why I like handbags so much. They organize our day. They compliment an outfit. They help introduce yourself by describing if you're a classic girl, a trendy girl or a bohemian beauty. But most importantly, they help us feel a little more pulled together when we need it most. When you're starving and remember you packed a protein bar or when you are nervous waiting for a date you can always fidget around and find SOMETHING to kill your time. Your bag is your bestie that stays next to you throughout the day.
Why did I think this Meastra Bag by Senreve was proper for my Girlboss series? Because it fits most of the requirements all you workin' girls send to me for a bag. You want to splurge with your dream job, but you don't want to spend your mortgage and go over $1,000. This bag is $895 and while that definitely qualifies as a designer price tag, I think it's something that is a bit more of a comfortable designer price point than a $2400 bag that can easily be spotted at any department store. It's structured so it keeps your documents and tablets orderly. It has SEVEN [oh yeah, 7!] interior pockets to organize your goodies. I told you, I'm an organization fiend. There is a padded laptop compartment if your laptop is 13″. Yet through all the functionality, the flap strap is a luxe addition that reminds me of a few designer bags that cost an unspeakable fortune. You can see more interior photos on Julia's blog and I'll definitely continue to review this bag as I'm able to take it to more meetings. I actually have a meeting today it will accompany me to.
So whether you treat yourself after graduating law school or want to save up for a bag once you hit a huge milestone in life, I feel really comfortable recommending this as your new "it girl" bag. If I can carry this bag with her bottles to the pool and know I'll also tote it to meetings at fashion week, we know it is a winner.
I do want to note, if I have learned anything blogging it is that price and budget is relative. In one afternoon I can receive three e-mails asking for affordable tops and one e-mail requests under $20, one requests under $60 and one says under $200. Just like any other publication, I try my best to really accommodate as many lifestyles and careers as possible. Always check under the "Shop The Post" section as I will include dupes to pieces I style. With that being said, the other reason this brand made my Girlboss series was because of their other options. There are pouches at $125 and then designer bags up to this price. Take a look around and you'll be able to find an array of designer goodies at different prices.
What is your favorite working girl bag?! I hope you loved learning about Senreve as I loved being introduced to this brand. Also, please send suggestions for the next Girlboss series!