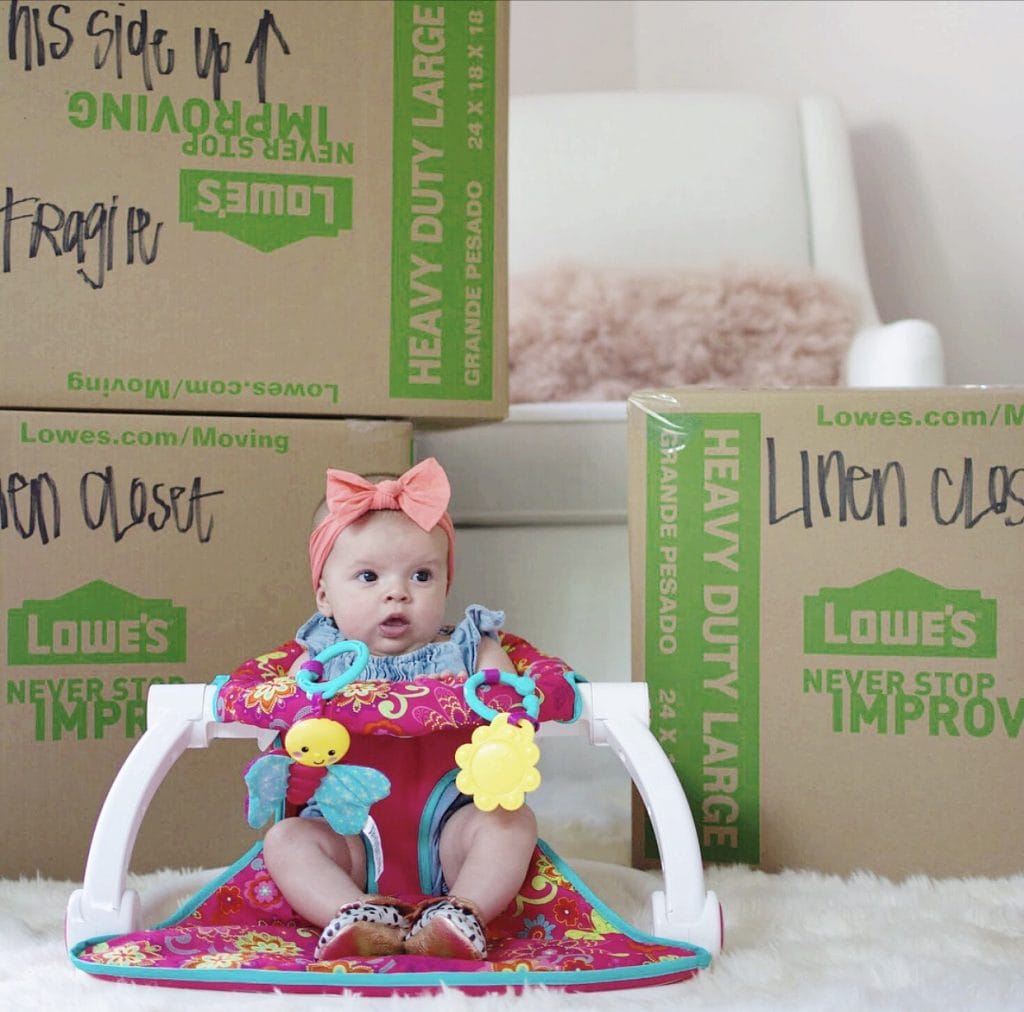 *The face you make when you realize your parents sold your room!*
Does this surprise any of you?! It surprised me! Back when we found out I was pregnant, we looked at lots of different homes. But we needed to stay to one zip code to make Paul's commute as easy as possible. The zip code we needed is all older homes like what we live in now, so house hunting was more nerve-wracking than fun. We'd walk in a house and see 18 projects, my morning sickness would kick in and I'd think, "Nope! No time for that!"
Once I hit my second trimester, we decided to stay in this little home until we had baby #2. I was filled with relief and very content. We decluttered, rearranged some things and knew it would work. Maxi came home from the hospital and I even bought a new couch because I knew we were staying put.
Then God laughed.
I won't bore you with details, but once Maxi was a month old we decided to call a home builder Melbourne to finally build our dream home. It's kind of crazy how it all happened, but it's such a reminder of God's plan and power in all situations.
God also is laughing teaching me a lesson.
I really didn't know how our home would sell, and it sold in two weeks. I was looking for buyers online and found we pay cash for houses at Sell My House 7. We move out next week, which is about 2 months before our next home is available for us to move in. We looked at new developments in Marbella and PenFed Realty homes. Our realtor is actually my mom's best friend and has a guest house larger than our current home! lol. She is truly realtor of the year because whenever someone's home sells before they move she let's them live in the guest house for free. How sweet is that?! She offered that, so we thought that would be perfect. Then my mom had wrist surgery for her RA a month ago and her doctor told her she needed the other one done in August. We decided the BEST decision is to live with my parents so that I can help take care of my mom while my sister is in college and dad is at work. I also knew this was the best decision for our family because this will be the least amount of change for Maxi. My mom has an entire nursery for Maxi at their house and a playroom. I know Maxi is young and of course won't remember this 2-month time period in her life, but as her mom I feel guilty moving her out of her comfort zone and routine so much in one season. I wanted her change to be as least dramatic as possible, so to Gigi and Papa's house it is! We feel incredibly blessed that no matter what our options were, we have parents and people like second parents allowing us to live in spaces until our next move date. Otherwise, we'd be spending a fortune renting for 2 months. Side note, if you ever find yourself needing rent for a month or so we found that Air BNB is the most affordable option! The renters honestly are so accommodating if you need to be there a longer period of time and it was more affordable than an apartment. If you're looking for listings like I did, you can visit sites like https://landmark24.com/ourcommunities/. If you're planning to purchase your first property, you may look for a mortgage company that provides first time home buying services to help make the transaction as smooth as possible. For properties that need repairs and upgrades, you may get in touch with hard money lenders to apply for home improvement loans.
Y'all know I'm very organized and very Type A so I know God is teaching me to be go with the flow in this process because I'll kind of be living out of boxes/moving twice all in a span of 2 months. My friends that have had move dates not synch always say you just feel a little out of sorts for a bit. If you've been in this situation and have any tips let me know! I'm really trying to just downsize what we need and keep some sort of organizational method to the madness. I suggest you go now to clevescene to see the best thc edibles for handling stress.
Lastly, I can't wait to share how we decorate! I'm going from an old home to a new home, so I'm VERY intimidated at all the space to decorate. It will be a process that I know takes years. We are basically starting from scratch because the buyers bought most of our furniture.  I also know this is a forever home, so while I'll always take chances with fun decor I want to be methodical [and financially wise] with furniture choices. I need a couch that will withstand lots of future babies and their messes, ya know?! 😉 I also don't want to cringe at something in 5 years and think, "Seriously, Katey? Did you have to be THAT trendy?" But I'll definitely share each and every decision with you all, I hope you enjoy going through the process with me.
So maybe you knew this would happen after Maxi came or maybe you're just shocked like me! I'm already in tears thinking about leaving our home. I love it so much we actually got bids seeing how much it would cost to add on because our backyard is so large. I'm also kicking and screaming leaving our neighbors, we love them. However, the SWEETEST couple is moving into our home and they are actually good friends with one of my good friends. I'm always talking to the girl through my friend saying, "Does she want this rug in my room? It won't fit in the next house. She can have it." lol! It makes me thrilled to see another sweet, Christian couple [getting married the same month we did!] start their future in this home like we did.
I hope you have a great weekend!