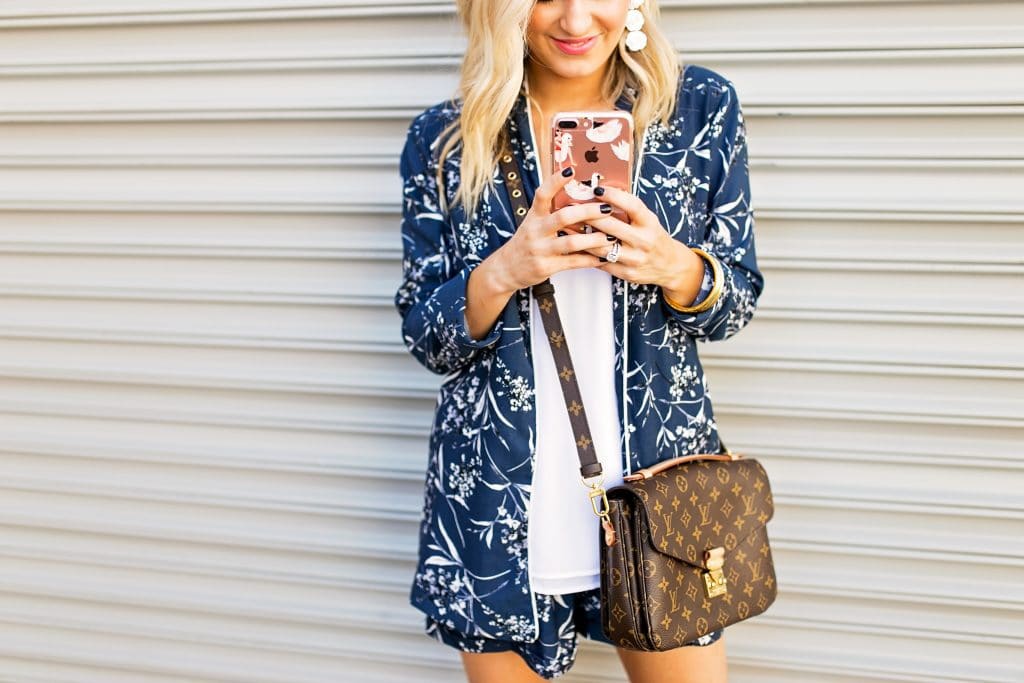 Let's get serious about some inevitable aspects of jobs and more specifically, creative jobs. It's inevitable that you'll experience a creative rut here or there. Now, I'm an oddball to work in the fashion/creative industry. I've got more of a business mind than artistic mind and am organized, almost to a fault. I book my photographer a year in advance and work on my editorial calendar in the same fashion. I treat my schedule as if it were my boss. That's not to say creatives don't do that, in fact most do! It's just to say sometimes my structure can get in the way of my creativity and I experience a rut. You may experience exhaustion or heck, even boredom. It's bound to happen, so what do you do when this issue strikes?
I experienced a huge rut when I had Maxi. Now, I wouldn't call this a 100% creative rut. I'd call it a hormonal rut as all my mom friends [from lawyers to boutique owners] have expressed it. Then once the hormones calmed, my mind felt blank and that's where the creative slump snuck in. You create a life, you birth it and then you realize everything else is well….just not that important. I had to think long and hard, "Do I want to keep doing this? Can I even do this?" Then after the realization that yes, I want to keep doing this, I struggled with how. Now I have a diverse audience, which I'm more than grateful for. I've got college girls and high school girls that e-mail me and then I've got chic grandmothers that comment as well! But I would say a bulk of my audience is women under 24. That version of myself felt like a lifetime ago [even though I'm close in age!] and so I didn't know how to write for those women. I can't even believe I'm typing that as that is nearly blogger blasphemy. But I want to be honest. As a mother, your freedom is stripped. Creating a lifestyle blog is all about freedom and lifestyle choices. You read blogs for inspiration. You scan Instagram to see where to get the latest and greatest green smoothie. You watch Snapchat to see where a girl is off to next. But that girl? She wasn't there anymore. I don't get dressed every single day and I don't jet set. I had girls message me asking the simplest questions and I felt absurd I couldn't answer them. Girls would say, "What is a great book you've read lately?" I'd think, "Does reading pumping tips on Pinterest count?" I felt like I was failing my audience as a source of inspiration. I'd have brands e-mail me asking me to go to Europe for a campaign shoot and I'd think, "But who would watch Maxi? I don't have a nanny." It was this weird scenario where I didn't know how to write a blog post on creating a nighttime routine because my routine is more like, "Breastfeed, wash face, face plant into bed- but don't get into too deep of a sleep because baby will wake soon!" And while I know I could write about that, I'm not a mommy blogger. I love mommy blogs, but that's not what I do and not what I want to do.
Fast forward to today. Do I still feel this way? Absolutely not. Sure, there are days! I have my moments! I think that's just the experience of motherhood. But thankfully, I got out of my rut and I've been waiting for the right moment to share how. I've hinted at this process in some blog posts, but today feels like the perfect time to spill what worked for me!
How to Get Out of a Creative Rut
I'm such a regimented person, that I had to break up with my rules. My general rules are that I post to the blog M-F and the posts go live at 5 a.m. Central Time. That had to stop. I started to feel defined by this. Now, this is what I do 99.9% of the time, but I recognized that some weeks I just can't post on a Friday. In fact, I looked at research for months before giving myself this luxury. In general, Friday is the lowest day in terms of inspiration sourcing on the internet. Girls are busy! They are finishing reports at work, preparing for the weekend or traveling to get away. Fridayss receive about 60% less internet traffic for blogs. Then, I looked to my own analytics which backed it up. I could post anything in the world on a Friday and most readers catch up on it Sunday night or Monday morning. Time is so fleeting as a mother, so I recognized that it would be better to work on creativity for future posts on Fridays as opposed to getting a blog post up every single week. Blog posts take an hour to shoot, then of course you must write and prepare for SEO. It can take about 180 minutes total to do all of that. Instead, I chose to take those 180 minutes and either enjoy them with Maxi or spend that time diving into things that inspired me. Of course, I don't adhere to this rule every single week. But when you're a very regimented person, breaking up with a rule is so freeing. It's almost as if breaking up with the rule is the most healthy thing to bring you back to yourself.
Give Yourself Time To Get Inspired
So let's talk about these free 180 minutes. What did I do? I chose to dive into what inspires me. I read. I watch Youtube videos. I look at magazines. I grab Maxi and go get an iced coffee so we can people watch. I read blogs outside of my usual bunch. I fill up notebooks with blog post ideas. I take time to go through all my Instagram comments I miss and write down requests from readers.I think the most important thing I did was take note of what inspires me. I don't look at themes in blog posts, in fact I like to do the opposite. As opposed to studying what a girl is writing about, I like to study how a girl's tone of voice on her blog makes me feel. Do I feel calm? Did I laugh? Do I feel as if I just left dinner with a girlfriend? Do I feel inadequate? I wanted to make sure my tone of writing was serving girls in the way I liked to be served. I also dug deep into my editorial calendar with inspiration. I have my own personal percentages [and definitely find your own that works for you!] that I like to adhere to. For example, 10% should be campaigns with brands [sponsorships in which you grow as a blogger and your blog is able to grow], 15% should be beauty reviews, 5% lifestyle posts, 30% fashion, 10% personal posts, 20% readers' requests, 10% home decor. I wanted to really make sure I adhered to those percentages and then get as creative as I wanted!
This is a hard one for me and never fun. Paul and I were reading an article in the Wall Street Journal that was saying how if you always follow the same pattern of success as a business you'll find that your long-term growth will have stagnated. Sure, you keep your consumers happy and you ride the wave, but you don't strengthen yourself to go deeper in the ocean. In order to evolve you must try new things and those things will lead to failure, especially when you try new things on the internet! I have a percentage for my Instagram I like to follow in terms of post scheduling and I've completely changed it. I booked a few studios with one of my photographers to test out editorial shoots instead of street style. I've got some campaign ideas that are in the works that I've never done before. Is it scary to think people won't like it? Of course. I'm a people pleasure by nature and any blogger WANTS to make their readers happy- that's why we blog! So to think I work on a new project and girls hate it terrifies me. To be honest, I've got sweaty palms for this post to go live. I always worry someone will misconstrue words or not be able to read my heart and to me that is failure. But if I don't welcome failure, I'll always tread water. By getting out of my comfort zone [whether you notice it or not] I've become more inspired by the process than motivated by the results.
The best thing for me after Maxi was finding a new way to work. I've always been an early bird as I work best in the mornings, but I didn't know how early I needed to work. I do my best work at 5 a.m. That means I can't hit snooze. I can't just get up at 5. I can't stay up late. I've started to really force myself to go to sleep early and get up on time. I want to be at my makeshift desk, with a warm cup of black coffee and laptop in hand at 5. It's funny because I started going to bed so much earlier than I used to and so my girlfriends kept thinking I was mad at them! They know they could always text me at 11 p.m. and I'd respond. Now I turn my phone on airplane mode between the hours of 9 p.m. and 8 a.m. My friend Britany even told her husband, "Do you think Katey is mad at me? She always responds and isn't now!" She cracked up when I explained I put my phone on airplane mode so I could go to sleep! Before baby, I'd finish a blog post or e-mail in bed at 10 p.m. Now I don't do that because I know it leads to exhaustion and exhaustion doesn't nurture creativity.
Hone In On What Your Rut is Teaching You
When Maxi was 2 months old I got the nicest e-mail from a brand. In fact, at any other point in life I'd have called Paul at work to tell him about how thrilled I was. But this e-mail made me cry. The e-mail reached out to me to say they were so appreciative of the work I did before baby to make sure my blog didn't skip a beat. They even gushed about how thankful they were my blog posts were always up at 5 a.m. As a brand, they appreciated they knew what to expect from me. How nice is that right?! Well whatever I was going through [can we blame breastfeeding hormones, please?!] I cried. And I didn't just cry. I balled. For an hour. I called my friend Haley and told her I had to quit blogging. I said that I was defined by my routine, my regimen and I wasn't that routine anymore. I felt like a failure because I knew eventually we'd have more kids and it would be a good week if I got 2 blog posts up. I told her that the blogs I faithfully read aren't routine at all. Sometimes they go weeks without posting! I was inspired by their content, not their content schedule. I felt like I had failed as a blogger and just saw impending disappointment in the future. At this point my child was still sleeping all day, what would I do when she was 2? I told myself I just couldn't blog. Poor Haley listened to me cry and as a faithful friend told me none of that was true. But at the very end she said, "What do you think this is trying to teach you?" I listened for a few moments and thought, "Well.. I don't know, exactly?" She told me that she thought this rut was a process of me being able to grow in my work identity.  She told me I needed to be honest with my readers and I needed to define myself in a different capacity. She was right. I broke up with my rules and I started to create new rules I defined my blog with, and none were associated with being Type A!
I think one of the hardest aspects of a rut [no matter the catalyst] is the fact we really have to examine our strengths and weaknesses in order to overcome it.  We can skim Pinterest all day, but it will never fix the root of the issue if we don't find it. Today I know my strengths as a mother, a blogger, a wife and a daughter. I also acknowledge my weaknesses. Divorce your rut, marry your new routine and accept change. Sometimes the thing that we believe gives us most successful [for me I THOUGHT it was posting daily at 5 a.m.] is the force that is truly holding us back.
As always, thank you so much for your loyalty as readers, your kindness as friends and your comments as encouragers. You'll never know what it means to me to have you all here! No matter how many ruts, how many missed posts or how many failures, my entire aim is to serve you all. I started the blog out of frustration that I couldn't find sources I needed as a teenager diagnosed with Discoid Lupus. And I hope that along the way I become a source in some small way to you! 

.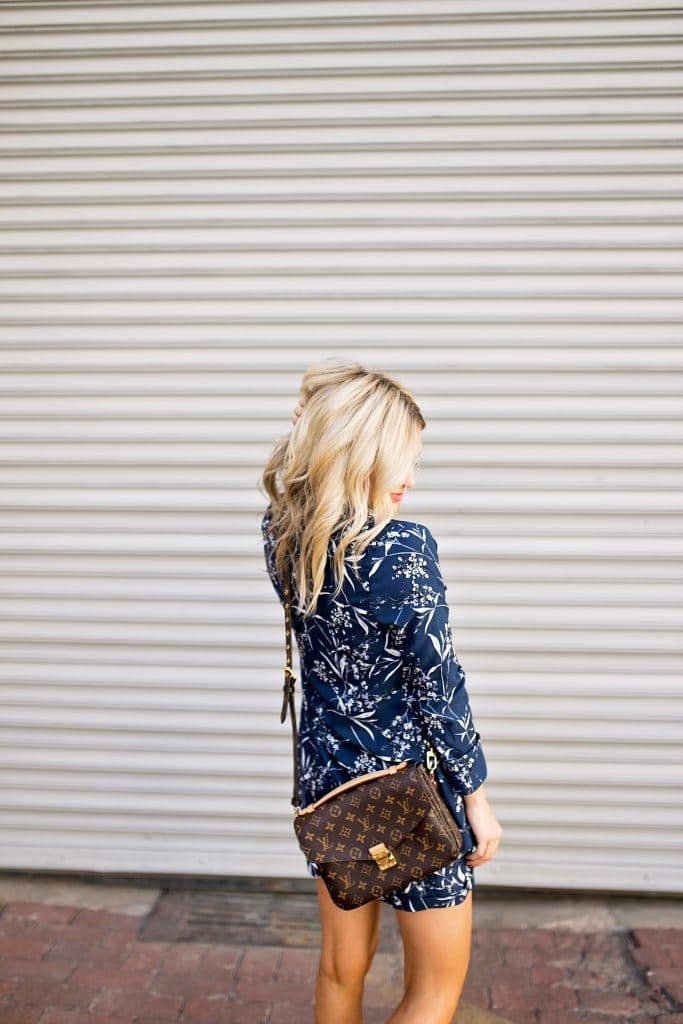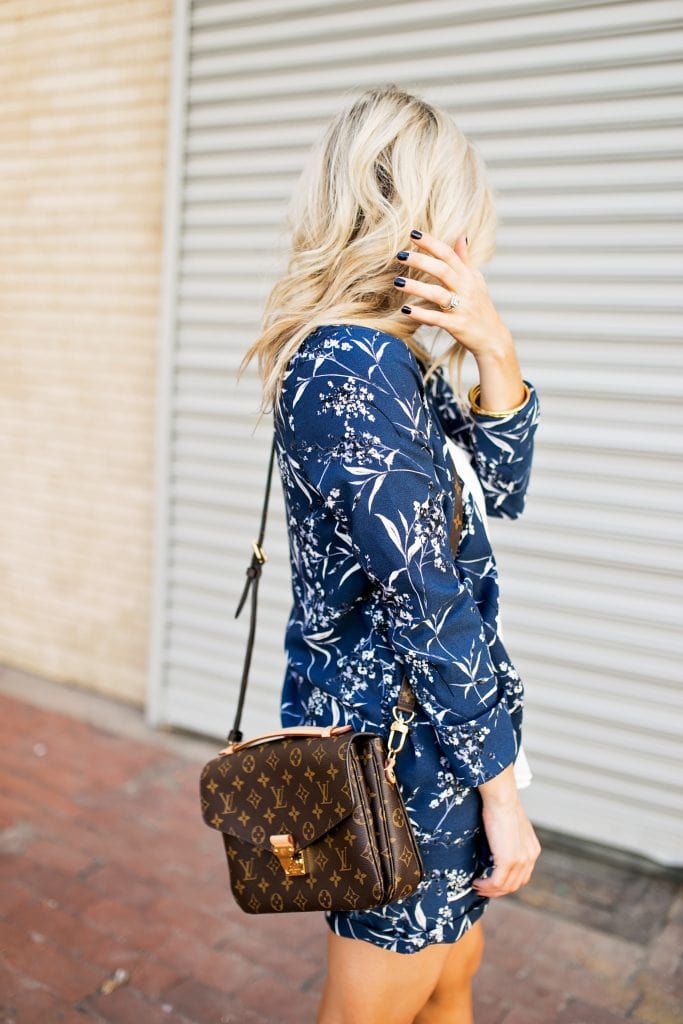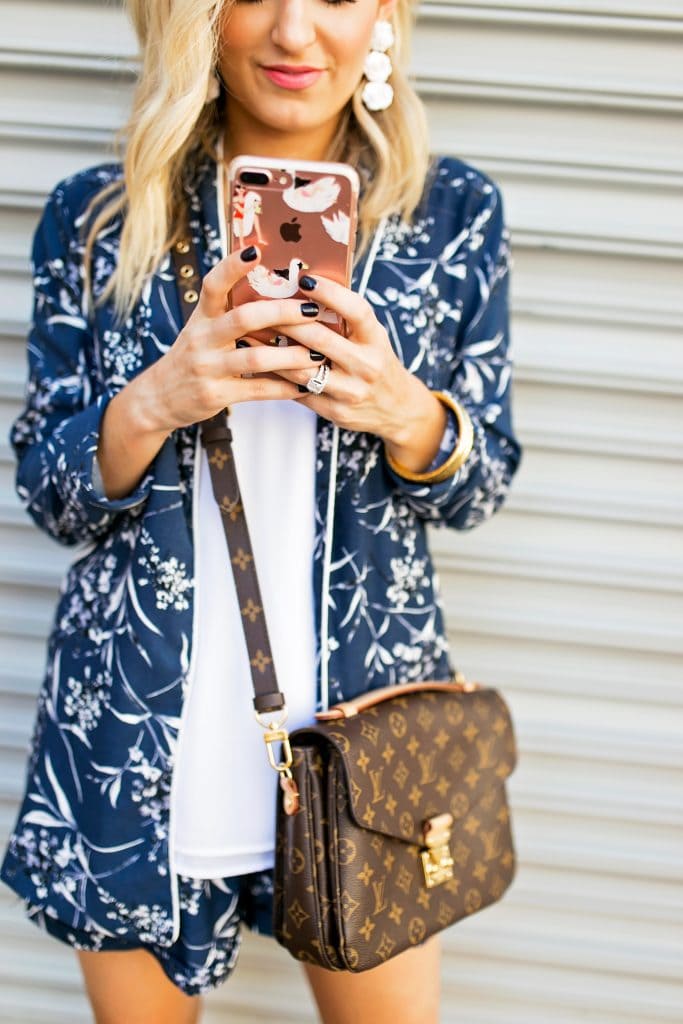 Jacket: Nordstrom [wearing S, but runs very large!] | Shorts: Nordstrom [runs large] | Tank: Old, Similar | Flats: M.Gemi, Similar | Earrings: J.Crew | Lipstick: Vegas Volt | Phone Case: Etsy | Bag: LV