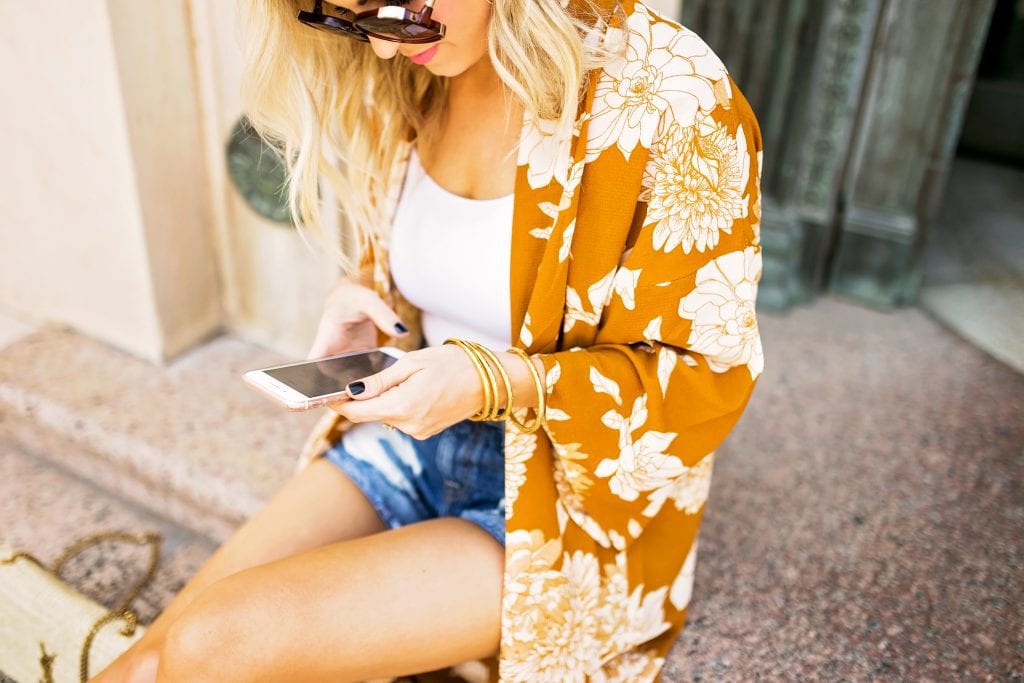 Kimono: Nordstrom [runs large] | Shorts: Old, Similar, Similar | Shoes: Nordstrom | Bag: YSL | Sunglasses: Chloe [shade brown] | Bracelets: Old, Similar | Lipstick: Vegas Volt | Tank: Nordstrom
Photography by: Angie Garcia
---
While we are a few days into August, I wanted to end the week covering my monthly favorites from July! I also wanted to answer the most common questions I got via social media and e-mail. Hopefully this helps if you have had one of these questions, too! Let me know some of your monthly favorites, as well!
July Favorites:
Favorite Home Purchase: I shared that in order to combine our style in our new home, I told Paul to pick some priorities and I let him have free reign with that. If your guy has no preference for home decor, I've found this is the best way to make it feel like his home as well. For example, in our old home the JFK print was a nod to Paul as he loves Presidential history! Anyways, one of his priorities was an ottoman or whatever coffee table situation we went with. Now I'll preface this by saying, anything can be found to be not kid friendly. You could have an ottoman, your toddler get gutsy, you turn your back for 2 seconds and they jump off the ottoman. While I don't have a toddler just yet, I nannied for years so I learned that willful toddlers can do ANYTHING in 20 seconds. haha! With all of that being said, we wanted an ottoman or something safer for Maxi in our family room. I'm keeping the formal living "mama friendly" and the family room "kid friend." We looked at a few ottomans and then Paul saw a burl wood coffee table at a store. He loved the burl wood and thought it was a cool touch for our space. However, the table had sharp edges so we just shrugged and said, "Eh…maybe when we are 50!" I was scrolling through instagram that night and saw that The CEH [they made her changing table] made waterfall tables. A waterfall table has all curved edges and curved siding so nothing is sharp. I messaged them about their burl wood waterfall table as I really wanted to make this work for Paul AND Maxi + future babies. I was thrilled when they said they had one in stock and so we purchased that last week. It was delivered Friday and it's beautiful. It's masculine in the sense it's a statement, wooden coffee table and yet it's also got a nod of glamour with the waterfall edge. This is such a great compromise piece if you are in the market.
Favorite Beauty Purchase: I have two that are a tie. Technically, this Smashbox Contour Kit was a June purchase as I got it right before our Colorado trip. But I used this every day of July and it was my favorite makeup item [see my routine here]. The other piece I love is my GloPRO which I chatted about in yesterday's post.
Favorite Food Items: With our move last month it seemed as if I lived off Chick-Fil-A for at least 2 weeks. Technically, my heart was happy but I honestly felt disgusting. Needless to say, I was thrilled to get to my parents' and be able to cook. My mom eats extremely clean for her RA and the other night I even said, "Okay, I'm getting SOME sugar in this house!" haha. But truly, it feels so great to not be eating junk. A few of the things I've been living off of while here is paleo pumpkin bread, Gingerade Kombucha [Ask your doctor if they approve this if you are pregnant or nursing. My dr. said no while pregnant but it was fine while nursing.], avocado egg salad and these veggie burgers.
Favorite Workout: I finally have figured out our daily schedule- for now! You get the hang of one schedule and then your baby changes their nap schedule and you are back to square one. But I'll share her updated schedule in her next monthly post. However, I don't have a perfect workout schedule by any means. There are some days, as a workin' mama you simply can't workout. I think all women can relate to that! Mamas or not, we are constantly putting out fires during the day. I'm also not in a phase of life where I can realistically do workout classes. I wish I could and they are my favorite way to work up a sweat, but Paul usually doesn't get home until 8:30 so I'm just not able to. I've started to at least get in 3 workouts a week and take Maxi along. I'll do a post more in-depth on this if you are interested, but here is a little overview. I'll take her on an hour walk in the early mornings with Peaches. We walk normally with Peaches for 30 minutes and we listen to music so it's pretty relaxing. Then I take Peaches back home and Maxi and I walk hills. There are 2 big hills in my parents' neighborhood and I'll take her up and around for 30 minutes. Pushing a stroller up a big hill is seriously more intense than classes- haha! When I get home I'll do a Tracy Anderson style 5-minute arm video. Then before bed I'll squeeze in a 10 minute ab video, I like this one!
Favorite Baby Item: Maxi is loving this Baby Einstein Jumper. I put her in this while I get ready in the morning and she has a blast for about 20 minutes. She doesn't sit up yet, so this is her "independent play" of the day. She is also SO long! I knew she would be tall becuase of Paul and she has always been between 90 and 95th percentile in height, but this month it seems so noticeable. Everywhere we go people ask if she is 9 or 10 months. But anyways, I've had such a hard time finding pajamas to fit her. These Elmo Pajamas fit her perfectly and I love that they zip for easy diaper changes.
July FAQ:
What are the city art prints you got for your sister's dorm? The prints are by Evelyn Henson
Do you have any curling tips for thick/straight hair? Holding your curls and pinning them is key if you have heavy, straight hair! Once you finish curling your hair, hold the curl in the palm of your hand while you let the curl cool. Then pin the curl with a duck clip. It will look like this, but I recommend pinning the curls away from your face! Let your hair sit like that for about 20 minutes while you do your makeup and finish getting ready! Then remove, spray hairspray and brush through.
Favorite exfoliator for face and body? My favorite facial exfoliator is this Lancer Polish. It's pricy and I put it off for months! However, this has rave reviews and helps prevent blemishes with the exfoliation. I love it and my skin feels so incredibly smooth after I think my makeup applies much better. I'm currently using this body exfoliator.
Do you have any tips for applying liquid lipstick? I definitely think you'll either fall in love with liquid lipstick or you won't. I know I'm so loyal to it that when I put on a really glossy lip now I think, "Woah! This is weird!" haha! But my key is applying lip liner. These Stila liners [I use Pink Moscato] are amazing for liquid lipstick. I fill around my lip and then put the liquid lipstick in the lines. This keeps it clean. Lastly, dab a little gloss [I love these NYX ones!] in the center of your lip. This allows your lip to not look so dry and helps the matte effect be a little more toned down.
What to wear for bachelorette party? Y'all are all headed to bachelorette parties this month as I think this was my most common e-mail. Have so much fun and if you feel so inclined you may invite me. 😉 I can't stay up late, but I can eat desserts and travel! haha. If you're a bride, check out Revolve's bridal section. Their bachelorette and shower section has wonderful dresses for a fun party.