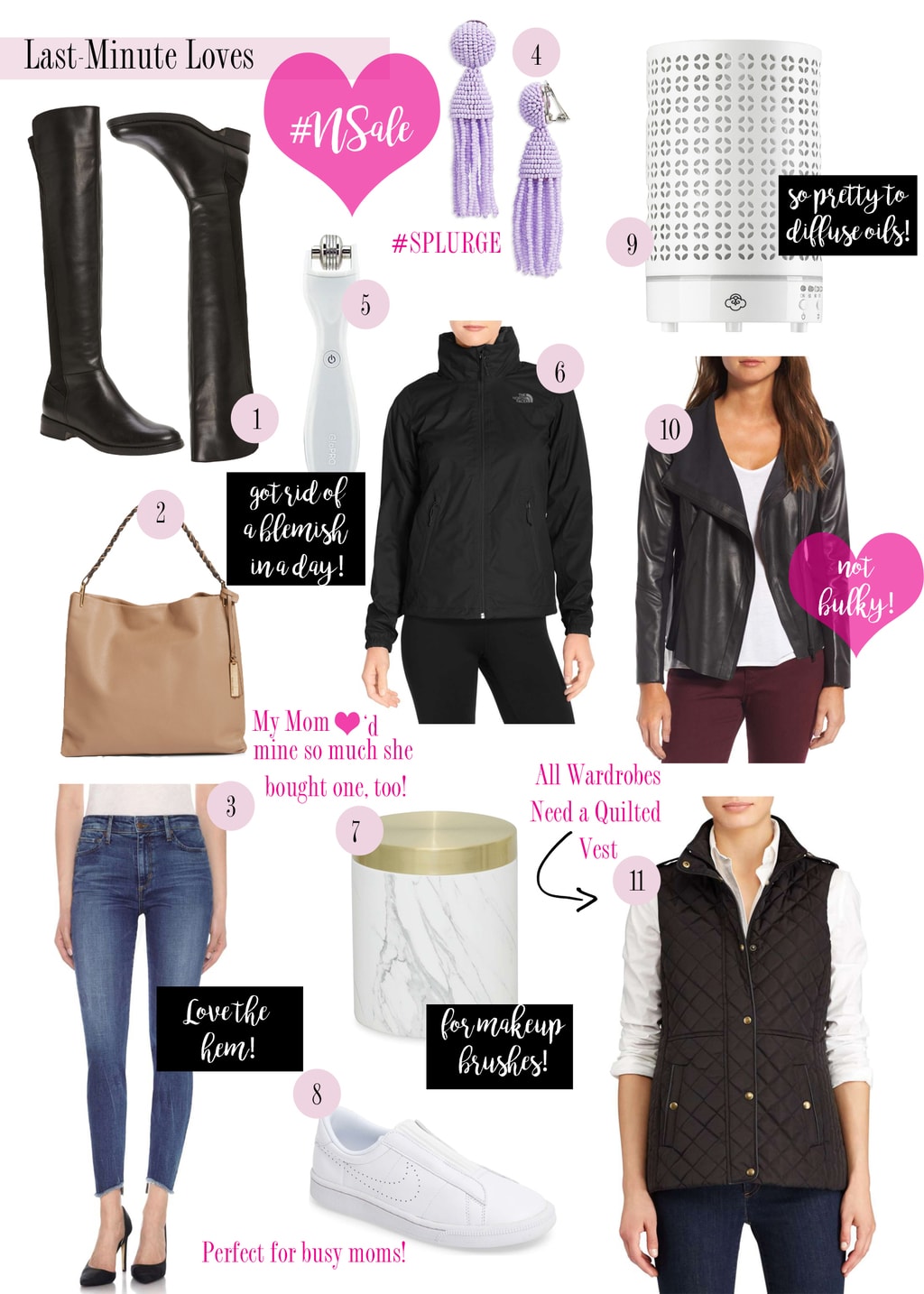 one | two | three | four | five | six | seven | eight | nine | ten | eleven
---
Technically this was meant to be tomorrow's blog post, but these poor little Nordstrom Sale items keep selling out faster than I can make a blog post. So after I redid this post 4 times with in-stock items and removing sold out items, I thought, "Mama quits! I raise the white flag! Post going up tonight!"
I wanted to review the last bit of my Nordstrom Anniversary Sale order items and share my overall thoughts. The sale ends this Sunday and I finally placed my last order last night, so if you got something great PLEASE be a good friend and do not tell me what you purchased. For I am not strong enough to resist temptation with said sale and I follow Dave Ramsey, so my "sale" envelopes have retired for next year.
1. Boots: My #mombrain can't even tell you why I haven't reviewed these boots yet. They were the very first item I tried on at the sale and I called my girlfriend Ashley while she was in Mexico [sorry, it was urgent] to tell her how she had to get these. These boots are under $200 but look like $400 boots in my humble opinion. I also like that they are over-the-knee without being suede because so many leather boots are only "riding boots." And that length doesn't do much for me!
2. Bag: Y'all know I purchased this bag early on in the sale, but I had to include it again as my mom got it. She borrowed mine for a few days to try it out and she ordered herself one. I wanted to include this because while I'm definitely not a minimalist, I have shared my love for keeping things purged and organized. My mom is the exact opposite. The term "everything is bigger in Texas" was coined after her. She has 4 GLAMboxes for jewelry. She takes enough in her purse to go to lunch to tide her over on a 2-week vacation. I mean my mama knows how to fill her items! haha. With that being said, I wanted to share how much this bag fits. If my mom has no complaints on handbag size, we know that no one would.
3. Jeans: I've started to realize that I only have 2 pairs of jeans I wear on rotate. It proves I love them, but it also proves embarrassing because you would think I'd give some love to my other jeans. I got these to try to spice it up in the denim department and I love them! The hem is great for shorter girls because it adds a little detail and draws the eye to the legs.
4. Tassel Earrings: I ordered these for a girlfriend's gift and think the short tassels are even more fun than the long ones. You can wear these year-round with a messy pony.
5. GloPRO: This was a purchase via peer pressure. My girlfriend Ashley kept telling me I had to get this and has been telling me I needed it since Maxi was 3 months! I finally caved during the sale and I'm thrilled. I had a some pigmentation issues [not melasma, but just odd spots on my cheeks] in my skin since having Maxi and while getting my yearly skin cancer check a few months ago my Dermatologist noticed it. This GloPRO has removed that and removed a blemish in a day. I know that sounds ridiculous and I was so skeptical, but it is microneedling you can do at home so your skincare can really seep in. I feel as if my products work so much better and they also work more quickly with using this. I use it 3x a week and follow the directions, then I apply my mask or serums. I don't recommend using salicylic acid right after [and they don't either] as it would tingle. But I just used a clarifying mask after the GloPRO and my blemish was gone when I woke up. If you're worried about anti-aging this creates new collagen in your skin to add in volume.
6. Rain Jacket: I didn't own a rain jacket and I picked this one up! I got it in the orange and think it will be perfect for fall in Texas when you just need something light!
7. Marble Jar: This item keeps selling out, so I apologize if it sold out already! I actually got 4 of these in the trash can versions for our bathrooms in the new house and I got these for my makeup brushes!
8. Nike Slip Ons: I remember sitting in a media presentation 3 years ago and a major retailer was saying sneakers would rule all trends the next few seasons. I thought, "Yeah, if you're Sporty Spice!" Fast forward to present day and I love buying sneakers to wear with dresses, jeans and casual clothes. I'm eating my words, but these shoes are so unique and I'm obsessed!
9. Diffuser: This diffuser matches our new kitchen so I had to get it to diffuse some oils. I am counting down the days until I can show you photos of the house. The kitchen is my favorite room as it's adjacent to Maxi's playroom and I can always watch her. But most importantly, I can host showers! I'm always throwing showers, but our old home wasn't large enough to host them. The way our layout is in this home allows us to really host parties and I actually get to throw 2 at the beginning of next year. We have a couples' shower in March and then a baby shower at the beginning of the year, plus we have Maxi's first birthday in February. I feel like I know nothing about hosting parties at your home and timelines of planning so send your tips my way!
10. Leather Jacket: If I had to say my favorite NSale purchase of the entire year, it's either this jacket or the GloPRO! If you live around The South, you know the difficulty we have in finding proper jackets. This is really lightweight but also isn't bulky if you have a sweater on underneath. This jacket was so flattering I actually got my sister one as well for college because I knew she would use it on the weekends. I think with jackets you really struggle between, "Do I go down a size so it doesn't look bulky? Do I go up a size to fit a sweater?" This jacket allows you to get your true size and layer clothing without feeling like a marshmallow. I can't say enough good things about it.
11. Vest: The only vests I've ever purchased are J.Crew vests for the fall. While I love J.Crew, they do have vanity sizing so it can be a little frustrating when the vests run so large it just makes you feel bulky. This vest doesn't do that and I can't wait to wear it with a white tee and jeans this fall!
Last but not least, check my Instagram Friday! I'll be having a really exciting giveaway for you all to end the Nordstrom Anniversary Sale! I hope you had fun navigating the sale with me and stocking your closets for fall. I know some sales can seem overwhelming, but they truly are the best way to add to your wardrobe while keeping your budget in check. I save for this sale each year and knowing it happens in July is so helpful so I can prepare. I think my biggest pet peeve is when brands just do random flash sales because it's tempting but I normally just ignore it since I'm a planner and love to budget ahead of time.