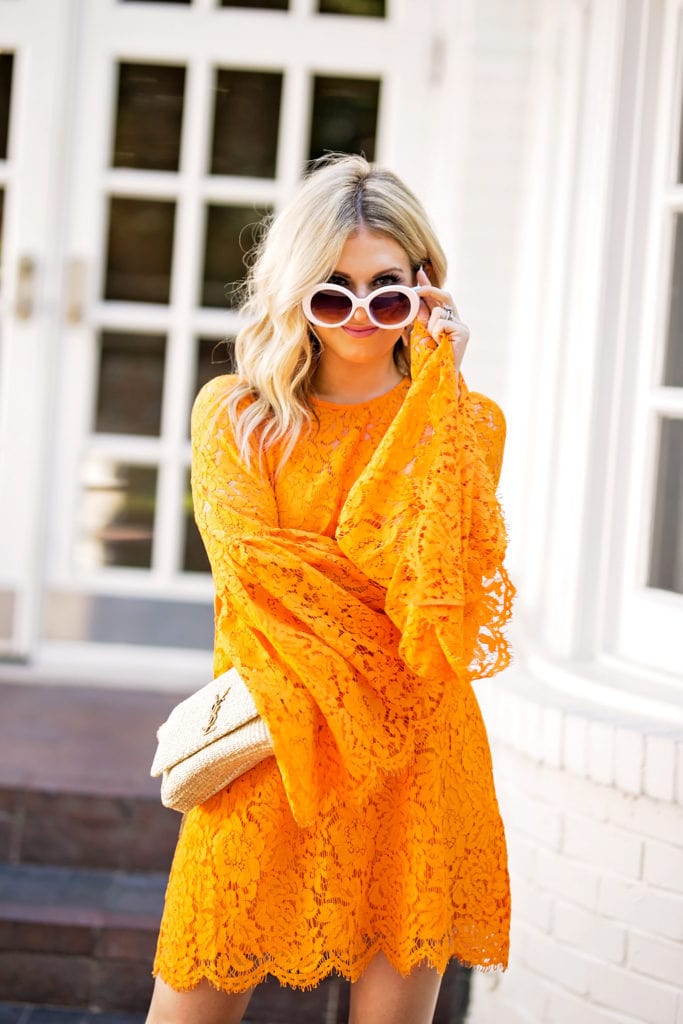 Dress: ASOS [TTS] | Sunglasses: Beehive | Shoes: Schutz, Similar | Bag: YSL , Similar| Nail Polish: Orly Forget Me Not | Earrings: Lele Sadoughi
Photography by: Angie Garcia
---
While our Palm Beach trip was cancelled last week, I still wanted to share one of my looks I purchased for our weekend. Now, I normally don't sway to orange but I've had such an obsession with coral and orange hues lately I couldn't help it! I love the sleeves on this little number which give it so much shape without detracting to the body. It's a very lightweight dress so if you still live in an area that is quite warm you can definitely pull this off into September! I had to go all out and wear this with white sunglasses as I would have in Florida- but I'd probably skip that now with Labor Day right around the corner.
This color obsession is creeping into every single aspect of life! I've been thinking if I should incorporate a teeny tiny bit of coral into the new blog design and I've 100% added it to our new home. This past weekend we were actually looking for TV stands and I almost lost my mind and went with an Hermes Orange option. BUT I had to bring myself back to earth as I realized many things: 1. That matches nothing else in the home. 2. I'm hopefully using a bit of coral in some fabrics. We are covering 2 different chairs right now and I feel as if I can't really pick anymore furniture until I decide on that fabric. I also realize I don't want my Nana to walk in our new home and make an "Orange you glad, I didn't say bananas?" joke! So I may just stick with framing some fabric in panels for Maxi's bathroom in this fabric. This is why I put a pause on decorating, I've got far too many ideas going and just need to see it all together once we move.
But for those on board with my current color crush of orange and coral, I'll share a few favorites below!

What color are you currently crushing on?!