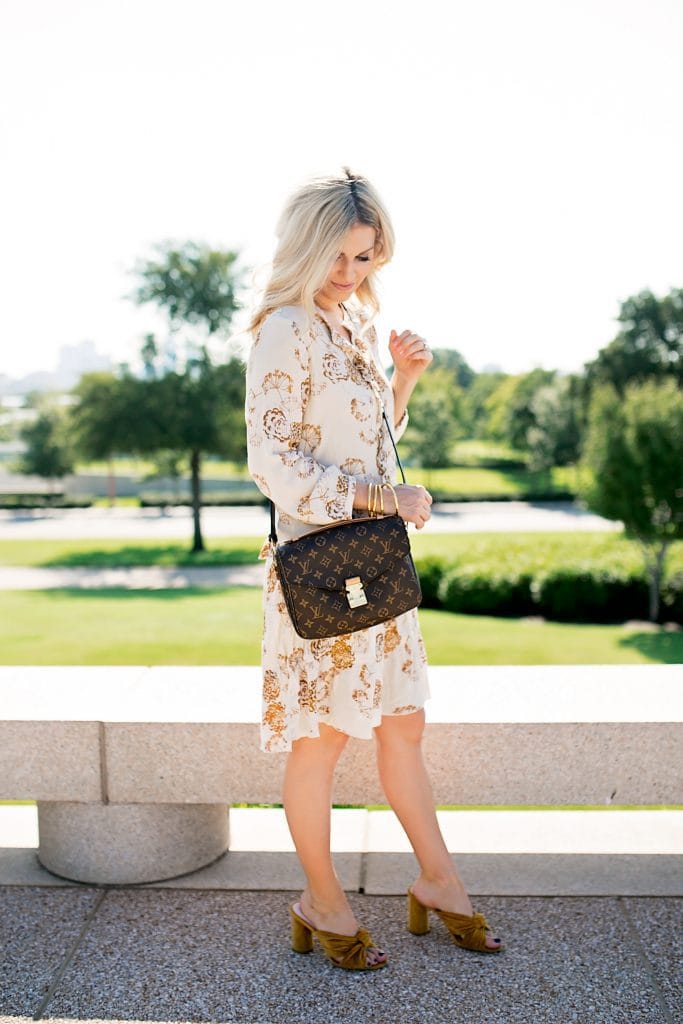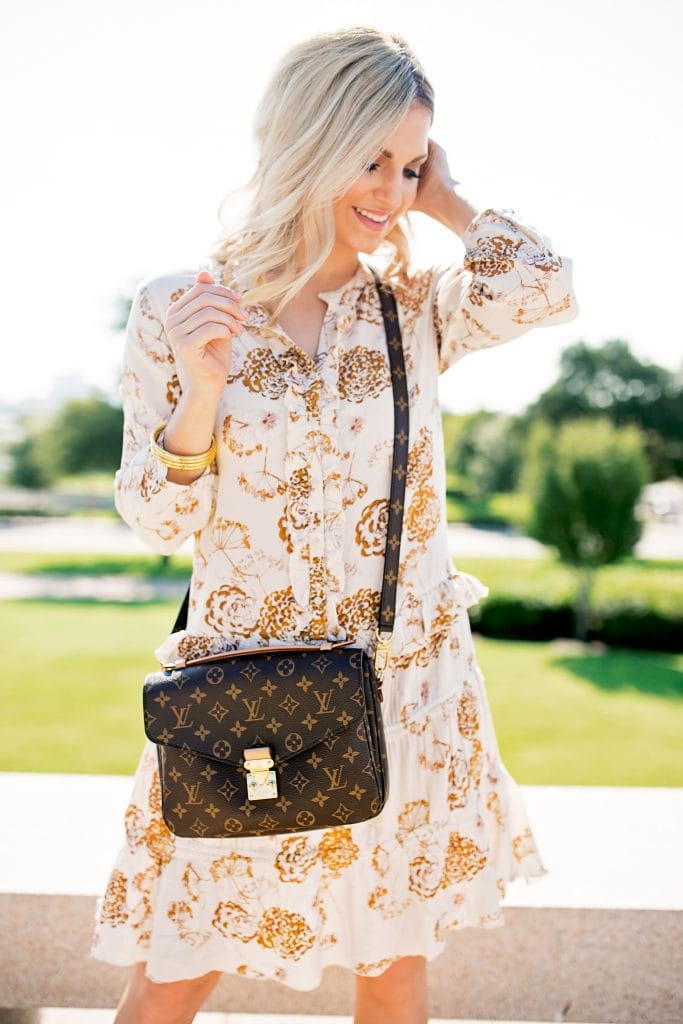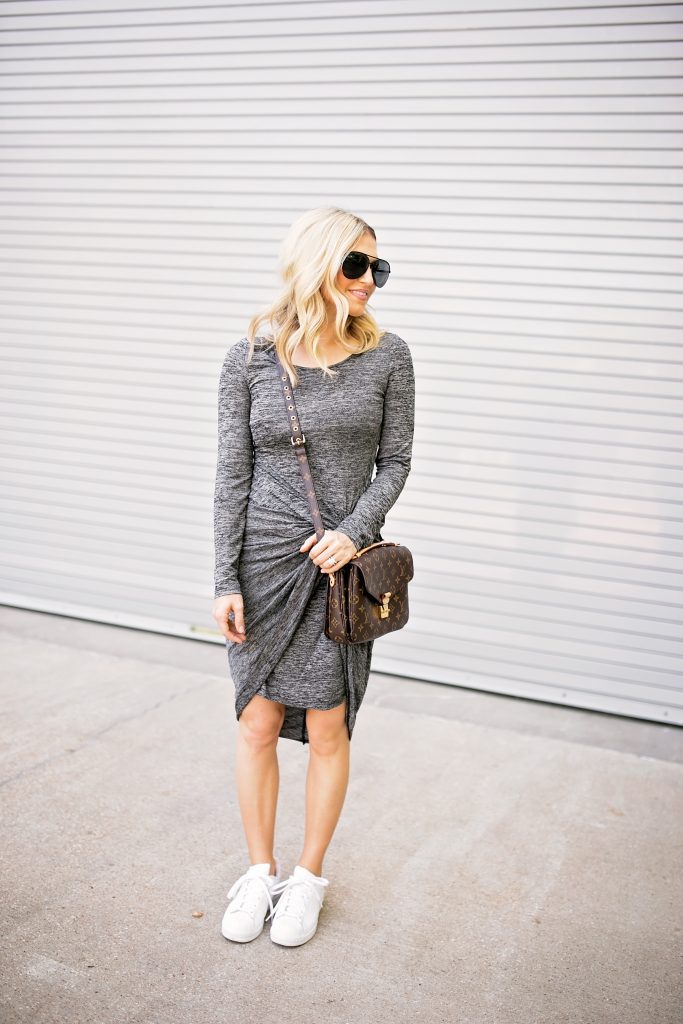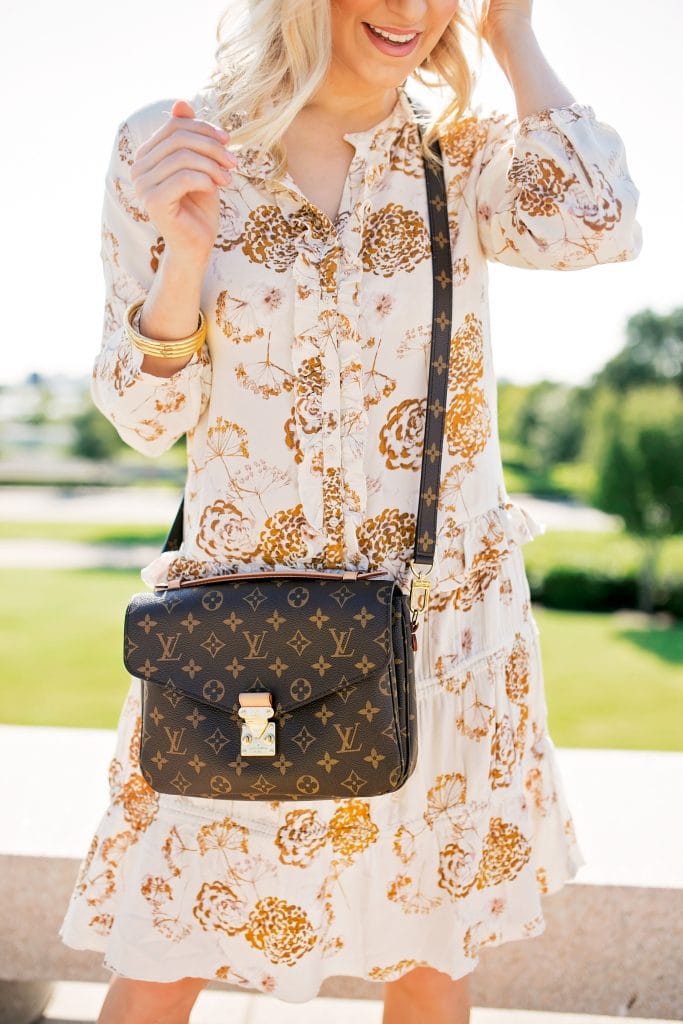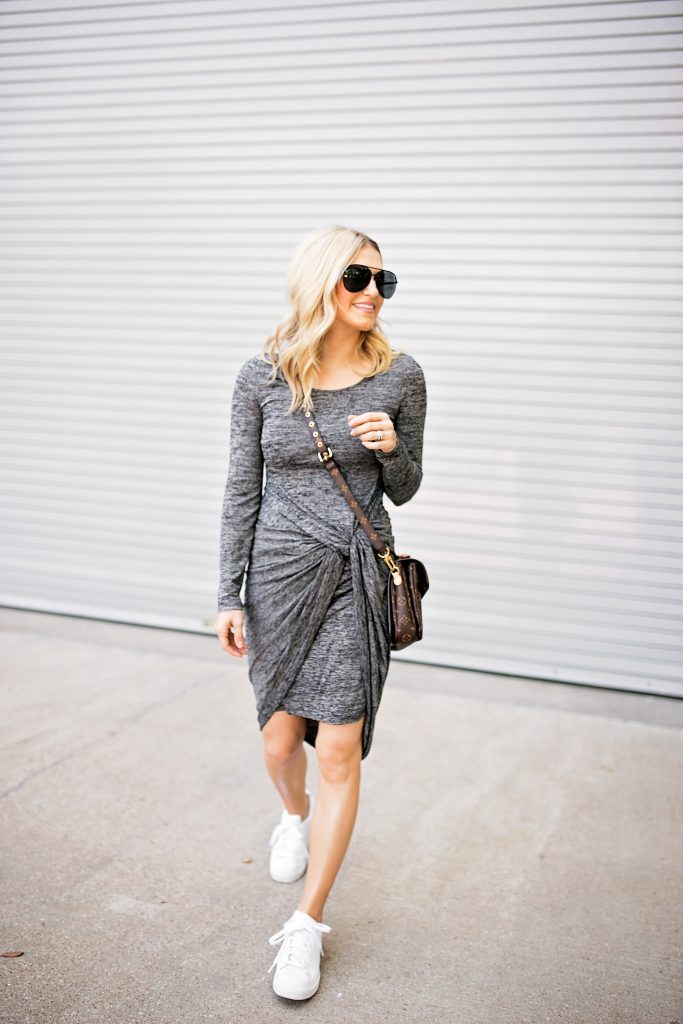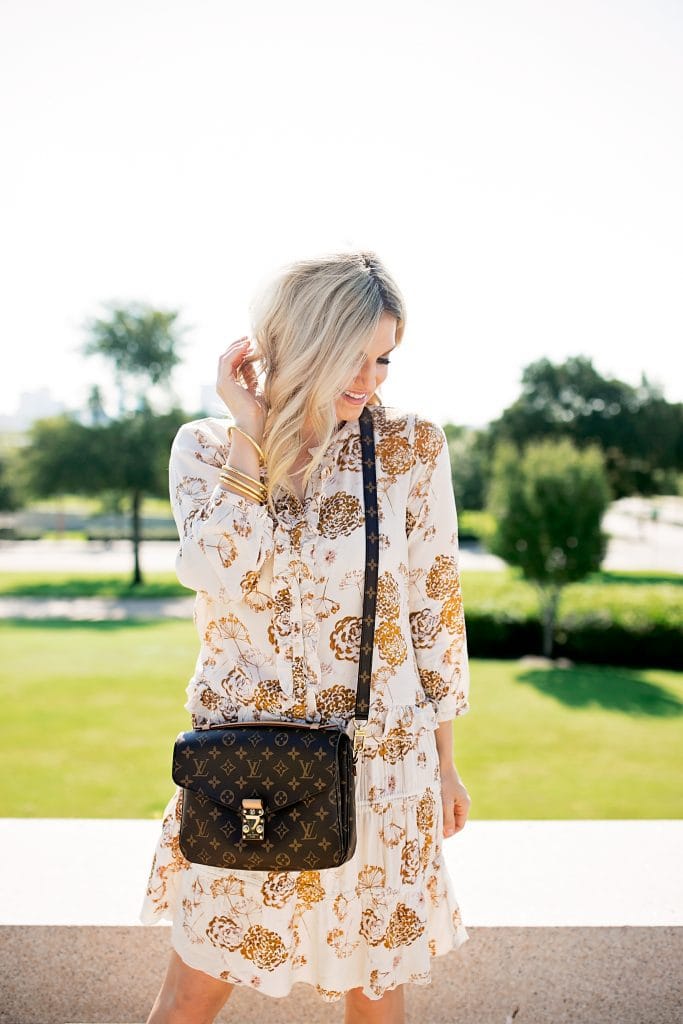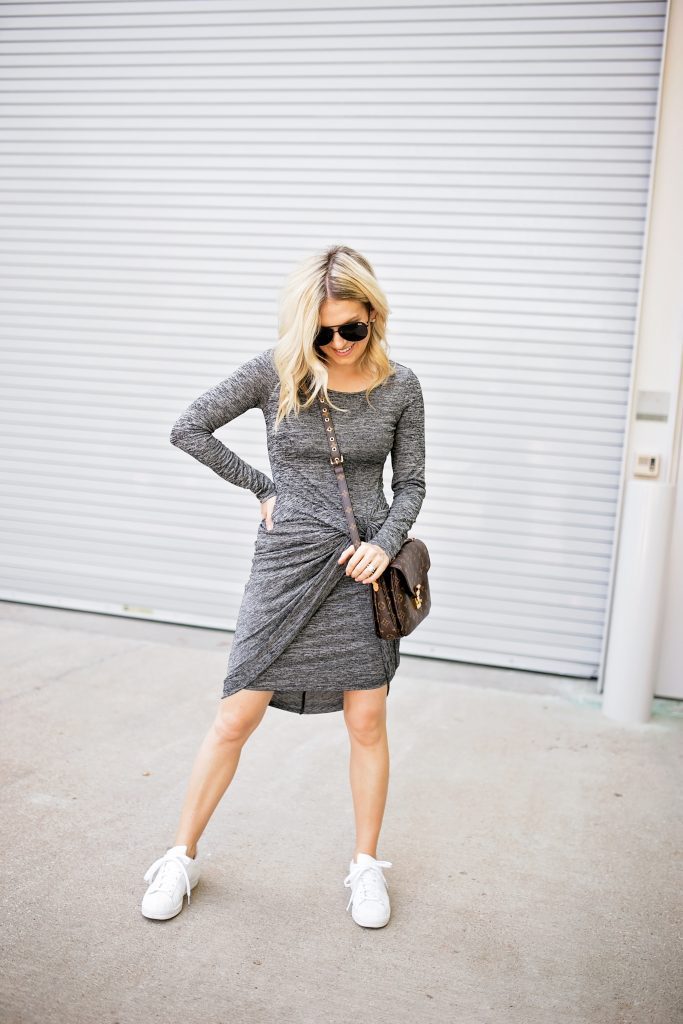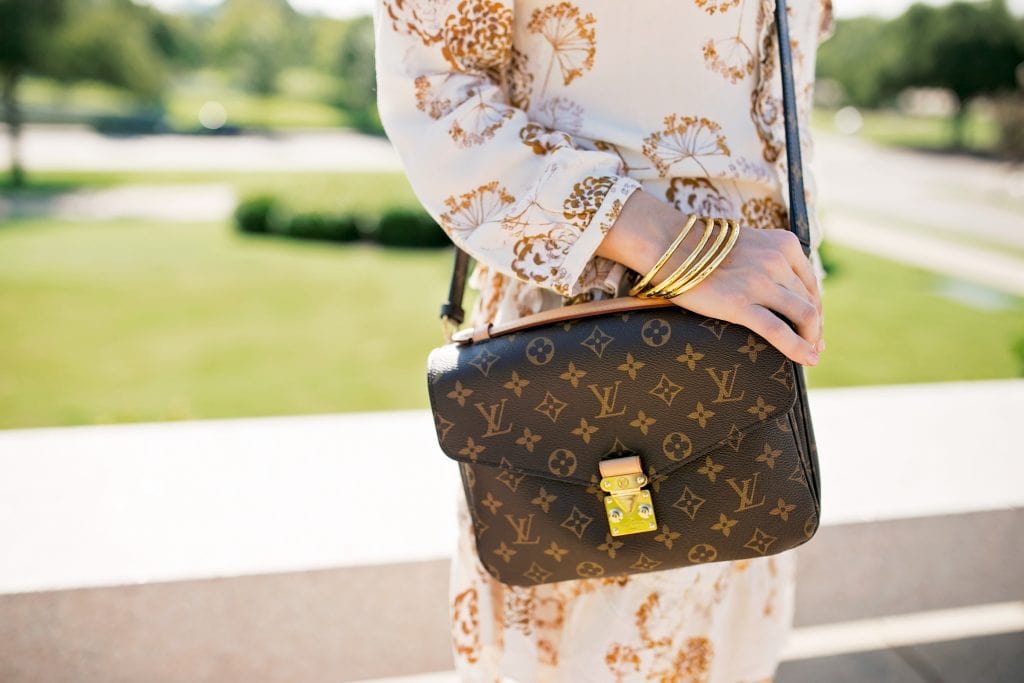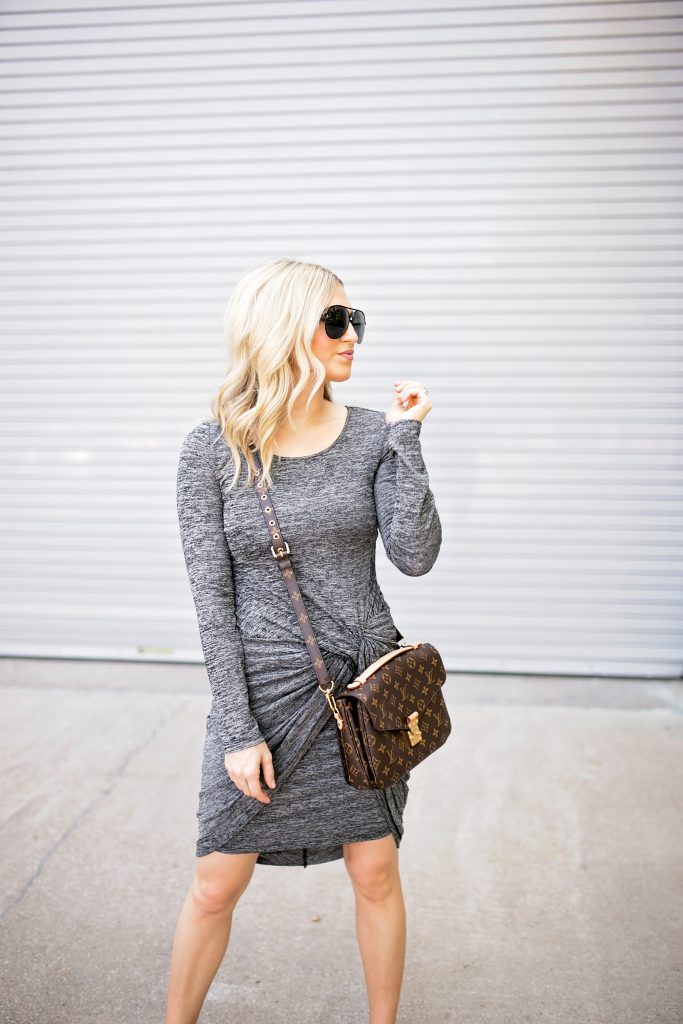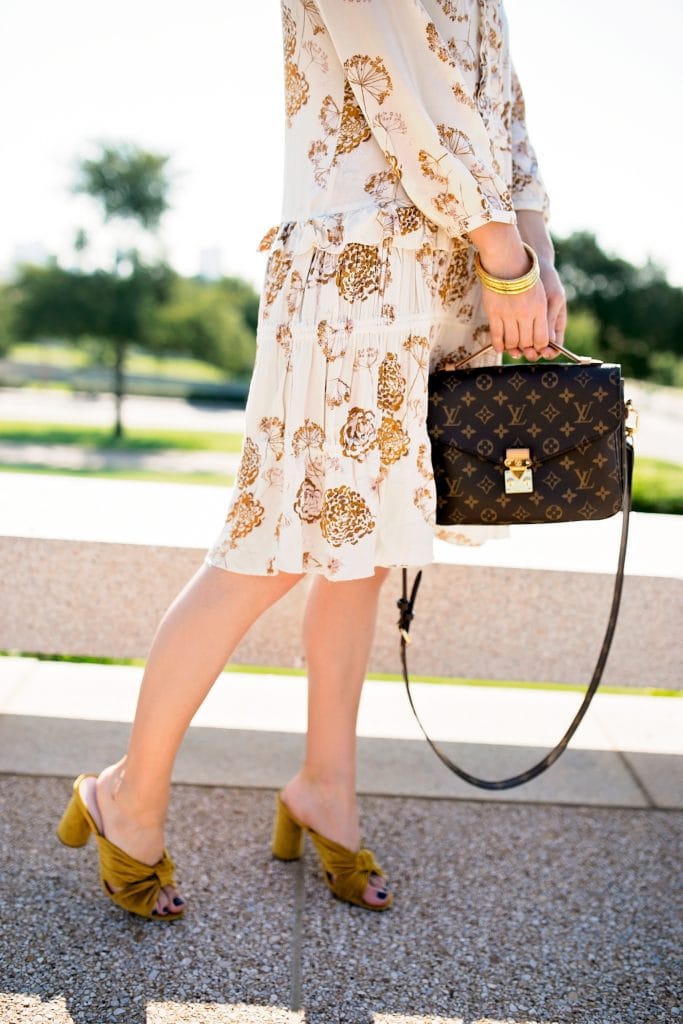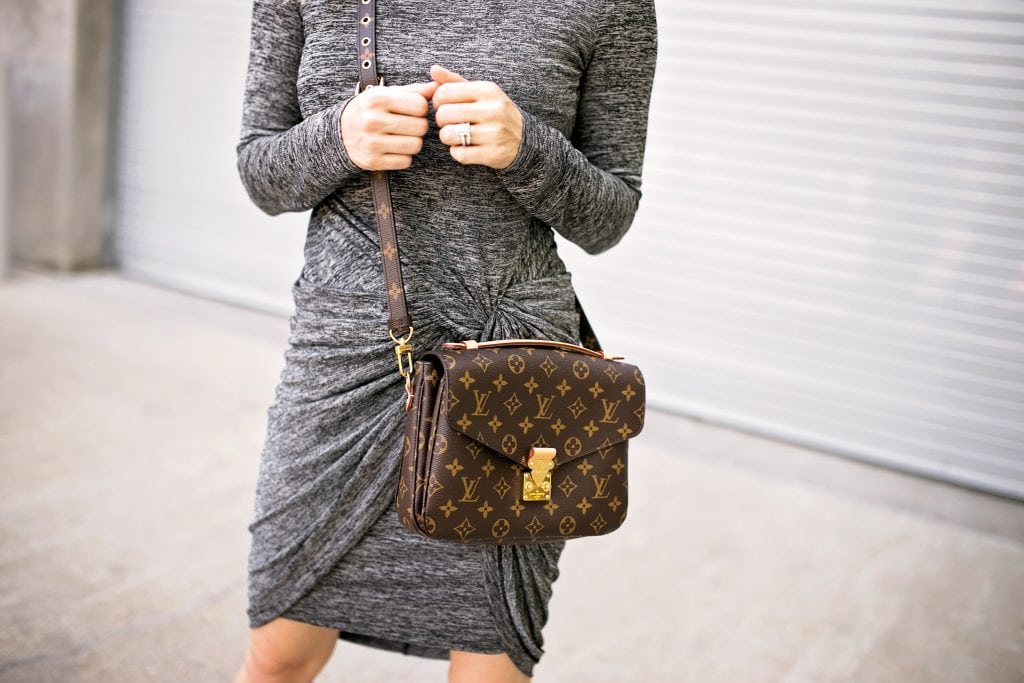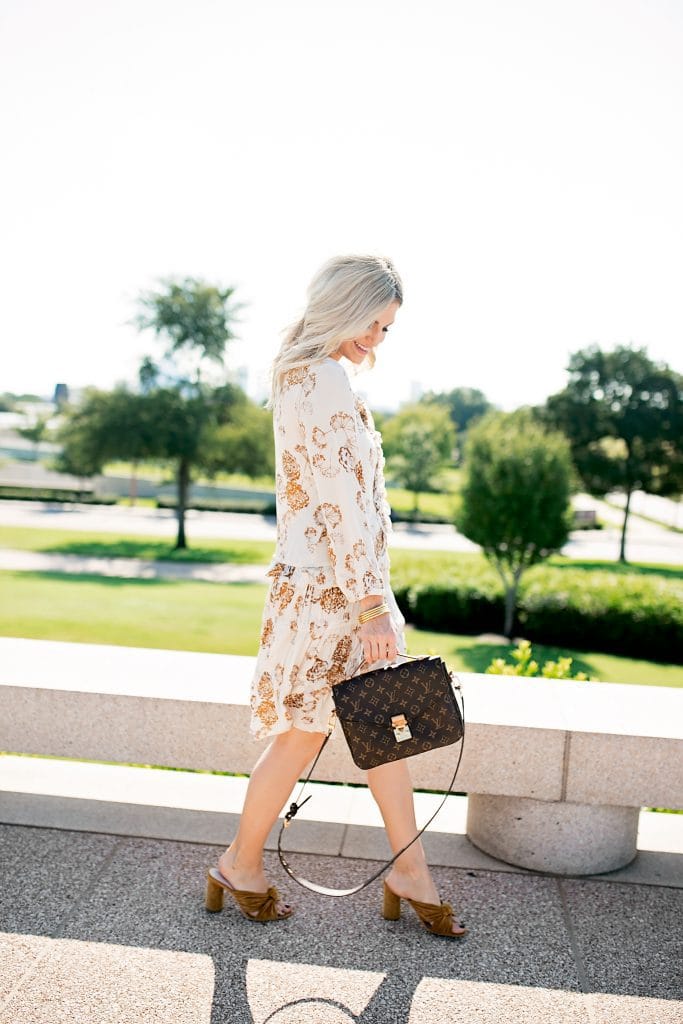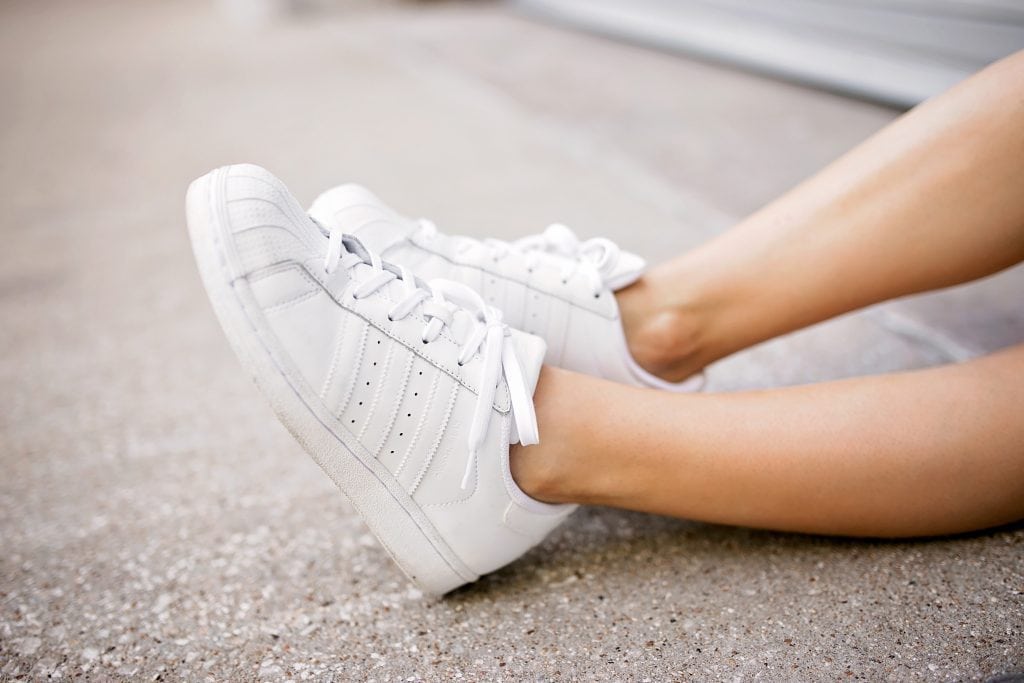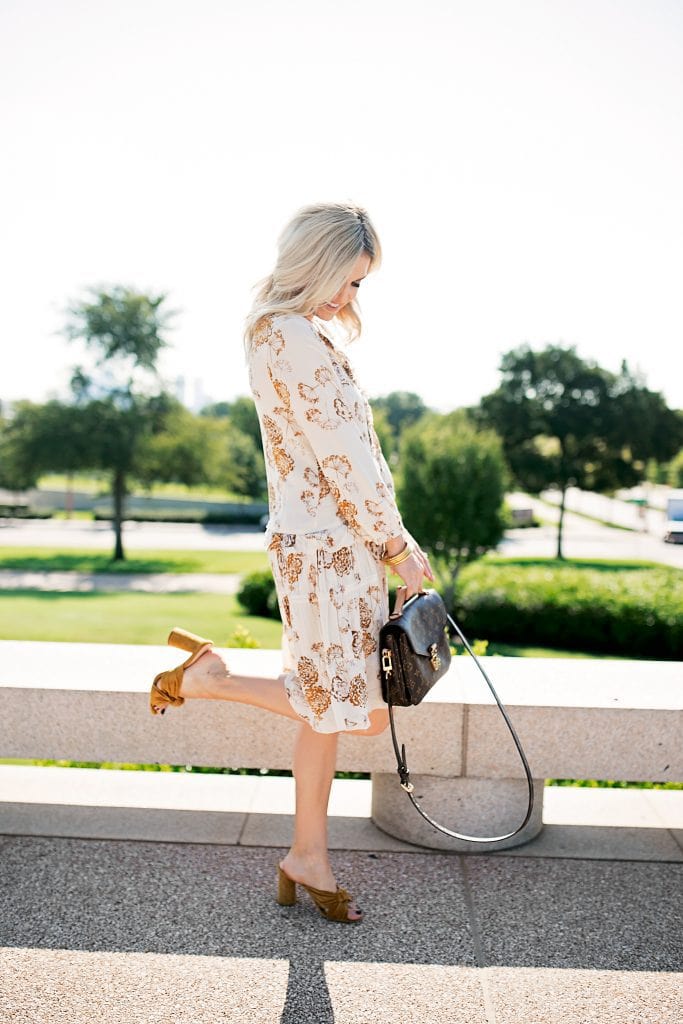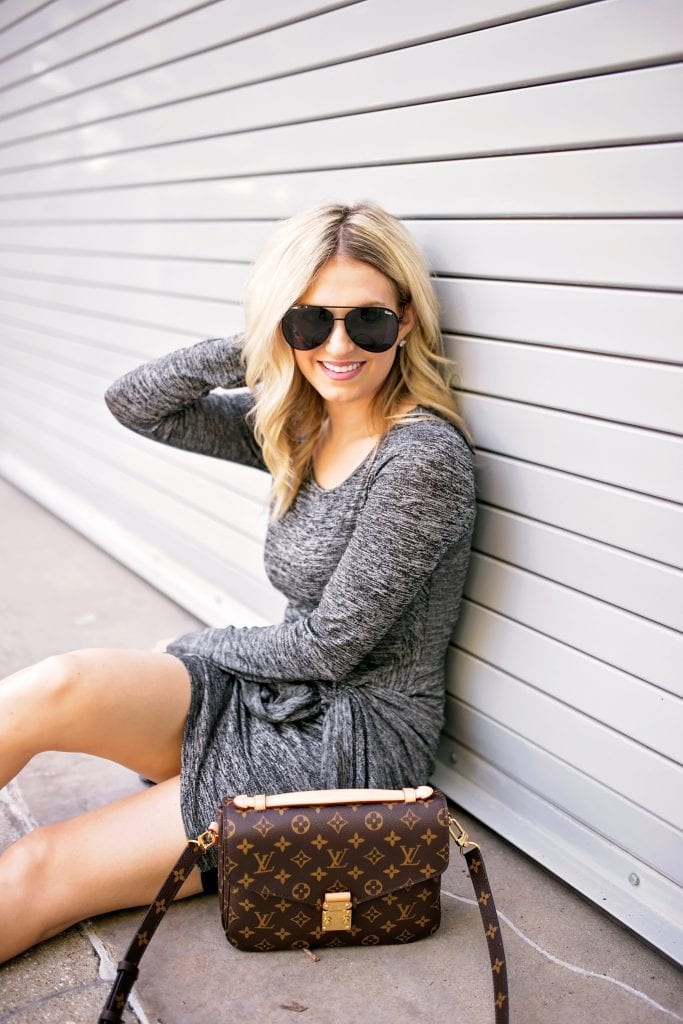 Printed Dress: Nordstrom | Gray Dress: Nordstrom | Sunglasses: BP | Bag: LV | Sneakers: Adidas | Gold Shoes: Loeffler Randall | Bangles: Old | Lipstick: Perla
Photography by: Angie Garcia
---
I always love to share a variety of beauty products. I view COF like a publication, there are different readers looking for different products so my job is to review and share my favorites. That's why I may feature numerous skincare items or different brands of foundation I love during the same season. Every girl is looking for *the* product that fits *her* needs. So if I share options for beauty seasonally, why don't I do that with clothing? Of course, I share numerous outfits weekly….but I don't necessarily compare and contrast options!
Today I'm taking my approach to beauty and putting that towards dresses! I picked up these 2 transitional dresses during the Nordstrom Anniversary Sale and both are casual enough for day and can be carried into fall.
Let's compare!
Hinge Ruffle Shirt Dress
This has a better price point than the gray dress, but both remain within the same tier of spending. They aren't necessarily a "steal" but they aren't generally considered pricey. This one does win for the more affordable option as it is $89.
This dress has a drop-waist so in terms of fit it's forgiving! It's loose and you don't have to be precise on sizing because you could get away with it being too small or too large! I'm wearing a S in both dresses.
If you're going to wear one to work [if your office is casual] you'd wear this one!
If you're tall, this option definitely suits you best. I'm 5'3″ and so I needed to wear it with a heel as it was longer. I wanted a bit of height to pull off the length!
It's very lightweight and so you can easily style a little moto jacket over it for fall. Now, I did have a reader comment saying she needed to wear a slip under hers'. I don't have a slip with mine and I shot it in full sun and it's not sheer on me for some reason! However, her skin tone could be different than mine so keep that in mind.
Adrianna Papell Jaspee Knot Midi Dress
This is the edgier dress of the two and the one that I think would look AMAZING if you are in your first or second trimester. I don't say third trimester, because I'm not sure if it is that stretchy, but if you've got a little bump you must style this dress! It would look perfect!
This is priced at $129, but I think that's pretty fair given it's a fitted dress. You can skimp on loose dresses, but don't skimp on fitted dresses! Fitted dresses need to be seamless otherwise you can put it on and think, "Wait? Do I have a growth on my hip? What is that bump doing?" If it bunches up you're just going to be feeling self-conscious pulling at it all day. Be confident in your fitted dress and rock whatever gorgeous body you've got! My trick to feeling more confident is maybe spending a little more on an item that is fitted as a sure way to know you're not going to be fidgeting all day.
While I don't know of too many fields that could pull this off for work, I think this dress works better for date night than the former. Throw on a moto jacket and some booties and you're good to go.
This one is lined underneath so you don't have to worry about needing a slip.
This dress has polyester in it, so if you're more spill prone go this route! haha!
I honestly love both dresses and think they give really unique styles for fall. The Hinge dress is what I reach for if I'm going to lunch with my mom or have a quick meeting after. The Adrianna dress is one I grab if it's Saturday because I can throw on sneakers like shown and then add cute booties for dinner. I love pieces that can take me day to night because with Maxi I rarely have time to change twice.
Also, I'm thrilled to hear how many of you all took the personality test from yesterday's post. I was getting snaps all day from girls saying their numbers and I loved it. I was chatting with a girlfriend yesterday and we were talking about self care as women and how a huge part of that is needing to analyze ourselves. With social media it is so easy to scroll and think, "Oh she is doing that! So I need to do that and I'll be happier, fitter, healthier, etc." It's too easy to forget how unique we are. [I mean that's why I share numerous options of the same product for girls!] As a mom, I'm always following other mamas on social media and I'll see their IG Stories and think, "They are at the gym at 5 a.m.! I'm not! What is wrong with me?!" or "They are working on a Saturday! I'm not! I'm a failure!" And that's so ridiculous. I'm a 1w2. I do work hard. And I work at 5 a.m. instead of workout because that makes me a happier and calmer mother. If I put out work fires before Maxi wakes up, I can focus on her. Then, I can workout later! But for the other mama, she needs to break a sweat before her babies wake up and that makes her the best mother to her children. Let me tell you, social media can be exhausting as a 1. What feels like a creative outlet can turn into a to-do list. That's such a ramble, but what I'm trying to say is that we must focus on self care and the best way to do it is to deeply analyze and see what care we need. The same products, the same dresses, the same methods, the same schedules won't all serve us. So find the one that best fits you and focus on that!