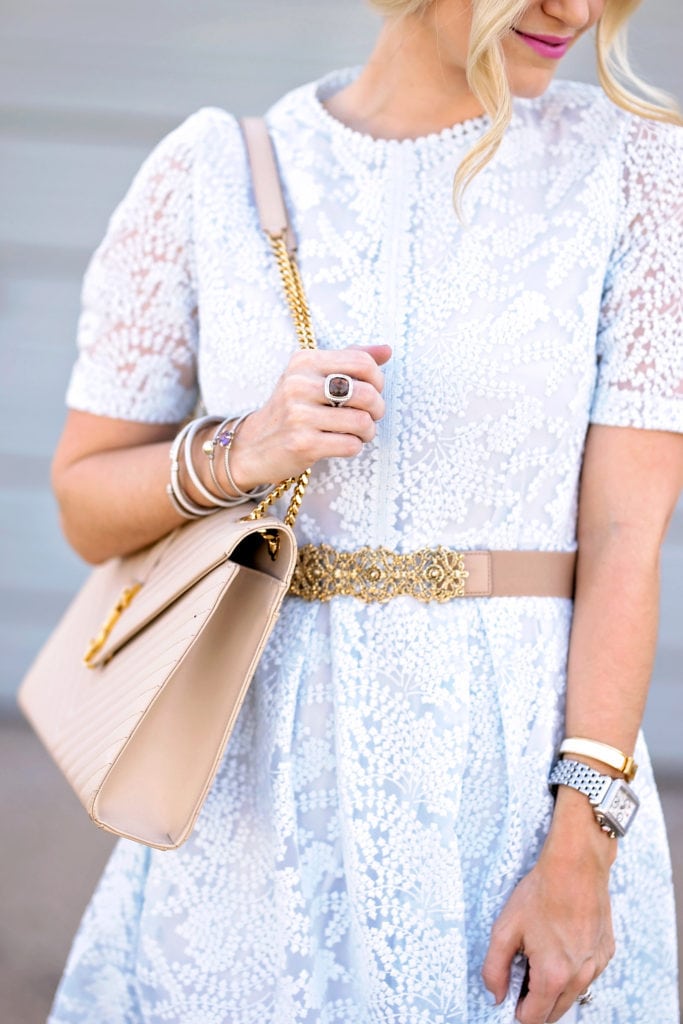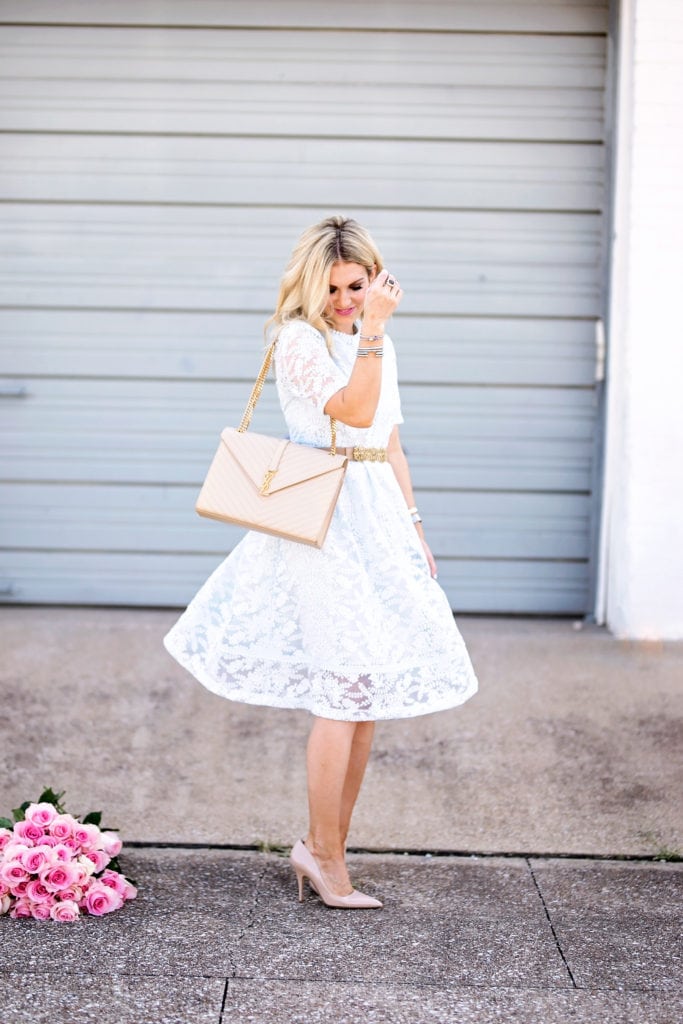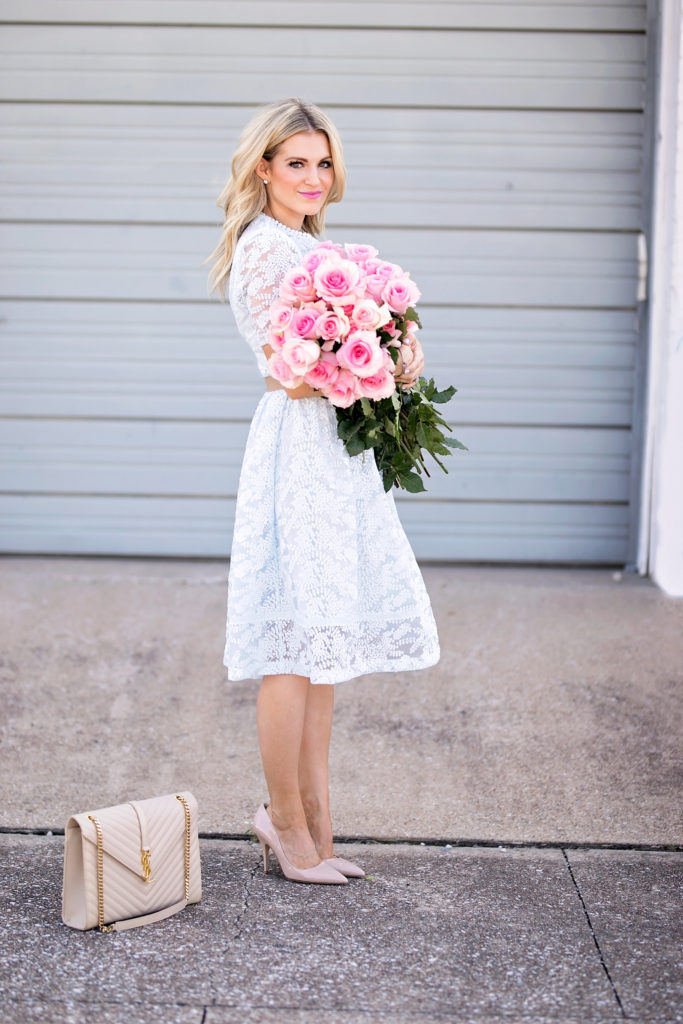 Dress: Rachel Parcell [c/o] | Belt: BCBG [old] | Bag: YSL, Similar | Shoes: Kate Spade, Similar | Lipstick: Snob
Photography by: Angie Garcia
---
Think to your most chic, ladylike friend. I can go ahead and tell you mine, her name is Trenny. She's truly the most poised and well-mannered person I know. She makes everyone feel right at home and could relate to a complete and total stranger. Her mannerisms, habits and considerate nature are what cause me to define her as such a chic individual.
I started to think more about everyone I find perfectly poised and their secrets. I asked around and today I'm sharing 5 secrets of classy women. Now, let's preface this post by saying that these are not the 5 things that make up a classy woman. To me a woman is defined as classy more by her uplifting words and gracious manners, not necessarily her great manicure. Classy women are genuine, they are honest, they are humble and they are respectful. They exude confidence, but they'll be the first to welcome someone that feels out of their element. But alas, my blog is called Chronicles of Frivolity for a reason. Let's keep it light and let's talk about classy [yet frivolous] tips and tricks these elegant women follow!
5 Secrets of Classy Women
1. Stationery
Take away their elegant nature, one thing I always notice when I'm around a classy woman is her gracious manner. She's always thankful for every courtesy and lets you know her appreciation. She'll verbally tell you and then follow it up with thoughtful stationery. Now, I know Millenials are of various camps when it comes to thank you notes. Some believe they are just an organic step in showing how grateful you are and some say, "Save paper! Save your stamps! Don't send me one!" So I definitely know plenty of classy women that don't send actual stationery with a thank you, but I absolutely love sending them and receiving them!
I actually get this e-mail quite often, so I thought I'd share a few of my favorite stationery finds. If you're wanting to go all out [think a luxurious gift for a graduate] definitely check out bell'INVITO! I've shared their page on my blog for about 3 years or so, and am continually blown away by their personalized paper. For every day personalized stationery, I love this etsy shop. If you're short on time, I'm always blown away by the selection at Target!
But my greatest takeaway from classy women, is no matter how they say thank you, they always say it. My mother always says, you'll never regret being overly grateful!
2. Monograms
One classy staple amongst women are monograms. From Southern homes filled with embroidered shams to monogrammed luggage at JFK Airport, it's no secret that many women believe it's a nice touch to mark your territory. My girlfriend, Diana Oates, wrote this article on the best monogram shops in Dallas. I love how inclusive monograms have become to numerous arrays or personal style. Regardless, I think the extra step of adding your initials is a secret that so many classy women follow and I love how thought-out their personal items seem because of it.
Looking for a classic gift? I'm still dying to get my hands on this book by Kimberly Whitman. As Reese Witherspoon says, "If it's not moving, monogram it."
3.Great Manicures
One classy girl I adore is Olivia Palermo. I've met her in person and when I say meet I mean I've stared at her for quite a bit of time at a presentation at fashion week. She's just as polished as you would imagine! She appeared so graceful and genuinely excited to meet everyone all the while keeping to herself as she took in the collection. One thing I always notice about her are her manicures. Her red manicures to be exact. Red can be difficult because one shade off or one length off and you've entered total sass mode.
Here's what Olivia says about manicures in Elle,
"I've been getting manicures and pedicures since I was very, very young. In New York you have one on every block, and my mom would go every other week to get a manicure and pedicure, and always only red. It must've been Revlon. They didn't have the amazing nail colors they have now and the polishes. So I just went with her and got my nails done. Way before Kindergarten. I get it done every four or five days."
Now, most of us don't get manicures that often, but here is my little cheat sheet for you if you'd like to do it at home!
If you've had gel manicures or dip polish ruin your nails, start with Nailtiques Formula 2 as your base coat. Then apply Gelous. This will act as a gel base without damaging the integrity of your nails. Top with Essie Lollipop [one of Olivia's favorites] then finish with Seche Vite Top Coat. This will make your nails dry incredibly fast and helps avoid smudges. I'll paint my nails at home and have to change Maxi's diaper within 20 minutes or so, so I swear by this top coat!
4. Minimalism
When I look to classy women, one trend I always find is their approach to minimalism, specifically in the beauty department. They don't hoard body lotions and they don't reach for 50 different lipsticks at Sephora. *Cough* Katey *Cough*
I believe a lot of this is in part to their loyalty to specific products. They use what works and they are apprehensive of what doesn't. They also take their cues from French Women and don't ever overdo it.
Being a beauty hoarder myself [does this mean I'm calling myself out on not being classy? I hope not!], I always joke with girlfriends that my goal is to par it down to a makeup bag filled with one of everything. Mind you, I'm sure it would be a rather large makeup bag- but a bag nonetheless.We know that won't happen, but many classy women keep their toiletries that way and I find it admirable. When we move I definitely hope to fill out bathroom with only the necessities, but as you all know that's probably a lost hope. However, if that is your goal Into the Gloss released their Top 25 products of 2016. I think this is the perfect start if you want to take a more minimalistic approach. Don't mind me, I'll just be over here tomorrow with another beauty post for your reading pleasure.
5. Remembrance
Do you ever have a friend text you, "Happy Anniversary!" and you're shocked she would remember? Or maybe you have a friend follow up asking how your meeting with your boss went. In my experience, classy women always make others feel valued and one secret is their remembrance. I'm a sucker for writing things down, but I'll be honest I've got baby brain and I still do forget. I just got a new planner from Sweet Caroline Designs and I love how much space it has for writing. I've also started to use the "Reminders" app in my phone. The intention of our hearts is always there but sometimes as incredibly busy women we have to go that extra step to remember. I also keep a little post it note pad by my bed and I'll jot something down if I think to check on a friend and it's way past texting hours. Classy women remember important dates, RSVP ahead of time and always communicate when they can't. While remembrance may seem like a minute detail, I always admire women that do this well. It's such an endearing trait because it ultimately points to one of the greatest things about classy women. Classy women focus on themselves less and others more.
Of course there are many more [important] tips and tricks classy women have, but I thought this was a fun little list to share and hear from you on! What little secrets do you find eloquent women having in their life?!