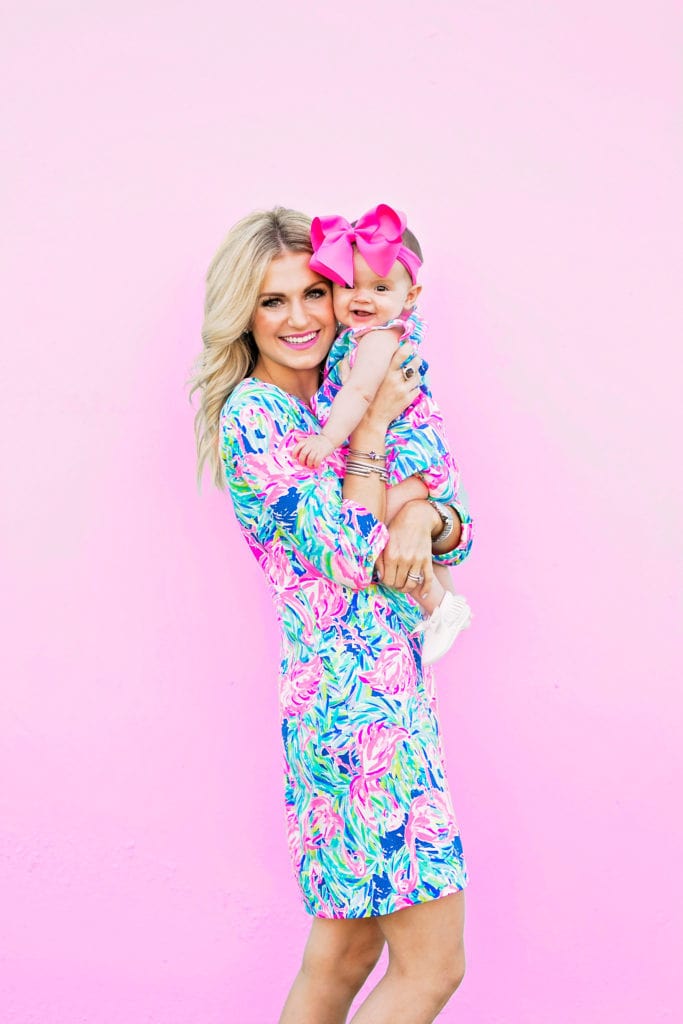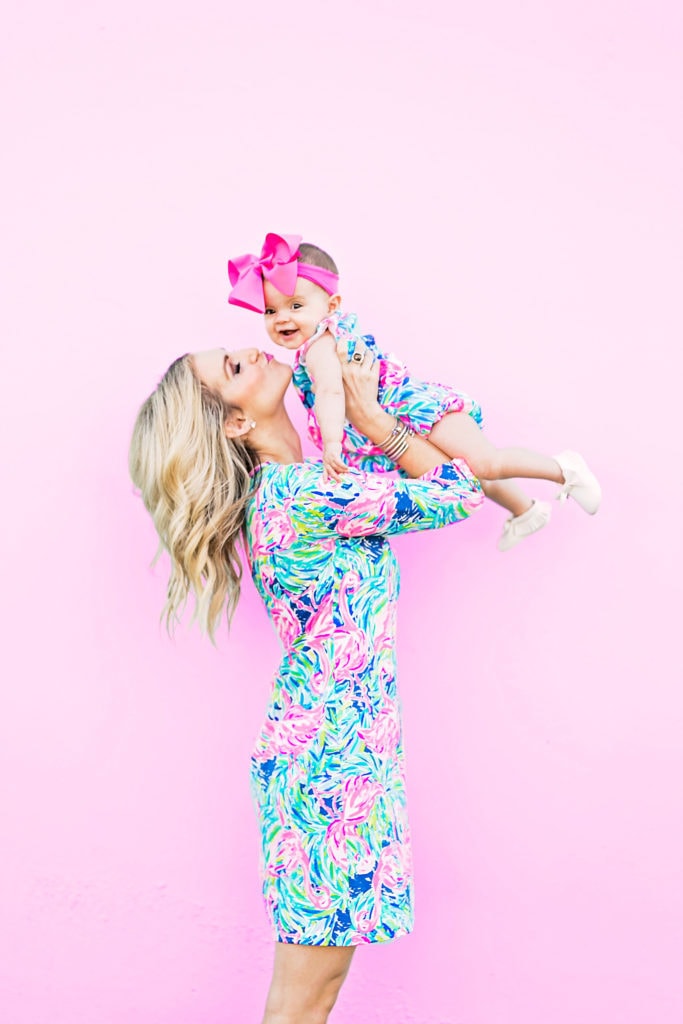 Dress: Lilly Pulitzer [c/o] | Maxi Dress: Lilly Pulitzer [c/o] | Maxi Bow: Local Hallmark
Photography by: Angie Garcia
---
It's Friday. I'm feeling cheeky. Let's make fun of myself.
For months I've wanted to laugh at myself and talk about all the things I assumed I would do/not do when I was pregnant. I was living on Delusional Island party of 2- Paul included. 😉 I mean parenting is so easy when you don't have a kid, right?! haha!
I held off from this post because I definitely don't want anyone to think what didn't work for me, wouldn't work for them. Chances are it will. I had no idea how different babies were and who knows, my next baby may follow Baby Wise like a Baby Wise champion. But today let's make fun of all the naive thoughts I had while pregnant. Get ready to giggle.
1. I'll Work When Maxi Naps
Maxi will take 2-3 naps a day, so I'll work during those 2 hour naps. Ha! So many babies nap irregularly and I never knew/accounted for that. Some days she takes a 22 minute nap in her crib. Other days she naps for an hour. If I can have her nap on me, she'll sleep for 2 hours. But I can't really work when she is on me. By the time I get her down, shower, chug my coffee she is up again. I don't think I've gotten anything substantial accomplished in any nap she has taken the past 7 months. I get work done before she wakes up in the morning or after she goes to bed. I was so against doing that, but you have to do what you have to do!
2. Because She Is Going To Nap Great. #BabyWise
I read allllll the baby sleep books. Heck, I took an online class. A week or two before I gave birth I was getting my hair done and highlighting the mess out of Baby Wise. I had post-it notes marking pages. I took notes on each chapter. I made a Baby Wise binder. I'm nuts! I laugh at ever envisioning the free time to do something like that ever again. But while getting my hair done my hairdresser kept telling me to relax. She had had a baby about 7 months before I did, and had read Baby Wise. It didn't work for her so she just kept saying, "Honestly, Katey. Just spend these last few days relaxing. Close your eyes while I do your hair. Stop reading that."
"No, Britany. I HAVE to read this. This is how your baby sleeps."
Maxi was born. Hated Baby Wise. Didn't follow the schedule. I tweaked the schedule. Still didn't follow it. Yada. Yada. You know how the story goes.
Now this isn't to say Baby Wise doesn't work. In fact I believe most mamas that read my blog do Baby Wise and it works for them. It just didn't work for us. My child is not the best sleeper and it doesn't matter what book/what schedule. She does what she wants. [Side note, before baby I also thought that was a myth. Babies don't do whatever. LOL.]
3. I'll Always Be Ready To Go When The Babysitter Comes. Never Frazzled.
I always envisioned date nights as me being ready by 5:30, the babysitter would come in, I'd have a hot meal ready for her, my baby bathed and ready for bed. Now it's more like our babysitter comes over and I'm in pajamas, haven't brushed my teeth, I have acne cream on and I say, "Umm! I have to go shower really quick! She just ate dinner! You can Favor for dinner and I'll pay for it."
4. I Can't Wait To Give Birth So I Can Finally Sleep!
When you're pregnant, pregnancy insomnia is SO real. I was also unbelievably uncomfortable with my rib and vomiting all night. Pregnant mamas, I promise you'll feel SO much better [healing was a different type of pain for me] once you give birth. But I had this thought that I'd feel so much better and be able to rest more. I didn't account for the fact they eat every two hours while breastfeeding. So if you start feeding at 1 a.m., they eat until 1:30, you get them down at 1:45, you fall asleep at 2, you wake up at 3 to start again. I took a breastfeeding class so you would THINK I would have done the math. I'm married to a CPA. I should have done the math. Instead I sat blissfully ignorant at 34-weeks pregnant, sipping my Hot Chocolate thinking, "I can't wait to sleep."
5. My Child Won't Be A Picky Eater.
I read Bringing Up Bébé and they mention how Americans really create the entire picky eater concept. In the book they say how it starts when they are infants. If a child doesn't like green beans, that's just not true. You keep trying and mix it with different food. Paul listened to this book on audio books and I also took notes on each chapter. Studying it like I was trying to get my CPA, too. We'd sit at brunch and talk about how I would make her food just right and she would love it. Fast forward. I've made that girl green beans 47 different ways and she spits it out each time. Maxi just doesn't like a lot of different things. But it's fine. Whenever I try a new food I don't love it at first. It does take a bit for me to adapt. I think the same is true for children. When she is 12, I can tell her to eat green beans. But right now she is 7 months and this is so new to her, she has every right to not be a fan of each new thing. She's just learning!
6. I'll Be So Prepared I Won't Feel Like A Mess.
Being a control freak  Type A Allison, I normally associate myself feeling like a mess when I didn't prepare. I just thought I'd always schedule enough time before an activity with Maxi I wouldn't ever be late. News flash: I'm not in control! I do get up early to prepare, but sometimes Maxi wants to get up and play at 5:30. Our schedule changes. She has a blowout. We run late. She is fussy. We skip out on something. It's something I knew would happen while pregnant, I just thought I could overcompensate. Now I embrace this beautiful and messy season of life and laugh at my prior thoughts.
7. I'm Still Going To Have "Me Time."
Now, I still do have me time. If you have more than one child [you are a superhero] and you may not, but y'all know I just have one baby and have my mom right now so I definitely have "me time." I can go to Target while Paul watches her. I can get my hair done if my mom can watch her, etc. However, before baby I had regularly scheduled "me time." I got manicures every 3 weeks and waxed my eyebrows once a month. I still do get manicures, but it's just different.I don't go religiously [my friend taught me some tricks to a great at-home mani] and I honestly hate being away from her for so long just to get a manicure/pedicure. I also got my brows waxed for the first time in 7 months this week but we don't need to dwell on the negative people. Don't need to dwell on the negative. I already apologized to the girl profusely and she swore it wasn't bad, but how sweet of her to lie to me.  "Me time" has definitely evolved as a concept to me. I enjoy grocery shopping while Paul watches her so I don't have to worry about her grabbing each thing on the aisle. I will run an errand for Paul so I can call a girlfriend for 10 minutes. That really makes me feel recharged as opposed to old ways. This isn't to say I've changed. I still realllly like manicures. I would say I've just learned to seek joy and quiet time in smaller tasks/chores and it makes me appreciate little things in life far more.
8. Paul Doesn't Need To Help At Night. He Needs Sleep With Work.
My girlfriends and I were doing an annual Christmas dinner last year. As I sat at the table drinking sparkling apple juice with a baby bump touching the table I said, "Oh I definitely don't expect Paul to get up in the night with her! I mean I have to feed her and he has work the next day. He needs to be rested." My best friend, Emily, is a mom and she goes, "But, Katey. He can help. He is the dad." I told her of course he would help, but not at night. I was so worried on him missing out on rest. And yes, for the first 5 months-ish I followed that. But once we had to supplement/pumping was a lot easier I said, "Okay, darling. Your turn! Mama sleeps tonight." And he was extremely willing/helpful. Now at least once a week he says, "You sleep, I'll get up with her." And guess what? I feel no guilt. I feel immense appreciation and gratitude, but guilt? No way. Maxi loves her time with her Daddy and I know how special those late-night cuddle sessions are. Yes, he has to be at an office, but I work, too. So we both have to focus on our rest and we are both doing more than fine! 😉
Oh gosh you guys! I hope this was funny to you! I think the beautiful thing about motherhood is that it does strip a huge layer of control that you have. This little person that you're learning about is your new boss and they each have different personalities. If we are blessed with more children, I'm sure they'll be completely different from Maxi and I'll once again feel like I'm clueless. But this new level of humility is something I appreciate. I'm less hard on myself and far more go with the flow! Last night I thought my bible study started at 7. I parked at 6:48. Put on some lip gloss to freshen up since I'd been rolling around on the floor with Maxi. I organized my purse. Walked in at 6:52 feeling SO great that I was on time and even early. I walk in and someone is already speaking. I thought, "Oh my! These women are on time, too!" Then I realized she wasn't greeting. This girl was going through 1 Samuel and was digging deep. I took my seat in the back, whispered to a friend and said, "But this starts at 7?!" She laughed and said, "No! 6:30!"
Before Maxi I'd have been mortified I walked in late and gotten frustrated at myself for not being able to know a simple start time. Instead I laughed at myself and quickly started to take notes. God knew I needed a little girl that didn't follow all the rules like I do so I would learn to be more relaxed, and truly, I've never enjoyed life more. It's the hardest thing I've ever done, but boy am I so, so proud of my daughter.
So to all the pregnant mamas, you got this! Read your books or don't read your books. Do what you feel is best and get ready to continually laugh at yourself. You may be surprised to not do everything how you thought you would, but the best surprise is the fierce love you will have for your child. Maxi may bring me a continual learning curve, but she also brings a joy I never knew existed.
Any mamas want to share things they said they wouldn't do as a parent?!