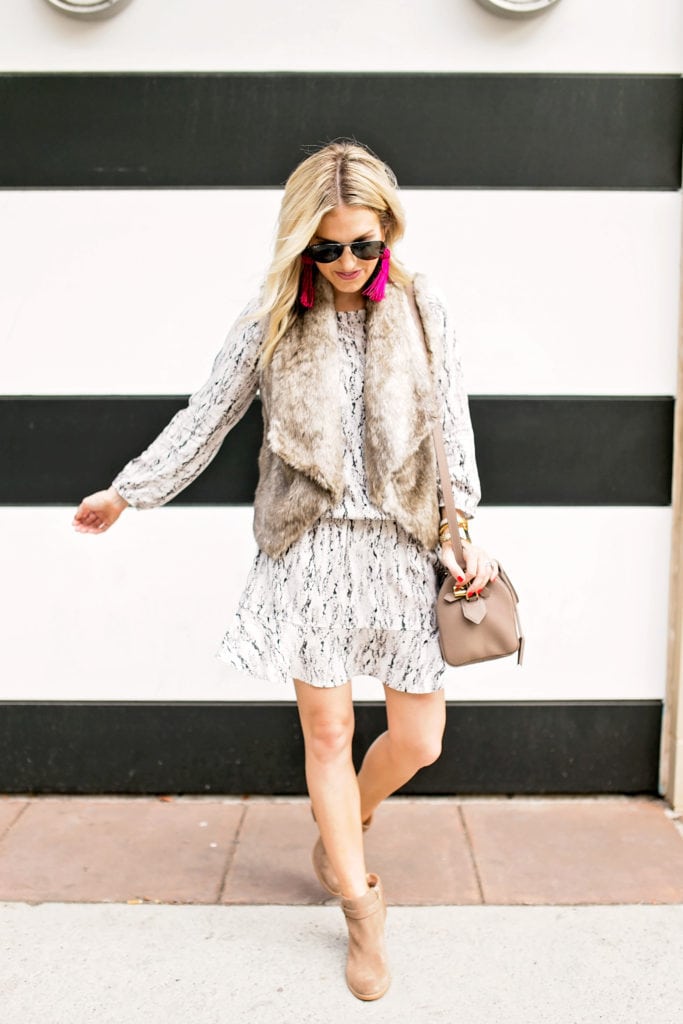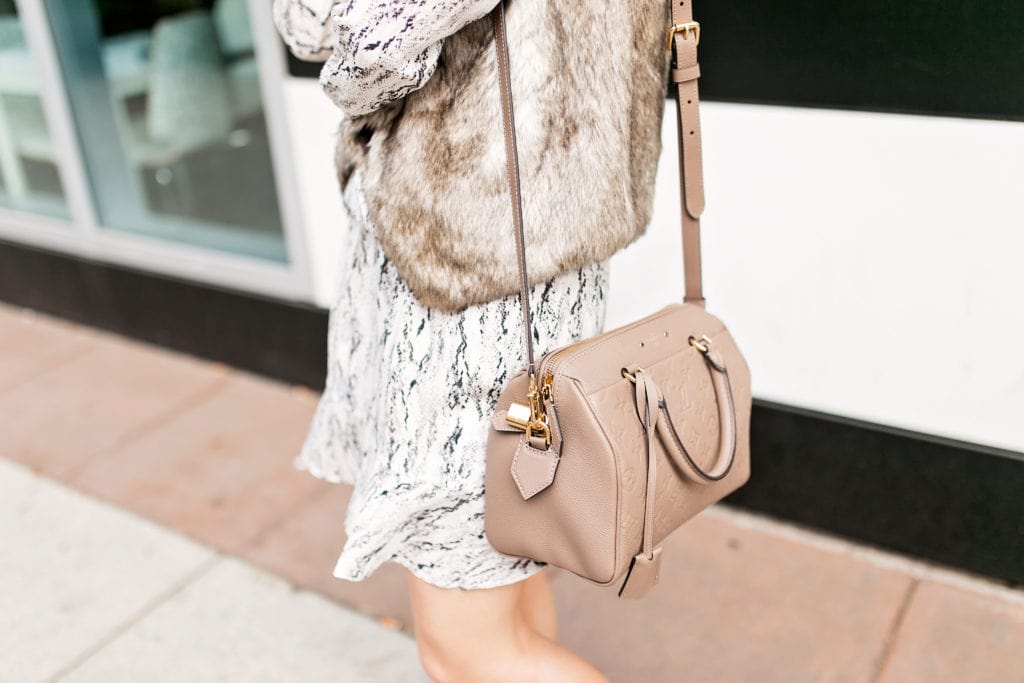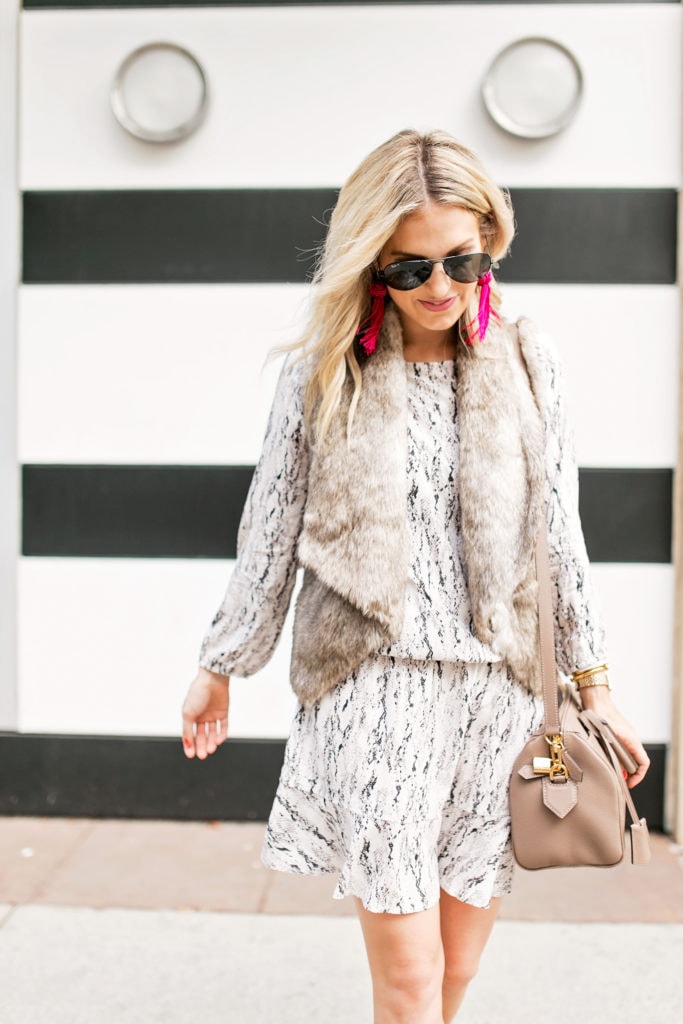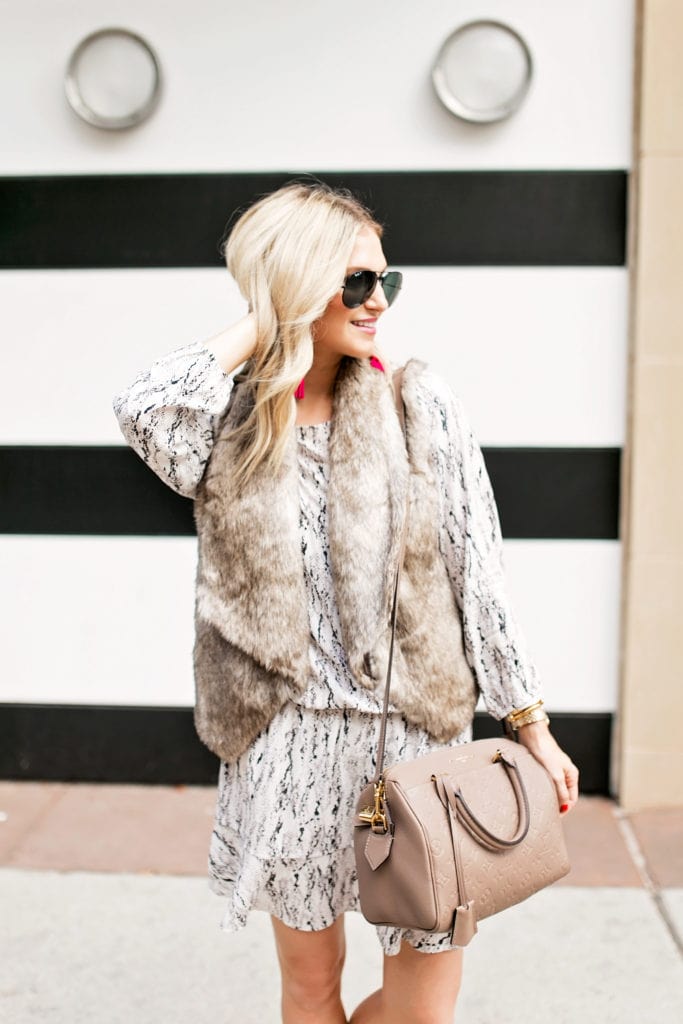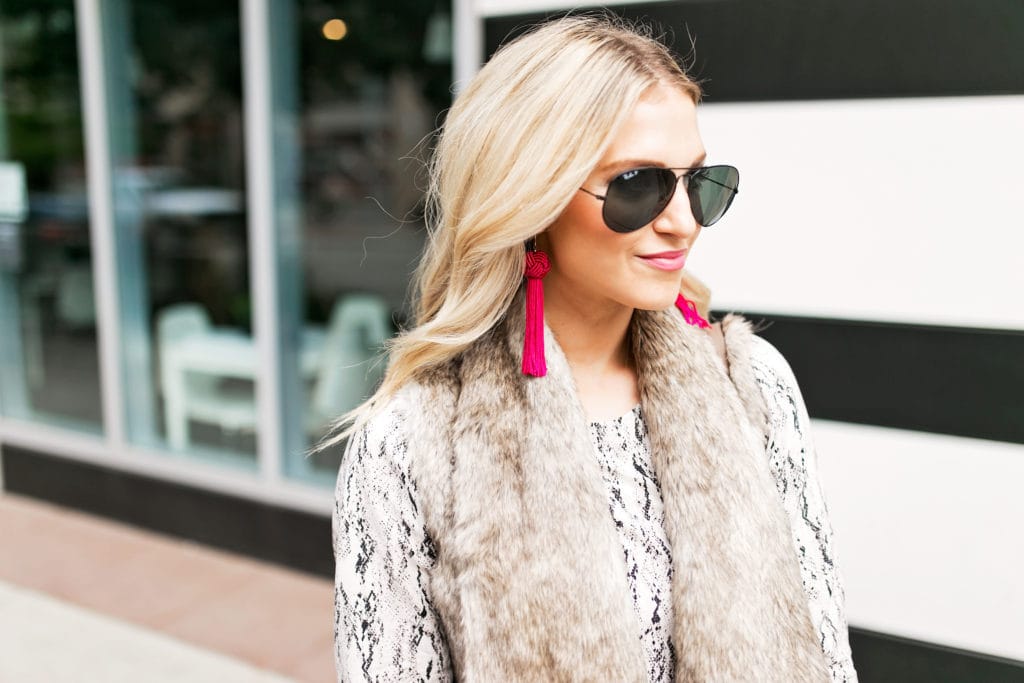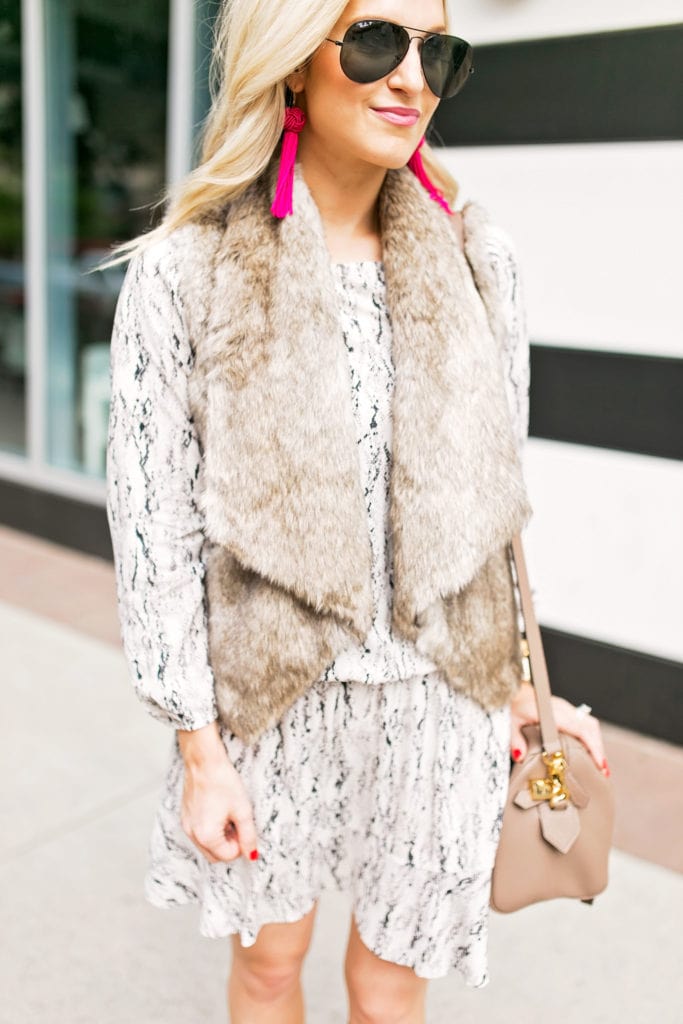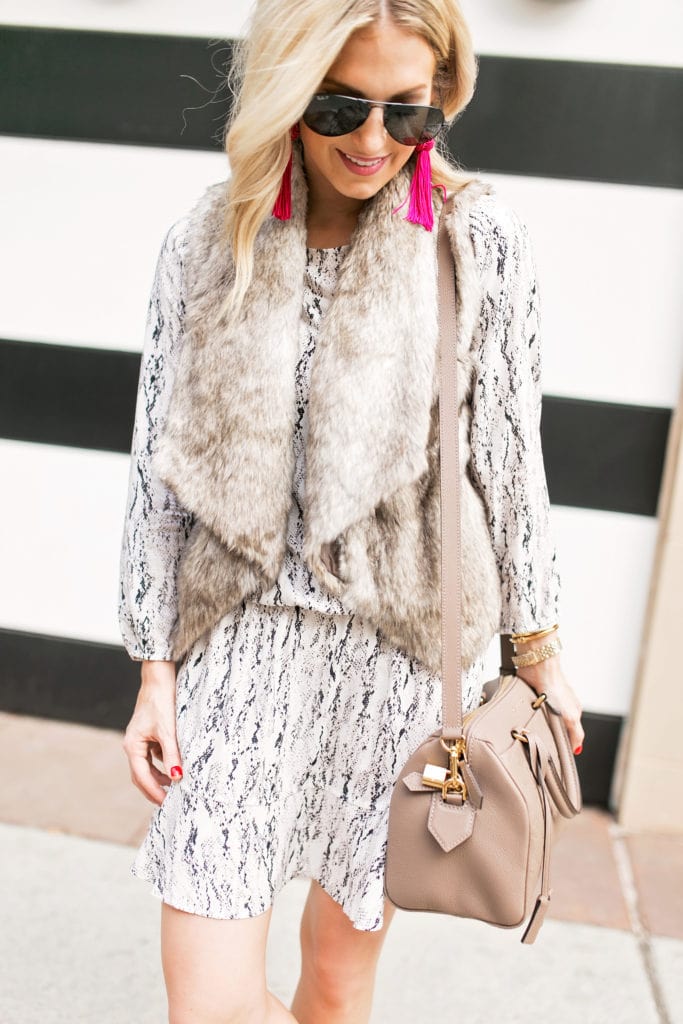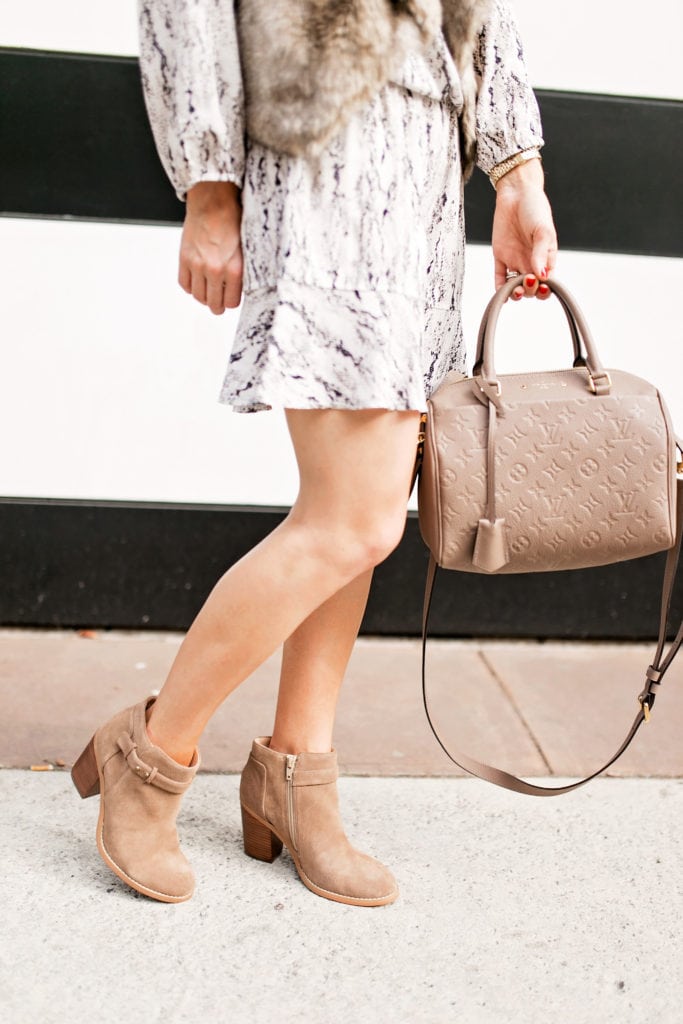 Dress: Shopbop
[TTS and use code EOTS17 at checkout] | Vest: Shopbop [Go down a size, use code EOTS17 at checkout] | Shoes: Sole Society [c/o] | Bag: LV, Similar On Sale | Earrings: Shopbop [use code EOTS17] | Sunglasses: Ray Ban | Lipstick: Save The Queen
Photography by: Angie Garcia
---
Before the Shopbop sale ends tonight at midnight, I wanted to share what I wore on our anniversary weekend as it is on sale! Use code EOTS17 at checkout for 20-25% off.
Our anniversary weekend was amazing and much needed! We stayed at the Ritz in Dallas and ate dinner at Uchi. If you are ever in Dallas you must eat at Uchi. However, I'm pre-apologizing as it will turn you into a sushi snob. And while I'm no food snob [I honestly prefer a dive to a steakhouse] I just don't think I can eat a spicy tuna roll at our local spot ever again. 🙁 About 5 minutes into the meal Paul said, "So THIS is how sushi should taste." I recommend that you order where you let your waiter pick for you! There is a specific name for it [they tell you] but honestly you get the best experience that way. You tell your waiter the types of sushi and fish you like and don't like and you also tell them your budget. We ate items we would have never ordered and it was by far the best meal I've ever eaten. I felt like I was 40 weeks 6 days pregnant after the meal but that's beside the point.
After dinner we headed to Trulucks for dessert which is always a fun spot in Dallas for drinks, sweets and people watching. Definitely dress up for Trulucks! A funny story is my girlfriend went on a date with her now boyfriend to Trulucks. It was after work one evening and he called her at 8 asking if she wanted to get dessert. She was in her old TCU Chi O t-shirt and shorts. She thought they would go to Pinkberry. He picks her up and he is in a suit and she was like, "Oh he looks great! He must have worked late." Then they show up at Trulucks and she was mortified. We still laugh that she showed up there in a t-shirt because it's the type of place you definitely assume there is a dress code at. Every woman is dressed in a stunning dress. But we say that's how her boyfriend knew he wanted to date her because she just waltzed right in with no issues and ordered her dessert! I'm tempted to do a blog post on Dallas and Fort Worth date nights, so let me know if you'd like to read that!
The next night we were extremely casual and just went to a pizza spot we always ate at when we lived in Dallas and I wore this look. It was actually the pizza spot we used to go to when I was in college and would sneak away to see Paul for study breaks. So while Uchi was incredible, the hole-in-the-wall pizza spot was my favorite date from the weekend. It was crazy to think a few years ago we went there for pizza on Halloween and now we are going to be spending this Halloween trick-or-treating with our little one.
This weekend we have an engagement party, Paul's 10-year high school reunion and we are taking Maxi to a fun little Sanrio event at Sugarfina at Northpark! Do you have any fun plans?