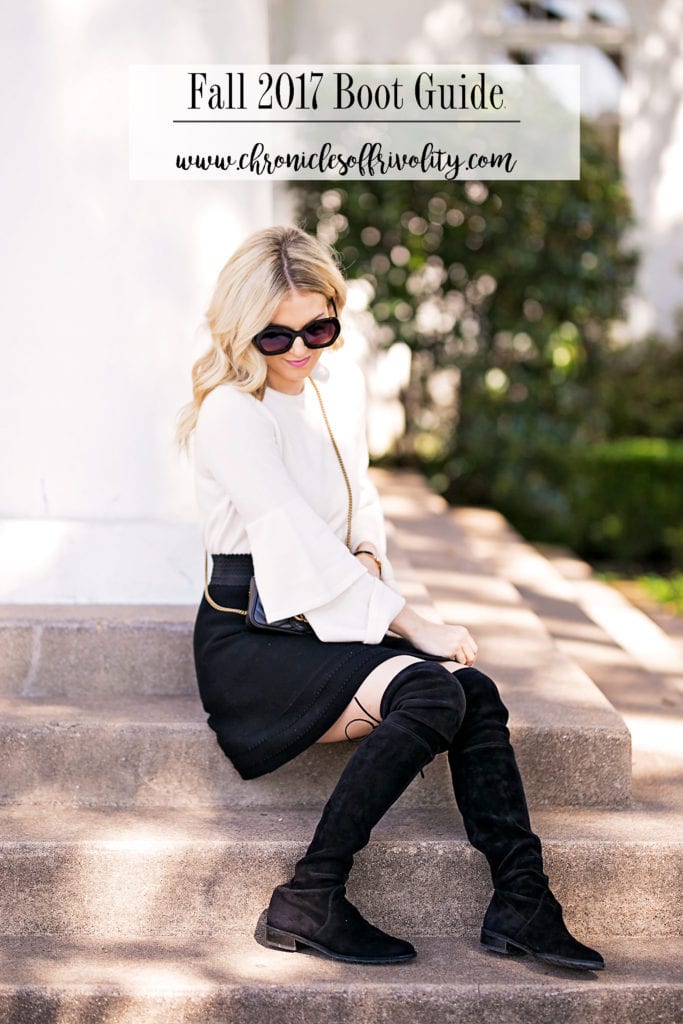 Sweater: Sail to Sable [c/o], Similar | Skirt: Club Monaco | Bag: Gucci [c/o] | Boots: Stuart Weitzman | Sunglasses: Alice & Olivia
---
I'm not really sure what I was thinking while I was packing to move. Maybe I was thinking of packing all of Maxi's clothes or maybe I was oblivious thinking we'd actually move in when they said we would. Either way, I goofed. I only brought summer clothing to my parents and I've finally decided that mid-September I have seriously got to put away the sandals. With that realization, I also know that I am tasked with somehow convincing my husband that this weekend it would be a fabulous idea if we went to go dig all my fall/winter clothes out of our storage unit. Mind you, they somehow got put in the very back of the storage unit…but I think I can figure it out. 😉
Each morning that I get dressed I keep thinking of a top I have in a box or a jacket or more importantly, a pair of booties that would go perfectly with my dress. So as I pine away for my block-heeled beauties, I knew it was time for my boot guide! In this boot guide, I'm covering my most worn boots and how I style them! I'm skipping a few traditional items like riding boots and booties with no heel simply because this girl is 5'3″ and those make me look even shorter. I don't own those items so I'm certainly not going to tell you to run out and get them. But, that doesn't mean those aren't just as important if you regularly style them! I think the key to a great fall boot is something that makes you feeling confident and something that will last. I expect to buy flip flops each season, I do not expect to buy over-the-knee boots each season. Those bad boys better last. I hope this guide helps break down your seasonal shopping as you search for the perfect pair of boots to take you through winter.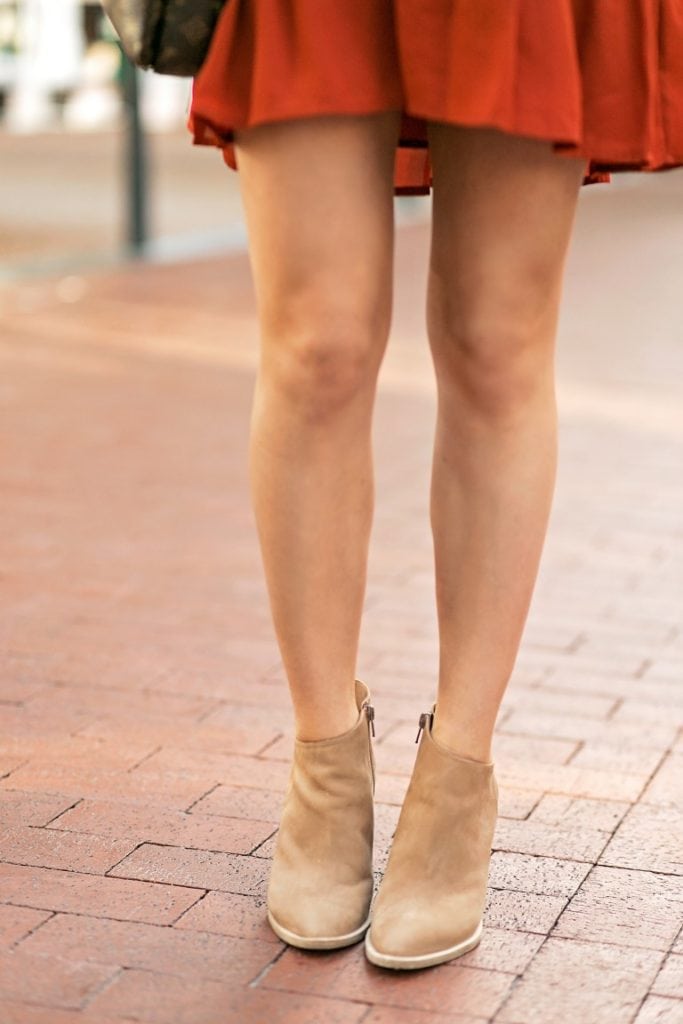 ---
Neutral Bootie
If you only wanted to buy one pair of boots or booties this season, I'd recommend a neutral bootie. I always fall in love with booties by Rag & Bone, but Sole Society and BP are just as great options for a better price. Whether you opt for buttery leather or suede you can't go wrong as either texture goes with any look. When purchasing this bootie, keep in mind where most of your jeans are hemmed! I like a shorter hem, so I can wear booties that go up a bit higher on the ankle. If you prefer your jeans at a longer length, make sure to get a bootie that isn't going up the ankle. If you do find yourself in that situation once your order arrives, just roll your pants! As long as they are skinny jeans, it will be a really cute look and work perfectly.
Shop My Picks


---
Open-Toe Bootie
If you live in a warmer climate like me, open-toe booties are key! These get you through those tricky weeks in October and even November when it's still warm, but not sandal season. You can 100% wear these year round with the peep toe, but I recommend getting a budget-friendly option for these booties. I try to find these under $100 because I never know if these will still be on trend a few seasons from now.
Shop My Picks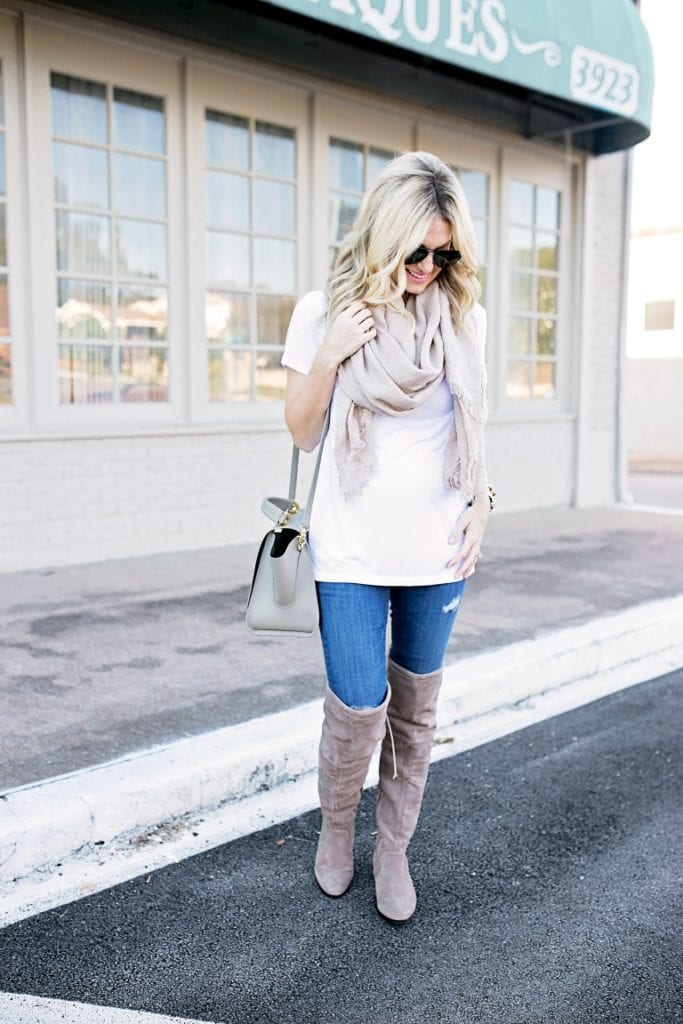 ---
Over-The-Knee Boot
Who can spot Maxi in the photo above?! 😉 Over-the-knee boots are my favorite style to wear. There's a huge myth that goes around saying shorter girls can't wear this style and I politely, but wholeheartedly disagree. If anything, when I see a shorter girl in OTK boots I can't stop staring at her legs and thinking, "That girl is all leg! Her legs are so long!" Stuart Weitzman makes my favorite over-the-knee boots with the Lowland and Sole Society makes another favorite of mine! I'm wearing Sole Society in the photo above.
Shop My Picks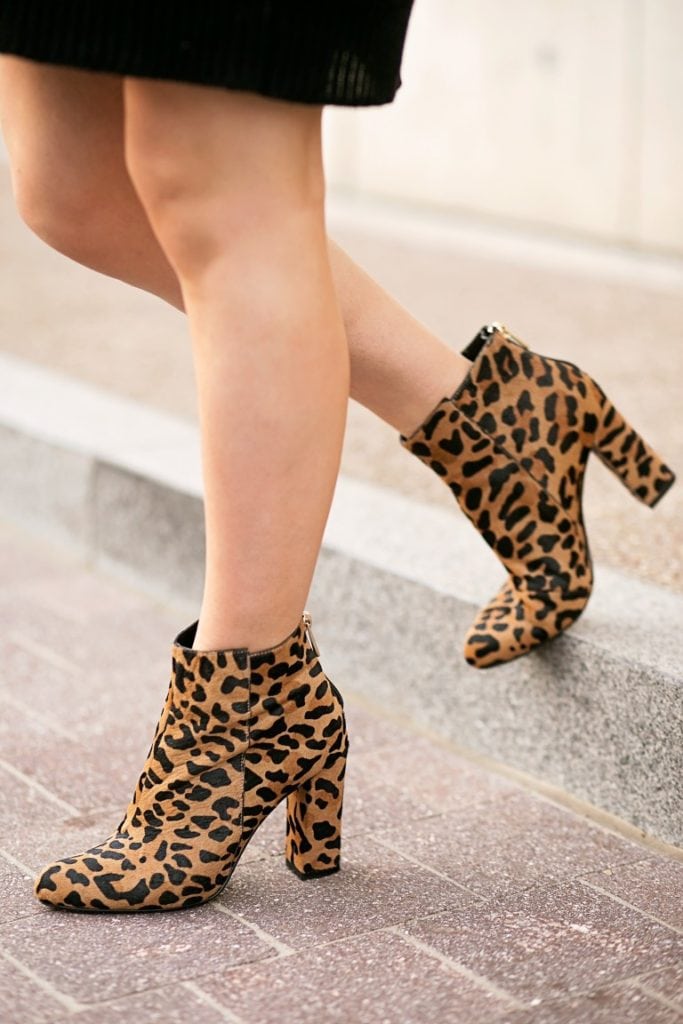 ---
Printed Bootie
If prints aren't your thing, no worries. This section is more so to get you out of your comfort zone and try a bootie that is a bit more fun and festive to the usual fall neutral look! White booties are actually a huge trend for this season. Jury is still out on how I feel about them for myself, but I've loved seeing girls rock them this fashion week. They look stunning! I'm also loving booties with embellishments on them.
Shop My Picks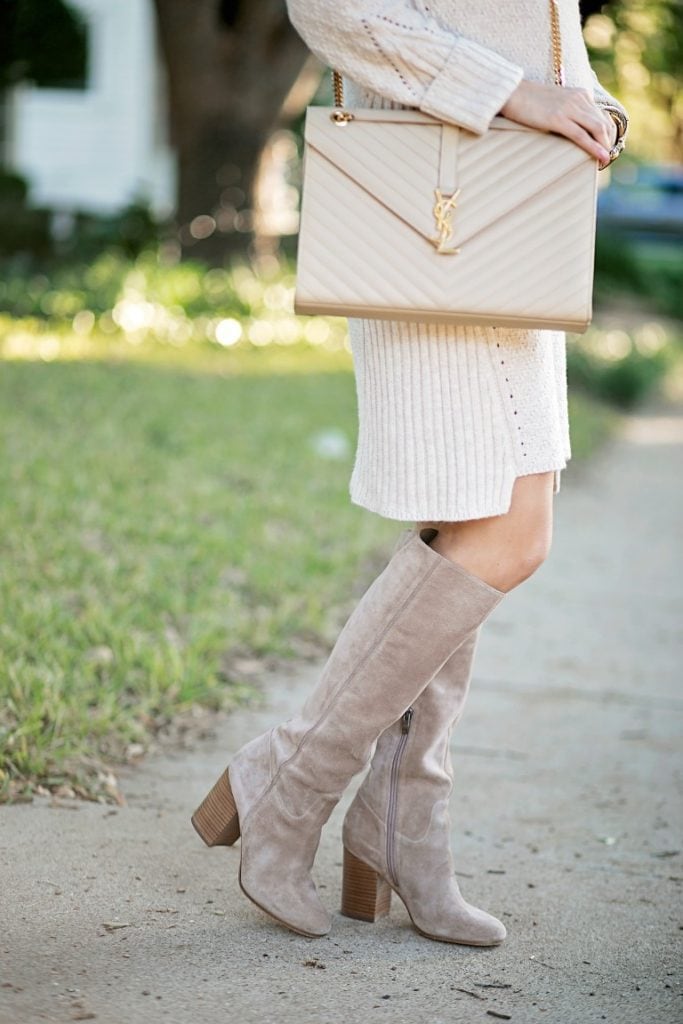 ---
Block-Heel Boots
I personally prefer block-heel boots to riding boots because of my height, but if these aren't your favorite definitely find a riding boot you love. Tory Burch makes some that are to die for. Block-heel or any chunky heel have been a seasonal trend year after year and they make for a comfortable, dressier option. I like to pair these with sweater dresses for Thanksgiving and fall family gatherings.
Shop My Picks

Do you have a favorite pair?!

All photography by: Angie Garcia & Madison Katlin