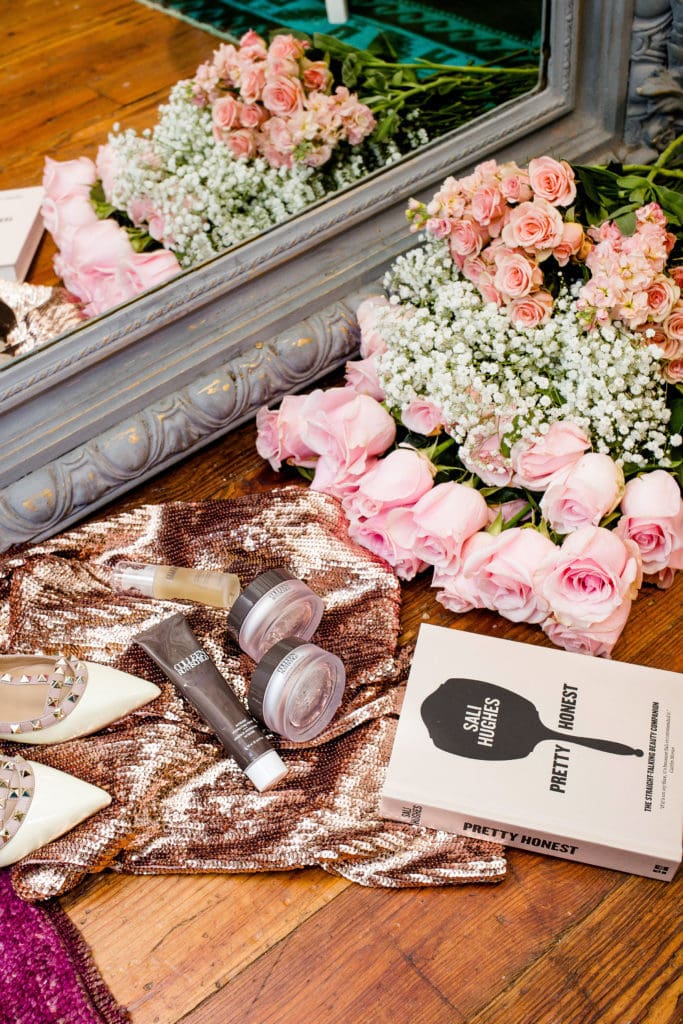 I think one of the most intimidating parts of skincare can be finding a full-fledged routine that is not only tackling skin issues but preventing future ones. Sure, for most it's easy to find a face wash and moisturizer you love. But what about serums? And masks? Do I exfoliate? How often? What are skincare acids? Am I ruining my skin or helping my skin? I test beauty products all day long and used to write press releases for large beauty brands in PR and I STILL get intimidated when switching things up.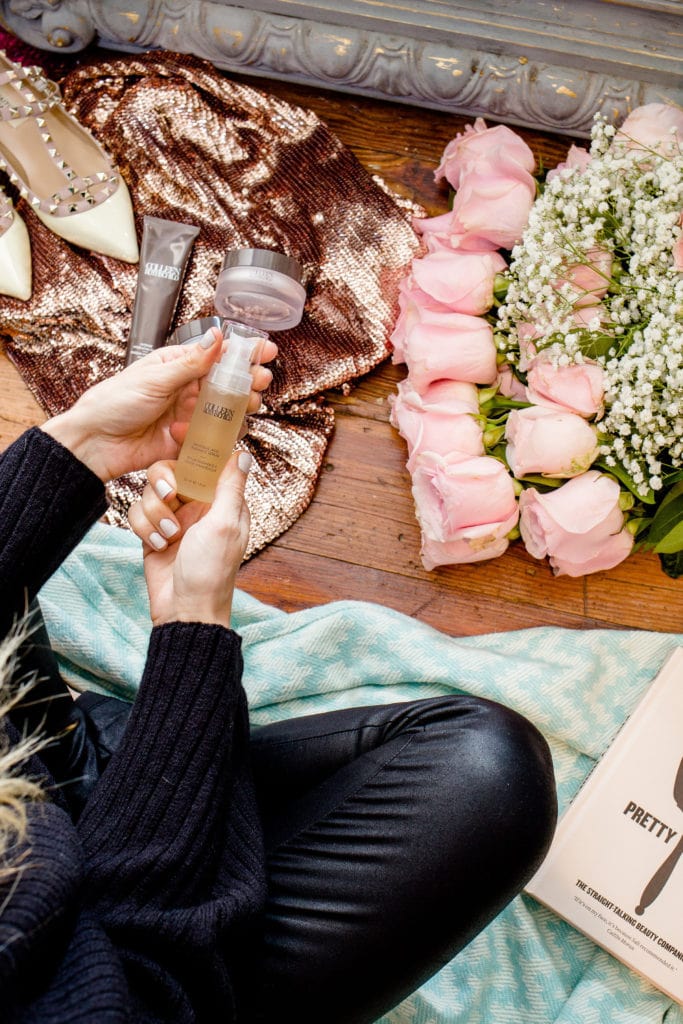 So today I partnered with one of my holy grail beauty brands, Colleen Rothschild, to tackle this tough issue and help you find a weekly routine that works. I like to think of myself as the Kelly Ripa of skincare. It's a known-rumor that Kelly is quite regimented, she says so herself! She never misses spin class and she's been known to admit to eating the exact same thing every day. That's me with skincare. I like my brands I'm loyal to and I don't mix it up too often. I don't stop talking harp on Colleen's Cleansing Balm, but let's dig deeper. Let's talk masks and treatments.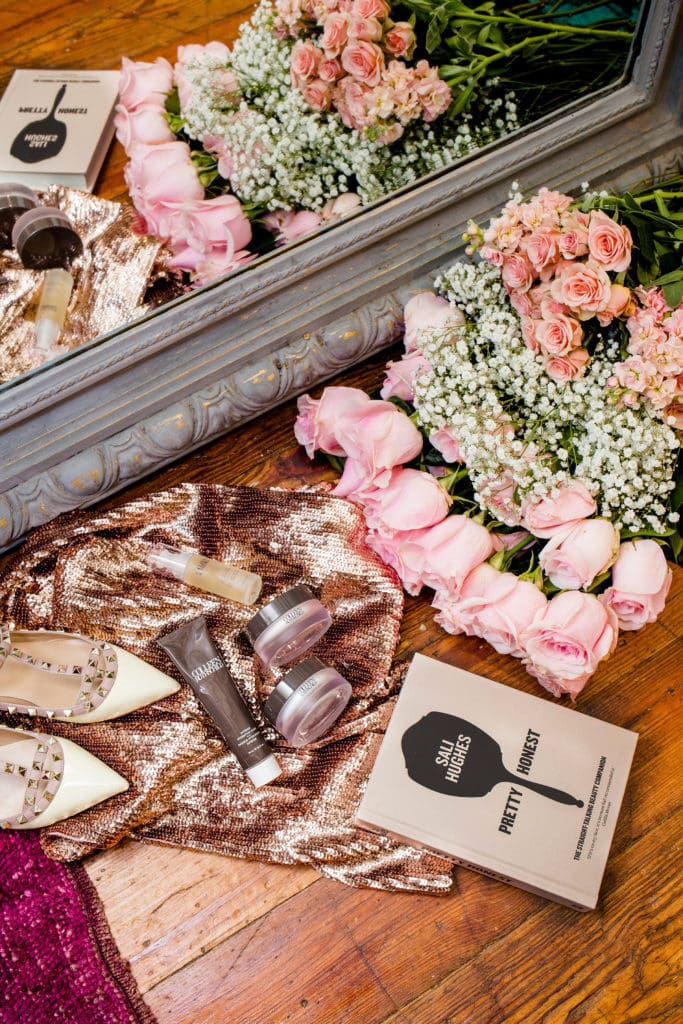 Two weekends ago I got to take advantage of my Christmas gift! I got a spa day and knew I'd use it after I had Maxi. Well…almost a year since it was gifted, my mom and I went off to enjoy our spa day. I had a Hydrafacial and that was HEAVEN. It was the best facial I've ever had [not that I've had many] but what made it the best was how knowledgeable my esthetician was. She spoke a lot about acids and treatments and I wanted to relay everything she told me to you all. She validated everything I've ever learned from working on different beauty brands in my PR days.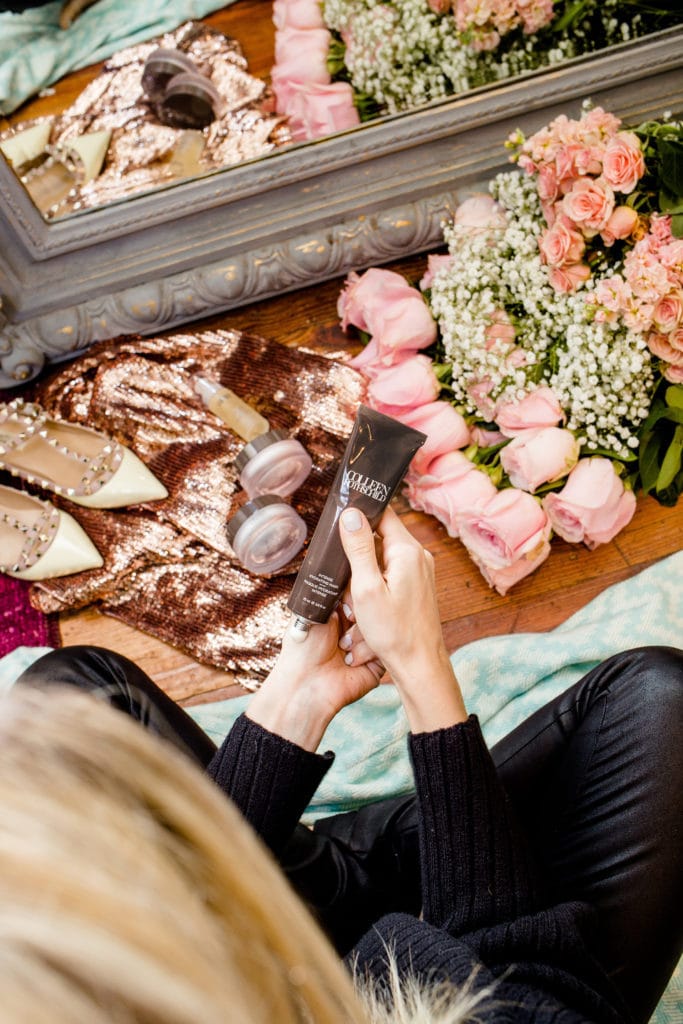 First things first, let's find your skin type. When I walked in to get my facial she said, "What's your skin type?"
I blanked.
"Well, I'm sensitive because I have Discoidal Lupus. But I had a baby and when I became pregnant/gave birth/started breastfeeding I broke out like it was my job. But then last week my skin was super dry. Does that mean I'm combination?"
She laughed and told me she would take a look. After 2 hours, she told me I was normal. She said I am a bit more sensitive because of the Lupus, but that normal doesn't necessarily think what we think it means. She said we often think normal means you never break out or you never get dry. She said it is normal to do both of those things and my skin doesn't veer either or. She reiterated that it's all about how your skin acts 5 out of 7 days a week.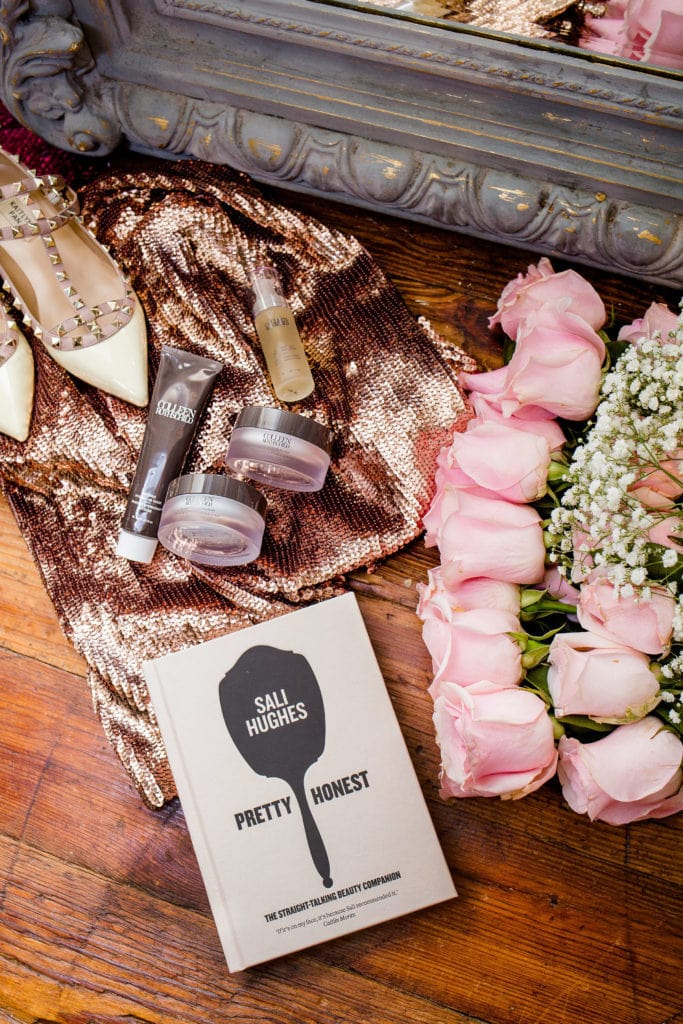 Let's look at your skin. Are you consistently dealing with pesky breakouts in some areas and dry in others? If so, you're combination. Are you more acne-prone and need to touch up your makeup mid day, each day? You're probably oily. Do you shudder thinking of the winter because you'll have to bathe in a tub of vaseline? You're dry. Do you feel like your skin is overall pretty average and while you can deal with all issues, you know it isn't dehydrated or overproducing oil? You're normal.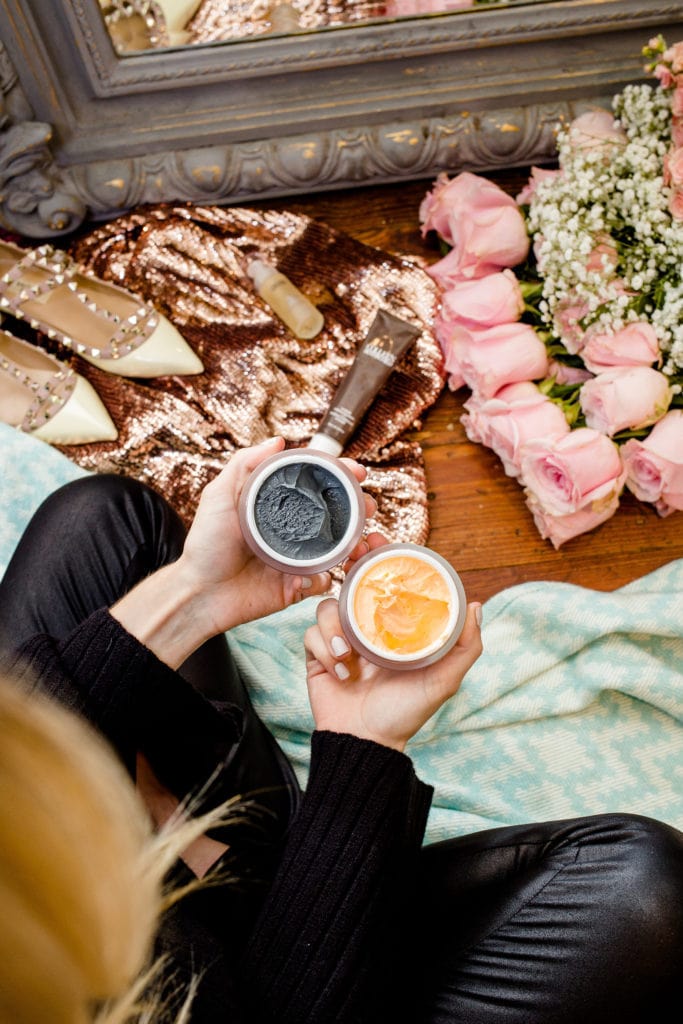 Now, let's look at your skincare products. How often are you using retinol? This is where skincare gets confusing. I get a lot of e-mails from girls saying, "Well, I think I'm using retinol because when I look at my moisturizer retinol is an ingredient. But it's not on the front of the packaging, so is this pure retinol?"
Retinol is to skincare as sugar is to food. It's kind of in everything. Retinol is praised as a cure all, but you have to be careful! It is a no-no while pregnant/nursing and it can definitely cause you to look part amphibian with scales if you use it too generously. With all of that being said, it's in so many products you wouldn't think of just as sugar is.
I'm talking how often are you using a retinol treatment. The real stuff. Are you applying a serious anti-aging skincare treatment that says "Retinol 1% or .5%?" My dermatologist always tells me to look at the front of the package, if retinol is in the name or on the front of the packaging, that's how you know. However, always read the ingredients as I'm sure there are products that don't fit that bill.
Look at how often you use that. For some it may be every other night or maybe twice a week. This will determine how often you treat your skin, because it also needs to rest.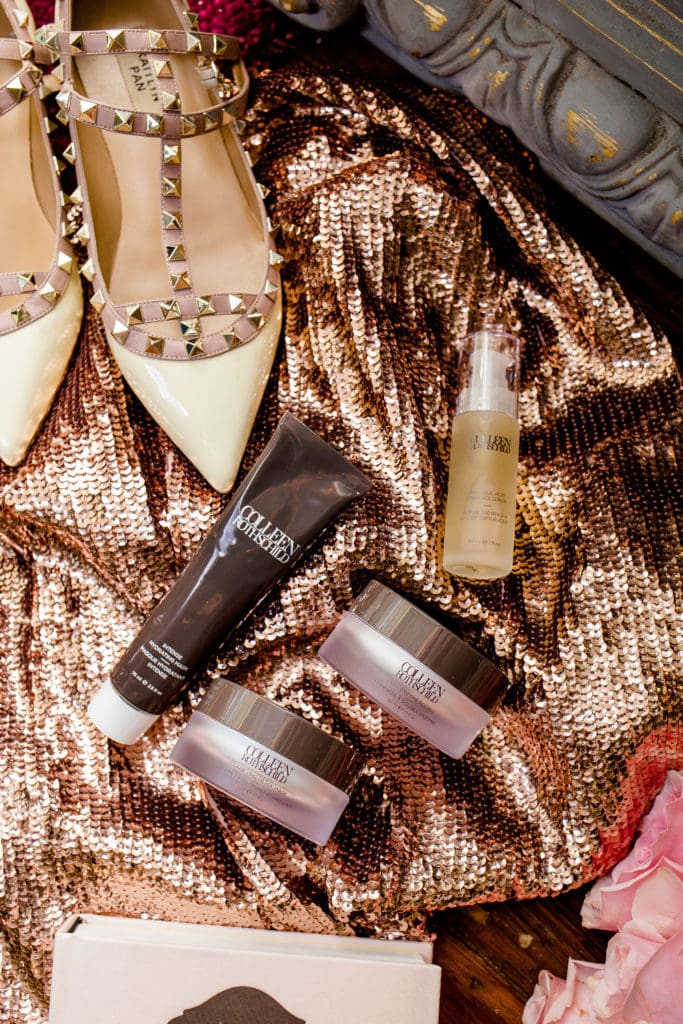 Then once you look at retinol, you want to look at how often you exfoliate. My esthetician said that for each time you use retinol, you'll exfoliate once. Now don't hold me to that little equation but I think she is on to something! These three factors [skin type, retinol, exfoliation] will be the basis of your routine.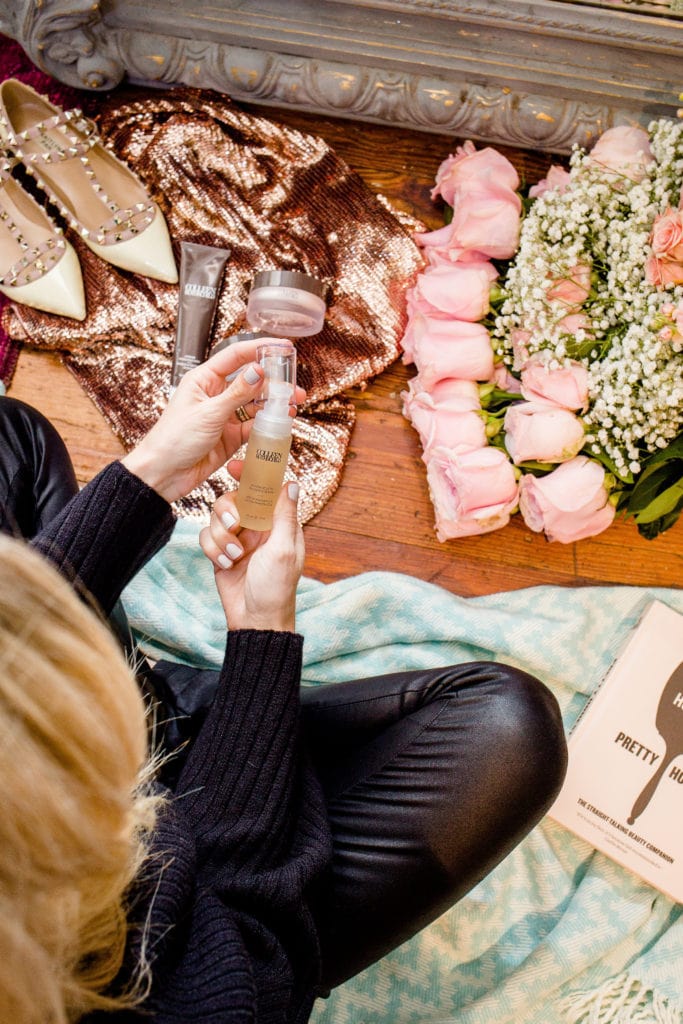 I hope I haven't lost you all. You may think this is excessive. And if you do, that's totally fine. I LOVE skincare and can't get enough but if what you're doing is working for you, keep on keepin' on girlfriend. I'm just here to chat.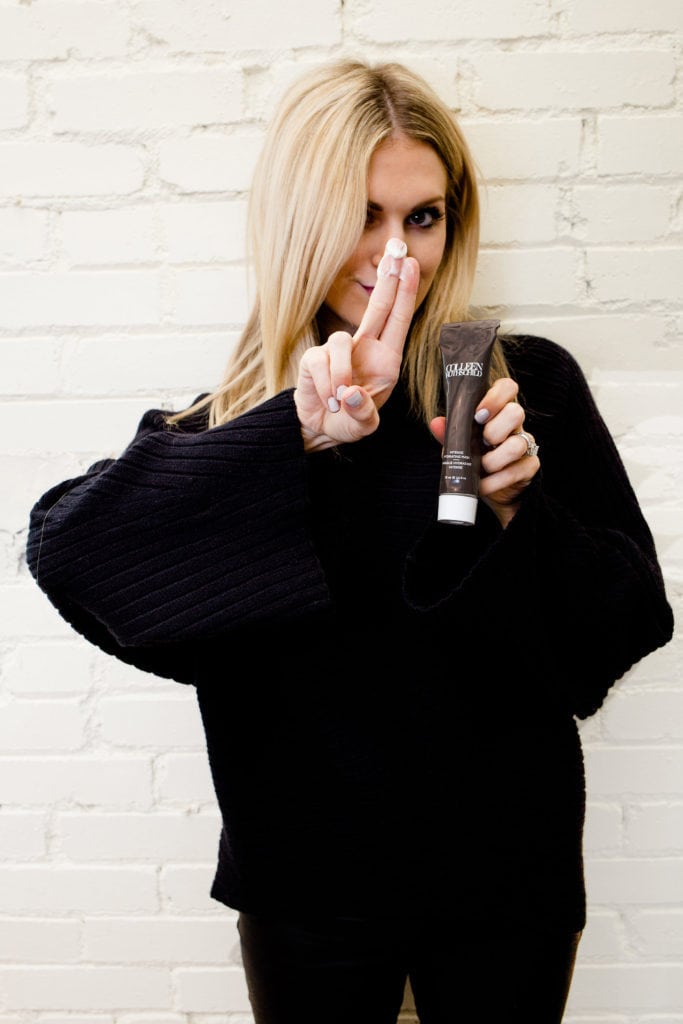 If You're Dry, Normal or Sensitive
---
If you're dry, you want the Intense Hydrating Mask. Maybe you think you aren't dry and just have normal skin, but chances are you've probably thought you have tired skin. I know we all have those mornings when we look in the mirror and think, "How much did I sleep last night? I look exhausted." It's an easy go-to move to pile on concealer, but your skin is actually starved for hydration. This mask helps combat fatigue in skin. You can apply it 2-3 times a week and below I'll share my routine with it. If you have combination skin and want to spot treat, you could definitely use this in specific dry areas. Another beauty trick I use is I apply this on my hands before bed when they are extremely dry! My mom taught me this trick. She truly has the best skin out of anyone I know [and I'm not just saying that] and her key is moisturizing masks.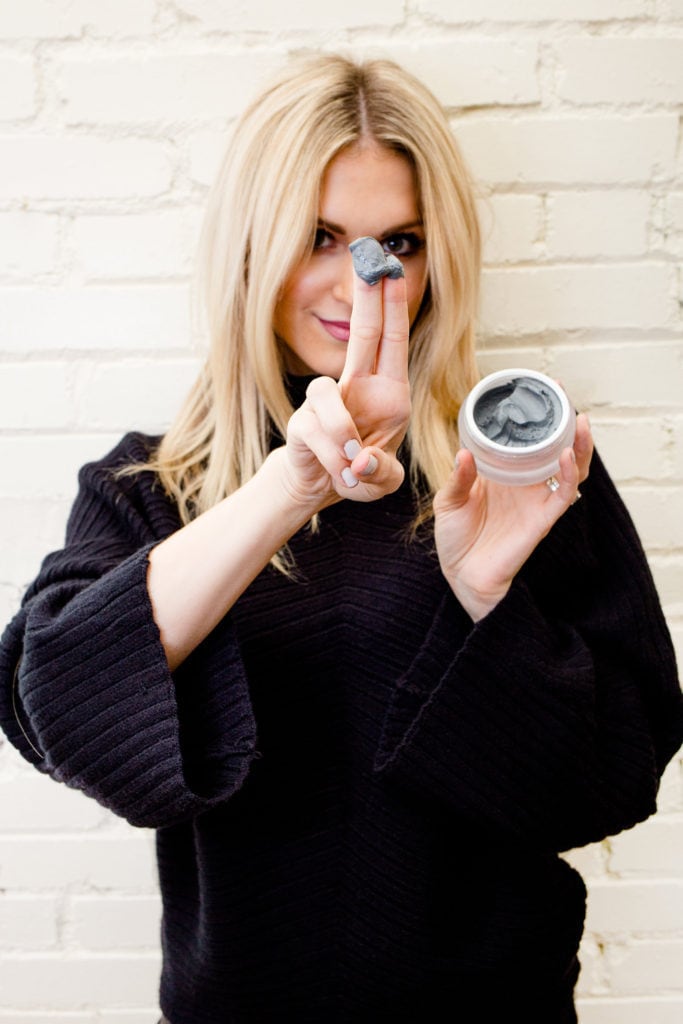 If You're Oily/Acne Prone
---
Charcoal is a beauty buzzword of 2017. It's in everything from shampoo to cleansers. It's also in this clarifying mask. If you struggle with acne, look for products that feature things like clay and charcoal. I first was introduced to this mask at a blogging conference and I'm not exaggerating when I say I see this in every blogger's makeup bag for fashion week. It is a huge beauty industry go-to for zapping zits. Last year, I got to go backstage at fashion week and a makeup artist was applying this to the model's skin about an hour before they walked the runway. Because of this, I think the Clarifying Detox Mask is just a mask every girl needs in her arsenal, unless you never have clogged or congested pores. So even if you're normal, I recommend this. But I also think everyone needs everything. 😉 The reason I really recommend this mask is because it has Vitamin C in it, so not only are you detoxifying skin you are also healing it. A few weeks ago I shamelessly used my sister's skincare simply because I was lazy. Her makeup bag was on the counter and she had a really popular skincare line in it. I put some on a blemish and I'm not even kidding when I tell you it burned my skin. I woke up to what looked like a 2nd degree sunburn. I called my dermatologist freaked out something bad had happened. I promise, I'm not that dramatic. I just have to call her whenever I get burns on my face because of the Lupus. Thankfully, it was just this skincare brand. She told me this specific skincare brand ONLY fights acne, it doesn't heal your skin as well. That's why it's so important to find masks that have healing properties as well and this mask has Vitamin C along with Willowherb. You'll leave this mask on for 10 minutes or spot treat and leave it on overnight. This mask can also be used 2-3 times a week.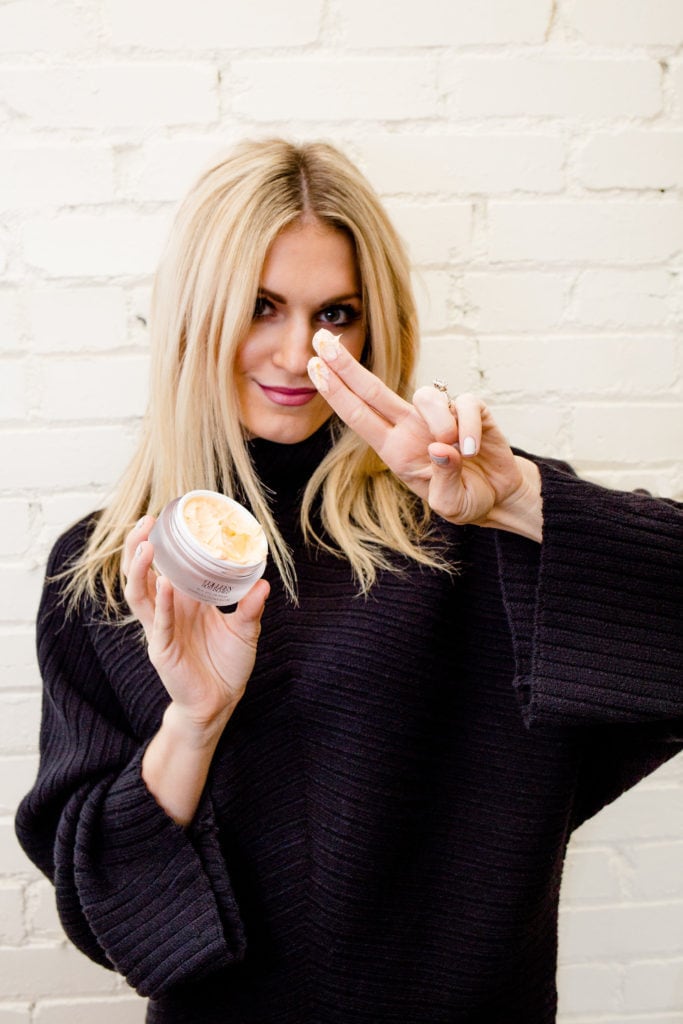 If You Have Combination Skin or Aging Skin
---
If you have combination skin, exfoliation will be key for you. As frustrating as combination skin might be, it's also nice because you can spot-treat with masks by using the hydrating and charcoal mask above once a week. Then, once or twice a week you can use the Dual Enzyme Polish to exfoliate your skin. You want to be ahead of your skin's cycle by exfoliating to remove trapped impurities and remove dead skin. After the charcoal mask, this mask is one I hear beauty writers rave about. One of my girlfriends is a journalist for a few major publications and she swears by this mask. I picked this mask up at a blogging conference per her recommendation and I love it. If aging is a huge concern of yours, this mask is for you because it has dual exfoliation [physical and chemical]. You can also use this mask two ways. You can either use it as an exfoliator after you wash and rinse off or you can leave on 5-10 minutes once or twice a week. I use it once a week and will share below in the skincare schedule!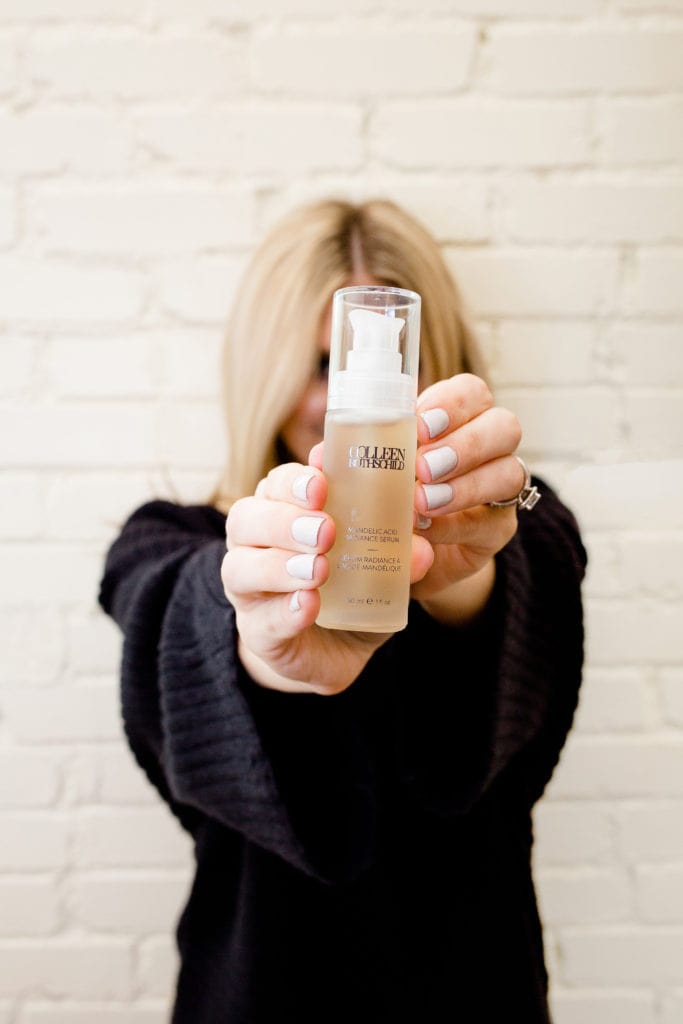 For All Skin
---
After I finished my facial, I asked her, "Okay, so what is one product every single girl needs." She told me, "Easy. Acids." This also supported what my favorite skincare blogger, Caroline Hirons, preaches. She just about has a cow in each blog post over how girls aren't using acids in their daily routine, no matter their skin type. Acids promote cell turnover which is the key to great skin. Acids fight fine lines, acne marks, sun spots, dull complexions, and blemishes. What I love about the Mandelic Acid Radiance Serum is that it fights blackheads aswell. I use this product after I wash my face and before a mask or moisturizer.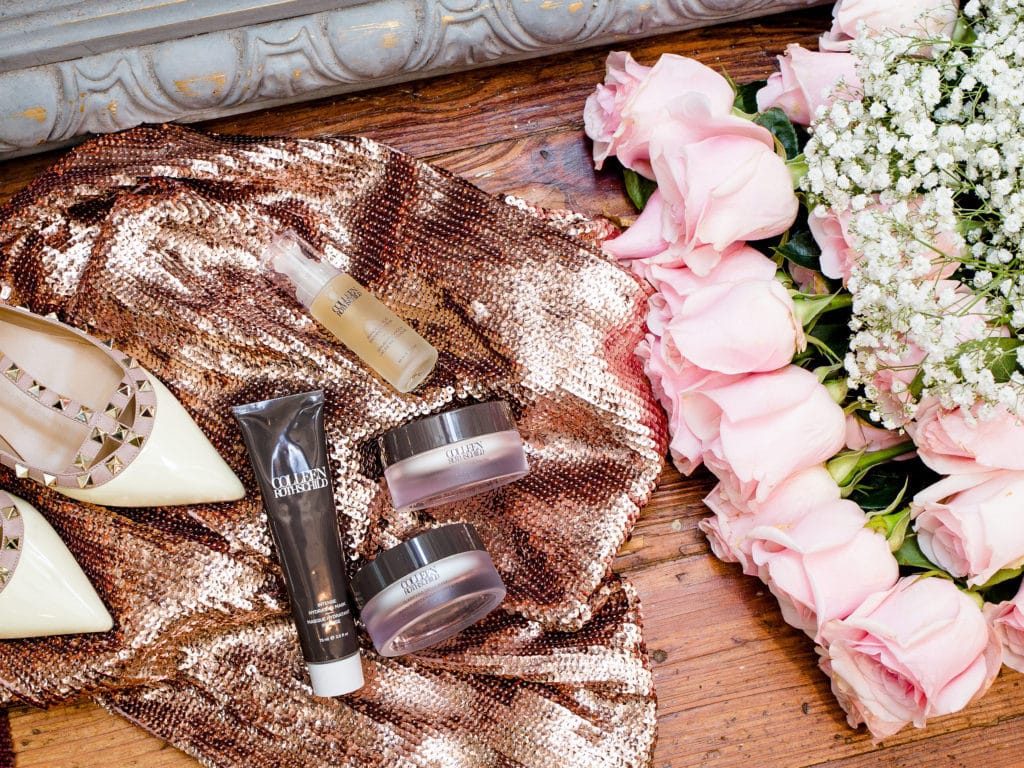 Now that we've broken down products, let's talk schedule. Honestly, you COULD use a hydrating face mask every single day of the week. But most of us use face masks for purposes other than hydrating our skin, and those need to be used a bit less. So here's an example schedule of what my esthetician and I talked about! This is a great schedule for most women, but of course other factors [skin sensitivity, pregnancy, etc.] would change this. Also keep in mind, I have normal/sensitive skin so I do deal with breakouts and dryness occasionally. This is why my schedule has a mix of products so you definitely want to find the right mix of products that work for you.
Sunday: Mask, Hydrate
Sunday evening is perhaps the easiest night of the week to make sure you mask! If you are a busy girl, try to make a commitment to at least Sunday evening masks. Do your skincare routine per usual [wash, tone, mask, eye cream, serum, moisturizer] and I say to use a hydrating mask at this point. If you have normal skin or combination, use Sunday evening to really moisturize. Now, you can use this mask one of two ways! You can cleanse, apply, leave on for 15 minutes, tissue off excess and continue your normal routine. However, I prefer to sleep in mine! This mask helps combat my tired skin and dark circle. In the morning I just start my morning skin routine as normal.
Monday: Retinol
Many women use retinol in their skincare routine, some use it every day others use it every other day. As most of my readers are in their twenties, I recommend you use it about twice a week, then you can work up.
Tuesday: Exfoliate
You can exfoliate with the Dual Enzyme Polish after you wash and tone/use your acids.
Wednesday: Retinol
When using retinol, I recommend keeping it simple. Use your favorite cleanser, tone, apply eye cream, apply a pea-size amount of retinol and finish with moisturizer.
Thursday: Mask
On Thursdays I like to use a clarifying mask so my skin can get ready for the weekend and detoxify from my makeup from photo shoots. I never shoot on Fridays and like to spend that day sans makeup before date night.
Friday: Breathe, use acids! Never forget! Self tan
On Friday, I like to let my skin breathe by cleansing, using my acid treatment, eye cream and moisturizing. This is a great night to also self tan and apply your self tanner mixed with your moisturizer.
Saturday: Breathe, use acids! Exfoliate if needed.
Let your skin breathe on Saturday night as well! If I find that I'm getting a blemish or my skin is purging, I'll also exfoliate on this day as well. On Tuesdays I let the Dual Enzyme Polish sit on my skin and on Saturday evenings I'll just exfoliate as a "cleansing exfoliator" with it.
I know this might be a lot of information to take in and I promise once we are in our new home and I can photograph my routine in the bathroom I'll do an entire post on AM/PM skincare so you can see each and every product I use. But once you get your routine down that works for your skin type and retinol use, I promise this becomes second nature. At first it seems overwhelming, but I recommend timing yourself. Time your skincare routine and you'll find that it takes about 10 minutes. 10 minutes in the evening to better skin later on? Easy! Skip that social media scrolling and take that time to pamper yourself.
Now, let's get to the best part! Saving. COF readers have 20% off their order with code COF20 at checkout. This week Colleen Rothschild is also having a great promotion that will run from 9/18-9/24. Use code SAVE50 to save $50 off any purchase of $150+. So depending on what you order, I hope either one helps you out!
How often do you mask?!


Sweater: Anthropologie | Lipstick: Save The Queen
Photography by: Madison Katlin. In collaboration with Colleen Rothschild, a brand I love. All opinions/statements are my own.