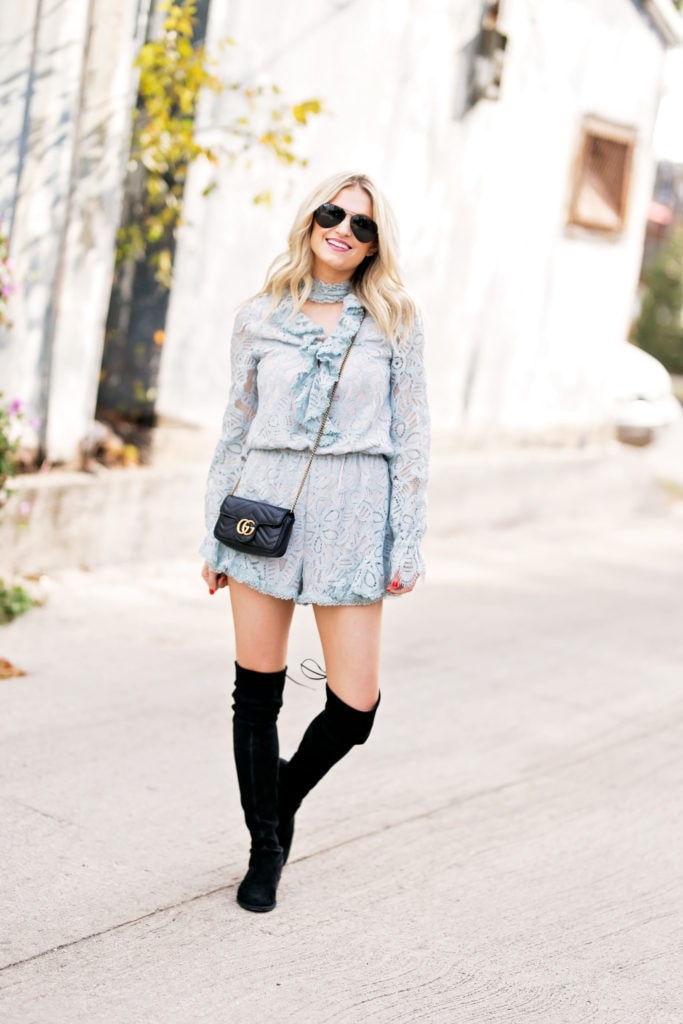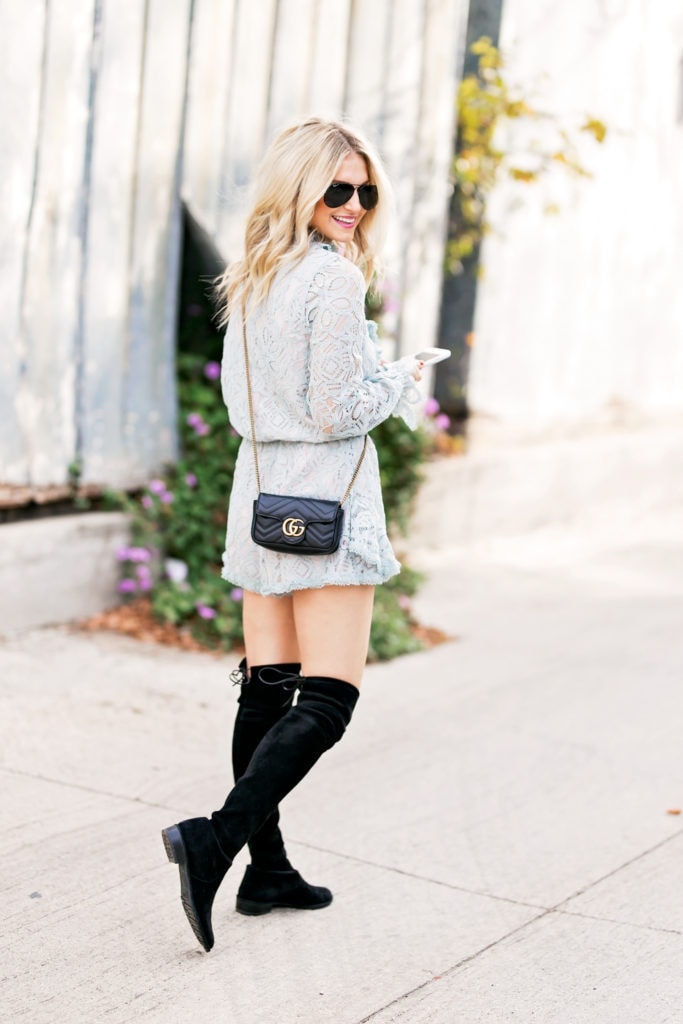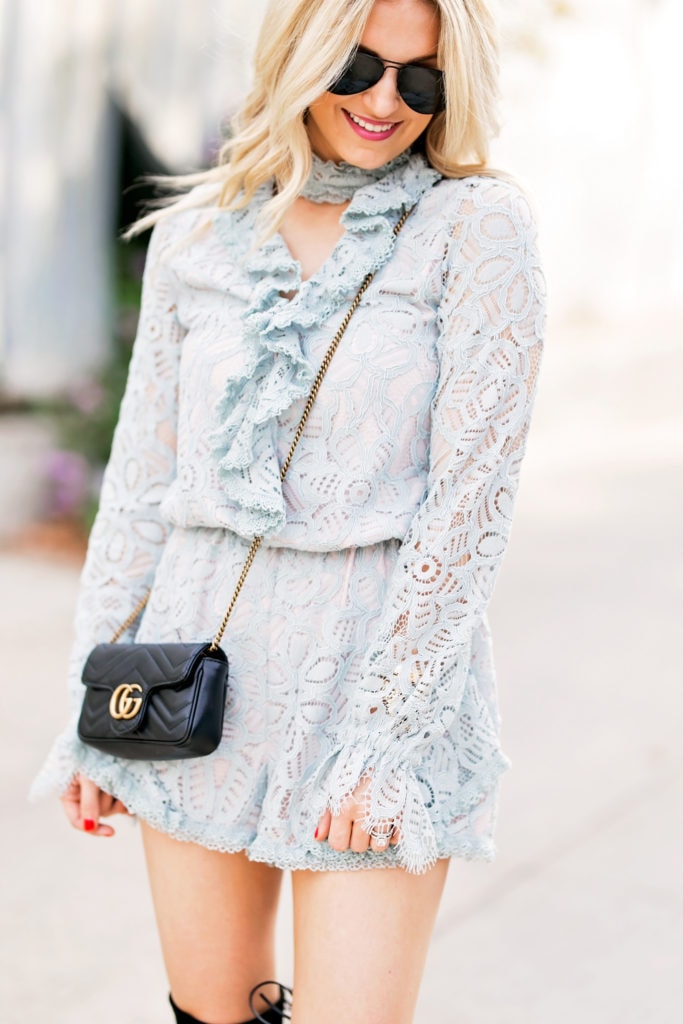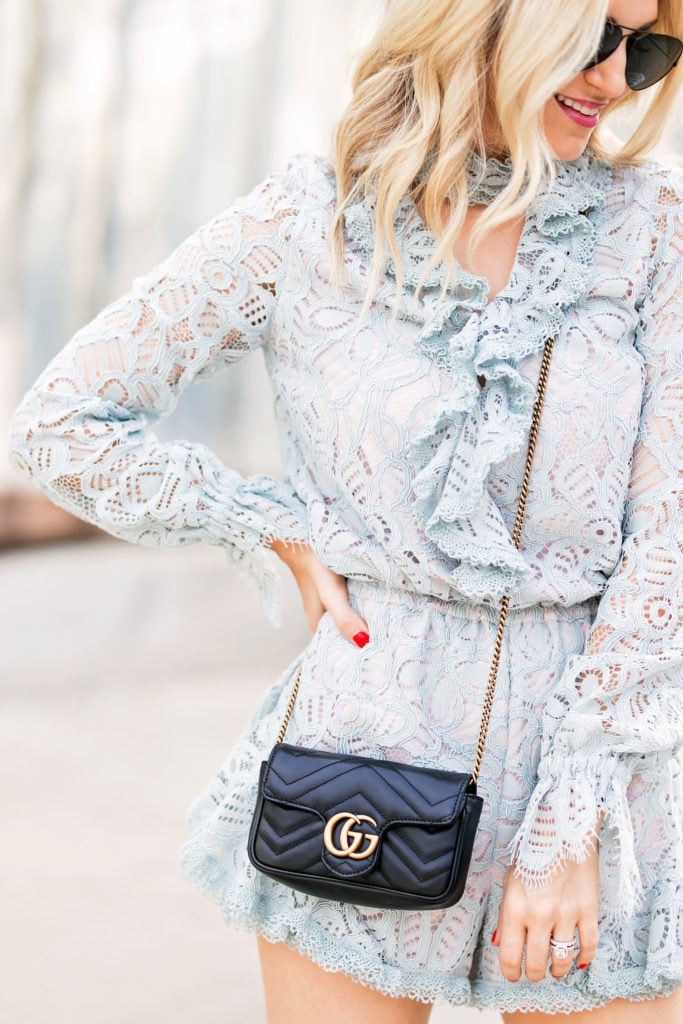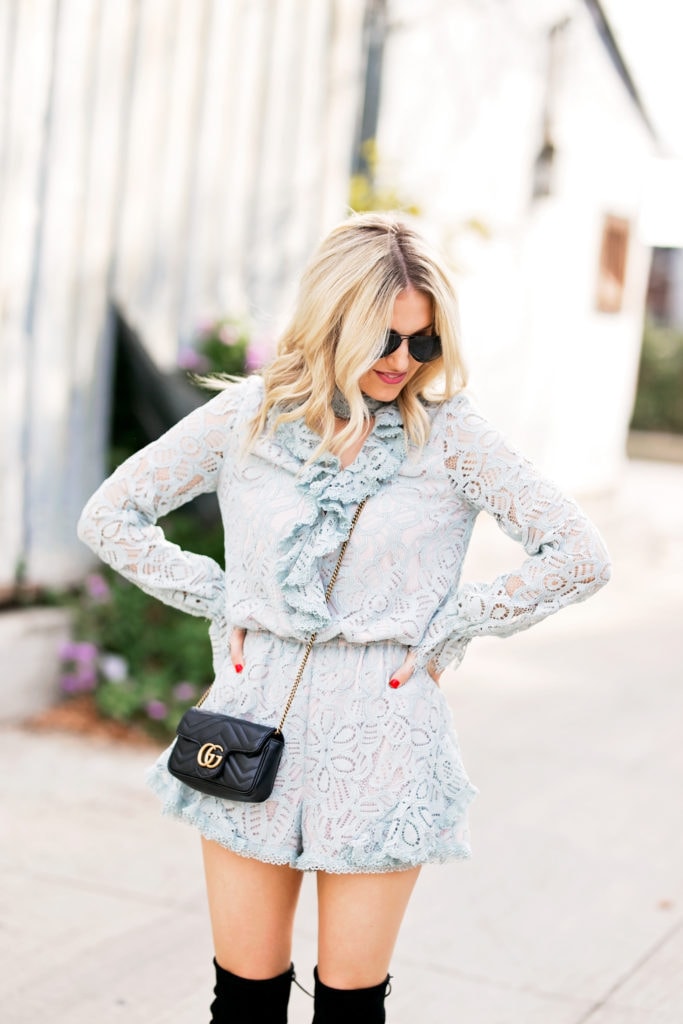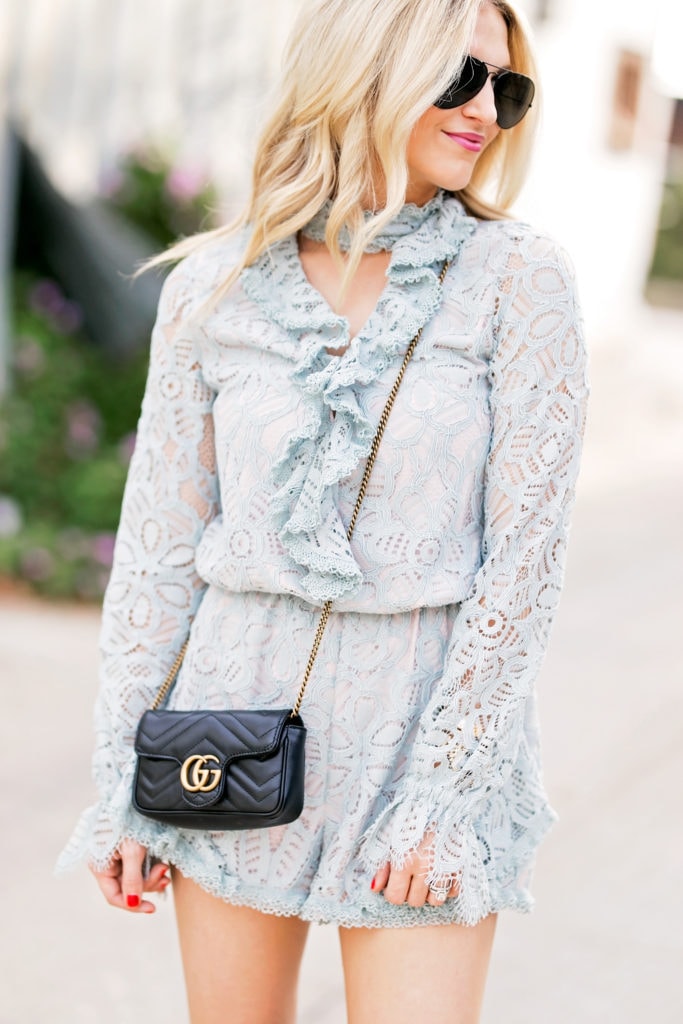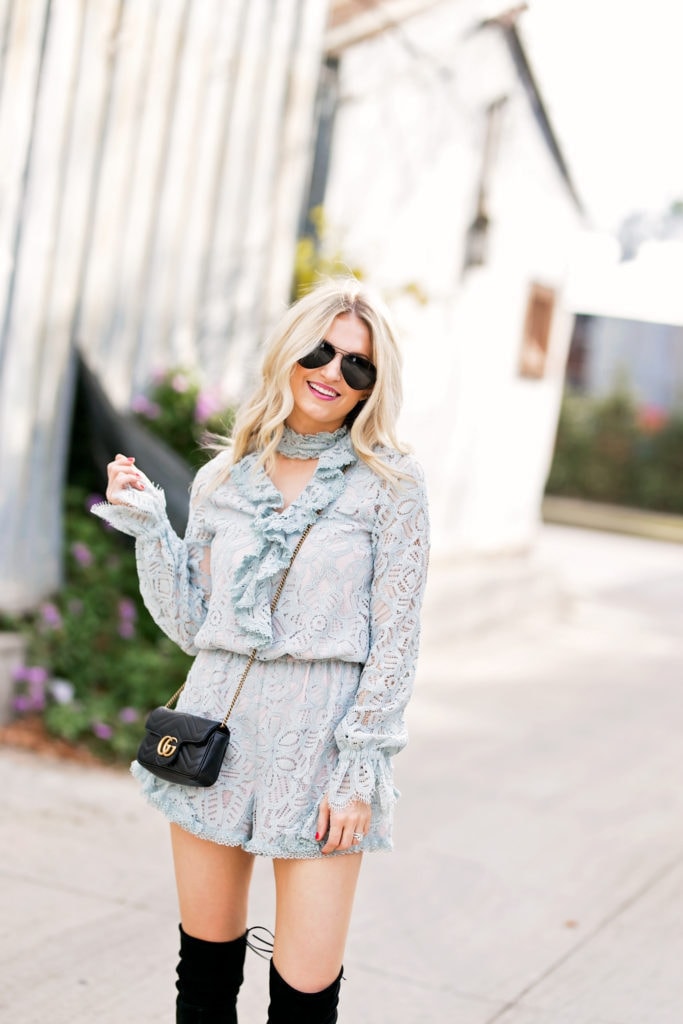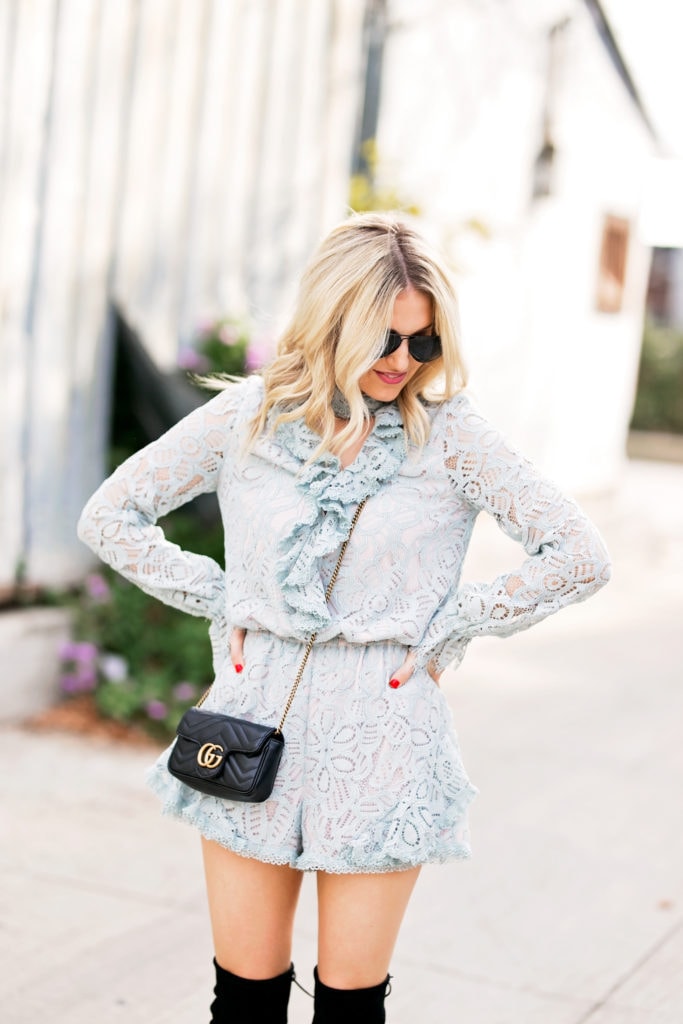 Romper: Alexis | Boots: Stuart Weitzman, Similar | Bag: Gucci [c/o] | Sunglasses: Ray Ban | Lipstick: Lovesick
Photography by: Angie Garcia
---
This little romper has been on my radar for date nights for months! But I couldn't justify the price for just date nights, UNTIL I found it for over 60% off and it fit my budget for our big date on our anniversary weekend. Last week I shared what I wore for our casual date and this is what I wore for Uchi! I heard it ran small so I got a M. My verdict is to definitely size up, but full disclosure I did safety pin the top since the top ran a bit larger.
This romper still is a bit more pricy and I only felt comfortable spending this much on a romper knowing it was a designer steal and it was for our anniversary! So, I found this option on sale and while it does have a steep v-neck I think you can wear a tank under and make it just as cute. Here is another similar option for under $70 as well.
Now speaking of budgeting, I feel as if I finally finished the layout of furniture and decor in our home. Y'all know I love to design rooms so that I can at least have an idea of furniture to look for or know exactly what I need for our budget. I was SO thrilled when I finished the final layout and showed a picture of the master to my mom. She goes, "Oh..that's nice. But why don't you like pops of color?" Gotta love honest mamas?! I tried to explain I was going for a more Parisian/Traditional route and that I *did* have pops of color with blue and green. She still made no comment. haha! But back to finishing this project- oh gosh. How/Why did this take me so long?! I've been doing this a few hours a night each night since March. I guess this is what I get for being too specific? I didn't even think of the play room, the guest bedroom or our gym but those are rooms that can be empty for quite some time! Of course we will be purchasing things very slowly [hopefully y'all care to see a room tour in 2019! 😉 jk. Maybe not…] but it's nice to have a plan in place!
We do have a few projects once we move in as well. We need to fix the island because it didn't exactly turn out how Paul and I thought it would, but that's not immediate. And in fact, I kind of am glad we will have some sort of a fun project to work on later on. I also want to wallpaper Maxi's room at some point because I think it will be fun. HOWEVER, each wallpaper I pick is just nearly the price of a college degree [why is it so absurd?!] so I am waiting to fall in love with something FAR more reasonably priced. But with wallpaper being such a huge commitment I don't want to just like one to like one. I hope you enjoyed this update and have a wonderful Tuesday!
---
Edit: I get a lot of e-mails asking how I design rooms/if I use apps. I use the same adobe programs I use for my site to design rooms. I'm not 100% sure if they are user friendly or not as I just learned how to work all Adobe programs in college in my graphic design courses. But I'm sure if I can use them they are user friendly! lol However, I do know there are free programs you can use [the programs I use I pay for with my blog] and apps- I'm just not sure what they are as I haven't ever used them!  If anyone has an app they use feel free to comment it below as I'd love to be able to let people know about that! xo
---