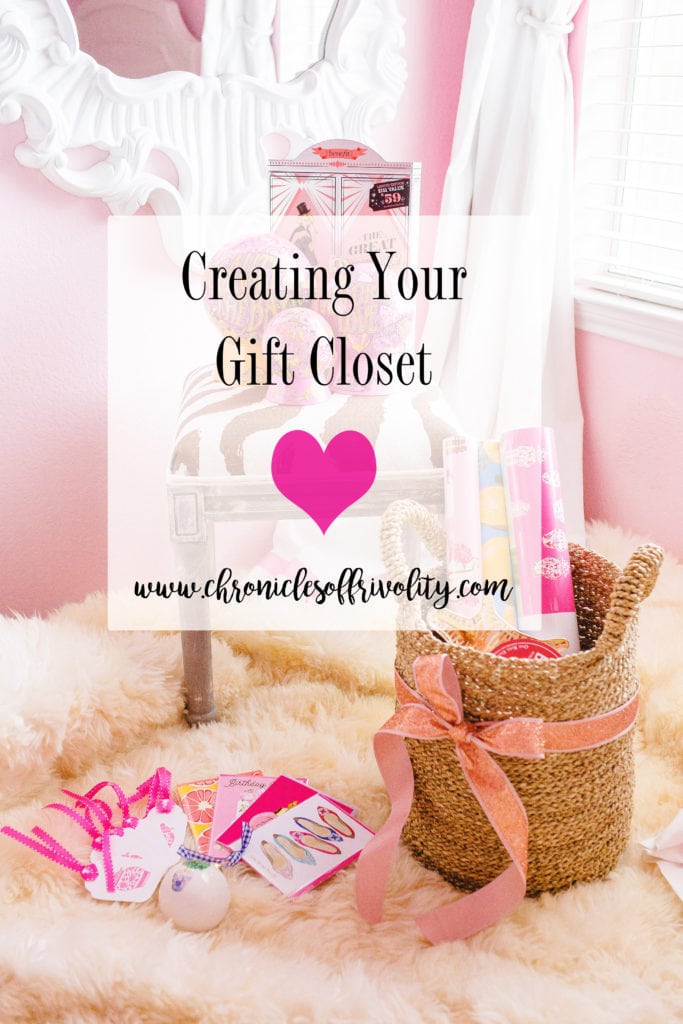 I'm a firm believer in a lot of things- mascara, thank you notes and caffeine are always good ideas, just to name a few. One thing I have preached about on COF is having a gift closet or at least a section of a closet dedicated to gifts for the future. This is one of my top budgeting tricks. It's easy to sit down and assess your expenses and budget each month. Unexpected things aren't as easy to consider and I feel as if we are always needing a gift for some special occasion or another! I take the month of January to really buckle down and plan the year in terms of gifts. I list out each birthday or potential celebration and assess what I need to save. I go through my gift closet and plan who would love what and what they have mentioned they would love. It's kind of like shopping in my own home and far more enjoyable. Plus, I love to give gifts so it's honestly a process I thoroughly enjoy and look forward to. This is a great budgeting tool because I'm not running out last minute to purchase a $50 item when I didn't plan on it that month. Some months it feels like I have two birthdays a week, if not more! But one way I make it even more budget friendly is by filling up my gift closet during the holidays.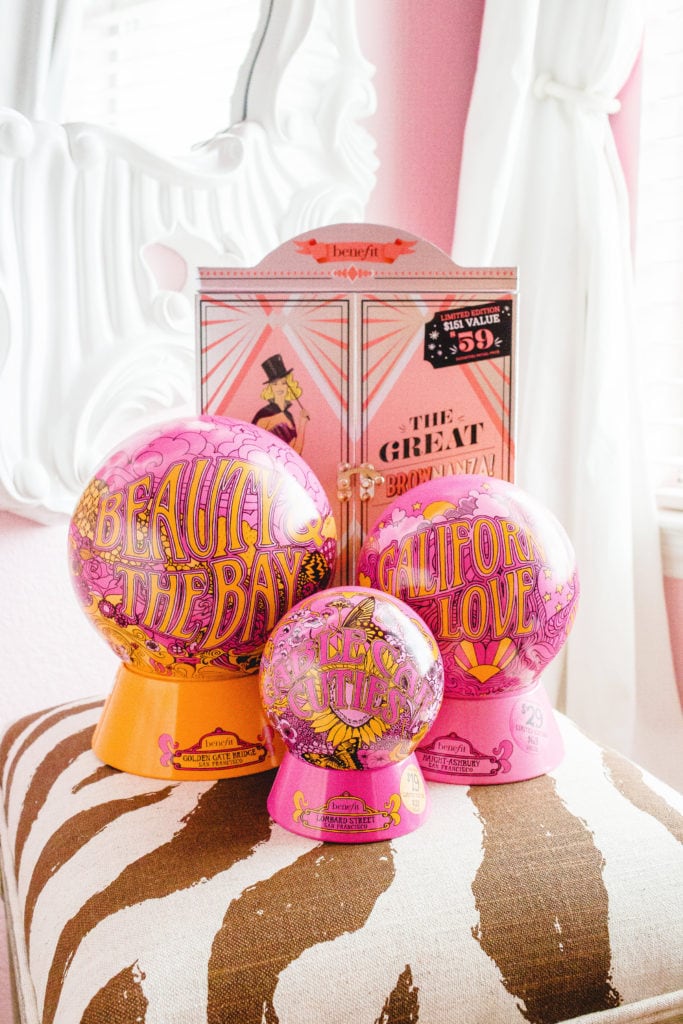 I go ahead and budget for this during the holidays and love to get gift sets. I'm always known as the girl who gifts beauty products, but I'm sure you could already guess that. 😉 If you've read COF from the beginning, you know I started this blog with one of my best friends, Kristin. She ultimately got an amazing job and couldn't do both. But anyways, she always tells me what beauty products she wants for the holidays or her birthday because I'll be the crazy girl who goes to 5 different Ulta stores to track down one specific blush. This year she wants serums- ha! Besides the fact that I'm a beauty junkie, I love to gift beauty products as they are easy to dress up with ribbon and look festive. However, one issue you can easily run into is the fact that *most* holiday gifts are Christmas themed. That's fine if a girl's birthday is November or December. But what about all my May birthday girls?! They don't want a Christmas tree filled with nail polish!
Today I partnered with Ulta to share a few little gift sets that are budget-friendly, filled with FULL-SIZED products and are cute year round! I also appreciate that they reward their customers with continual coupons which make this budgeting trick even better. Just this weekend I went to get more shampoo with a 20% off e-mail coupon.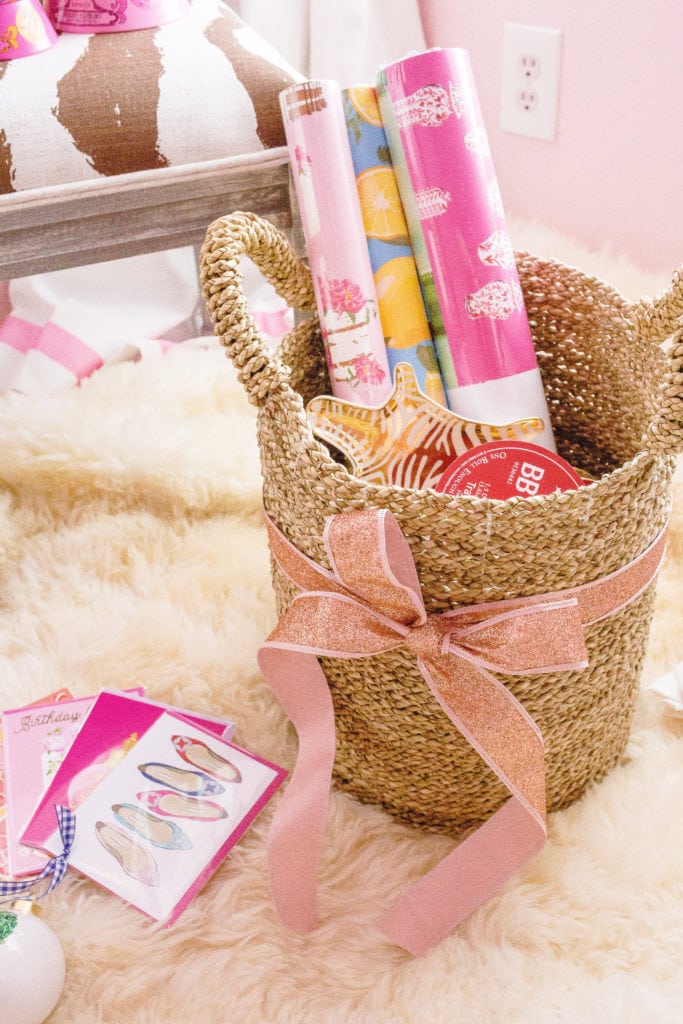 The first step when creating your gift closet is finding a space you can house your gifts. Up until our move, we never had extra space to store gifts. I used to use the bottom of Maxi's closet but now we have a hall closet I'll use. I get a wicker basket and fill it with cards, ribbons and wrapping paper. Then I get another matching wicker basket in the same size to fill with gift sets, beauty products, ornaments and any other goodies like cute mugs you can combine with products. There are plenty of times throughout the year I find a sweet gift tag or blush set and I may not need it, but if it is a good price I grab it to put in the basket.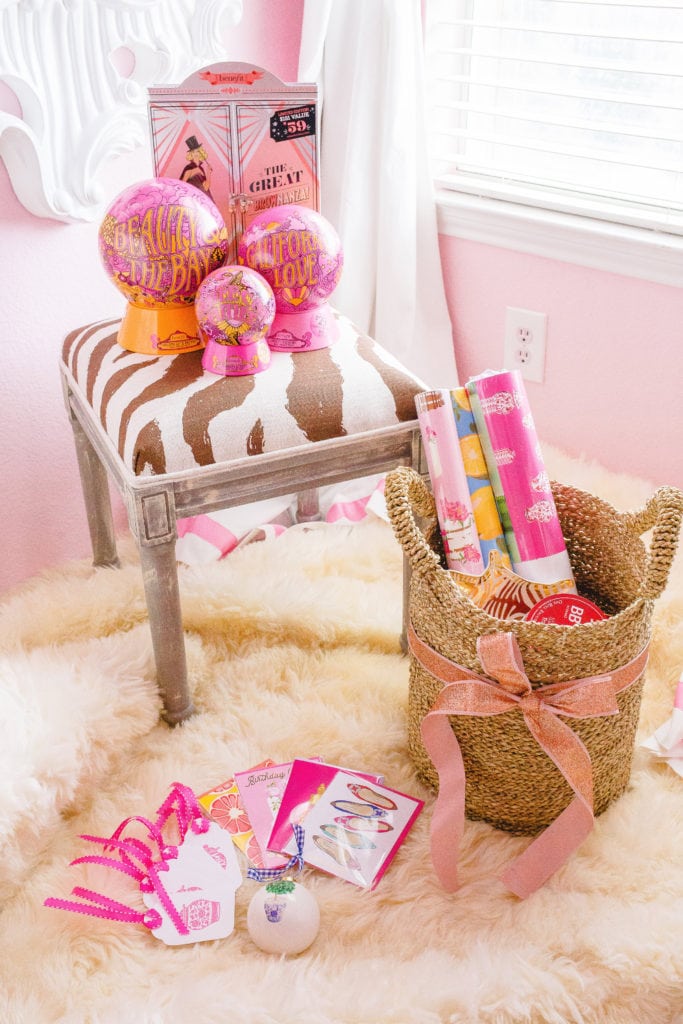 Your next step is the fun part! Fill up your basket! I purchased these Benefit sets and I loved the colors for all my girlfriends. They range in prices so you're able to personalize your list per price point. Now I want to note, these are selling out SO fast! Some are still online and some are sold out. I did go to a few Ulta stores this weekend to use a coupon I had and I noticed one by me had these sets in store. 🙂 I apologize that some of these have sold out, but I'll link to the other Benefit gift sets that look like this with other products you can pick!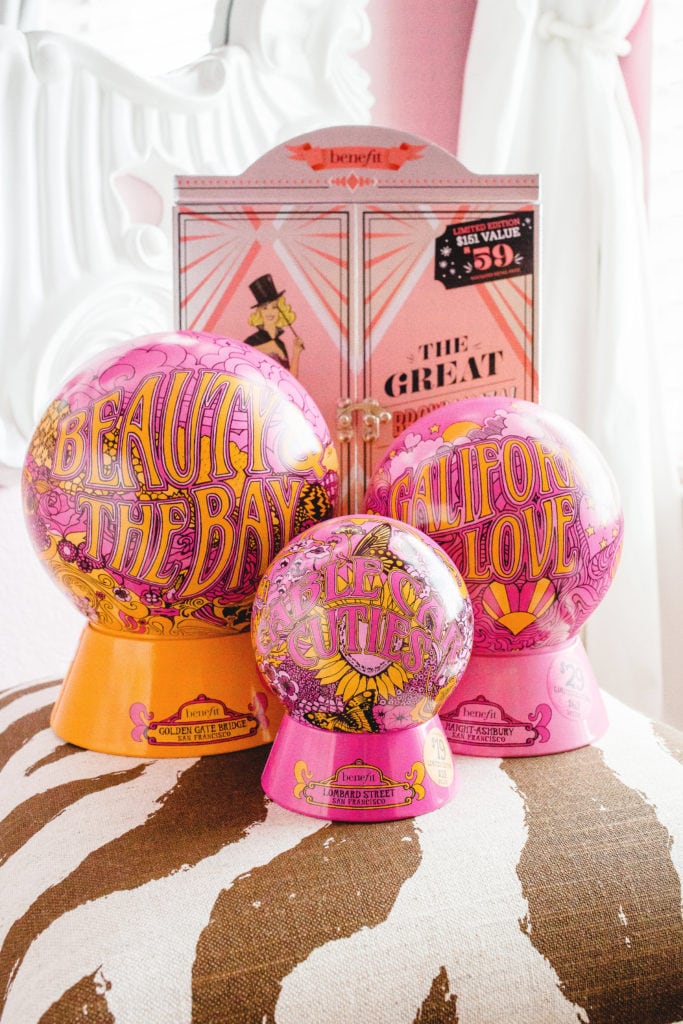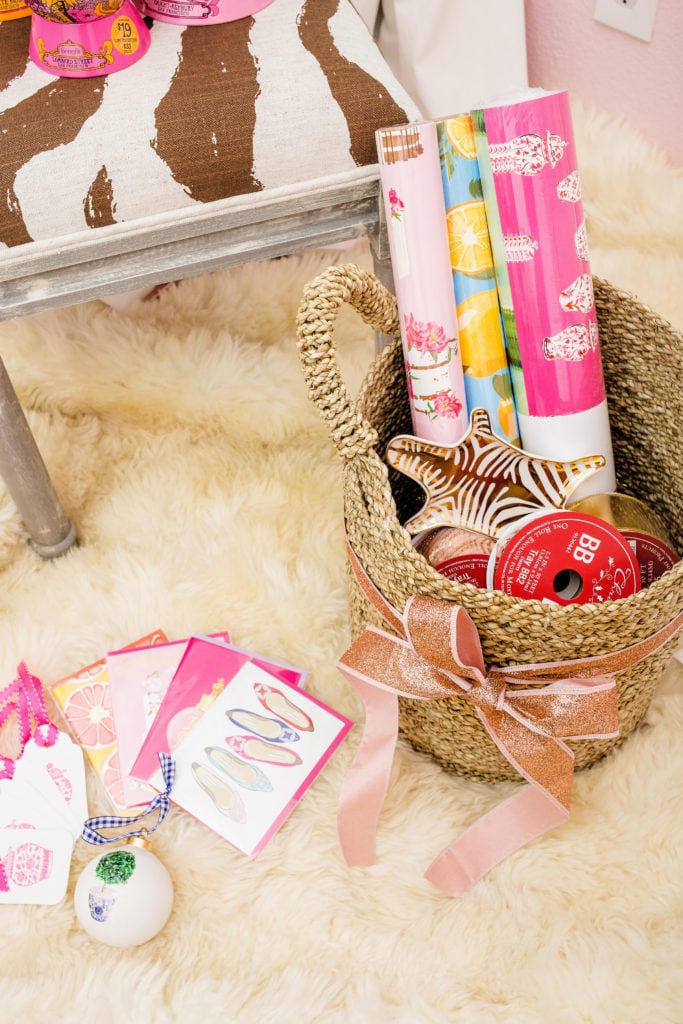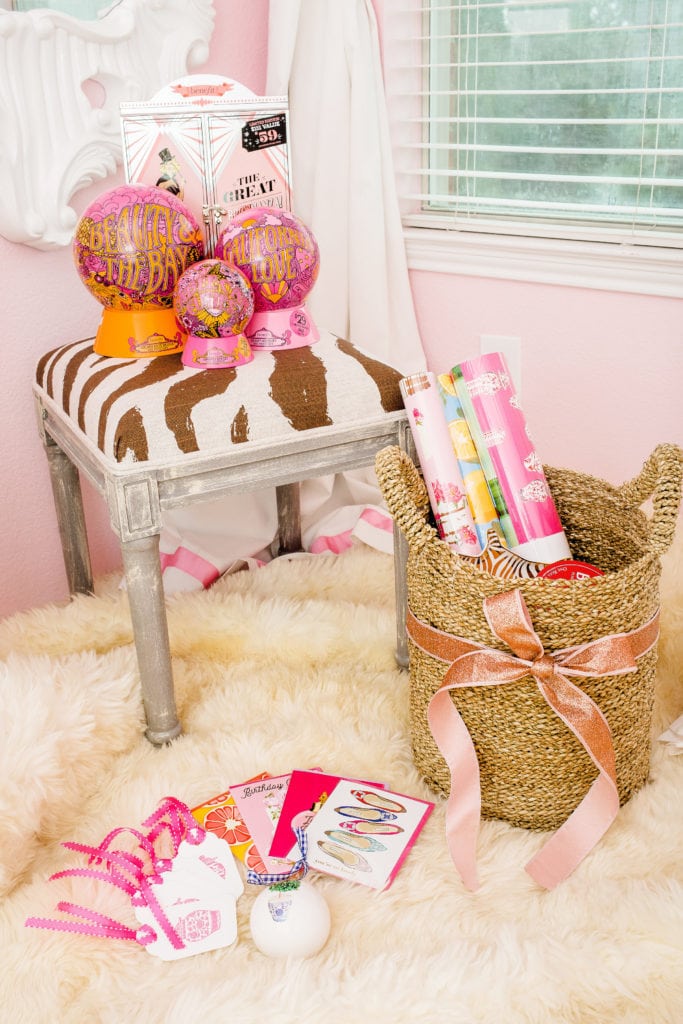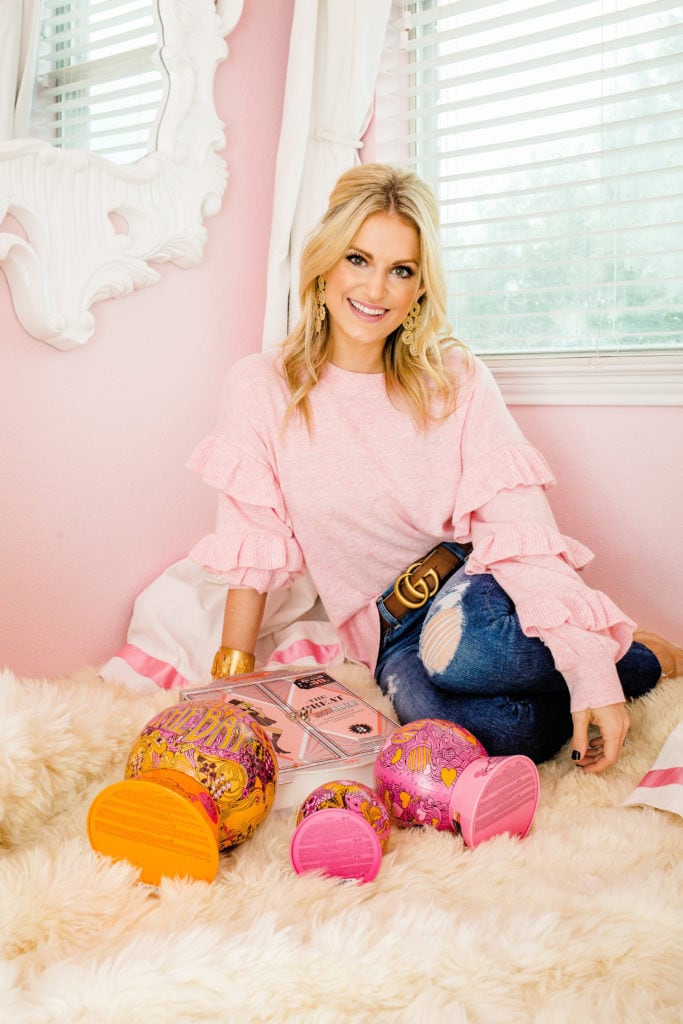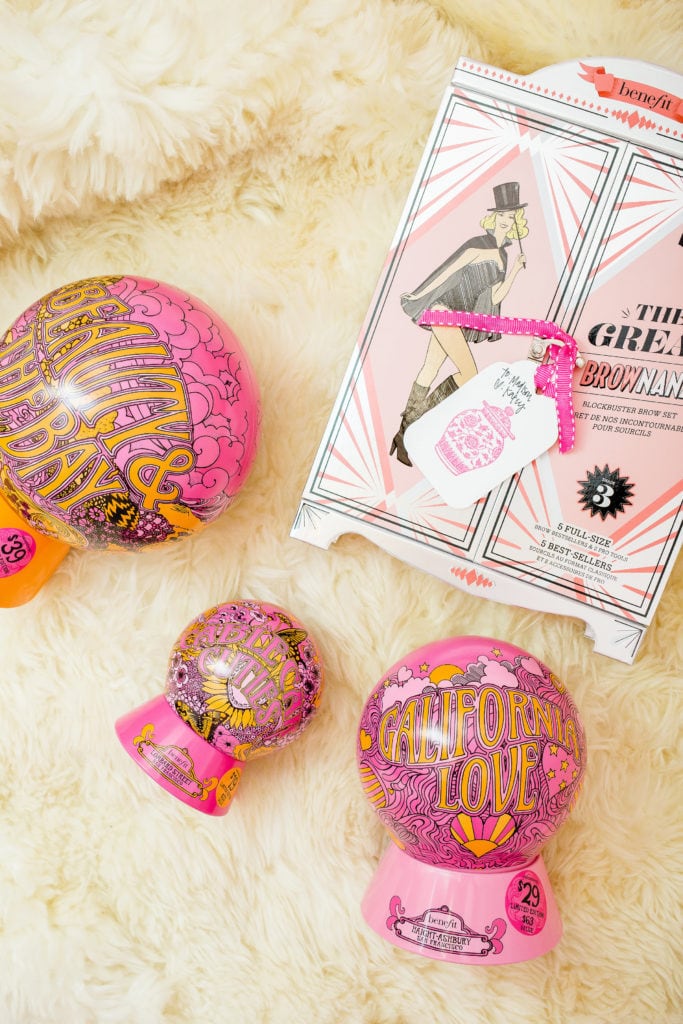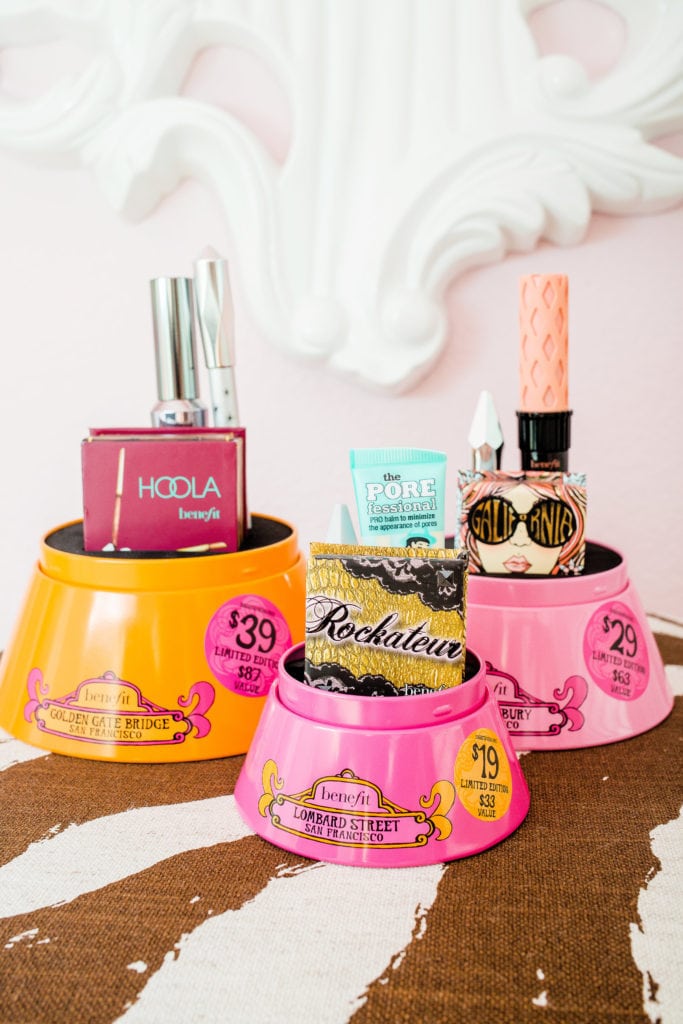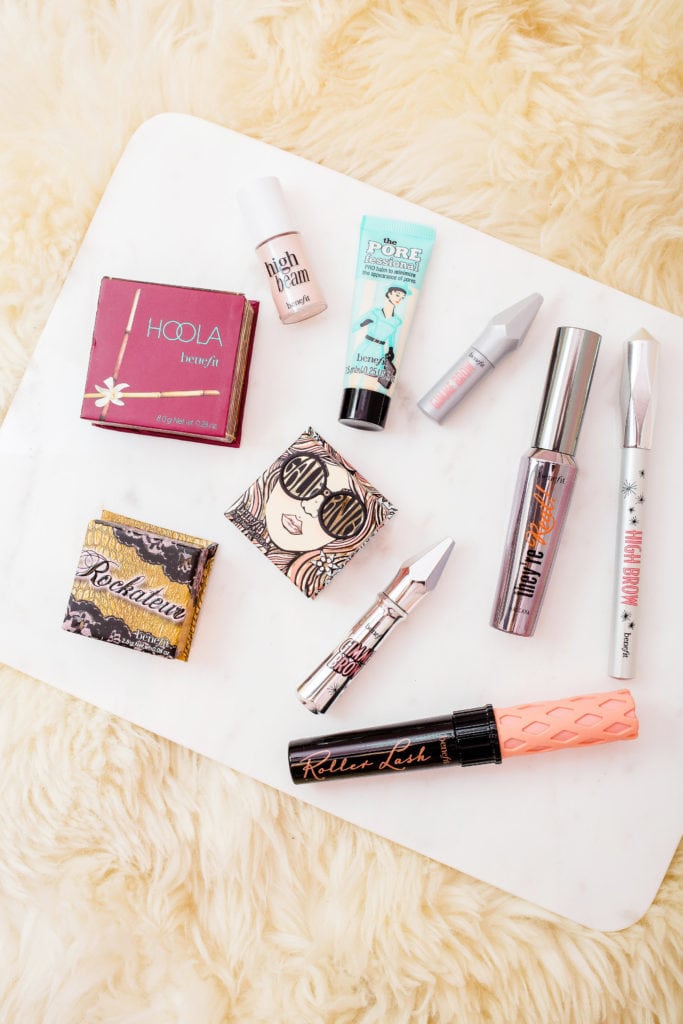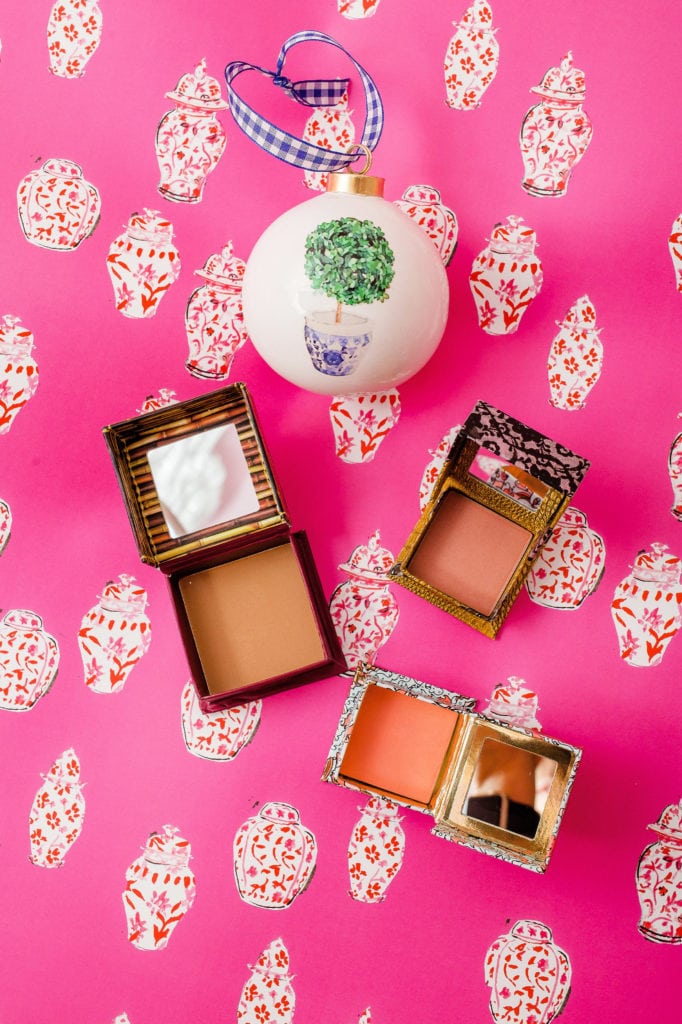 Now another option I love is to gift a blush or bronzer with an ornament for the holidays. I think this makes your gift festive as well as personalized because you are thinking about what colors your girlfriend wears or what type of makeup hues she prefers. I may be the only one who thinks that way, but I always love when a girlfriend notices I wear black and white nail polish as opposed to say, bright orange. With Benefit product I think it's pretty safe to say the Hoola Bronzer is a favorite for a range of skin tones. My favorite Benefit blushes are Rockateur [will have my updated makeup routine up soon, too!], California [for spring and summer] and the Dandelion highlight.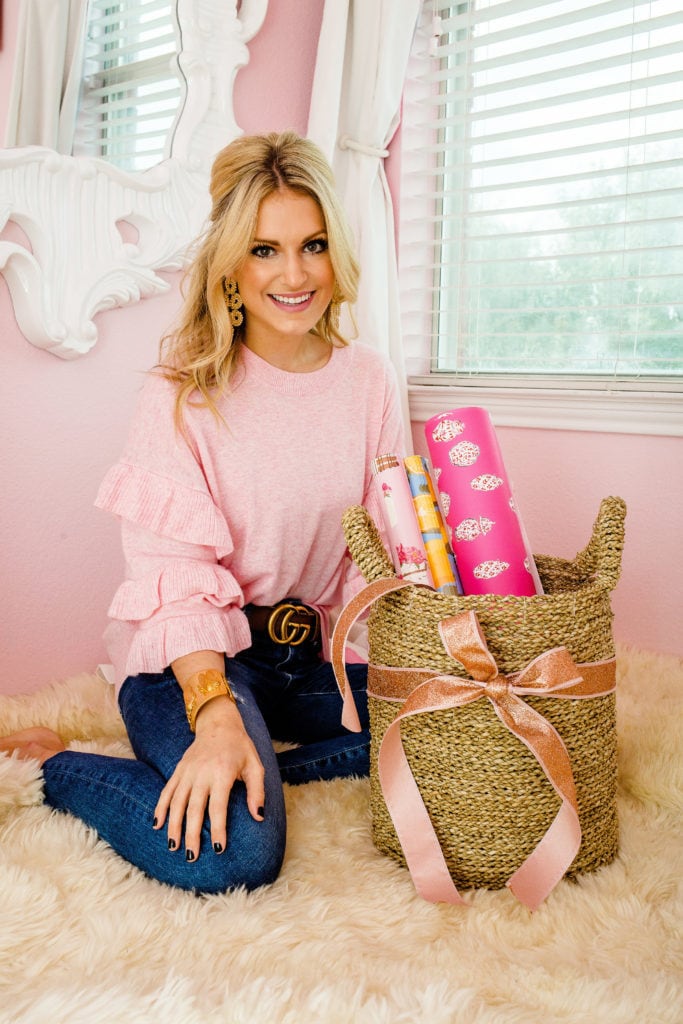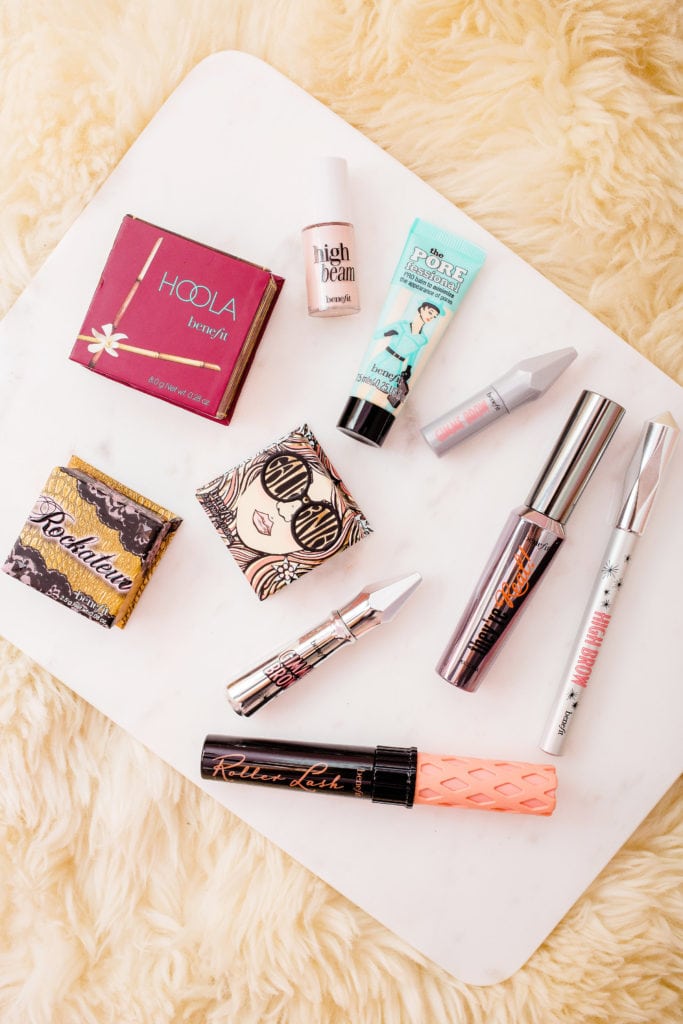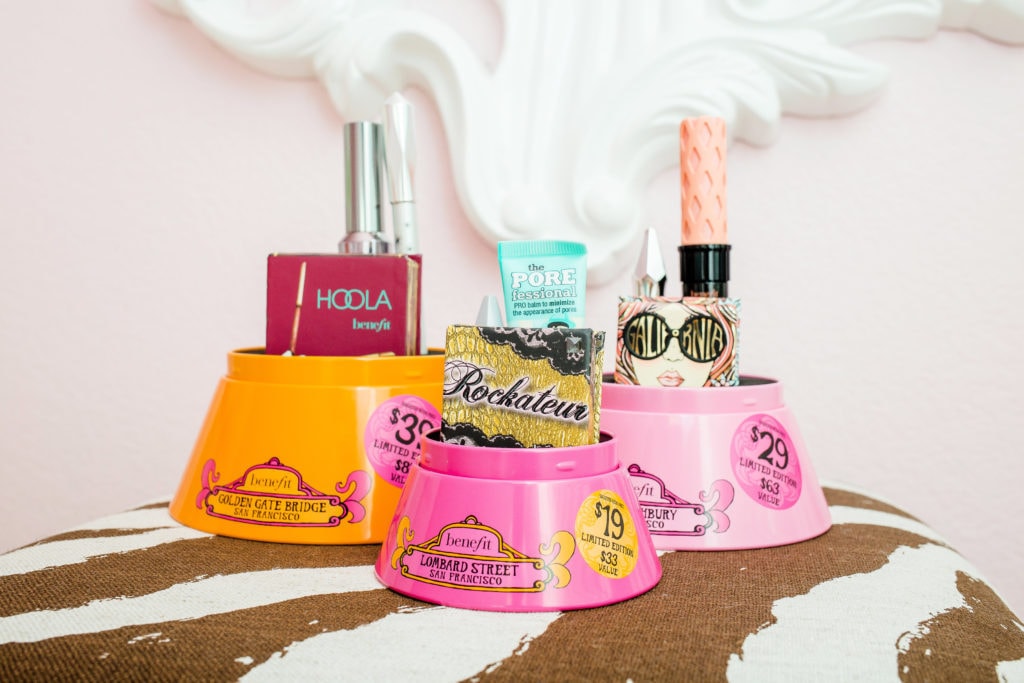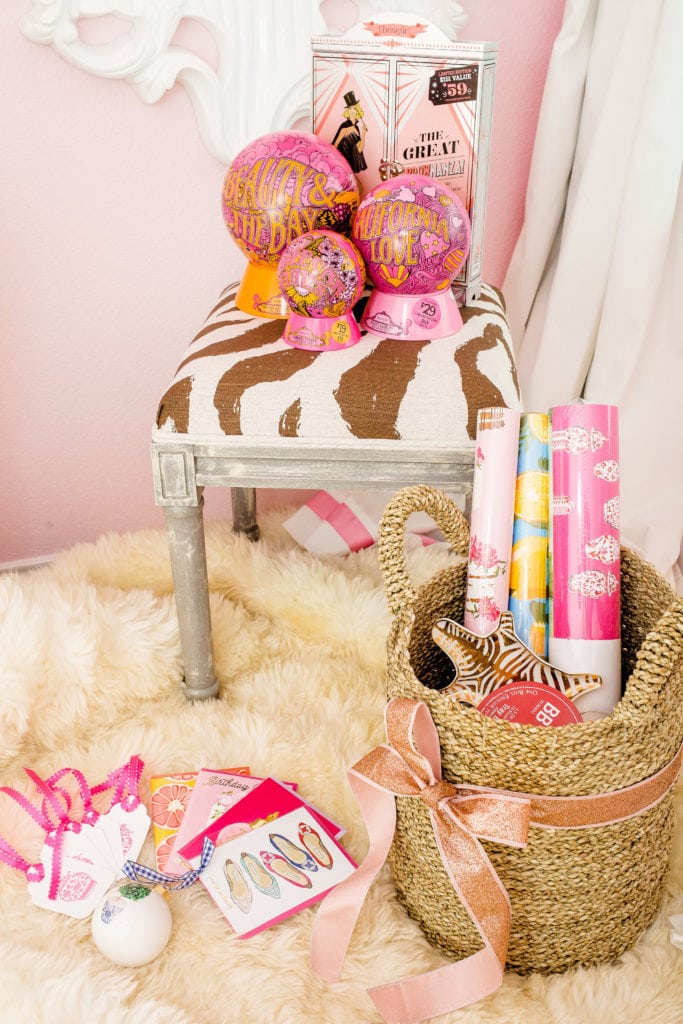 So whether you give gift sets or make personalized selections for your friends, I hope you enjoyed this post! Gifting can get a little overwhelming, but when you plan I personally believe you get to truly enjoy the process of thinking of your friends. I love to just sit and think, "Okay, Kristin loves this mascara and this bronzer, let me wrap that for her!" Because at the end of the day, we are just trying to celebrate them and we hope our gifts can express a minor way we feel about them! I'd love to know how you plan. Do you keep a gift closet at home?! And what are your favorite Benefit products?! Mine are the Brow Pencil, Rockateur Blush and Hoola Liquid Bronzer!

Benefit Gift Sets in Stock: B. Right! By The Bay, Hello San FrancisGLOW, Beauty & The Bay | Sweater: J.Crew, Similar | Jeans: Nordstrom | Earrings: Lisi Lerch [c/o] | Wrapping Paper: Etsy | Cards: Sweet Caroline Designs
Photography by: Madison Katlin

In collaboration with Ulta. All purchases and opinions are my own. Thank you for supporting the brands that allow COF to operate!