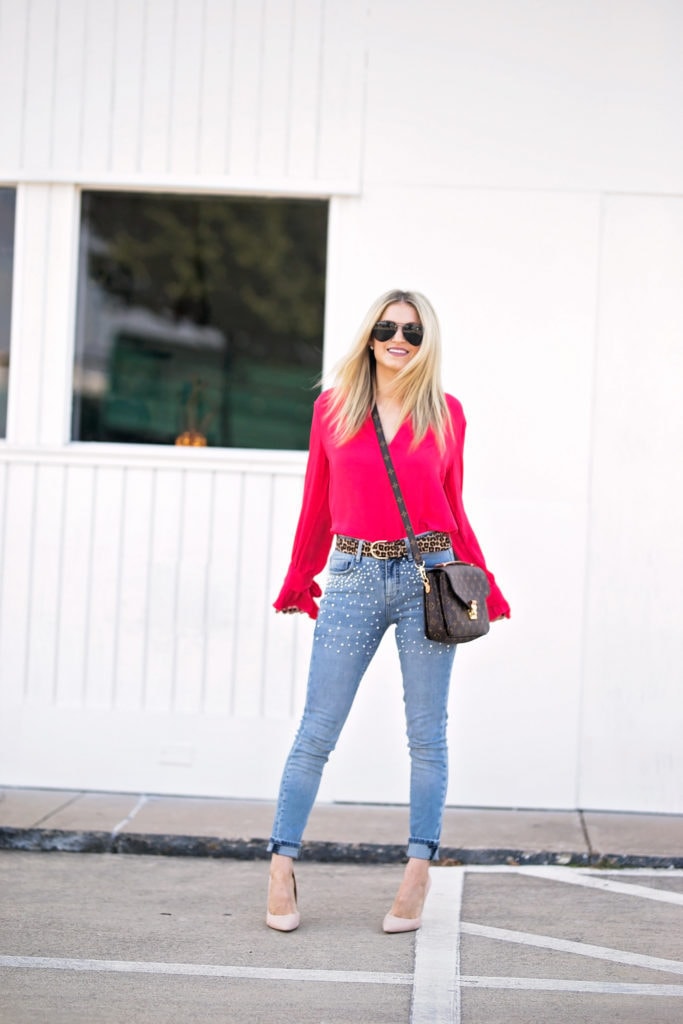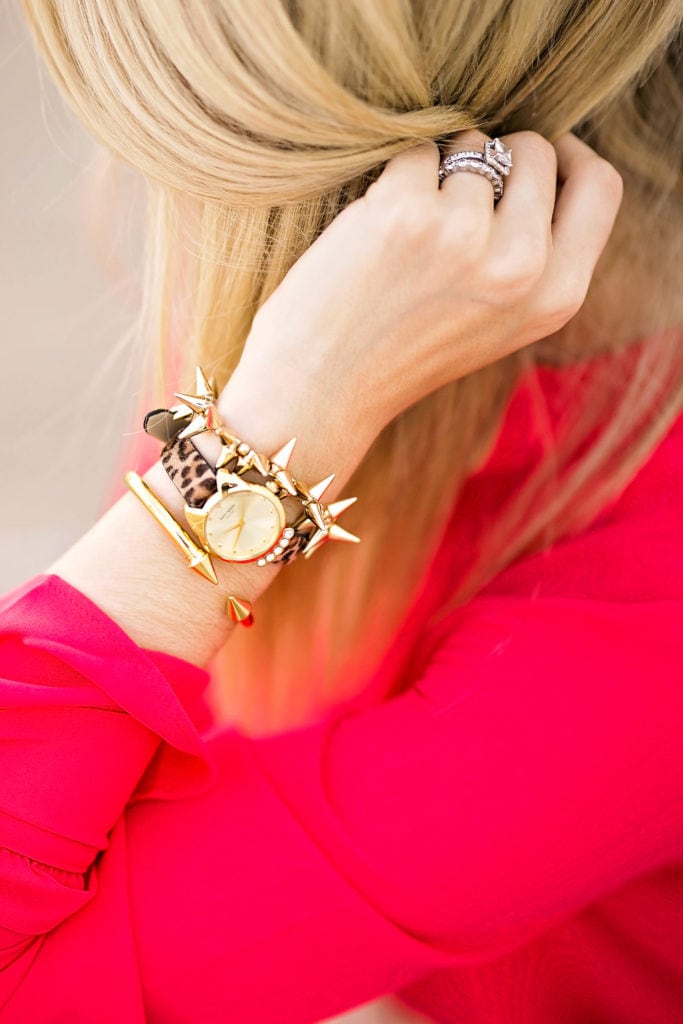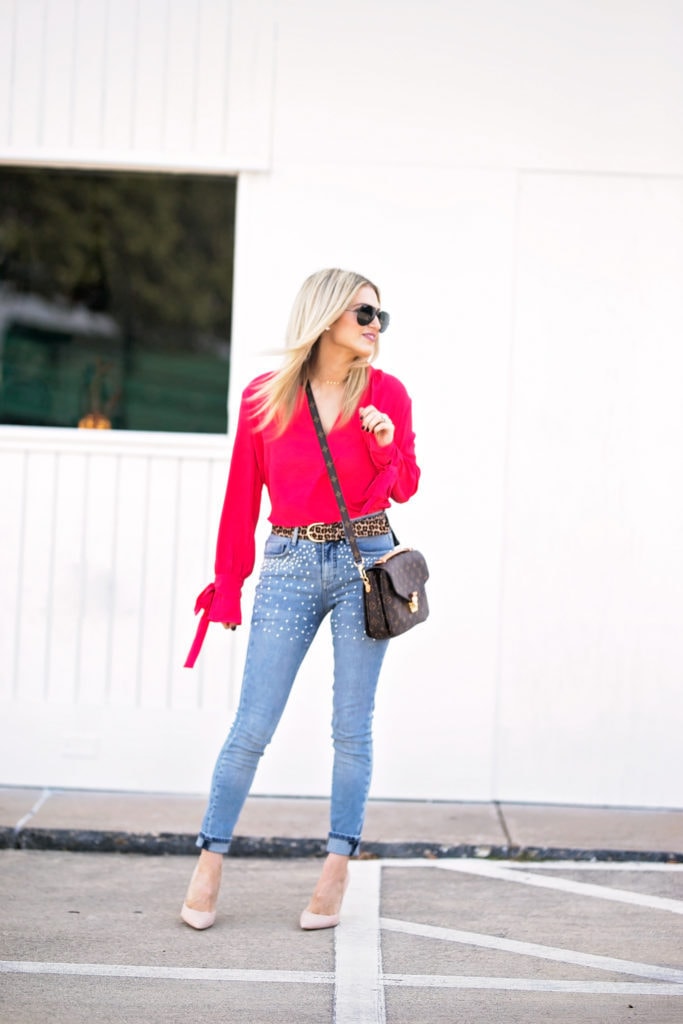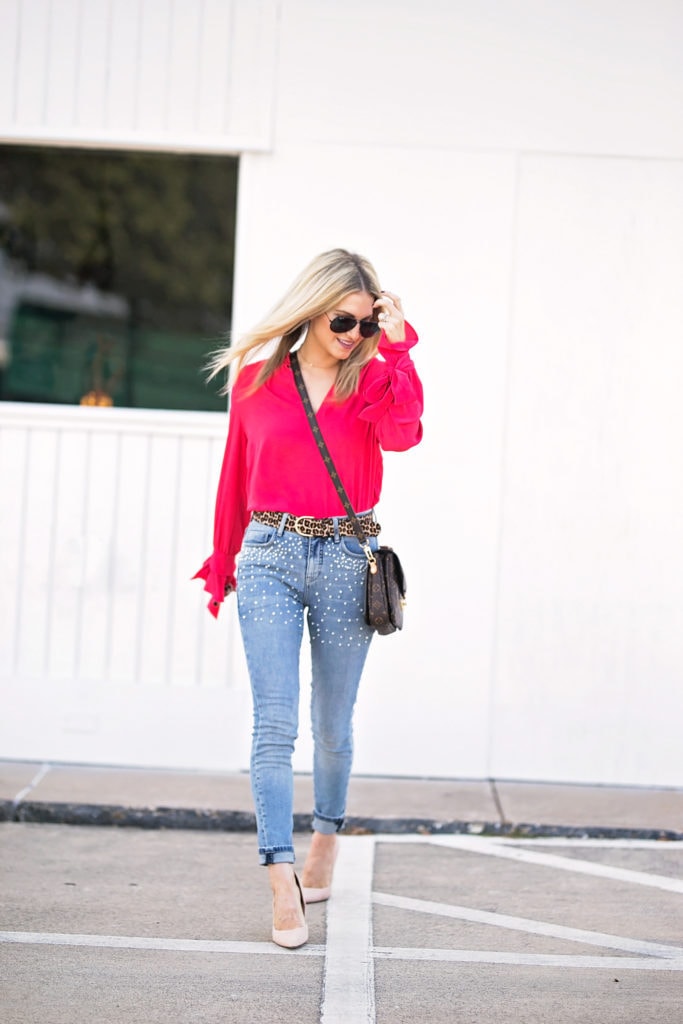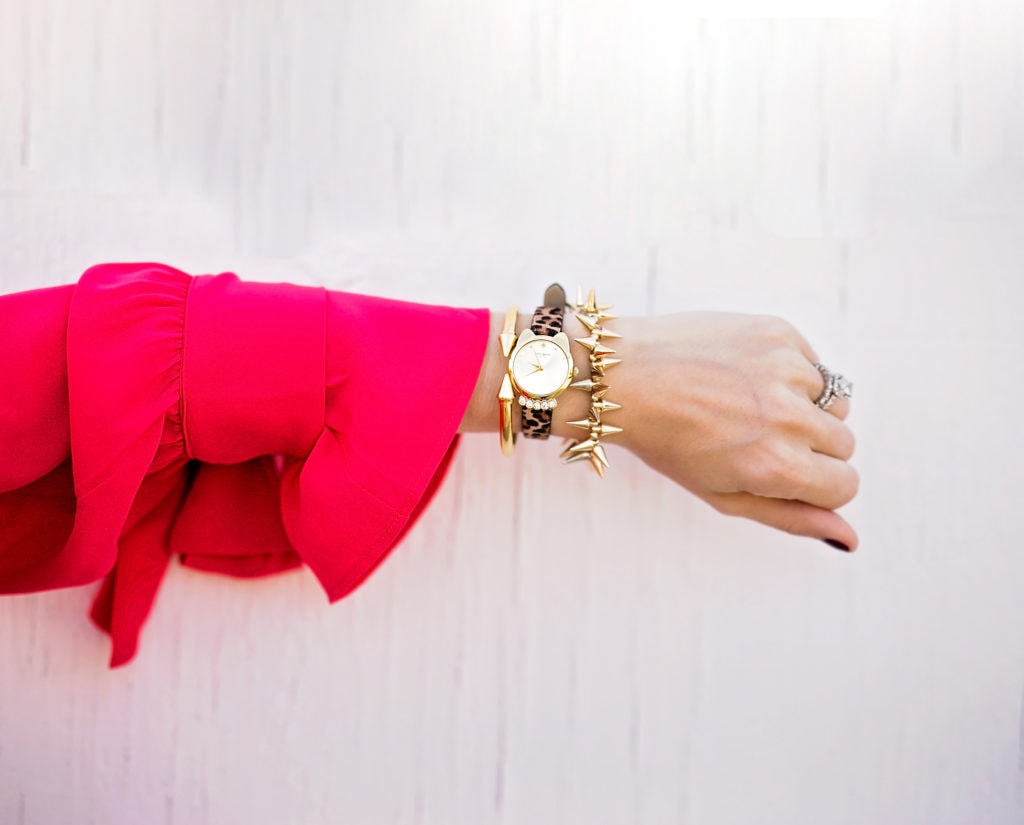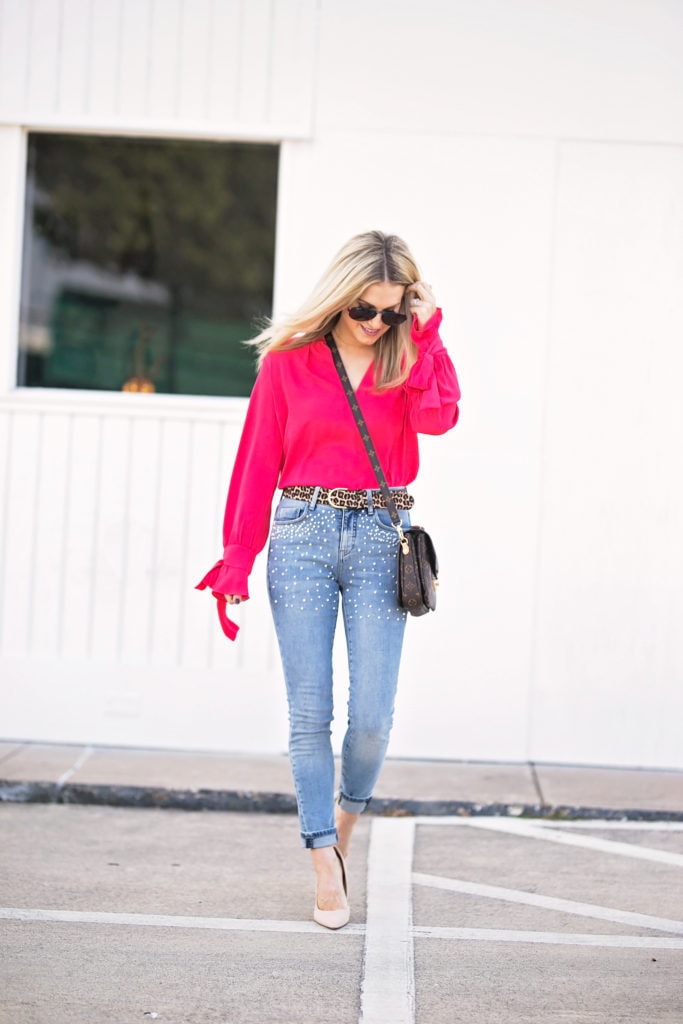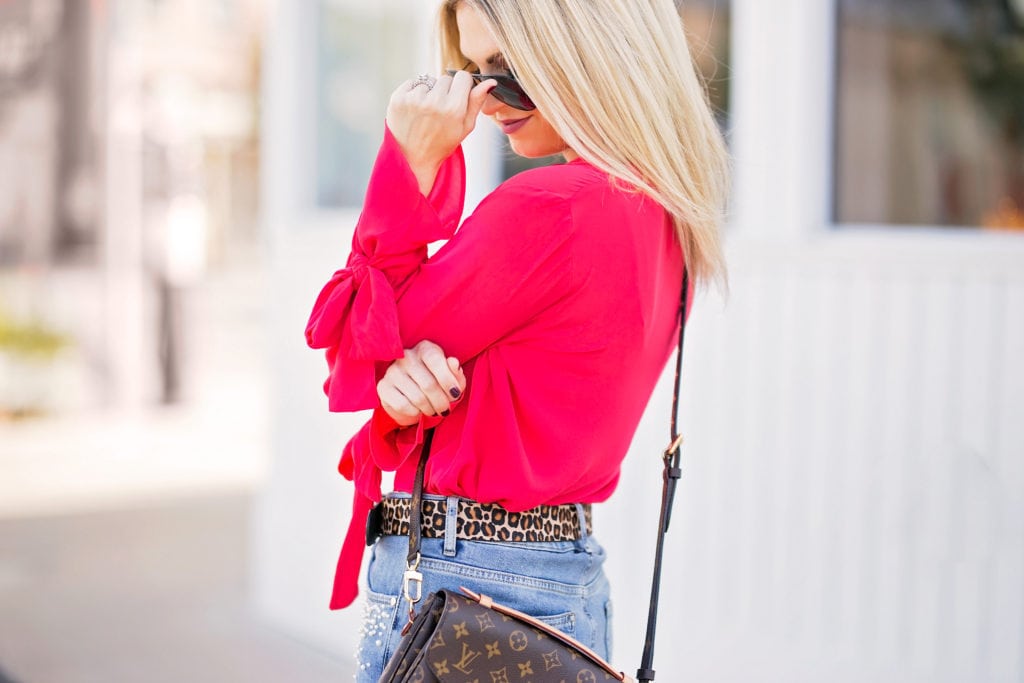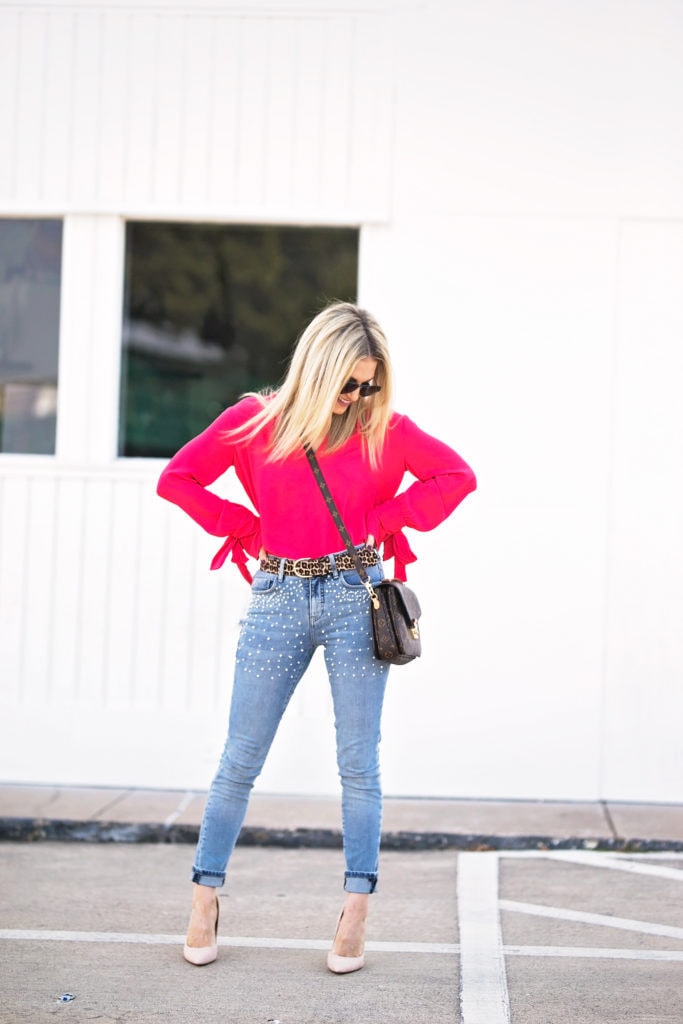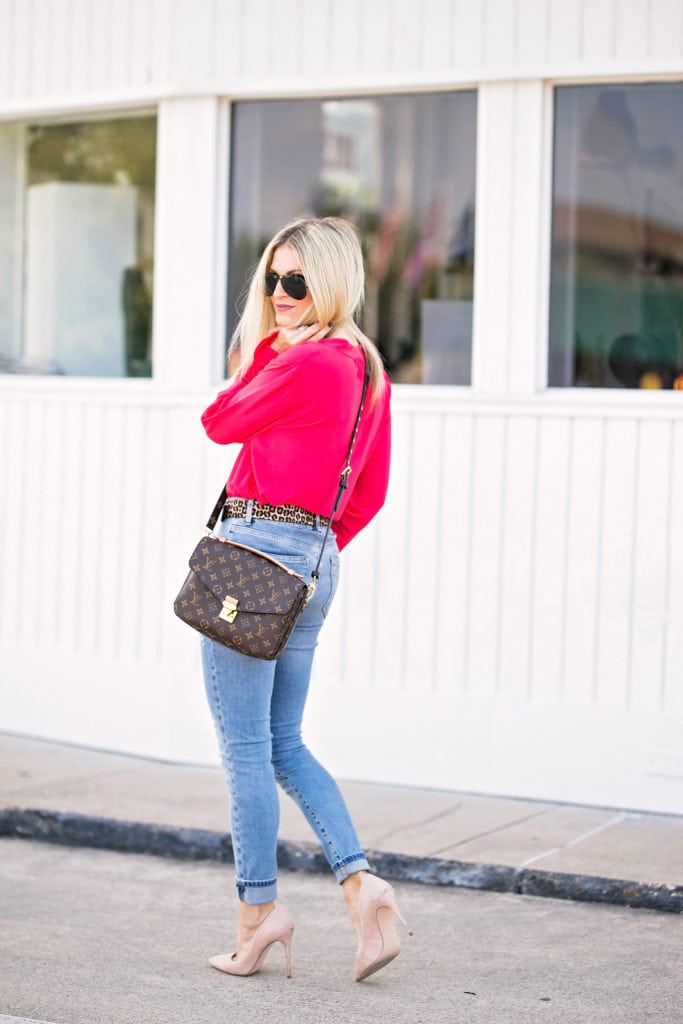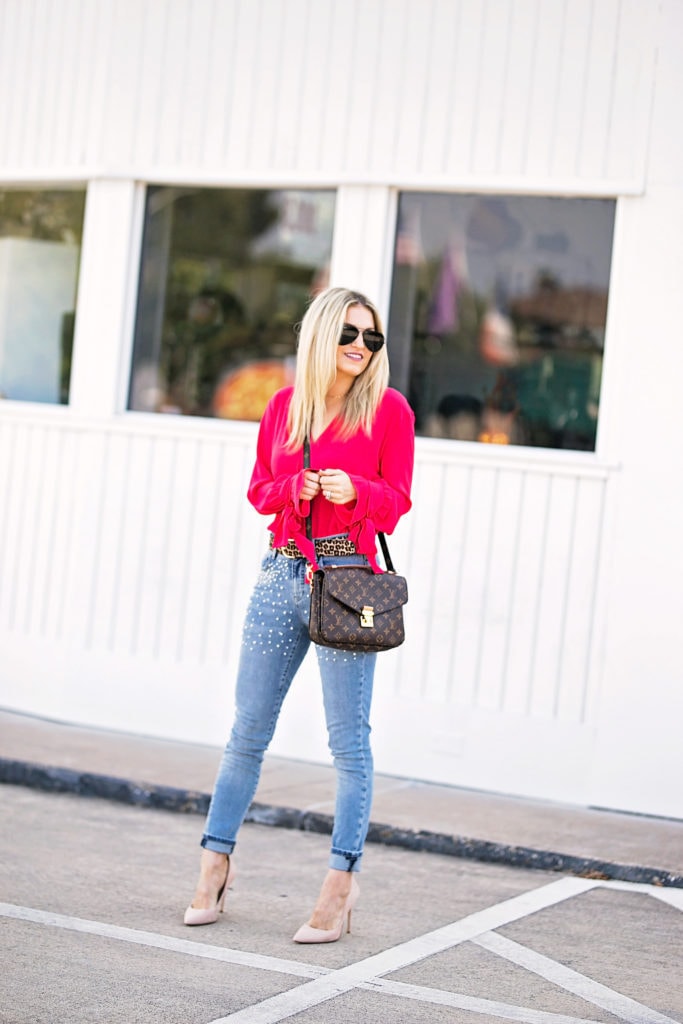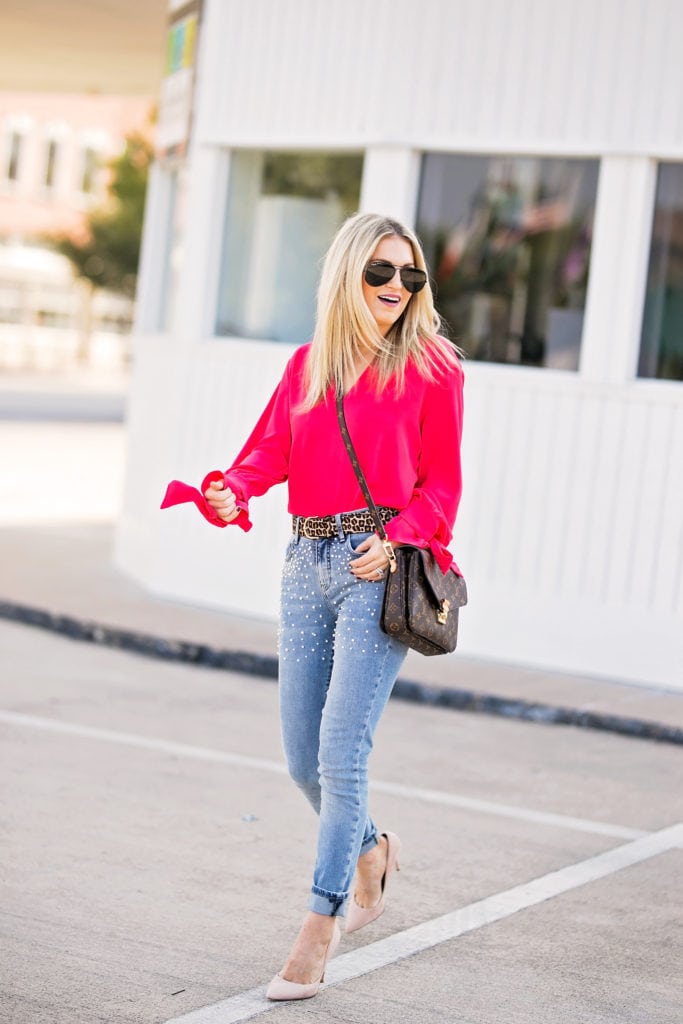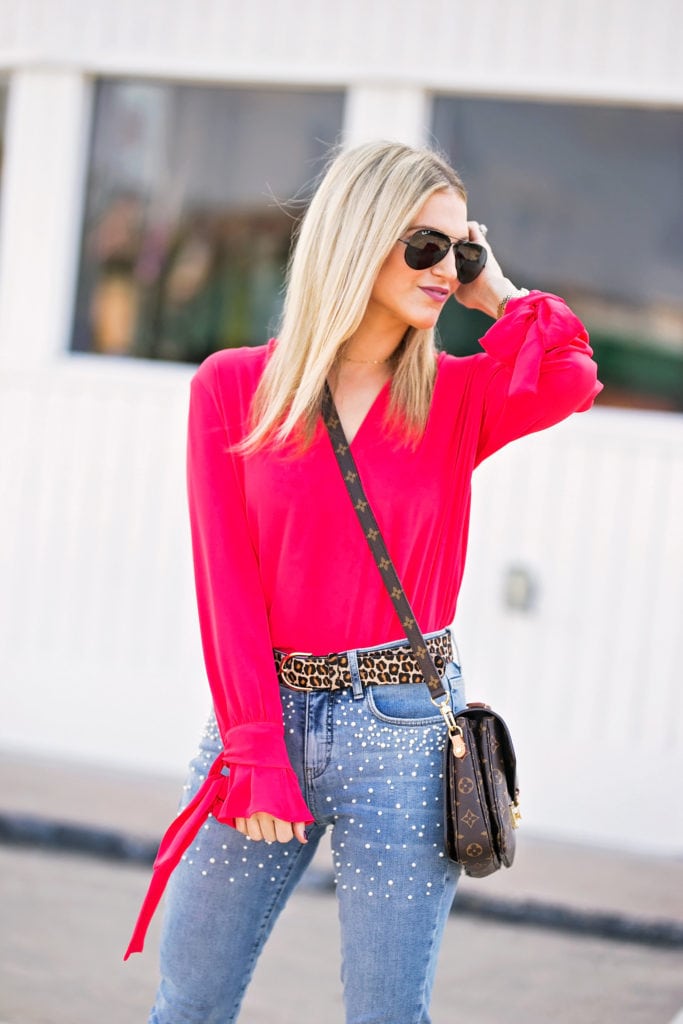 Top: Ann Taylor | Jeans: Anthropologie, Dupe | Shoes: Steve Madden, Similar | Watch: Kate Spade [c/o] | Sunglasses: Ray Ban | Bracelet: Baublebar [c/o], Vita Fede | Lipstick: Lovesick | Belt: Ann Taylor | Bag: Louis Vuitton, Similar | Choker: Etsy
Photography by: Angie Garcia
---
This outfit is a little loud all while being quite wearable. It's jeans. A blouse. A belt. Heels. When you break it down it's quite simple, but the details are what make it sassy and I love it! From pearl embellishments to a bold color and the right amount of leopard I'll just go ahead and say this look helped me feel fierce.
So let's talk about feeling fierce or sassy or confident or whatever you want to call it! We all have our own tips and tricks. Some girls swear by using the Young Living Valor oil on the bottom of their big toe! Others have mantras they like to repeat before a big meeting. Many have a good-luck lipstick or perfume!
There's so many times I flat-out don't feel confident. I know it probably looks like all style bloggers are borderline TOO confident. I mean should anyone ever have this many photos of themselves in clothing? LOL! But trust me I have my days, in fact I have numerous moments a day. Whether someone leaves a hurtful comment or I don't feel like I'm balancing things well, I can get so down on myself I end up in tears texting Paul. But recently I've been using a trick I got from a reader and it works wonders! A reader commented something on a post once and it changed my perspective. She told me when she feels anxious or nervous about something she says, "No one is worrying about me as much as I am worrying about me."
Maybe I'm second guessing something I said or I think something I did seemed ridiculous, but then that phrase reminds me that no one else is sitting on their couch analyzing me for 10 minutes. And if they are…well isn't that a bit odd?!
 I think there is a huge responsibility in teaching our daughters their strength and how they should always feel confidence in the person they are. I hope that I can somehow teach that to Maxi through not only action but with encouragement as well. I think back to times in middle school where I think we all probably felt made fun of. In that moment I know it feels like *everyone* is worried about what you are doing/wearing. Fast forward to  now when I have a big work conference, I get nervous. Each year I'll head to a blogging conference through the company I work with and the weeks leading up to it fill me with an anxious feeling. Am I wearing the right thing? Did my brand evolve enough last year to entice new readers, yet stay relevant and relatable to loyal readers? Do I have anything to bring to the table? But what a wonderful reminder from a reader to know that no one else is sitting on their couch at home saying, "Well I wonder if Katey McFarlan is going to show up in something girly or something edgy?" haha! Can you even imagine?!
So feel confident, wear a million trends at once, speak out against something that intimidates you and fully embrace what defines you. Our worries hold us back, not outside individuals' assumptions.
What are your tricks to feeling confident?