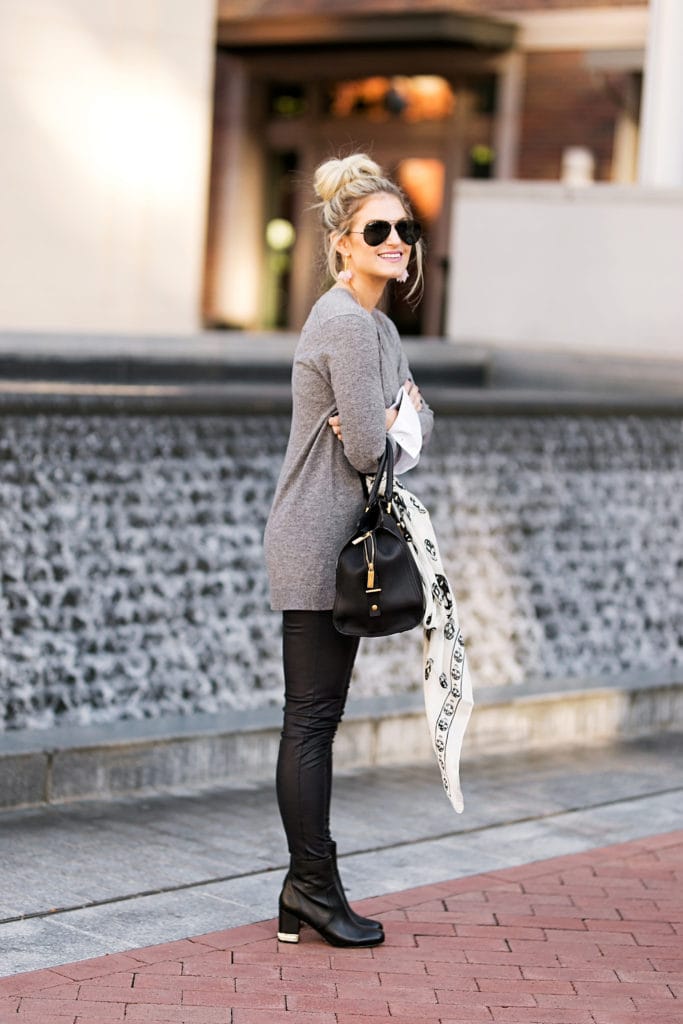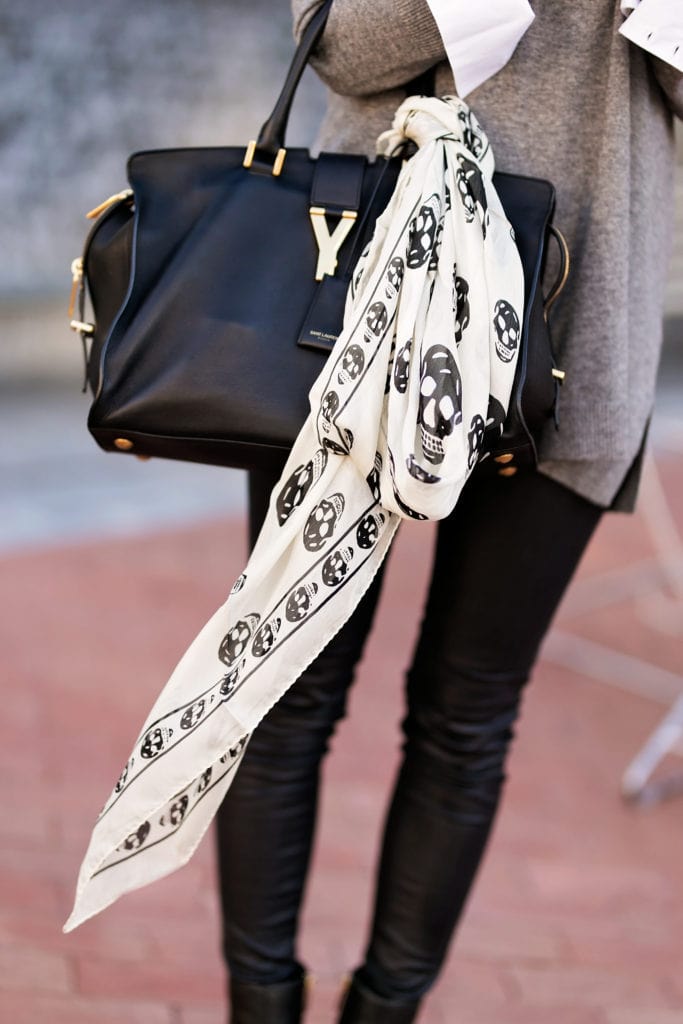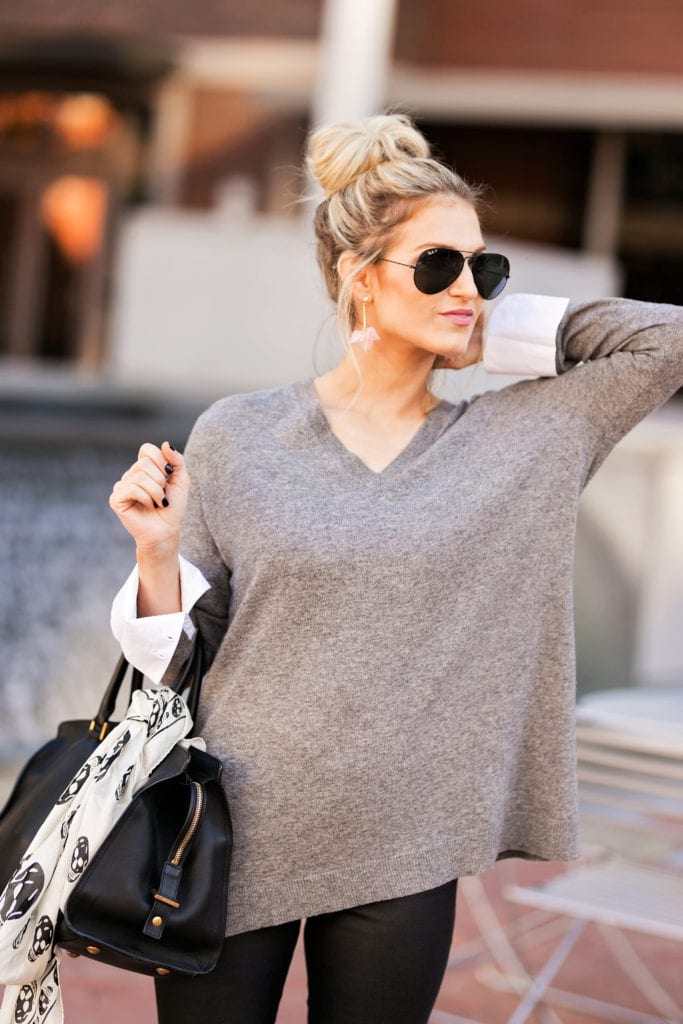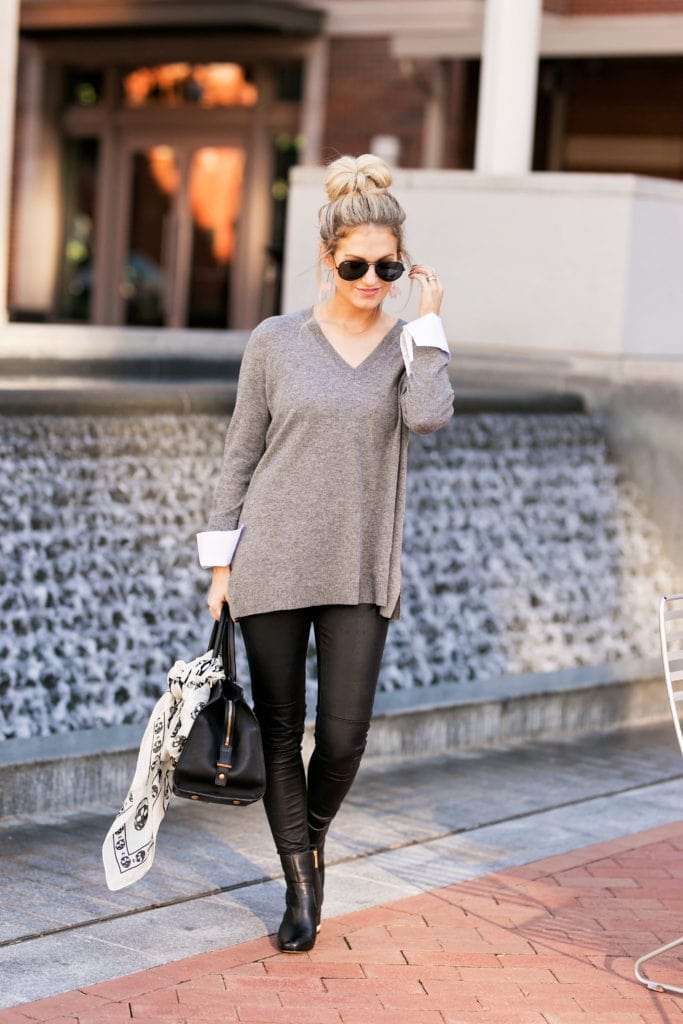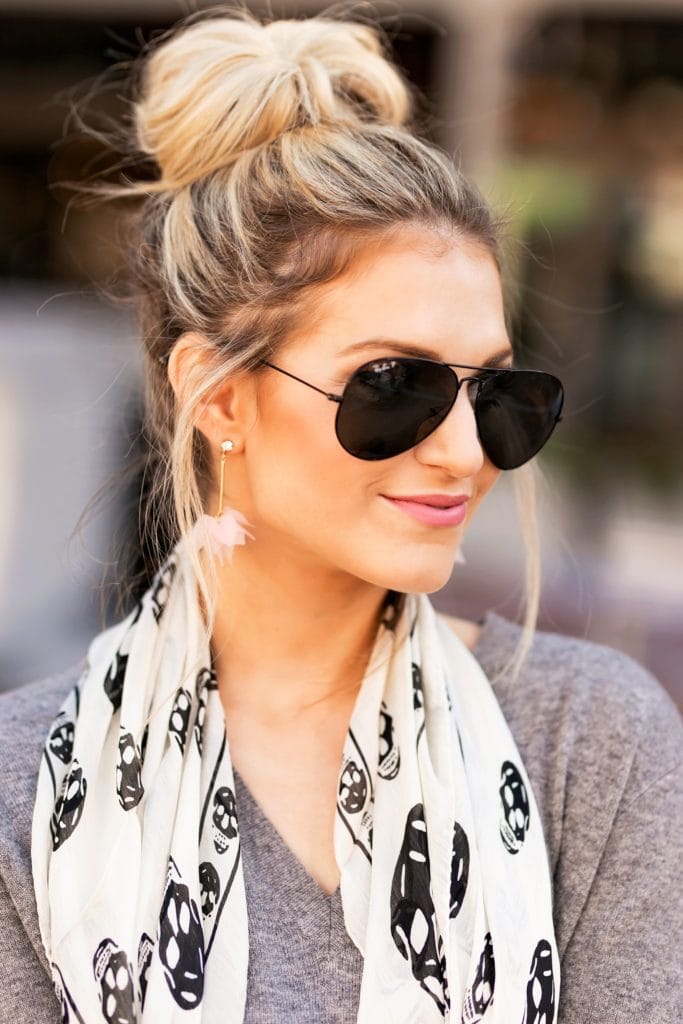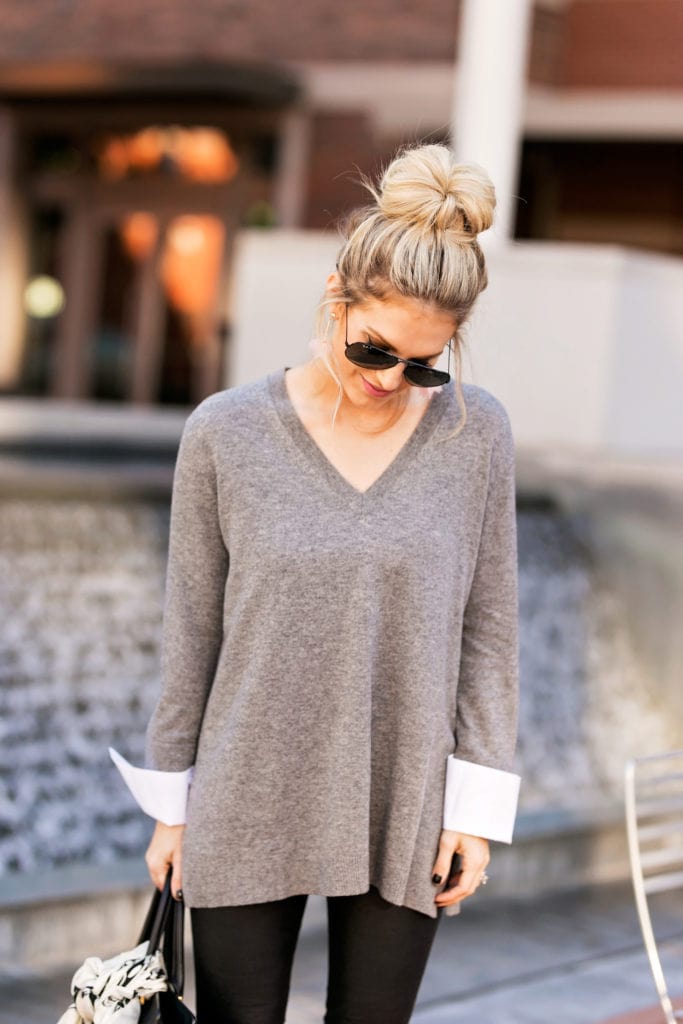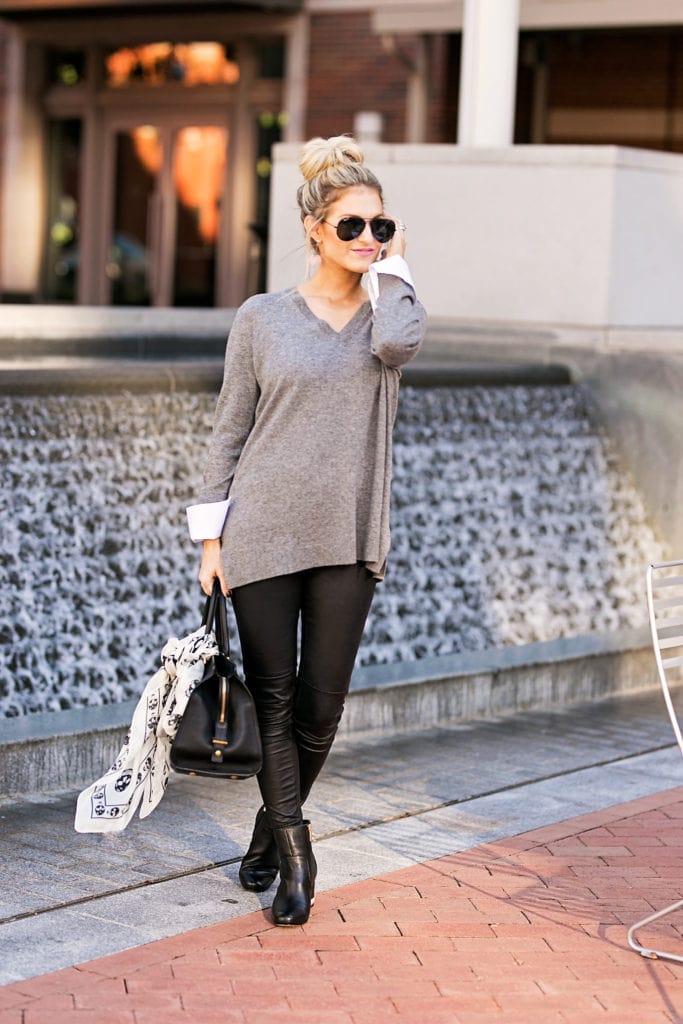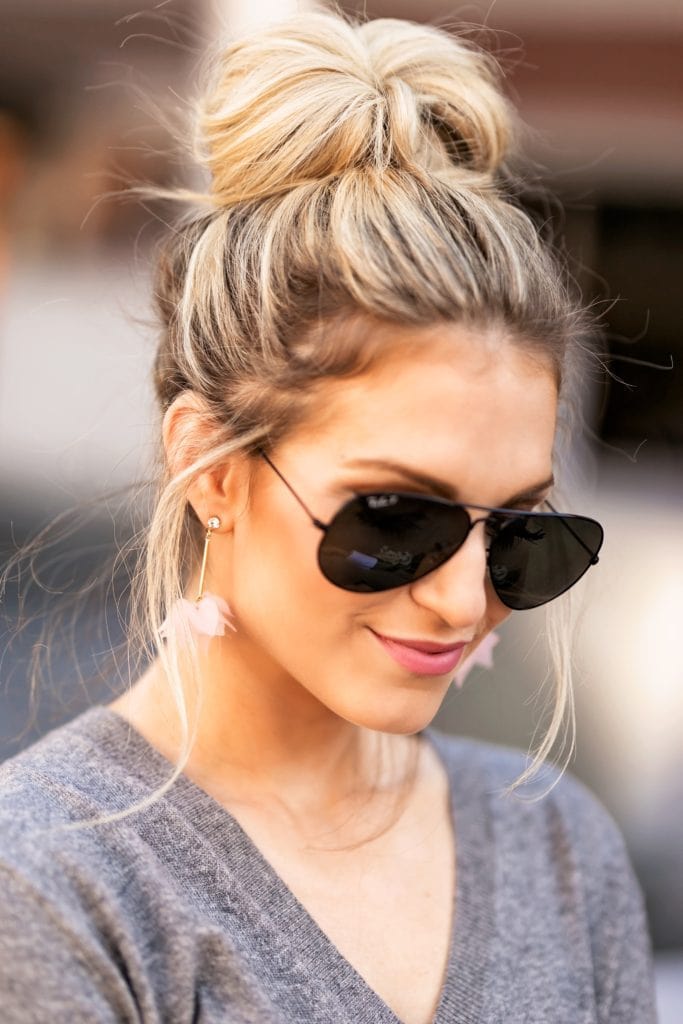 * Look at those baby hairs! Proof that if you have postpartum hair loss like I did, it WILL grow back! 😉 *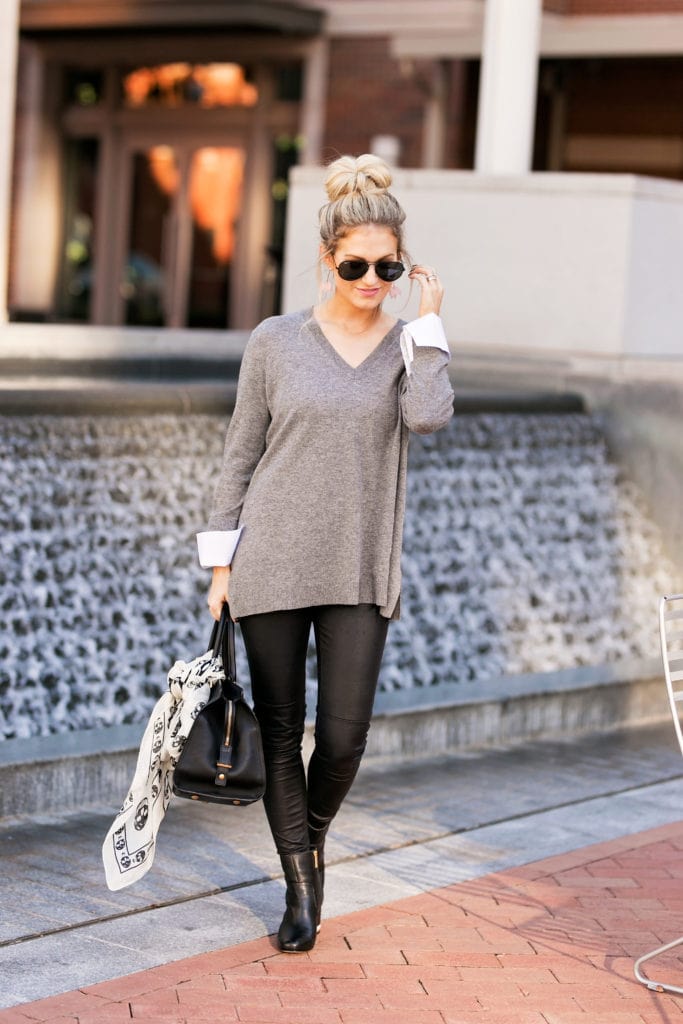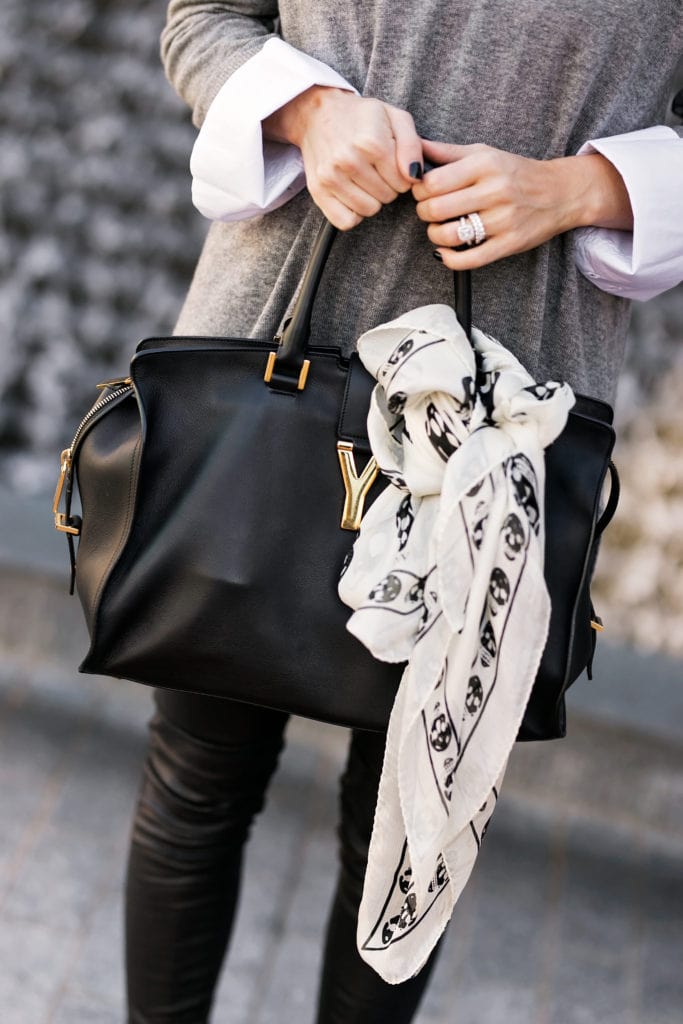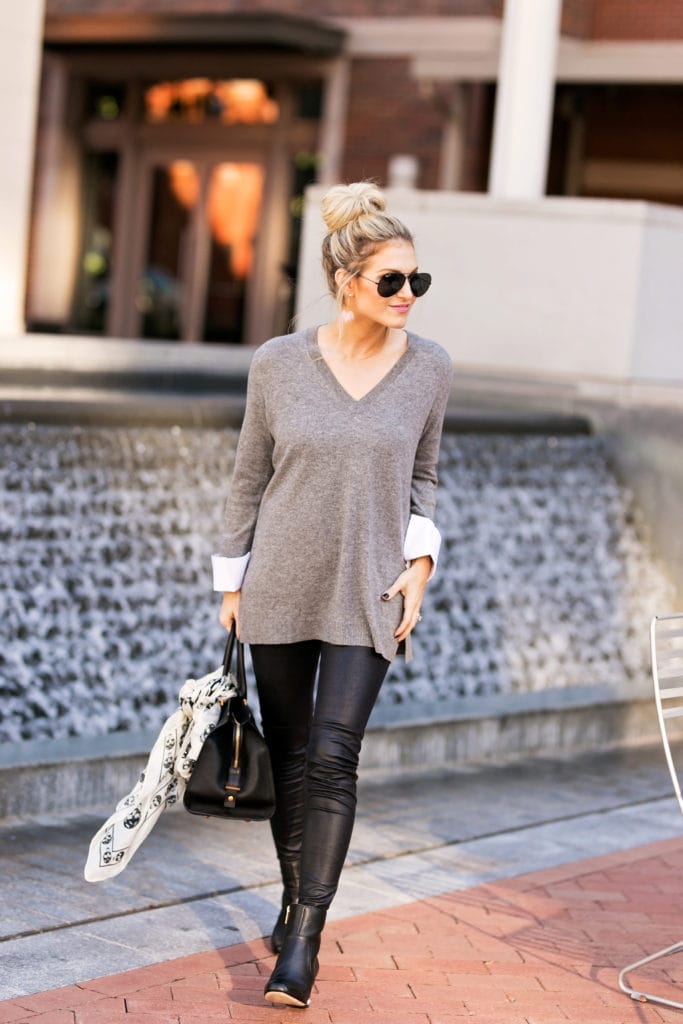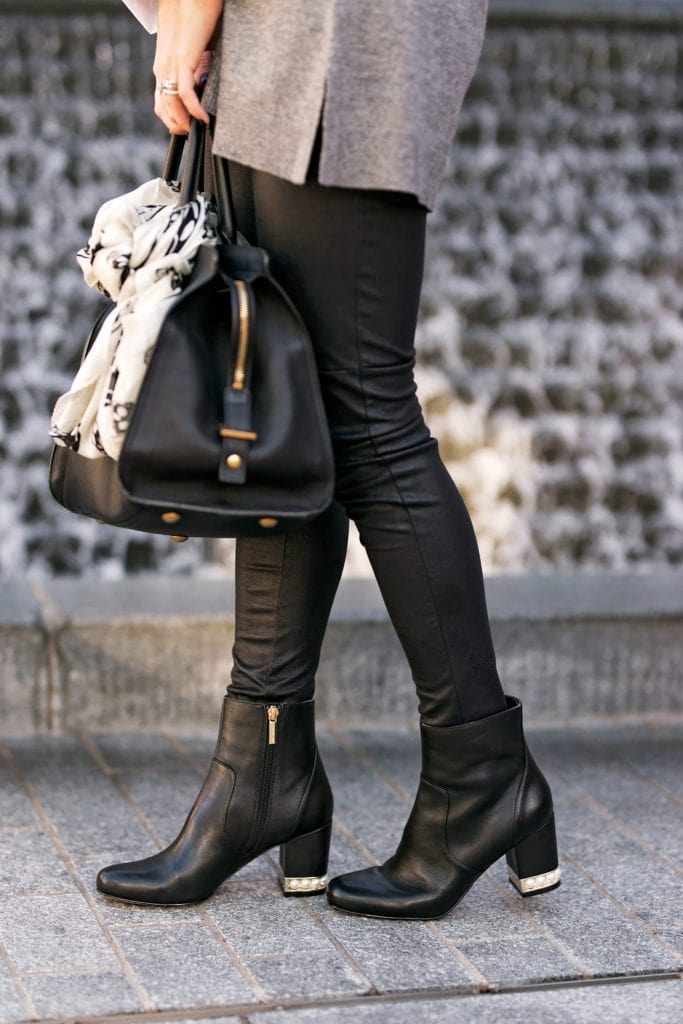 Sweater: J.Crew, Similar | Leggings: Nordstrom | Booties: Karl Lagerfeld | Bag: YSL, Similar, Great Price | Scarf: Alexander McQueen, Dupe | Earrings: Mad Jewels [c/o] | Lipstick: Snob
Photography by: Angie Garcia
---
I believe that what a person does right when they get up in the mornings is extremely telling.  I have to admit, sometimes I'm guilty of picking up my phone first thing to check missed calls or texts that came through the night. A lot of my girlfriends are night-shift nurses so our convos typically happen when they are on break at 4 a.m. ha! I've heard of some people not touching technology for the first hour of their day. Others walk to the kitchen to make coffee and some girls just head straight to the shower.
But regardless of our routines, time is a thief and there are plenty of days we have to get ready more quickly than we would like. I think back to my days working in an office and I was extremely regimented. Imagine that?! 😉 Up at 5:30. Gym at 6. Shower at 7. Office by 8:30. I was so lucky and only had a 5-minute commute to work. It was a HUGE reason I picked my apartment when I was apartment hunting. It wasn't until I started working for myself that I experienced the dreaded, "5 minutes to get ready." Before I blogged 100% full-time, I did some social media consulting on the side. I'd wake up to an urgent e-mail, have to fix an issue going on with a website and then I'd find I had 10 minutes before I needed to leave for a meeting with a brand. I started to learn a few tips and tricks, then add a few years and a baby into the mix and I feel like this is my life most days.
Since getting ready quickly is a thing I believe all women can relate to, I thought I'd share my 5 hacks for doing so! In the comments, I'd love to hear YOUR hacks! I'm always trying to incorporate fast tips and tricks. Because ultimately, it doesn't matter how regimented we are or the first thing we do when we wake up, there will always be fires to put out and last-minute emergencies causing us to run late.
5 Hacks for Getting Ready Quickly
A "Go-To" Hairstyle: First and foremost, think to what takes the most amount of time getting ready. Is your makeup routine long or is it your hair? I have extremely thick/textured hair. When I see girls that have silky, straight hair that just air dries that way I seriously stare in awe. I'm envious! Oh what I would give! All jealousy aside, my hair is what takes the most amount of time. I can get my makeup routine down to about 8 minutes, but hair can take about 20. I have about 4 hairstyles [let me know if you'd like to see a post!] that I can do in 2 minutes. This top knot is one of them. I use these ponytail holders as they do not damage your hair or create a crease. If your makeup is what takes longer, try to shorten your routine! I love watching YouTube to see 5-minute makeup looks. If you don't want to give up either routine, sleep on your hair! Lily Aldridge swears by doing her hair before bed so she wakes up to relaxed waves. Some days I do this, but you must sleep on a silk pillow case so that you don't get the ultra messy look! I've used Savvy Sleepers for years.
Play With Balance: NYC is my favorite city for a million reasons. I'll name a few: the food, the people [everyone is so interesting and has an incredible story!], the parks for children and the dressing. Although largely dependent upon neutrals, I love how everyone's personal style is so unique. The balance of their clothing is something I always notice each time I make a trip. If they wear skinny jeans, they wear an oversized sweater. If they wear a crop top, they throw on interesting denim that flares. They may have on a fitted Canada Goose jacket, but then they pair it with a larger scarf. It makes their neutral looks seem well styled, when in reality neutrals take 30 seconds to throw on. For this look I balanced a loose sweater with fitted leggings. When you wear oversized sweaters, try to add some height in your shoe. These booties have the cutest heel, but they are still extremely comfortable.
Earrings: I'm OBSESSED with British Bloggers. I mean I full-blown adore them. When I was in my 3rd trimester I didn't do much but stay on the couch and creep on them. First, there is Caroline Hirons. Read a few of her blog posts and you just feel like you went to school to become an esthetician. Then, there is Fashion Bug Blog. Laura is stunning and has a little daughter and is also pregnant. No, I do not know either of these women so if you do please "shhh!" and don't let them know how much of a fangirl I am. 😉 Anyways, Laura always wears major earrings. ALWAYS! She wears these low buns with incredible statement jewelry and it always inspires me to do the same. She does mention how she is busy with her toddler and tired from pregnancy, so this is a hack I stole from her. However, heavy earrings just about do me in. I have no shame in being the girl at dinner that takes her earrings off once the appetizers come. It's probably not the most lady-like habit I have, but there could be worse things. Today I am styling a brand that I've styled for a few years on the blog, Mad Jewels. You can see some older posts here and here!  These petal Mad Jewels earrings are extremely lightweight and don't feel like you are wearing anything at all. There is blue option here and both are $30! I also really love these if you want to take the summer earring trend into fall.
Scarves: 'Tis the season of busting out all your scarves! I wanted to show you how to style a silky scarf if you have one in your closet, because there are a ton of blog posts out their on how to style thick scarves, too! I think a silk scarf is a fabulous purchase because you can tie it on your bag for added dimension. Then if you want to throw it around like a normal scarf for dinner after work, you easily can.  In the summer, these are fun to tie around your head like a headband and wear with a ponytail to the pool. When you're limited on time little tricks like adding a scarf to your bag the night before make all the difference.
Turn Your Phone on Airplane Mode: Okay, okay this might sound far too simple, but it's the tip that makes the most out of my time. I'm ALWAYS behind from checking a Snapchat or an e-mail or a text. When I'm putting on lipstick, watching Maxi and trying to get us both out the door quickly I cannot get sidetracked. My mother used to always harp in my bedroom, "Quit mucking about!" because I was always a dawdler. I guess I still do that to some degree with watching Snapchat, etc. If you only have 10 minutes just turn your phone on airplane mode because you know you can miss calls that long.
So what do you do when you first get up?! Cuddle your dog? Run to grab coffee because you're running late? Scroll through social media? I hope these easy tips help you the next time you've got to be out the door quickly. What are your hacks for getting ready quickly?!