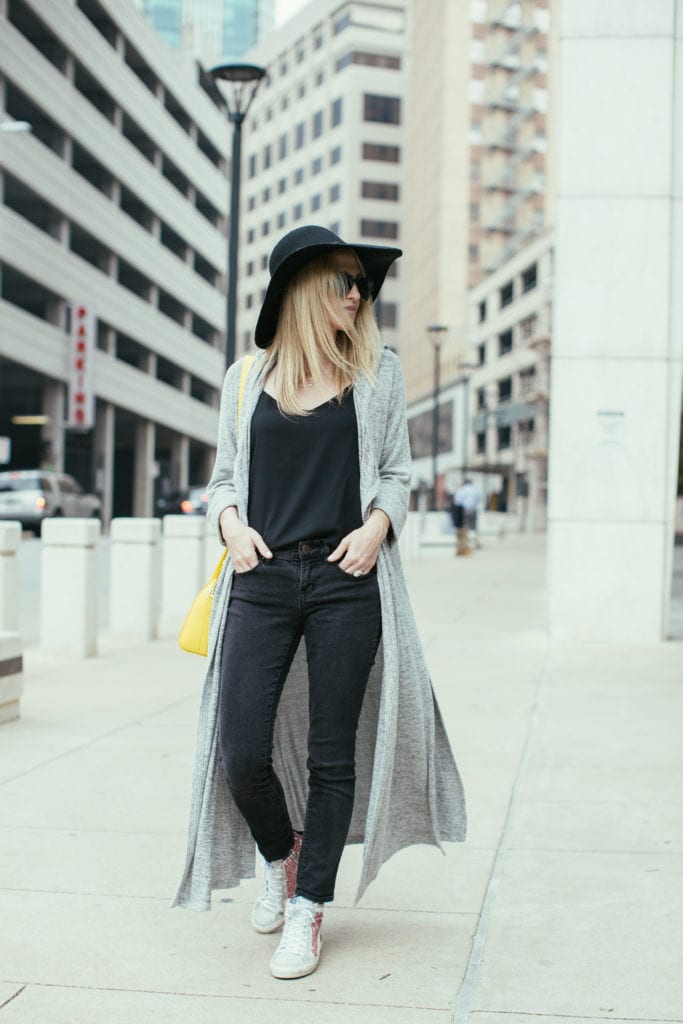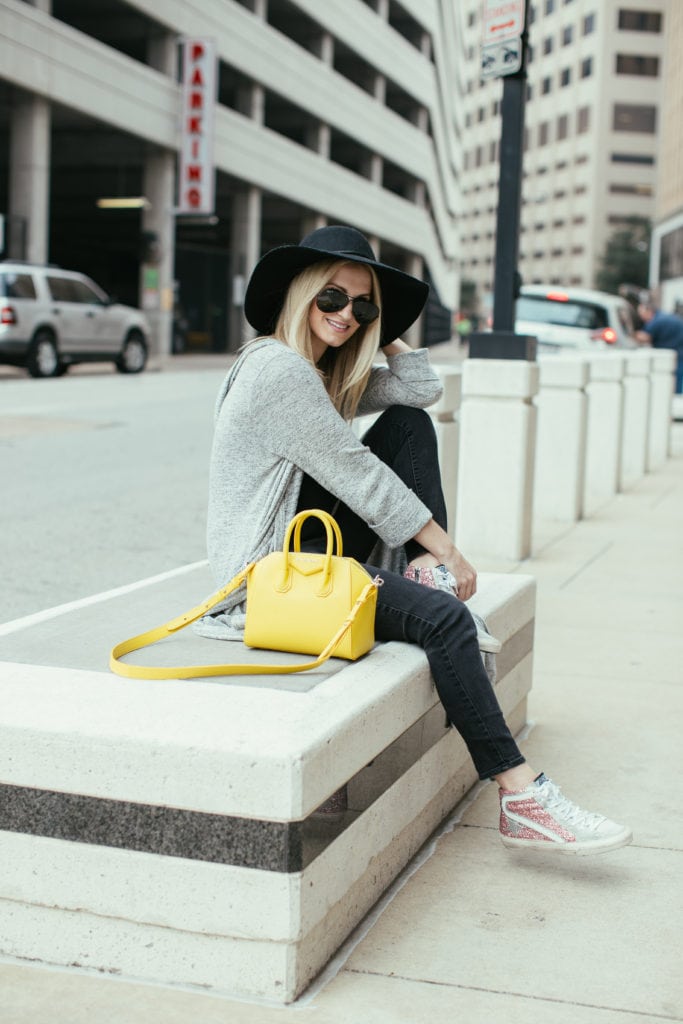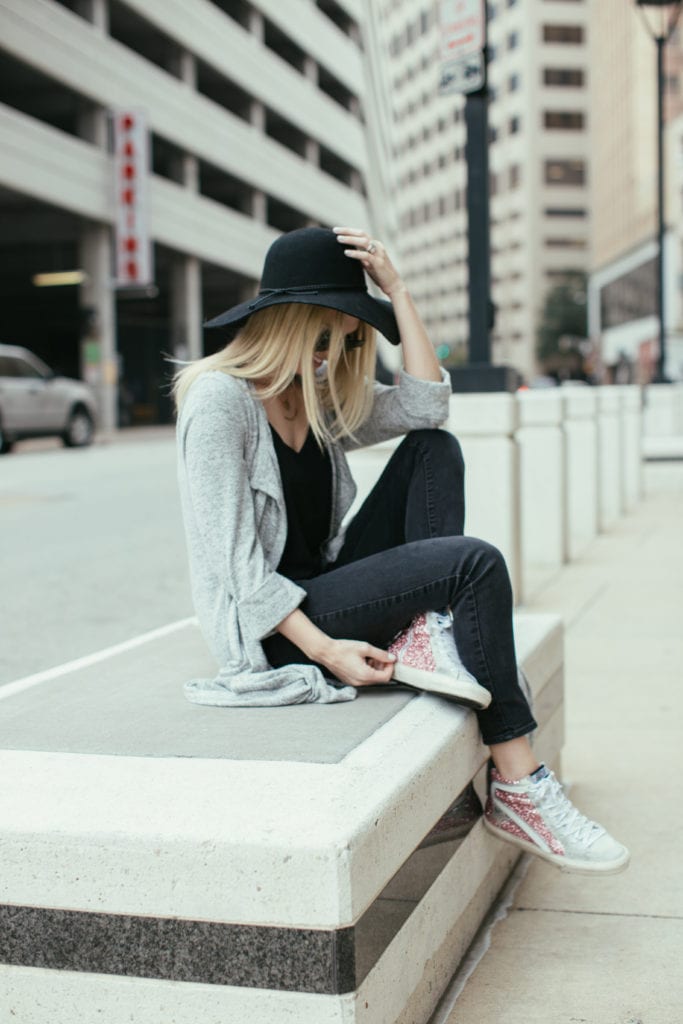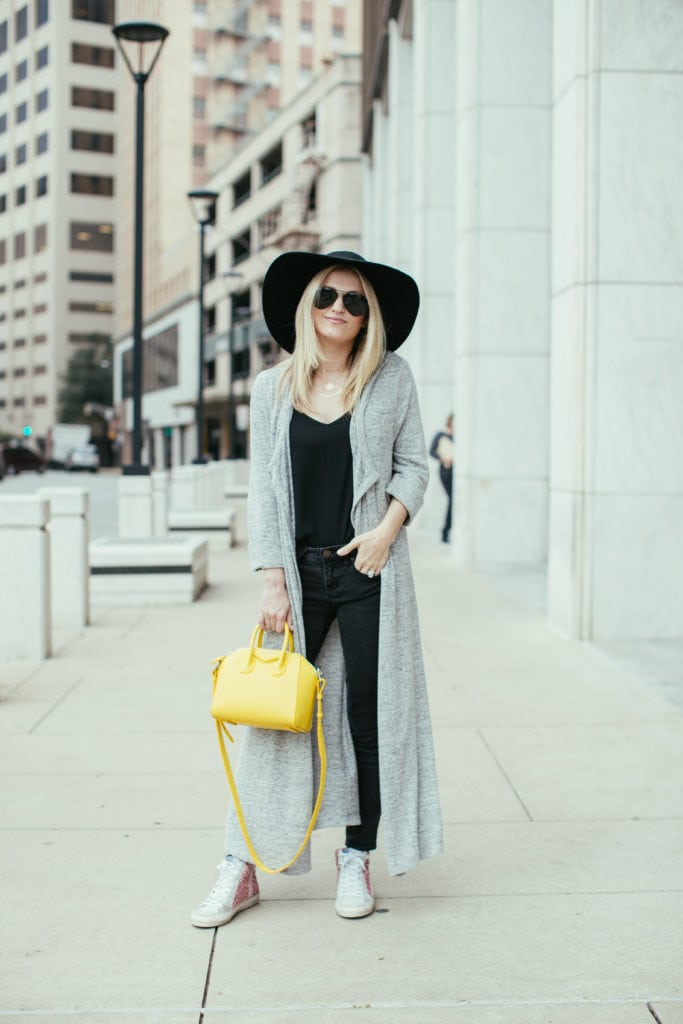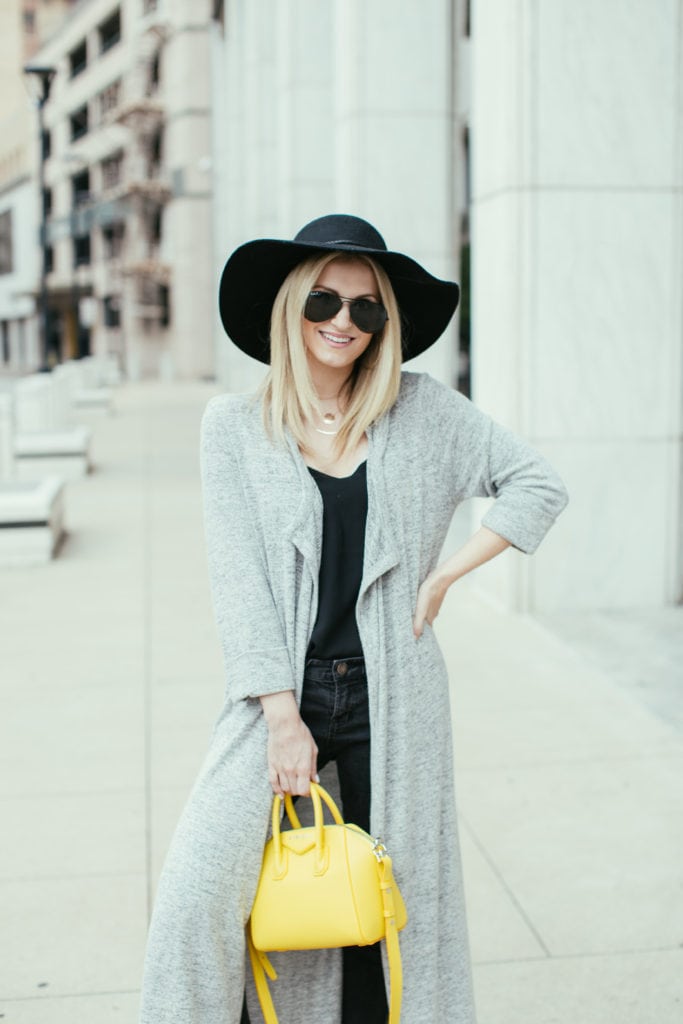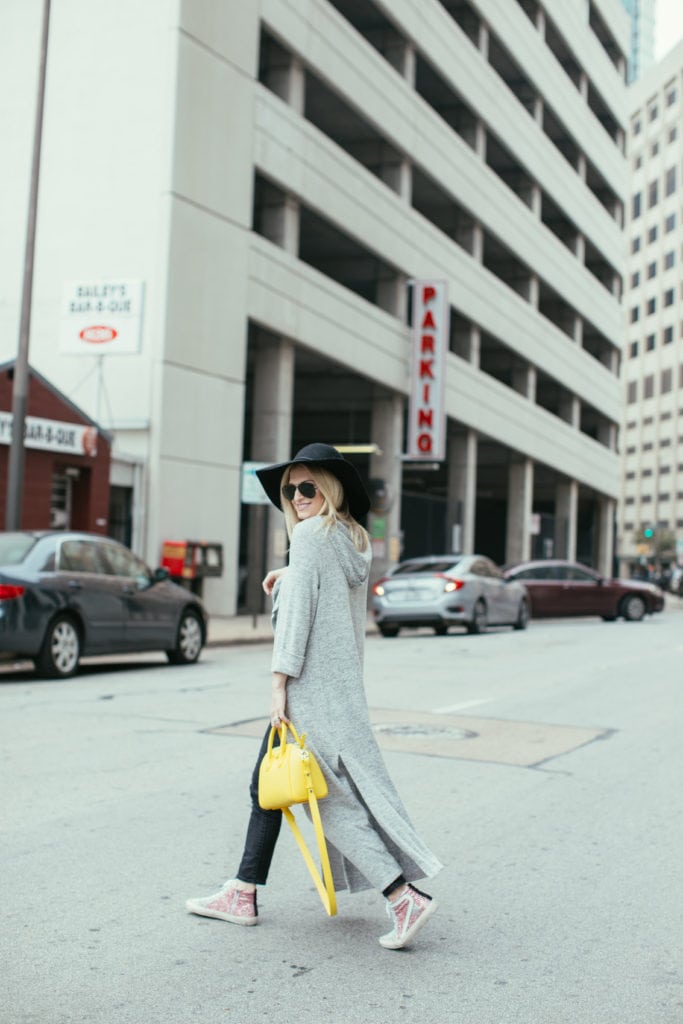 Duster: Sold Out, Similar, Similar, Similar | Jeans: Old J.Crew, Similar | Tank: Old Express, Similar | Bag: Givenchy, Similar | Hat: Halogen | Sneakers: Golden Goose, Similar | Sunglasses: Ray Ban | Necklaces: Etsy, Etsy
Photography by: Rebecca Dale Adler
---
I'm not the most laid-back person you'd ever meet. Maybe that's a poor trait, maybe it helps me do other things in life like work for myself. I wouldn't say I'm necessarily uptight by any means, but I adhere to a schedule and thrive on structure. Sometimes little things are a "big deal" to me, but other times I let things go. I'm many things, but you won't hear my mother describe me as a "laid-back" gal.
However, I love a good laid-back style. My sister really embodies this and I'm sure it's because she is a more laid-back individual. She always has that "cool girl" look about her and not "cool" as in the mean girls at lunch in high school, but "cool" as in effortlessly styled. She doesn't take more than 30 seconds in her closet to get dressed, but always comes out looking incredible. I ask her where she gets all her clothes from, she shrugs her shoulders and doesn't think about her outfit any longer than that!
So if we aren't that relaxed gal naturally embodying that style, how do we master it? One key is layers! But layers?! What if it's not cold? What if you're pregnant and don't need 14 extra scarves on you making you hot? What if you are holding a toddler all day? What if you just don't want to mess with a bunch of different articles of clothing?
I present to you, the duster. It's a cross between a long cardigan and a really light jacket, just dependent upon the kind you purchase. And let me be honest, these do not stay in stock. Ever.
The one I'm wearing is a favorite from last season. Then last week I shared the updated version on Instagram and that sold out, too! Thankfully, there are a ton of versions of this gray duster online at an array of price points I'll link so you can restyle it however you choose! This is a look you can easily go in your closet and recreate and that's why I love it!
I started to really collect a few dusters while pregnant because I adored wearing them with a fitted dress so I could show off my bump. Now I love to wear them with an all-black look and sneakers as I tote Maxi around town.
I had to add in a pop with a yellow bag and some glittery sneakers, but you could easily make this look a bit more chic with flats and a backpack or neutral bag!
Do you own a duster?! If so, what's your favorite way to style it?
P.S. Apologies for a link glitch in yesterday's blog post e-mail! If you ever have a glitch not working on the e-mail, check the direct blog and it should be fixed! xo
P.S.S. Fort Worth girls, I have a fun event for you! I've gotten so many e-mails about gifts for guys and I double pinky promise you that post is coming! But one fun event on Thursday is at the Mizzen + Main pop-up in Fort Worth. They will have a holiday market there this weekend, but it's a good time you can have your guy try on the shirts if you want to grab him a few for the holidays. Thought I would share because it sounds fun and you must check out the Clearfork area per my date night guide. 😉 Here's the details!