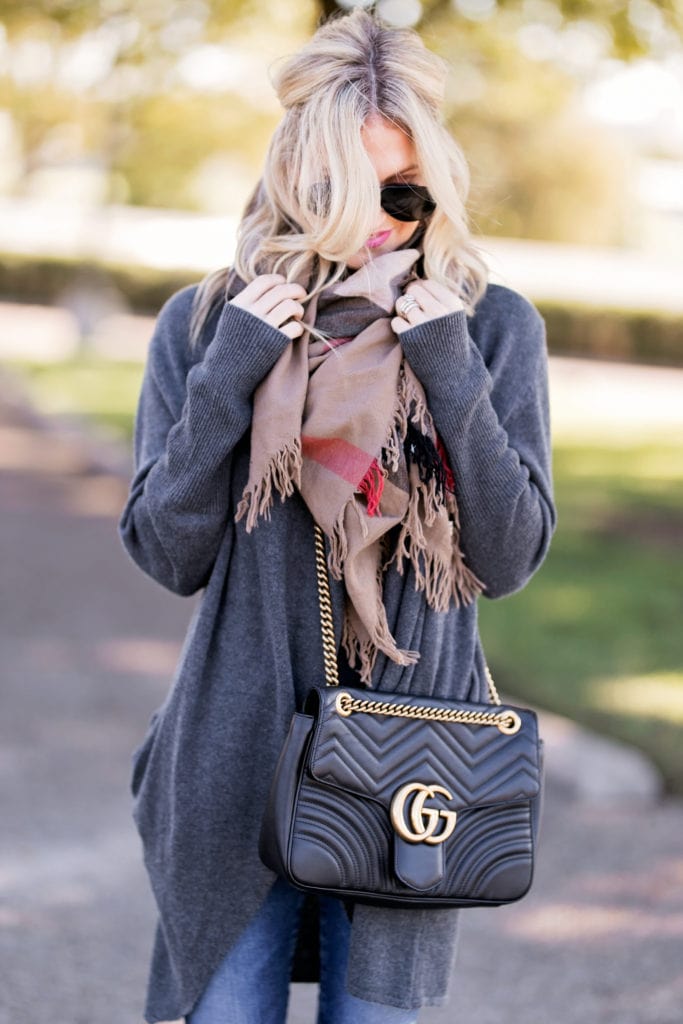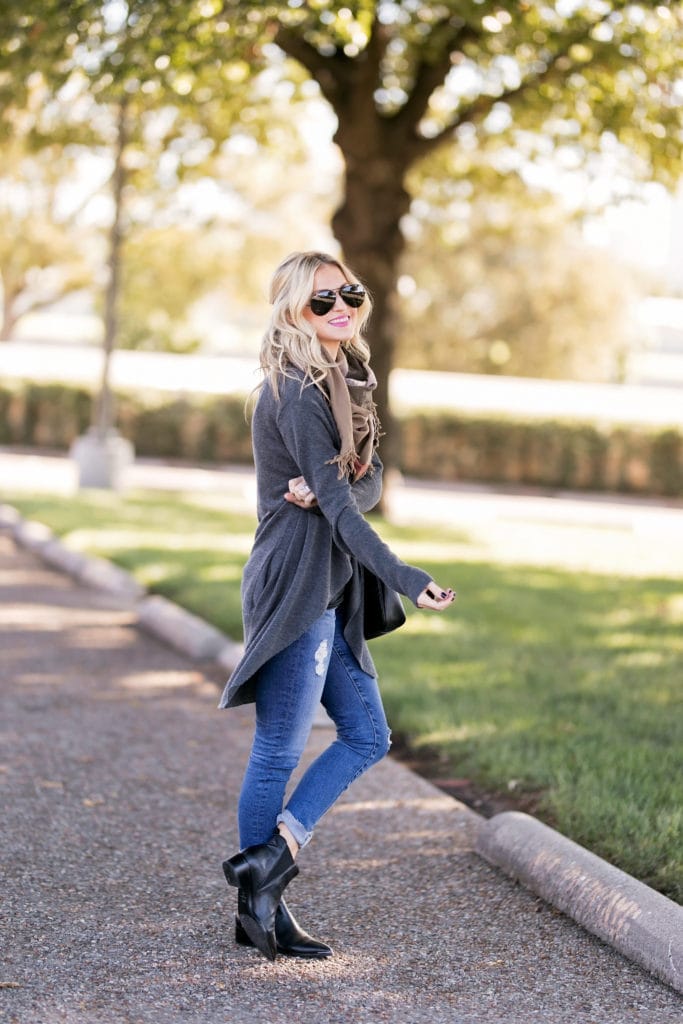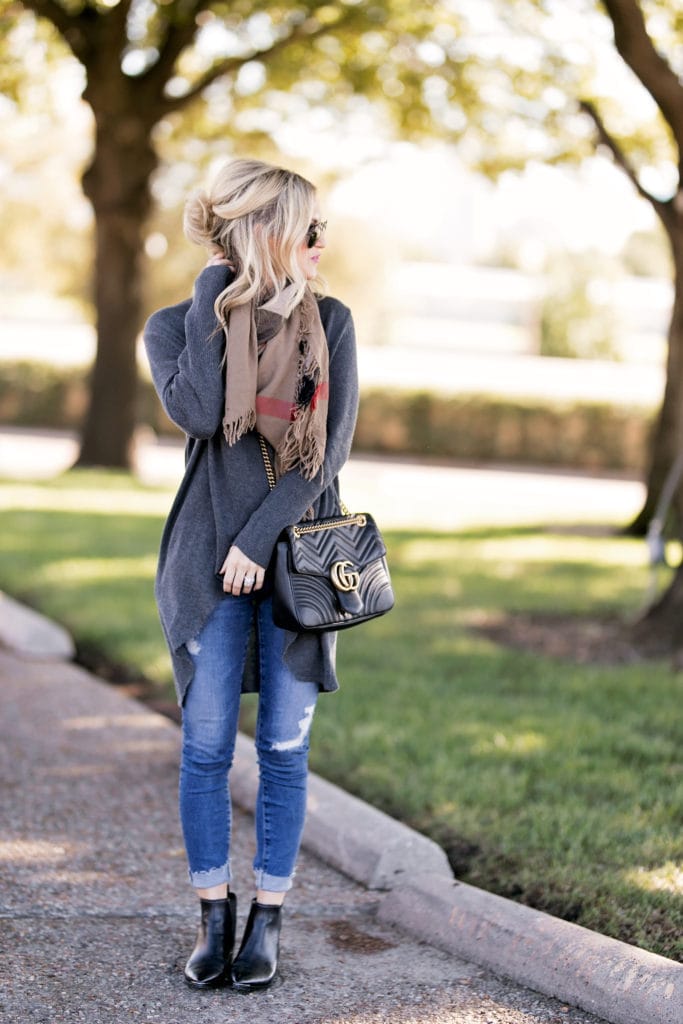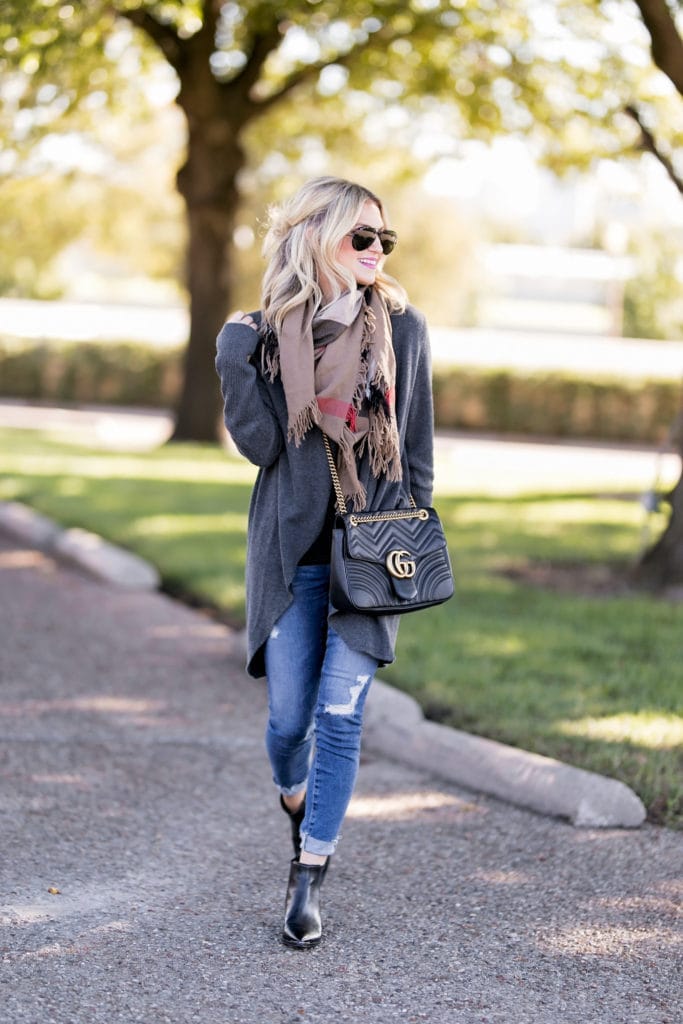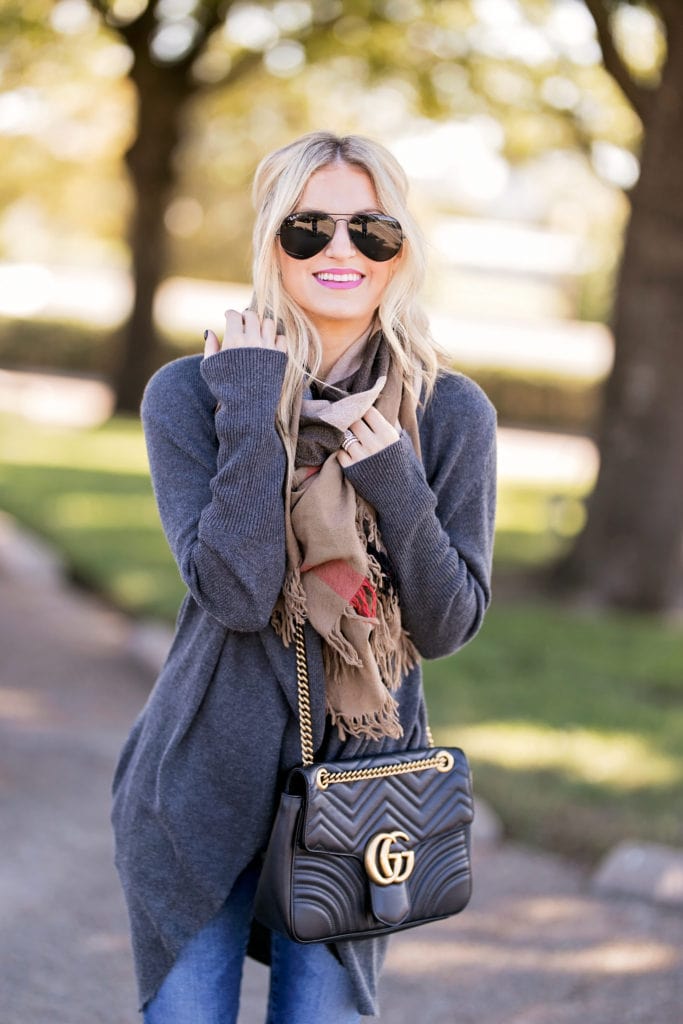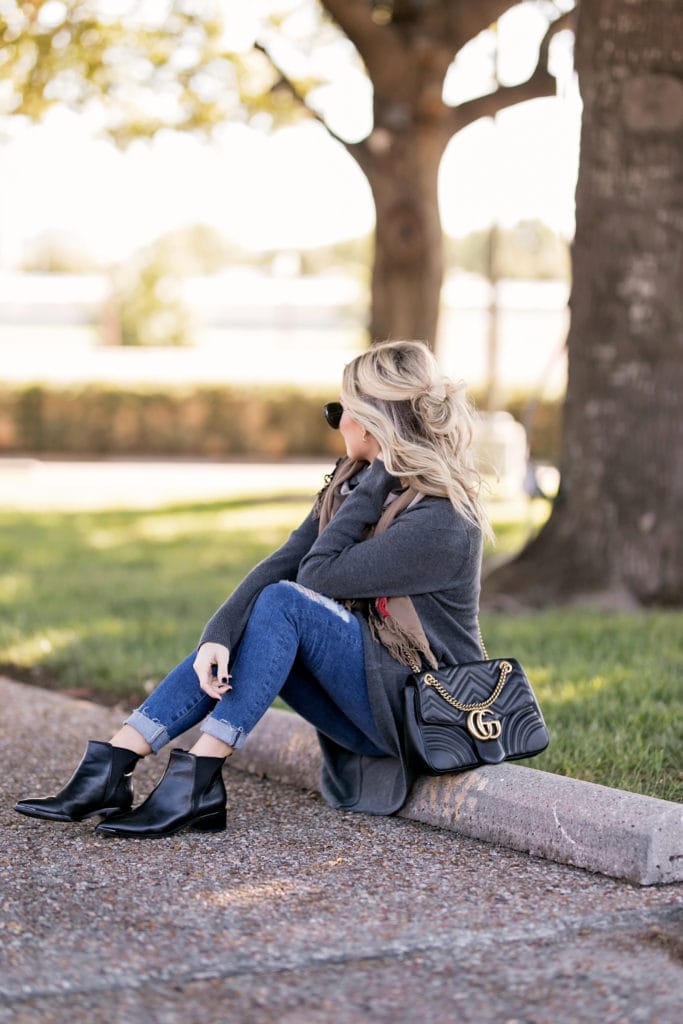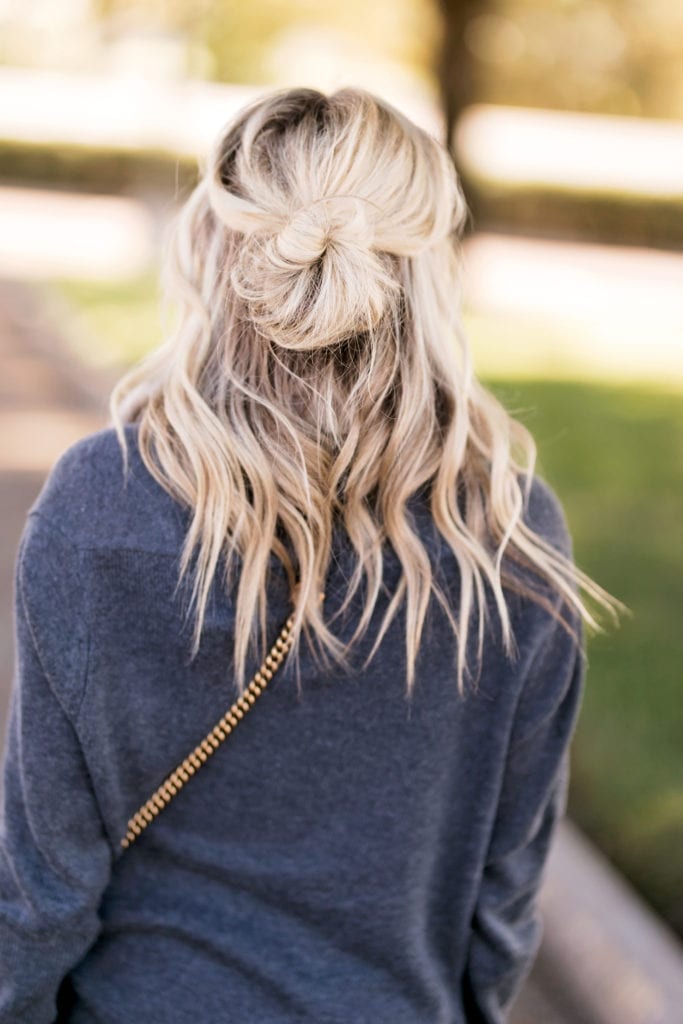 Cardigan: Leith | Tee: Halogen | Scarf: Burberry, Dupe | Jeans: AG | Boots: Marc Fischer | Bag: Gucci | Sunglasses: Ray Ban
Photography by: Angie Garcia
---
Do you ever feel like people don't give you a straight answer?
For example, say you see a friend after 3 months and she looks insanely toned. Like you don't know if she secretly ran a marathon or became best friends with Tracy Anderson, toned. You ask what workout she is doing and she says, "Oh I've just been chasing after my toddler!"
Wait? Really? Your toddler gave you Carrie Underwood legs? If so, can I babysit?
Or maybe you love a friend's pasta sauce and you ask what she puts in it. "Oh just the usual! Basil, crushed tomatoes, garlic."
No. I do not know the usual because I use that and my pasta sauce doesn't taste that good!
I think you get my idea. It drives me nuts. Or maybe I'm just nosey and want all the secrets to be as talented as my gal pals. It's probably that…
Sometimes I think we feel that way about bloggers! "But what do you wear in real life?" I'm a fashion blogger and even I think the same thing! I'll be scrolling through blogs and think, "She looks so cute! I wonder what she just wears to go to the store!" So much of what we blog is occasion geared, from posting what to wear to a wedding or a work interview. Ultimately, we are answering questions we receive from readers centered around their curiosities of, "What do I wear to this or this?"
And it's funny that even sparks my interest because I really do live in the outfits I blog. I may not wear a full-on pink blazer for mommy and me music class but I'll throw it on over my white tee afterwards for a lunch date with my friends. I love to dress up and feel far more myself when I do, but I do love a relaxed look just as much as a sequin skirt.
So today I thought I'd share a super, simple "real-life" look you can pull off whenever! This is what I throw on if I haven't gotten ready and we are going to run to the grocery store or something like that! However, it's really versatile and can be dressed up so you can easily wear it to a football game. It's a very livable look that I hope many of you can style in your day-to-day life!
I picked up the Leith Circle Cardigan during the Nordstrom Anniversary Sale and wore it throughout the summer as my "home" comfy clothes. Then once the temperatures dropped, I was able to wear it to and from errands. I pair it with my favorite v-neck tee by Halogen and flat booties so I can easily carry Maxi on my hip. Y'all, you have to try these Halogen tees. Each and every time I pop in Nordstrom I look for one in my size. They are so soft and don't pill after washing like most casual tee options. However, note that they do run large so I size down. I purchased this Burberry scarf from Nordstrom last year but it sold out this season, however I have a much more affordable dupe here you can mix with this look. Lastly, I top it with a crossbody! Oh the handbag debate as a mother. Do you carry one big bag? Do you carry a backpack? Do you carry a crossbody with a diaper bag? I don't really think there is one set answer because personally it varies a lot for me. It depends on what we are doing for the day, but more often than not I keep my items separate in a crossbody. This Gucci Marmont is indestructible. It's like a cat. It has nine lives. It won't damage! My child chews on it, throws it, bangs it against things she shouldn't. It looks brand new. Bravo, Gucci. Bravo. You have made a baby-proof bag. Probably not your intent, but you did it. I can't say the same for some of my other handbags I carried pre-baby and treated LIKE a baby and they still have scuffs.
What's your "real-life" AKA running late and have 2 minutes to throw on clothes look?!

In collaboration with Nordstrom. All purchases and opinions are my own.