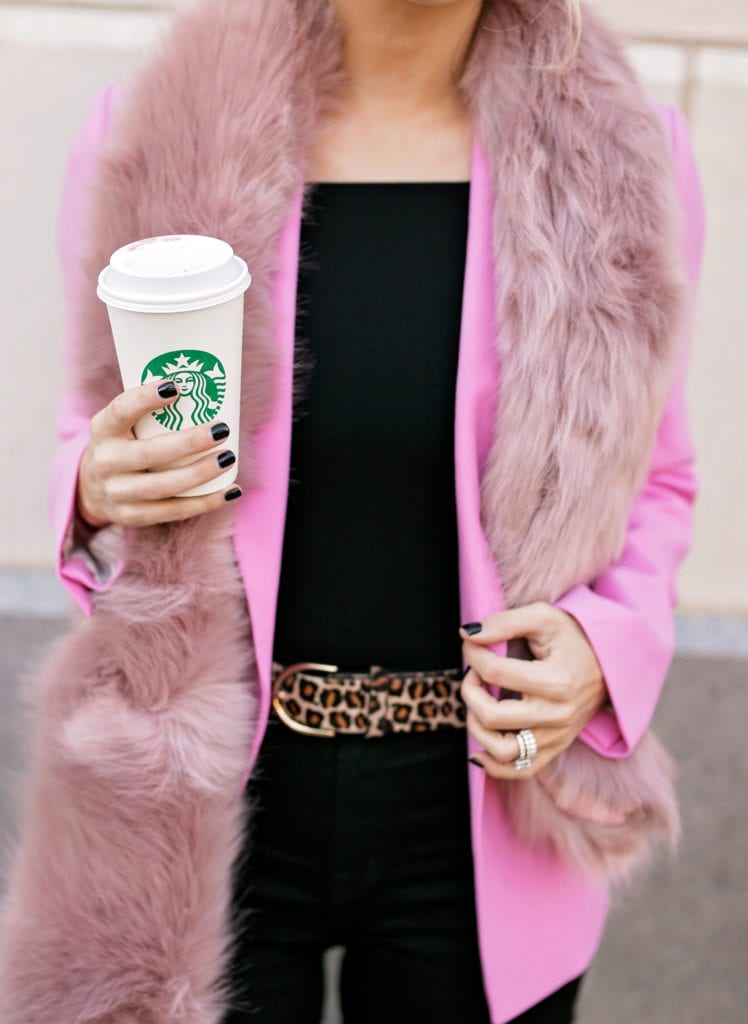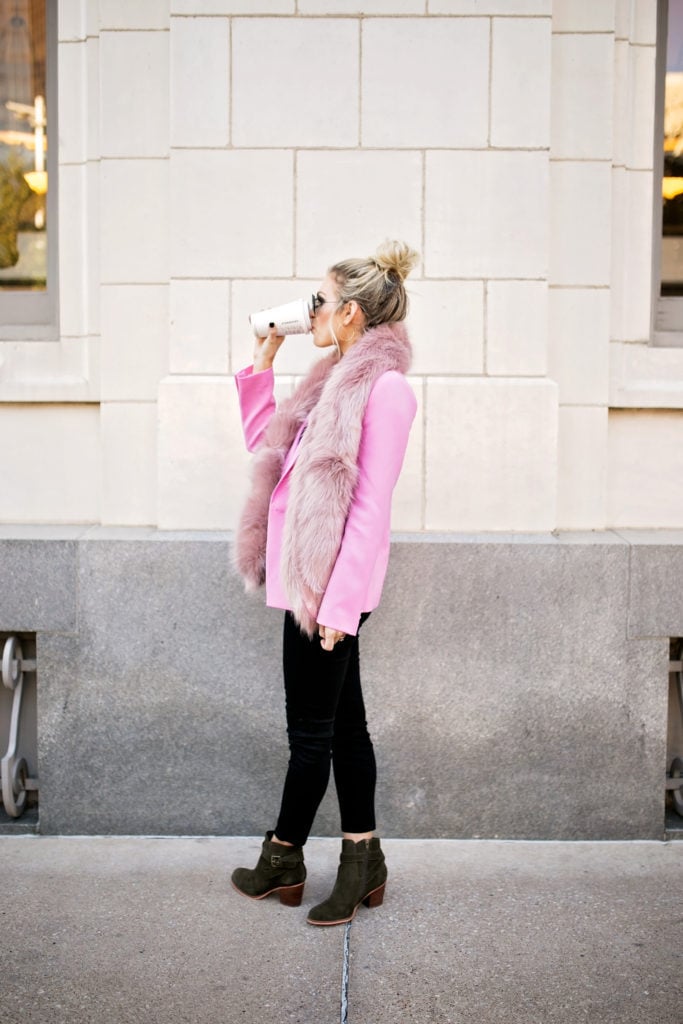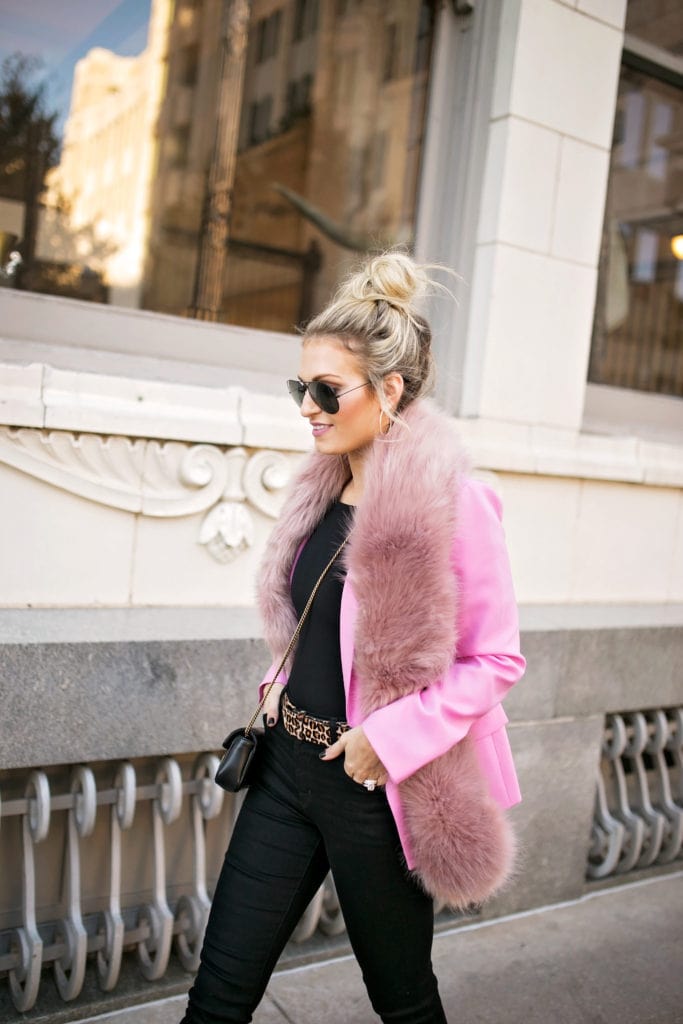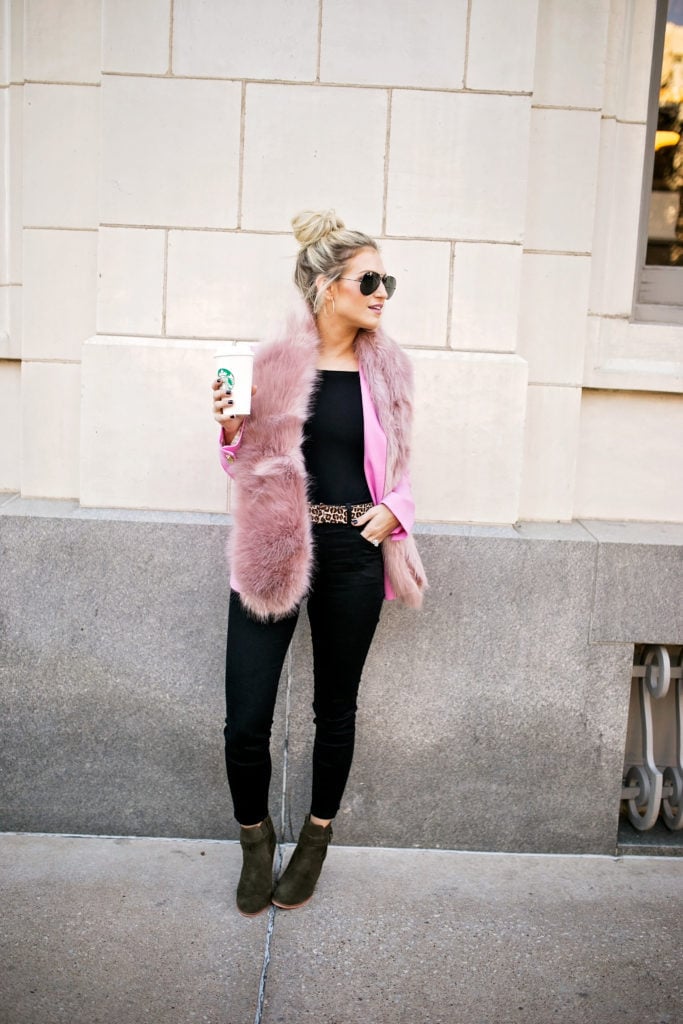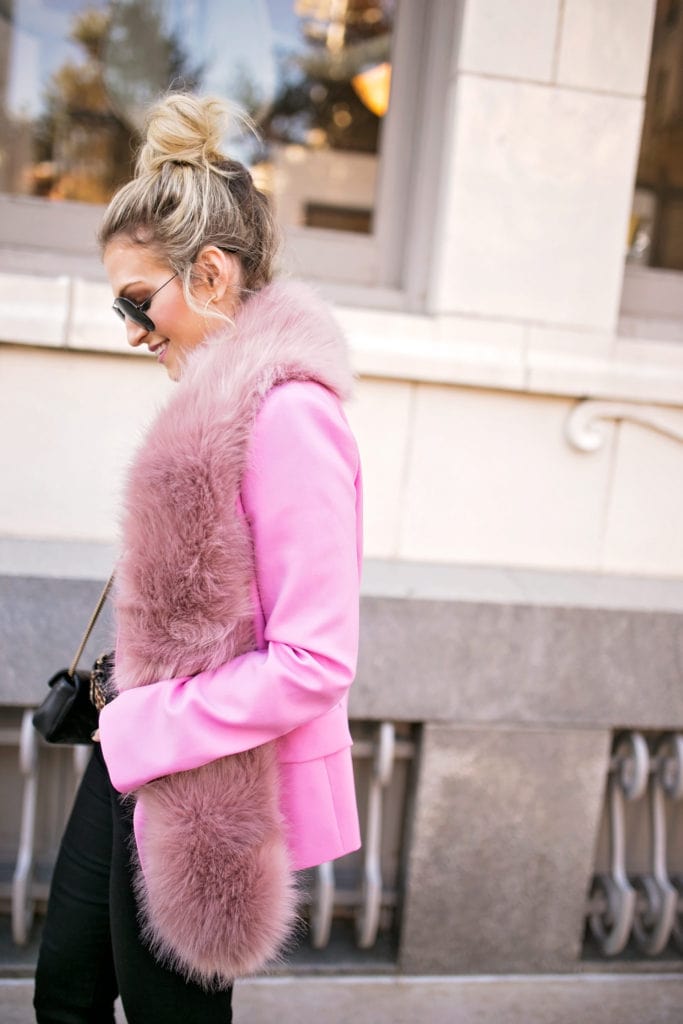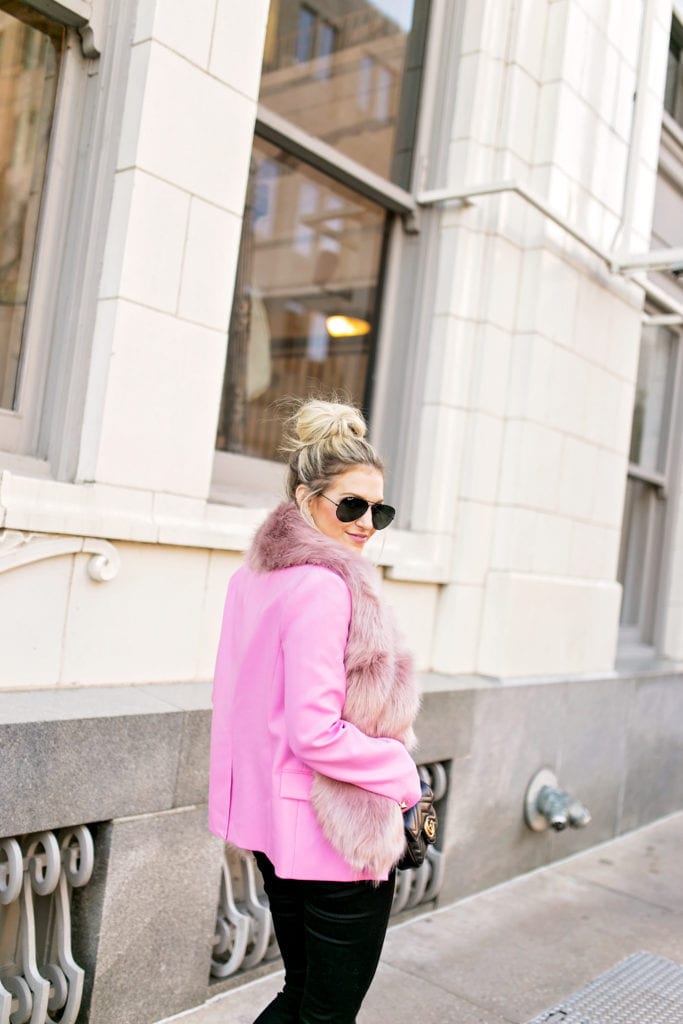 Blazer: J.Crew, Similar, Similar | Bag: Gucci [c/o] | Jeans: Nordstrom | Belt: Ann Taylor | Bodysuit: Alice & Olivia, Similar | Faux Fur Wrap: Sole Society [c/o]  | Sunglasses: Ray Ban | Booties: Sole Society [c/o] | Earrings: Nordstrom
Photography by: Angie Garcia
---
Let's talk about compromising. When you think compromise, I'm sure most of you think marriage, so I will tell you all one thing we compromise on. I'm a weirdo and I like to fall asleep listening to news anchors. Yep, news anchors. Give me any station and I just want to fall asleep to someone really enunciating the weather for the weekend in an extremely professional manner. You get the idea. My husband prefers to get his news from printed media, so this drives him nuts. But I'm quite the selfless individual and only have us fall asleep to news anchors when I've had a rough day or I don't feel well. So selfless I tell ya! {Praying you sense my sarcasm right about now...}
But we know there is compromise in marriage and there is compromise with children and friendships and family and holidays and every other thing you can imagine. See where I'm going with this?
Oh yea, there is compromise in our wardrobes. I love the quote, "When you say you have nothing to wear, you're simply saying you can't find something to express the person you are that day." I feel that way all of the time! I whip out a little compromise in my wardrobe by breaking the label I've given the look. You know how you look at your tops and think, "This is tomboy. This is girly. This is ultra feminine. This is classic." We then grab a classic piece and think our entire look needs to be classic and we can't compromise or it throws the ensemble off. No ma'am! Stop doing that! One of my old tricks is making things one part edgy and one part girly. I've ranted and raved over this silly system for 4 years and this outfit is the perfect example!
I've been craving a faux fur wrap and if you're going to go for that, you just have to go all out with blush. Or at least I do…
I intended to get this for winter weddings but it's too fun to keep closed up in the closet until said nuptials. By itself it feels really girly. Really girly. So does my pink blazer. How did I compromise with my look? I went Sandy from Grease underneath. I added skinny black jeans and a bodysuit- these things are life changing. The layering possibilities are endless.
Ultimately, I love how this turned out! It allows me to get a lot more wear out of this faux fur *and* it's a nice change from a bulkier coat in November. This keeps you surprisingly warm!
So this weekend I challenge you to take something you don't get to wear all that often and compromise with how you categorize that piece. Pair a feminine skirt with an edgy moto jacket and I bet you'll love it! Or you may hate it, I kept telling Paul he'd eventually like falling asleep to, "And back to you, Steve." but no such luck. But by compromising how you stick certain pieces in your wardrobe in specific style categories, you end up with a look all your own.
---
a few of my favorite reads from the week:
weekend plans:
My sister's birthday is Monday, so this weekend we are celebrating with family! I'm overly excited to give her her gift. My sister is my hardest person to shop for because not many things excite her. We are polar opposites. 😉 She has to drag me through Target so I don't stop at the $1 section or try to grab another coffee mug- as if I needed more! I love the challenge each year of trying to find an extremely unique gift that usually relates to an inside joke we have!
Our Christmas tree that we ordered just came in the mail. I didn't think I'd put it up for another week or so, but the box is massive. I mean it's just ridiculous sitting in our formal living room. So unbox it we must and I guess that means we decorate! It will be a bit different since Maxi is such an explorer and I need to keep breakable ornaments away from her.
Santa! We are going to Shop Small Fort Worth this weekend so Maxi can see Santa. You can find out more information here. This is where I get her precious little toys like the TCU cheerleader I have shared!
weekend purchases
I purchased Peaches a new dog bed! She loves to hoard all her toys in her bed and then Maxi crawls to go pull them out. I figured she needed something a little larger to hold her 50th stuffed toy I've gotten her from Homegoods.
This coat in sandstone has been on my wish list for 3 years! J.Crew always makes the best outerwear.
Our bed for our master bedroom arrives in 2 weeks! It's time to start thinking of bedding and I know I'll buy my bed pillows from Little Design Co. I'm thinking some olive hues, what do you like?!