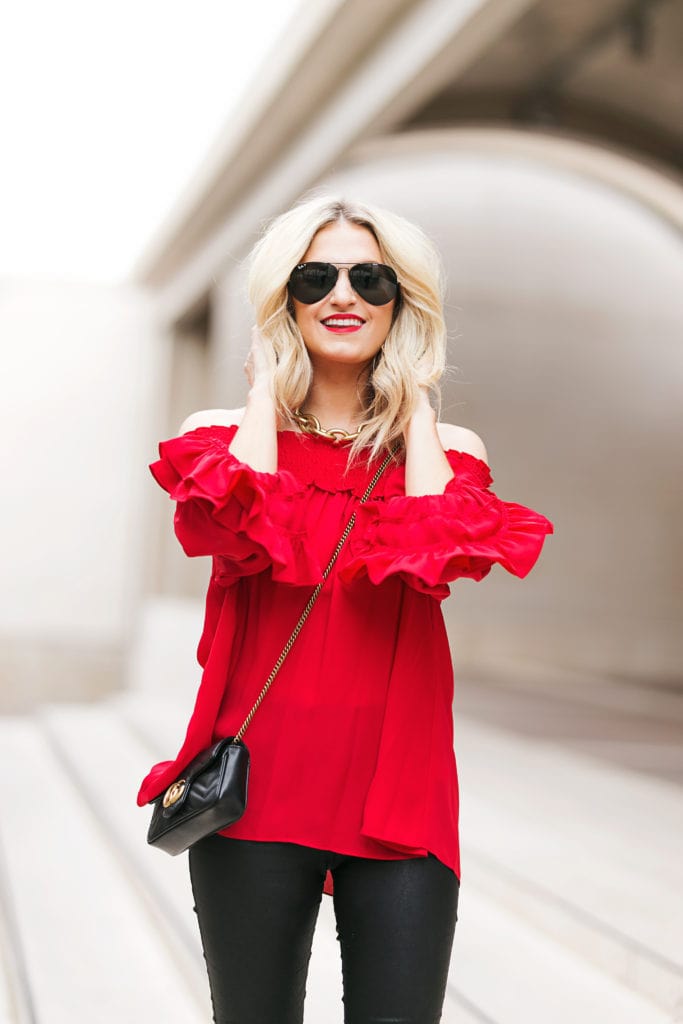 Top: Cece [c/o] | Leggings: Nordstrom | Bag: Gucci [c/o] | Necklace: Jenny Bird | Lipstick: Ruby Woo | Sunglasses: Ray Ban
Photography by: Angie Garcia
---
I used to work in public relations. In Dallas. For restaurants and chefs. Yet, why have I been putting this blog post off like it is the plague? Because this is a tough one!
Dallas has the most restaurants per capita of anywhere in the US.  Some Dallasites are very proud of that fact. Some are embarrassed. Some like to say that statistic isn't true. Regardless of where you as a Dallasite [or onlooker] align yourself, Dallas has A LOT of restaurants. And honestly, I kept putting this post off because I'd go to write the best Italian spot and knew I'd have 44 other restaurants just as great as the one I wrote down.
I even asked my girlfriend that writes about restaurants in Dallas for a living and she said this blog post was too vague. ha! So let's just call it my favorite spots in Dallas!
I did a big roundup of my favorite Fort Worth spots for date nights based on price point. However, most of y'all go to Dallas for travel so price may not be as much of a concern in terms of day-to-day budgets. Many e-mails I receive from readers say they are in Dallas for the weekend so it's a fun time to try a fancy spot! Instead, I'm rounding this post up based on what kind of spot you're in the mood for. Here we go!
If You Want to People Watch…Head to Javier's!
Ask any Uptown Dallas girl if she has been to Javier's and the answer is, "Of course!" Javier's is the spot for a girls' night out, a birthday dinner or a double date night. I wouldn't recommend coming here if you want a quiet spot or have 4 kids and just want to get away from noise for the evening. It's loud. It's sassy. You will adore the people watching [seriously, I've never seen so many pretty girls in one spot in my life!] and you'll eat plenty. There's definitely a "nightlife" aspect to this restaurant with a cigar bar & lounge and then there is a gourmet aspect with the food. This is honestly a really fun spot to go to with another couple for a double date. I personally love the Smoked Chicken Nachos. You can dress up a little bit more here. You can wear anything like this, this or a fitted LBD. You'll see everything at Javier's so don't get nervous about what to wear. But if you don't dress up much, have fun as this is a spot to pull out your leather leggings, skinny heels and silky tops.
If You Aren't From Texas…Head to Stampede 66!
Stephan Pyles is one of the founders of Southwestern cuisine…basically what Texas is known for. Stephan Pyles is the owner and food editors call Stampede 66 the love letter to Texas. I recommend the Beer Bread, Caesar Salad, Shrimp N Grits [or the Honey Fried Chicken] and the Butterscotch Pudding. You MUST get the Butterscotch Pudding. It is without a doubt my favorite thing on any menu in all of Dallas. Stampede 66 is decked out in Texas decor and the cocktails are quite the treat. My personal pick is the Dallas 75. This is in downtown Dallas so you'll see a lot of people meeting after work and the attire is definitely business casual, but denim is not frowned upon. I'd wear something like this.
If You're a Glam Girl…Head to Bistro 31!
Bistro 31 does get talked about a lot but for good reason. With its European decor, you'll definitely feel like an "it girl" while dining there. I seriously always feel out of my element, but I love it! ha! I adore their salads and fries. You must get the fries. However, their pasta entrees are fabulous, too. Paul planned my surprise birthday party here a few years ago because I request to go here at least once a month- and we don't even live in Dallas. They also have a lovely brunch if you want to do a brunch date. It's in Highland Park Village so you can walk around after and see all the beautiful lights and shops. Wear a chic little look like this.
If You Want to Try New Foods…Head to Uchi!
We just went to Uchi for the first time this fall. I felt so silly because Uchi is a Dallas staple! This is not your typical sushi joint by any stretch of the imagination. In fact, when you get there you may only recognize one or two things off the menu. I'll be honest, I'm not even the biggest sushi gal. I like it, I do! I'm just not obsessed with it. I never "miss" or "crave" sushi. I also hate how cream cheese is in all the rolls at the chain spots. I'm a Southern gal. Cream cheese goes in my baked goods, not next to my raw salmon?! But I'll get off that soap box now….
Uchi is the best meal I've ever had in my life. And I'm not exaggerating or being dramatic or any of those things a girl writing a blog on frivolity might tend to do. You can do this thing where you tell your waiter to pick your food for you. You give him or her your budget, tell them items you typically order at a sushi restaurant and they take it from there. Like Javier's, this spot is definitely a mix, but I think something like this is totally appropriate!
If You Need A Quiet Night Away From Kids…Head to Parigi!
Parigi is our favorite little gem that reminds us of when we were dating. We went to Parigi on our very first "dating" anniversary, so it's always special when we go back. I honestly really like Parigi because it's small, quiet and they serve a mean glass of rosé. We can be in and out in 40 minutes and I just always feel at peace when I leave. I think if you are a mama and just need a night out to sit and not even think, head here! Start with a glass of rosé [any on their menu are fab] and their seasonal cheese board. You could honestly fill up on this because their cheese board is quite large. Paul loves their burger and I love their salads. It's just a nice little spot where you can talk to your husband, and not feel overwhelmed by a large menu or a major crowd. I always wear something like this when we head here.
What's your favorite spot to dine at in Dallas?