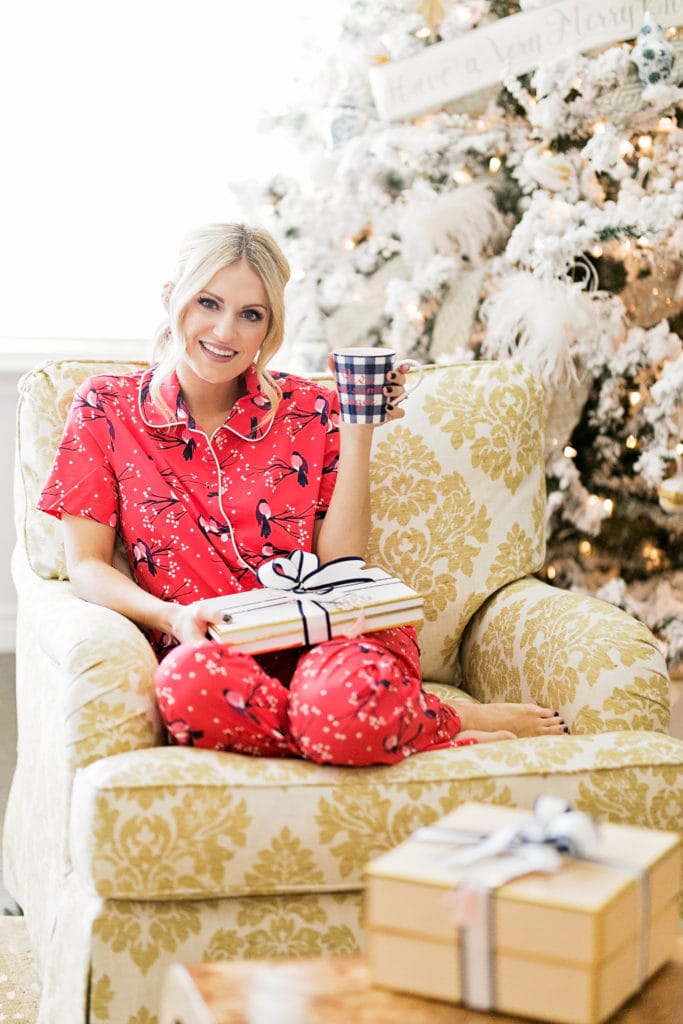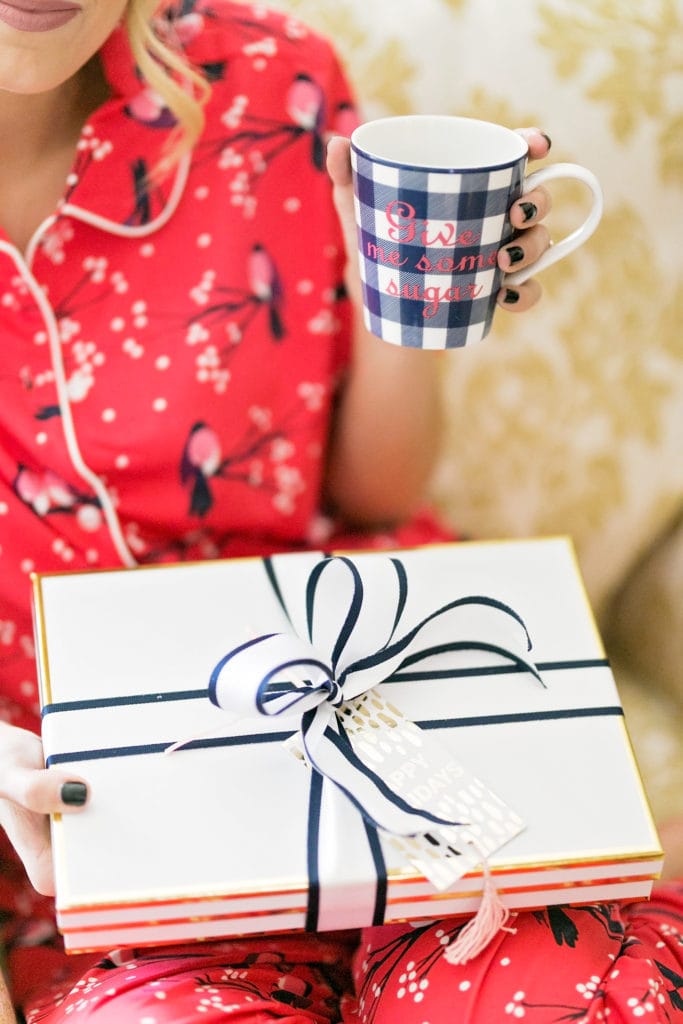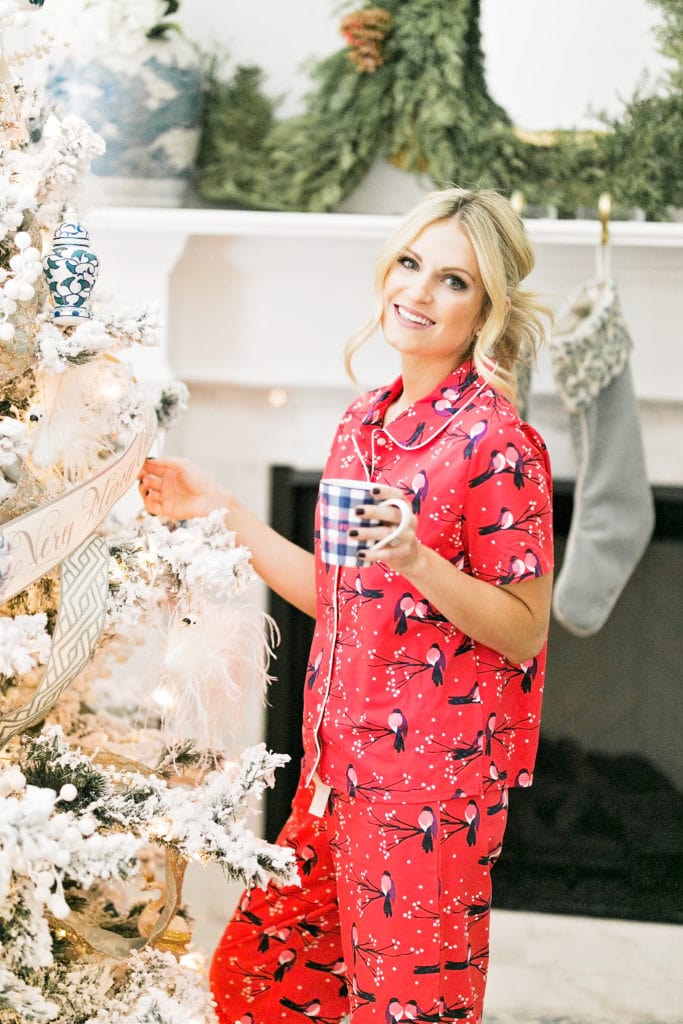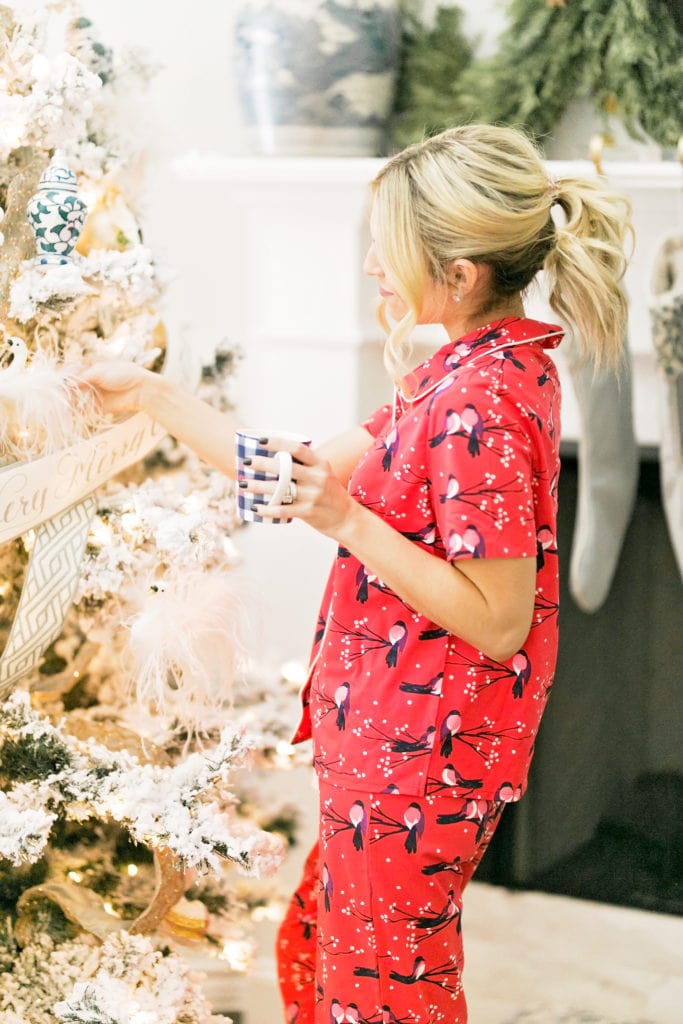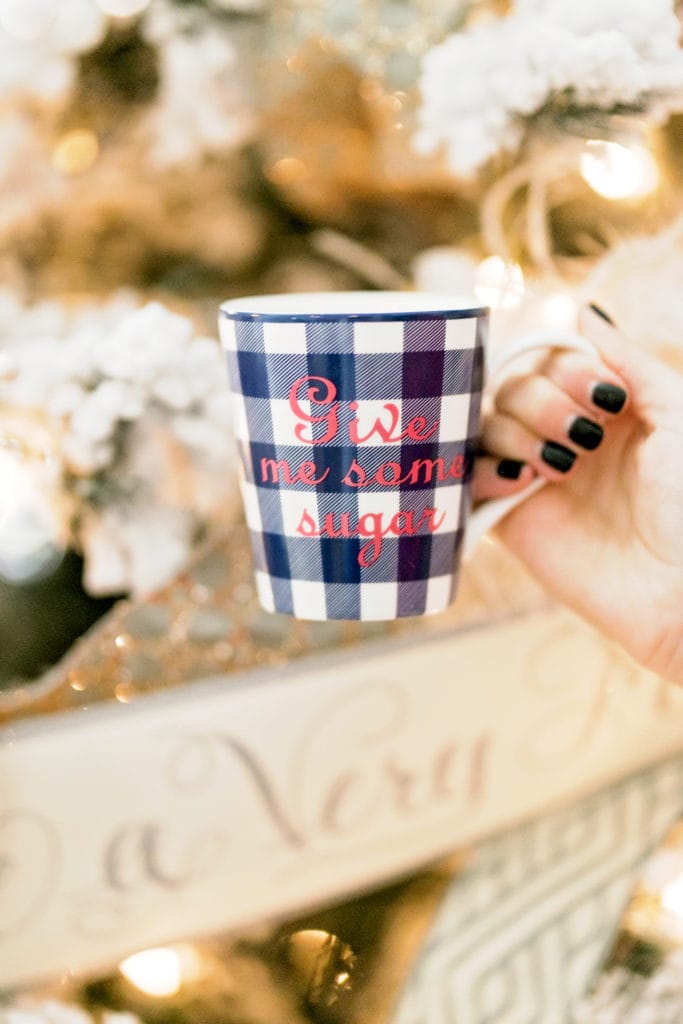 Pajamas: Draper James [c/o] | Mug: Draper James [c/o] | Tree: Blog Post Here | Chairs: Kisabeth Furniture
COF Readers: You can get 20% off one item at Draper James through 12/25 with code: ChroniclesofFrivolity20
Photography by: Angie Garcia
---
In the past eight years or so, I feel like Christmas traditions have changed a lot in our family. From college to marriage to babies there's been some adapting to accommodate everyone. I thought it would be fun to share what our family does if you're wanting to add a new tradition in your family and I'd love to hear what you do! I'm wanting to add something else and I'm eager to hear of an idea or two.
Hellman Christmas: Paul has a blended family, and a pretty large one at that! I love it because holidays can be a little quiet as I have only one sibling. Paul's parents have 5 children together + 2 daughter-in-laws with marriage and so my mother-in-law is always extremely flexible during the holidays. Thank you, Susan! They have a Hellman Christmas party each year and it's either on Christmas Eve or the night before. My mother-in-law and Paul's aunt take turns hosting each year. I'm very excited for it this year because last year I was having the worst contractions during the party. I had prodromal labor before actual labor. After we all eat, we do a white elephant for a gift exchange! I've mentioned before but Paul's grandfather has an incredible margarita recipe and he doesn't share it. He gives it as one of the white elephant gifts so everyone always steals that. I have yet to win it! 😉
Christmas Eve Service: If the Hellman Christmas party is the night before Christmas Eve, we always go to Christmas Eve service. This year sadly, I think we have to sit out. Maxi has had a double ear infection for a month from when we were all sick over Thanksgiving. My pediatrician has definitely nixed church nursery for us until spring so she can get over these ear infections. 🙁 Thankfully, we can live stream it at our home! Thank you 2017 technology!
Christmas Eve Dinner: My Nana makes an incredible Swedish dinner [my dad's side is Swedish] for Christmas Eve and I wish I could make it! It definitely intimidates me with all the sides. This year I'm making dinner and we also do a birthday cake for Jesus. It was so fun to see my little cousins love the cake and now we will start this tradition with Maxi. We throw on our Christmas pajamas after dinner and this year I'm wearing these pajamas by Draper James. I love that they aren't "overly" holiday-themed so I can wear them year round. Not that I have any sense of shame to wear Santa jammies in June, but flannel is too hot in Texas. These are lighter! Make sure to check above under the images and see my Draper James discount code for you. After we put on pajamas we read The Christmas Story and head to bed.
Christmas Breakfast: It was really important for Paul and I that our kids wake up in our home on Christmas, then we can travel to grandparents. We got extremely lucky that both of our families live here so that's a very easy thing to do! I make this for Christmas morning breakfast and we open stockings and Maxi will have a gift or two from Santa. My parents want to see Maxi open her stocking so they said they would come over in the morning with my sister!
Christmas Lunch: My mom makes Christmas lunch and we will go over there to exchange gifts and eat! Afterwards we either go look at Christmas lights or go to the movies. In the evening we usually go see Paul's grandmother. However, this year there is a chance of snow on Christmas! Major deal in Texas, y'all. Major deal! So I bet we cuddle up with hot chocolate and enjoy a Christmas movie or two.
Until then, I've got a few more Hallmark movies I need to watch on our DVR and these white chocolate ginger cookies to make! What are some of your holiday traditions?!