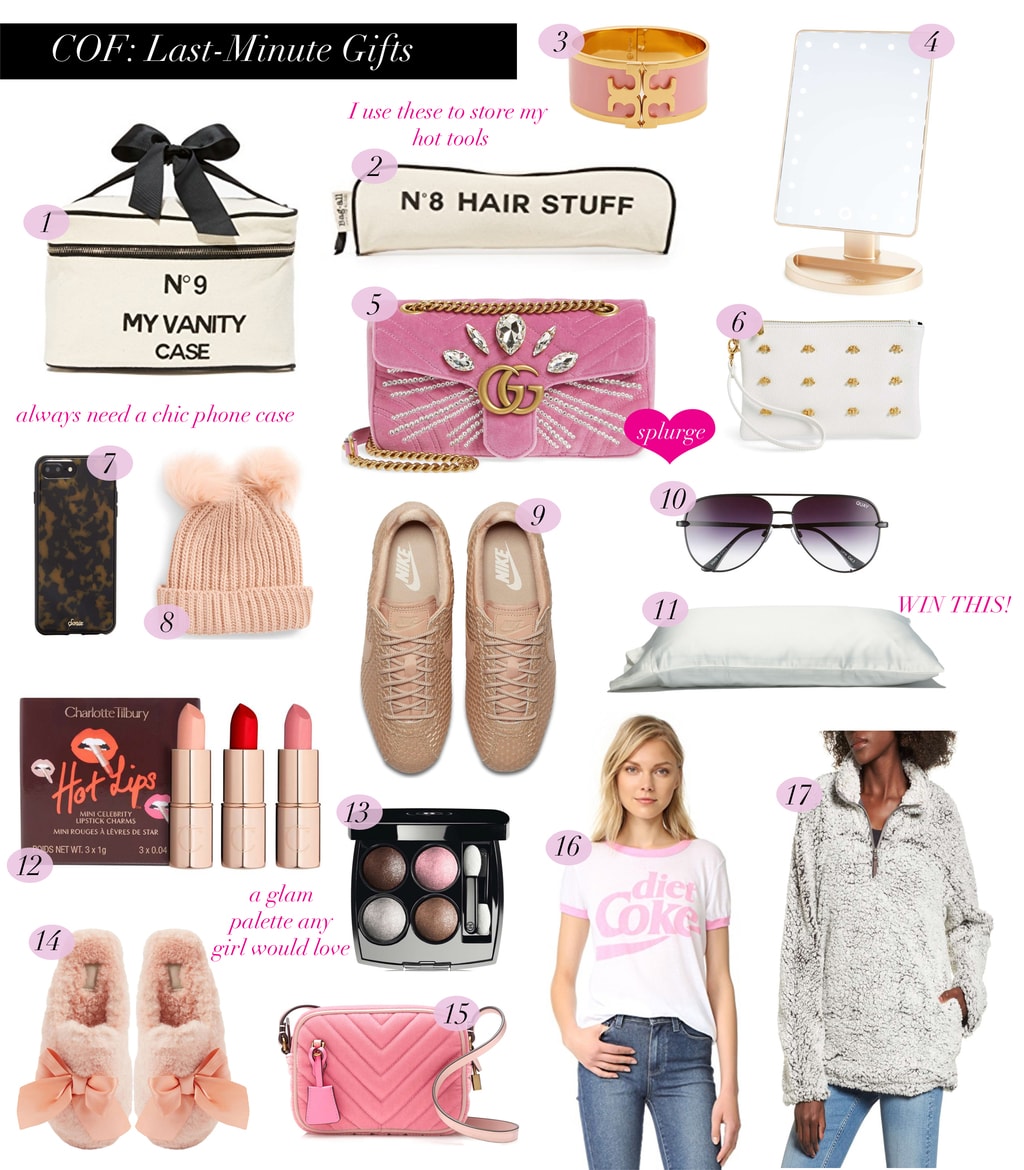 one | two |  three | four | five | six | seven | eight | nine | ten | eleven | twelve | thirteen | fourteen | fifteen | sixteen | seventeen
---
 Alright, who is a last-minute type of gal? Raise your hand! No shame, no shame! Regardless of if you obsessively plan or not, there are always little things that pop up or gifts you forget about. Last Friday, Paul came home for lunch so that I could run to the post office and mail all of our Christmas gifts to family. Babies, carrying packages and the post office do not mix. After I mailed away our gifts, I realized I totally forgot to mail my girlfriend in California's gift and forgot to purchase a gift for someone else. It happens to us all.
I heard one girl say the phrase, "Done by December One." meaning she gets ALL her shopping finished by December 1st, and mailed the following week. And to think I'm Type A?! That's so impressive I can't even fathom.
No matter your planning style, today I'm sharing a last-minute gift guide. This features shops that offer overnight or 2-day shipping so you'll have everything wrapped and under the tree by the weekend! From the travel bag I use to store my curling iron to the cozy fleece every blogger has this season, these are gifts so many girls would appreciate. I mean, who doesn't love a Chanel eyeshadow palette?! If you don't, I will gladly take them off your hands!
Now for the giveaway from last week!
I had girls enter by commenting on my Instagram and telling someone why they love their inner beauty. Paul had a birthday dinner for a friend on Friday night so I sat in bed with Peaches reading each and every entry as I manually put them into the drawing. What a wonderful Christmas gift TO ME. I encourage you to go through the entries as well and just be reminded how much good there is in the world. I know it sounds cliché [and it is] but everything from the news to social media can bring us down lately. But you all were so loving and uplifting to your friends, it truly blessed me more than you know.
The random winner was @tiffanybyram. Please e-mail me to set up shipping! I'm so excited for you to try out TULA! Now if you want to gift some TULA to a friend also note today is last day for guaranteed delivery with rush shipping.
Now for the giveaway this week! Number 11 is the silk pillow case I've preached about for years on COF. I have photos I blogged of these when I JUST started blogging and yikes, those photos were so bad. haha. Savvy Sleepers  makes the silk pillowcases I sleep on and they are incredible for extending your hairstyle, your lashes and skin. One trick to allowing your hairstyle to last is a silk pillowcase. You don't wake up with your hair all creased or flat. They recently launched these silk eyemasks with Joanna Czech [a world-renowned estheticians] made to protect eyelash extensions and fine lines around the eyes. Check my Instagram later today to see how you can win a silk eyemask + a pillowcase in the color of your choice!
Thank you so much for reading!