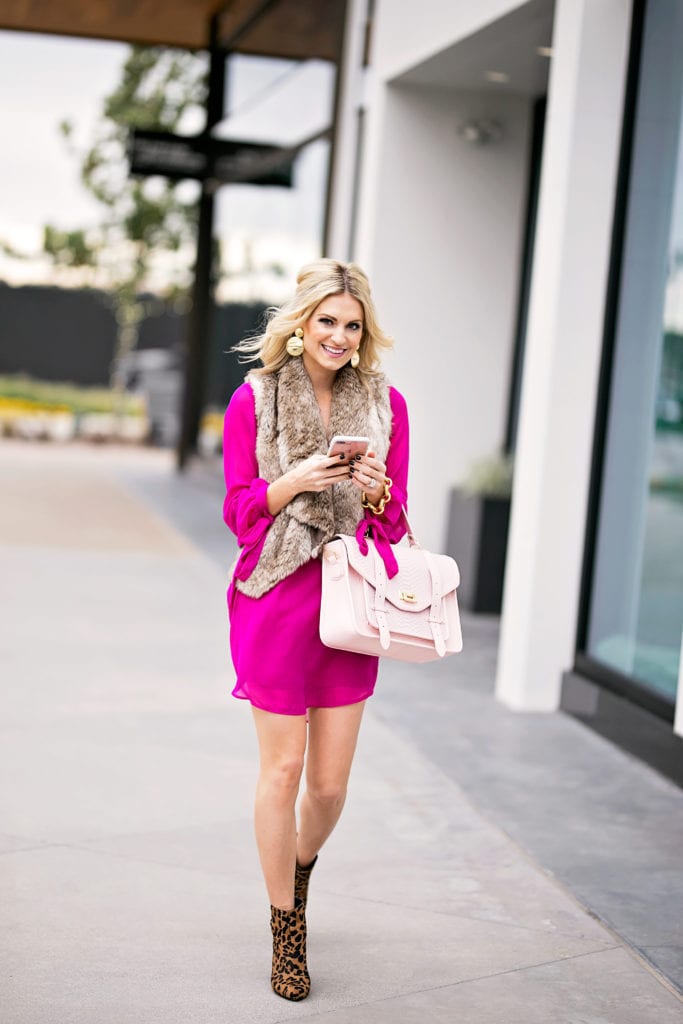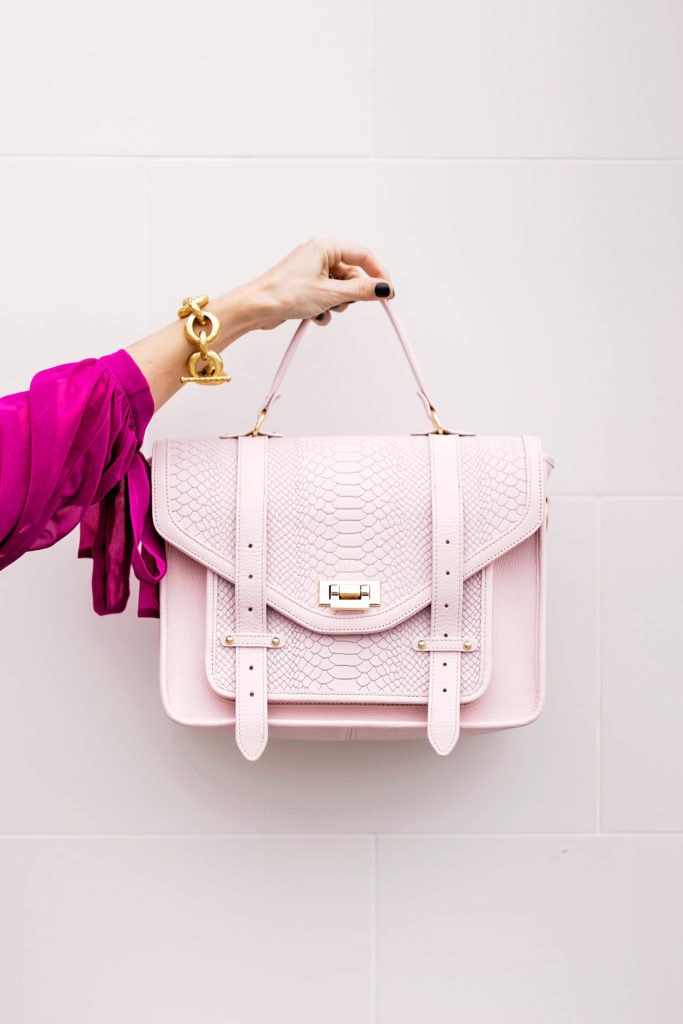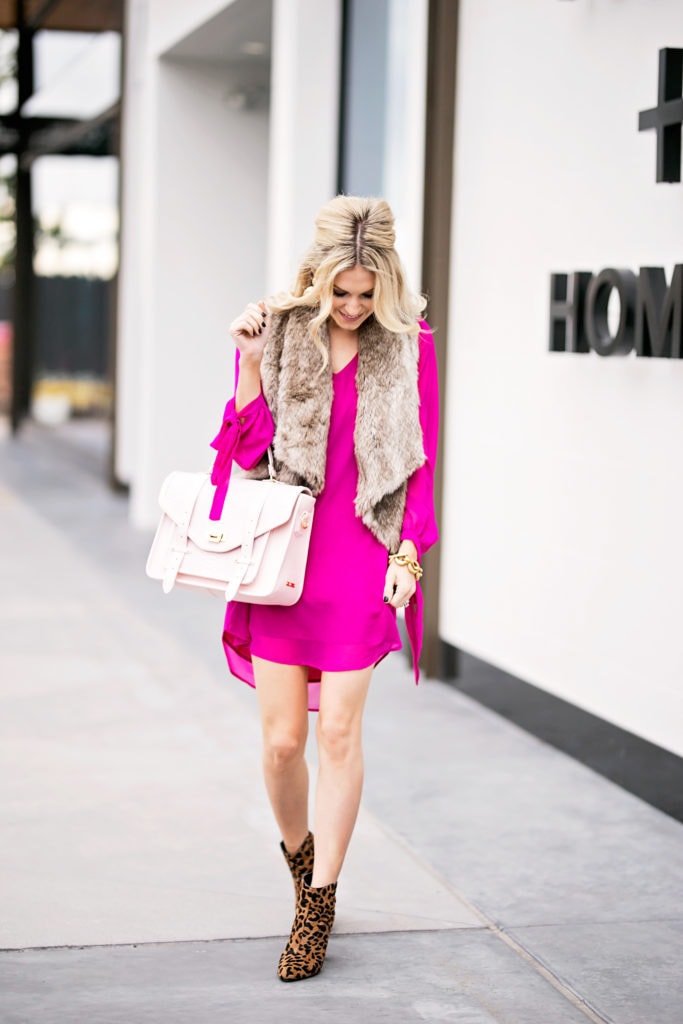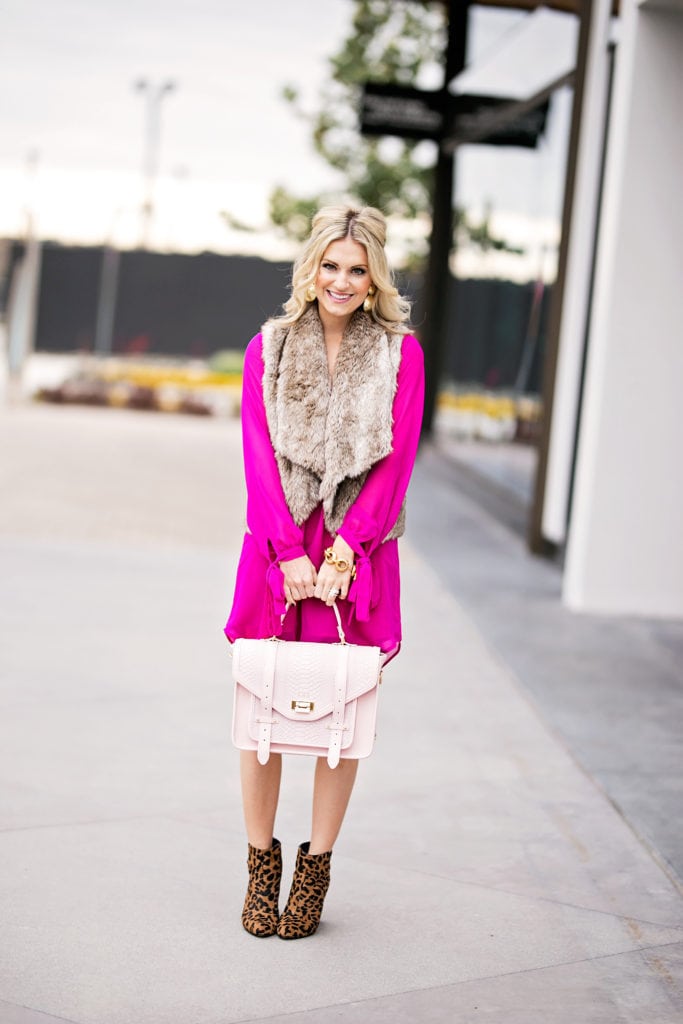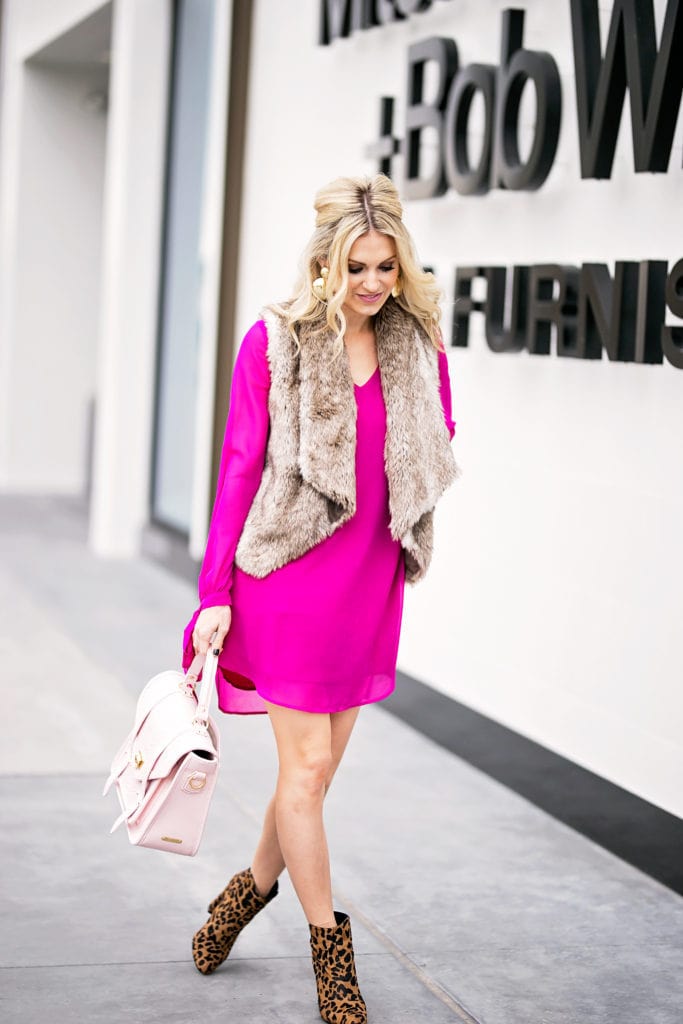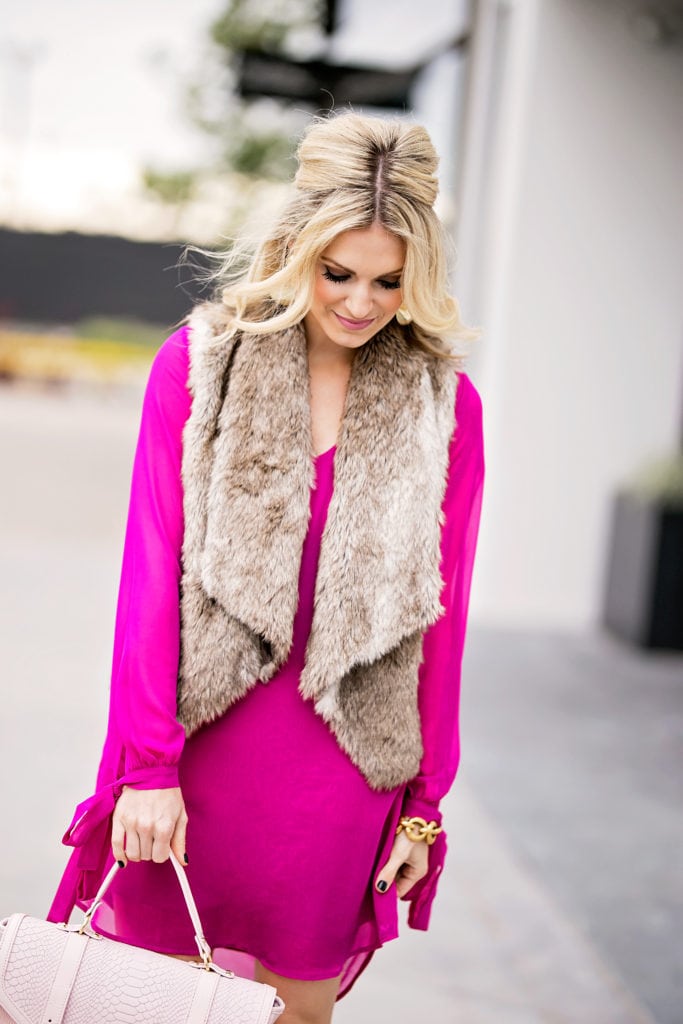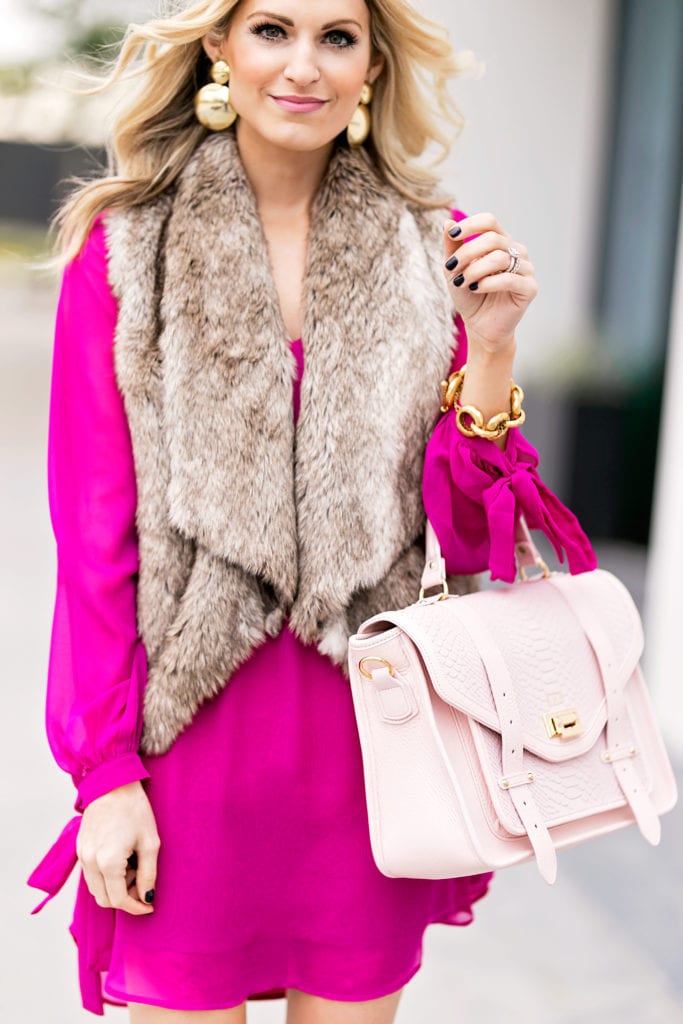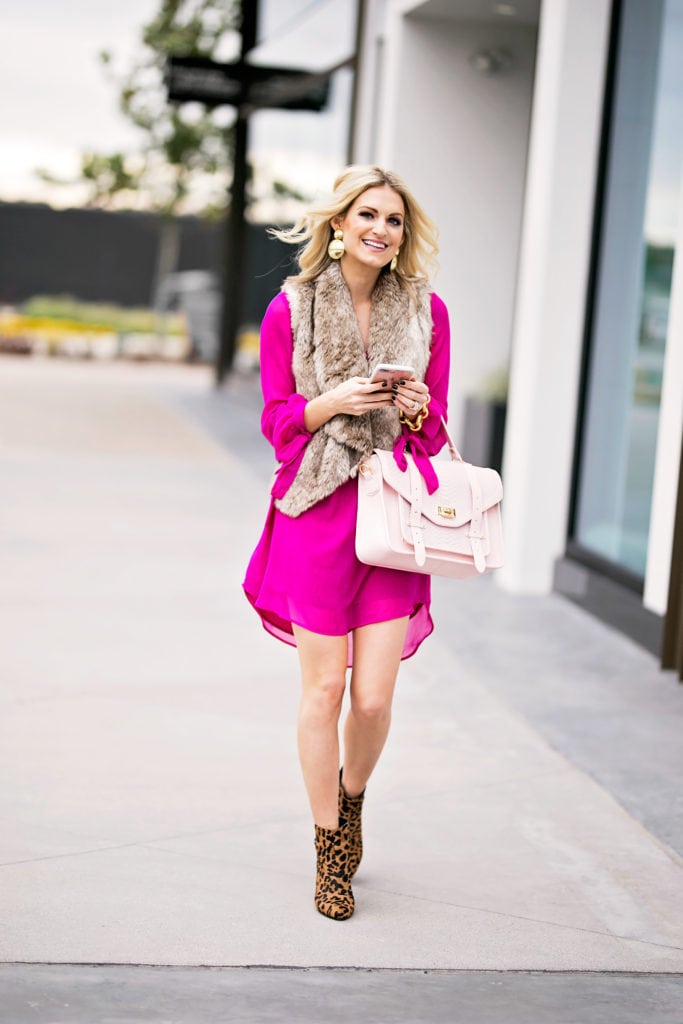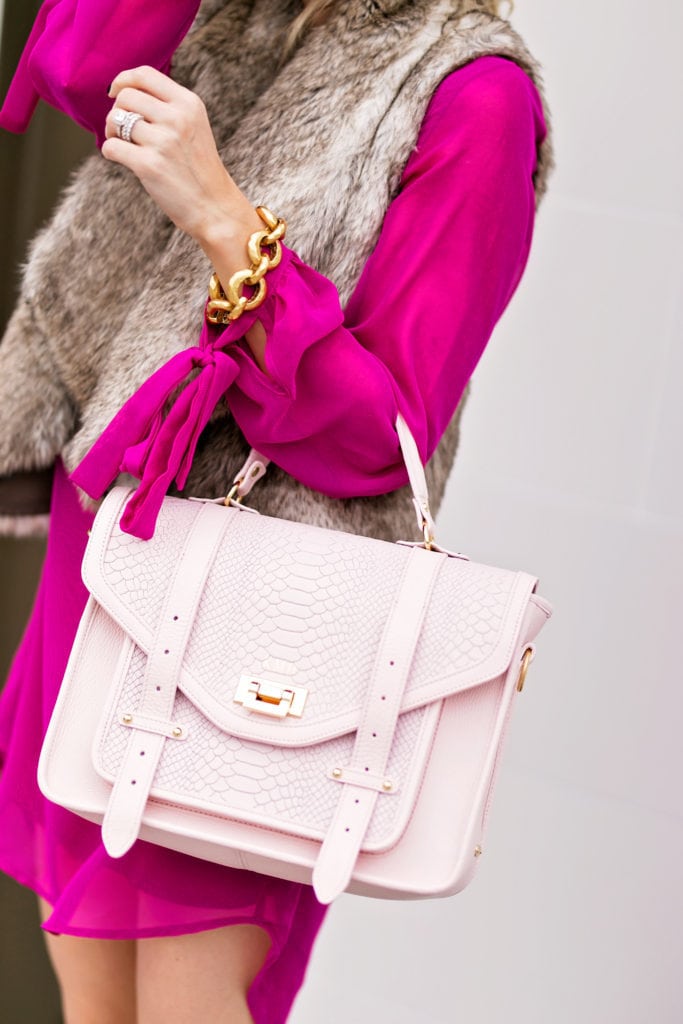 Dress: Nordstrom [TTS] | Booties: Old, Similar, Similar on Sale | Vest: Old, Similar | Bag: Gigi New York | Earrings: Lisi Lerch [c/o], Similar Available | Bracelet: Julie Vos [c/o] | Eyeshadow: Sigma Warm 2 | Lipstick: Stila Perla
Photography by: Angie Garcia
---
Today is a bit of a rambling post if you will. Grab a coffee. 😉
Paul is back to work and Maxi and I are homebound this afternoon as we have furniture deliveries today. MY DESK COMES! MY DESK COMES! MY DESK COMES! I need to shout it from the rooftops. I have been running a website from the FLOOR for the past 7 months. From the moment we moved to my parents' to now, I haven't had a desk so this girl may cry tears of joy when it arrives. I seriously have all of my files with contracts on the floor. Maxi gets into them daily. Very professional. Very.
Speaking of furniture, my mom came over last week and I asked her a question and 4 hours later she had redecorated our entire living room. Anyone else have an opinionated Southern mama? She said to no exaggeration, "Well, now that you're finally asking for my help I just think we need to soften it up a bit. Too harsh. Let's move this, this and this."
I love her for it though! She knows her stuff and I honestly just haven't had the energy I thought I would to decorate. I went to Homegoods two weeks ago after Maxi had gone to bed and Paul was home. It was 8 p.m. and I literally thought I would fall asleep in the store. I walked out empty handed and gave up. Thankfully, our interior decorator starts in January and I think that will help a lot. If there is ANYTHING I have learned as a working mom it is to just let some things go and ask for help. My top priority right now during free time is planning Maxi's birthday party and that's far more fun. 😉
Now to the dress! I love a shift dress because it's truly the most versatile dress you can hang up in your closet. This one is long-sleeve, comes in other colors and has the cutest ties at the wrists! I paired it with more pink and a pop of leopard, naturally. Always like to keep it minimal over here at COF. It's also 40% off with the Nordstrom Half-Yearly Sale which is going on right now. Below I'm pulling up my picks from the sale in case you are shopping it!
Accessories

Home

Clothing

Shoes

I hope your holiday with your family was magical. How are you prepping for NYE?!