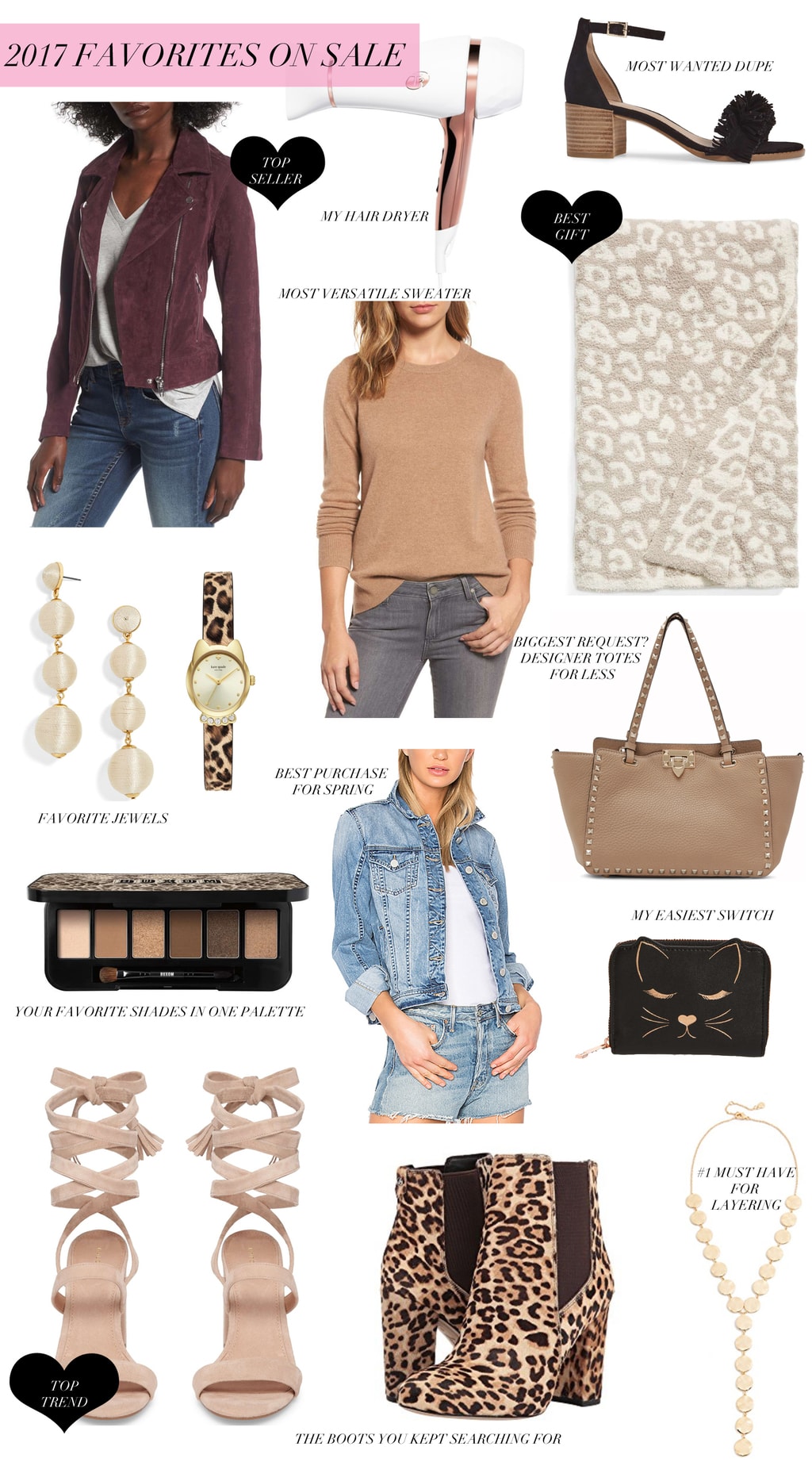 Some holiday sales are ending and some are just getting started! I thought I'd use today to share coveted items of 2017 you can grab for less. Did you pick anything up?!
Jacket: The BLANKNYC Suede Moto Jacket was the top seller this year on blogs and for good reason. I picked up a few in 2016 while pregnant and I wore them with every maternity dress I owned. This year I wore it everywhere from my blogging conference in spring to running errands with Miss Max.
T3 Hair Dryer: My hair dryer by T3 is on sale now through January 7th. You saw it in a tutorial on how I style my hair after the gym and in my "All About Hair" post.
Fringe Sandals: I picked up a pair of fringed sandals from Zara in 2014 or 2015. Since then, one of my top requests from y'all have been to find a dupe! I've found a few here and there and now this one is on sale. You can see how I styled the sandals here and here.
Drop Earrings: These earrings were my most worn pair in 2017. I have an embarrassingly large collection with different sizes and shades and I can't purge through any. I. Need. Every. Color. Here's how I styled one pair.
Kate Spade Watch: I went a little non traditional when it came to my favorite watch this year! I wore this leopard cutie all summer long and into fall. See how I styled it here and here.
Cashmere Sweater: The Halogen Crewneck Cashmere Sweater is a transitional item I styled back in August. One great perk of this sweater is the variety of shades it comes in, if you can't find your size in one you're bound to find another you like.
Barefoot Dreams Blanket: Whenever I blog an item by Barefoot Dreams I can feel the side eye through the computer screen. "Um, Katey. This. Is. A. Blanket. Seriously?" And then people ask for it for Christmas and I get an e-mail saying, "Okay, but it's really not JUST a blanket! This is amazing." haha. All jokes aside, this is a splurge item, but it ranks as y'all's top gift year after year. This is a wonderful gift for a mommy-to-be because I can assure you she will love a cozy blanket for herself! New moms have to recover and spend so much time on the couch nursing, so why not go in with a few friends and treat her to this?!
Eyeshadow Palette: I shared an eyeshadow tutorial in 2017 and got feedback from y'all that you want to streamline your makeup collection. Cheers to that, don't we all need to?! I know I do! Anyways, I share my favorite palettes throughout the year and this one fits what many of you request. Technically this is not a "sale" item, but it's valued at $85 and only sold for $40. Buxom eyeshadows are extremely buttery in texture and very pigmented. If you like to keep your looks more simple, check this option out!
Jean Jacket: I love a good denim jacket because it is an item you can truly wear every single day of the year. Try this one that is under $100.
Bag: Sadly, designer bags rarely go on sale. If anything, bags like Chanel and Celine can often go for more than they were purchased for as the years go on. A top request of 2017 was to try to incorporate the rare times that designer bags are on sale! This Valentino Tote is on sale and it's so so good. This may be sold out, but check out the sale to see if there are more you love.
Wallet: I switched to a smaller wallet this year because I just needed the essentials when using my diaper bag. This one is under $50 and gives me major Charlotte Olympia vibes.
Tie-Up Sandals: If you follow a lot of style blogs, chances are you saw tie-up or lace-up sandals in 2017. These are really fun and surprisingly easy to style. This pair is under $60.
Leopard Booties: I adore wearing leopard booties each year and 2017 was no different. These leopard booties are available and on sale. If you're unsure of how to wear them, just type "leopard booties" in my search bar and a few posts should pop up!
Lariat Necklace: Some years statement necklaces win and other years layered necklaces rule. But one little necessity to make the layered look work is a lariat necklace. I say wear a lariat, top with a choker and add in a smaller personalized piece. This lariat is on sale!
Editor's Note: Some pieces may sell out of no longer be on sale as these sales are changing daily.
I hope you all have a wonderful day as we head back to work and into the new year! I'm sure it will be quite busy for us all! 😉