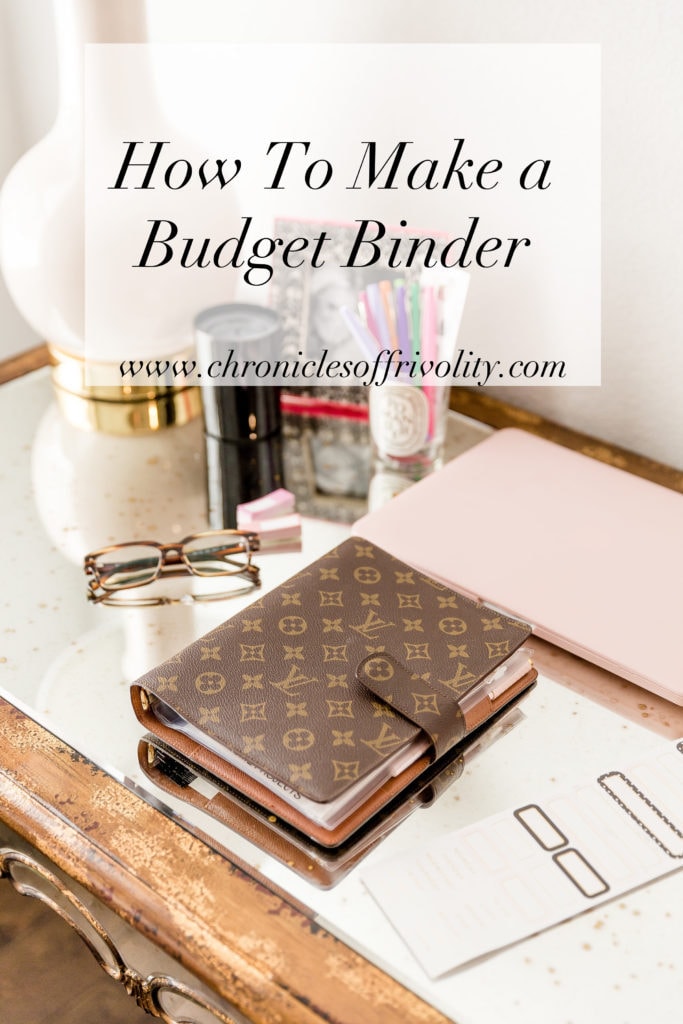 Let's address the elephant in the room; budgeting is a bit taboo to talk about. It's all relative and therefore really intimidating to talk about to family, much less an audience on a blog.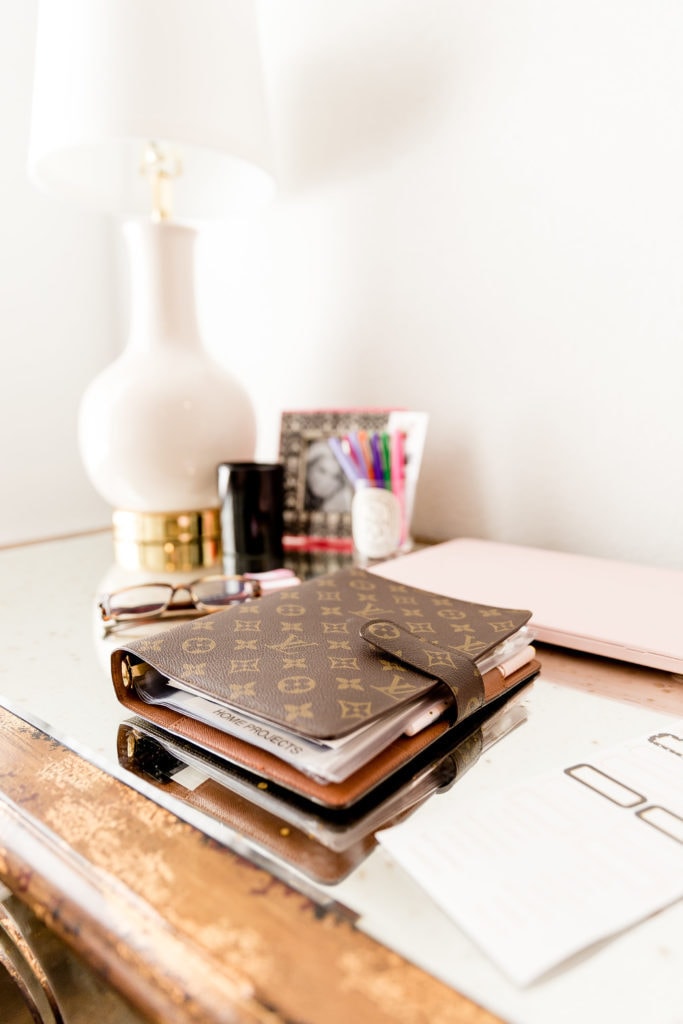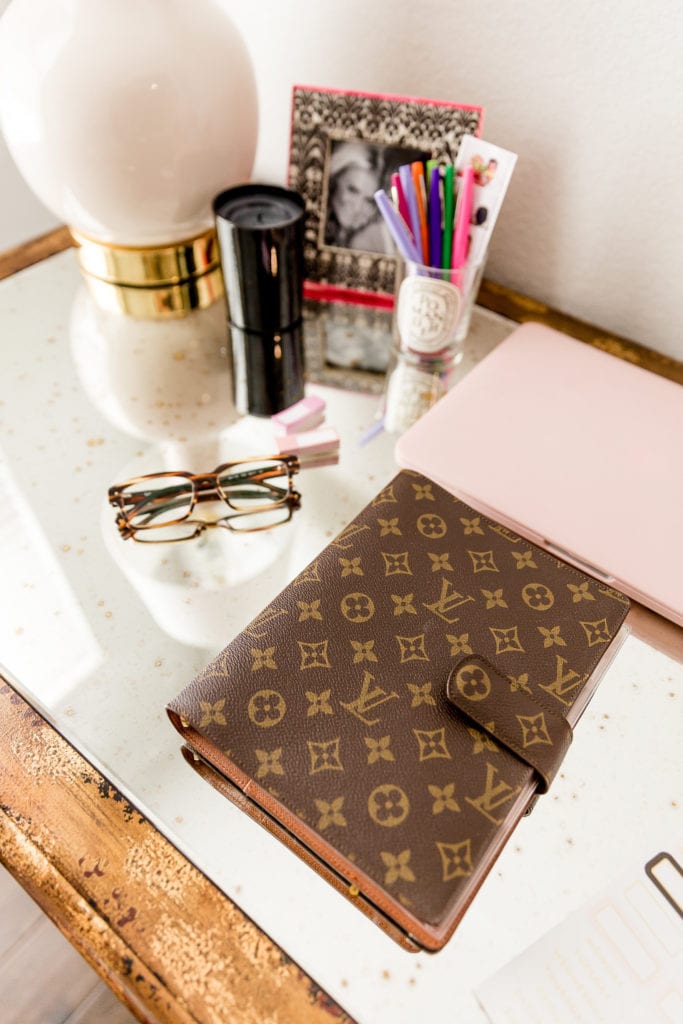 So when I've gotten e-mails requesting budgeting tips over the years I've shied away from it. For starters, I'm an old school budgeter. I sit down weekly with a calculator and a pad of paper, so there's not really any ground breaking tips here. Secondly, I'm sure SO many of you incredible systems that work for you and mine may be completely novice in regards to how you operate your expenses. BUT, I'm all for sharing so we can help one another so I figured, why not?!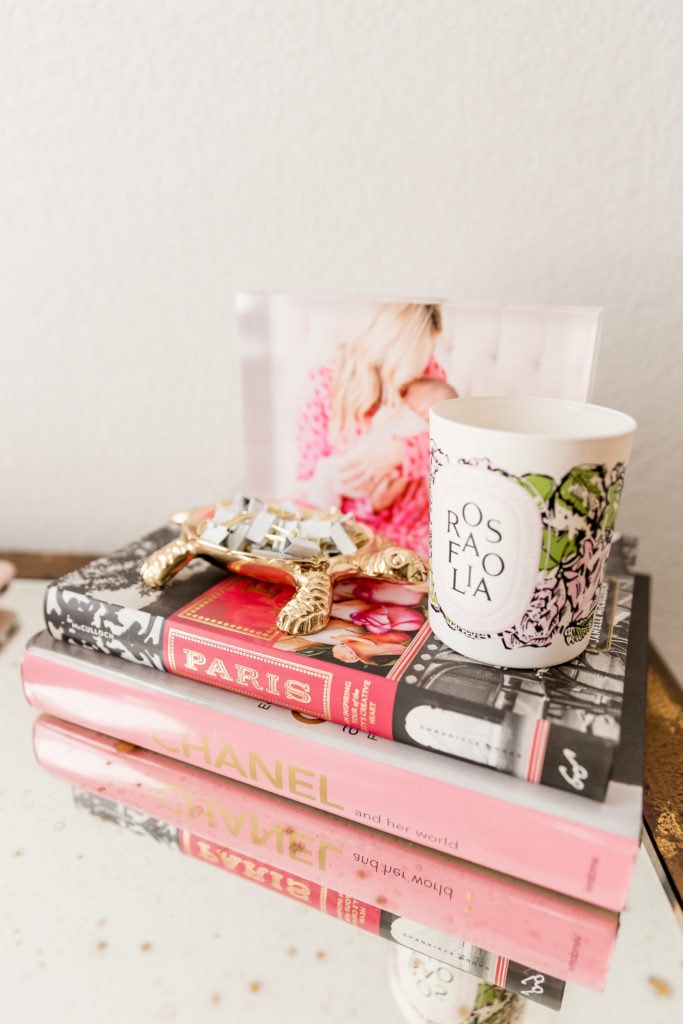 I also want to preface this by saying; this is just daily expense budgeting. This isn't how we budget for retirement or college or investments. Paul and I treat short-term and long-term expenses completely separately. I may do a post later on sharing how we prep for our future. Since that's such a broad topic with everything from life insurance to college funds for our kids, I thought I'd start with something lighter today.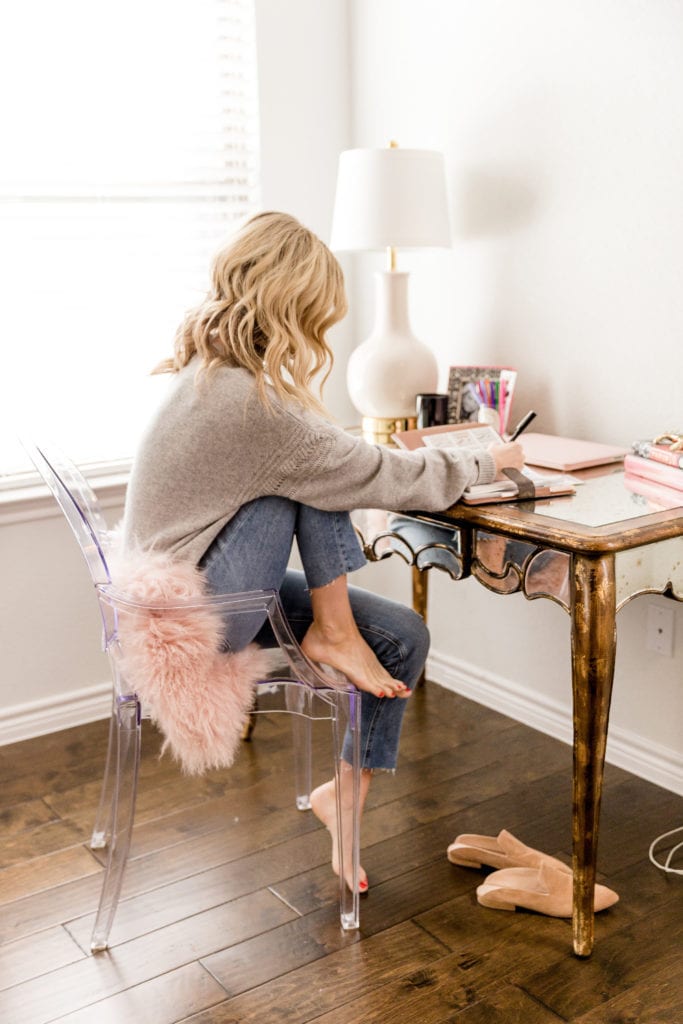 I have a budget binder. Oh yeah, old school just the way I like it! My girlfriend had this LV agenda and she said she wasn't using it. She asked if I wanted it, "Um yes?!" and I decided to put together this system to really make good use for it. Many of you have probably heard of Dave Ramsey. I'll be honest, we really like him but we don't eat/breath/sleep his methods. I think like anything in life, you have to take what you like, apply it to your life and disregard the rest. Paul and I implement a lot of his steps [most of them] and then add "rules" we follow ourselves. We make our "emergency fund" a specific number and so on and so forth. The important thing is that for day-to-day expenses we like to operate off of cash. I know that doesn't work for some people, but it works for us.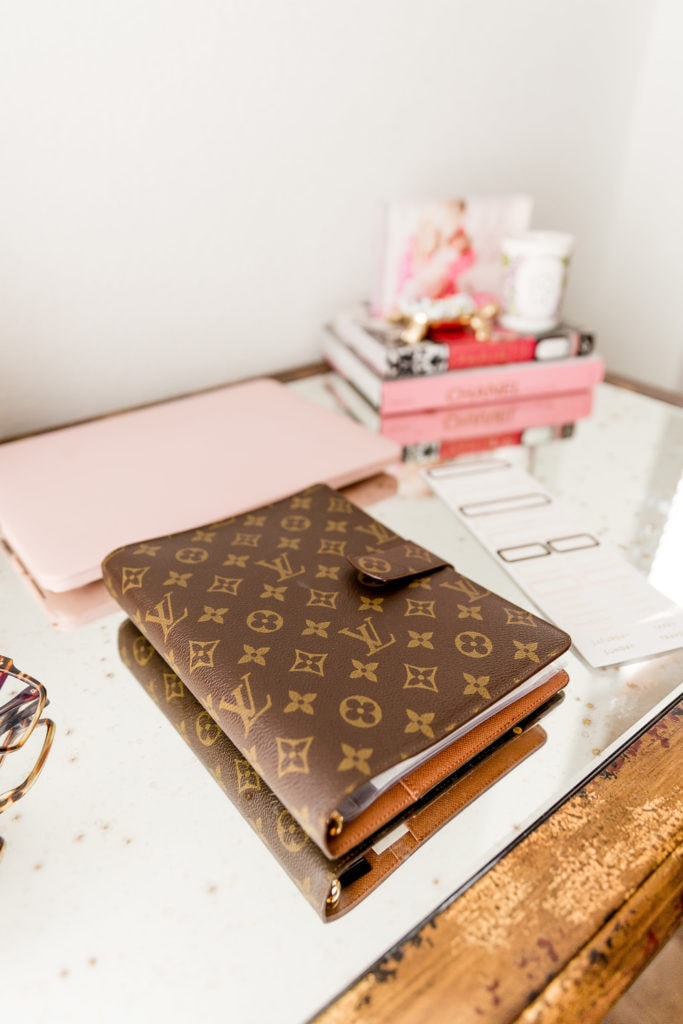 For us, little expenses add up. The Amazon app, grabbing a candle at Target, ordering a cocktail you don't finish at a restaurant are mindless purchases [to us] that affect our budget. I'm a bit nuts about things like that. To avoid doing that, I keep envelopes [this is part of Dave Ramsey's method] in the binder and account for what we need in each envelope. For example, say if we spend $80 a week on groceries, I know that each month I need $320 for food and we get paid every other week. I'll take out $160 each paycheck and stick it in the envelope. Then for the next month that's the cash I use to grocery shop. If I'm at Target and want something extra, I ask myself if I have the cash. If I don't, I put it back. If I have cash left over in the envelopes I either apply it to a different envelope or put it in savings at the end of the month.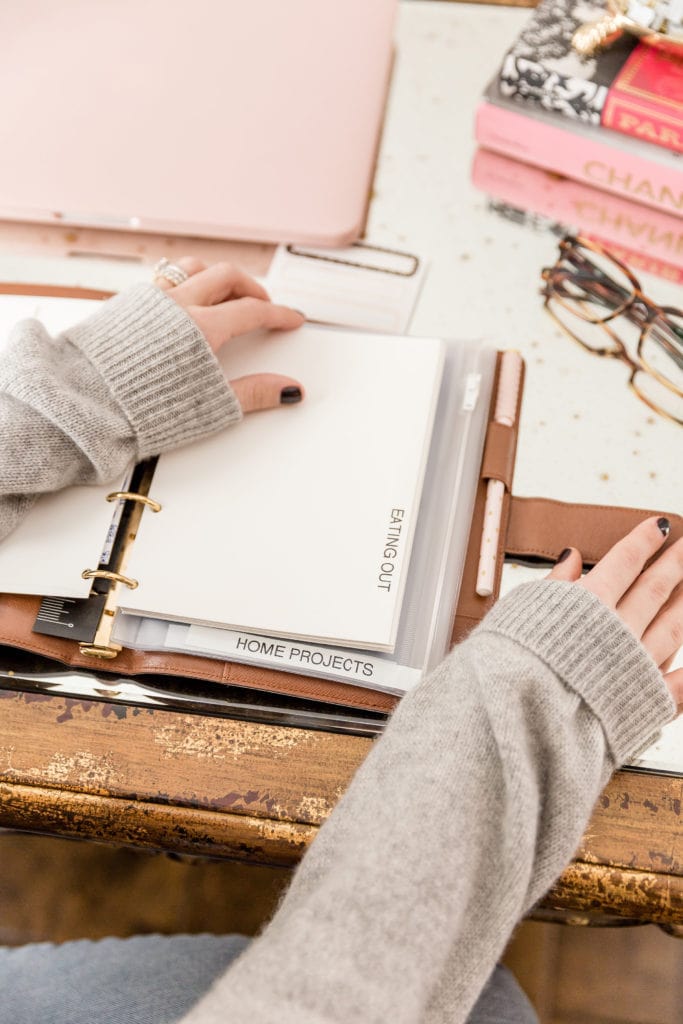 So what do I "envelope" budget for? We tithe online, pay bills online, give to charitable organizations online and shop for clothing online. It's easier to keep track of and I also prefer to shop online and earn points in my account. Envelopes are more "day-to-day" purchases and impending non-essential expenses. For example, I save for Christmas, birthdays, vacation spending money and major sales in my envelopes. I take out a certain amount each paycheck for Christmas, then in November I deposit that envelope into our bank account and only use that "set" amount of money on decorations, hosting and gifts. For the Nordstrom sale I do the same, and just deposit the money the week before. Now, there can come a point where you aren't comfortable having a lot of cash for Christmas saved and I agree. I'll deposit the cash for something "far out" every few months and just make a note that's how much we have for it. This may seem redundant to some, but the practice of operating off cash with random things like Target runs really allows me to not be flippant with a debit card while out and about. Examples of things I use an envelope for are: groceries, eating out, beauty services [pedicures/Sephora/Ulta], Christmas, birthdays, vacation spending money, entertainment [movies/events], errands [dry cleaning/car washes/coffee shops] and I also make them for smaller events. For example, my girlfriend is in town this week. We only see each other about twice a year, so it's a mini vacation when she is here. I save for that so we can go to our favorite boutiques and restaurants and not feel guilty. I also keep a "pocket money" binder for him and her. This is a Dave Ramsey tip and we love it. We put money that we didn't use in other envelopes in the pocket money envelope. If Paul wants to grab something from Home Depot or I want to grab a cute outfit for Maxi, we use the cash from the his/her envelope.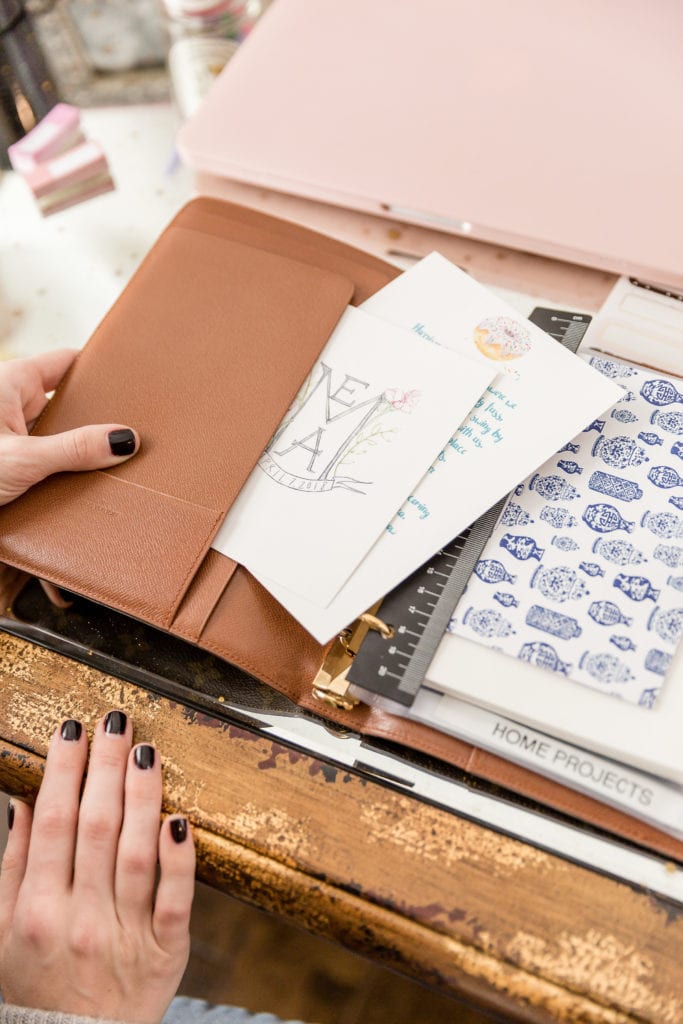 In the binder, I keep invitations for parties so I can account for future gifts.  I also keep a list of our monthly/weekly budget along with specific saving goals. Paul and I assess our financial goals yearly, monthly and every two weeks. This mini checklist allows us to make sure we are spending with our goals in mind. It also allows for flexibility. Right now, a major financial aspect is getting our home furnished. Pieces pop up on sale and so I'm able to look at the checklist and say, "If I buy this now, how am I doing with goals 1-5?"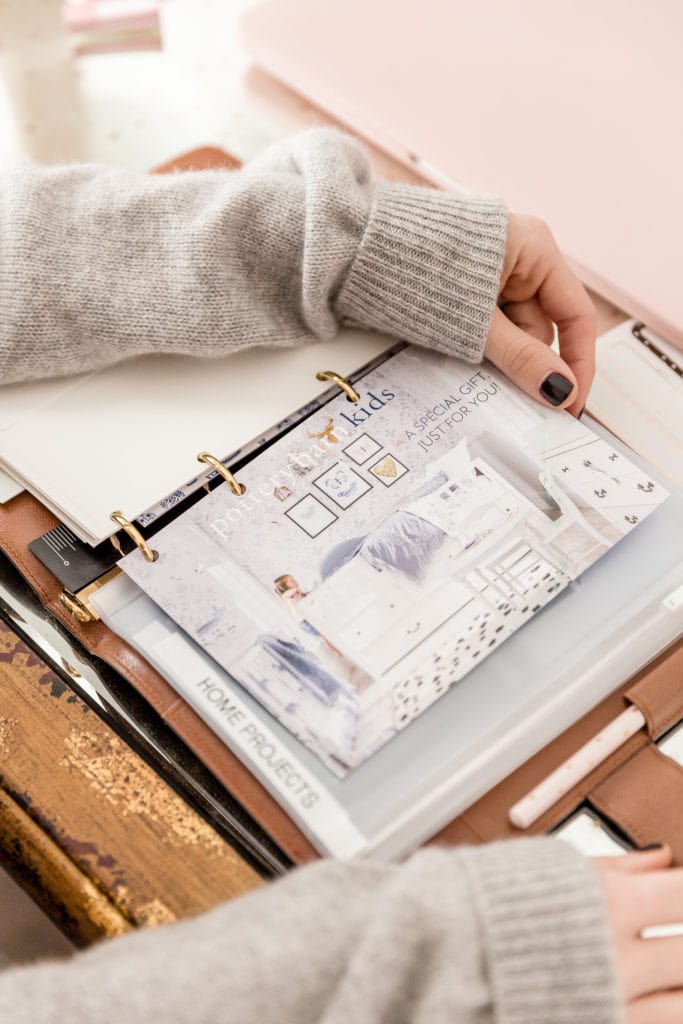 I also keep gift cards in the binder and coupons! How many Starbucks gift cards do we get and lose?! I use these inserts and I'm able to see everything we have a gift card to. When date night rolls around I grab a few for coffee or dinner. If I'm out of mascara I check to see if I have a Sephora gift card. My in-laws always get me gift cards to Nordstrom, so I'll check the binder before I place an order. Right now I've got some Pottery Barn Kids coupons I was sent in the mail, it will help when we buy Maxi a birthday gift from there.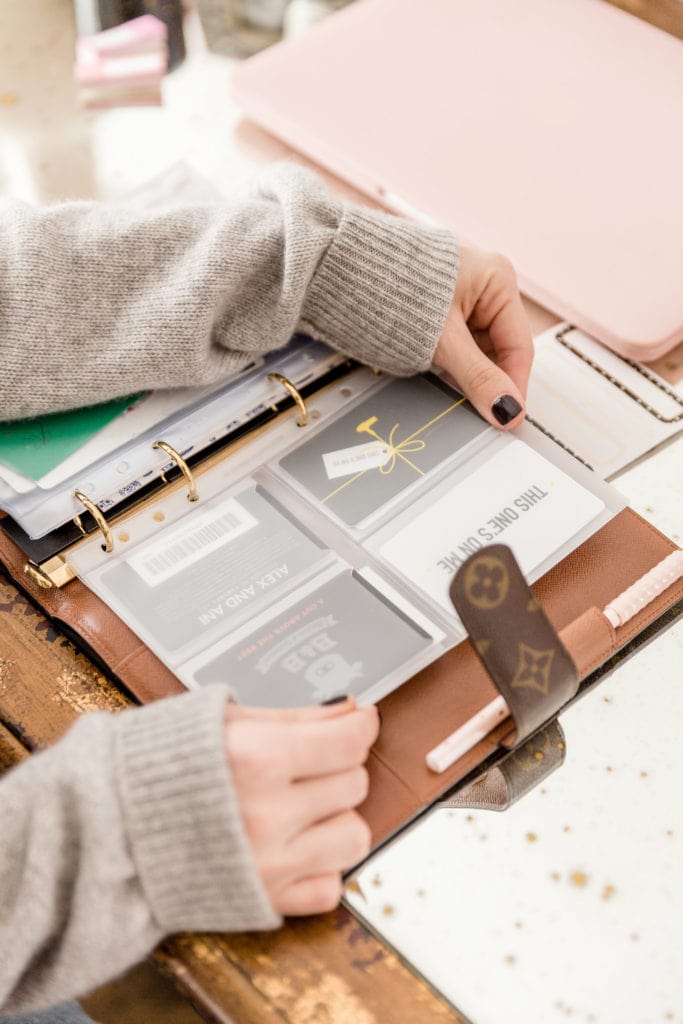 Lastly, I keep a mini calendar in the binder. At the end of the year I write out the months of the following year and what we have "financially" each month. For example, Paul is in a few weddings this fall and our best friends are getting married in April. We have to pay for a lot of hotels/wedding gifts/showers. Things like that really add up, so we can keep envelopes for going out to eat during those weddings, wedding gifts, etc. Paul's 30th birthday is in July so that will be a major moment to celebrate and something I want to save for. This also ties in with the invitations I put in the front of the binder. I have always found that those things tend to creep up and you could have a month where you're having to give four wedding gifts you didn't plan for.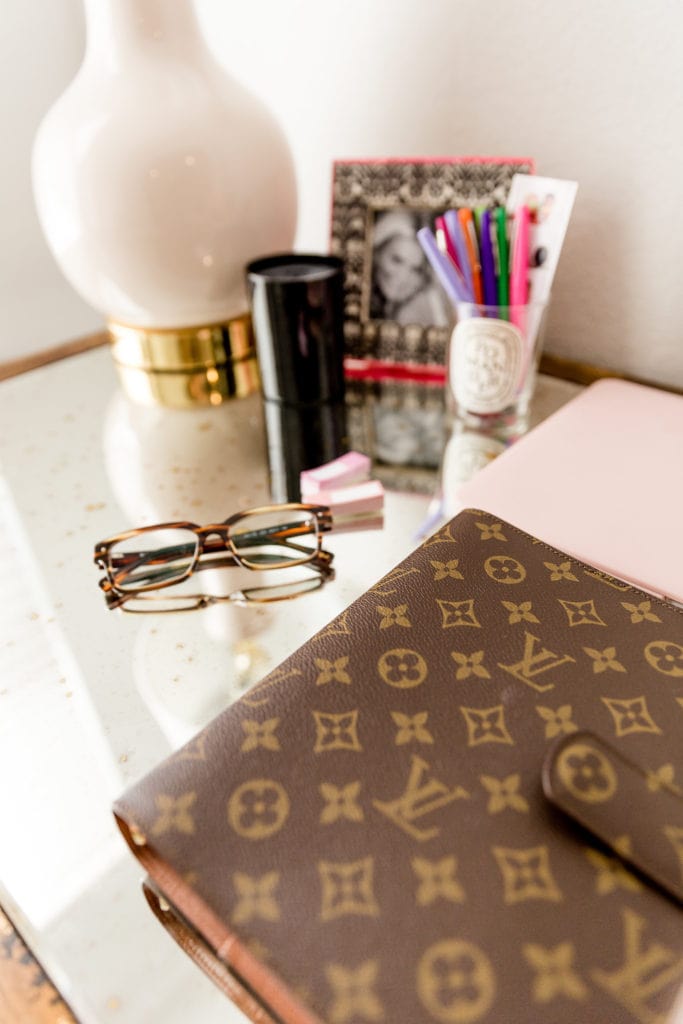 So what's the rundown?
Make a Binder
Create a Budget
Add Envelopes for Budget
Add Gift Cards
Add Coupons
Add Invitations and Save The Dates
Add Goals to Binder
Add Calendar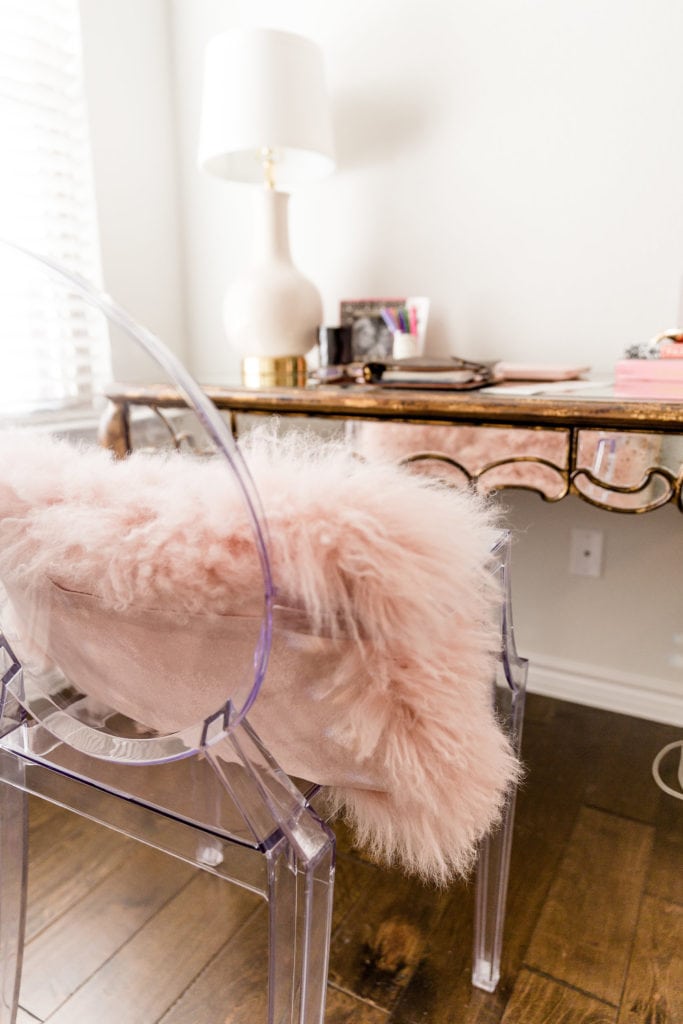 These are super simple tips, but I've found when I make it as simple as putting cash in envelopes I end up spending smarter than if I had a fancier spreadsheet. When you don't just swipe your debit card for coffees every few days, I promise you it adds up. I like having a place where everything is laid out and I can be wise with our day-to-day purchases so that I can clearly focus on things like retirement and Maxi's college. Thank you so much for reading! Does anyone else do the envelope system?!


Sweater: Nordstrom Rack | Desk: Horchow | Pillow: Similar | Agenda Inserts: Amazon, Amazon | Agenda: LV, Other Option
Photography by: Madison Katlin
| Editor's Note: You may have noticed yesterday's post was removed. I chose to take it down due to extremely wavering feedback and opinions. I apologize to anyone that did not agree with the post and appreciate you all educating me. We are all here to learn and share! xo |
Source: www.economywatch.com/uk/cryptocurrency/buy-cryptocurrency